You can always transform your look and enjoy a cool new cut without doing a lot of touch-ups or time-consuming ideas. The truth is that a lot of women prefer to wear their hair short and simple. Does this apply to you? If you're on the lookout for something new, fun, and cute, we have your back! In fact, we will be listing a ton of different and innovative looks that shorter hairdo women will adore. Keep on reading since we have everything in this list, such as simple, colorful, bold, and hair with highlights listed. Find your next hairdo with us and with one of these cool options down below.
1. Simple Blonde Pixie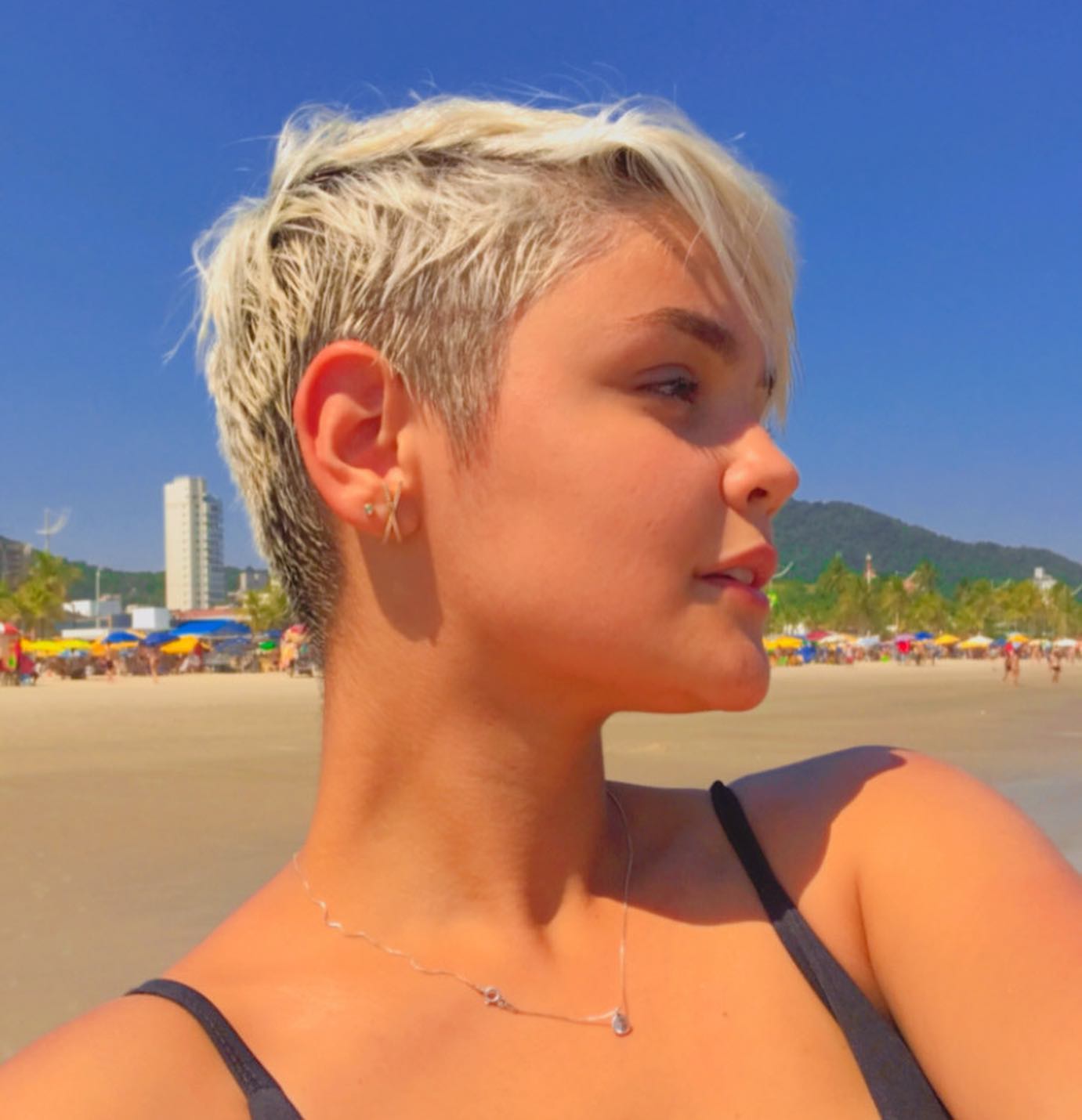 If you like and prefer shorter pixie cut looks consider this bright blonde short moment.
2. Natural Bown Pixie Hair

Low-maintenance and often worn by moms who like quick and easy everyday looks.
3. Curly Short Hair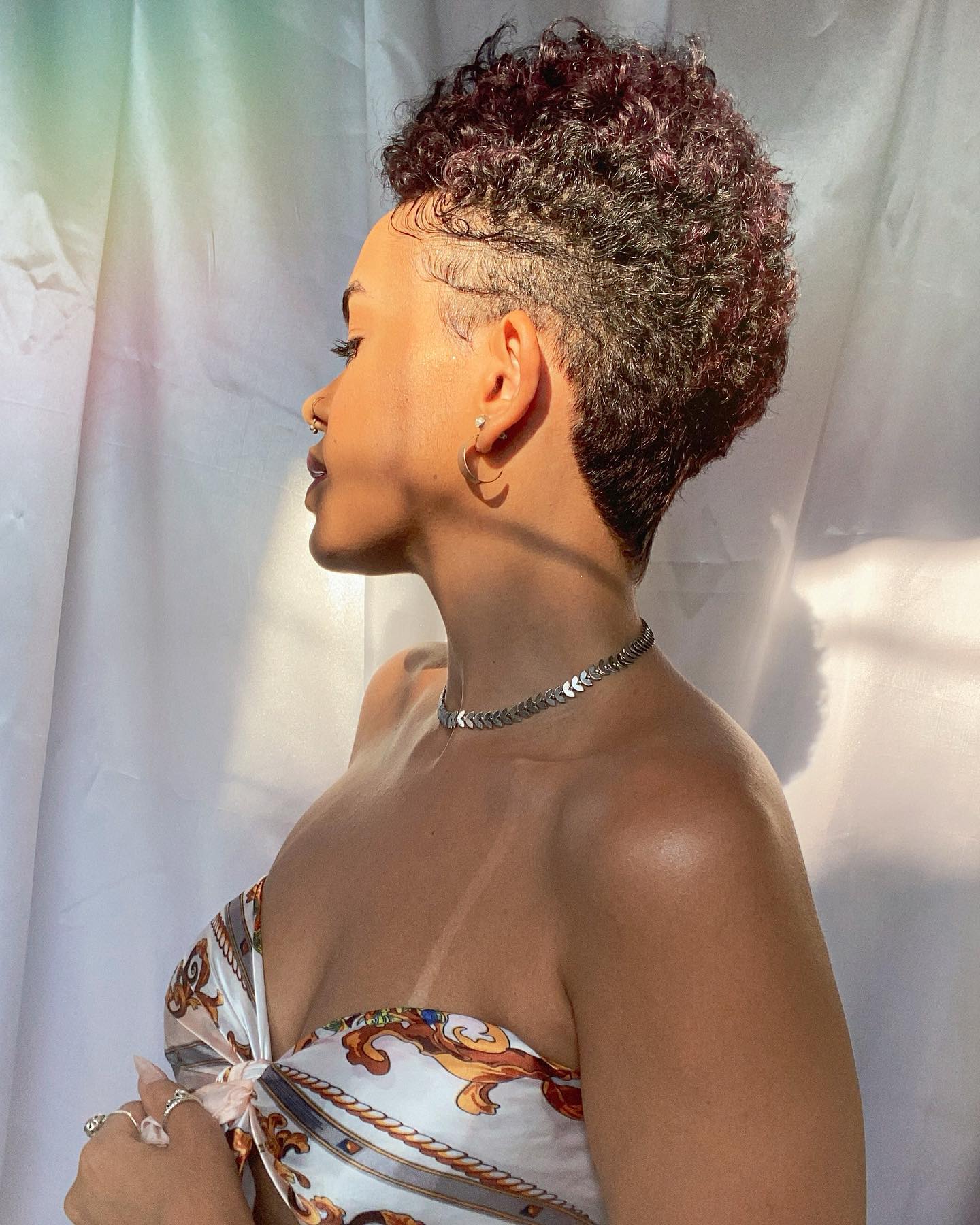 Go for this curly updo moment and show off your love for simple yet wearable looks.
4. Red Buzzcut Look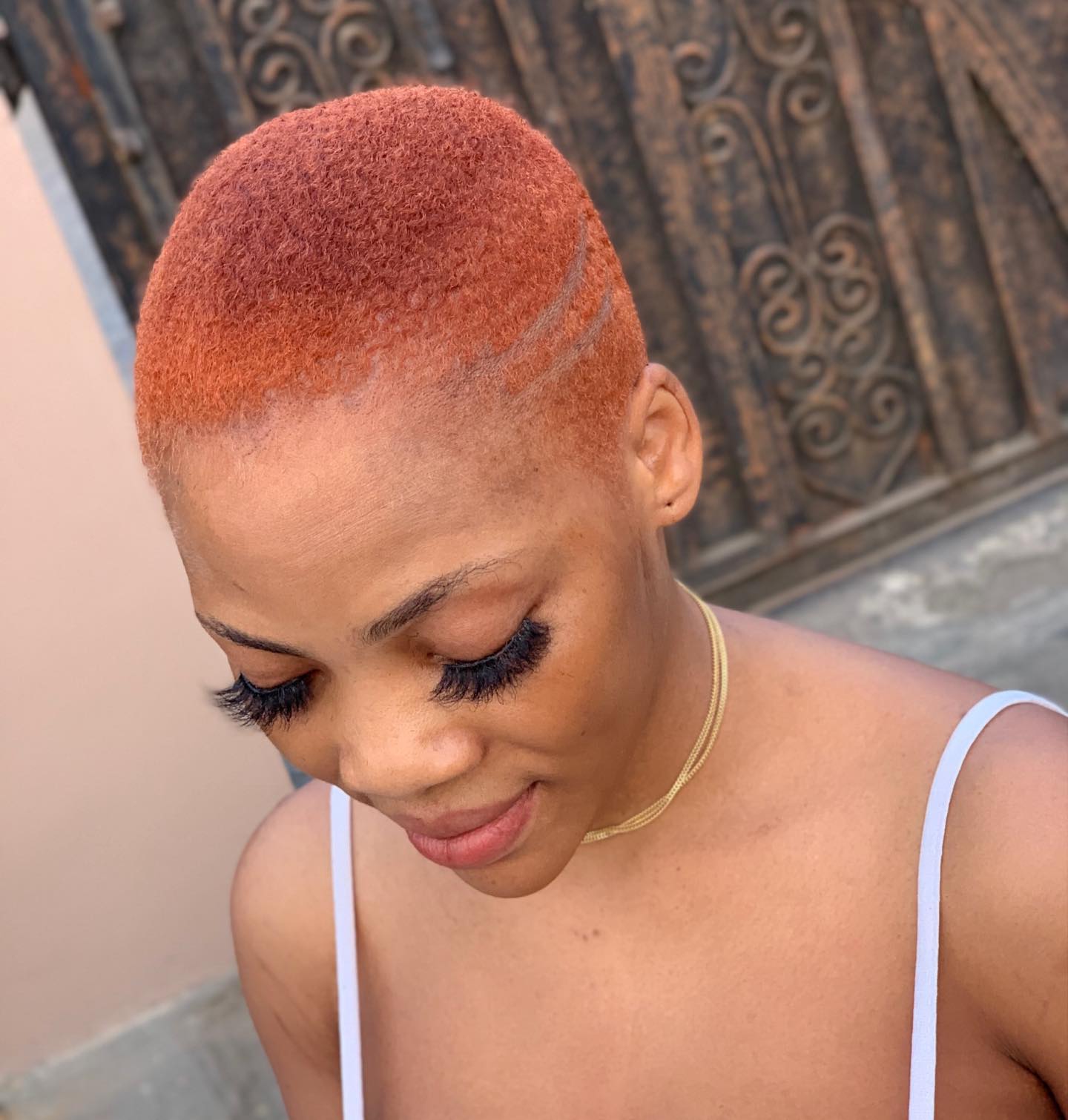 If you're a fan of color and you enjoy bright looks this will suit you.
5. Light Brown Pixie Cut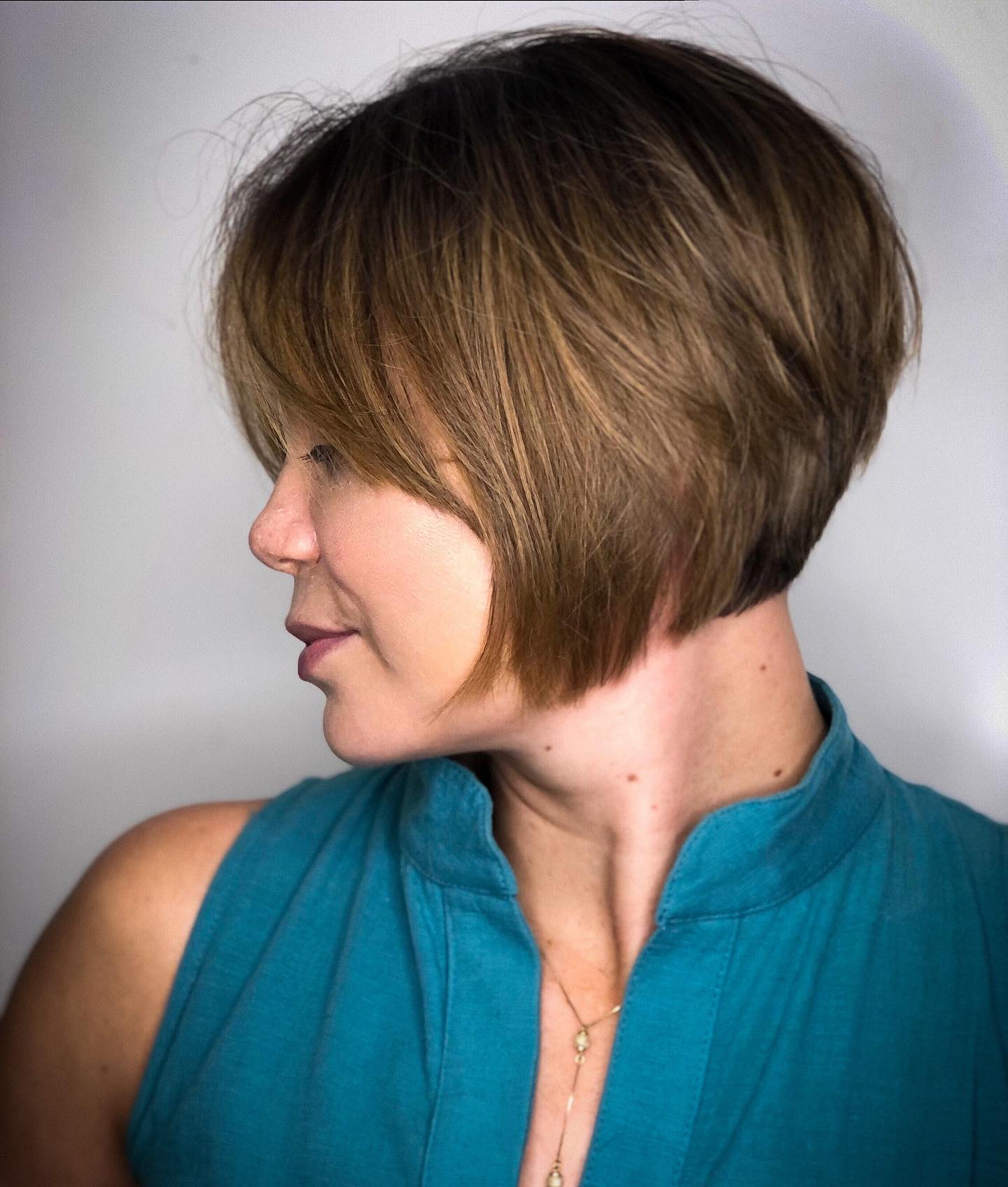 Cool defined bob that is going to look so chic and modern.
6. Pink & Purple Color Combo Pixie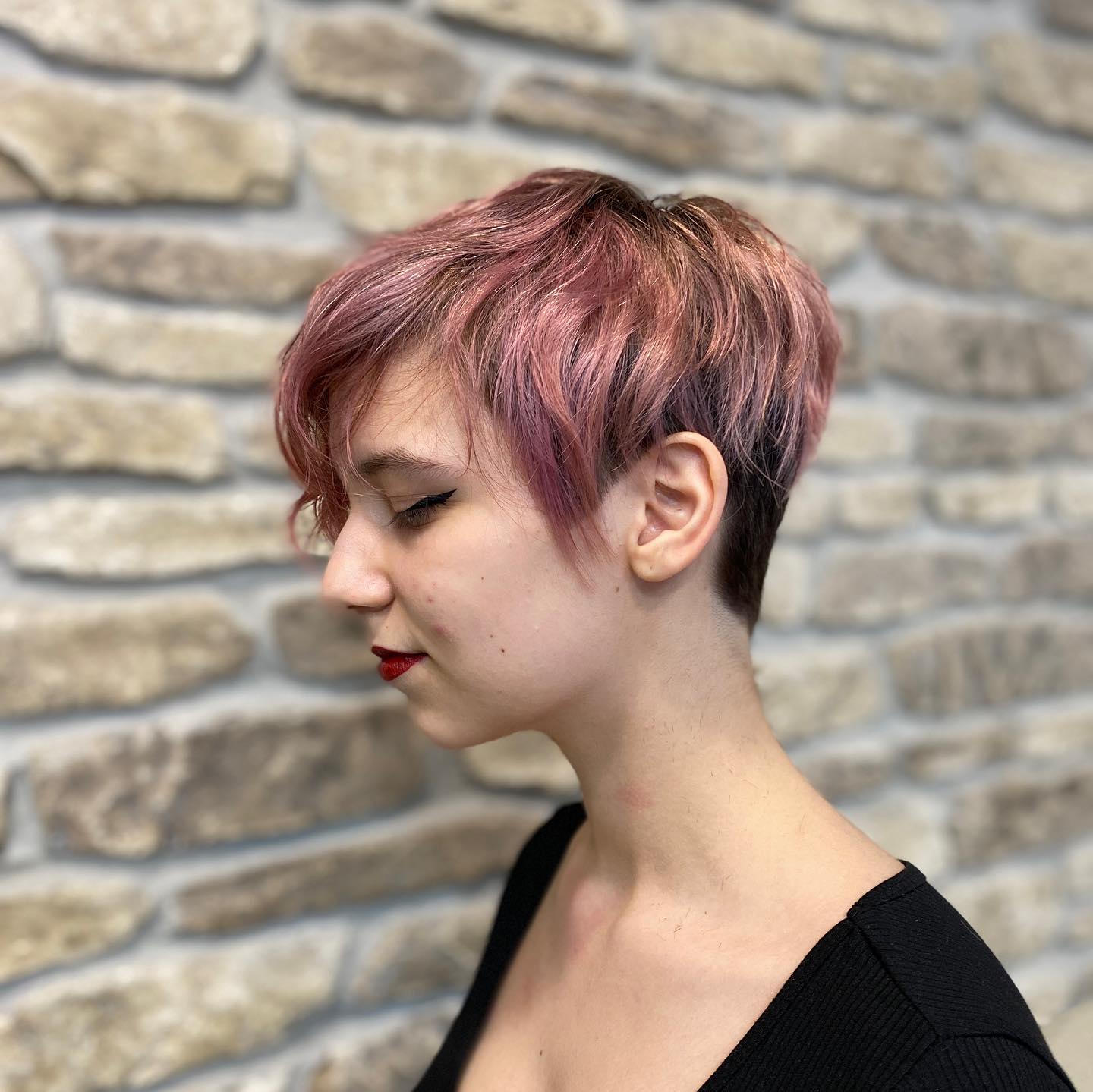 This messy pixie is for women who like bright "young" looks.
7. Icy Silver Short Hair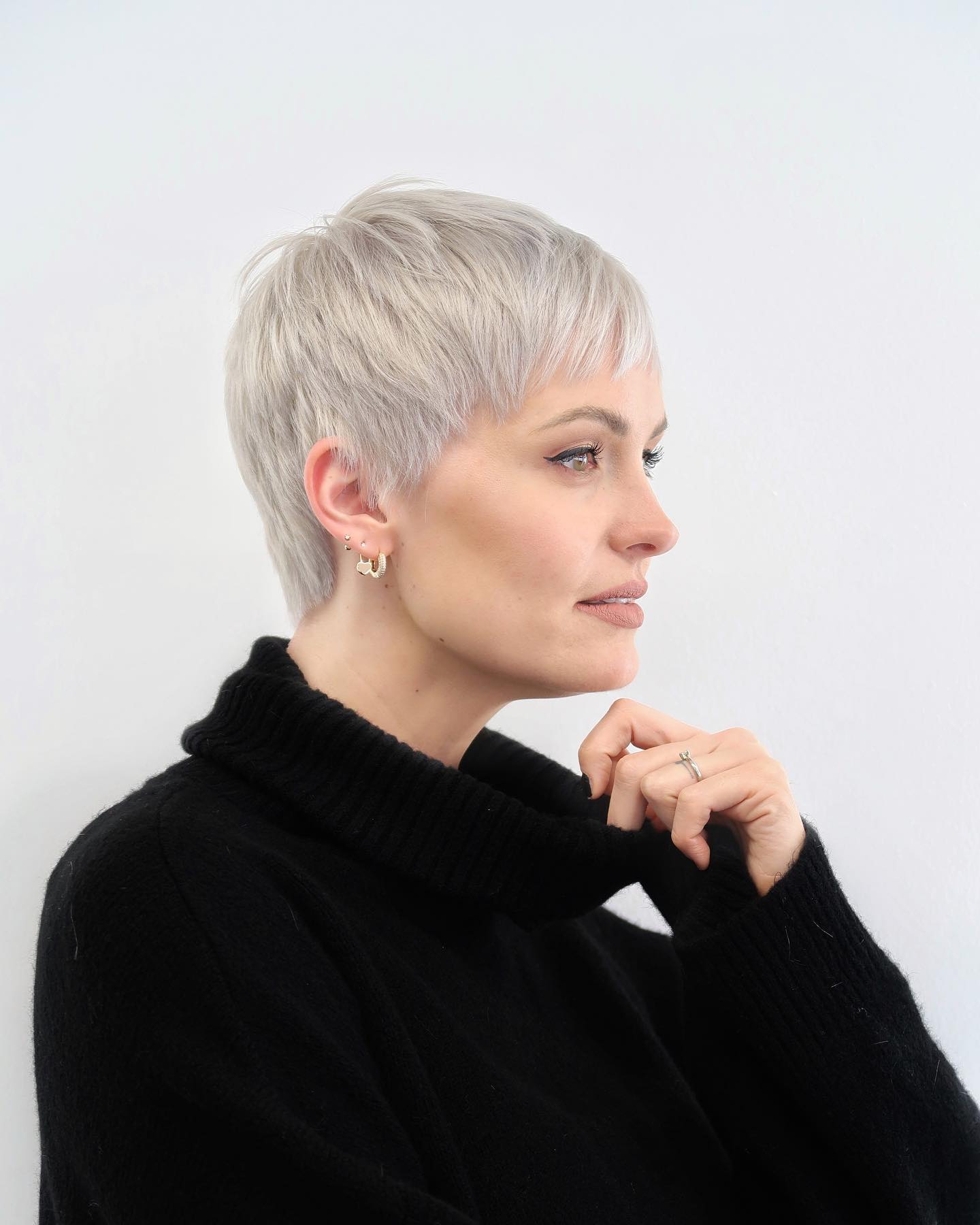 Give it a go with this light bleached gray pixie that also has that silver vibe to it.
8. Messy Curly Pixie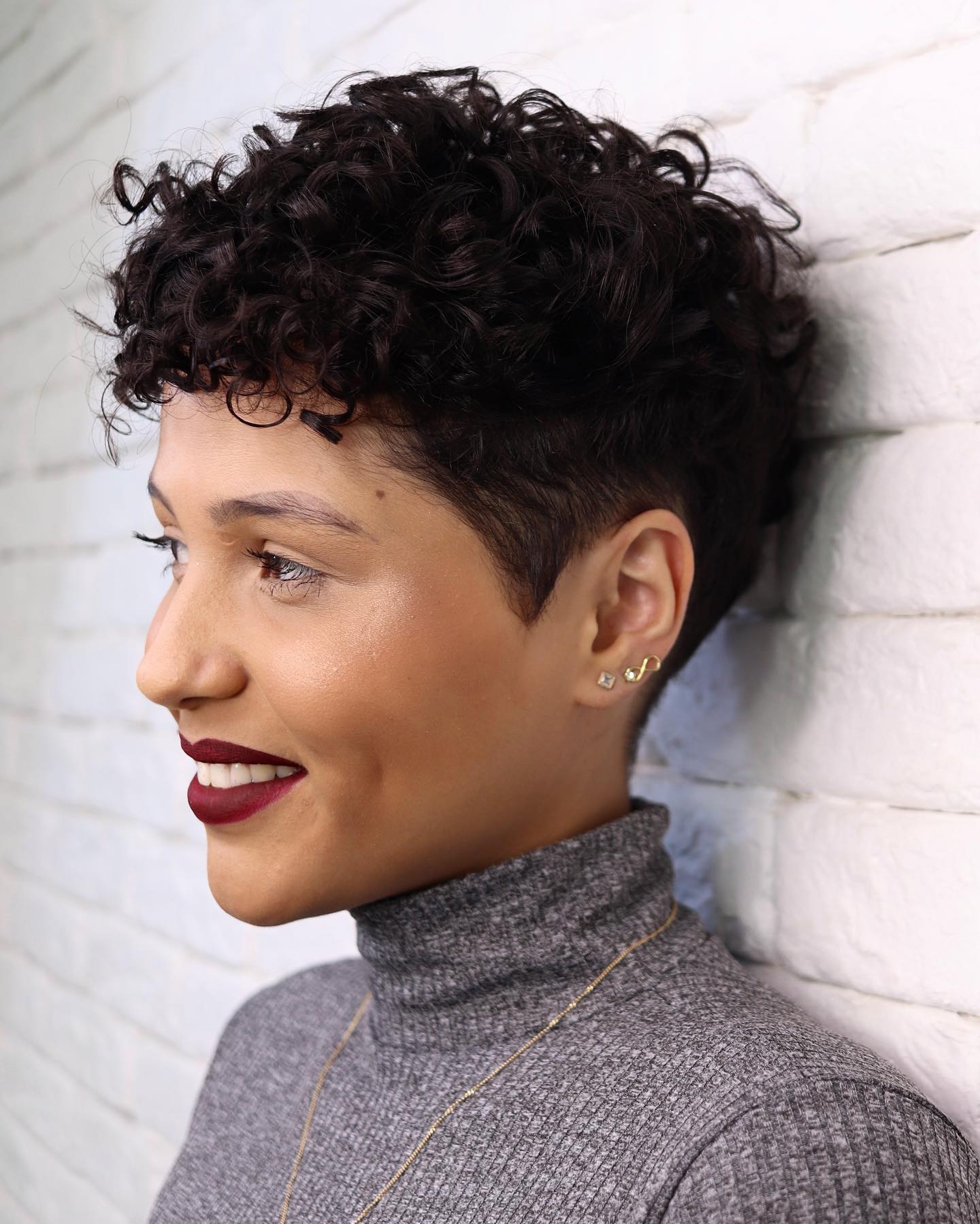 Women who like messy updos will enjoy this natural brown look.
9. Short Purple Updo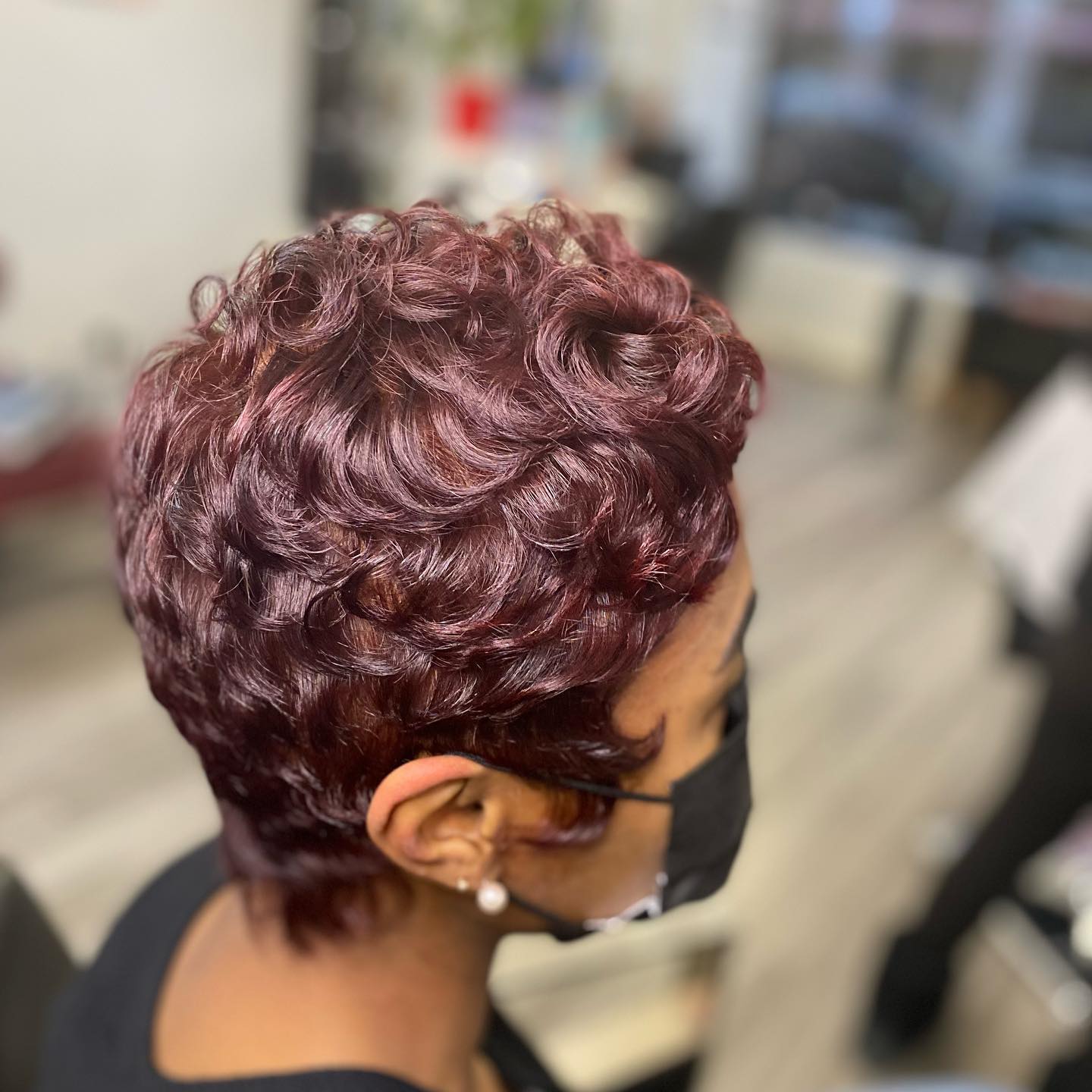 Go for this intriguing purple hair combo and stand out everywhere you go!
10. Bob Hair With Highlights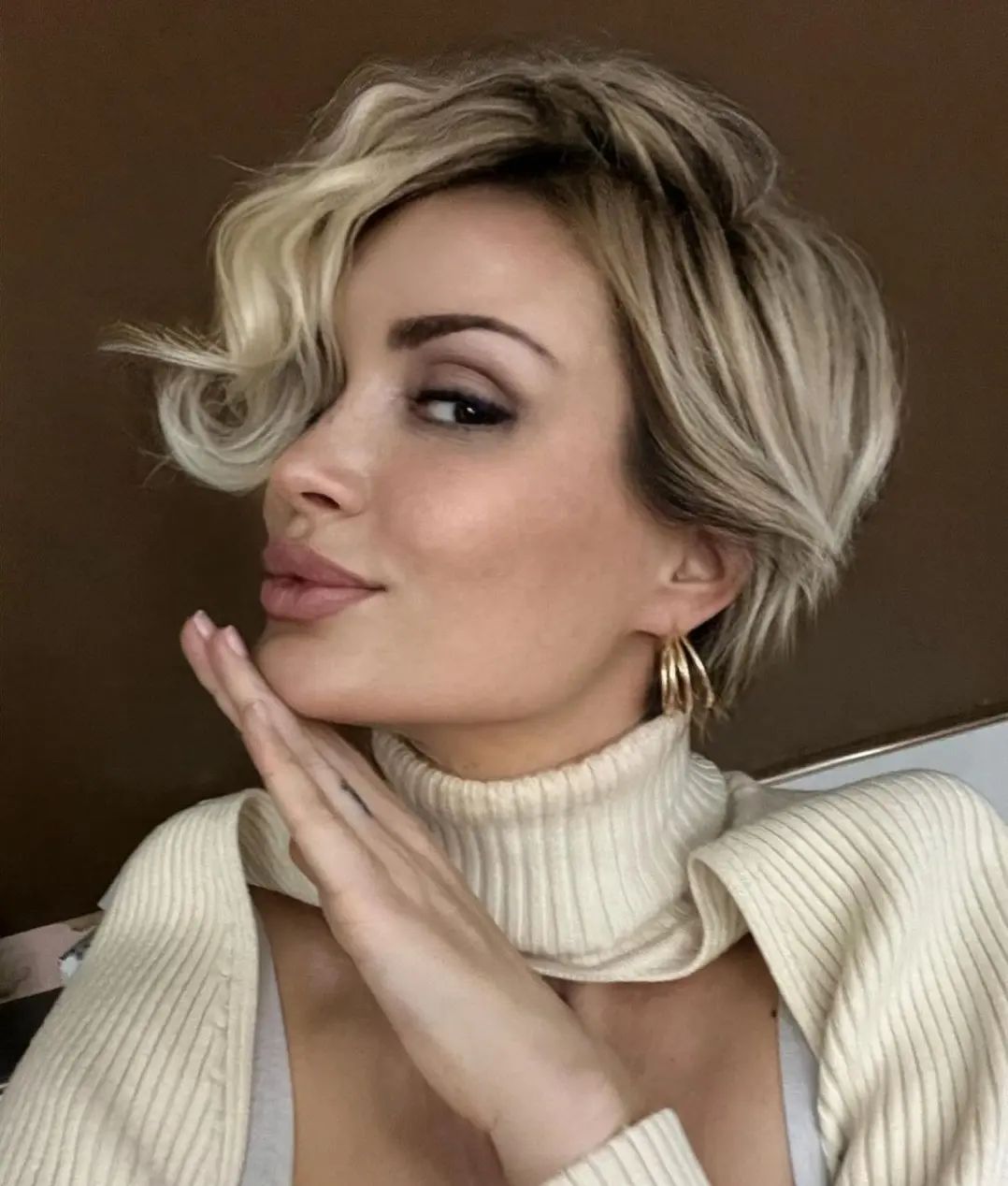 Cute chic bob with subtle highlights that you're going to adore for any age group.
11. Side Swept Bob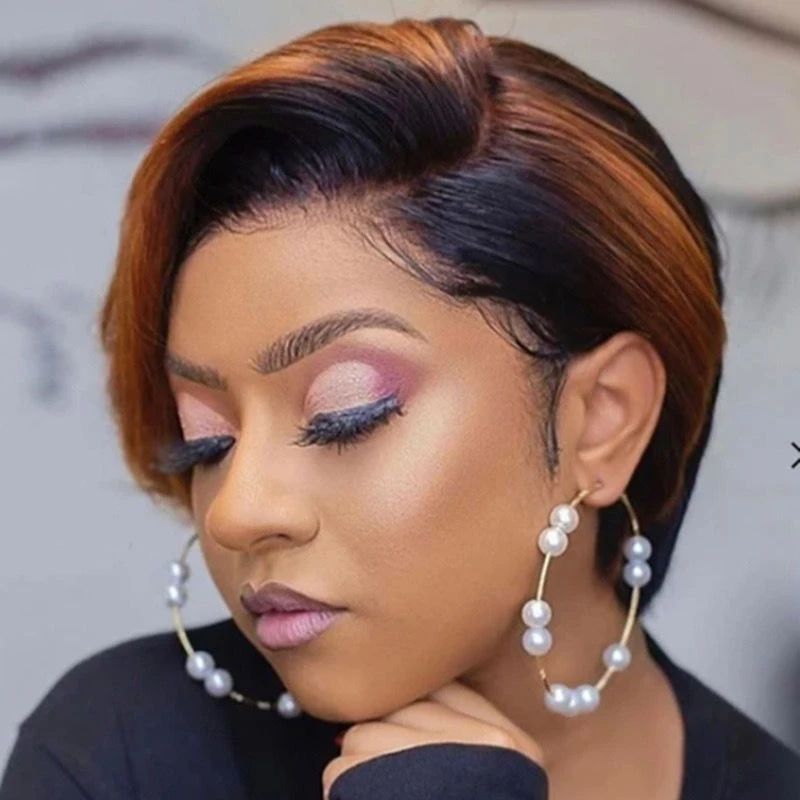 Go for this side-swept moment and show off your elegant hairdo.
12. Hot Pink Hair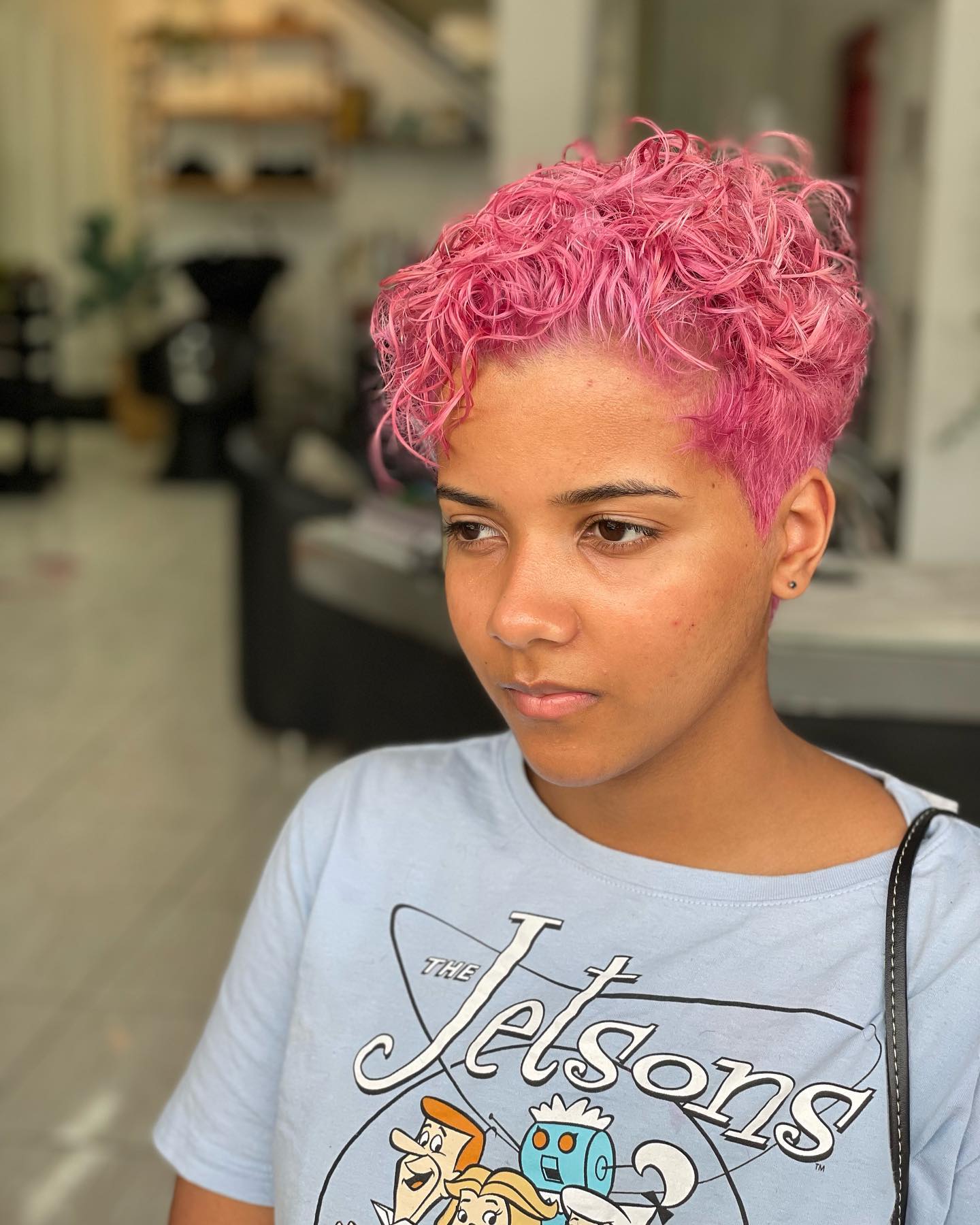 Bright pink hair usually looks amazing on younger women or teens.
13. Short Brown Messy Pixie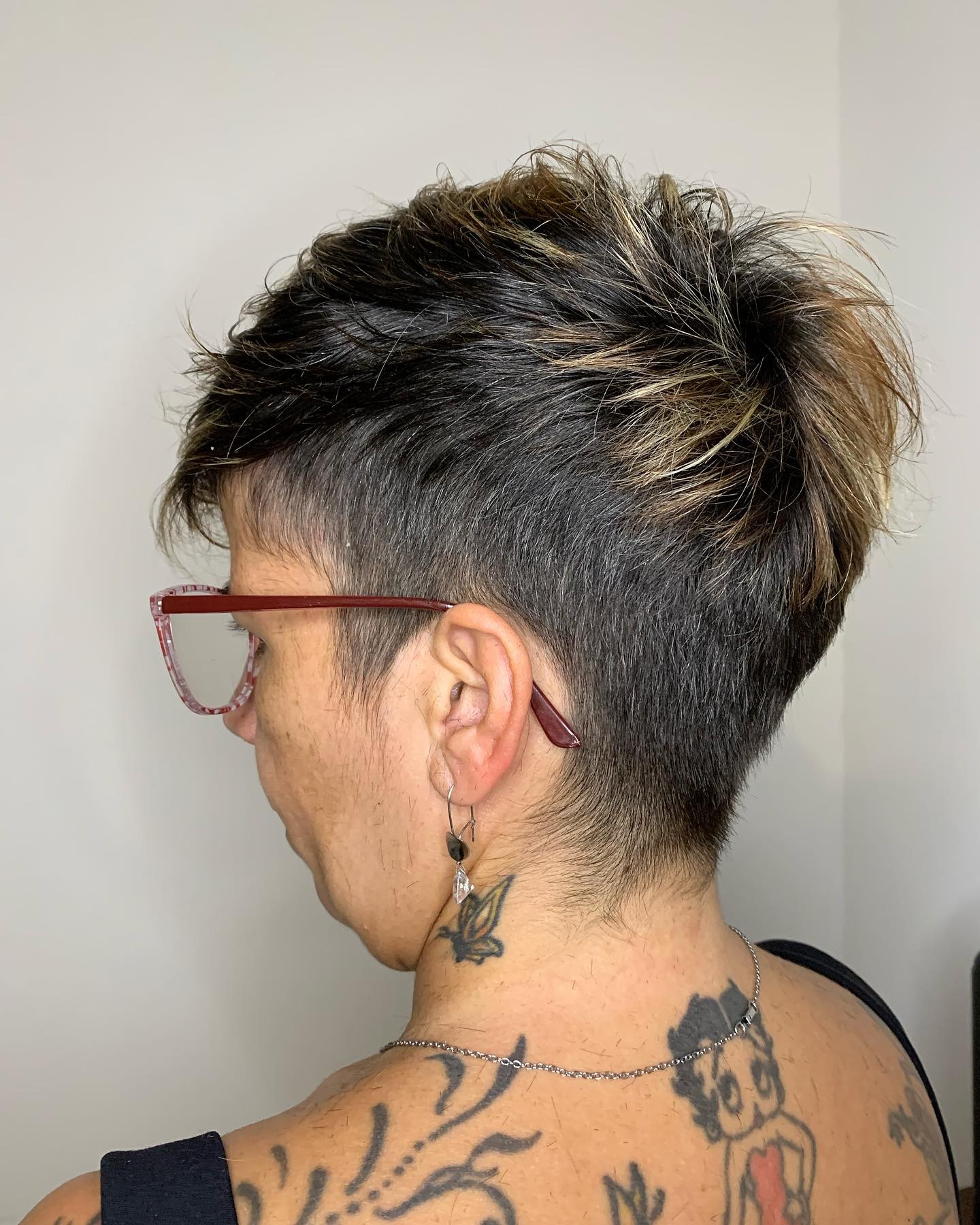 Add some layers to your hair and enjoy this sleek cut.
14. Defined Brown Hairstyle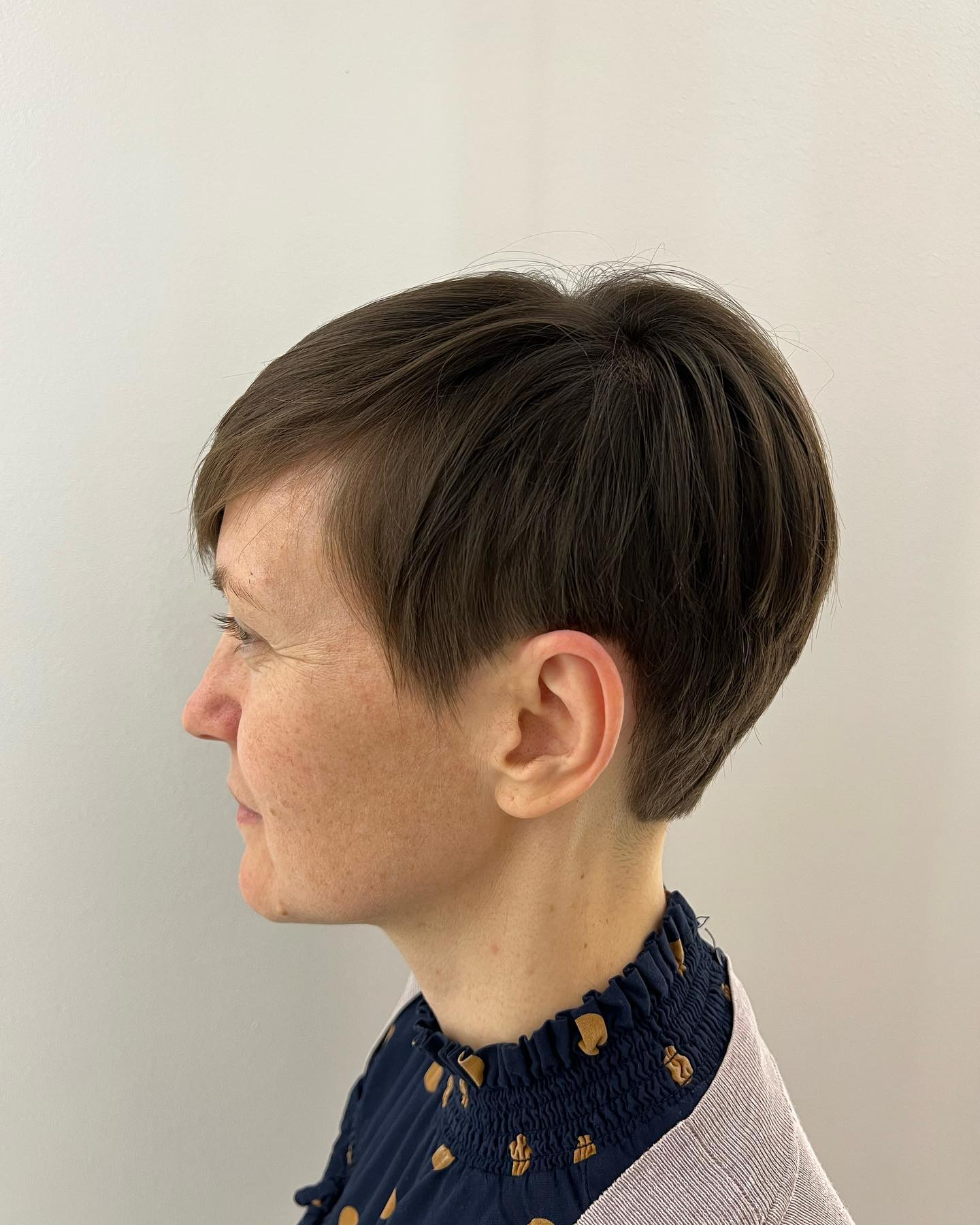 If you prefer shorter looks this will suit you along with your natural hair color.
15. Hot Purple Hair With Bangs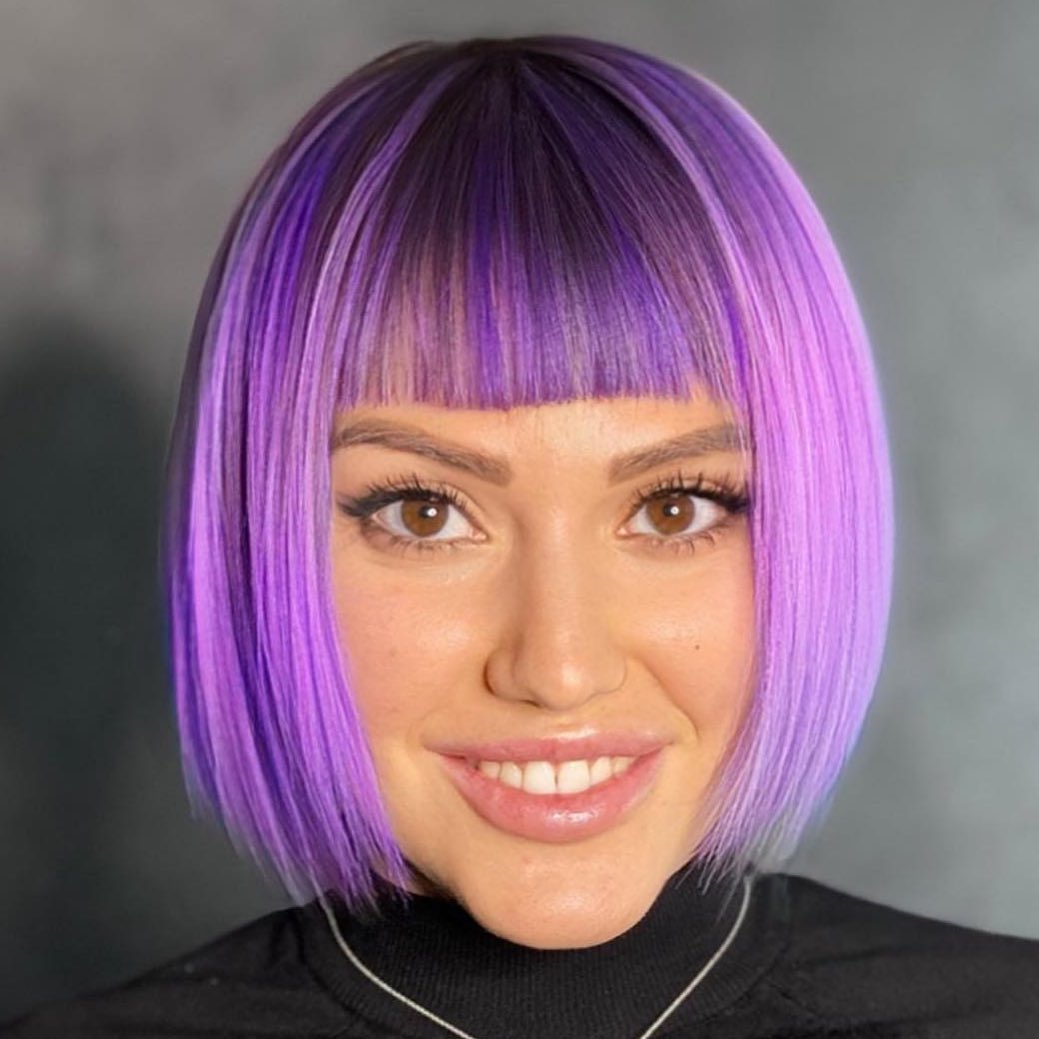 Cute fun purple bob with bangs, who can resist it?
16. Chopped Bob Natural Brown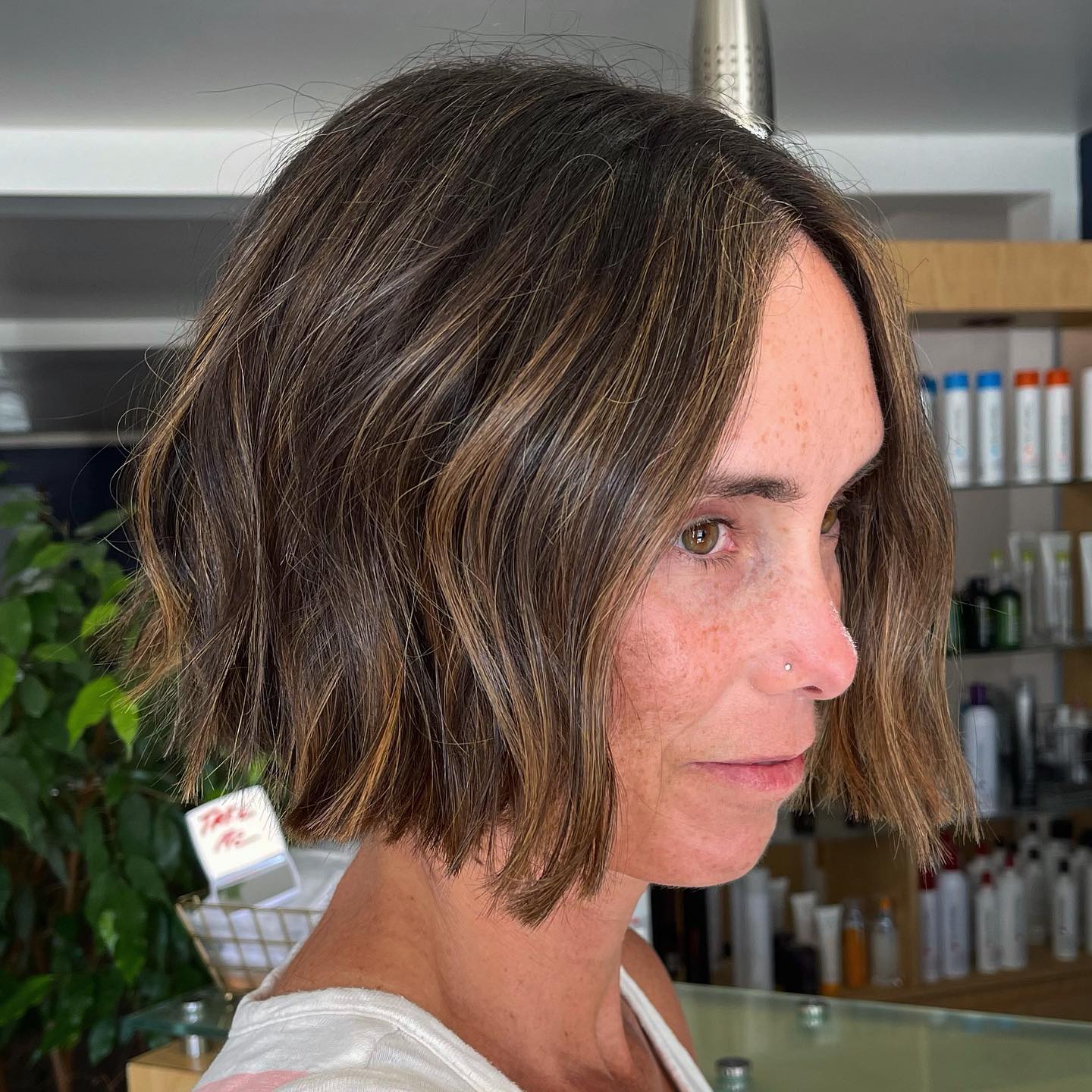 Short chopped wavy bob that you're going to like for everyday wear.
17. Bob With Gray Highlights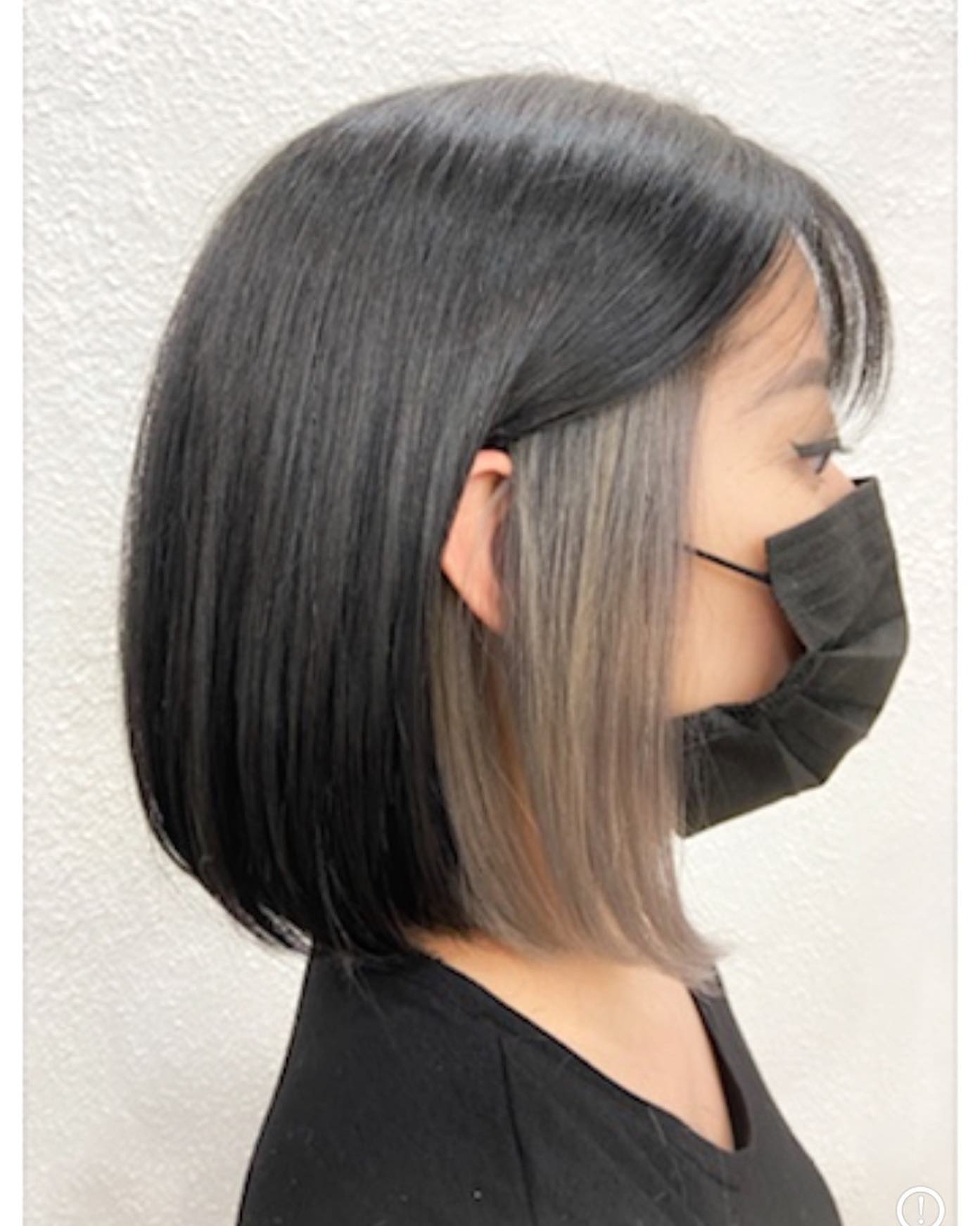 This is a cool defined black bob with a pop of gray highlights to it, ideal for younger women.
18. Short Curly Black Pixie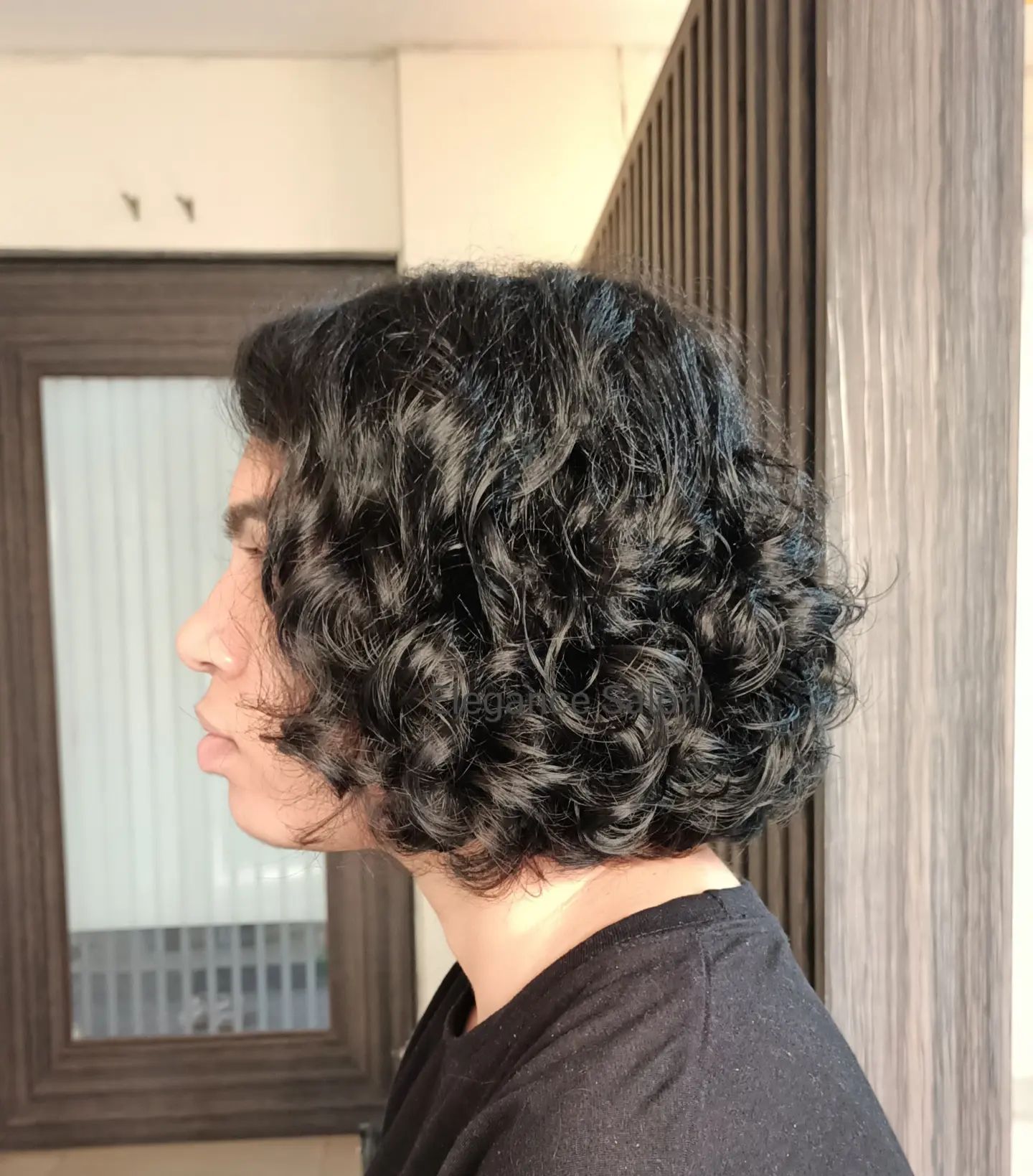 This short cute wavy bob with defined curls is for women who have naturally curly texture.
19. Light Orange Chopped Bob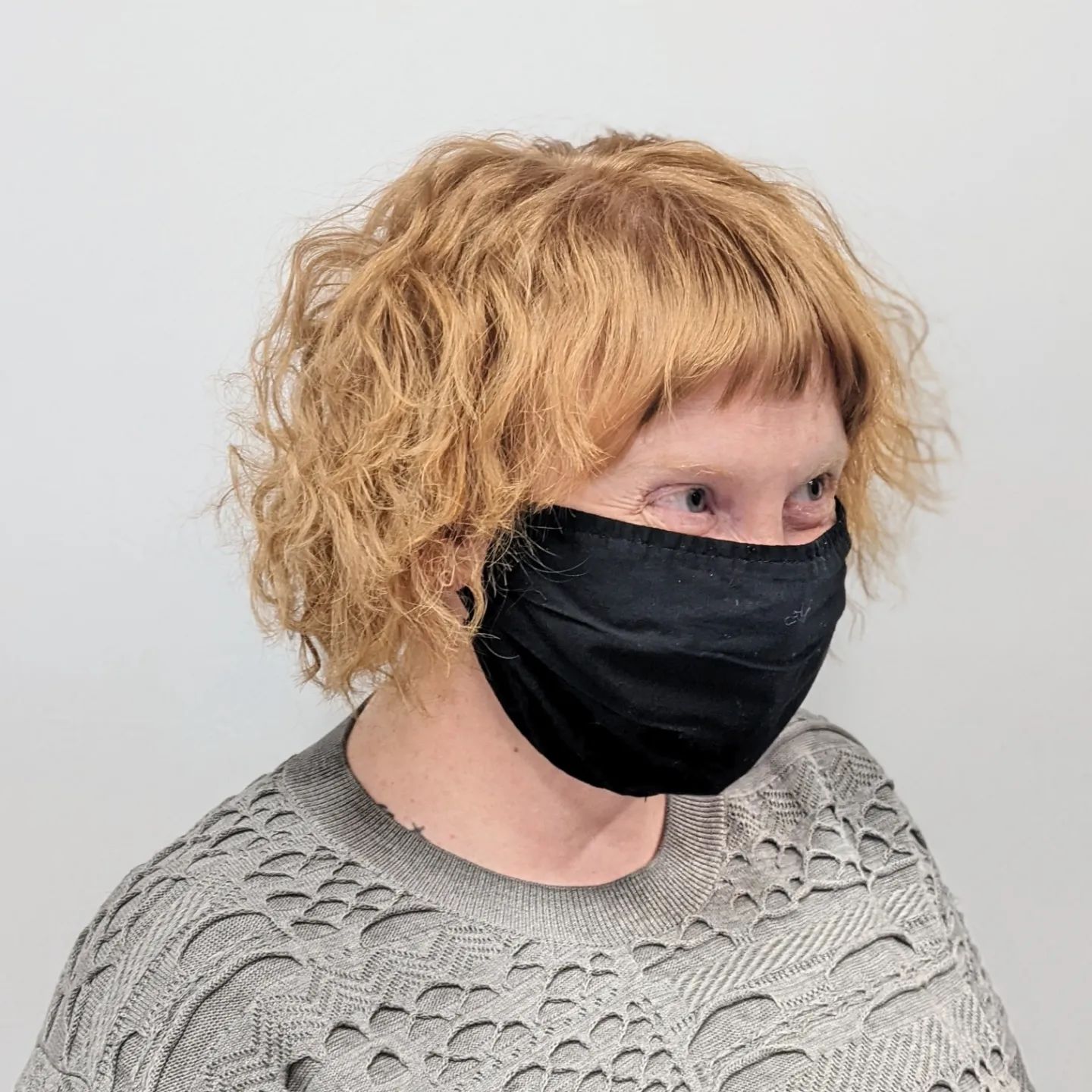 Add some orange hue to your hair to achieve this unique color combo.
20. Bob With Frontal Highlights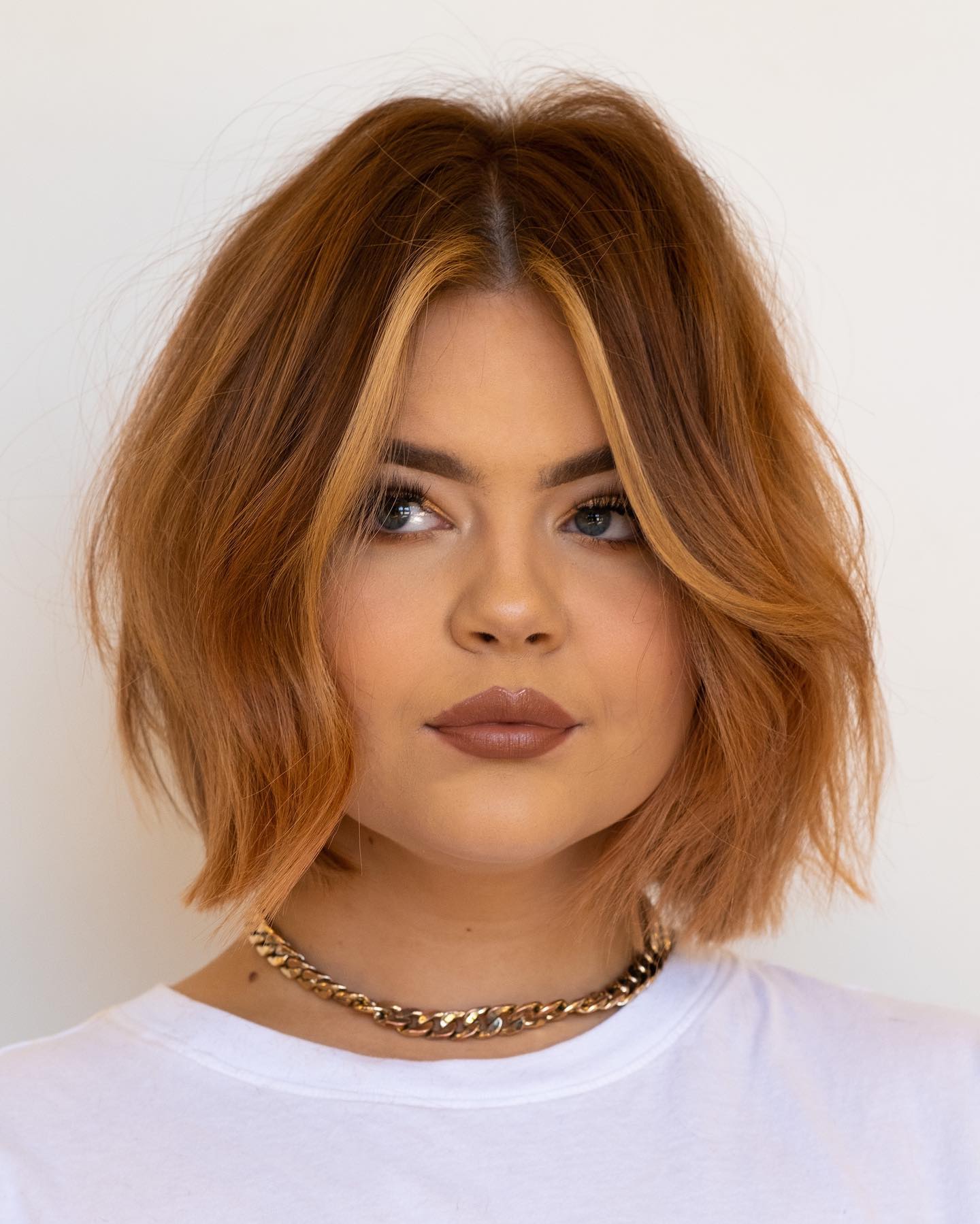 Women who like bob cuts will like this chopped orange look.
21. Bright Pink Pixie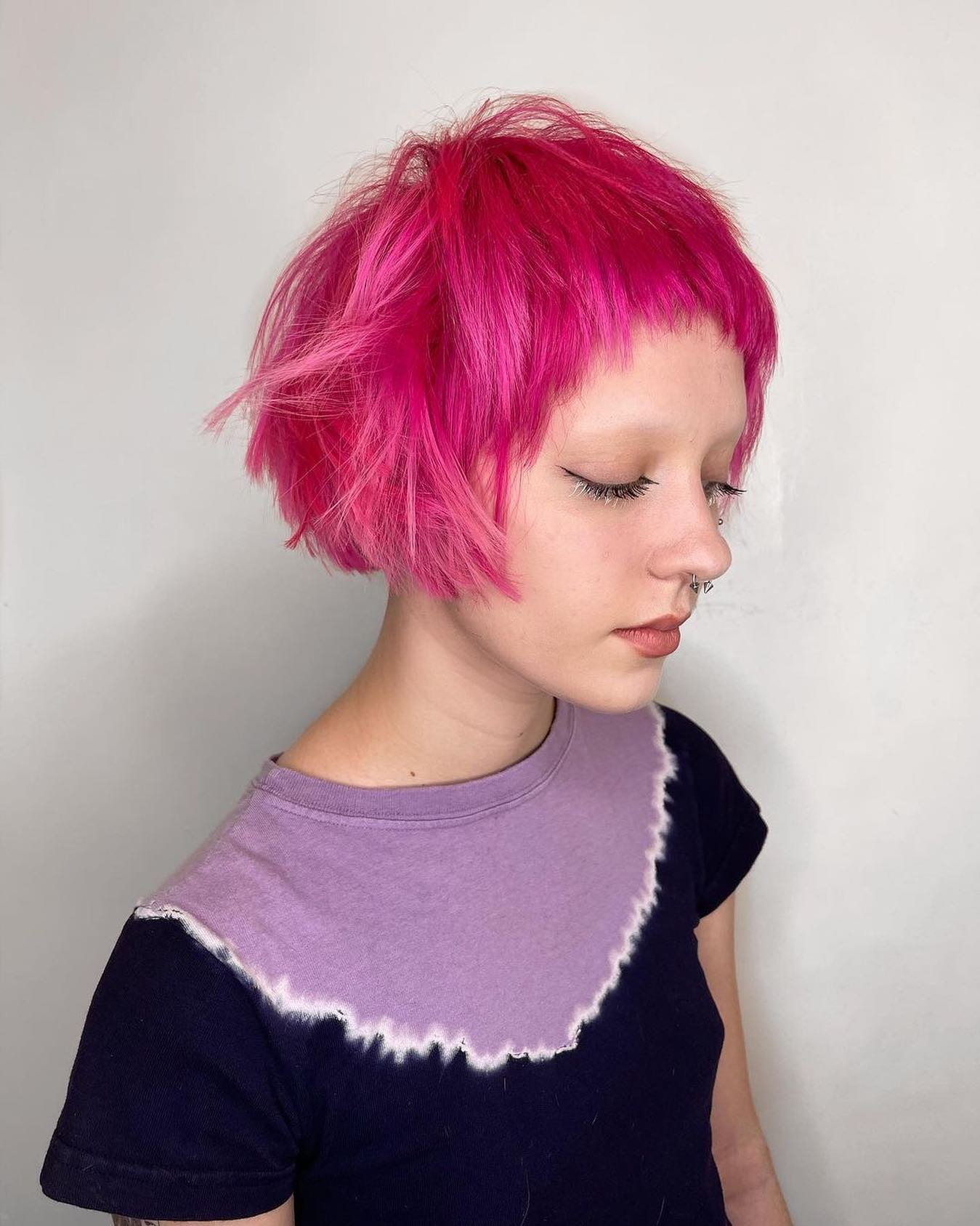 If you like cool and loud colors consider this bright pink hairdo.
22. Blonde Curly Hair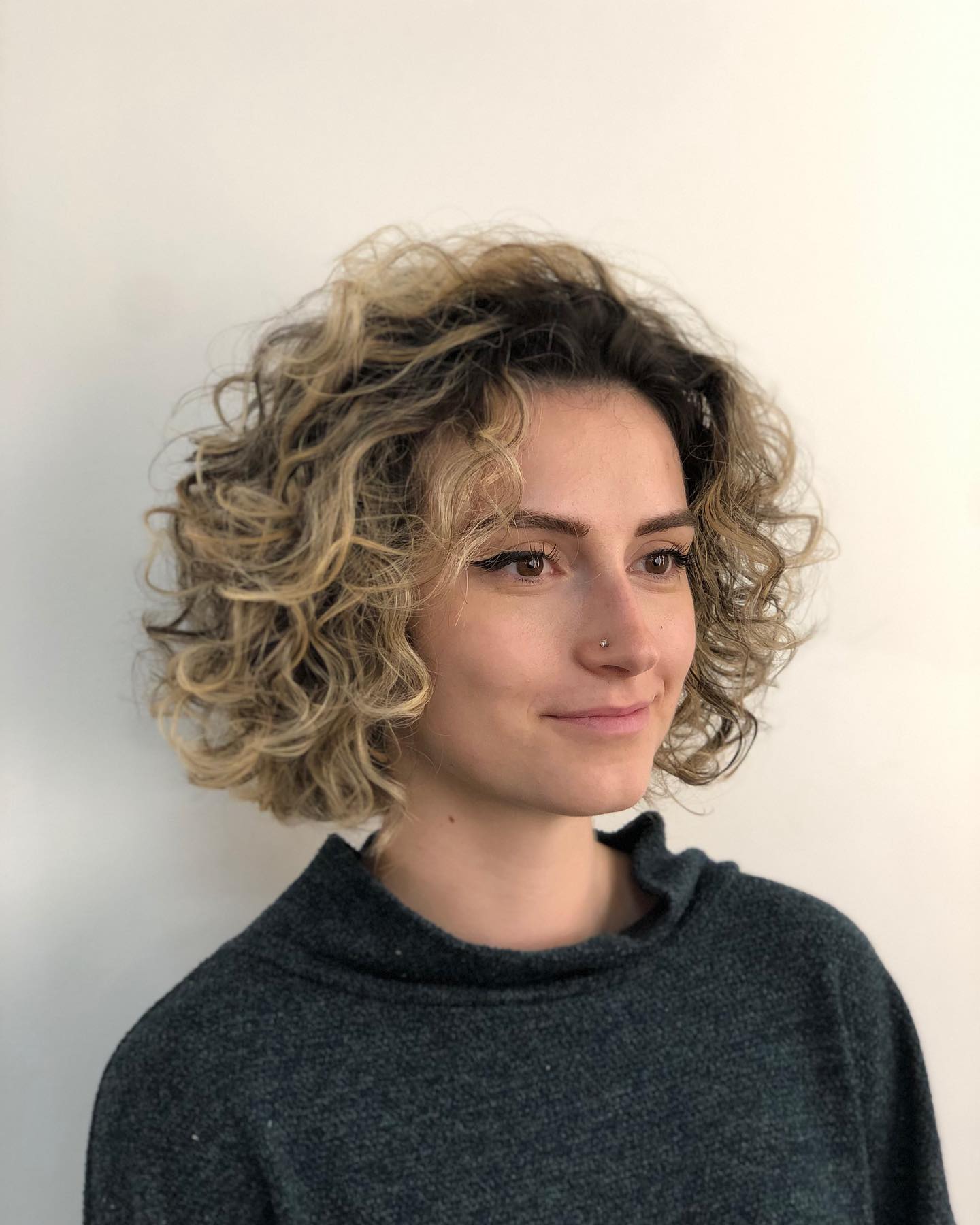 Soft curls will look feminine on every girl.
23. Light Orange Curly Hair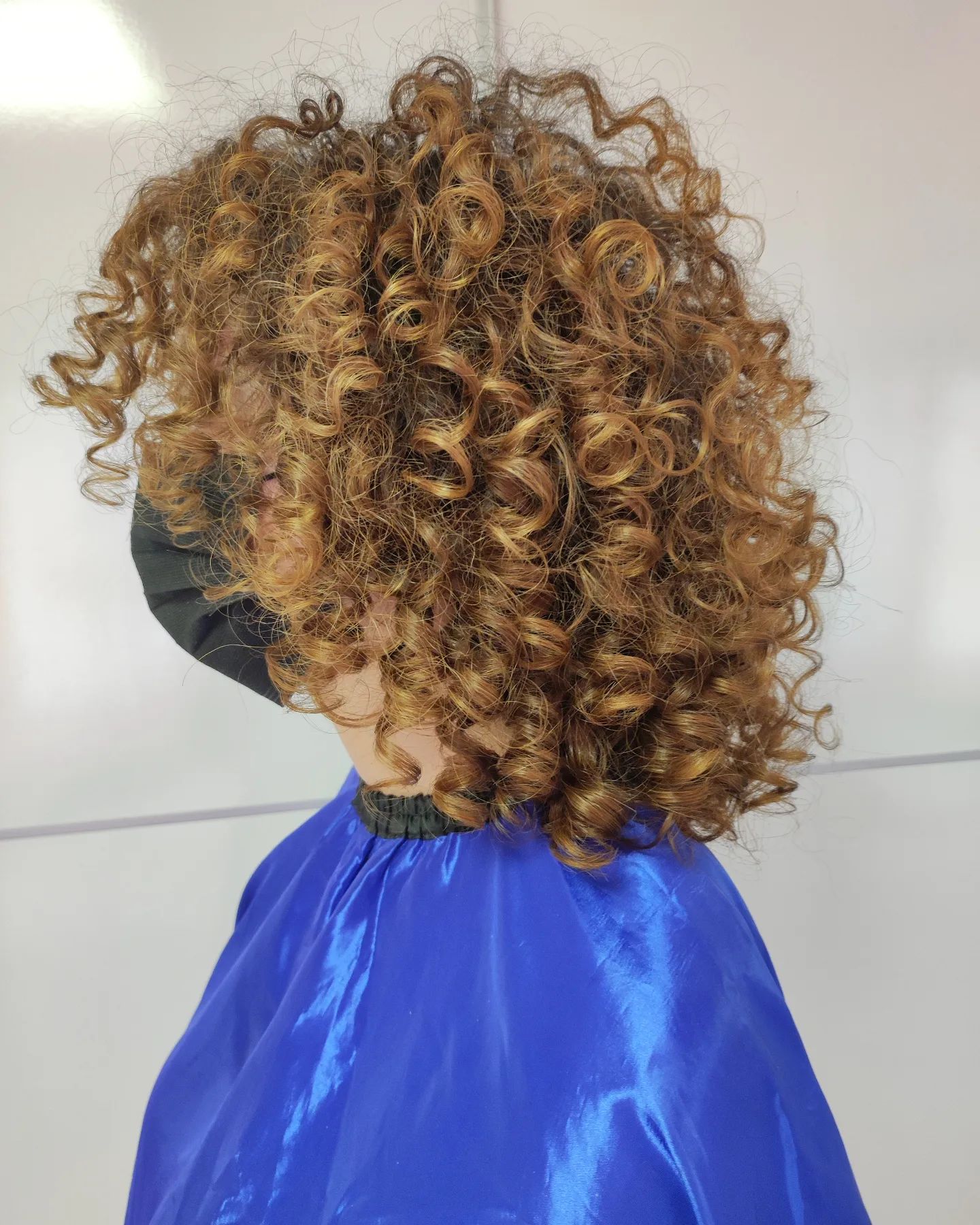 Define your cut with the right hair gel.
24. Space Bun Hairstyle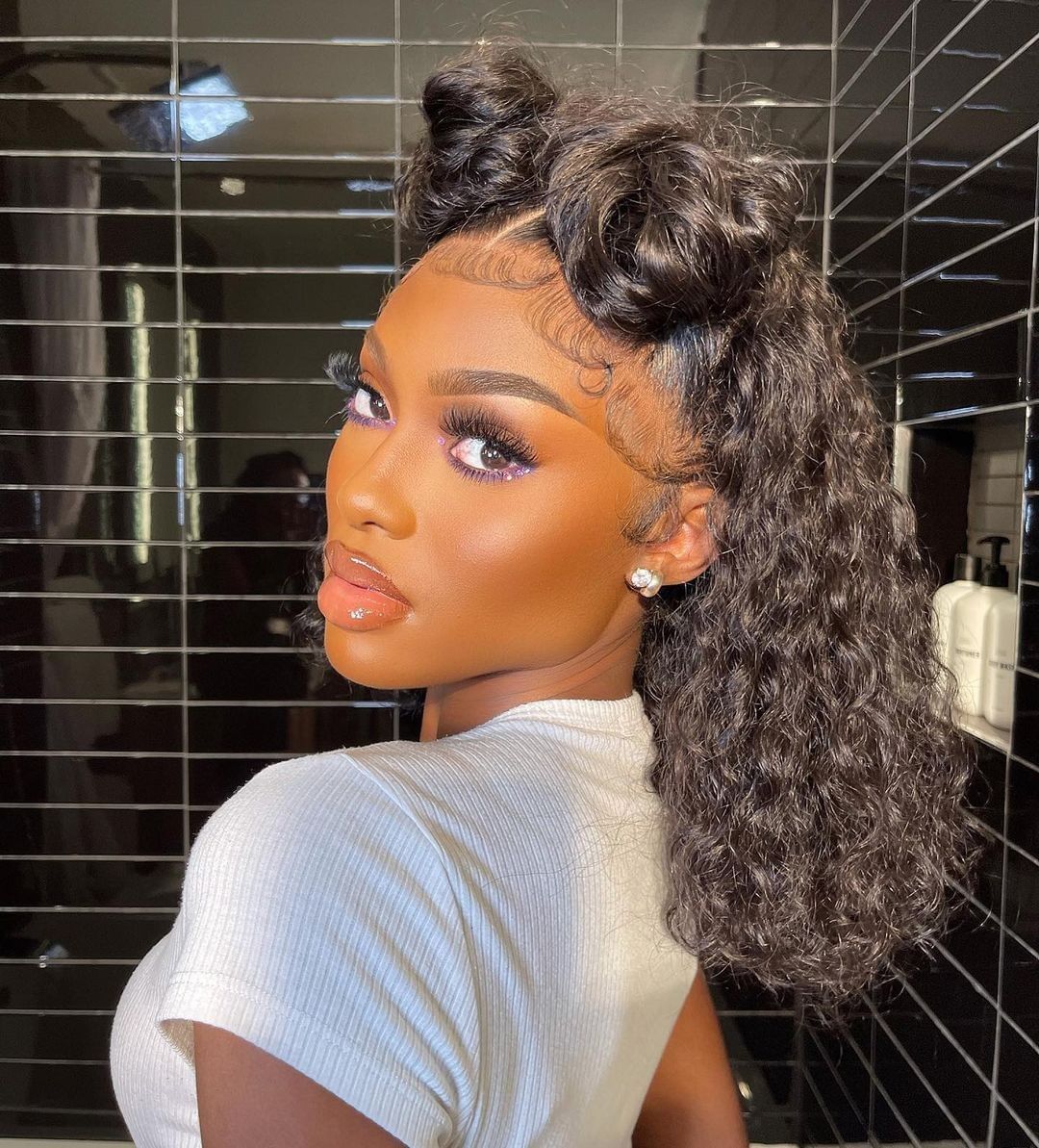 This curly updo with space buns is super popular on TikTok these days.
25. Light Green Hairdo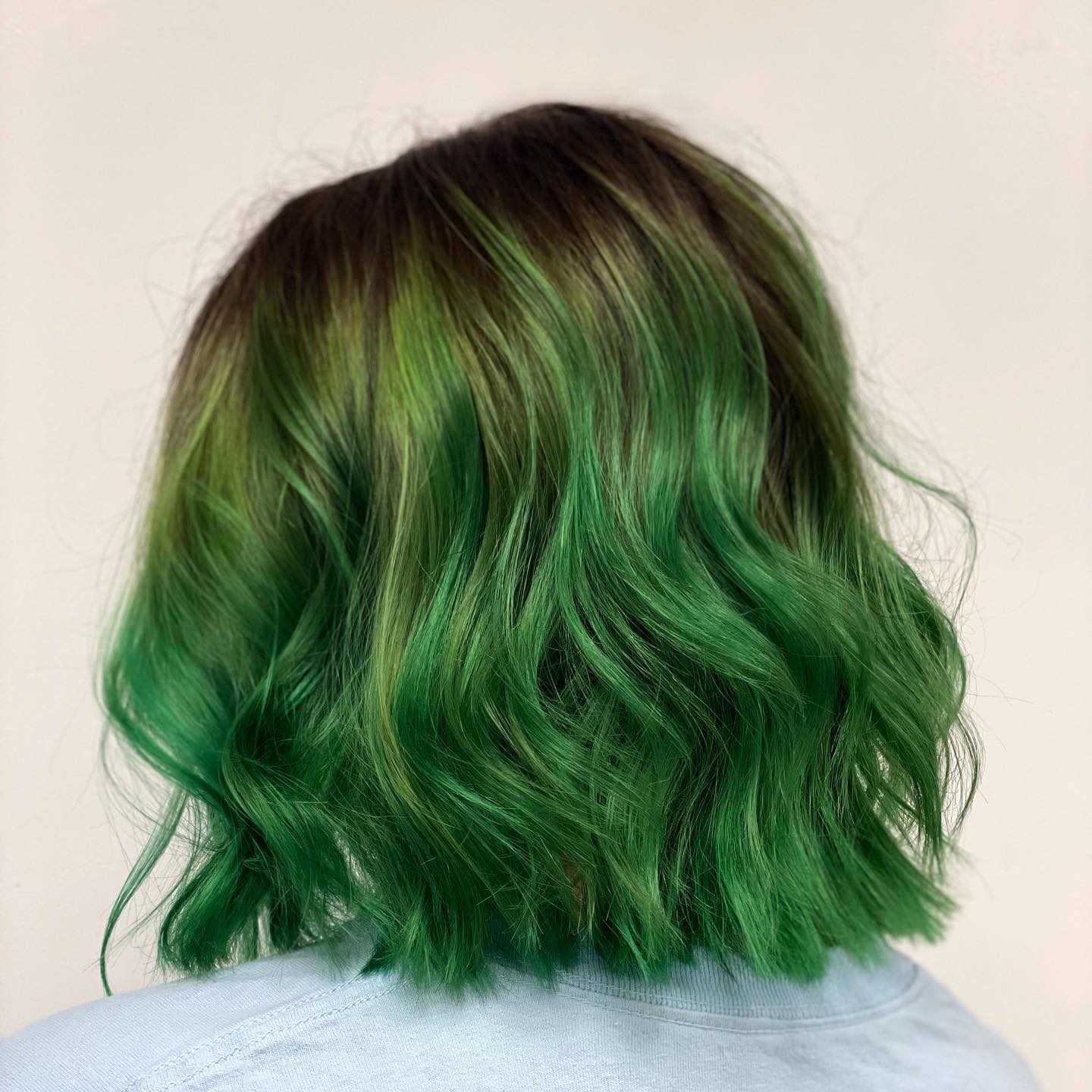 Why not add a pop of green to make your hair more intriguing and popping?
26. Bright Red Hairstyle Look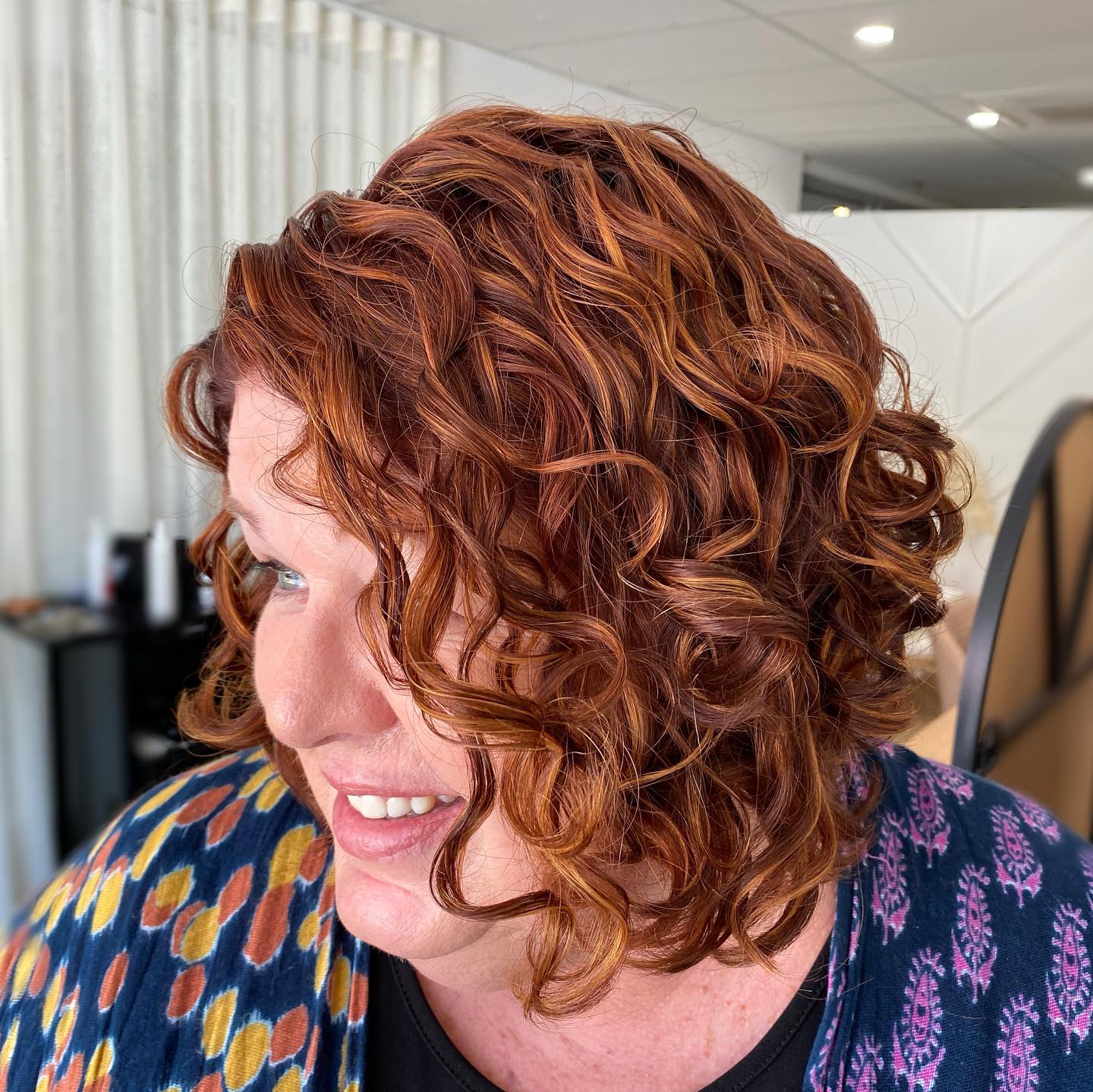 Add a hue of red or orange and make your hair hot and fiery!
27. A-line Black Bob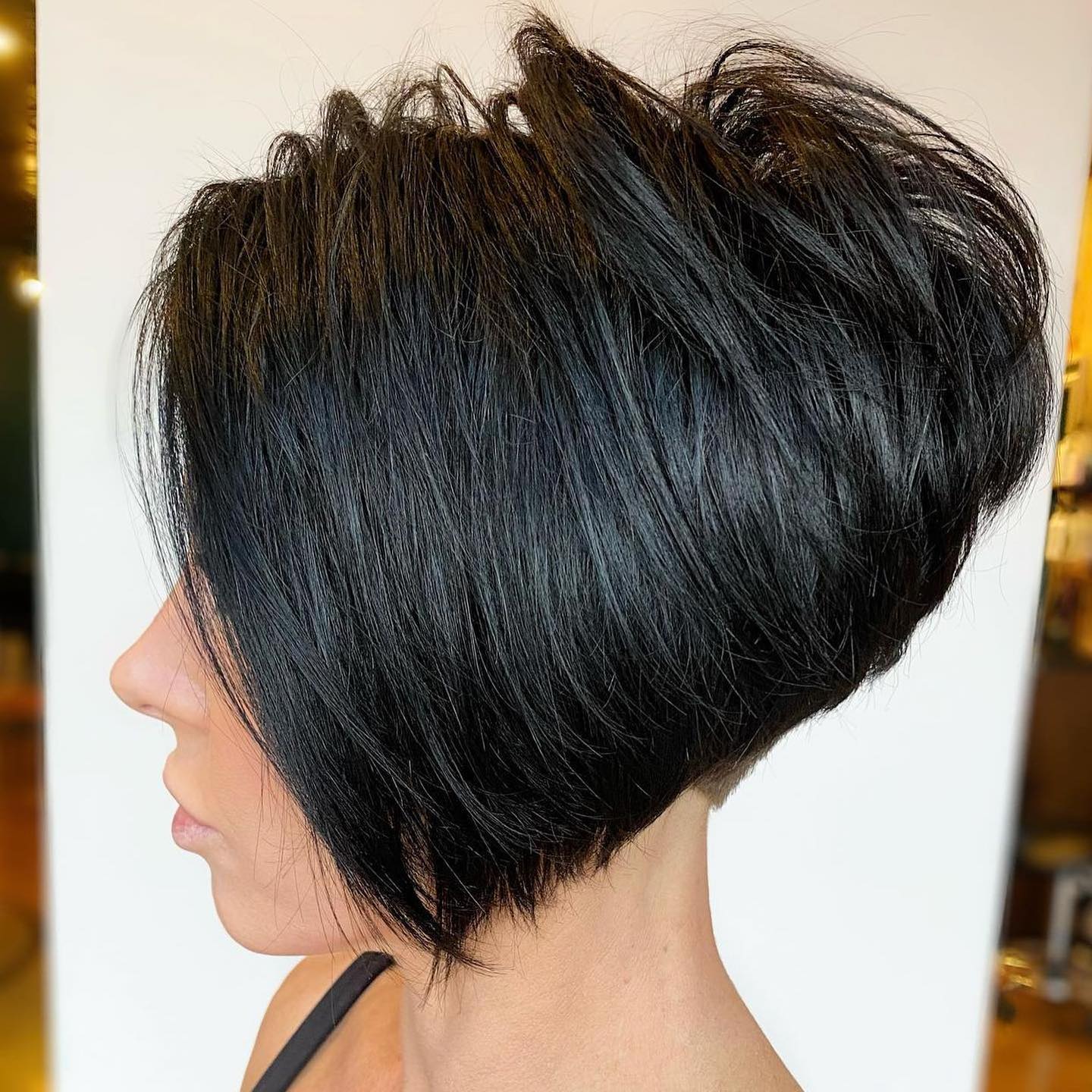 Super-sleek and defined bob that has such defined edges!
28. Auburn Red Bob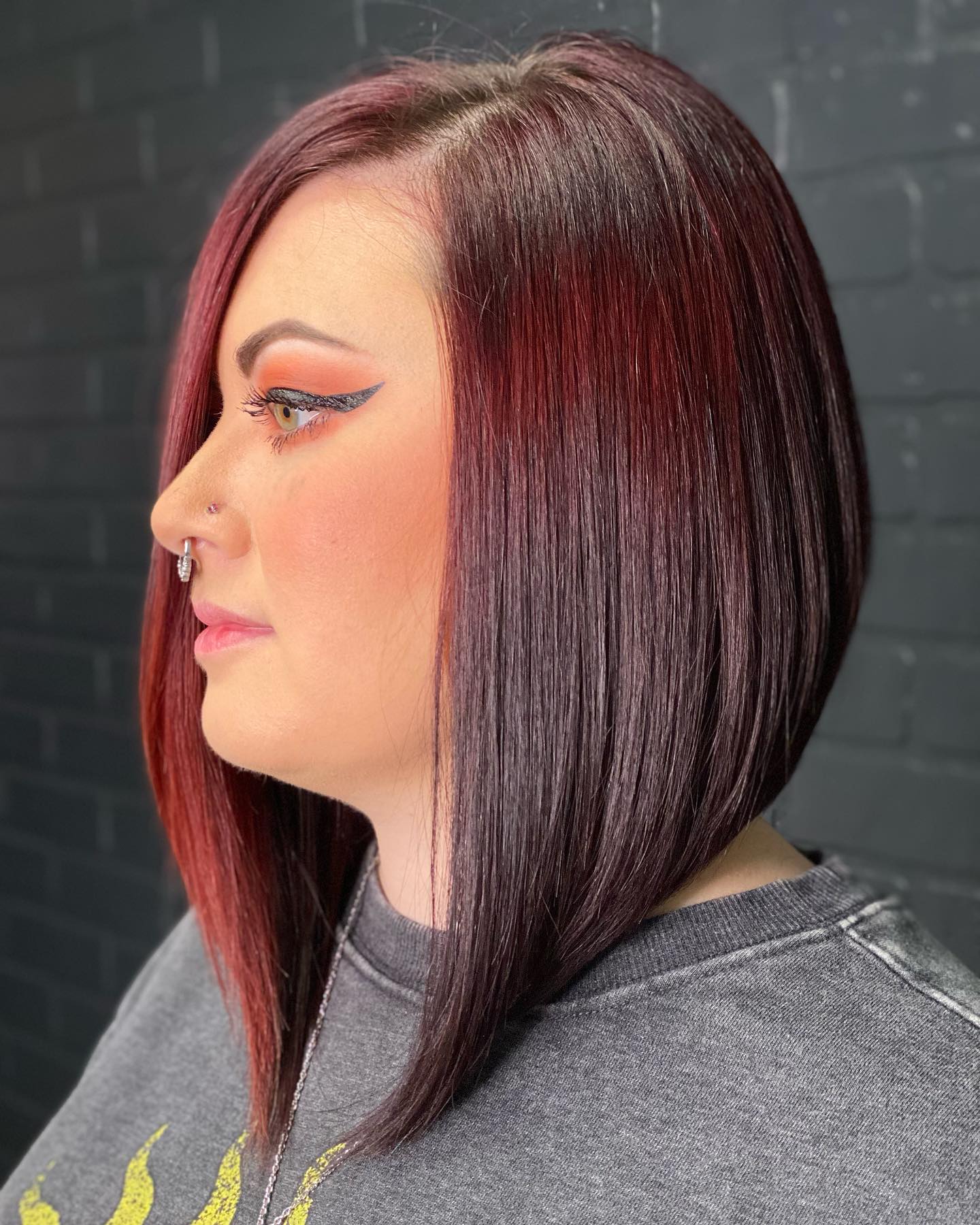 This bright warm auburn look will be a popular solution for the fall season.
29. Blonde Bob Haircut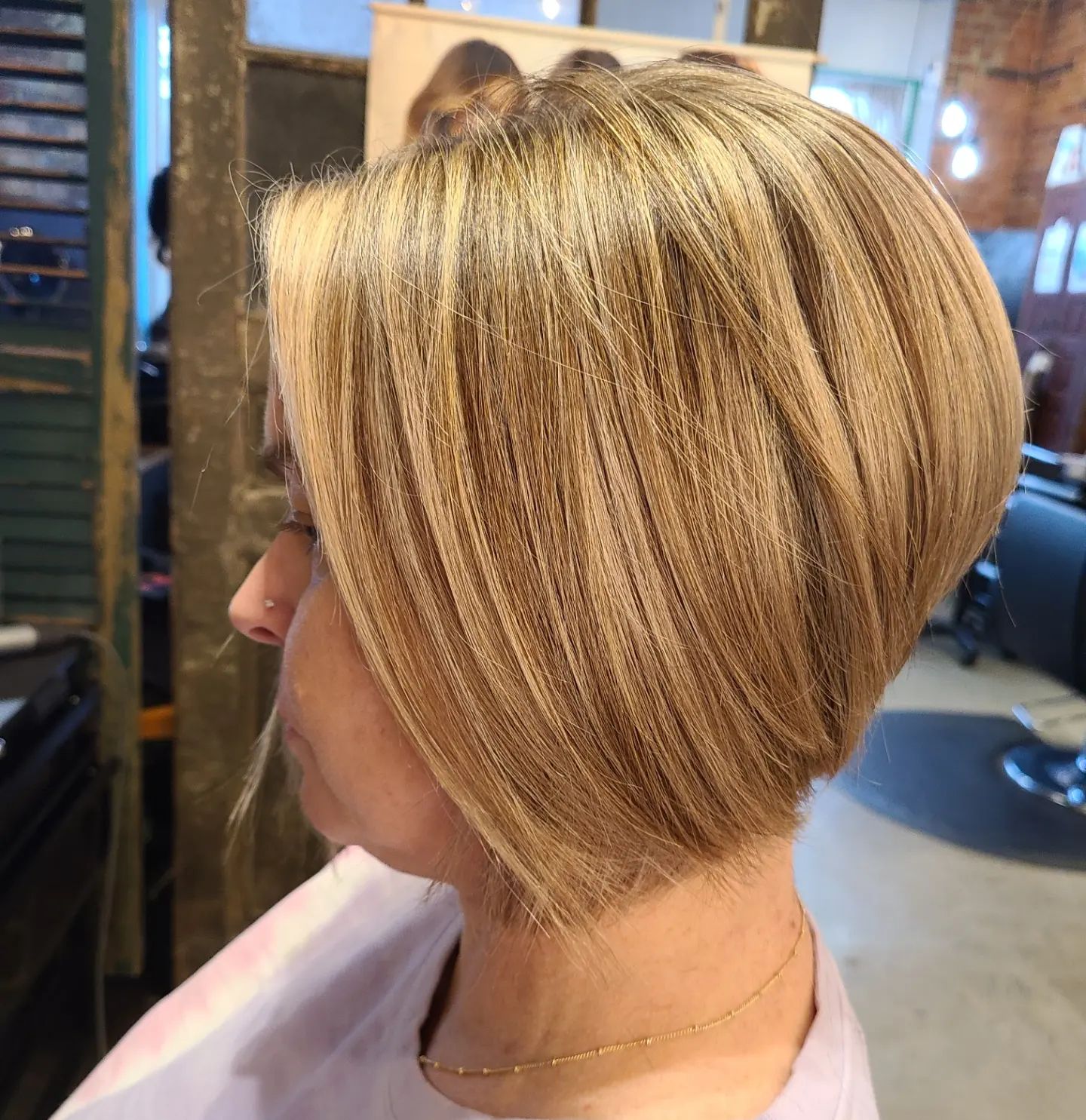 Moms who like elegant looks for the office will like this beauty.
30. Subtle Ombre Hairstyle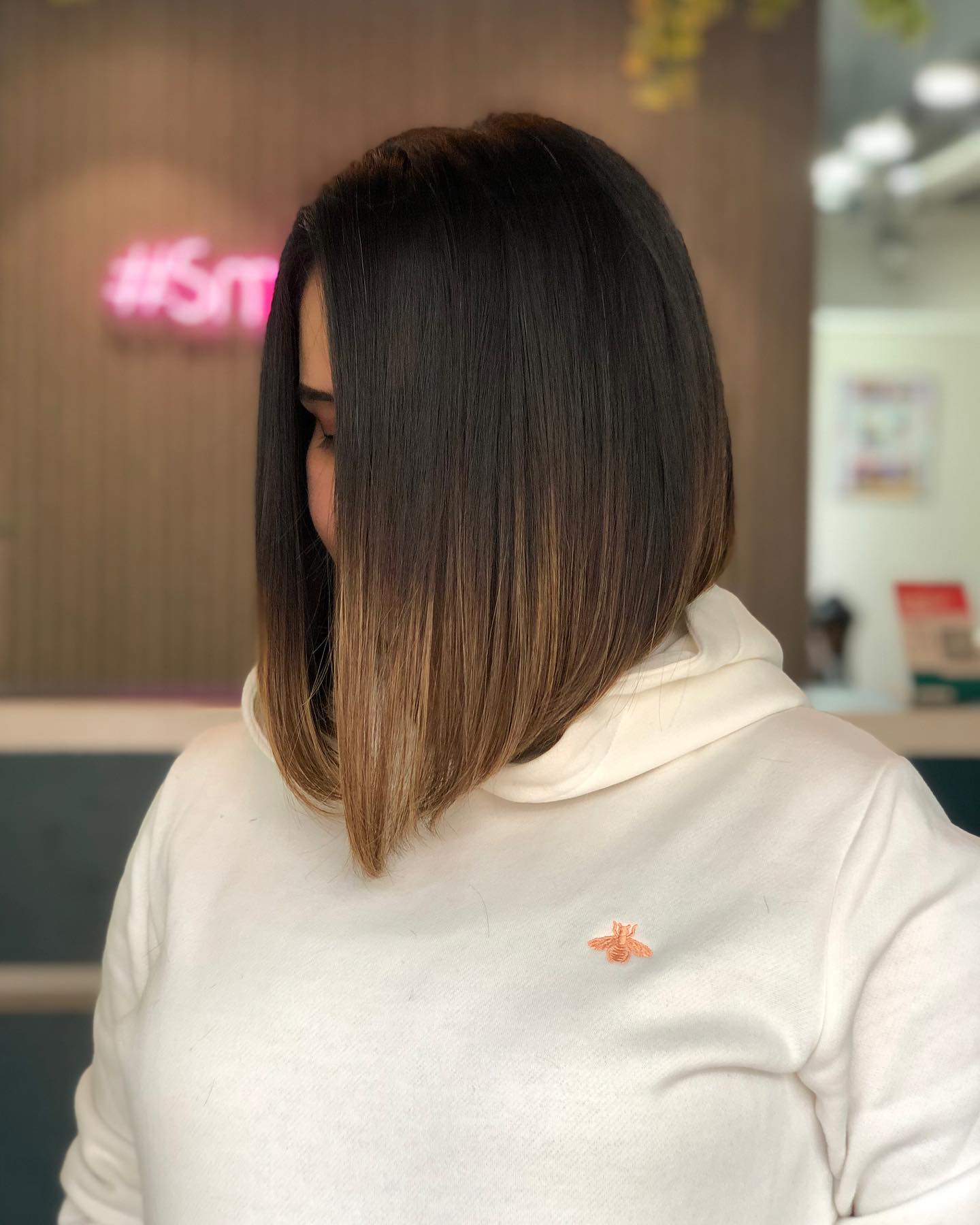 Choose this defined dark brown bob and rock the inches with confidence.
31. Short Brown Bob Hair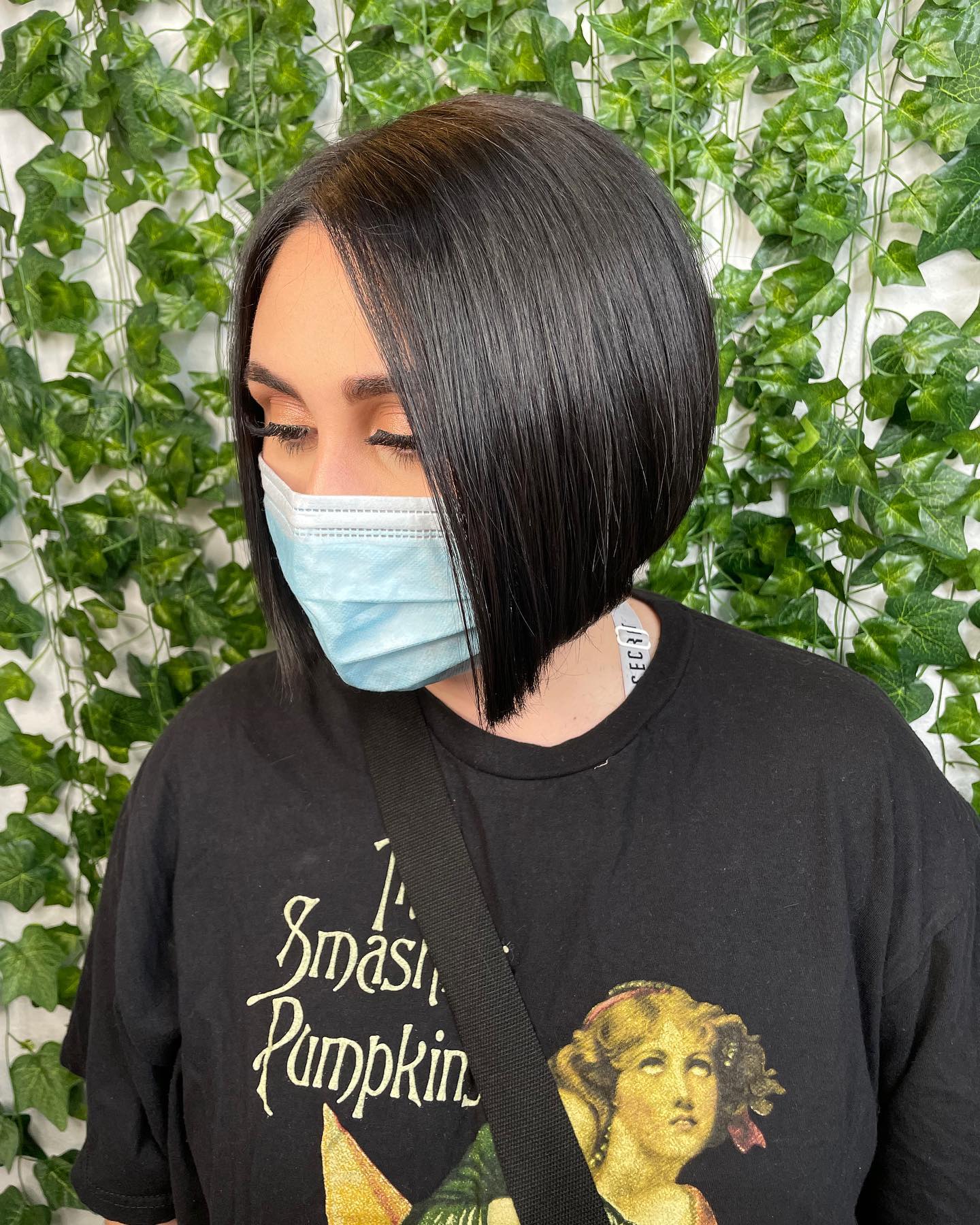 If your hair is naturally sleek and healthy this look will suit you.
32. Red Bob Cut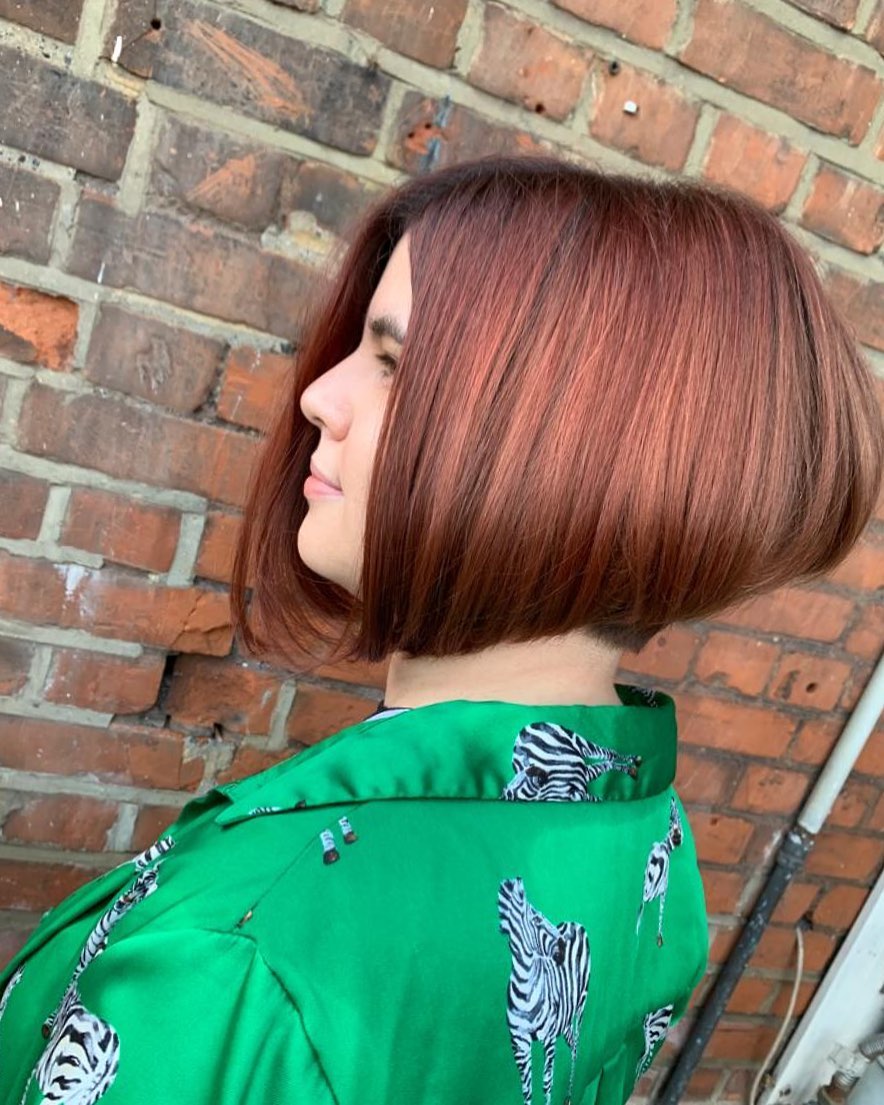 Add some volume and elegance with the right haircare products and rock this look.
33. Hair With Highlights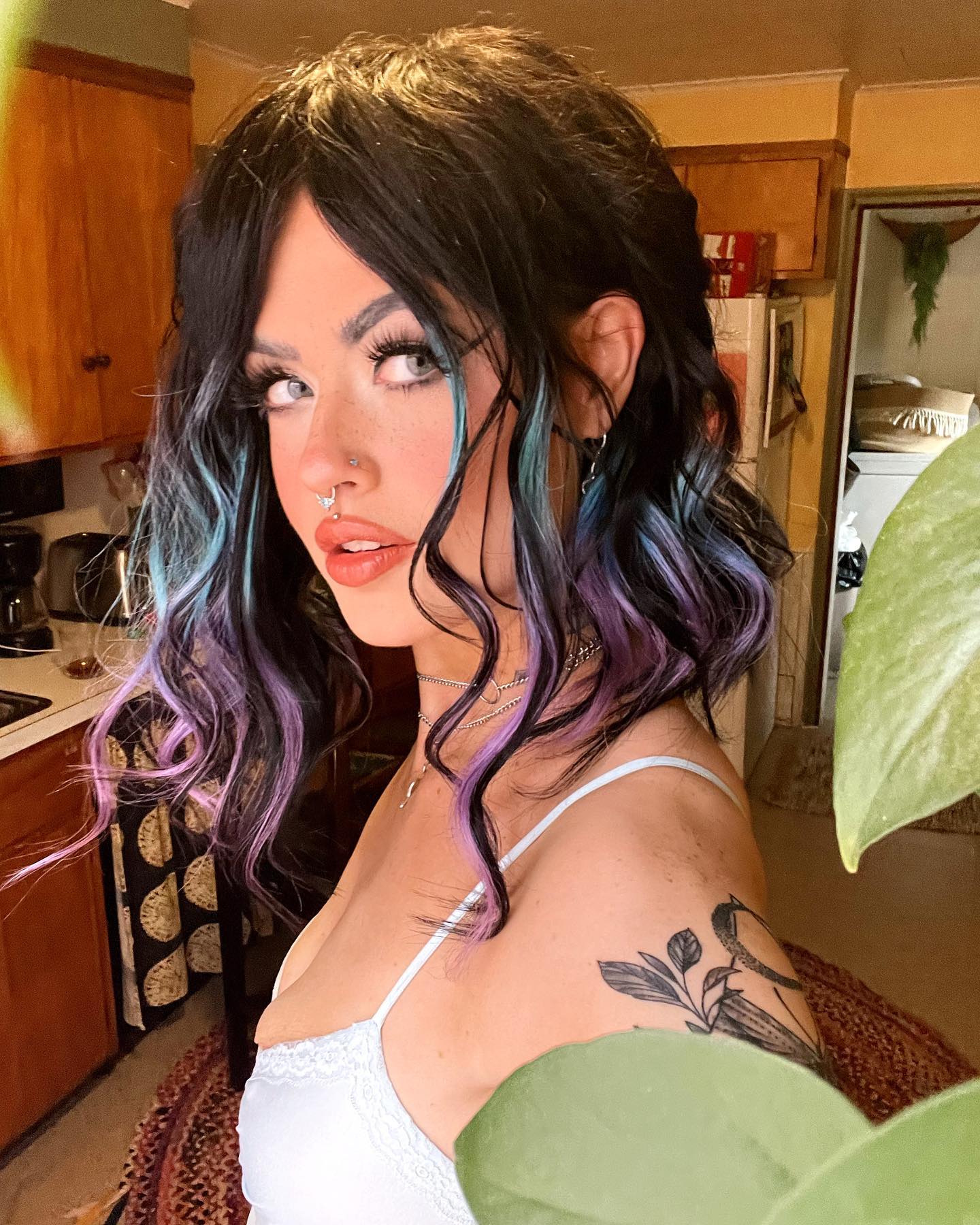 Women who like a bit of color will enjoy this wavy beauty.
34. Light Pink Wavy Bob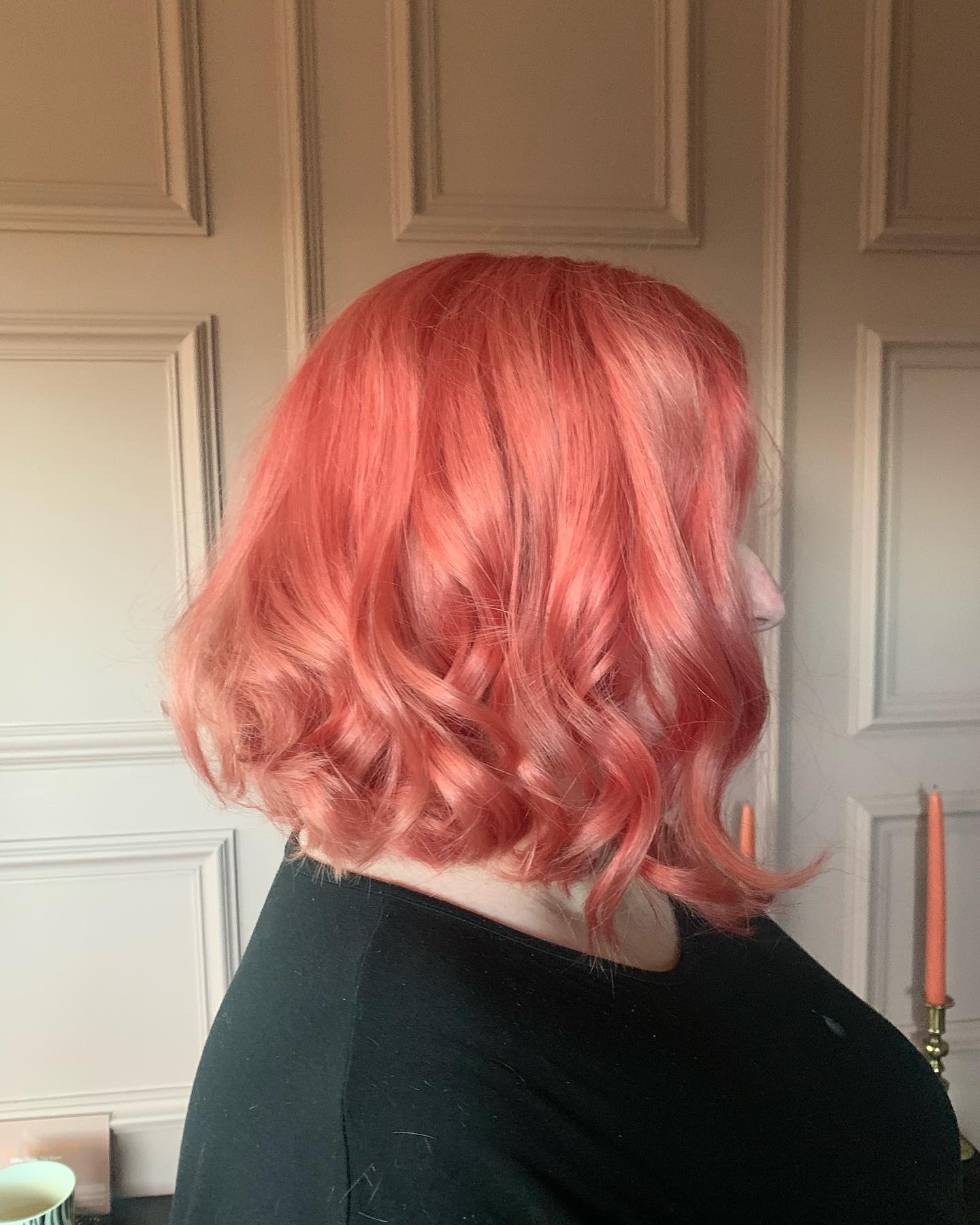 Consider this pink wavy hairstyle and wear its volume with confidence.
35. Icy White Bob Look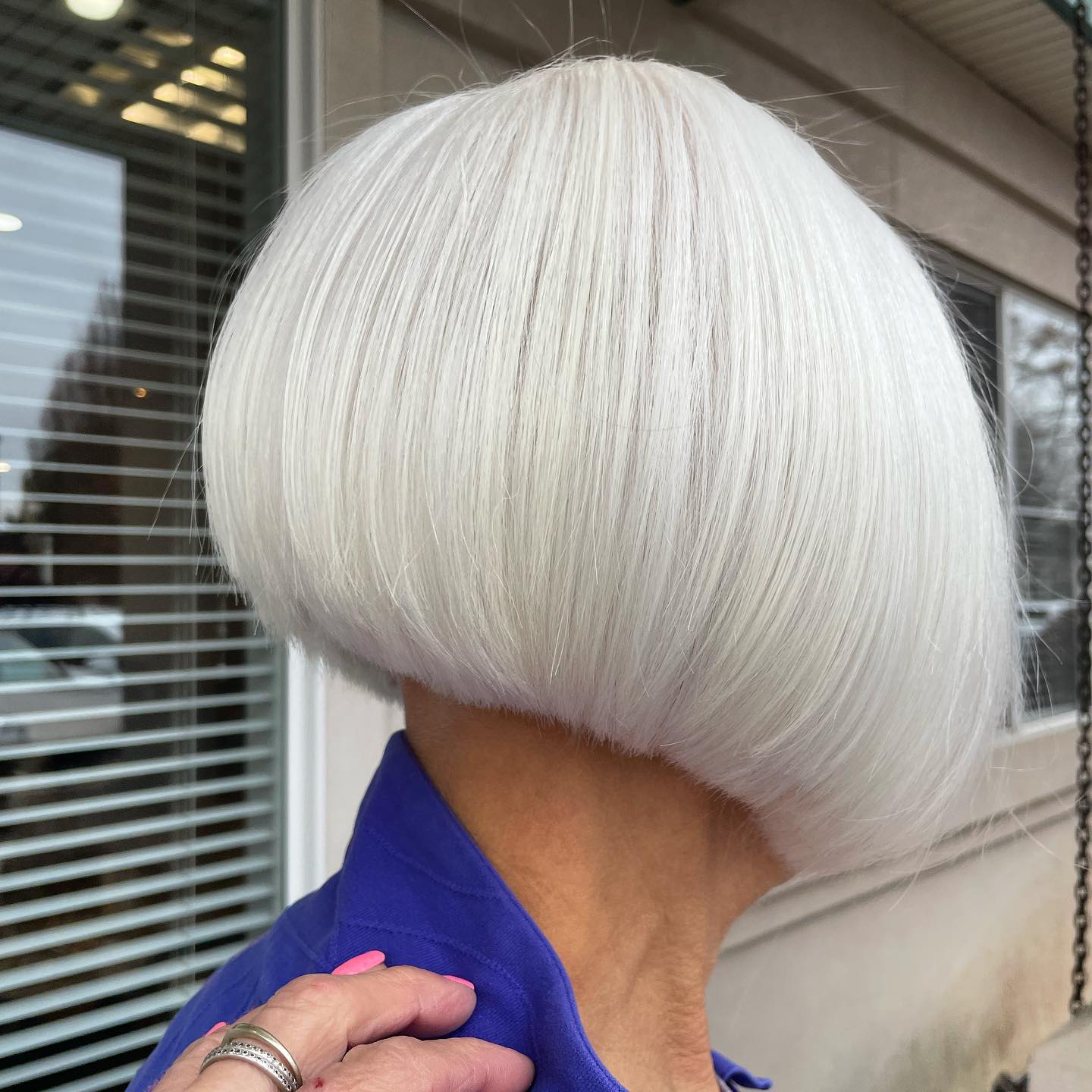 This white bob is for women who like defined looks.
36. Chopped Bob Messy Look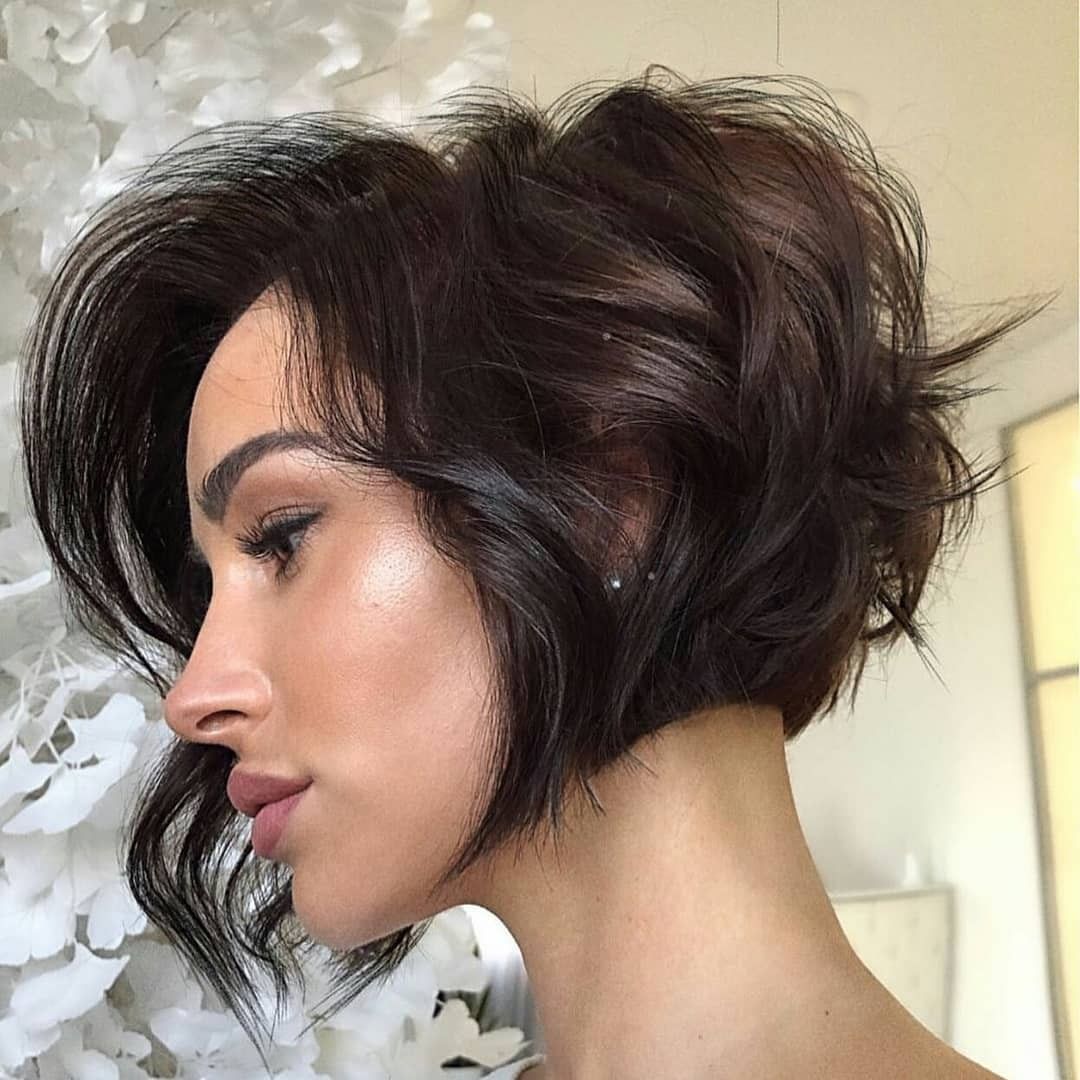 If you're in your twenties this will suit you the best.
37. Hair With Highlights Bob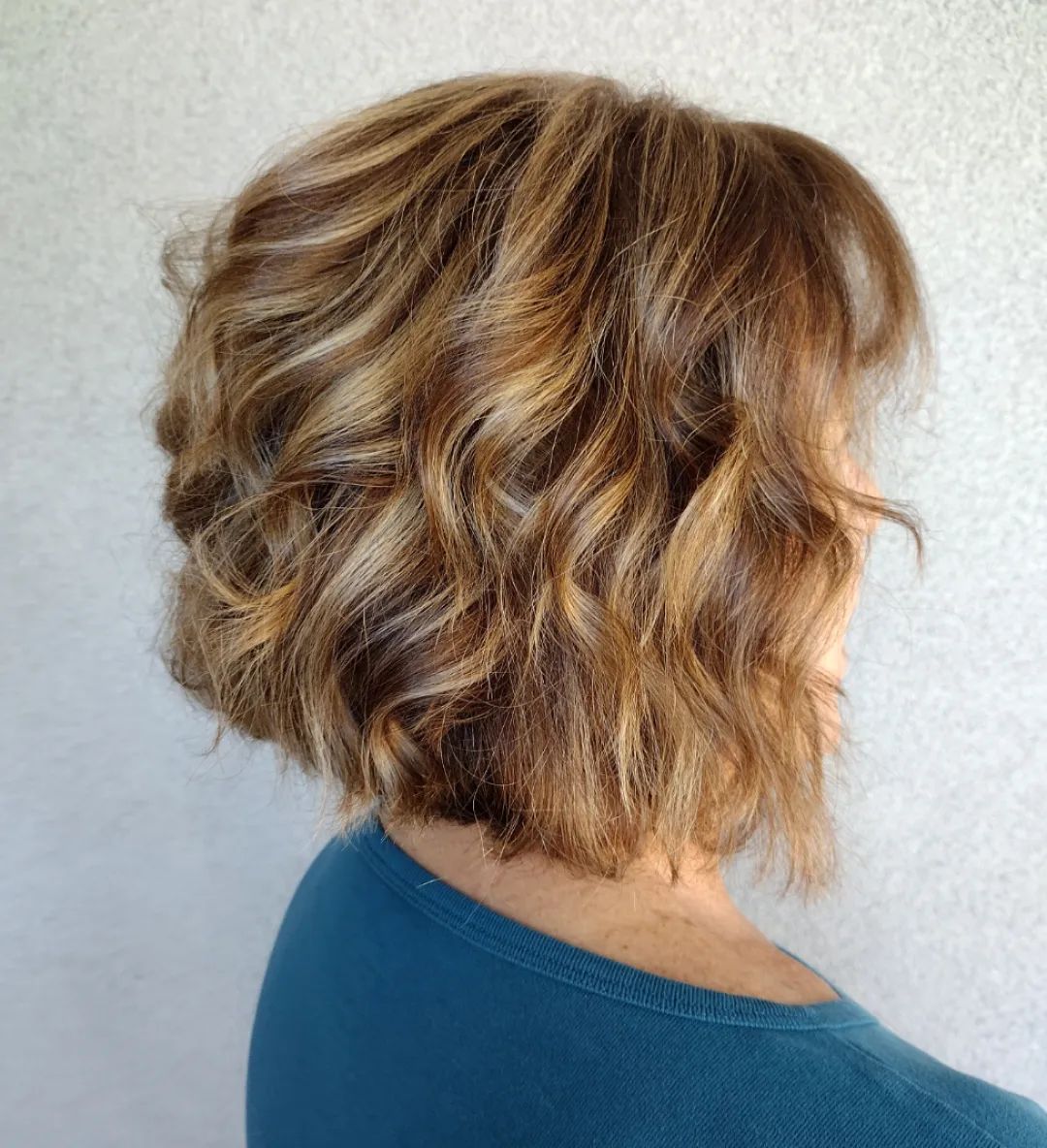 Women who like balayage looks will enjoy this beauty.
38. Half-split Bob Look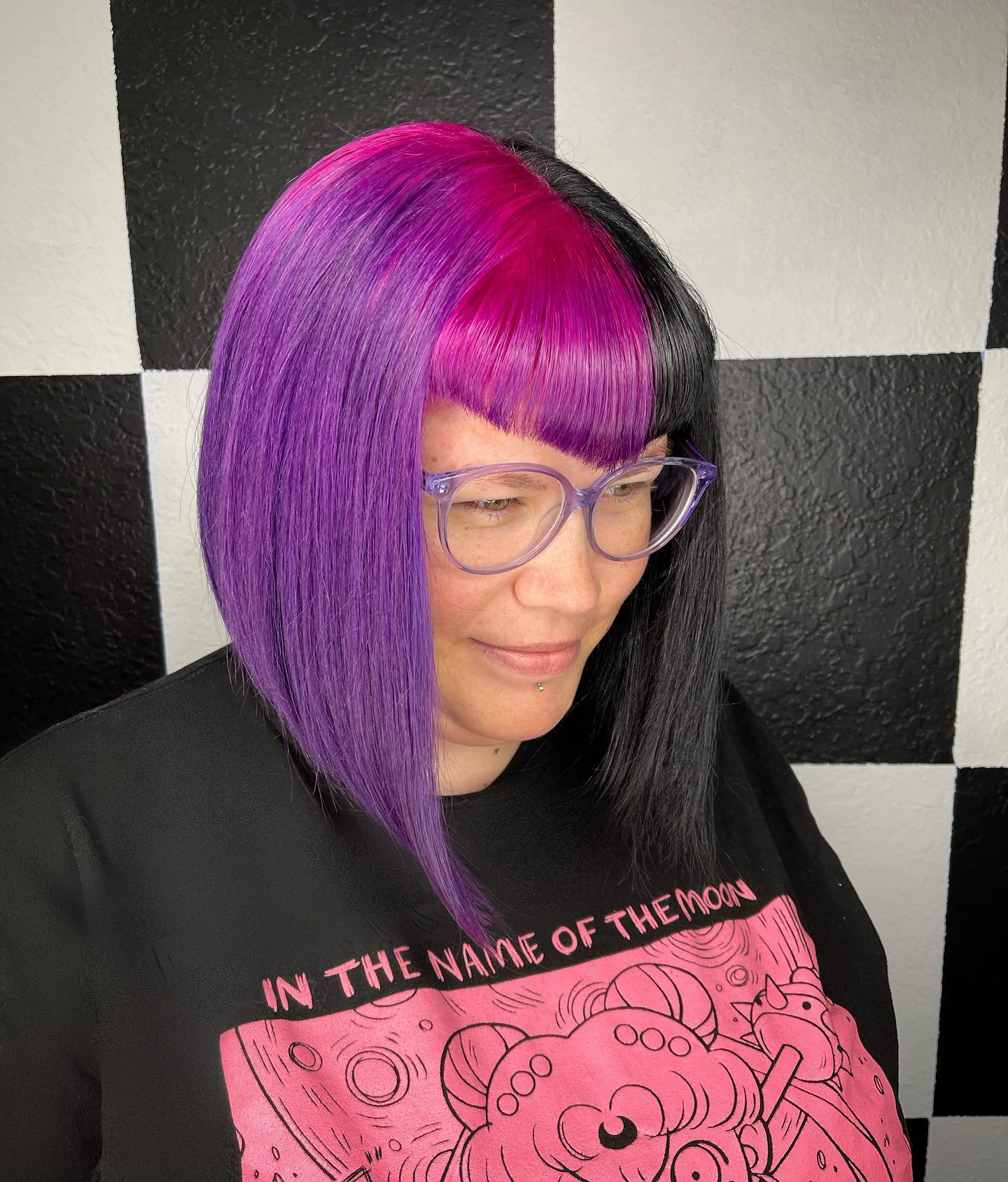 This short bob with bangs will suit teens the best.
39. Bright Neon Bob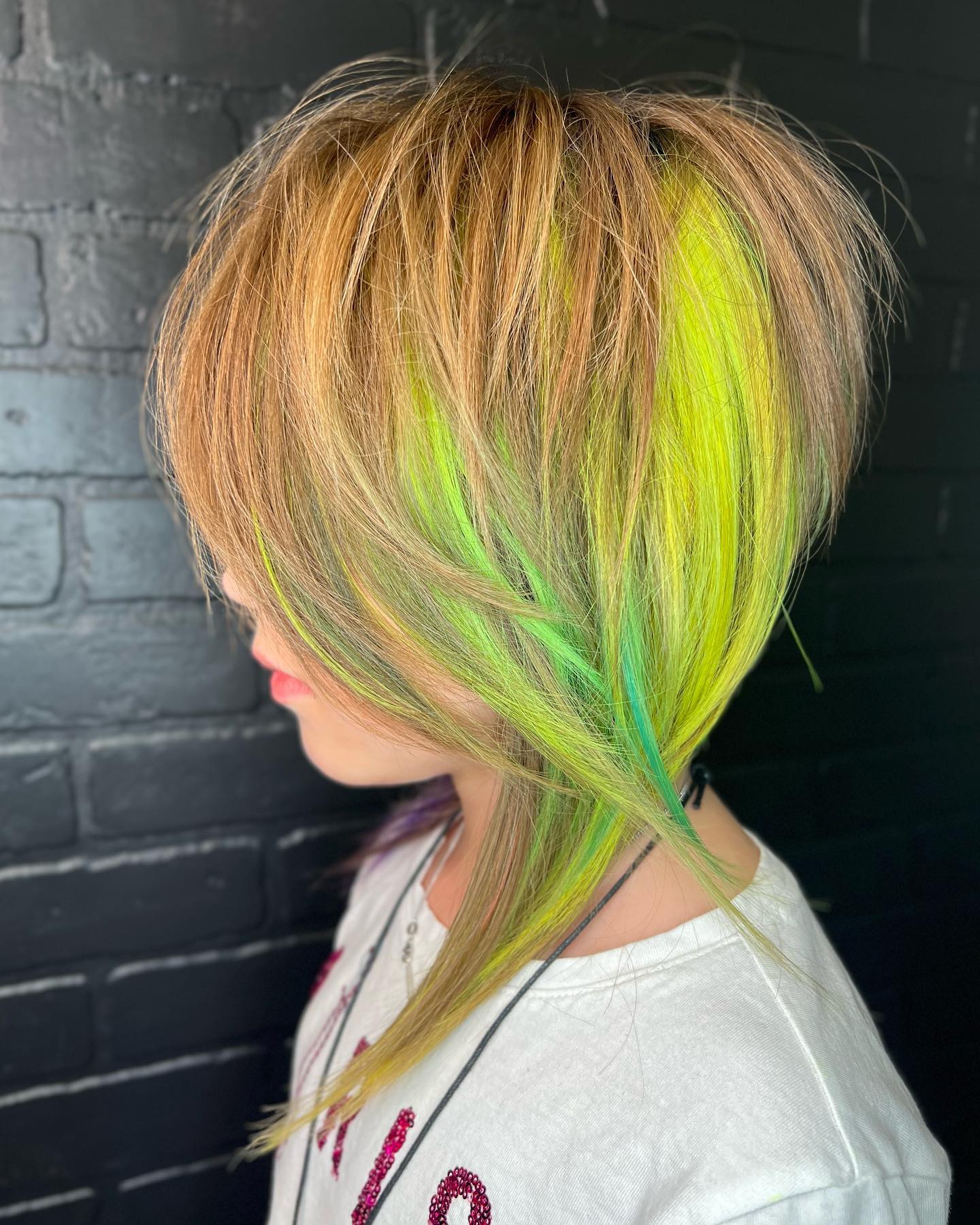 Go for this colorful pixie and add a ton of cool color to spice it up.
40. Wavy Bob Formal Look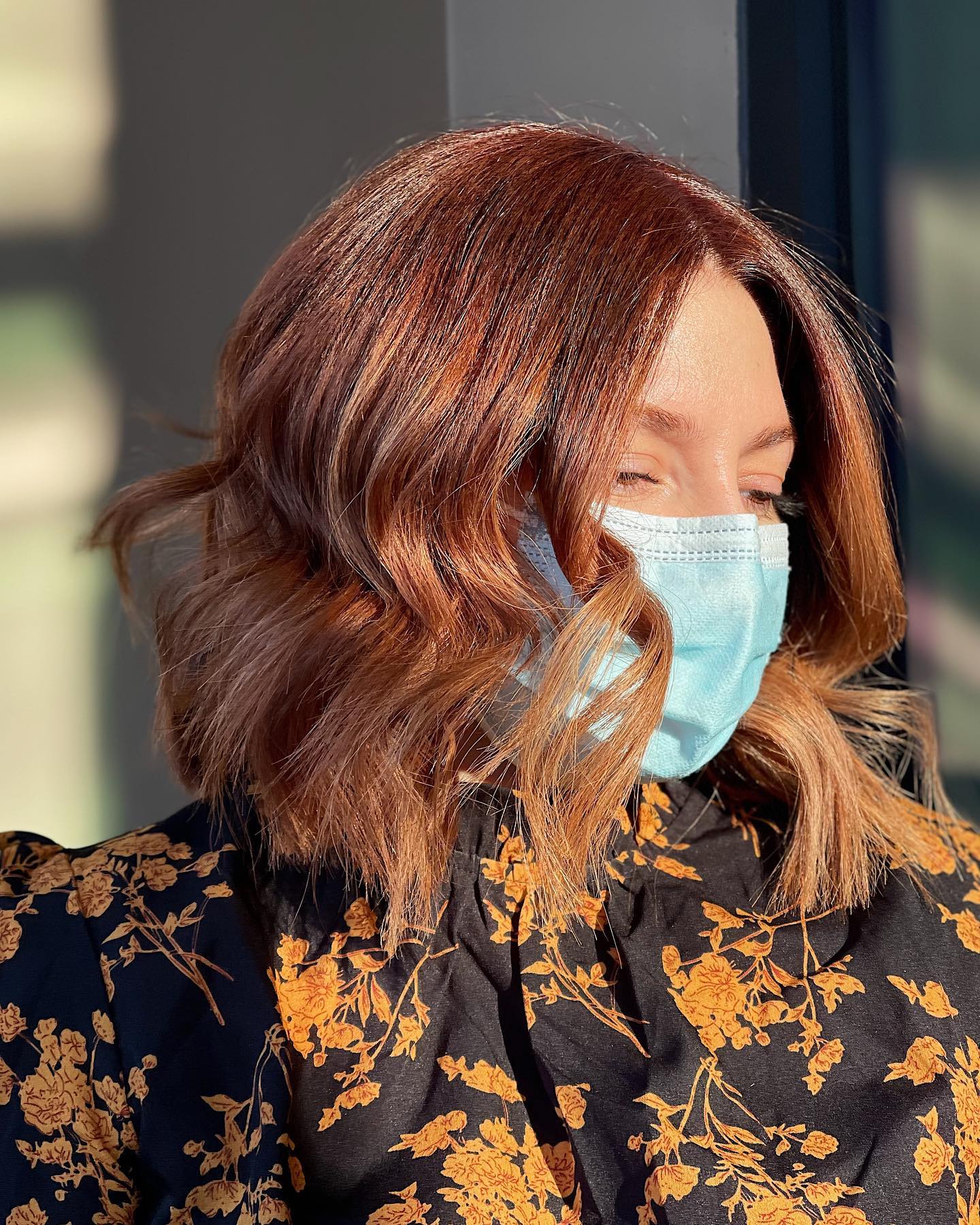 This curly wavy bob will suit all age groups.
41. Straight Green Bob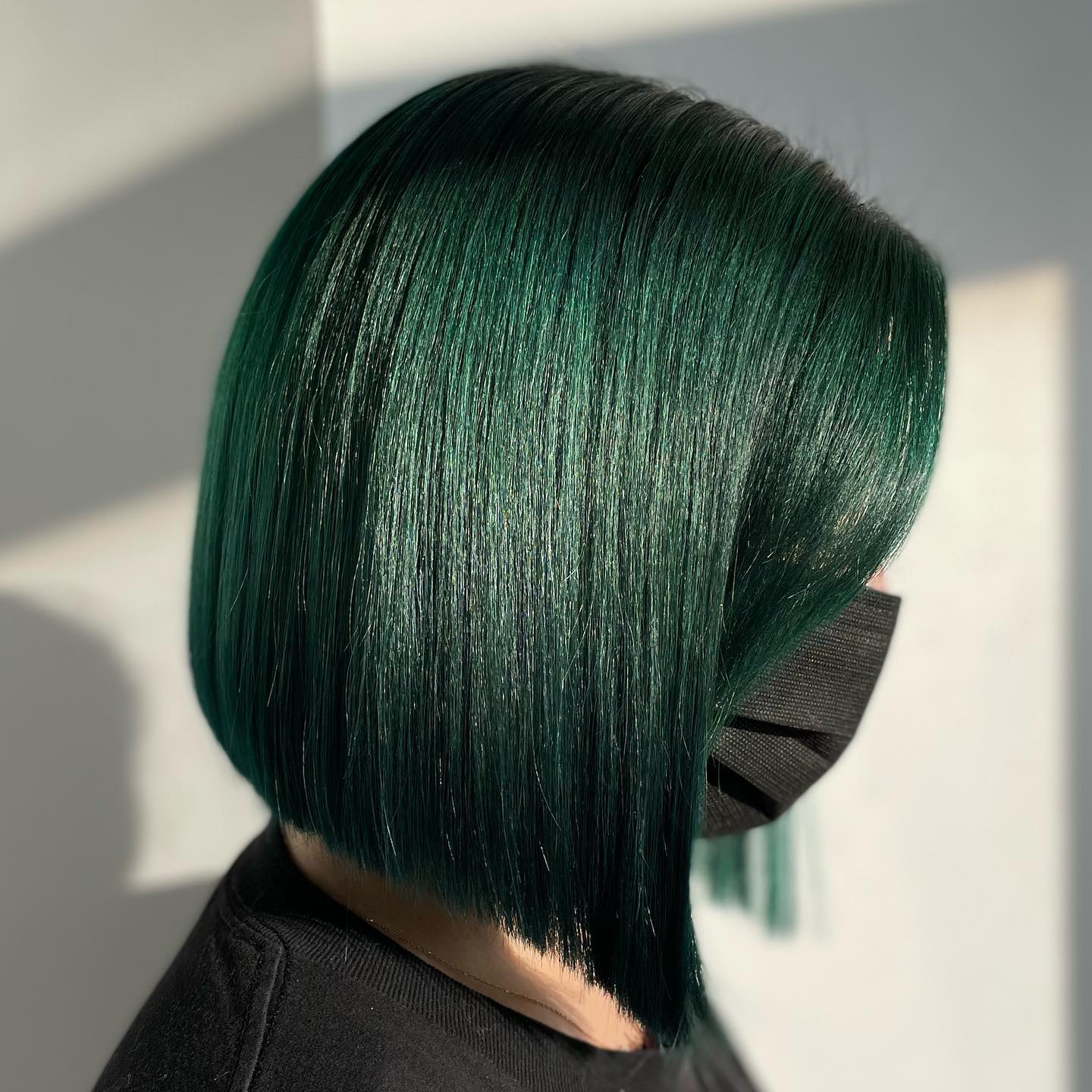 Green hair is for women who like to wear something fun.
42. A-line Bob Hair Look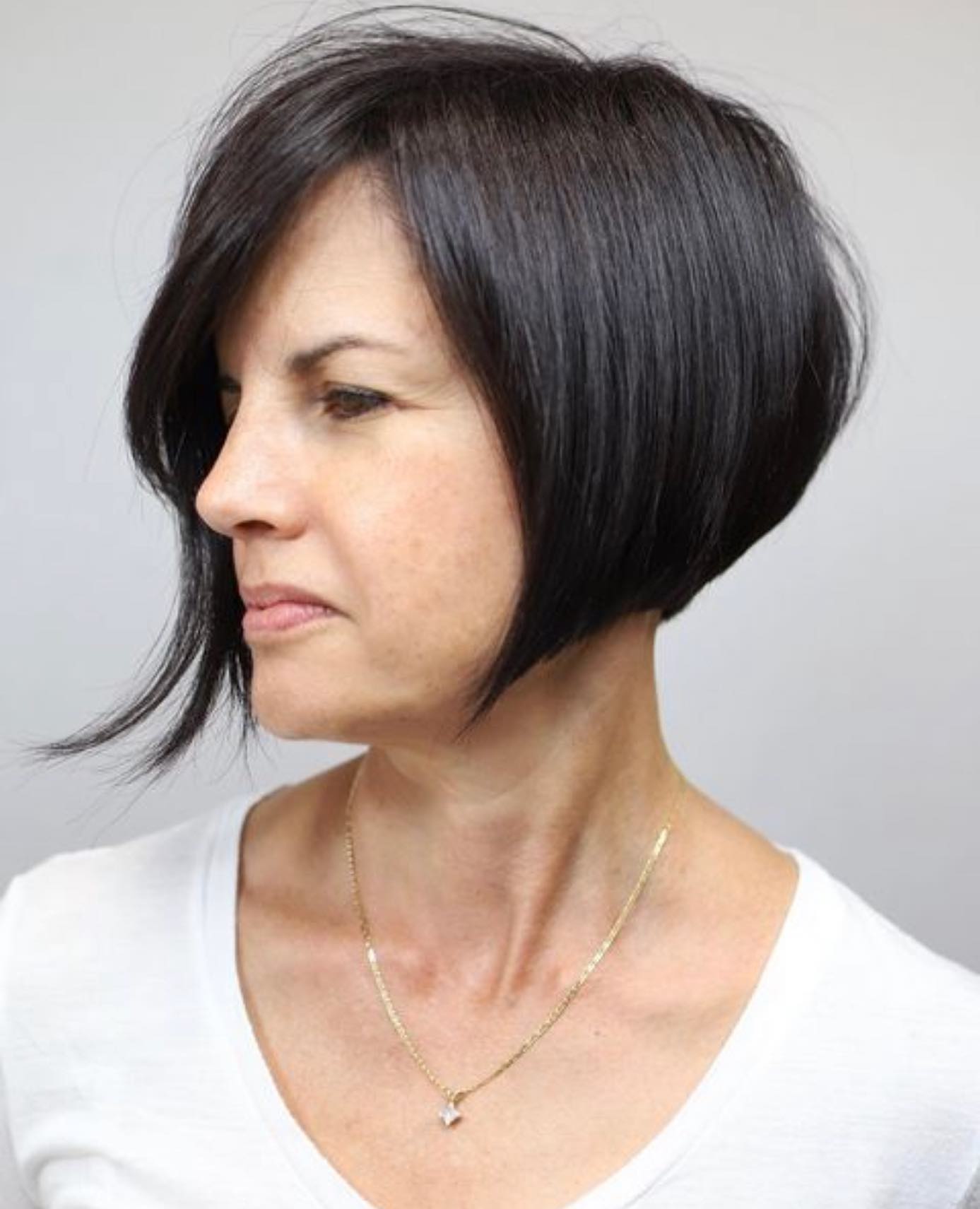 This bob will look amazing on mature women.
43. Bob With Blonde Highlights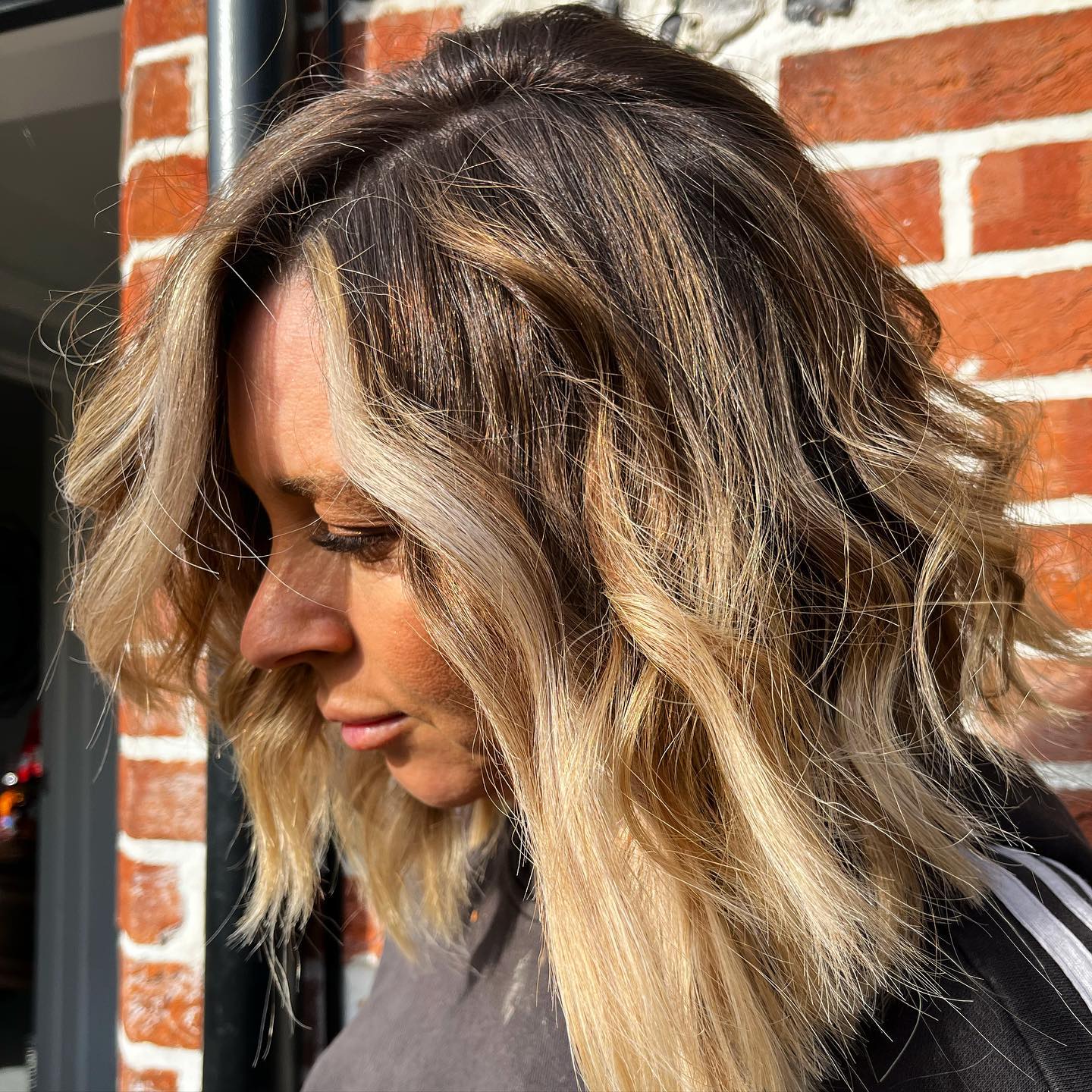 Add some highlights and spice up your look.
44. Cute Pixie Look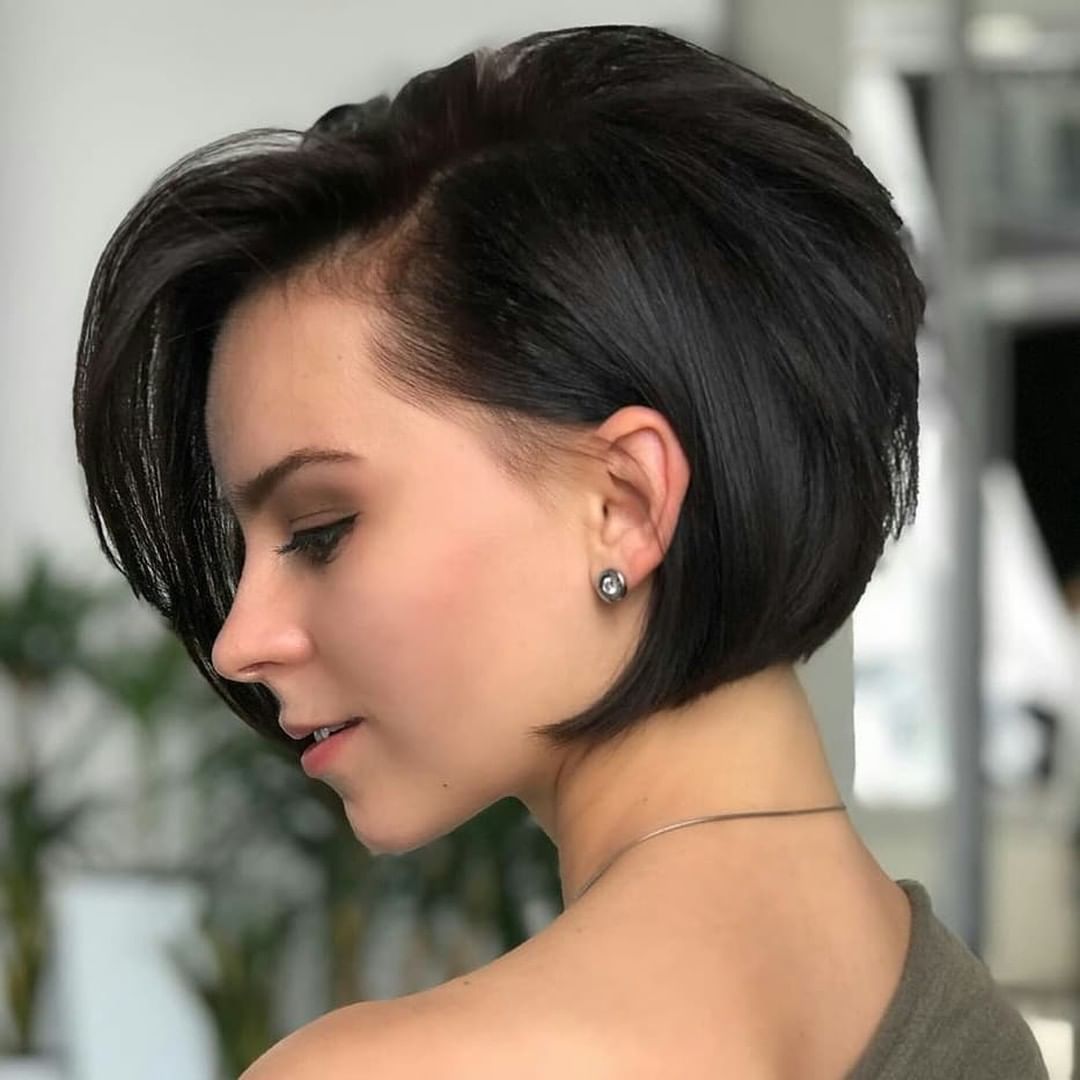 This is a gorgeous cut that you will love for everyday wear.
45. Chopped Hair With Fringe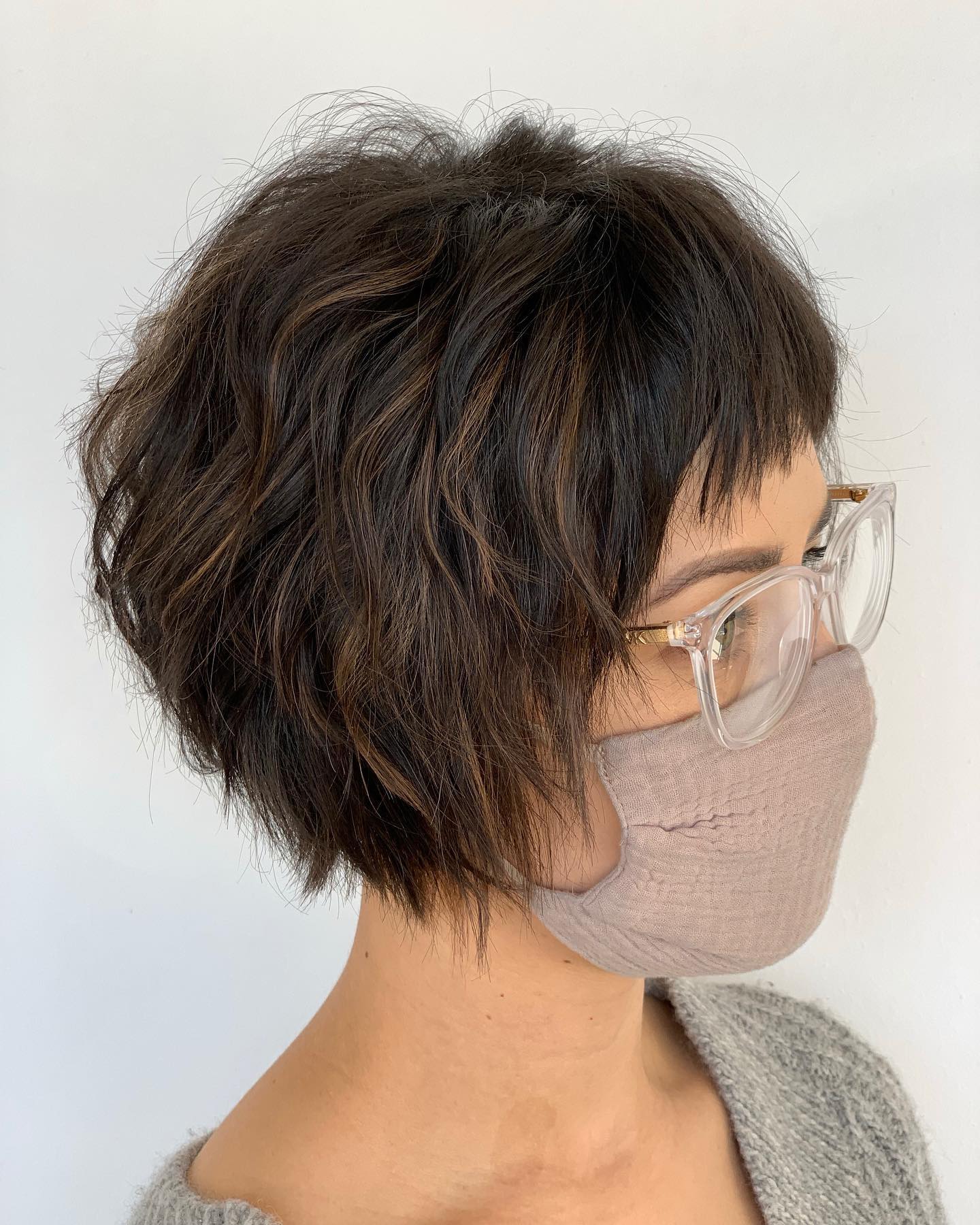 Show off this voluminous outcome for any part of day or night.
46. Blonde Buzzcut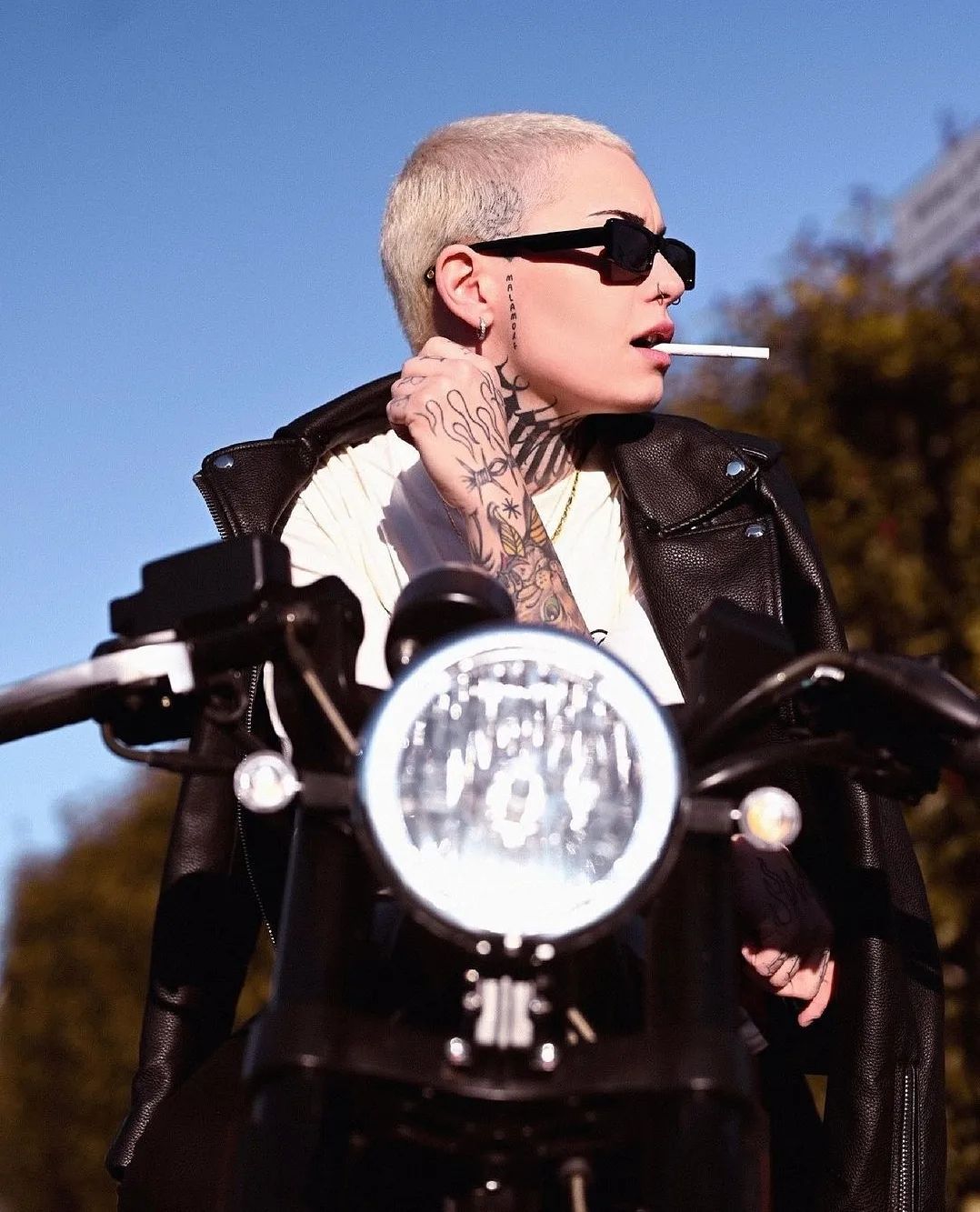 Do you dare to look bold and stylish?
47. Silver Tomboy Hair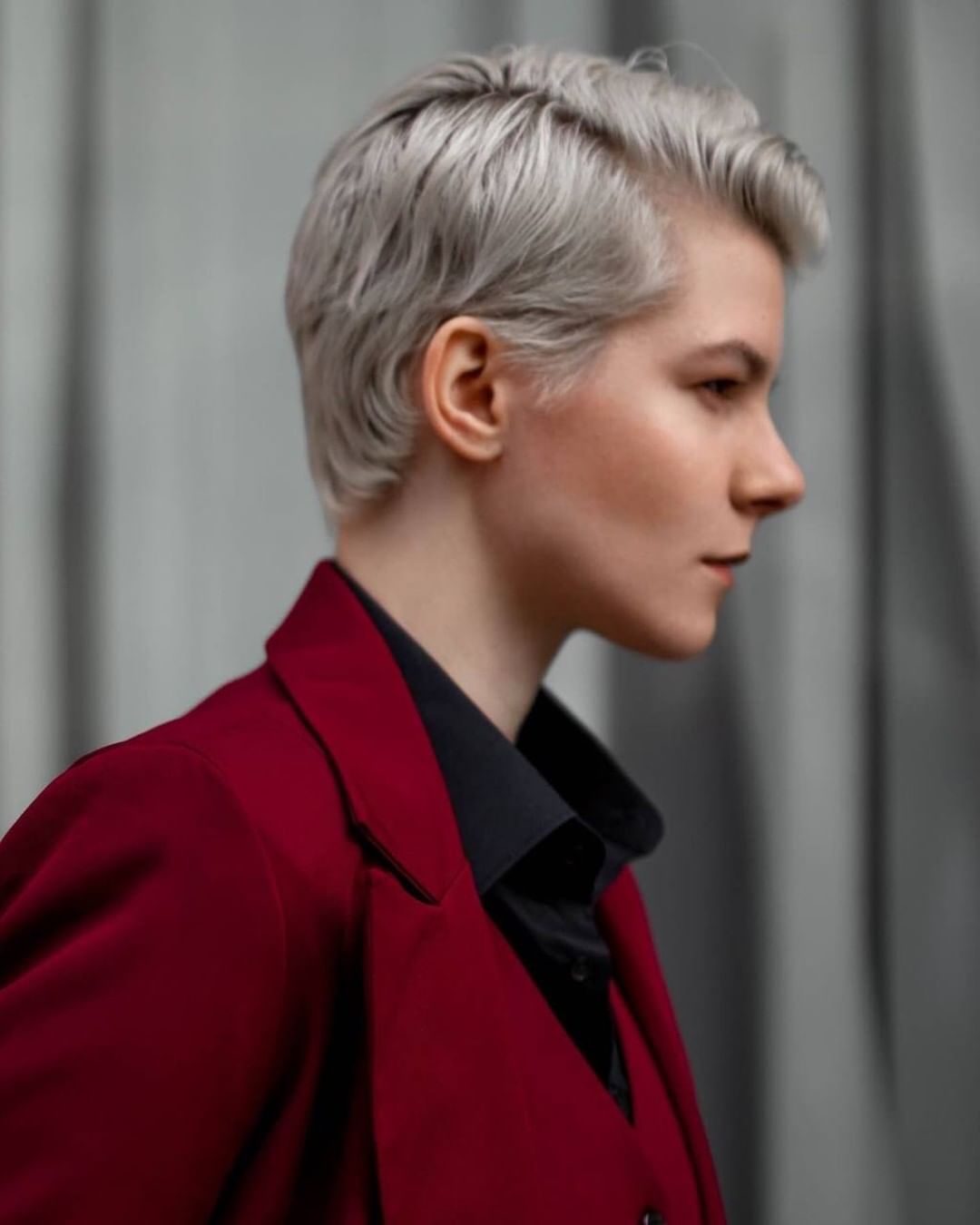 A must-have for women who like bleached looks.
48. Icy Gray Hair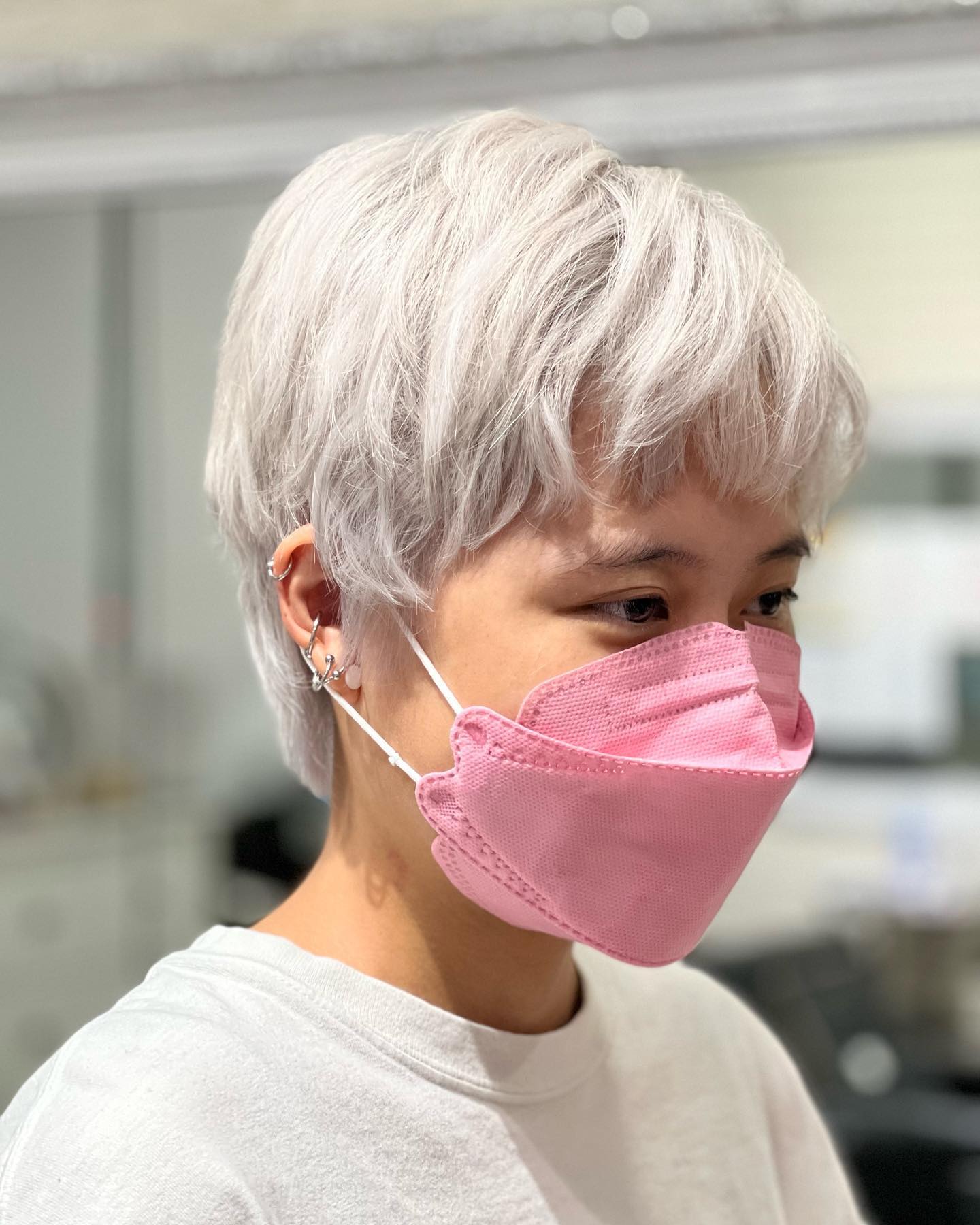 Spice up your look and color it every 2 months to maintain this short pixie.
49. Bright Blue Wavy Look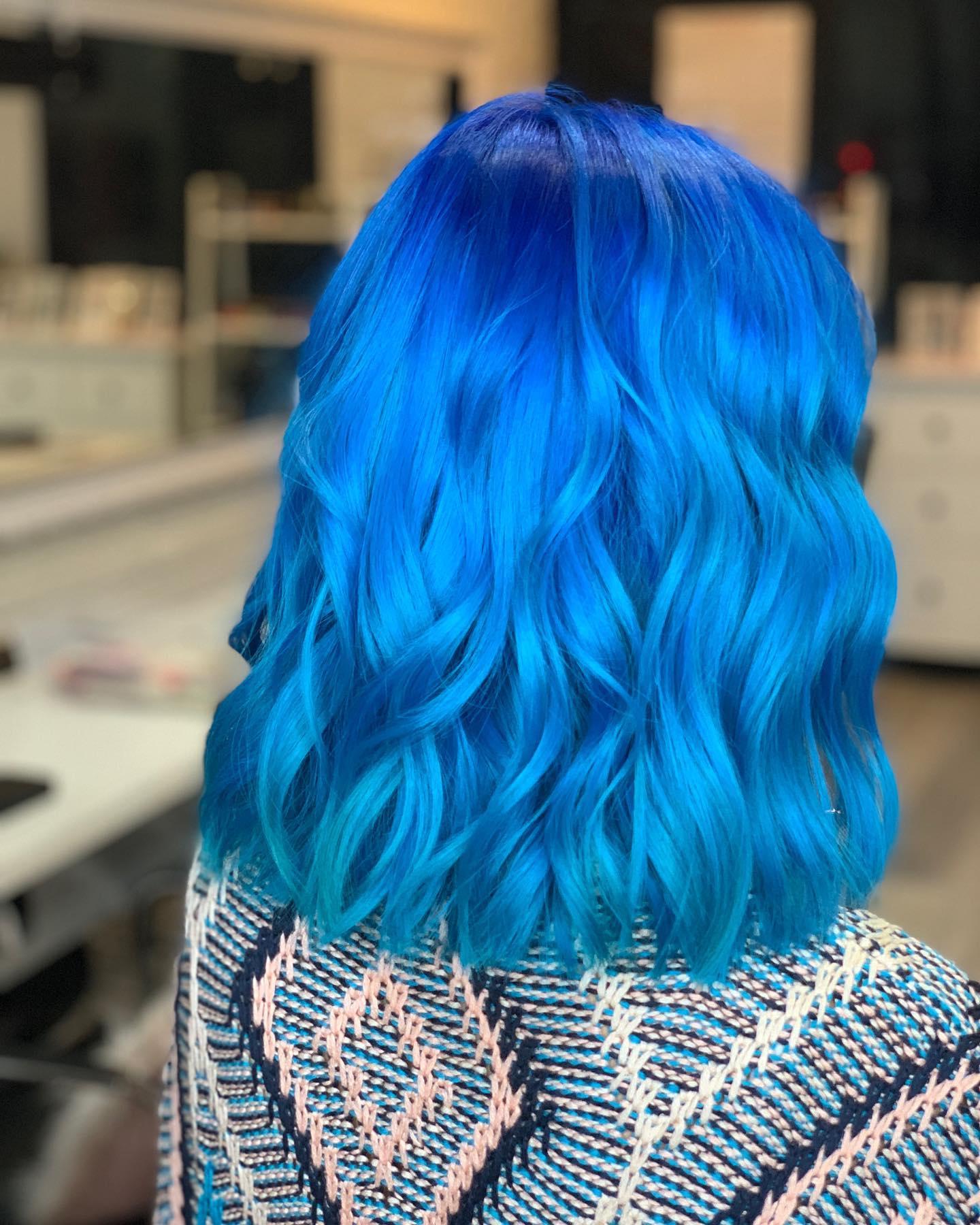 Women who like bright blue looks will enjoy this retro beauty.
50. Hair With Blue Highlights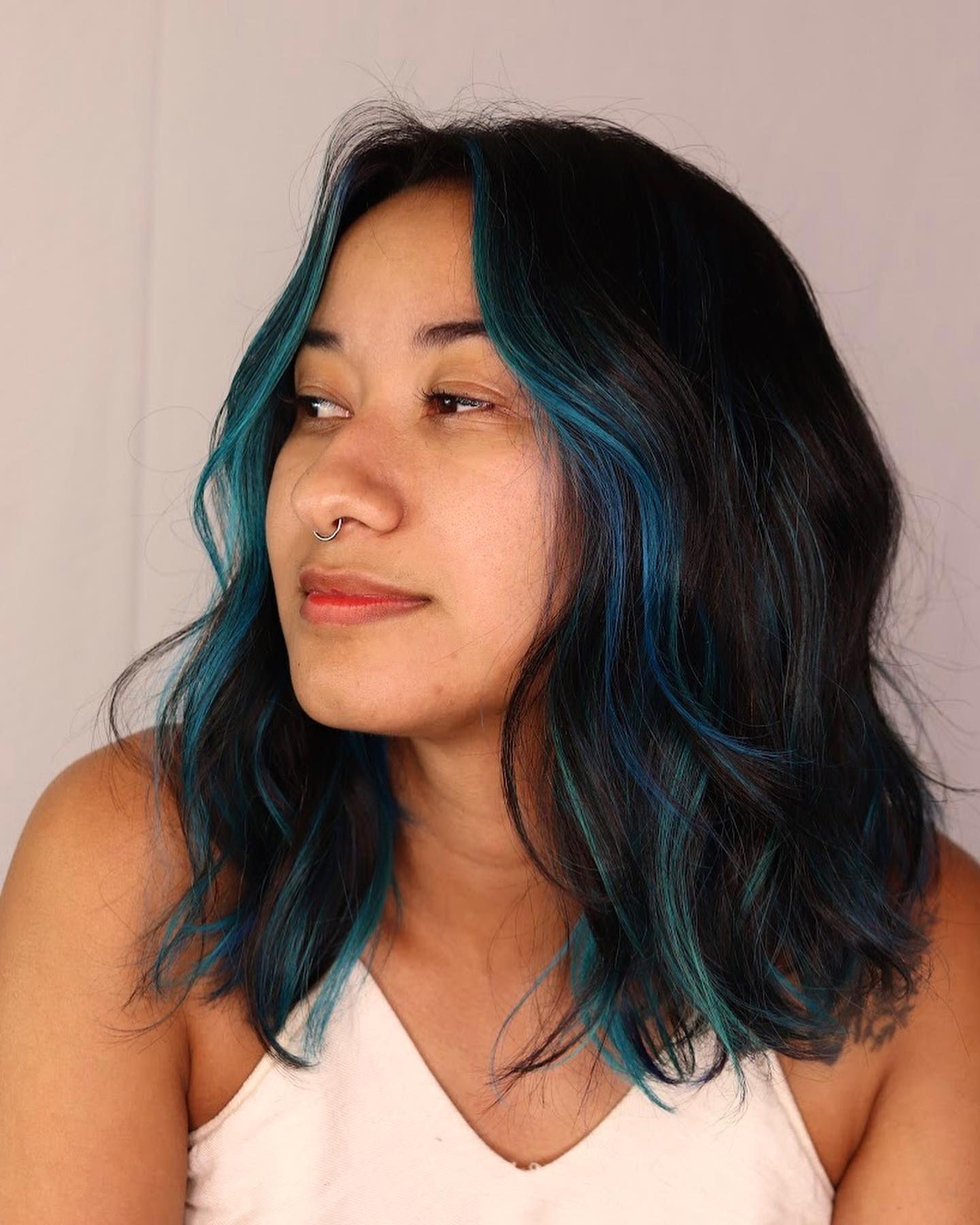 Add these frontal highlights to add that fun element to your new bob.