Getting married sometime soon? If so, congratulations! You are one step closer to living your big important day. We are going to help you pick out your perfect bridal hairstyle. In this article, find the top 30 prettiest & unique options that you'll love to wear, no matter your hair length, color, or preference
What Are Some Of The Most Popular & Common Ideas?
If you are indecisive and you're not too sure what to go for, here are some of your options to consider:
Loose ponytail
Traditional high bun
Half-up half-down
Hollywood curls
Side part
Retro curls with braids
Bridal Hair With Accessories
1. Blonde Bun With Floral Details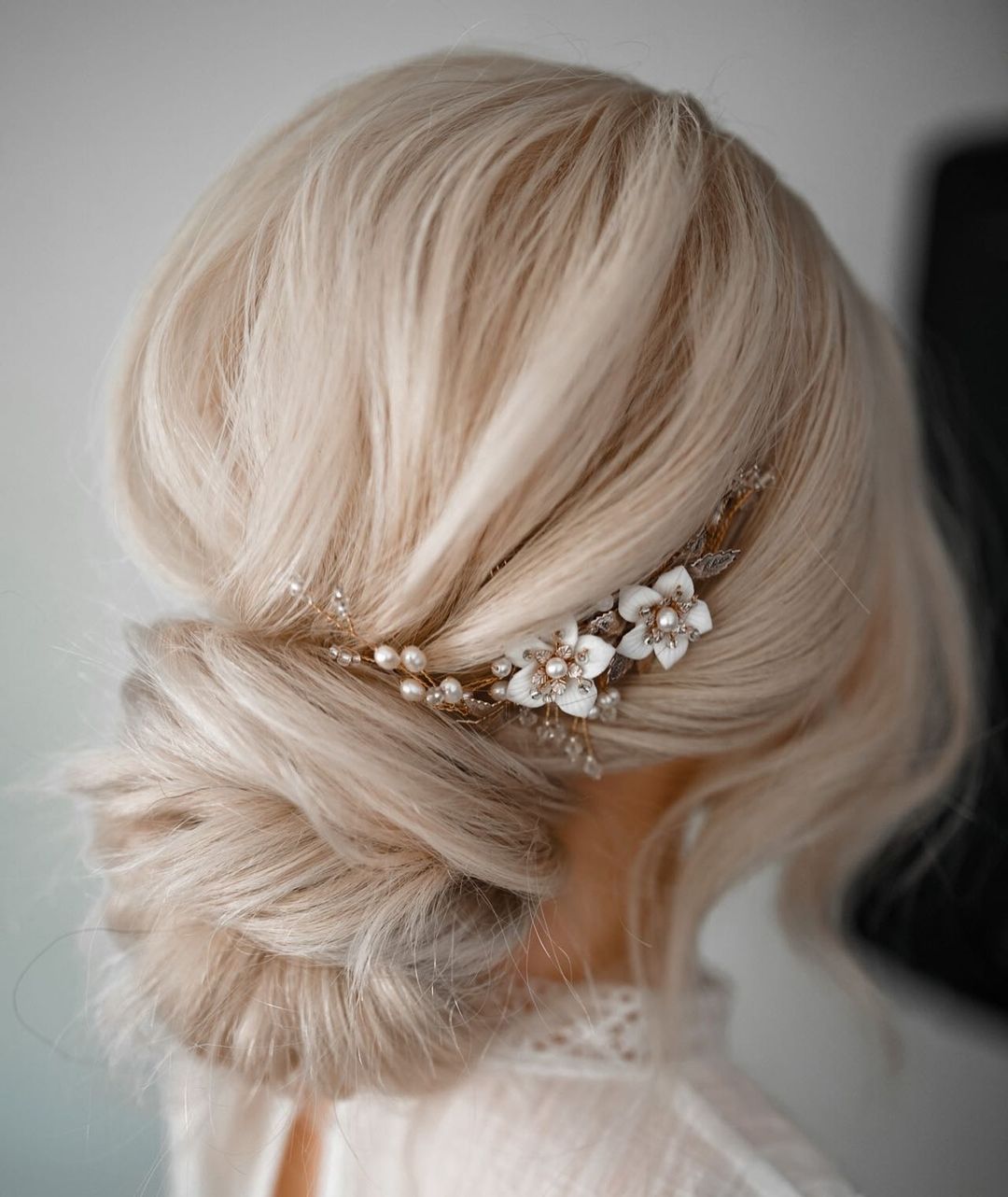 The cutest hairstyle for blondes! If you're proud of your hair health you can tie it up in this bun. Add a cute flower detail, it is the perfect detail if your wedding is in the Spring.
2. Light Brown Hair With A Flower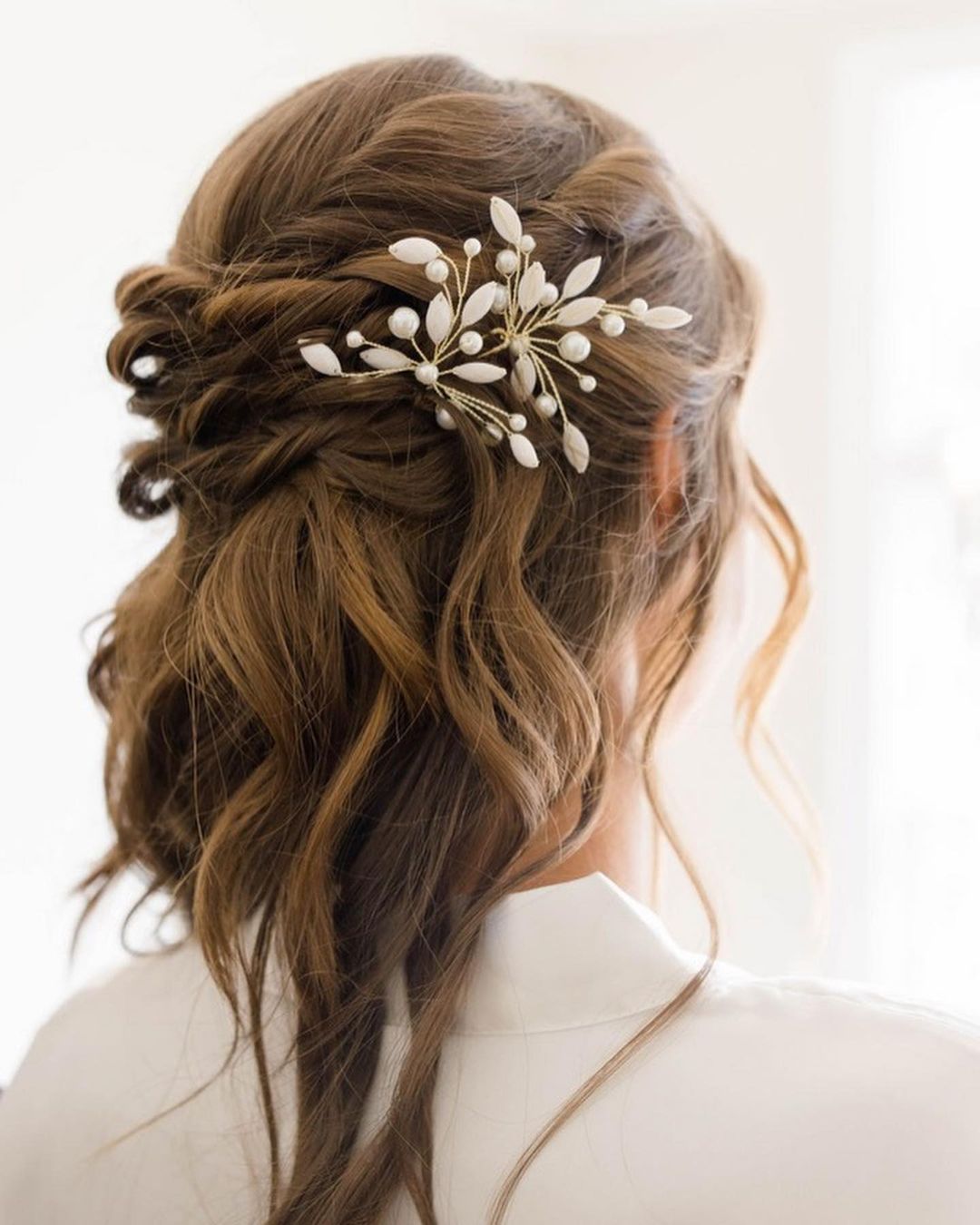 This is the ultimate whimsical look that you'll enjoy if you're a relaxed bride. It screams playfulness, right?
3. Soft Swept Hair With An Earpiece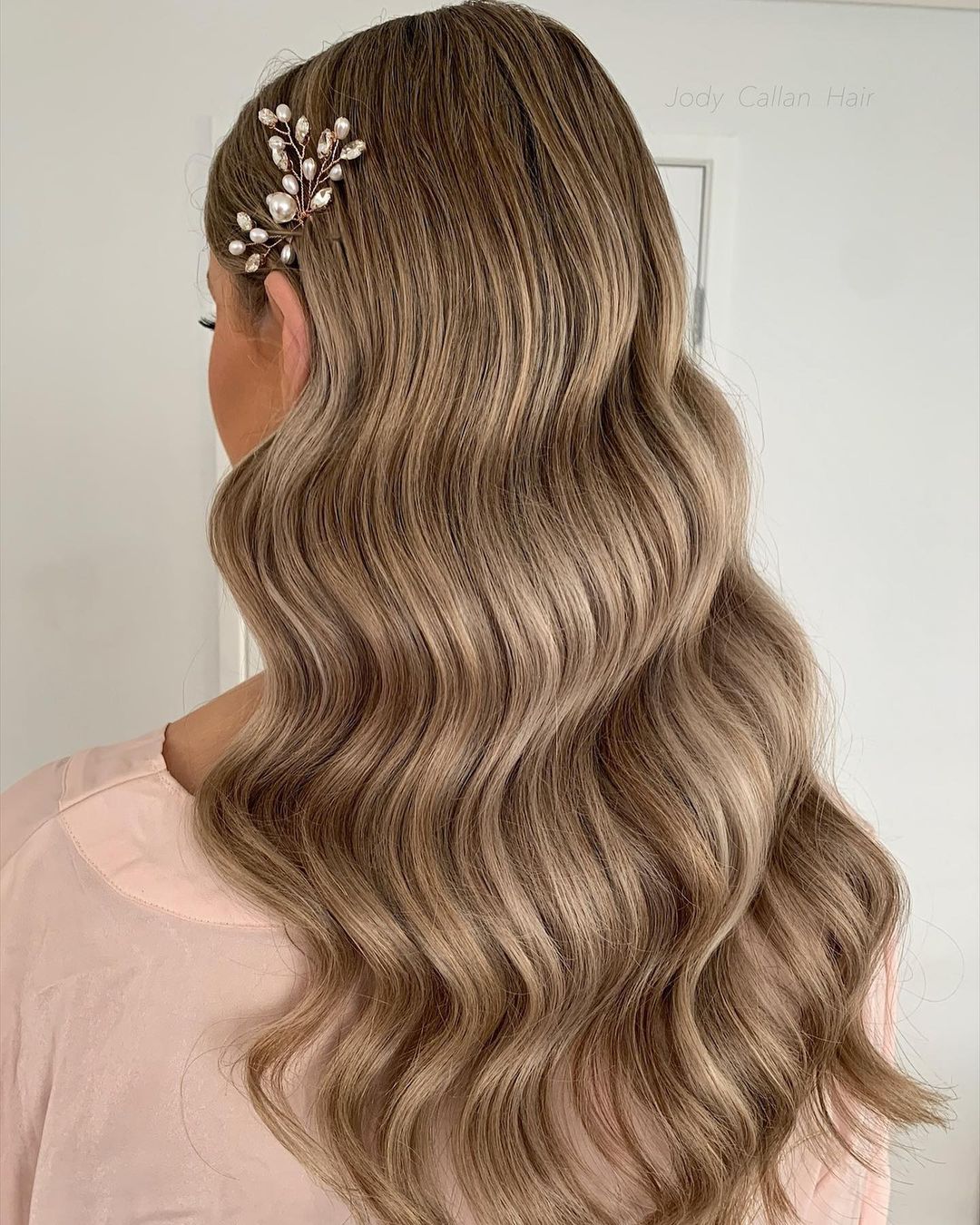 Blonde hair and these subtle waves will look cute and gorgeous on most women. Rock this hairstyle and pair it with a gorgeous hairpiece on the side and behind your ear.
4. Dramatic Bridal Bun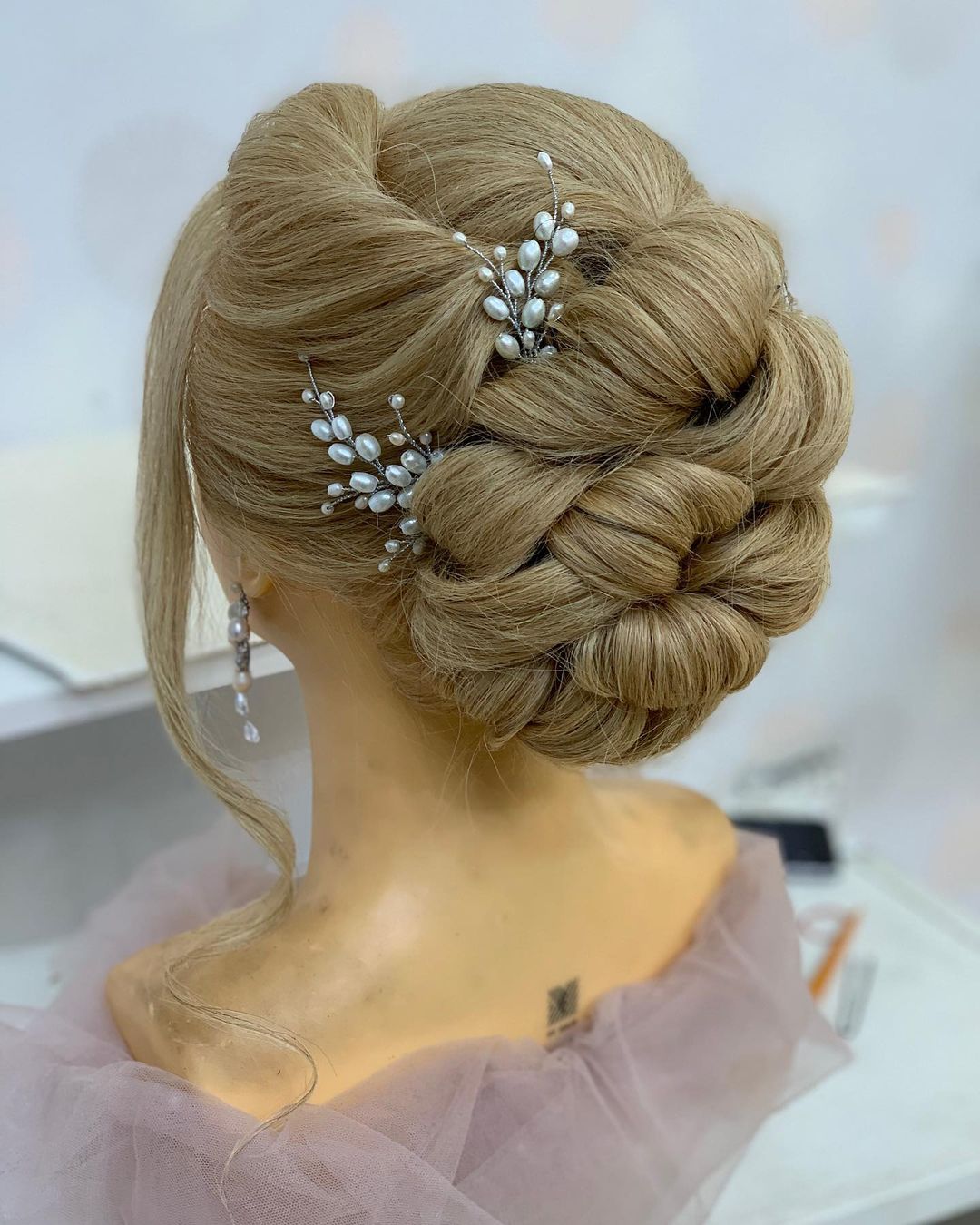 If you want something that is princess-like and quite formal you'll enjoy this design. Only some hairstylists know how to give you this cute concept, so book the best one!
5. Loose Ponytail With Beads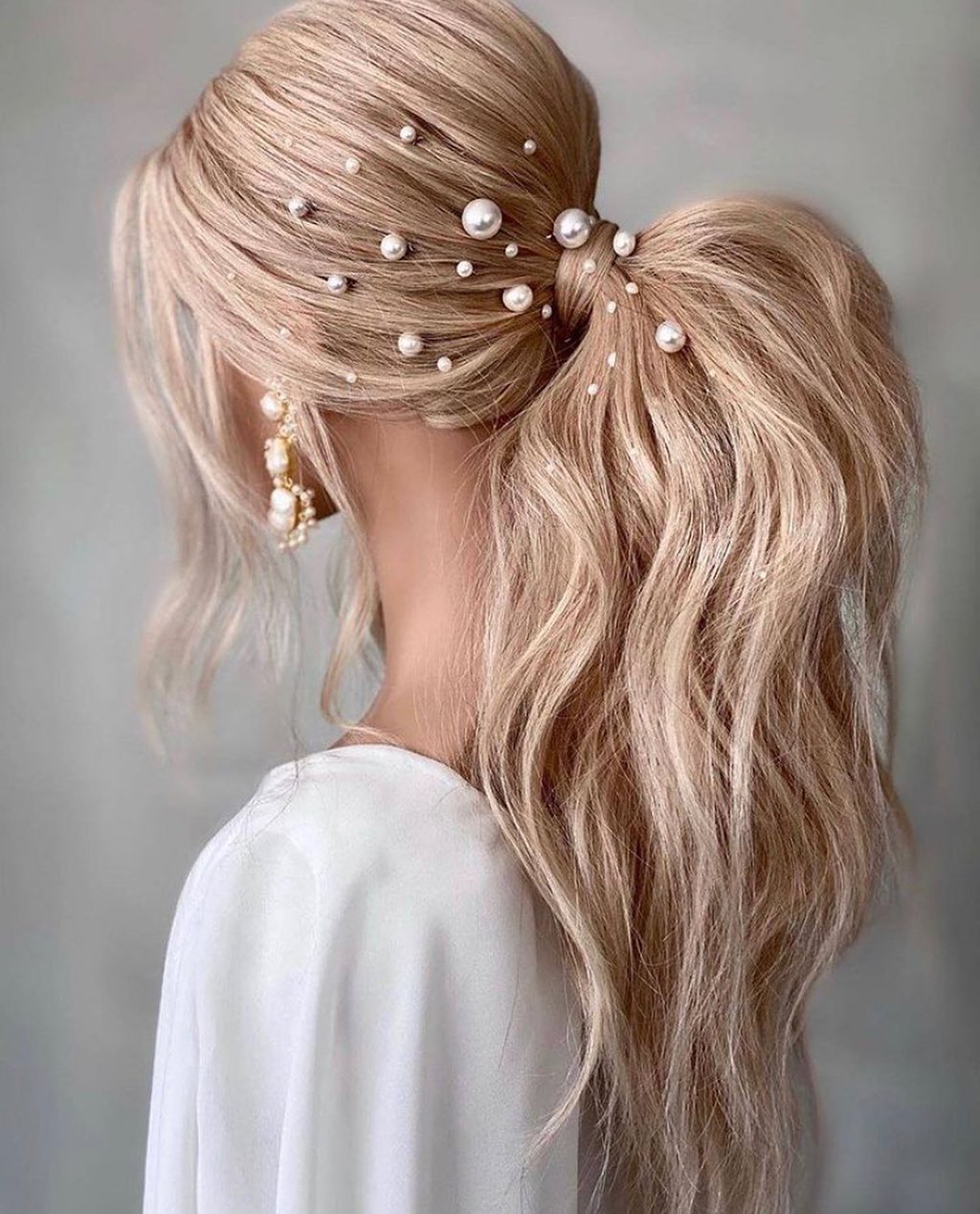 A loose and wavy ponytail is the perfect hairstyle for brides. Add some pearl designs if you're a truly natural and feminine girl.
6. Voluminous Pony With Back Detail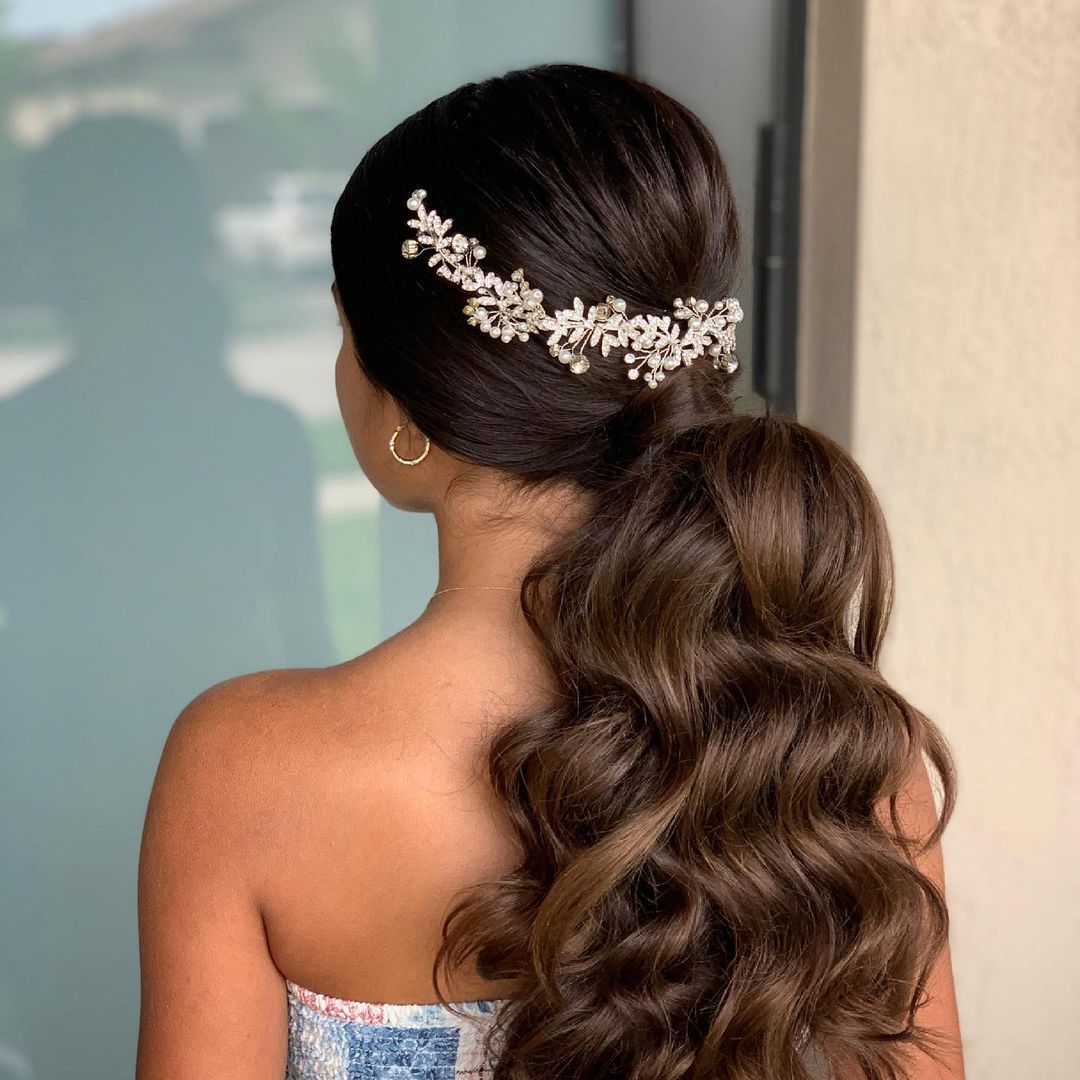 Dark brown hair with lighter accessories will make the hair look magical. This hairstyle is ideal for the Summer and Autumn seasons.
7. Voluminous Formal Bun With Centerpiece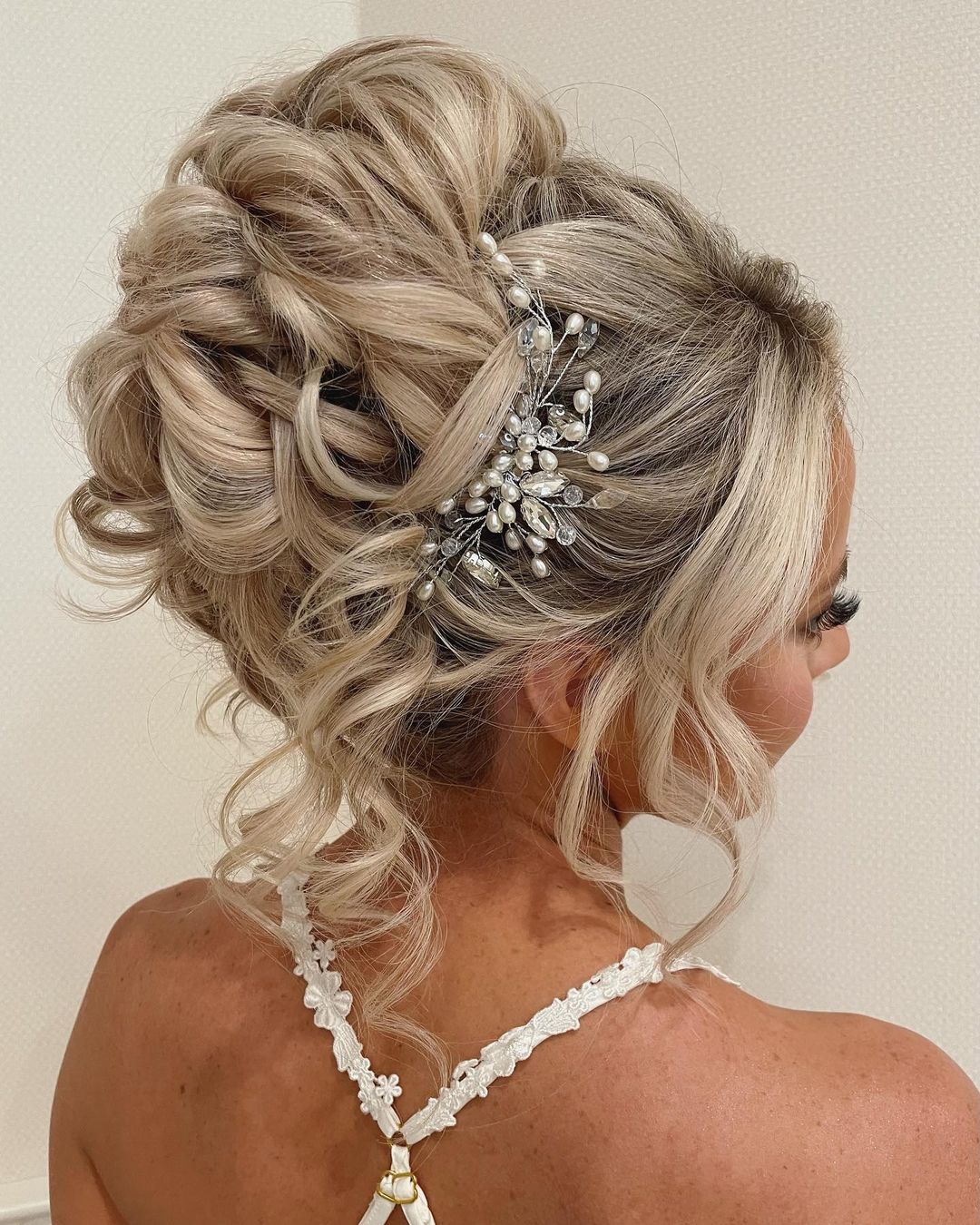 Brides who don't mind spending several hours at a salon will want to rock this look. Make sure that you have 2 hours at least before you go in with this look.
8. Dark Brown Hair With Bead Detail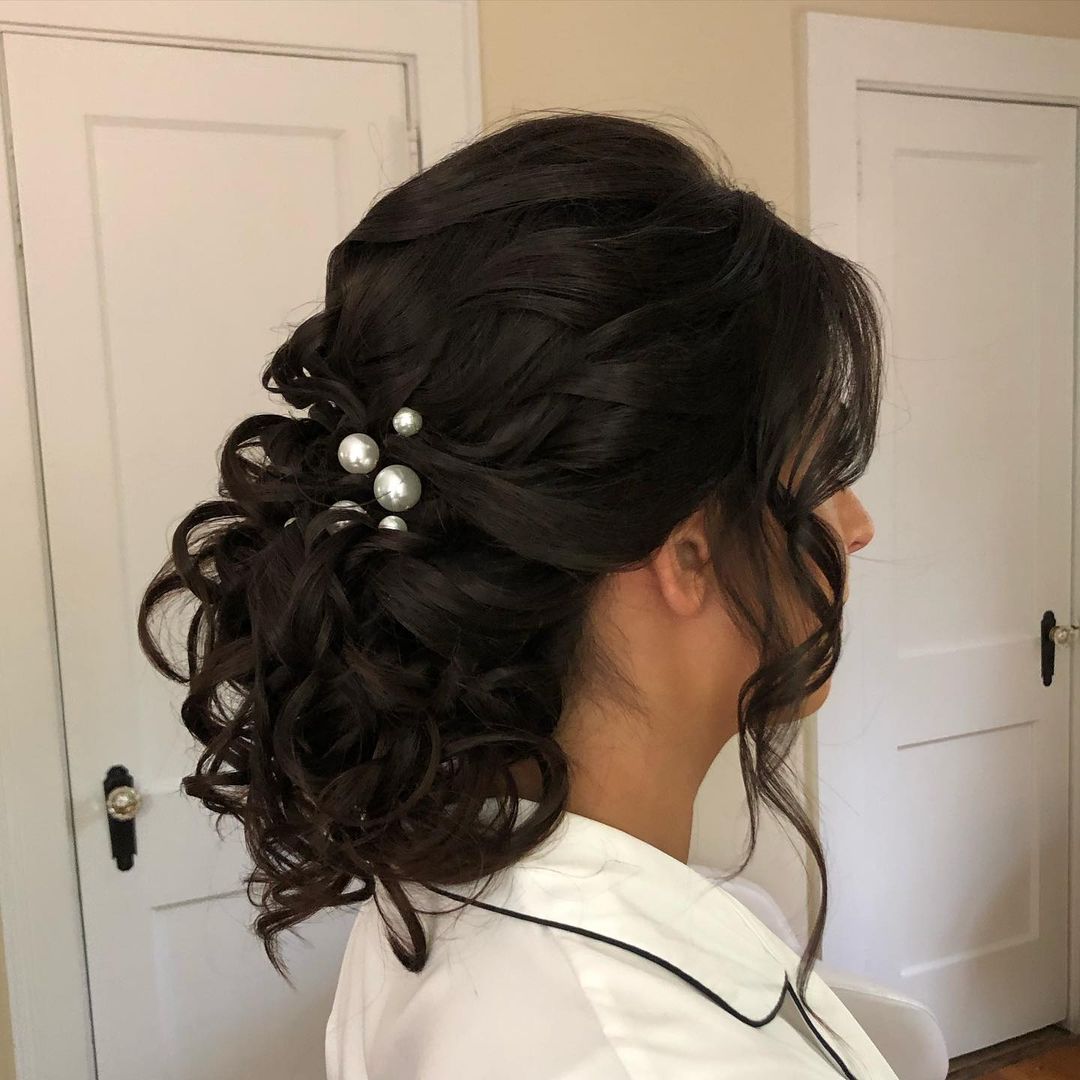 This dark brown hair will look pretty with some subtle pearls. Place them in the back since they will photograph amazingly during your big day.
9. Blonde Hairdo With A Veil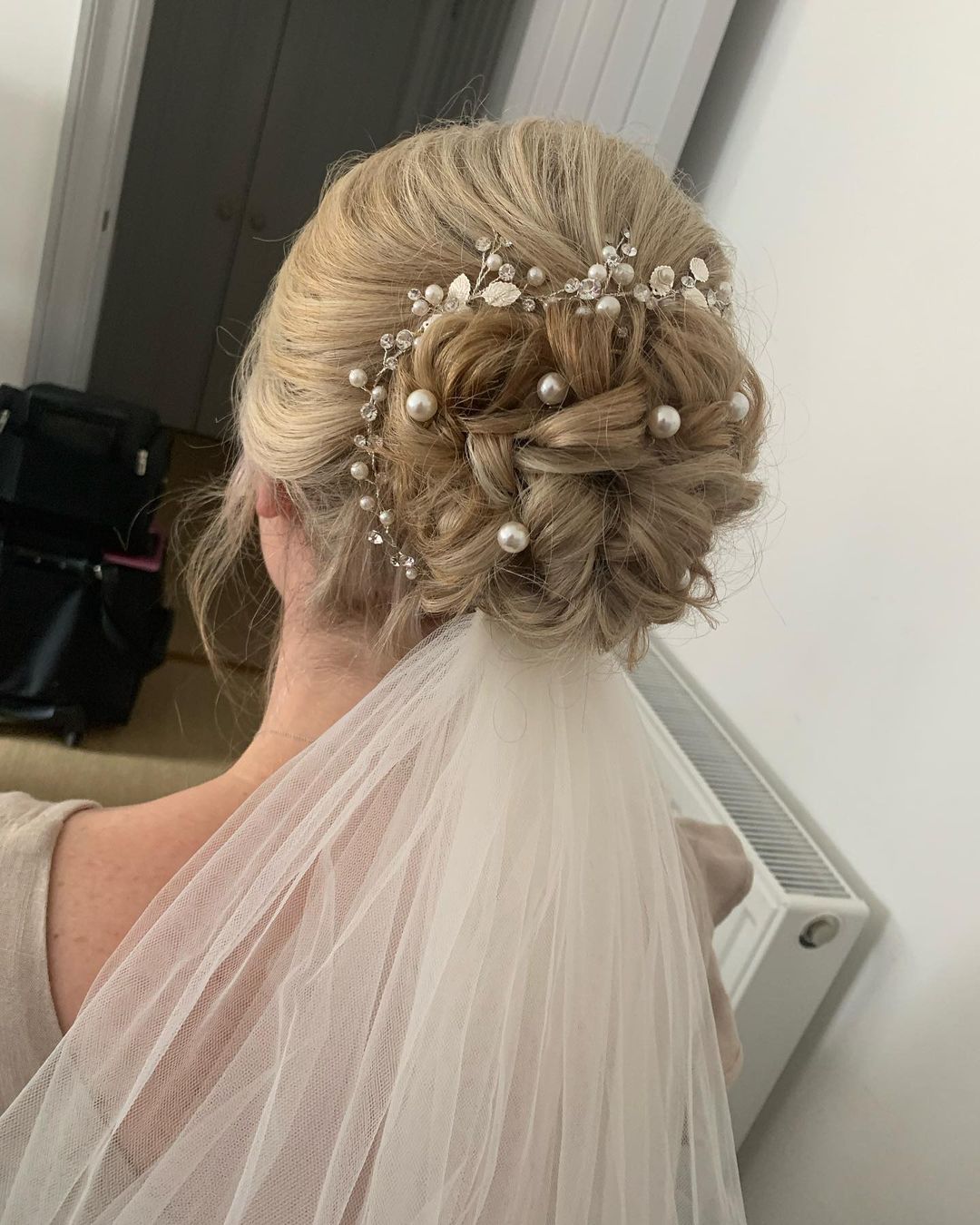 If you're a blonde looking for that stylish look you'll definitely enjoy this one. Add some white pearls and accessories to make it look cohesive.
10. Short Ponytail With Flower Detail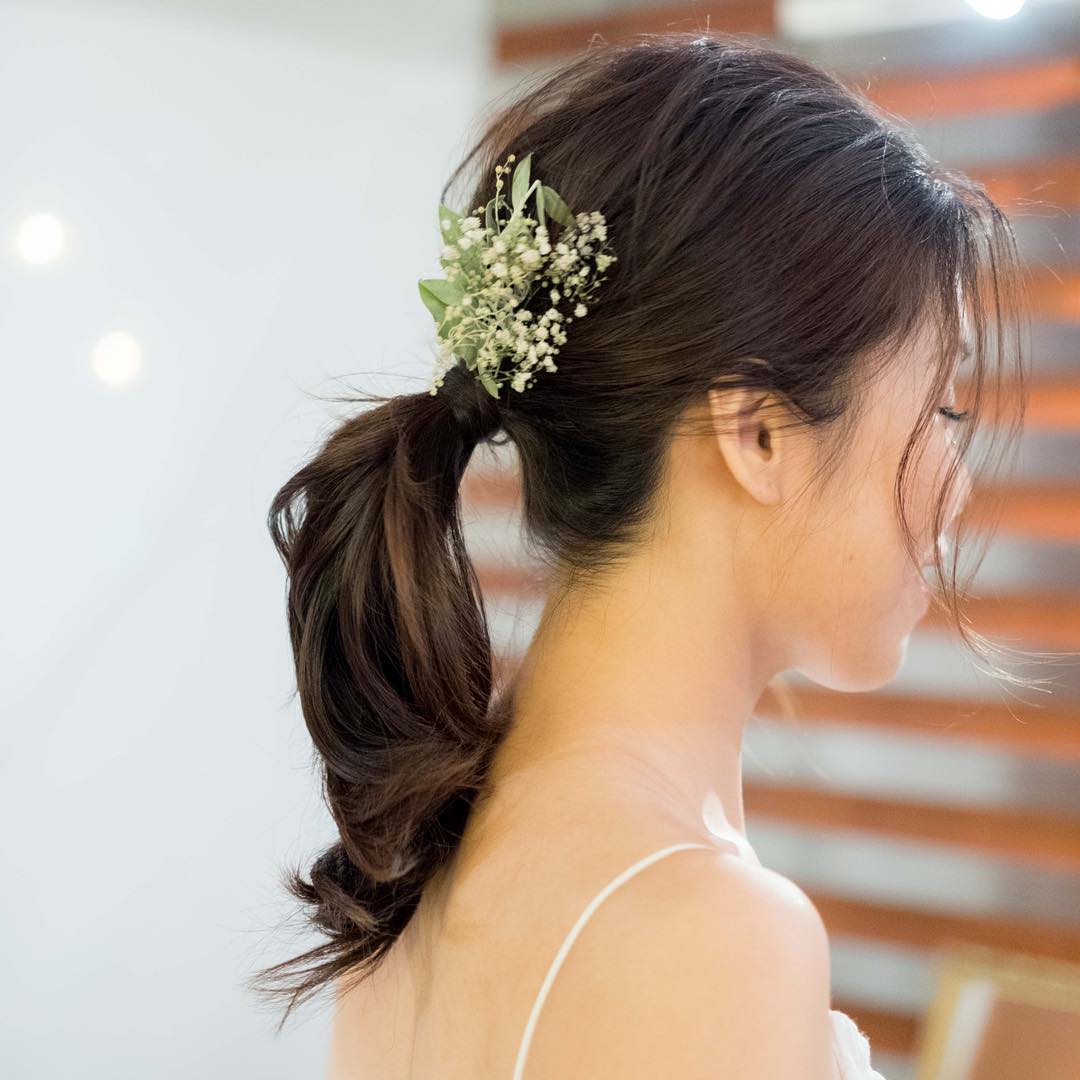 Bridal ponytails are also a popular solution at most salons. You can spice up the look with this giant centerpiece. The look is perfect for anyone getting married in the Fall.
Loose Bridal Hair
1. Natural Brunette Loose Curls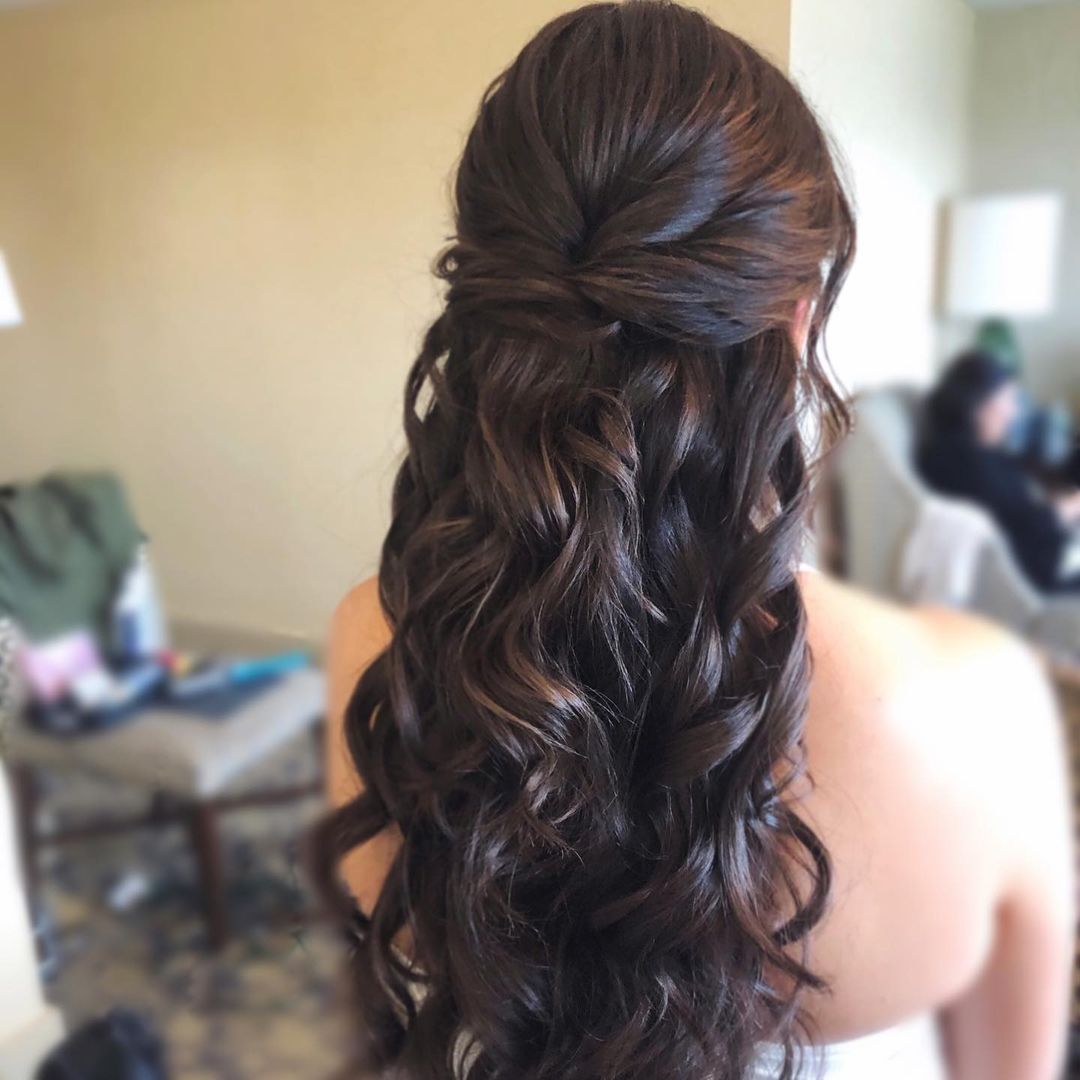 Loose curls with a simple braid on the back are quite popular for most girls and brides. You can also rock your natural hair color, so it is a win-win!
2. Hollywood Curls Glam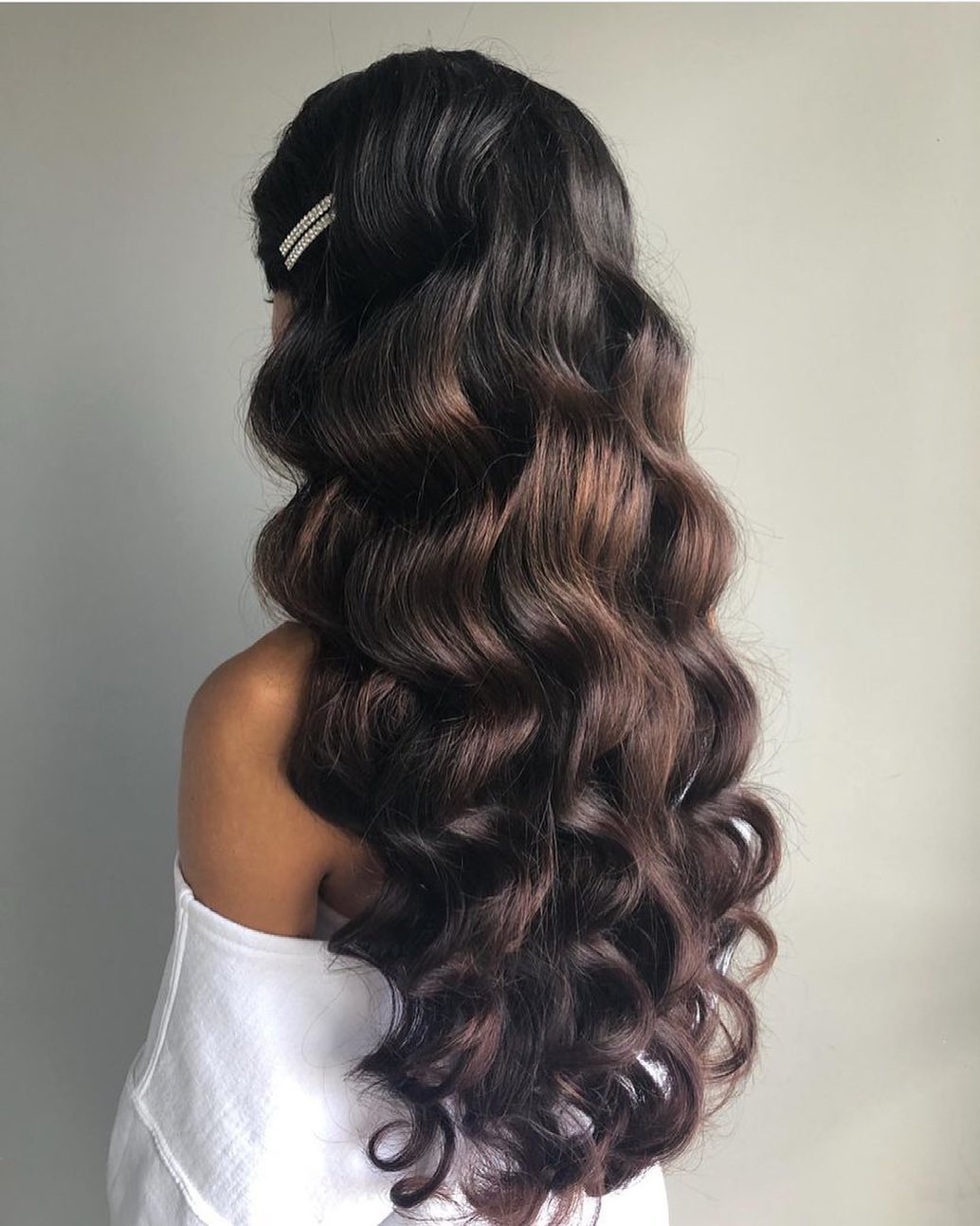 Hollywood curls or Hollywood waves are popular and so chic. If you're an elegant bride with chocolate brown hair you'll enjoy this look.
3. Fluffy & Voluminous Brown Hair With Waves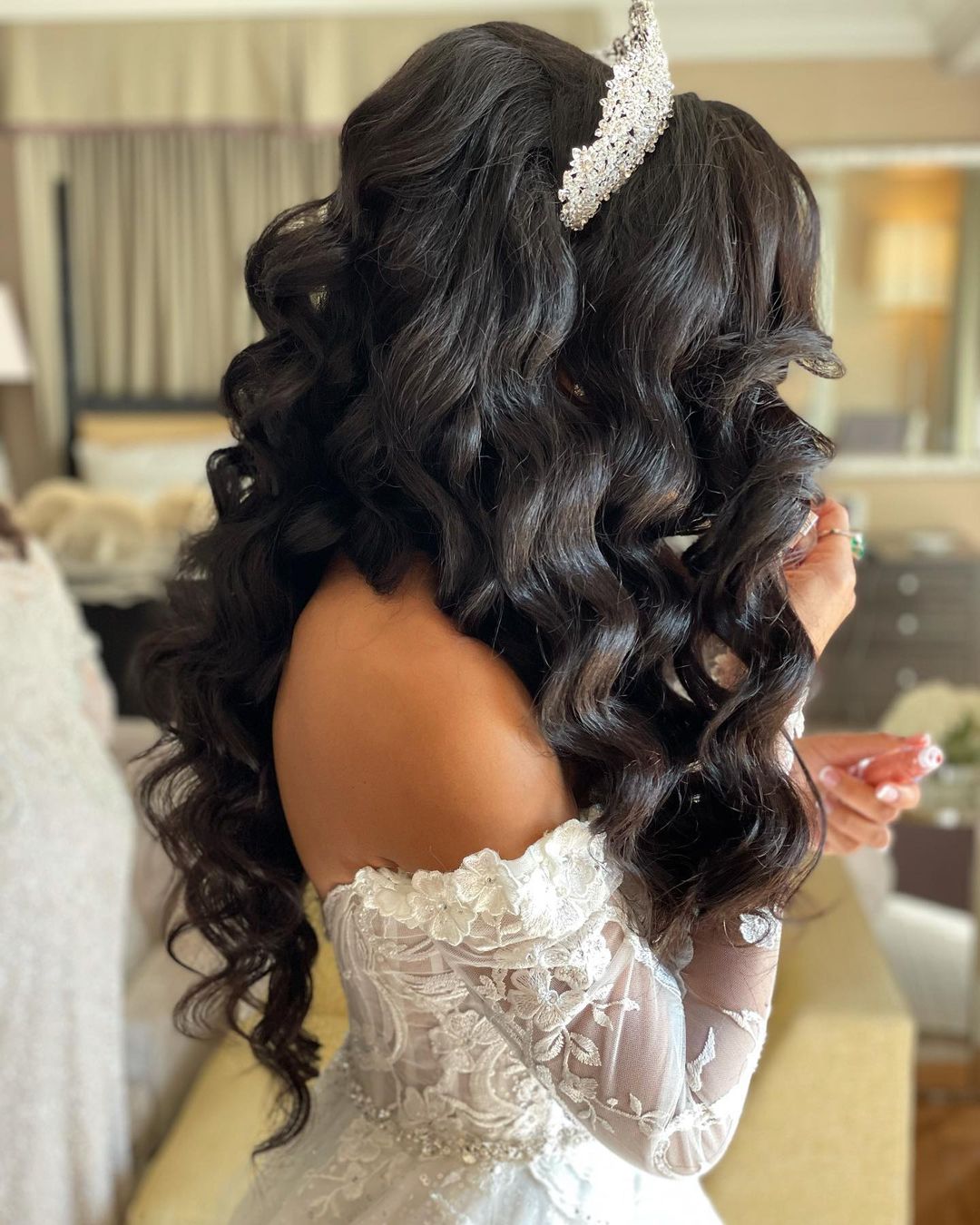 Sometimes, the more volume, the better, right? This hairstyle is perfect for women who love to seek attention with their feminine ideas.
4. Blonde Hair With A Braid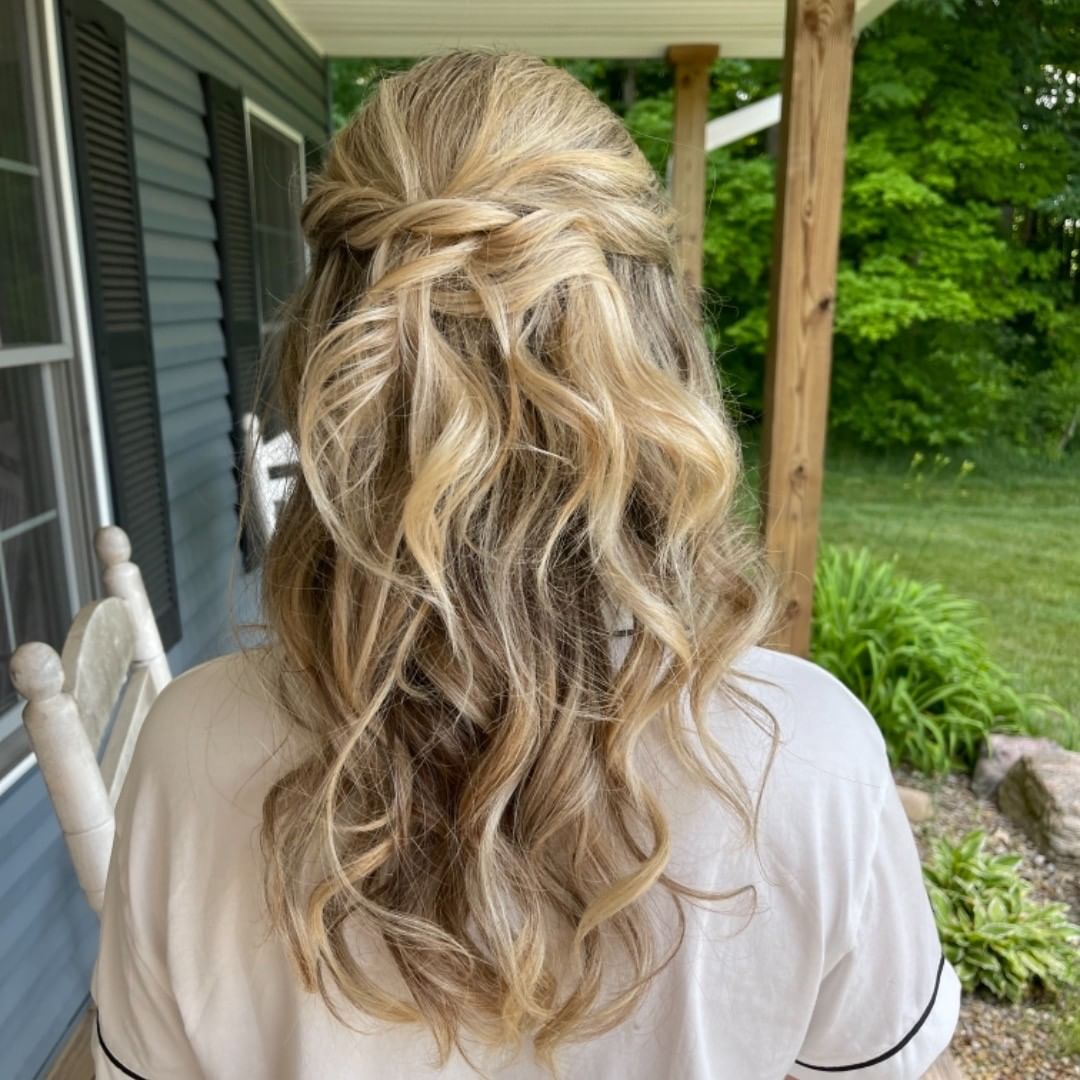 Add some funky volume and a pop of color with this blonde solution. Tie the hair in the back and make it look whimsical with this back braid detail.
5. Sleek & Shiny Hollywood Waves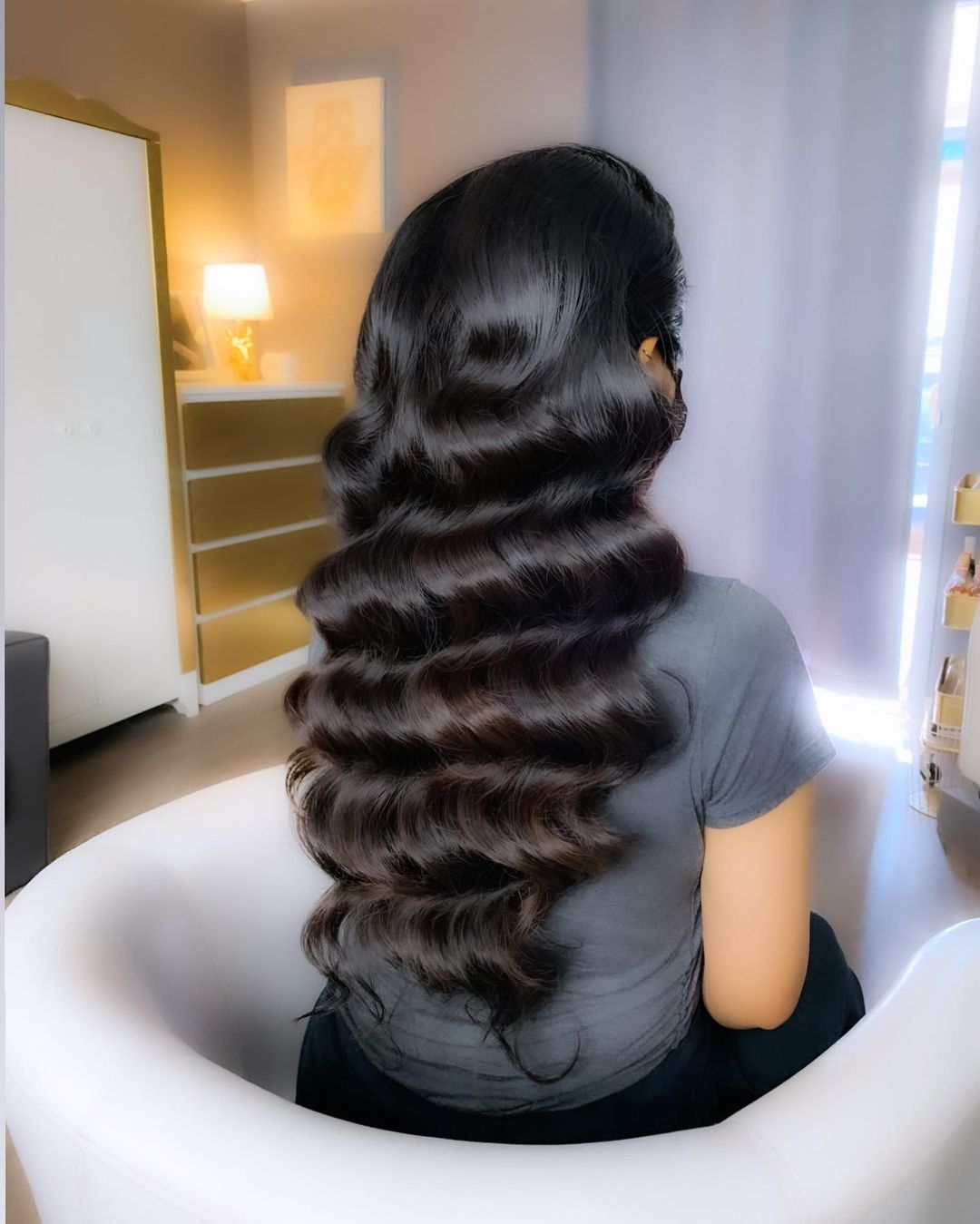 Add a lot of shine to your hair and make it look like the centerpiece and focal idea of your wedding. This is perfect for natural brunettes and those who like classy elegant looks.
6. Gorgeous Curls With A Braid In The Back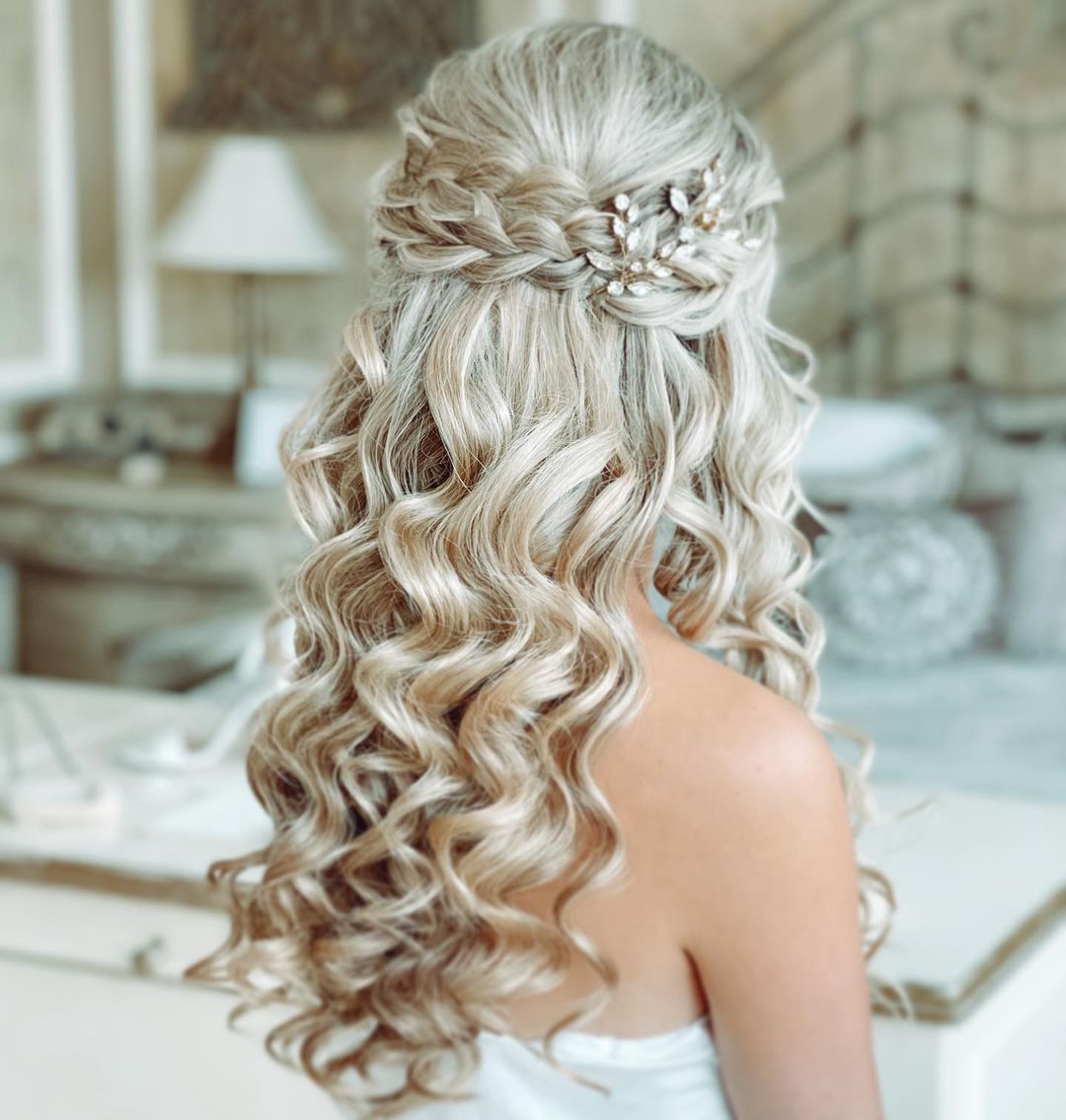 If you're a natural blonde with long hair make sure that you consider this idea. This look will make you look like a true princess for your big day.
7. Short Bridal Wavy Hair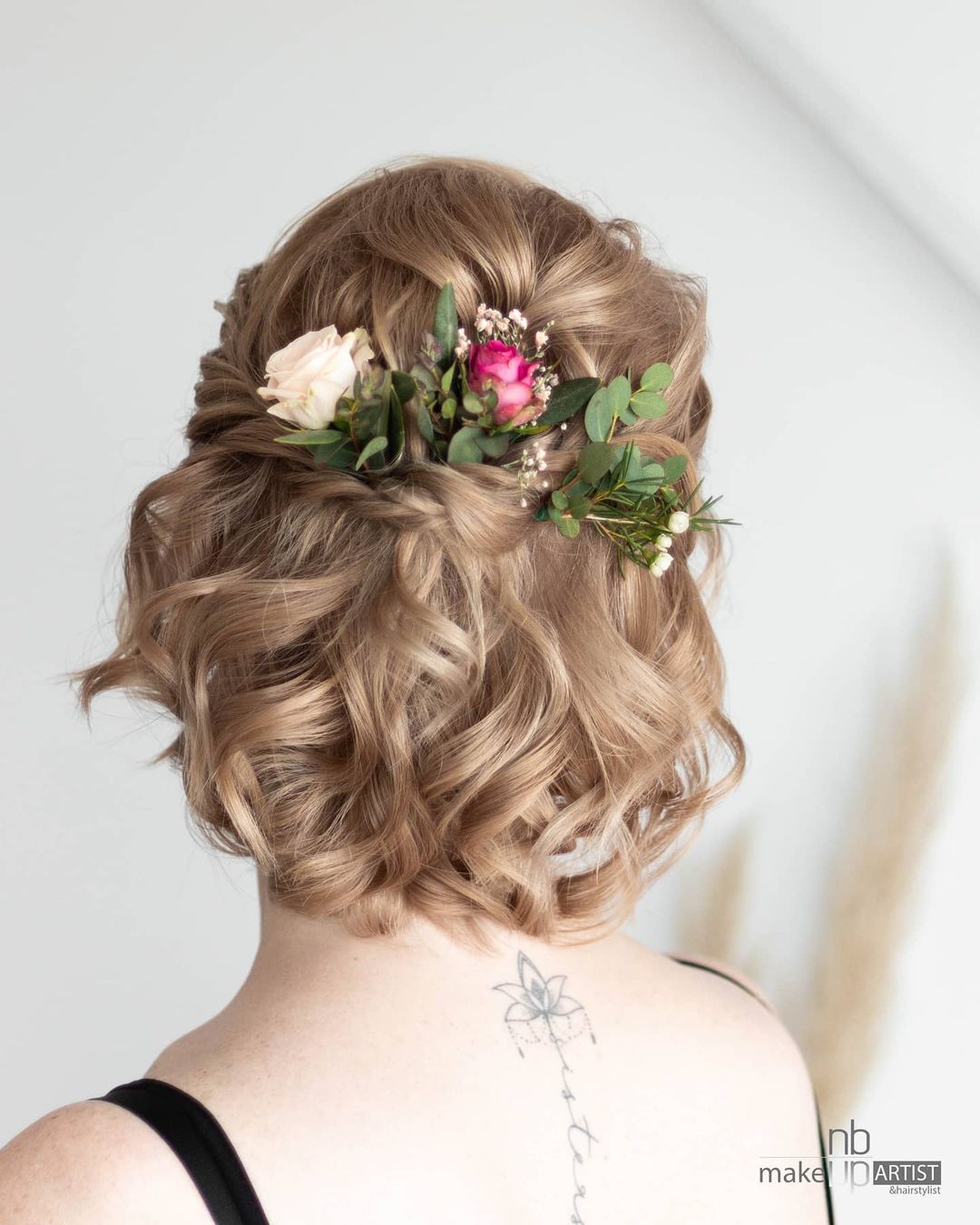 Brides who have shorter hair can also wear it loose and wavy. You can also opt for this floral hairpiece if your hair is in need of more drama and attention.
8. Retro Hollywood Glam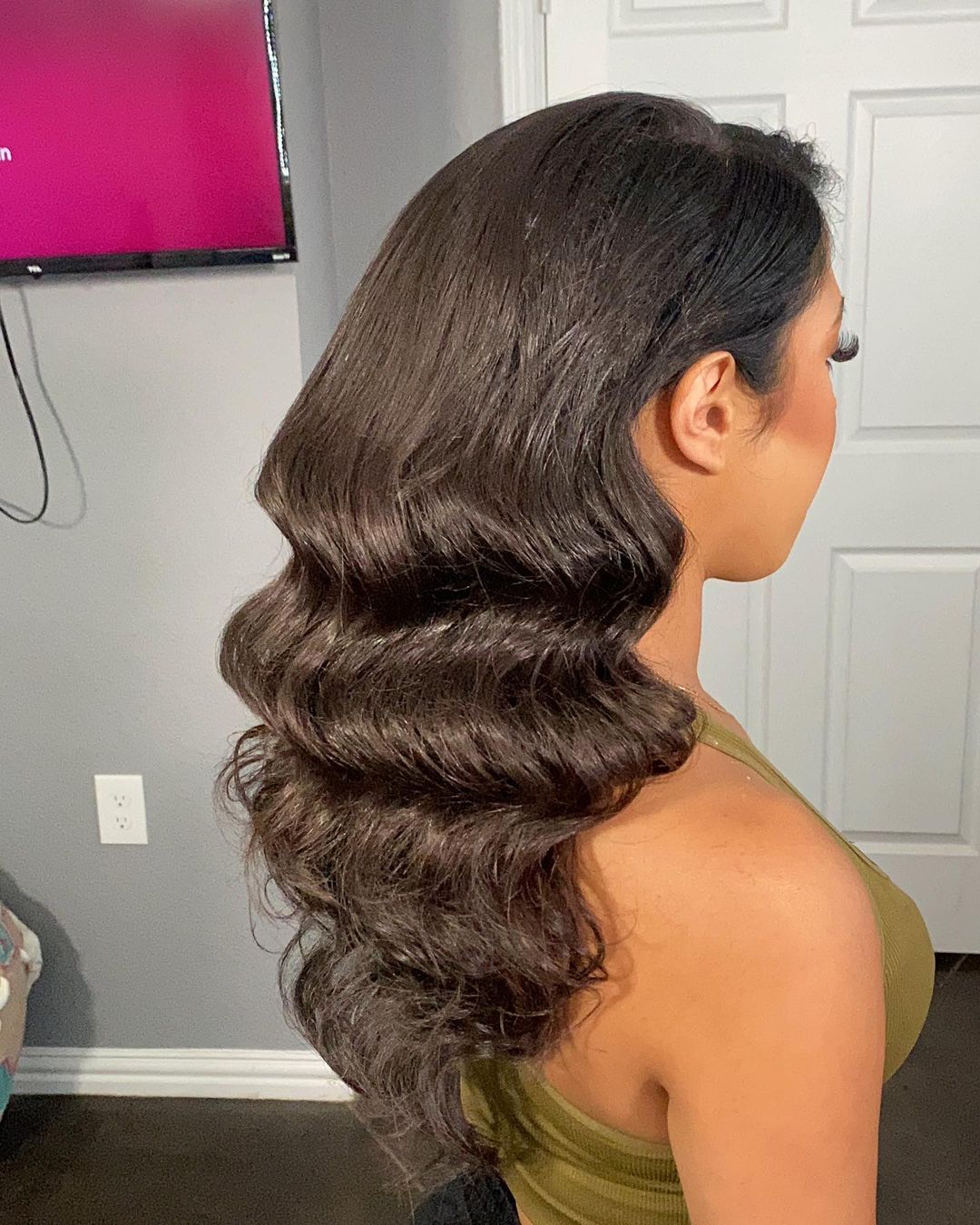 Retro loose curls and loads of shine are what look good for your big wedding day. Let this hair speak for itself at any given point and no matter the weather season.
9. Gorgeous Blonde With A Subtle Detail In The Back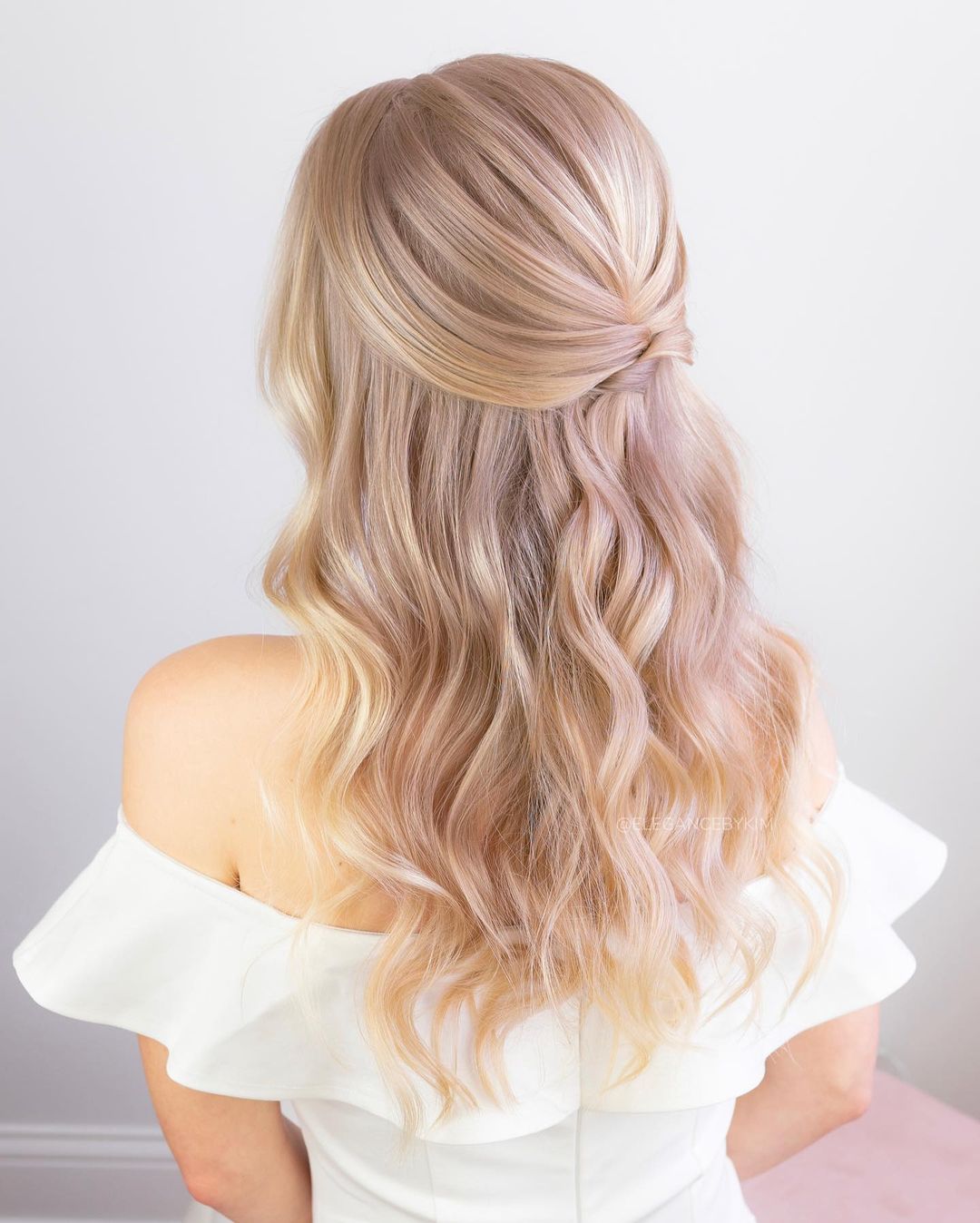 Classy brides who enjoy a lot of shine and waves will like this look. Tie your hair in the back and go for some softer waves to complete the concept.
10. Ombre Hair With A Bride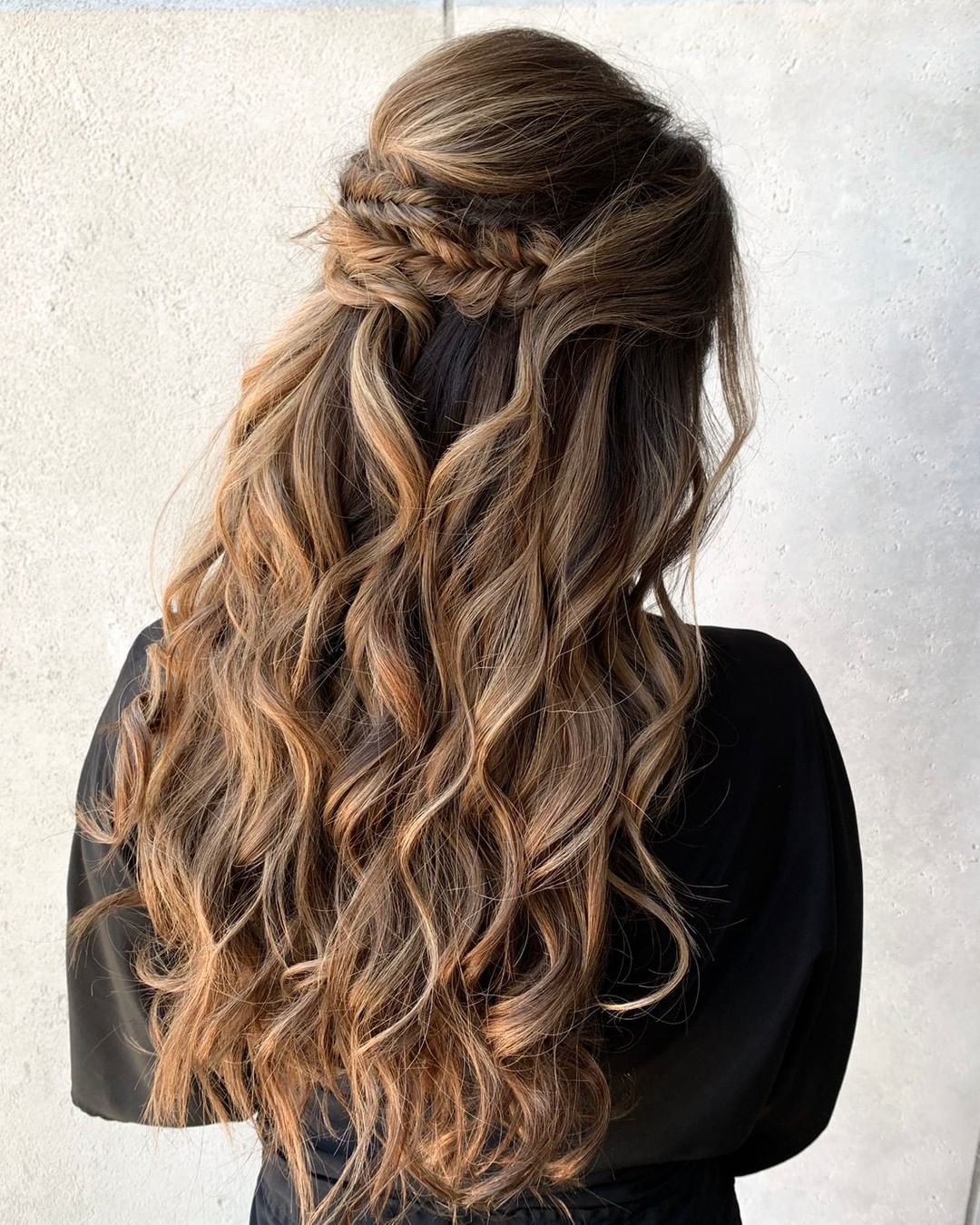 If you have ombré or balayage hair you'll enjoy this design. The color itself is ultimate for the summer season, and you should also rock it for your big day.
Tied Up Buns & Ponytail Bridal Ideas
1. Elegant & Traditional Bun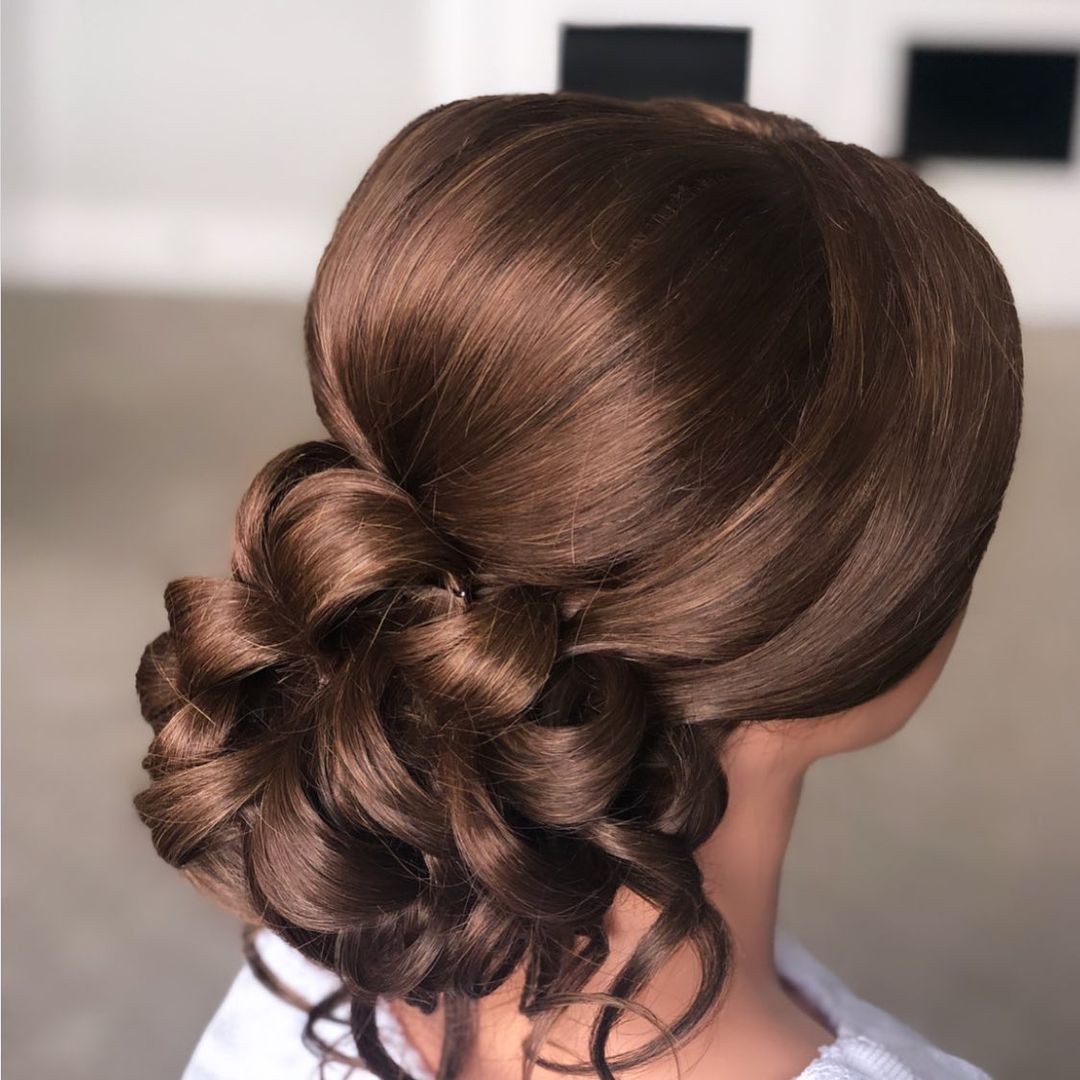 Classy and chic hairstyle ideas look feminine and flirty. This one is perfect for brides who have a strict wedding filled with regulations and traditions.
2. Formal Loose Bun

A simple small bun in the back will look sensual. Get this design if you're a fan of shorter and simpler looks to maintain and wear.
3. Retro Ombre Ponytail With A Bride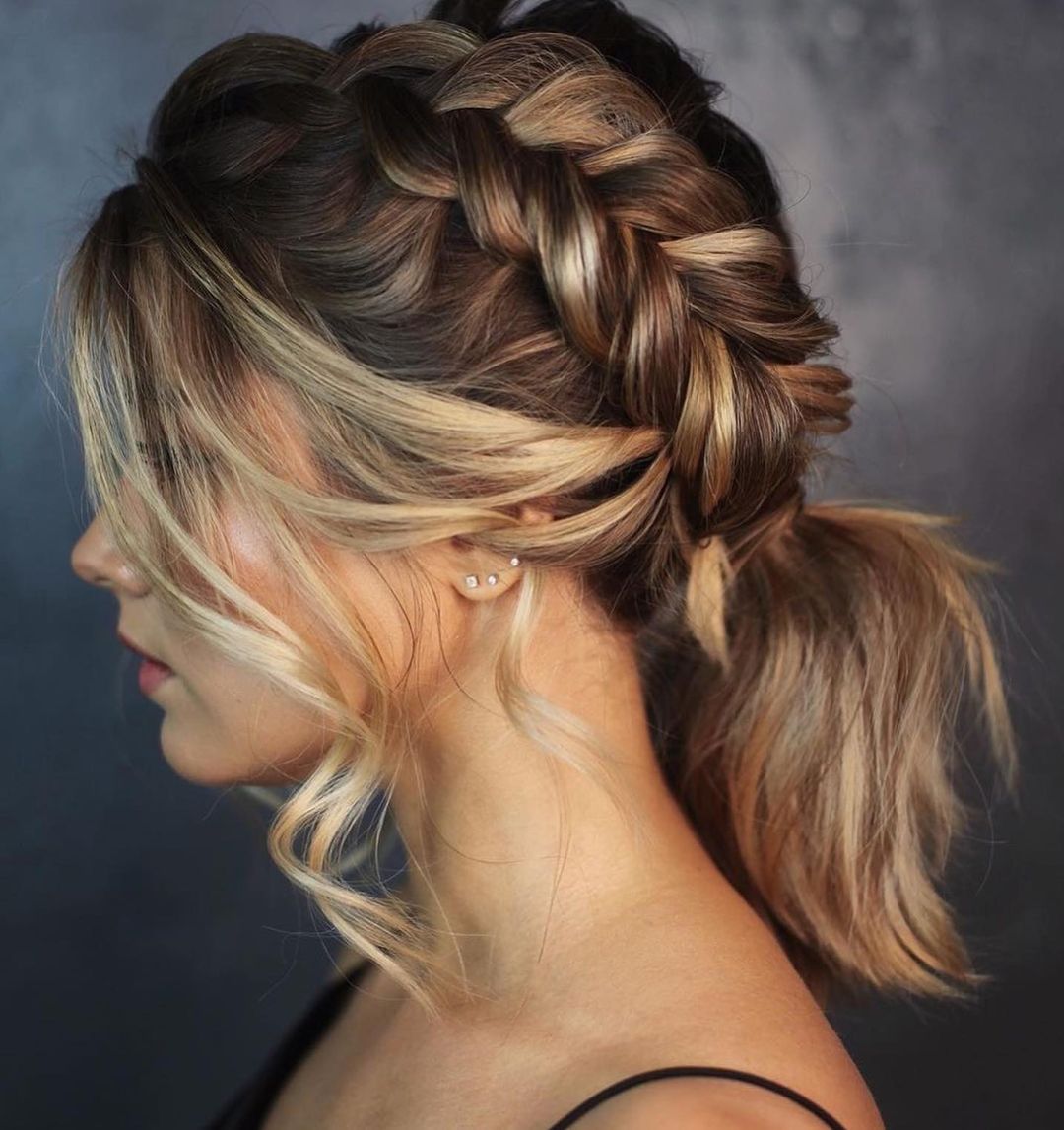 If you want something high-end and runway-inspired you'll enjoy this ponytail. It will take you some trials and errors to fully master it.
4. Bridal Pony With A Knot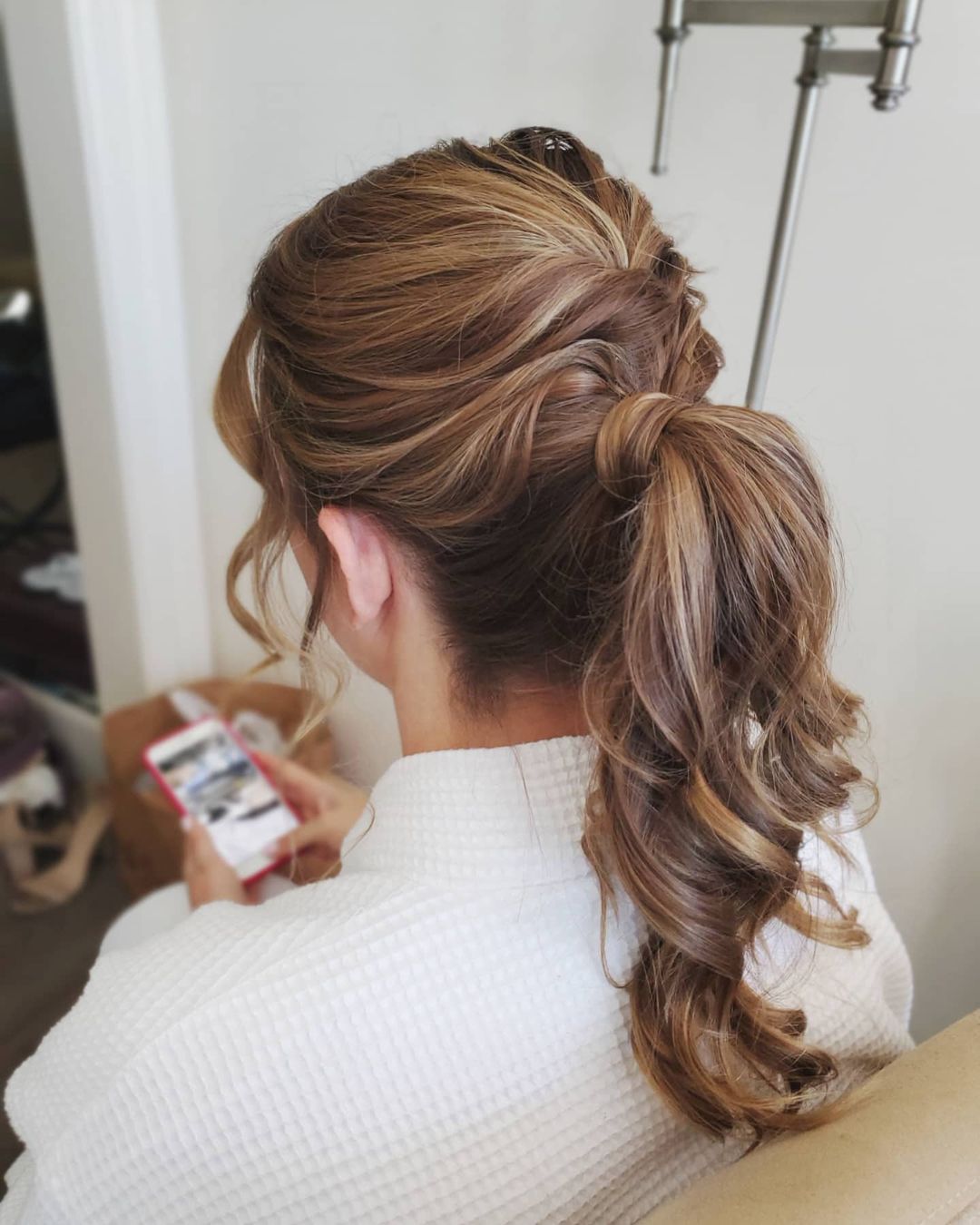 Go for a loose ponytail and secure it in the back. This look is perfect for women who plan on getting married in Fall.
5. Glamorous & Voluminous Bridal Bun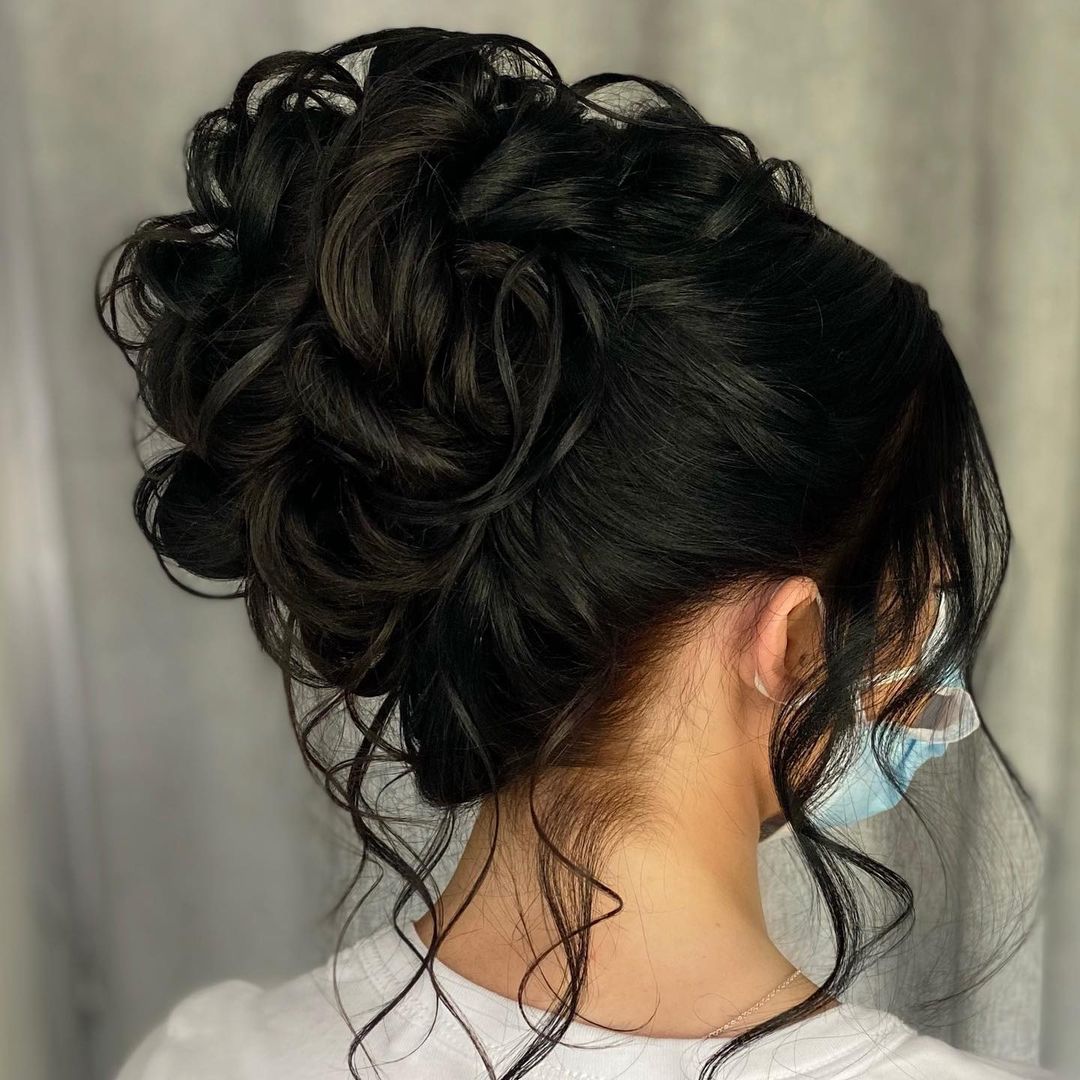 If you like to stand out with your volume you'll also enjoy this look. Go for a lot of hairspray and tease your hair to achieve your final result.
6. Loose Balayge Bridal Look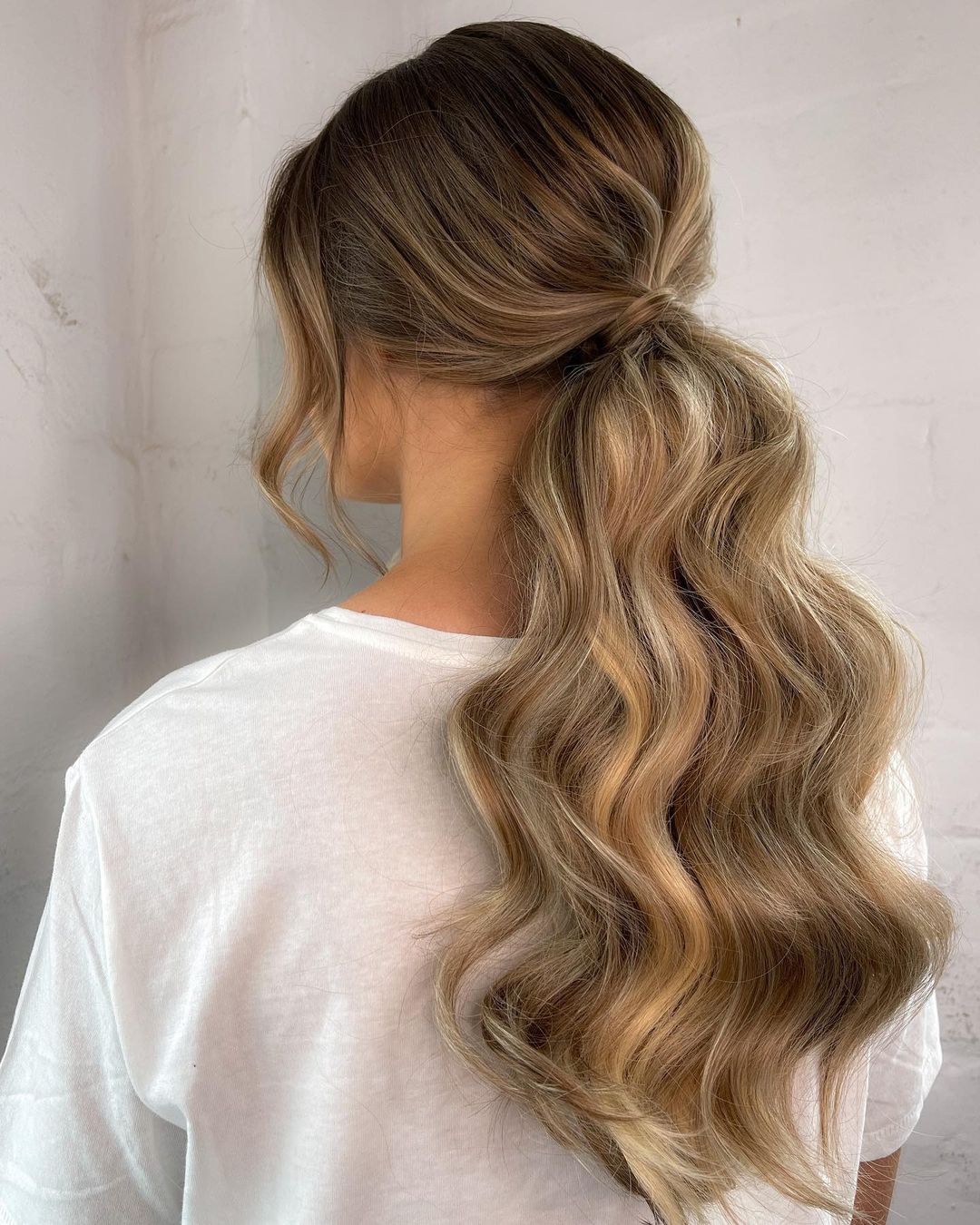 A ponytail that holds itself with a piece of hair is practical and trendy. You'll like this look if you're a fan of subtle transformations.
7. Neat & Straight Bun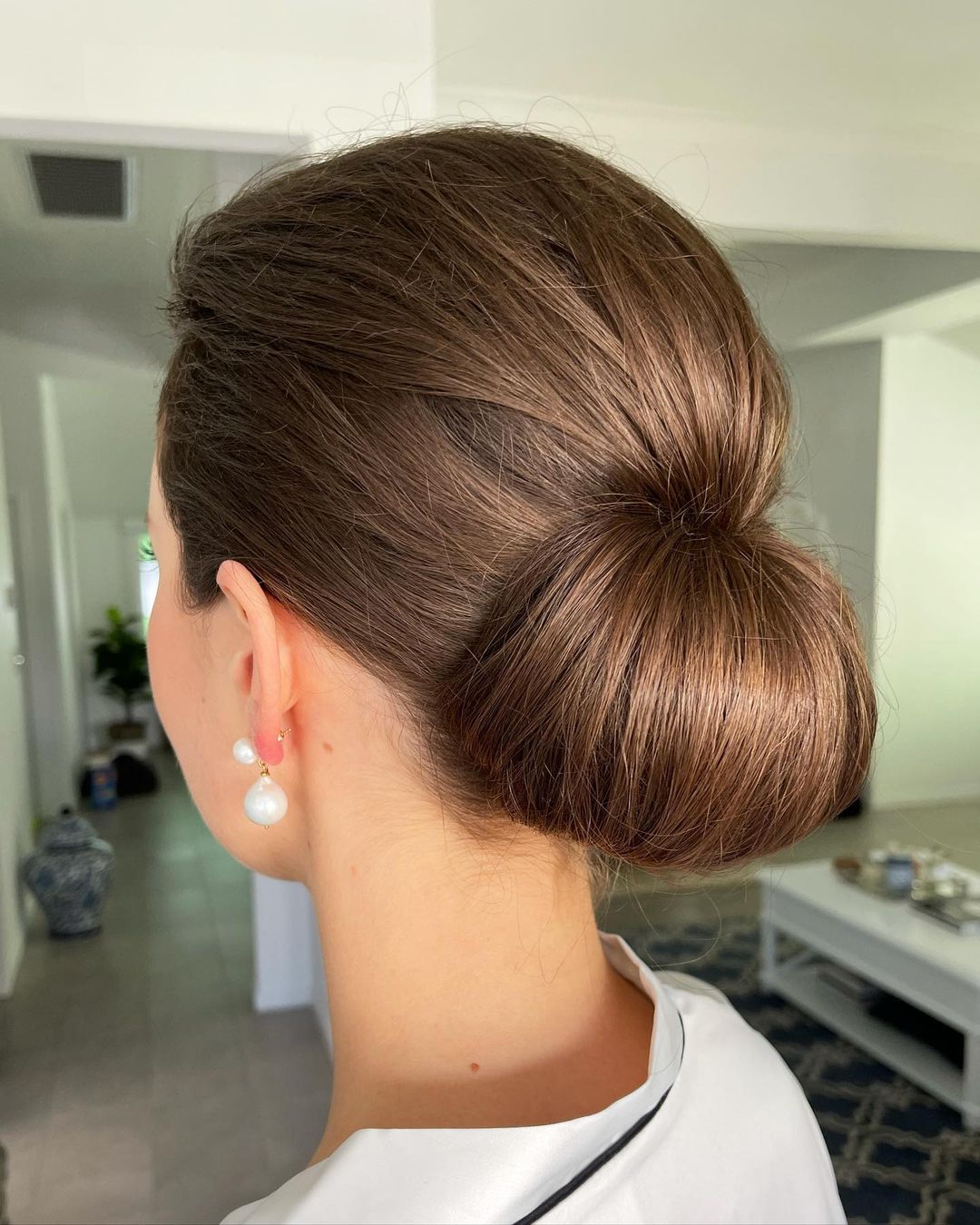 Girls who are chic and elegant will love this bun. It is perfectly combed in the back and looks traditional.
8. Blonde Hair With A Large Braid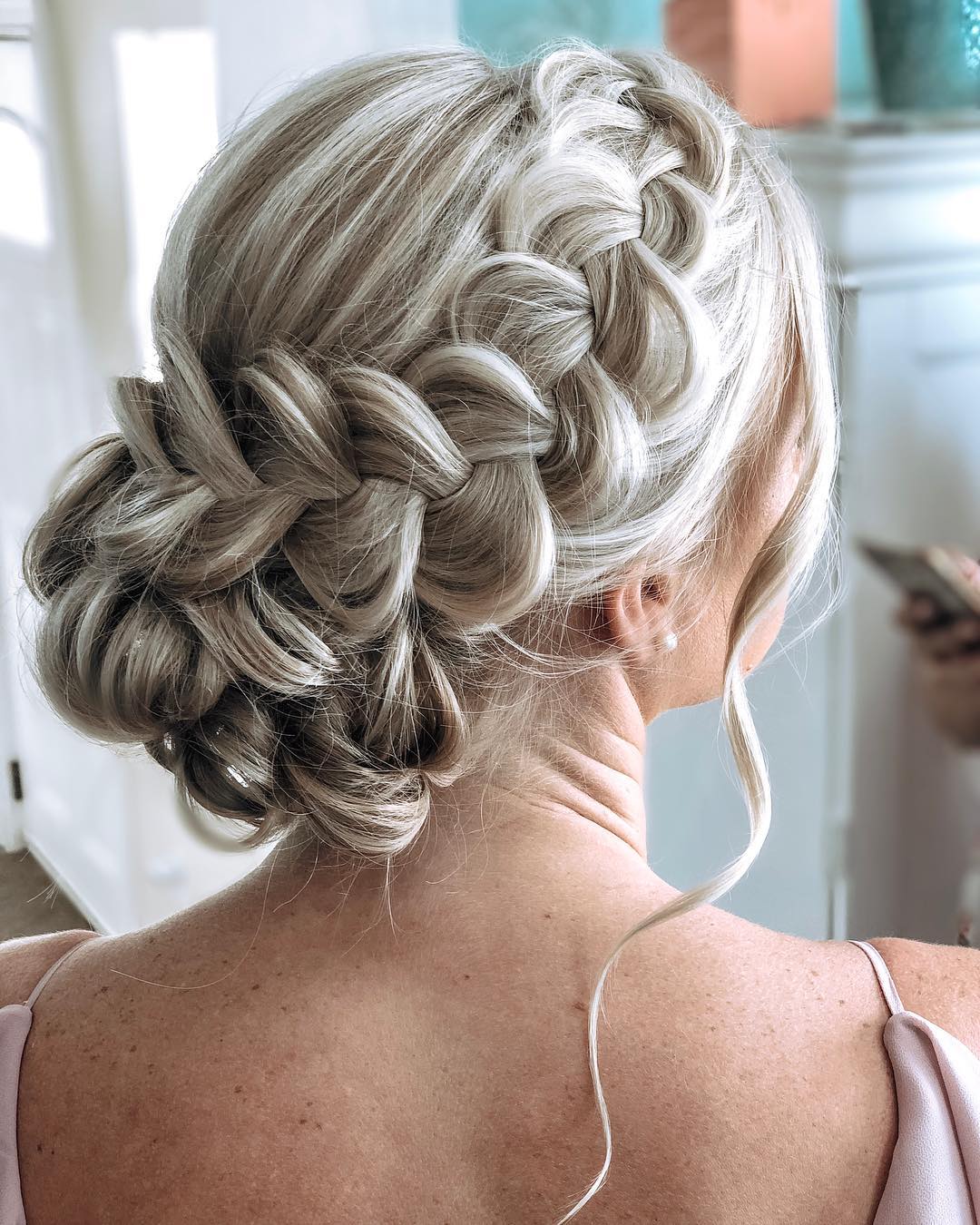 Go for a lot of braids in the back if you're someone who loves drama, and doesn't mind taking things up a notch. This look is gorgeous and quite outstanding.
9. Balayage Highlights Ponytail Look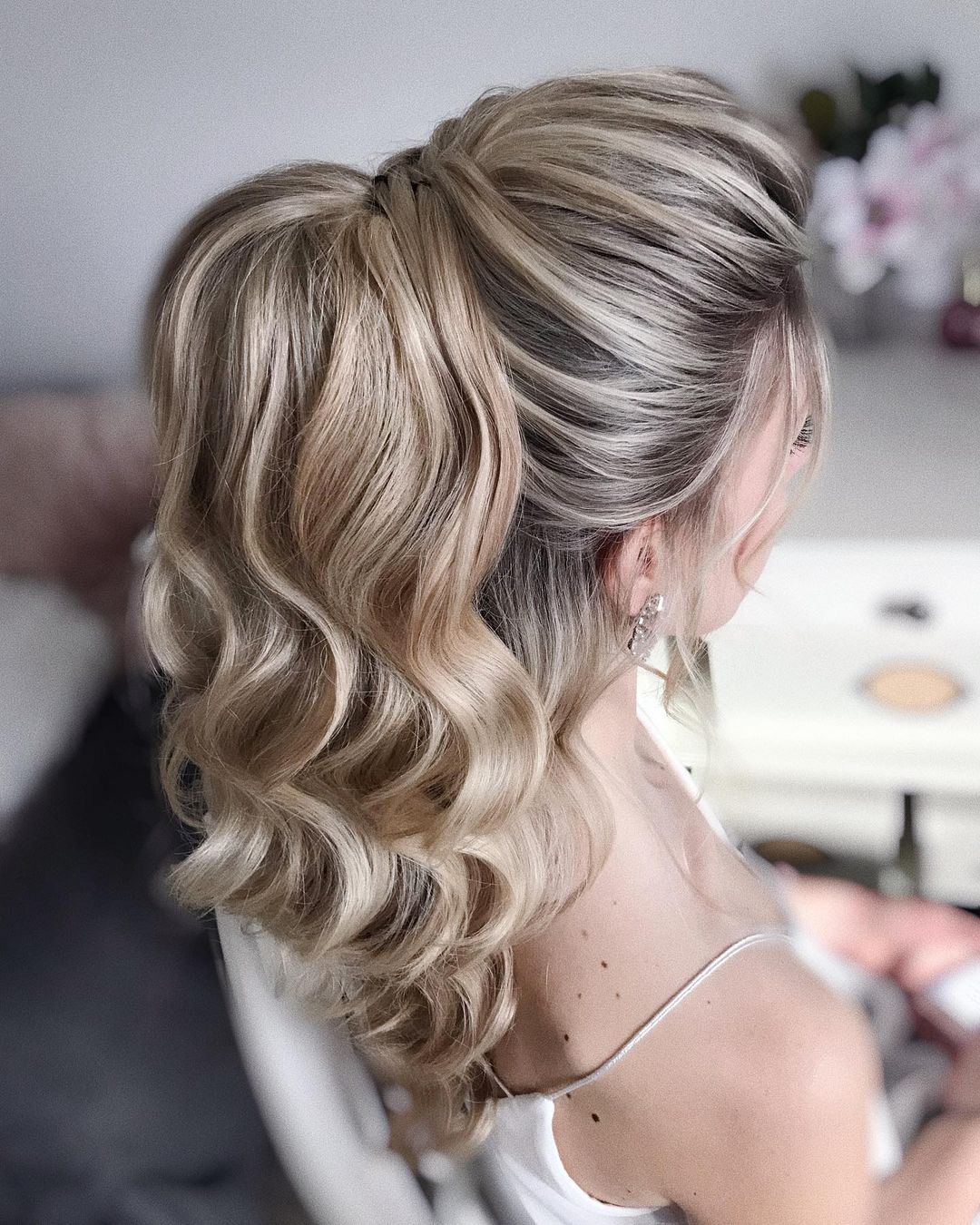 Loose ponytails with volume at the top of your front part are common among brides. Let this hair shine and stick to a few bobi pins that will keep it all in place.
10. Medium Length Brown Bridal Pony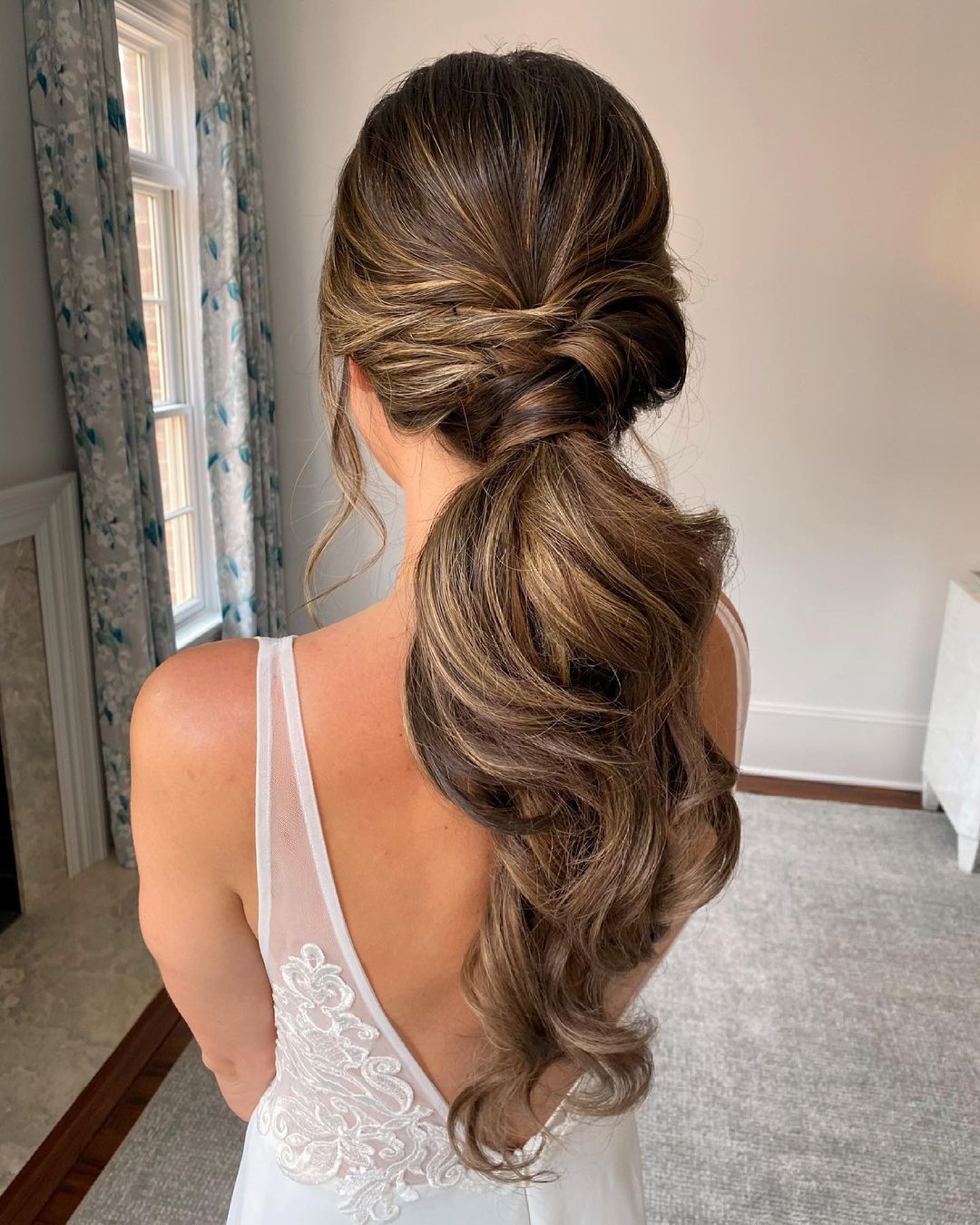 Lastly, go for this ombré ponytail and a braid in the back. This look shows that you're someone who loves romantic ideas.
Are You A Bride-to-be?
Make sure that you let us know which one hair design was your favorite. These 30 options will suit every lady, so let us know what you would love to wear if you are a bride-to-be!