Curly hairstyles are such a gorgeous and cool option that you can wear only if you're lucky enough to have a wavy or naturally defined curly texture. On the other hand, you can always take your time and invest 10-20 minutes to achieve this gorgeous outcome if your hair is flat and straight. If you're looking for something sleek, perfect for everyday wear or special gatherings keep on reading! In this article, we're going to list a ton of different options. We will help you figure out how to style a curly hairdo while listing something for every hair texture or face shape. Keep on reading and you're going to find something for yourself down below!
What Are Some Popular Curly Hairstyle Ideas?
If you plan on wearing your hair in a curly way and you want to give it a go with a curly hairstyle make sure to find something that suits you. This all comes down to preference and your head shape. Here is what you should consider:
Bob cut: you can go for an A-line, messy, wavy, or lob looks. Usually, women who like shorter low-maintenance looks tend to go for this design.
Pixie cut: if you have naturally curly or wavy hair and you want something short and simple, go for a pixie. You won't spend more than 5 minutes styling your hair in the morning.
Afro hair: only women who have super long, curly, and kinky hair textures can go for this design. If your hair is on a voluminous side consider rocking defined updos.
Curly hair with bangs: go for some simple, long, wavy, or fringe bangs. By adding some cool and stylish bangs you can totally spice up and switch the outcome of your hair at any given point!
Understanding Your Hair Type
Another factor to consider when styling your hair is your hair type. If you are not sure if your hair type is 4A or 2B, please check the links I listed below:
How To Style Your Curly Hair?
This depends a lot and varies based on your hair texture or length. If your hair is straight, make sure to approach it with a lot more care. Here are some steps for you to consider and adjust based on your ideal style:
Step 1: if your hair is curly style it while it's wet or semi-damp. Add your favorite curling cream product all over and let your hair air-dry for the best heat-free results. In case your hair is straight, make sure to wash it and blow dry before you start with the styling process.
Step 2: use your favorite curling iron to achieve the right type of curl pattern. Work one section at a time and go for either defined, kinky, or soft curls. Adjust based on your headed event or spare time. Usually, soft waves are a glamorous look, while messy curls can be for everyday simple wear.
Step 3: once you are satisfied with your curl pattern set your hair in place and prolong its wear time. You can do that with your favorite cream or finishing spray.
Women who don't want to use high heat on their hair can achieve a curly hairdo by twisting their hair in braids overnight, trying out hair rollers, or even with spoolies!
Who Are Celebrities With Curly Hair + Where To Get Your Inspiration From
Want to find a hair inspo with one of your favorite actresses, singers, or influencers? Not a lot of Hollywood divas have naturally curly hair. However, those that do can rock it with full confidence and are truly lucky. Find your inspiration with one of these beauties:
Beyonce
Rita Ora
Vanessa Hudgens
Selena Gomez
Zendaya
Taylor Swift
and others. They can rock curly hair on a daily but also spice it up for formal wear. The right way to do that is with hair accessories and some hairstyling tools.
Pixie Curly Hair
A curly pixie hairstyle is short and done in uneven layers. Oftentimes it has more hair and definition around the top portion and next to your bangs with thinner sides. It is highly-loved among younger women and is a fashionable look.
1. Natural Brown Curly Pixie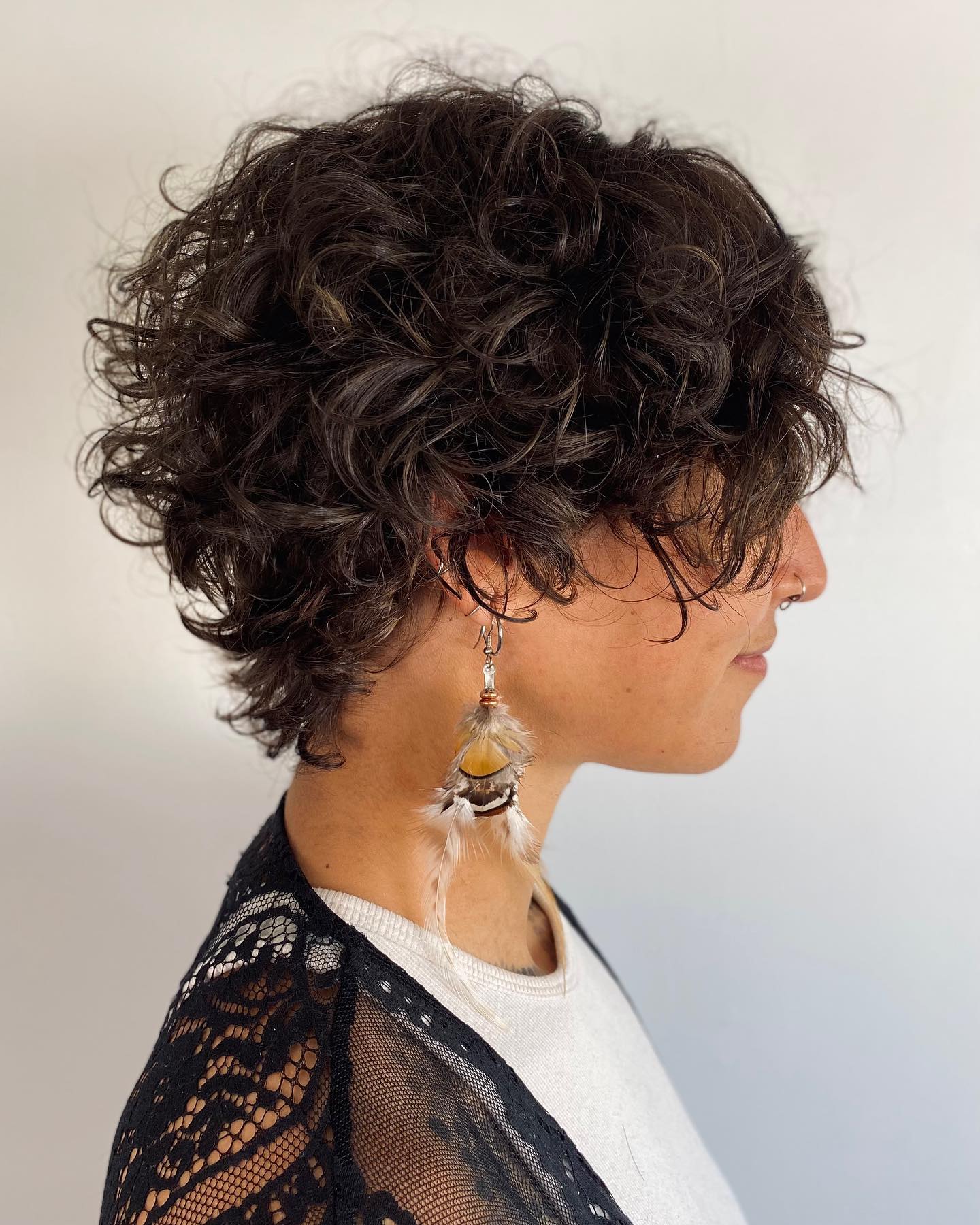 Cute brown curly pixie that you're going to like for everyday wear. Women who want something simple that is quick and easy for daily wear will enjoy this cut.
2. Black Curly Pixie Hair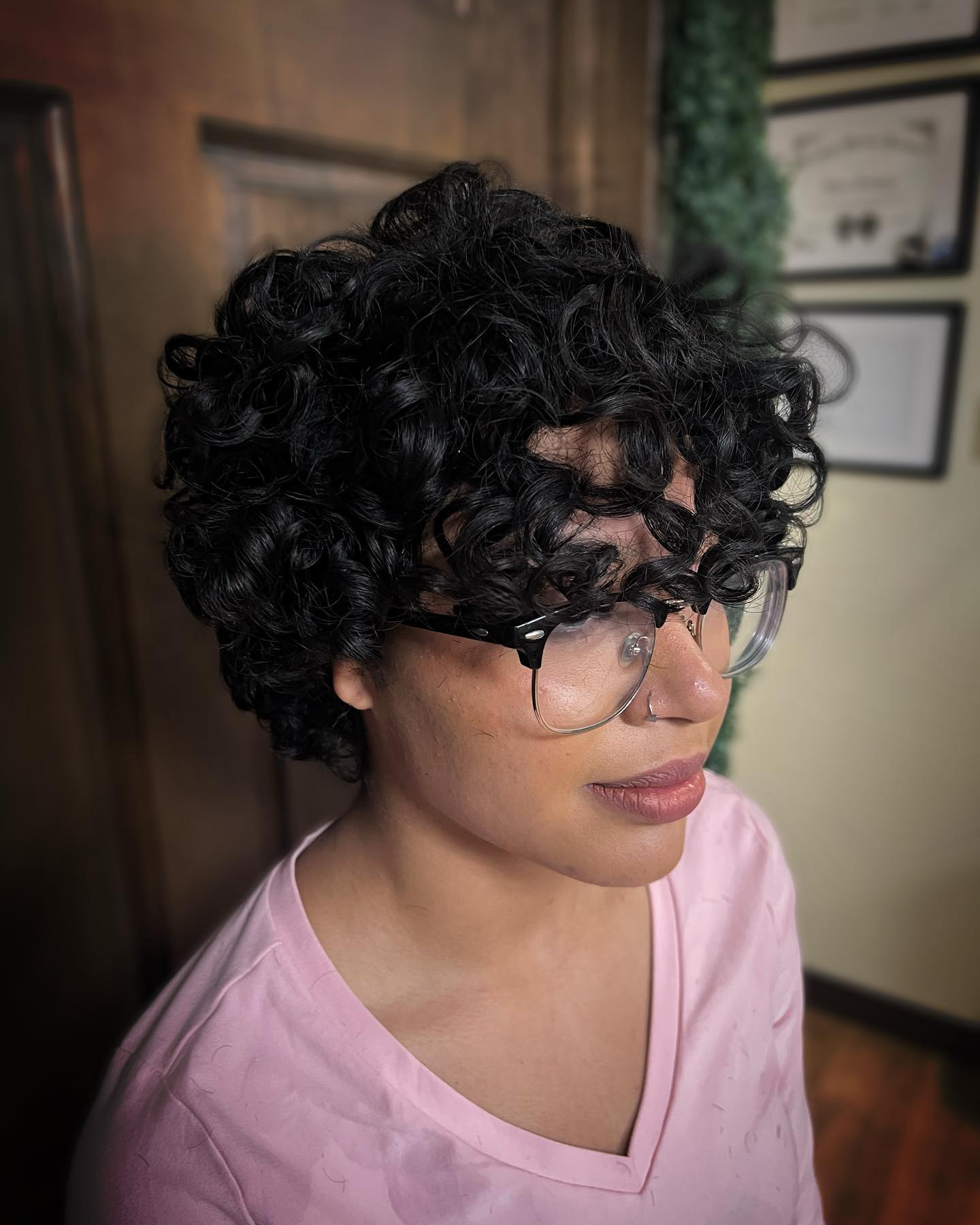 Add just a bit of hair gel to this pixie. It will easily form into a gorgeous curly cut. Also, it will look amazing on super dark hair and naturally messy hair.
3. Short Curly Pixie Cut

Short pixie such as this one worn high-up is easy to style. Consider this look for high-heat weather and especially for the summer season.
4. Blonde Curly Hair With Highlights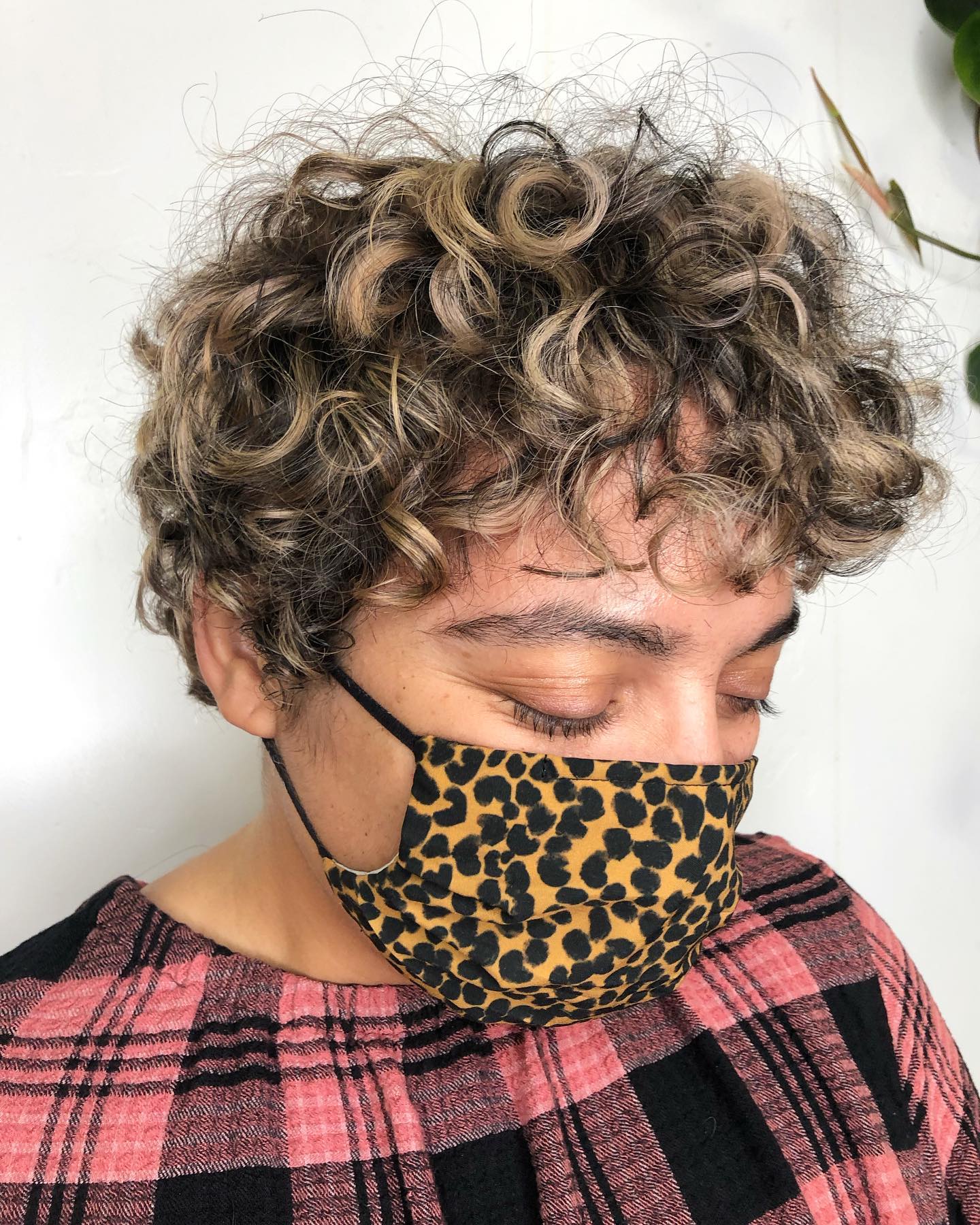 A pop of color to your pixie will look stylish and bold. Usually, this hairstyle and color are a common go-to for the Spring season.
5. Light Brown Pixie Curly Hair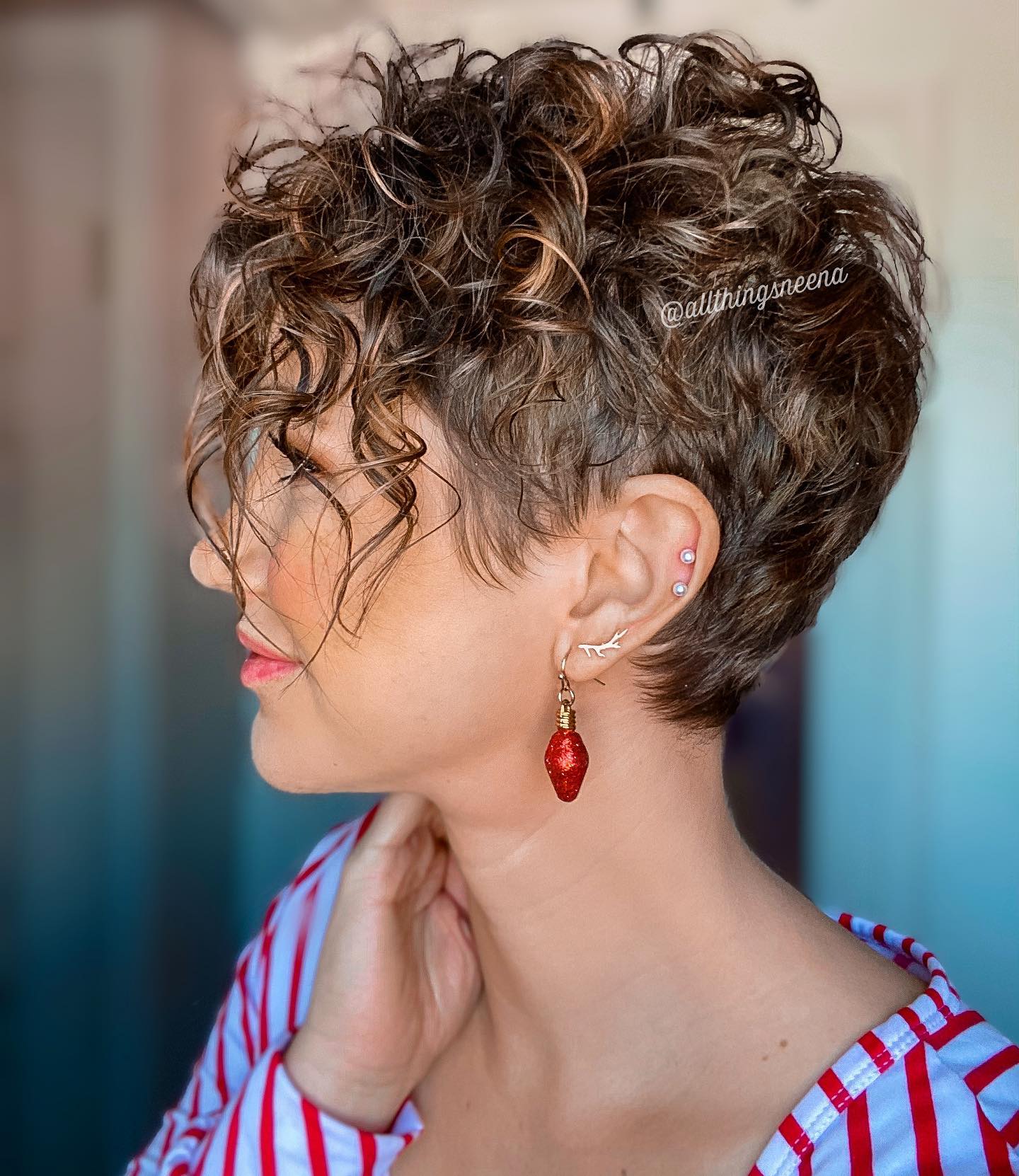 Get regular cuts and aim for your frequent hair salon touch-ups. This look needs to be cut properly every 5 weeks so you can maintain its beauty.
6. Short Orange Pixie Cut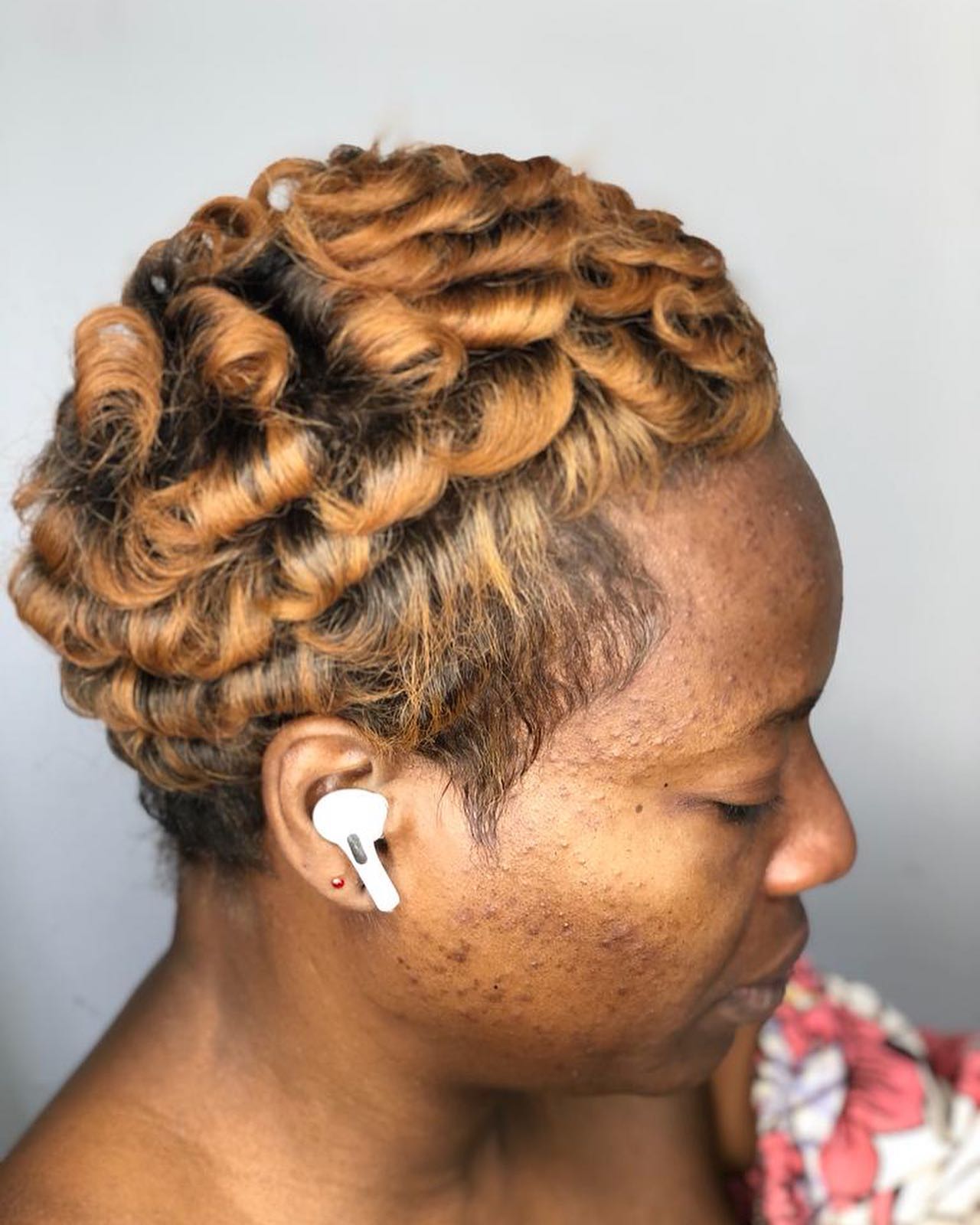 Add a pop of color and consider this pixie. Women who are in their forties like this type of hair. If you're ready for a change consider this new cut.
7. Kinky Curly Pixie Hair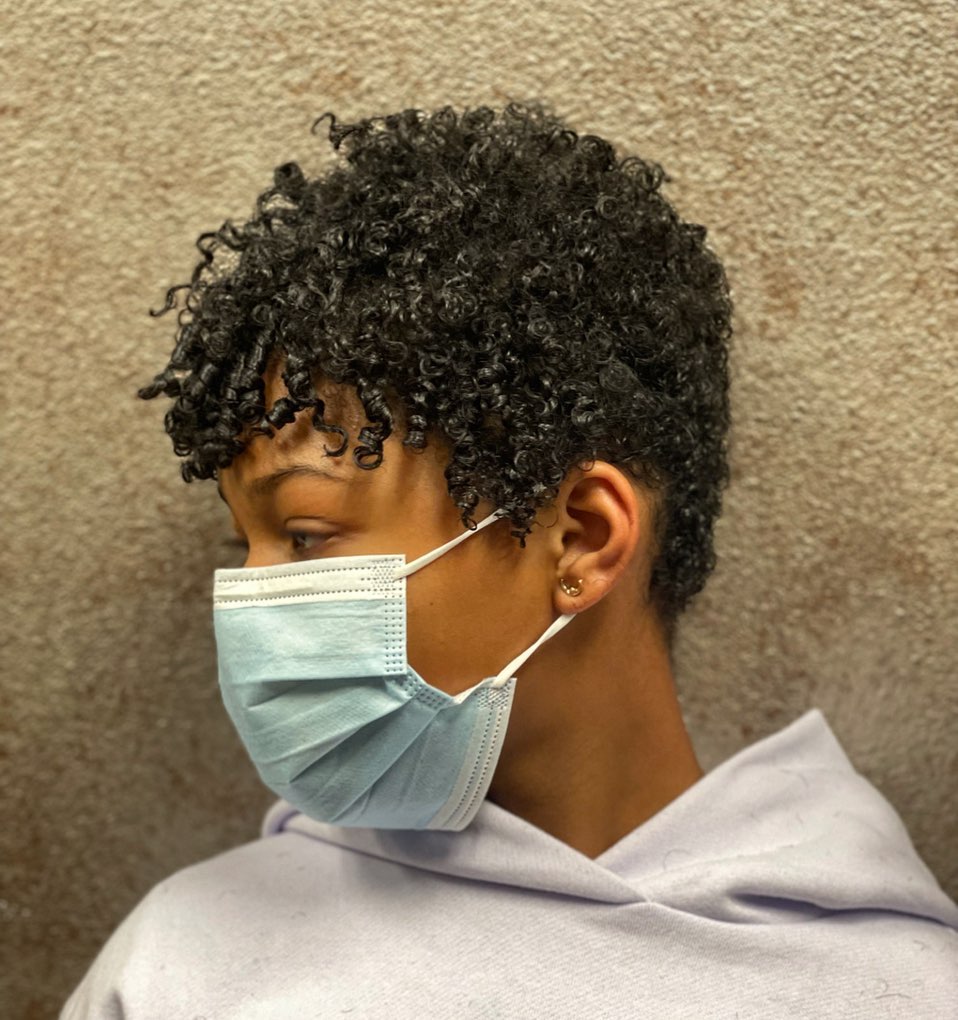 Kinky, curly, and messy pixies such as this one can be worn by younger girls. If your natural hair is super kinky and curly this will intrigue you. Show it off for any event.
8. Soft Curl Pixie Cut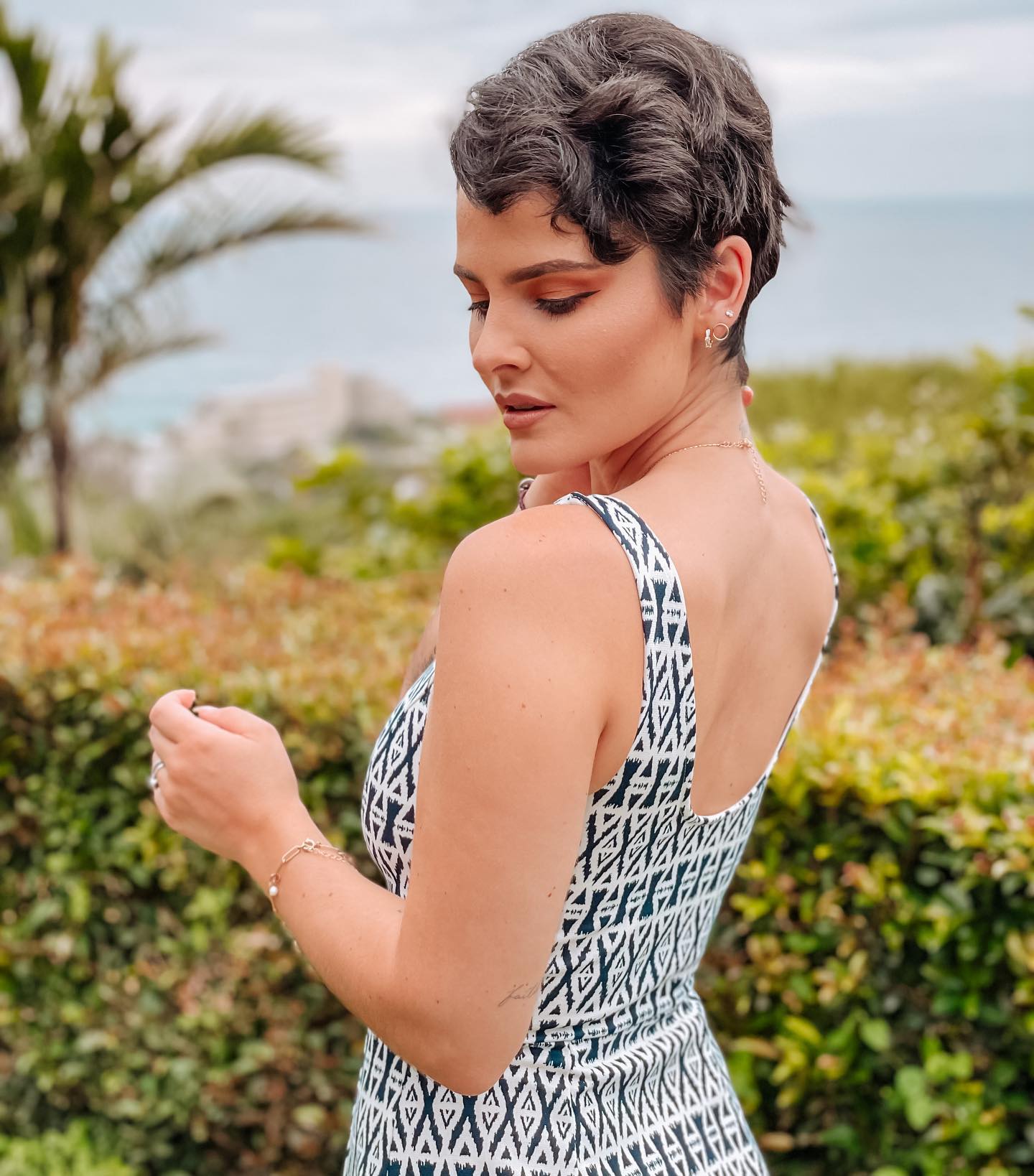 This pixie just goes to show you that you can wear cool looks in an elegant way. You don't have to go for a messy look, elegance is just as easy to achieve!
Curly Bob
A curly bob is a haircut that is cut right above your shoulders and has a curly texture. It can be any length from your ears to your collarbones, often done in an asymmetrical way. A curly bob is the prettiest when done inverted or graduated. Simple yet modern.
1. Natural Brown Curly Bob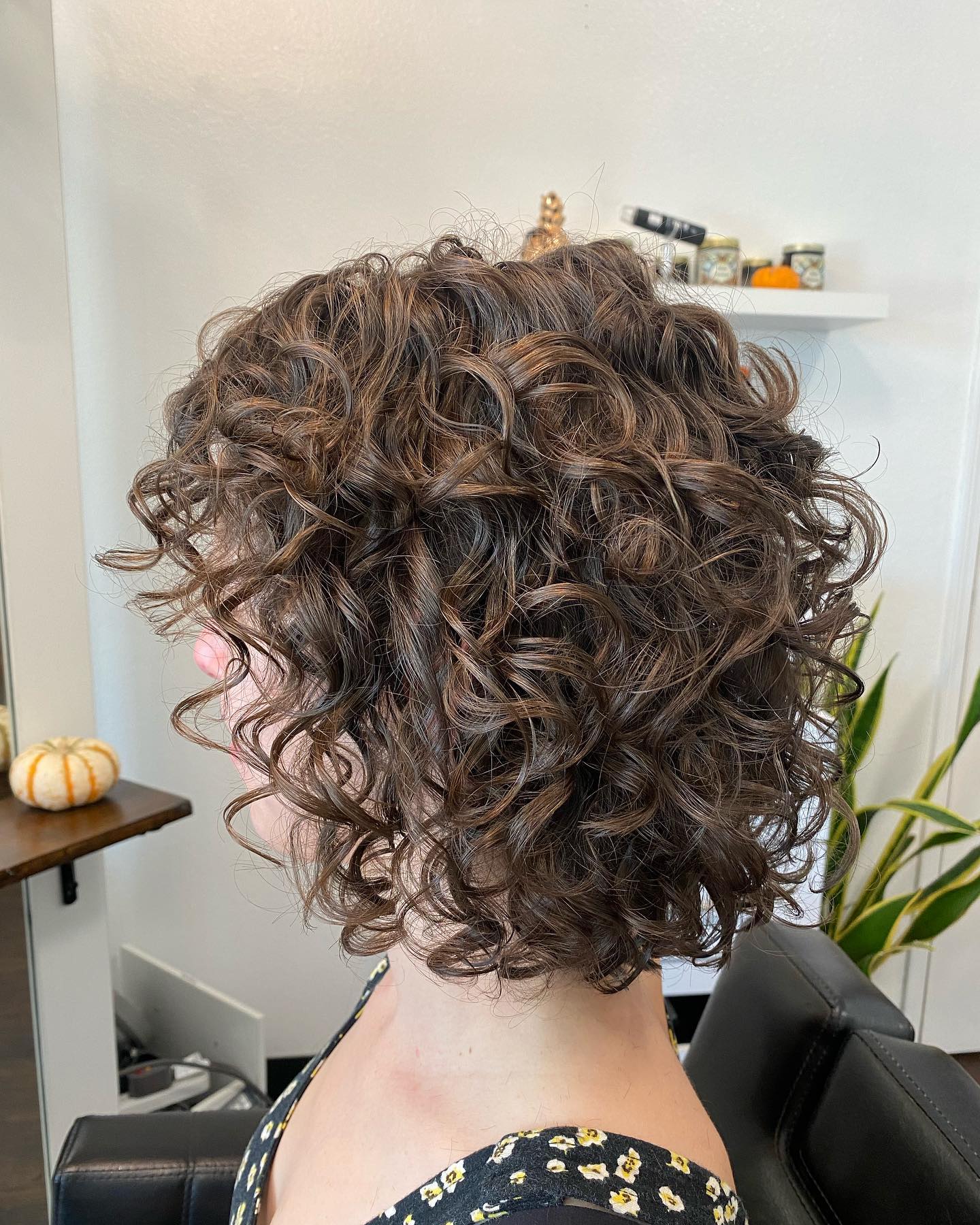 Soft brown curly bob that you can wear to any gathering, perfect for the office! You can look like a true diva and a lady, just combine the curl pattern with this stylish cut.
2. Light Blonde Curly Bob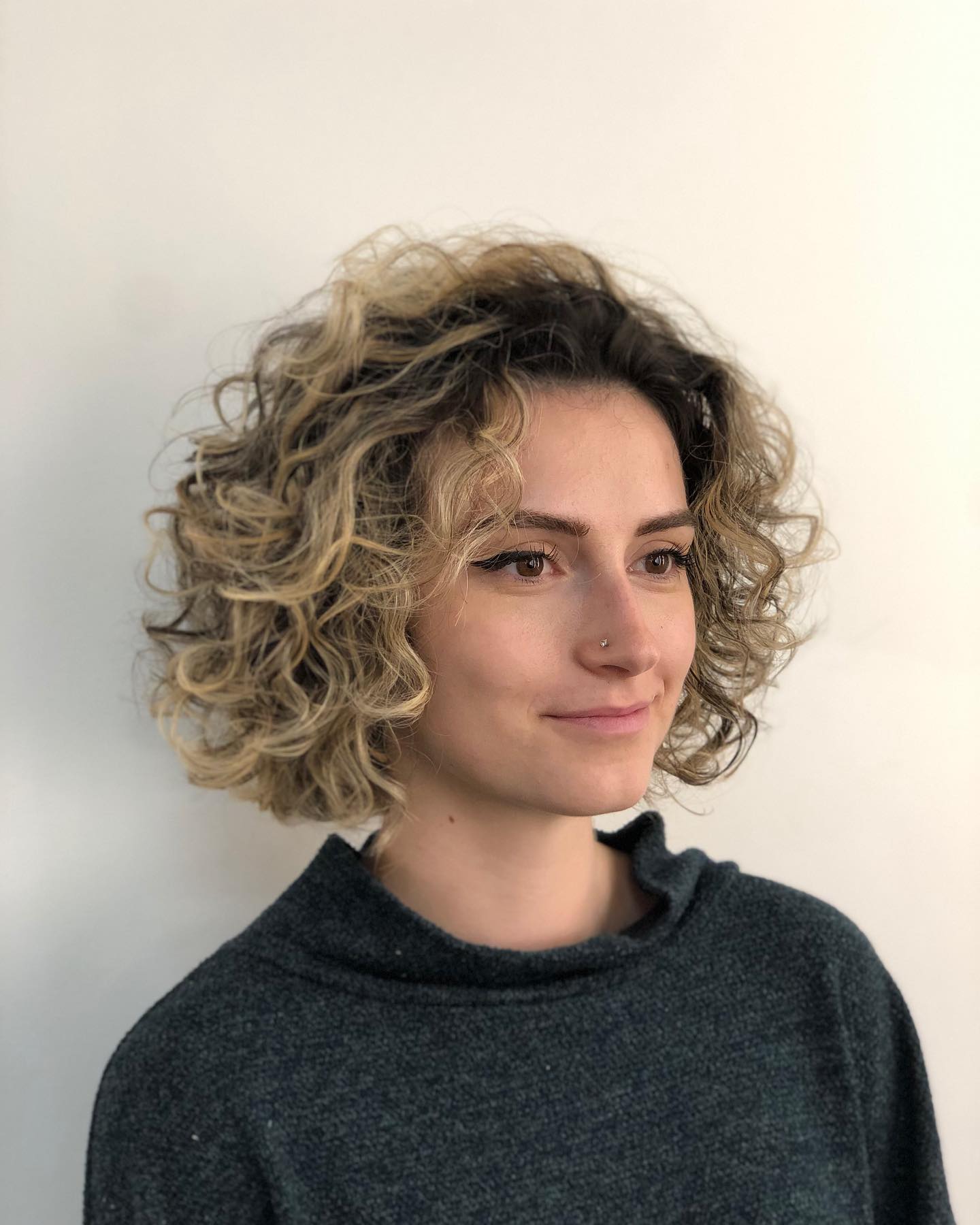 Make sure to color your bright blonde bob every 2 months. This look will work great for moms who like to look formal and chic at the same time.
3. Orange Curly Bob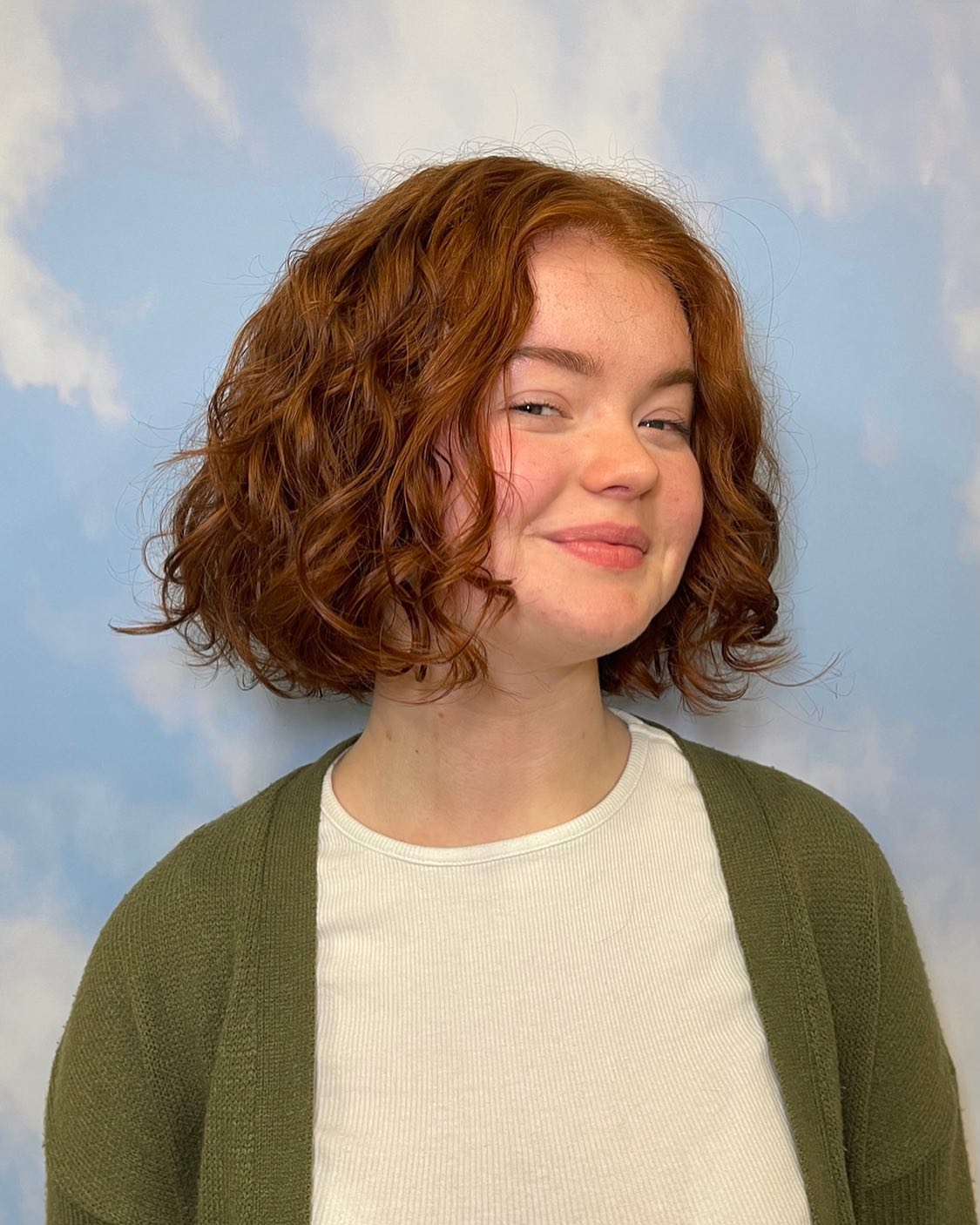 Orange bob cut is a common look by women who are not afraid of color. Make sure to show off your curl pattern and slay the outcome!
4. Bob Cut With Curls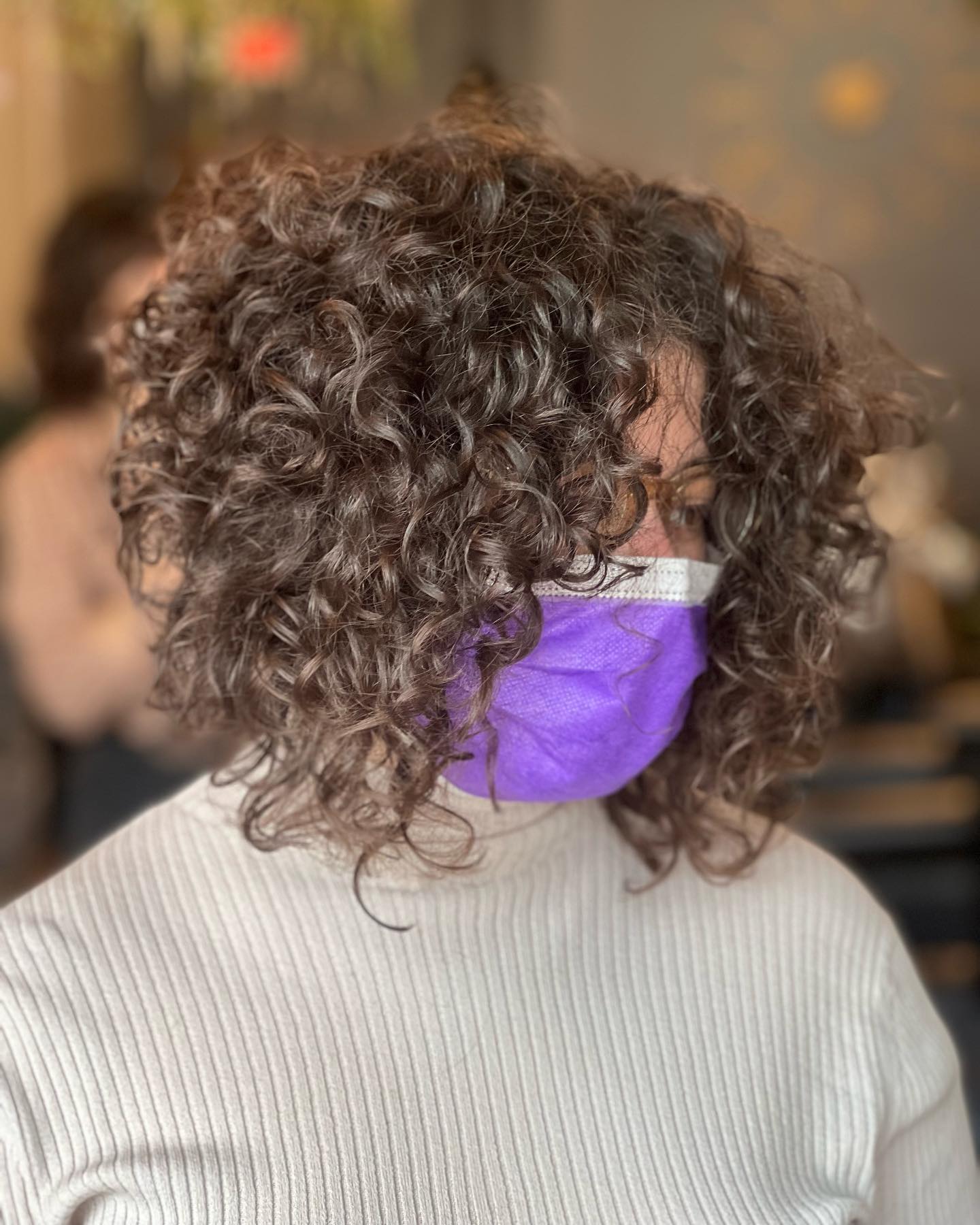 Simple and chic, this curly bob is a quick and easy 5-minute go-to hairdo. You will love the outcome for any gathering or season.
5. Blonde Hair Curly Updo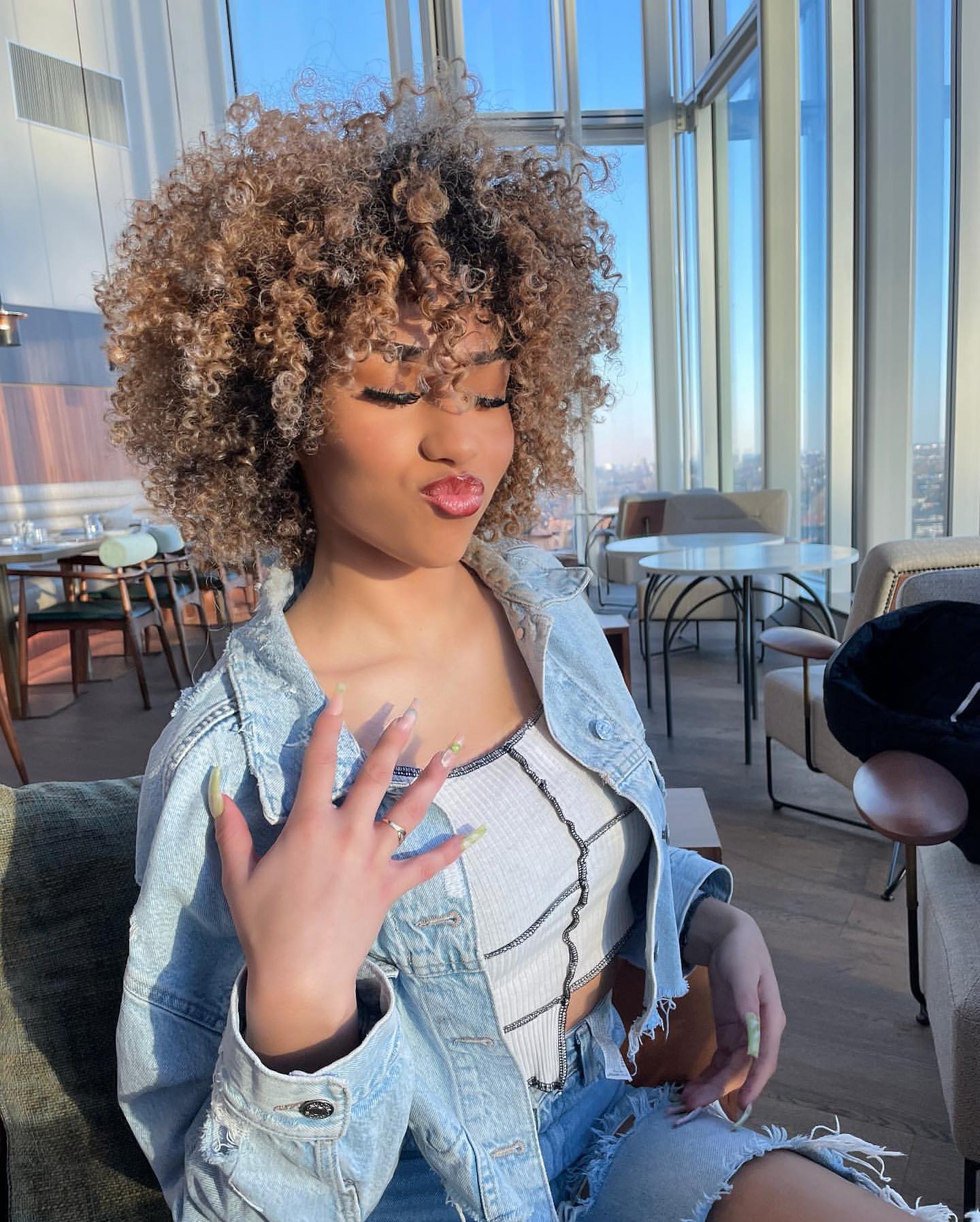 Color your blonde curly bob every 2-3 months. A hairstyle such as this one will take you 5 minutes to style in the morning. The look is often worn by teens.
6. Orange Bob Curly Hairstyle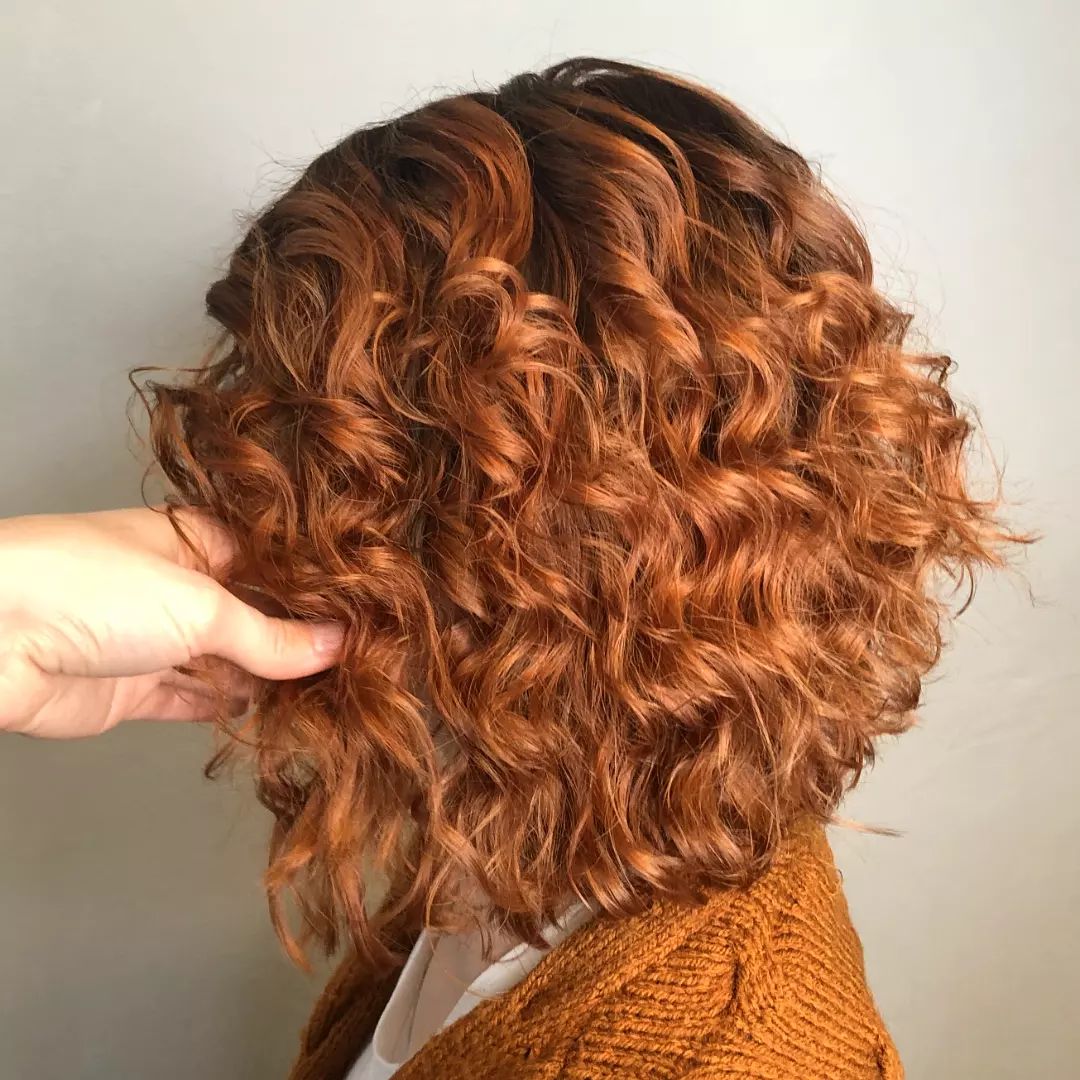 This color is a popular choice for the Fall. If you like colorful looks and want to try out something new this Halloween, here is a hair inspo.
7. Shiny Cut Bob Hair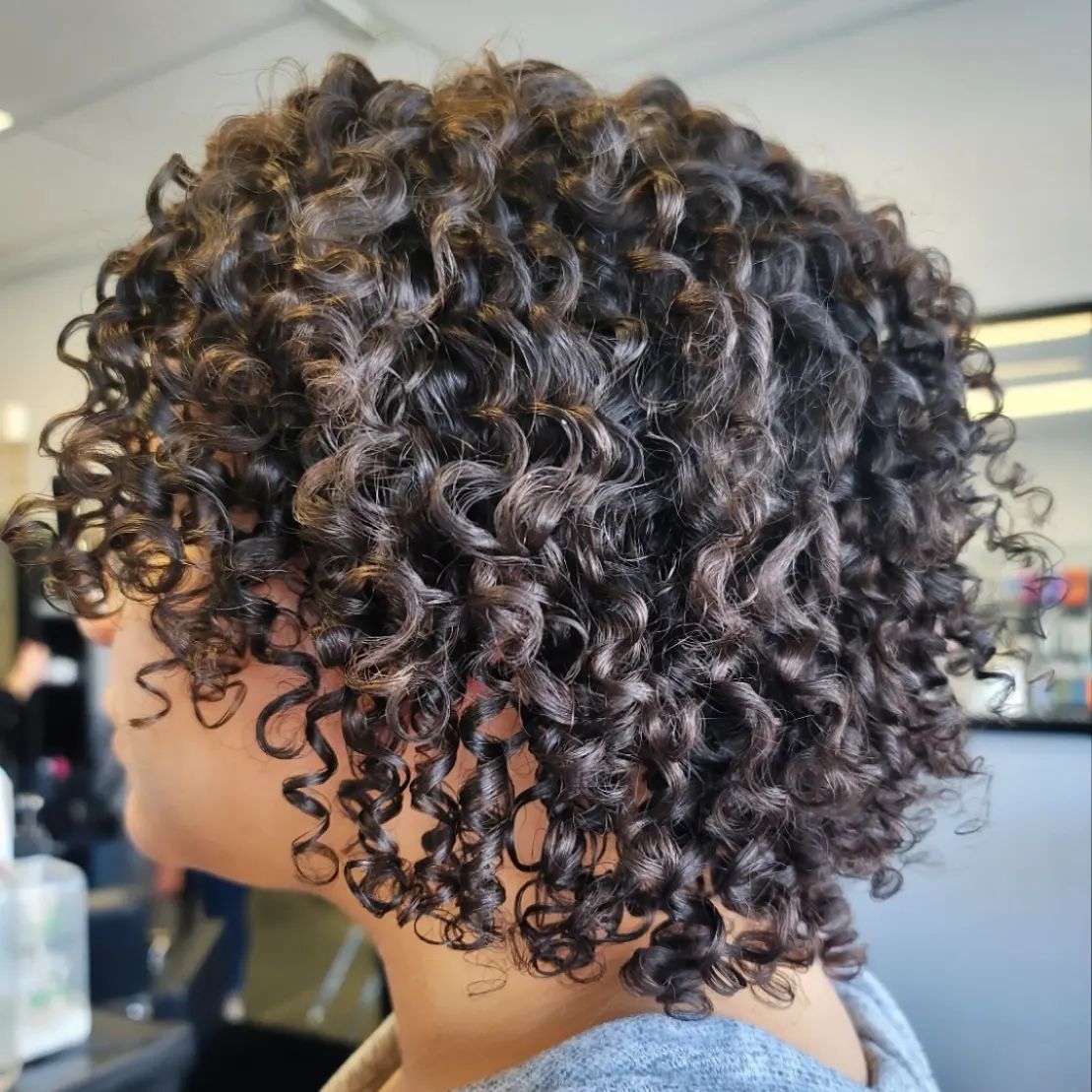 Make sure to add a ton of hairspray to achieve this serious amount of shine all over your curly bob cut.
8. High Updo Curly Bob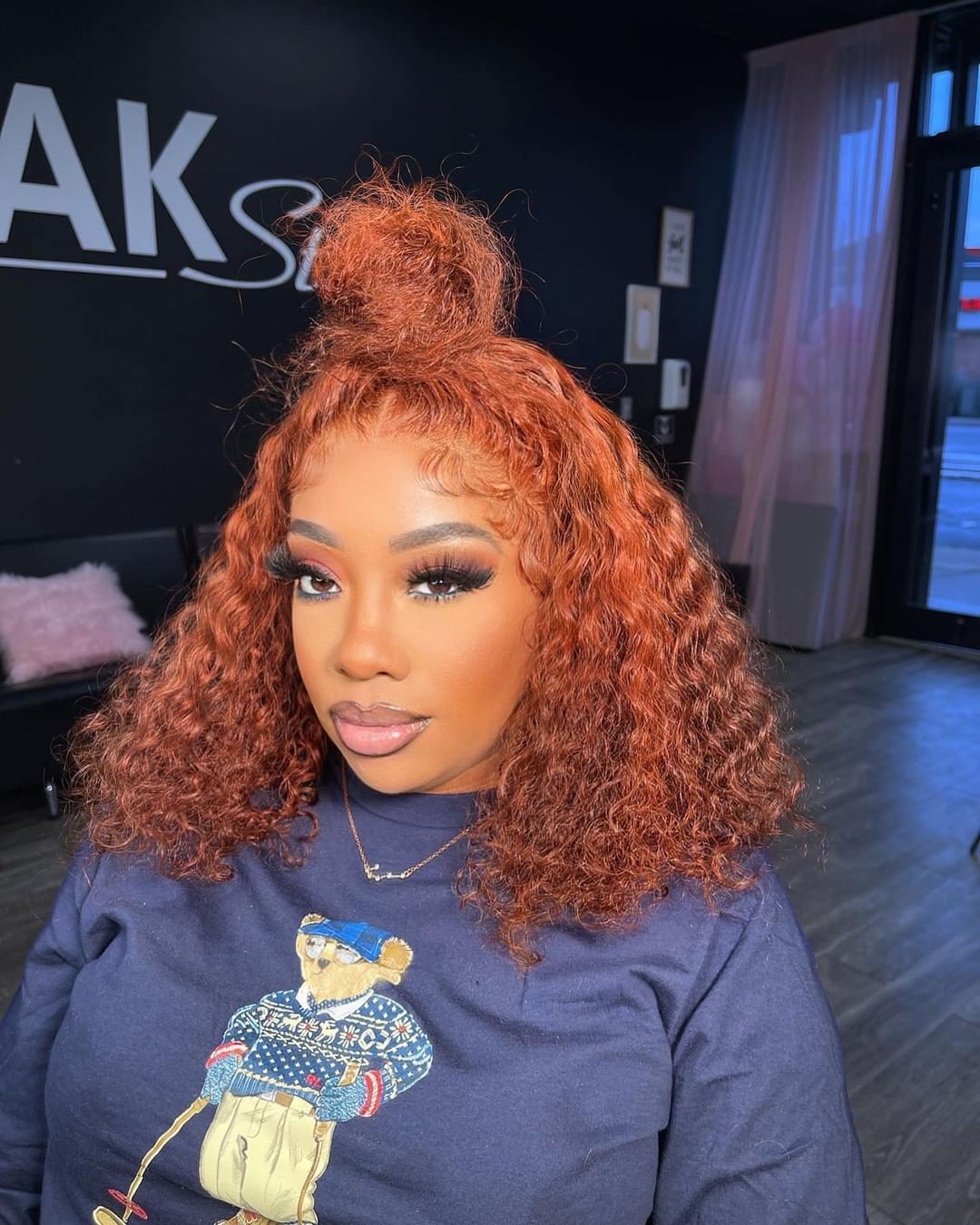 Go for a top-knot detail to spice up the wig. Women who want a look for everyday wear or a hairstyle that they can transform into a night-out option will like the outcome.
Curly Afro
An Afro hairstyle got its name in the 60s. It is described as a hairstyle of naturally curly, messy, and kinky hair that is hard to comb through or maintain. Usually, this look is loud, bold, and messy, with different hair strands flying all over. It is a look for women who like their natural texture.
1. Bright Orange Curly Afro Hair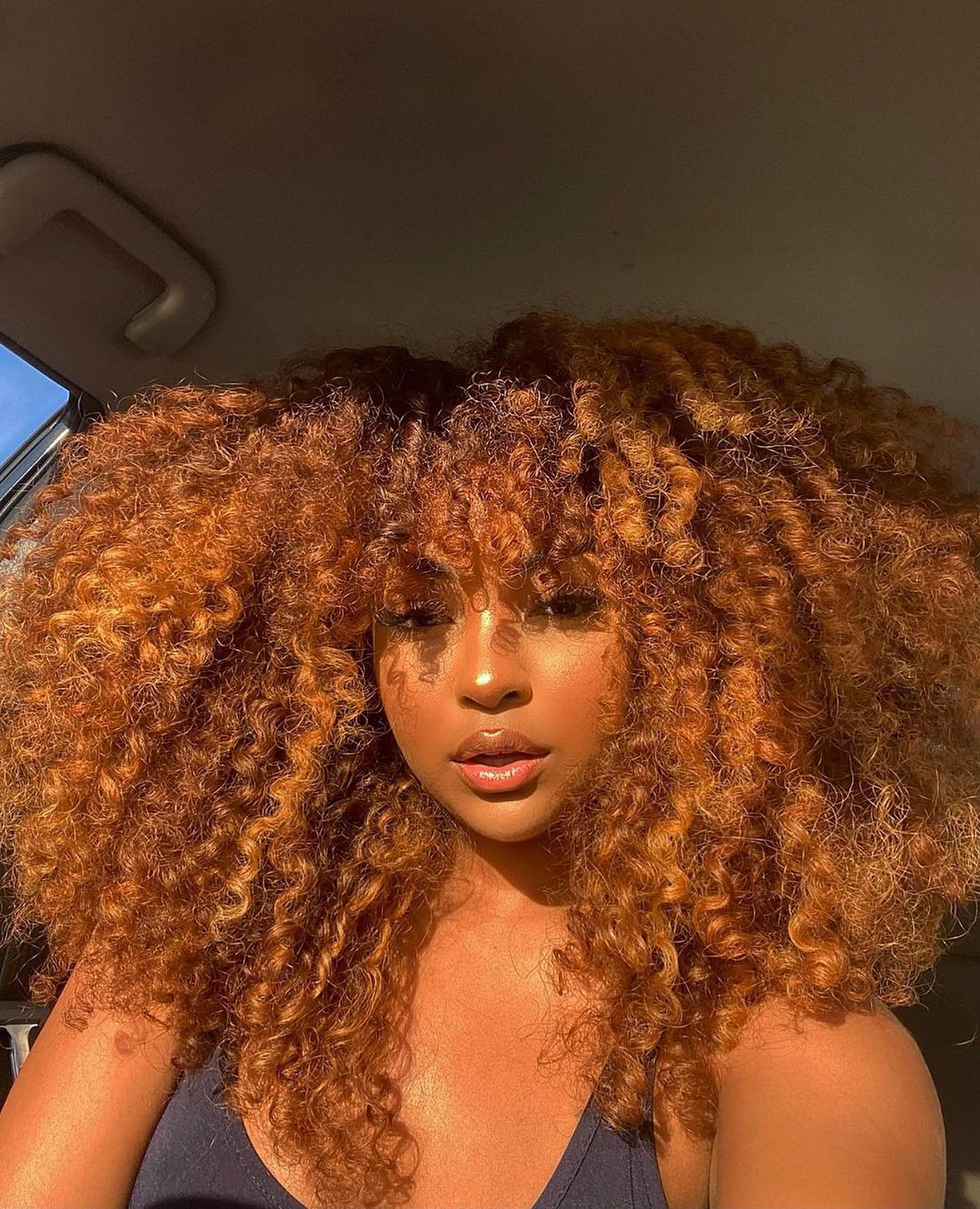 Are you blessed enough with this curl texture and pattern? If so, why not show it off to the world?!
2. Curly Afro Purple Hair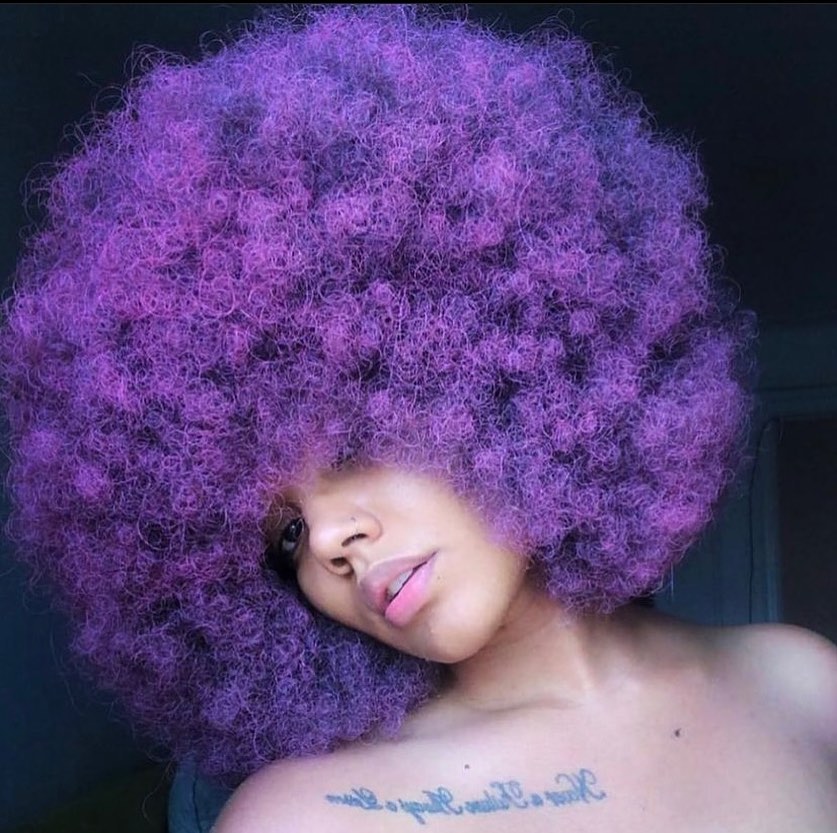 Women who like bright colors will also enjoy this bright pastel purple. Heads up since this color can easily wash out and wash off.
3. Afro Hair With Highlights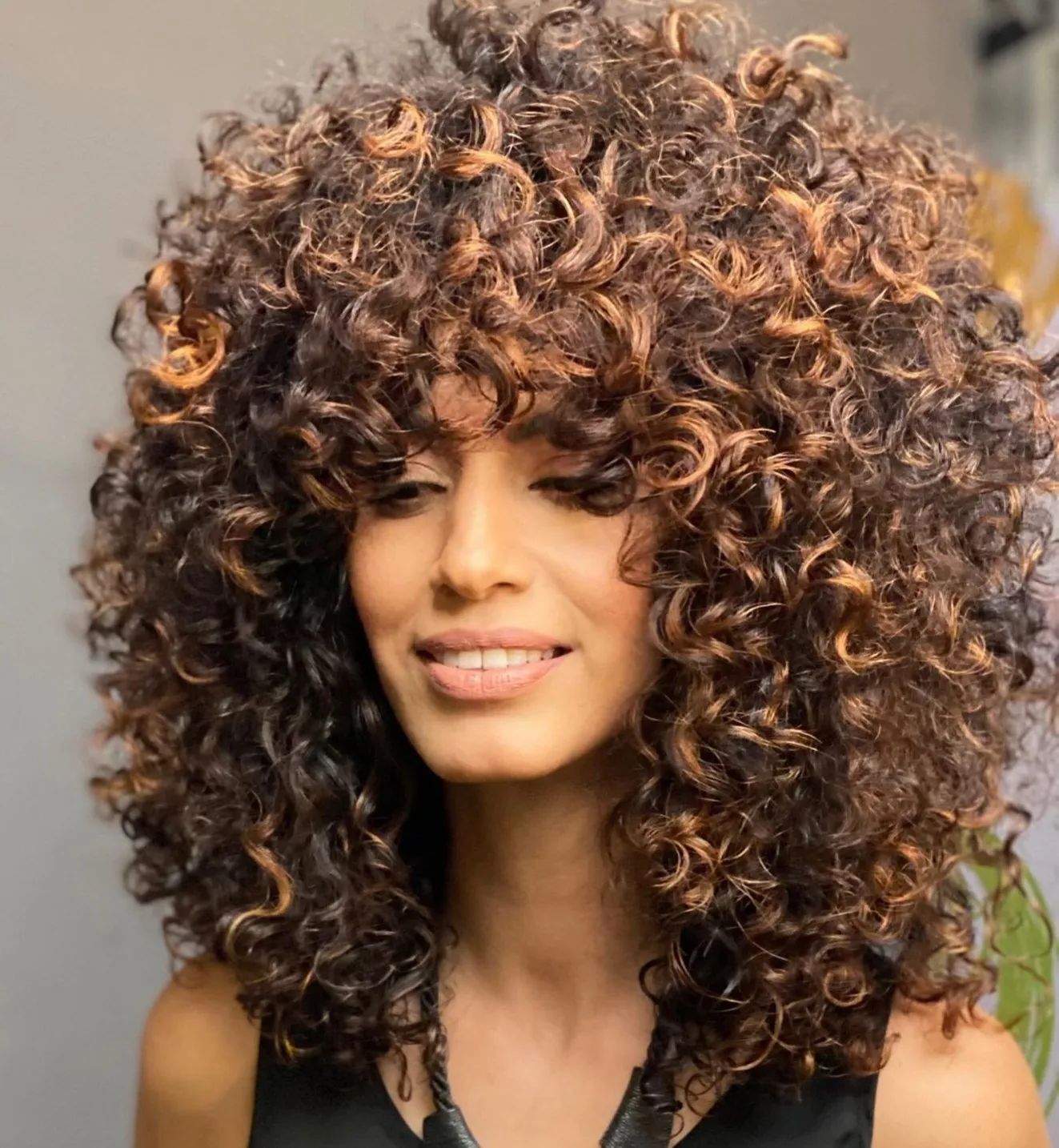 Some stylish highlights will add and give so much dimension to your afro cut. If you are looking for a fun new look just know that you can play this up or down.
4. Dark Brown Afro Cut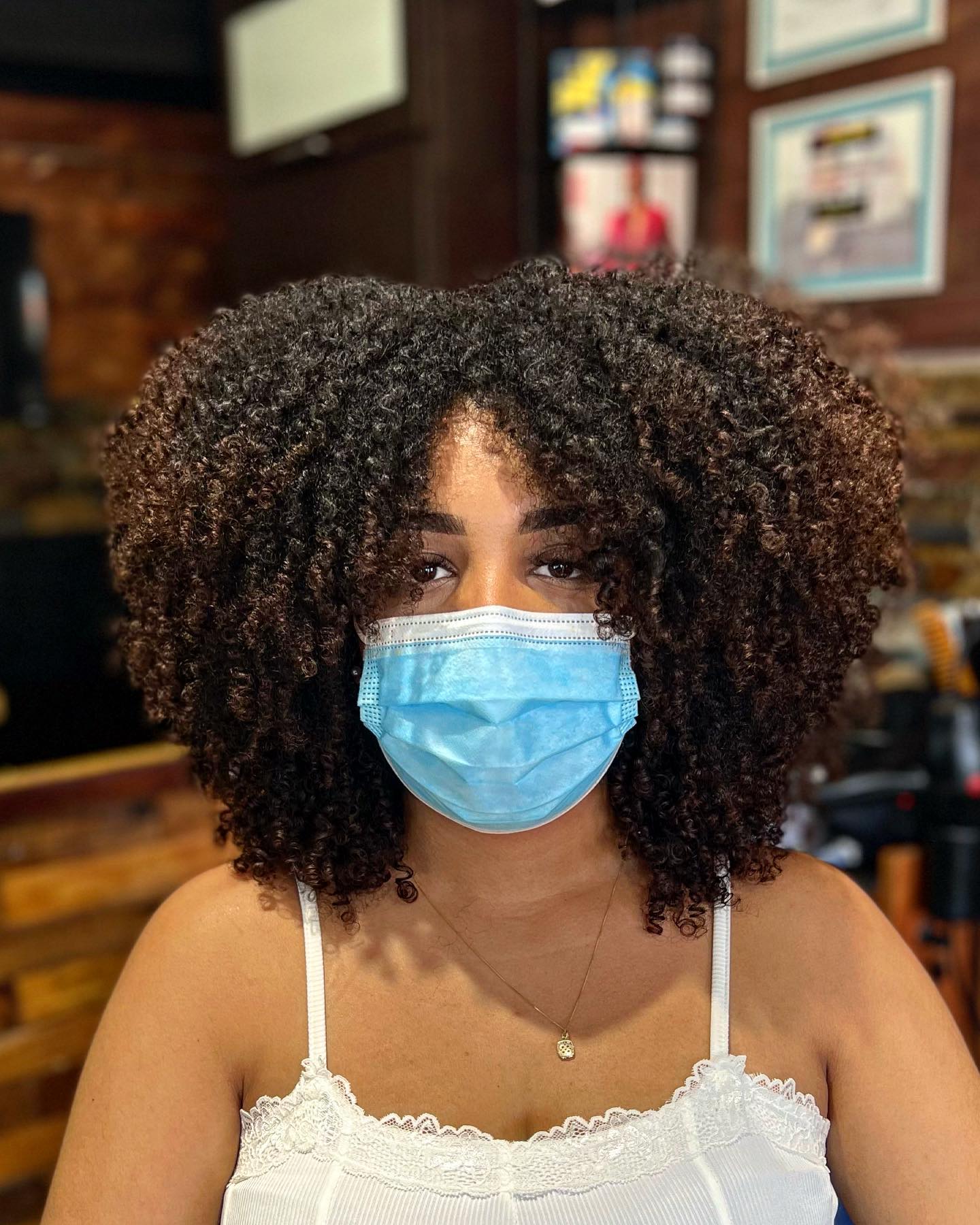 Dark brown curly afro is simple, yet appealing. If you don't have a lot of time to style your hair just let your natural texture speak for itself!
5. Icy White Afro Hair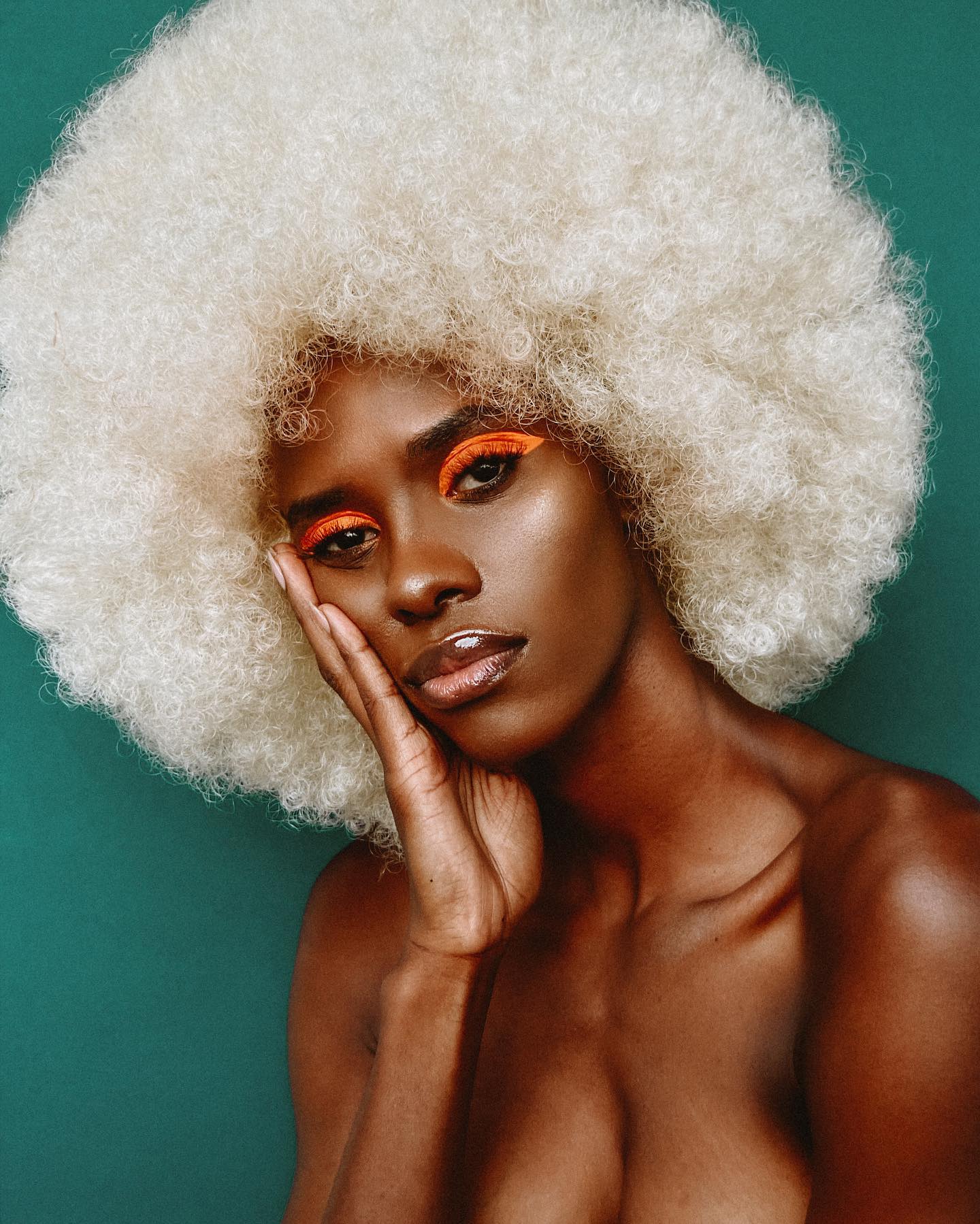 Not a lot of women dare to go this bold and funky. Do you? This is a bright white icy silver afro hair that is high-maintenance. Get the right hair shampoo and maintain the outcome regularly.
6. Soft Brown Afro Hairstyle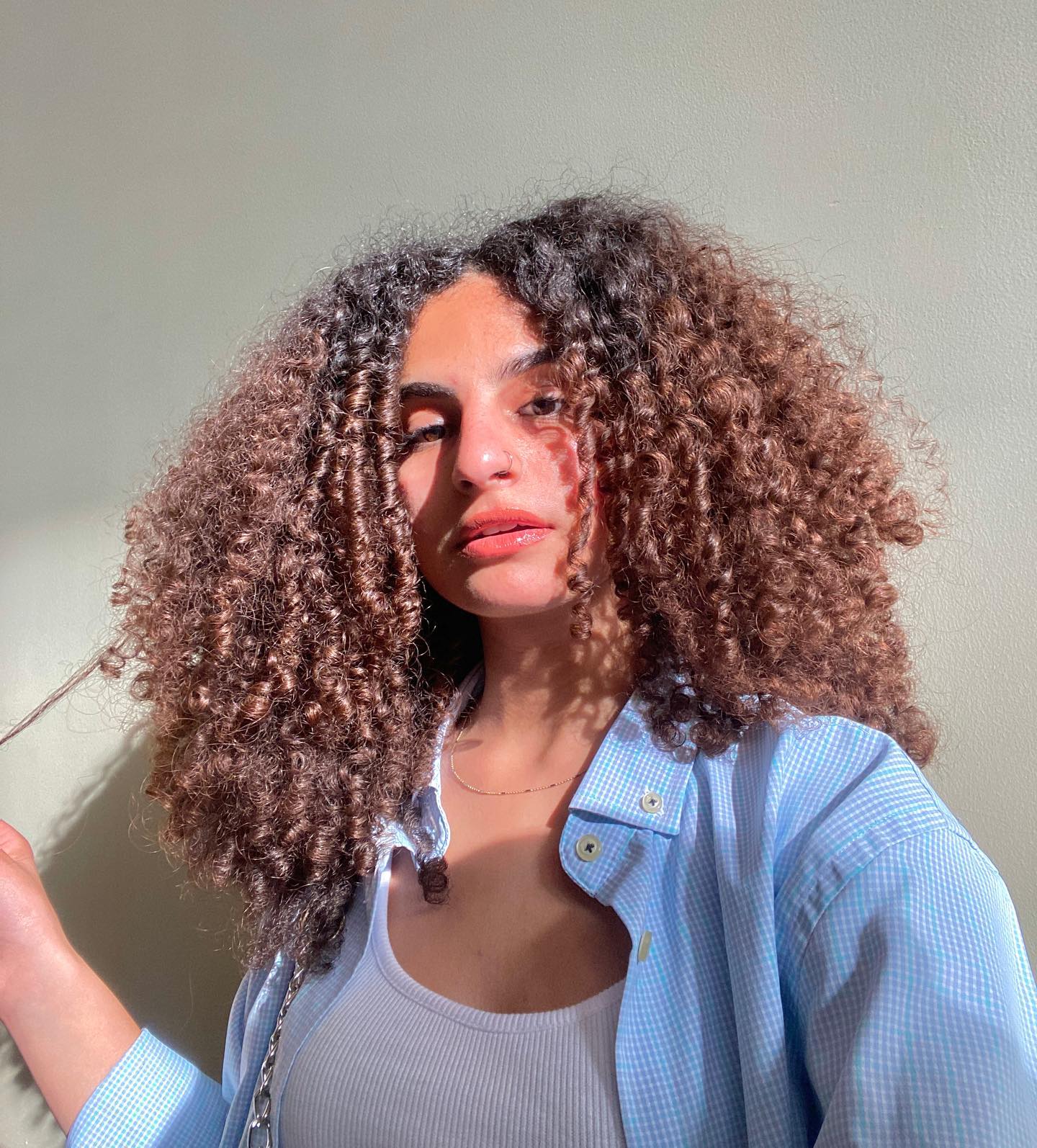 Soft brown afro such as this one can be worn to school or college. Consider sticking to this color combo if you want a safe choice.
7. Lilac Afro Haircut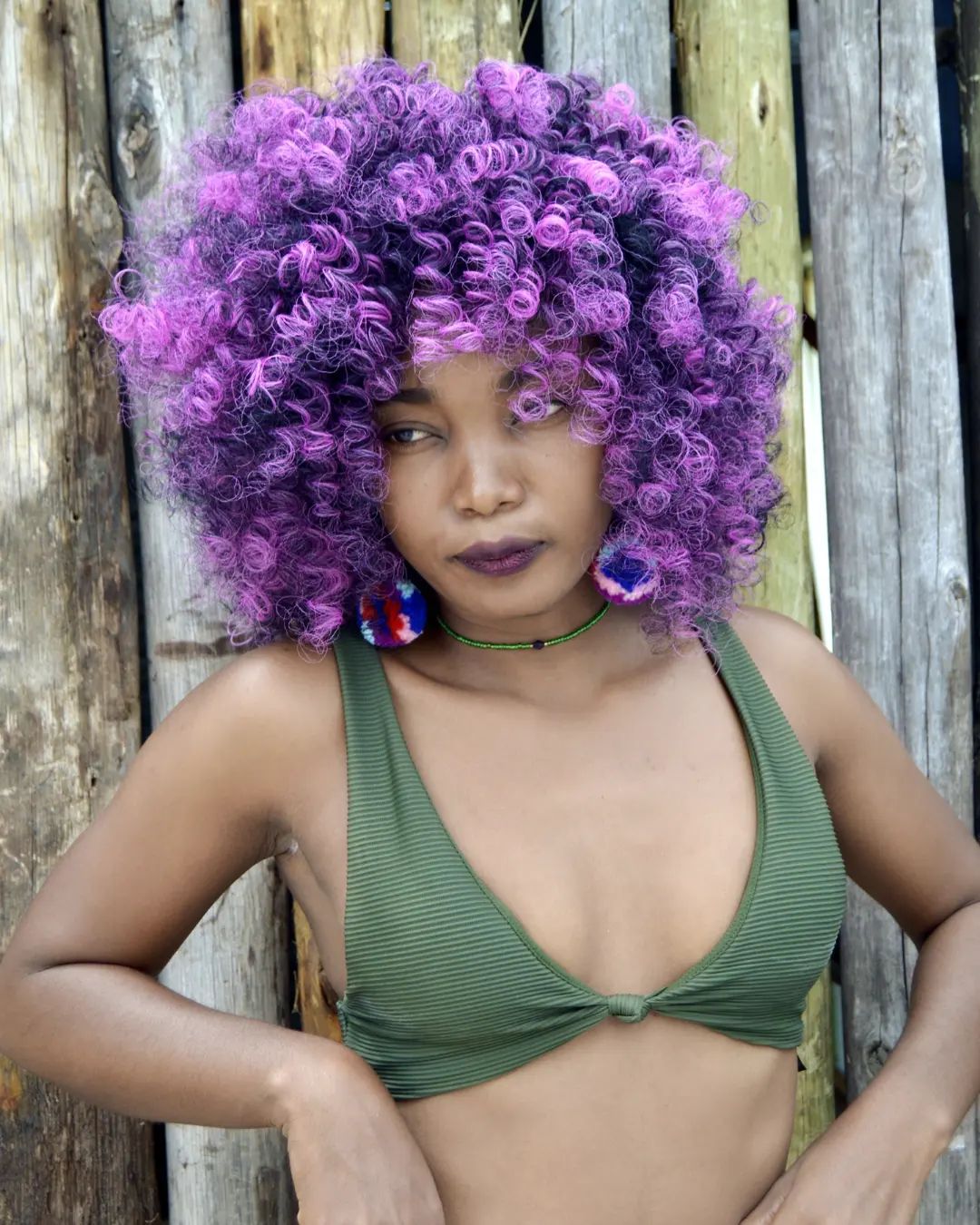 Bright and funky, just know that all eyes will be on you if you show up with this loud and messy afro! A must-have for party girls.
8. Brown Hairstyle Afro Look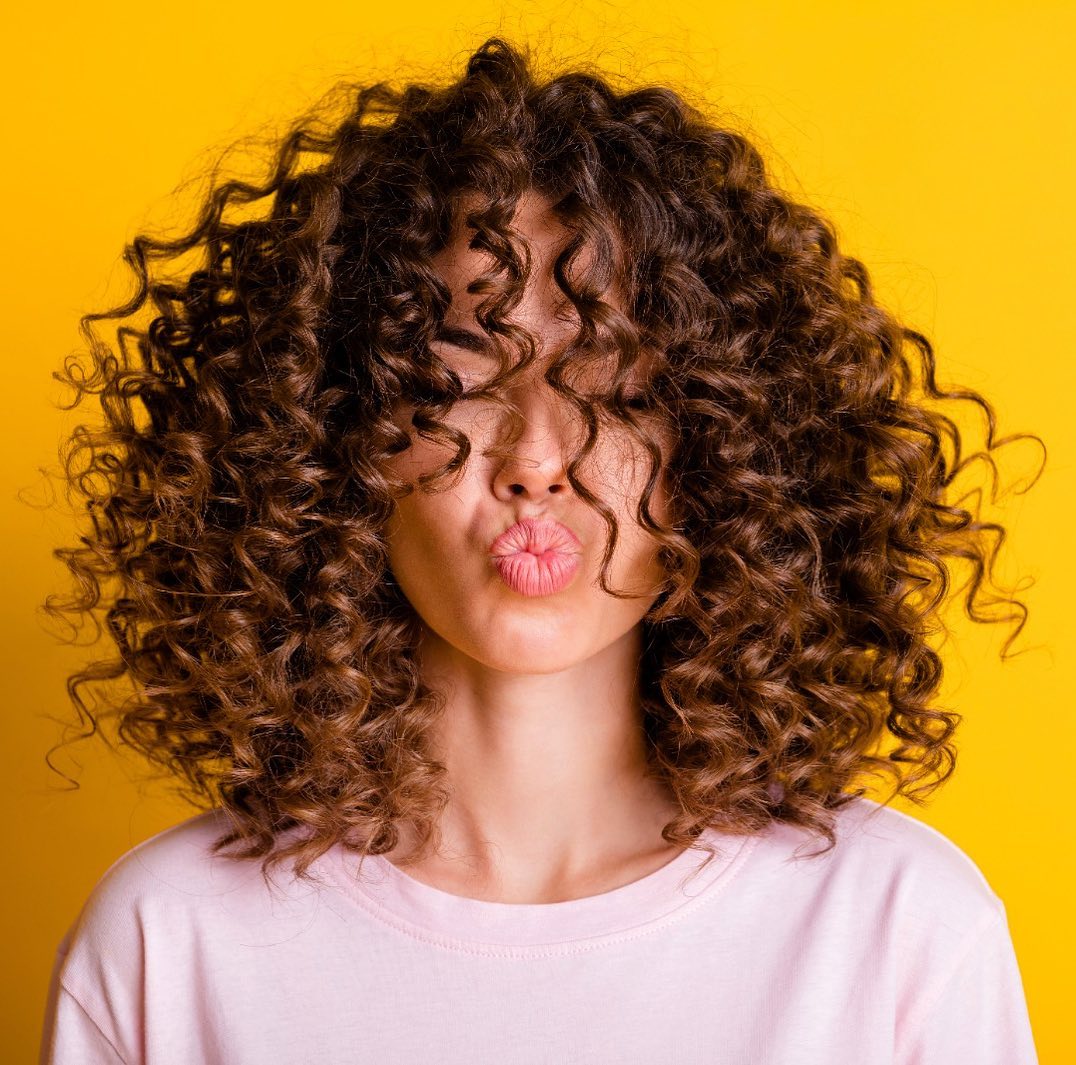 Show off your natural soft brown color but spice up the texture. Women who are in their twenties or teens will enjoy the overall vibe.
Curly Hair With Bangs
A curly hairstyle with bangs can be any curly look with this sleek and stylish addition. Usually, women tend to go for curtain bangs, while some of them like fringe bangs. Spice up your look with some new and stylish bangs, perfect for women who tend to get fed up with their hair easily.
1. Messy Curly Hair With Wispy Bangs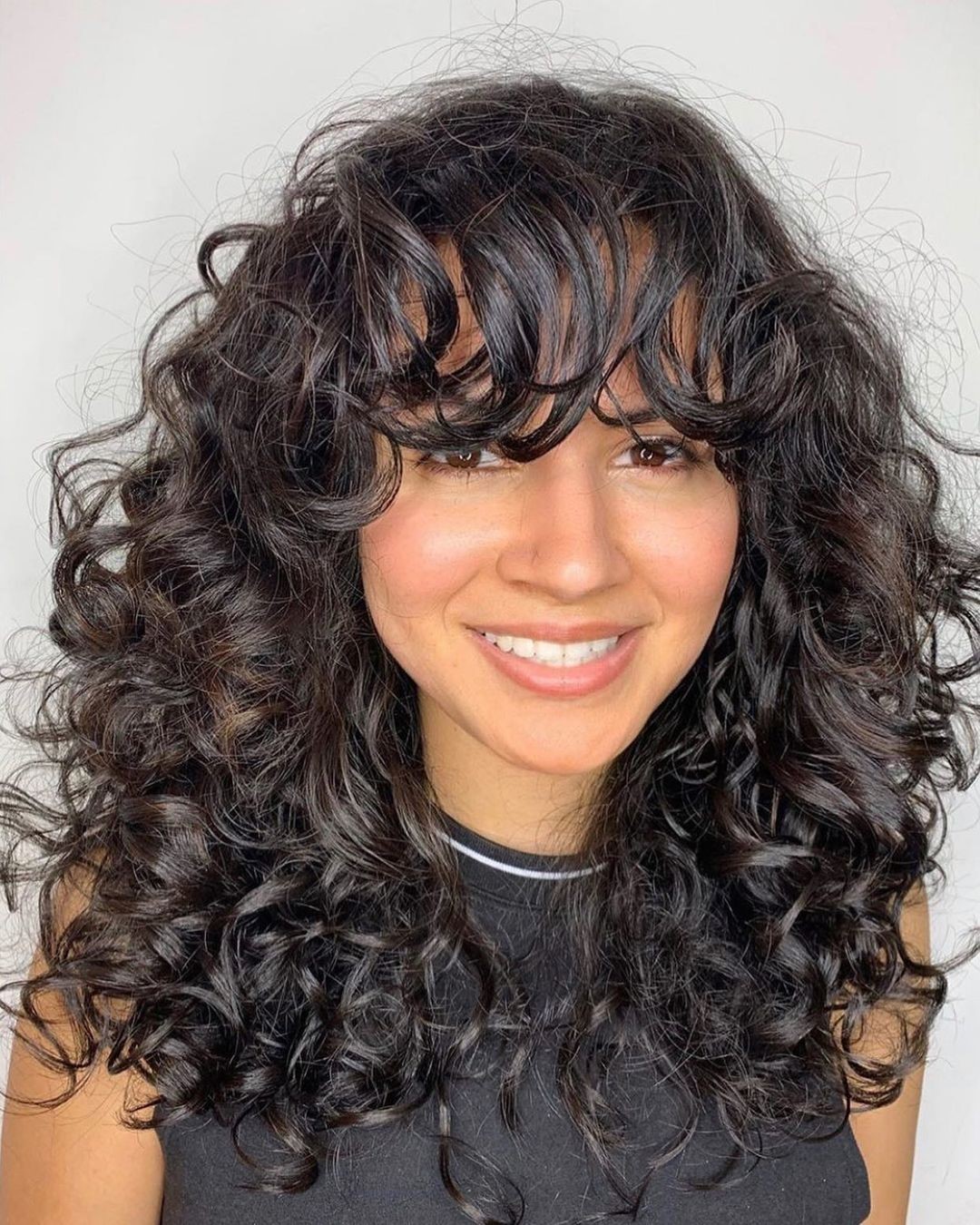 Frame your face with the right pair of bangs! This look will work so well on longer curly hairstyles and dark brown or black hairdos.
2. Blonde Curly Hair With Bangs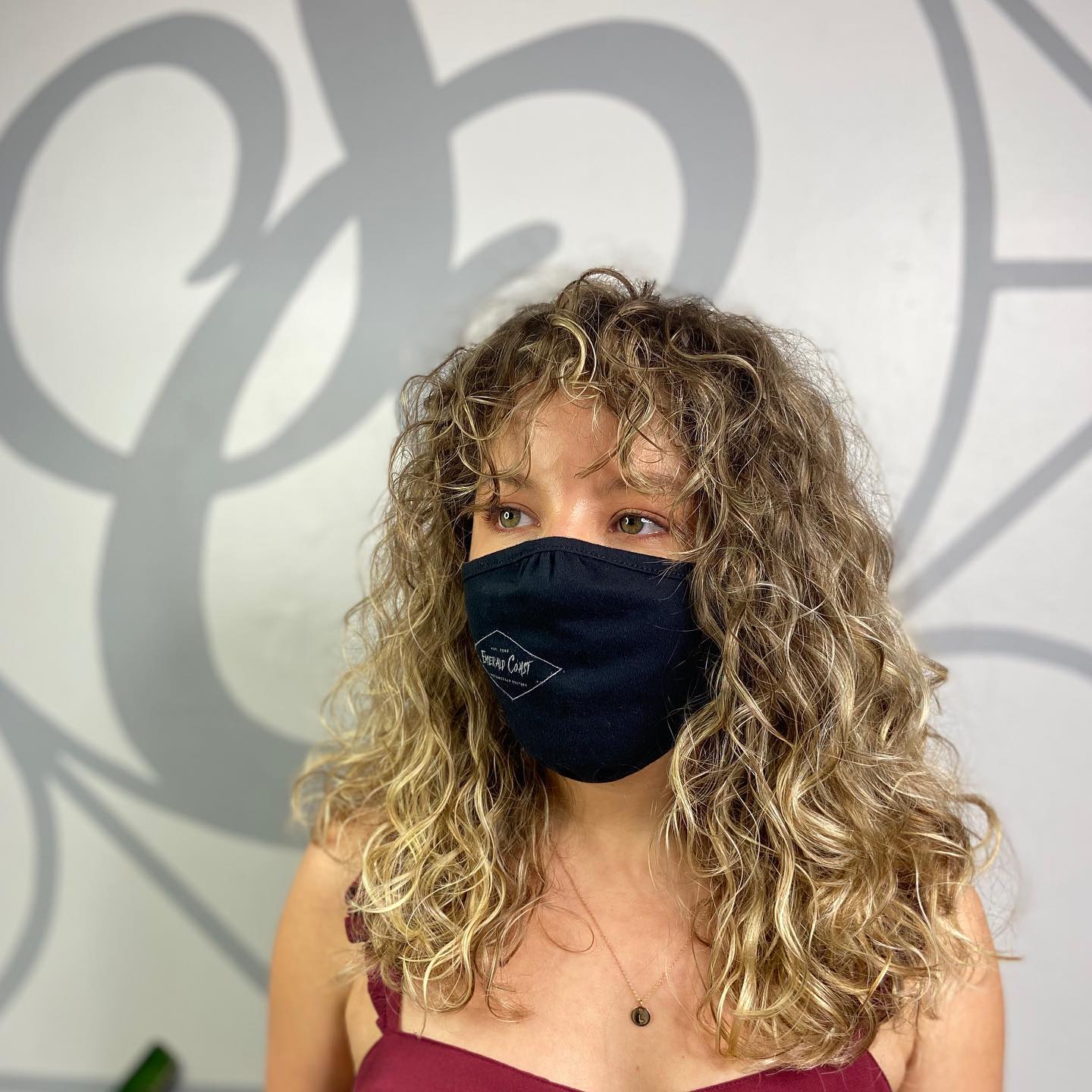 Soft and wispy bangs that you're going to love for casual and everyday wear. Give them a go if you're a fan of lighter blonde looks.
3. Balayage Highlights & Bangs On Curly Hair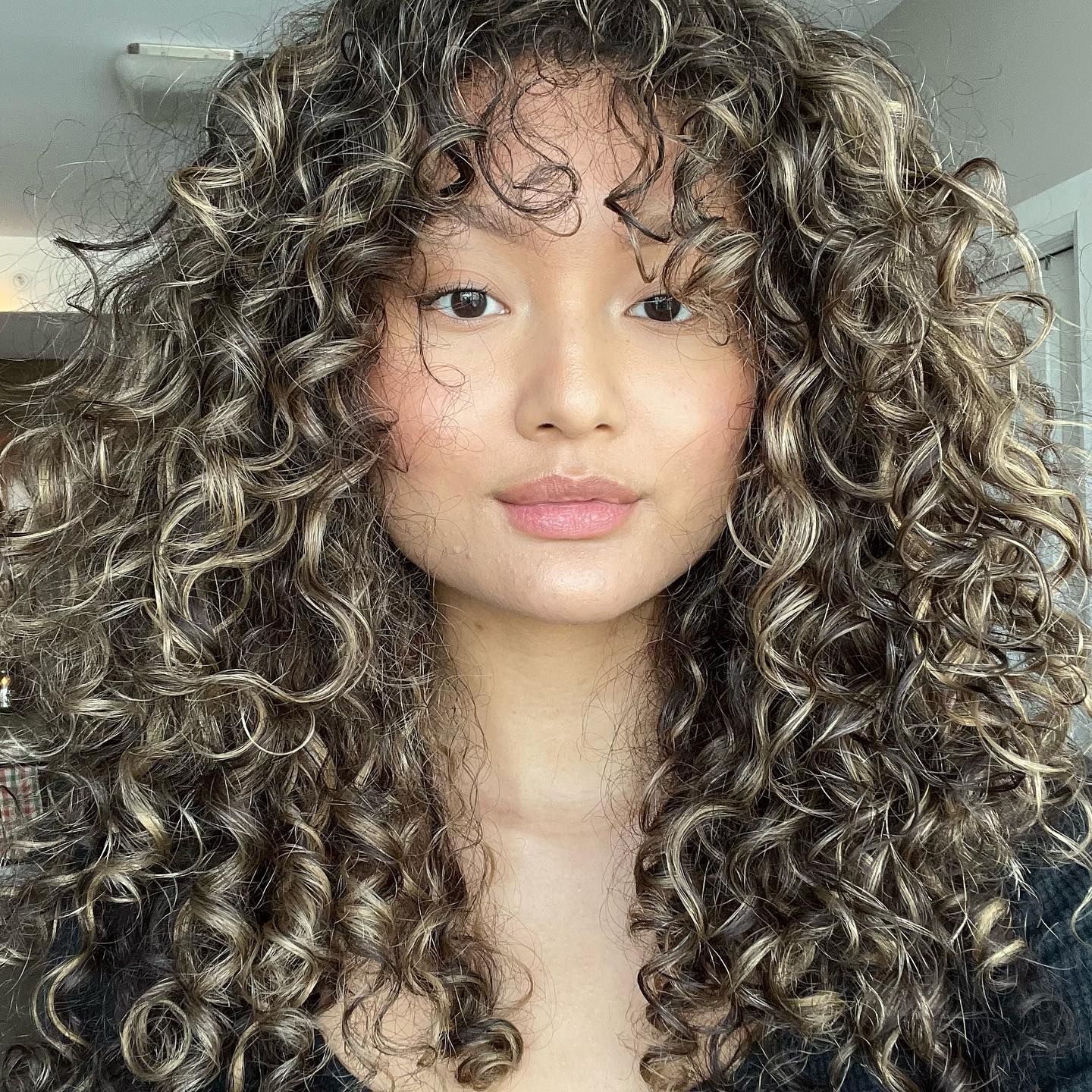 Balayage hair and wispy curtain bangs that you will love for any point of the day! This cut is so cute and feminine, while also having that "friendly" vibe to it.
4. Natural Brown Hair Curly Look + Bangs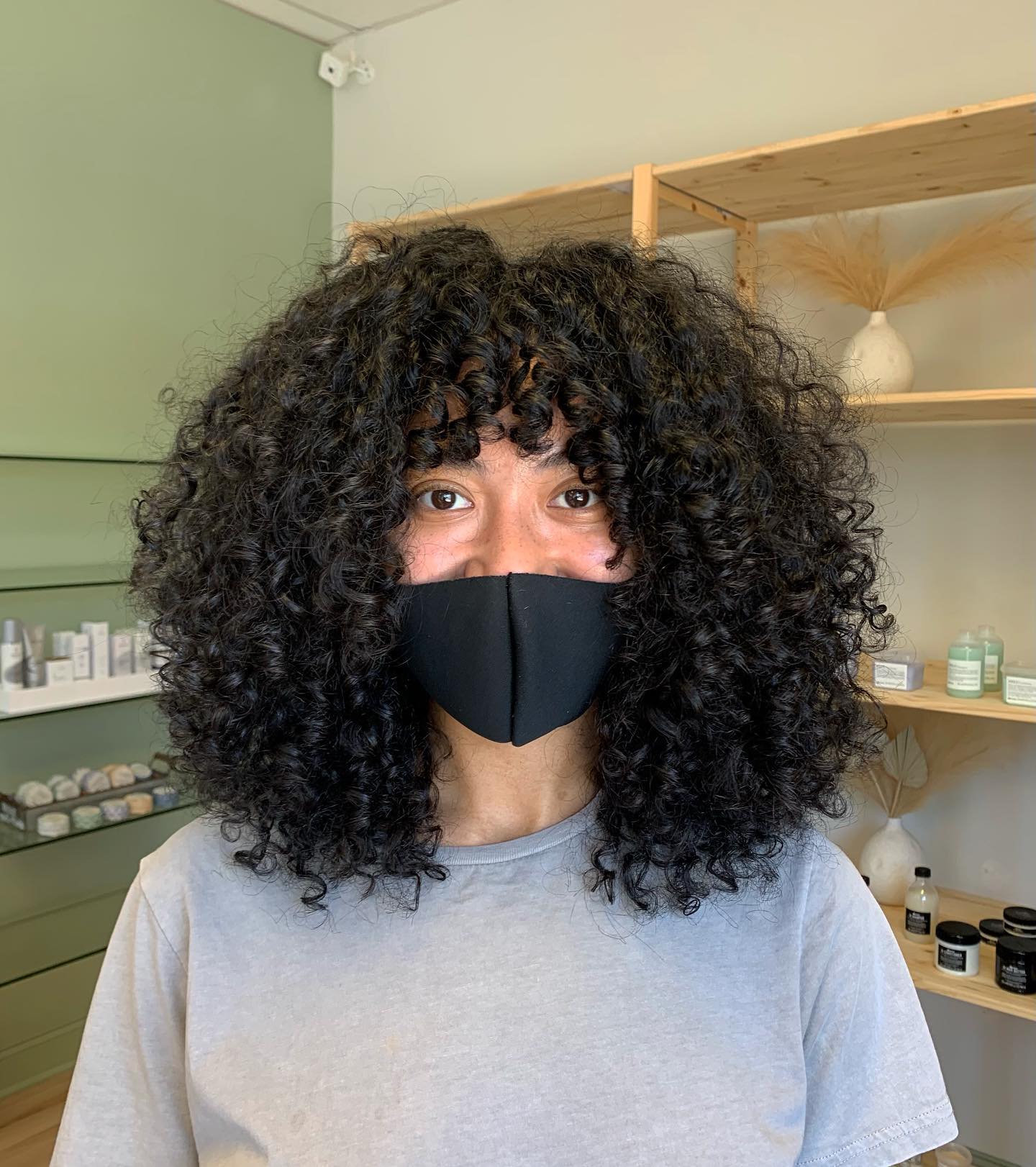 Grow your hair long and get regular cuts. This hairdo needs to be cut every 3 months, but bangs have to be cut every 3-4 weeks.
5. Short Curly Hair With Bangs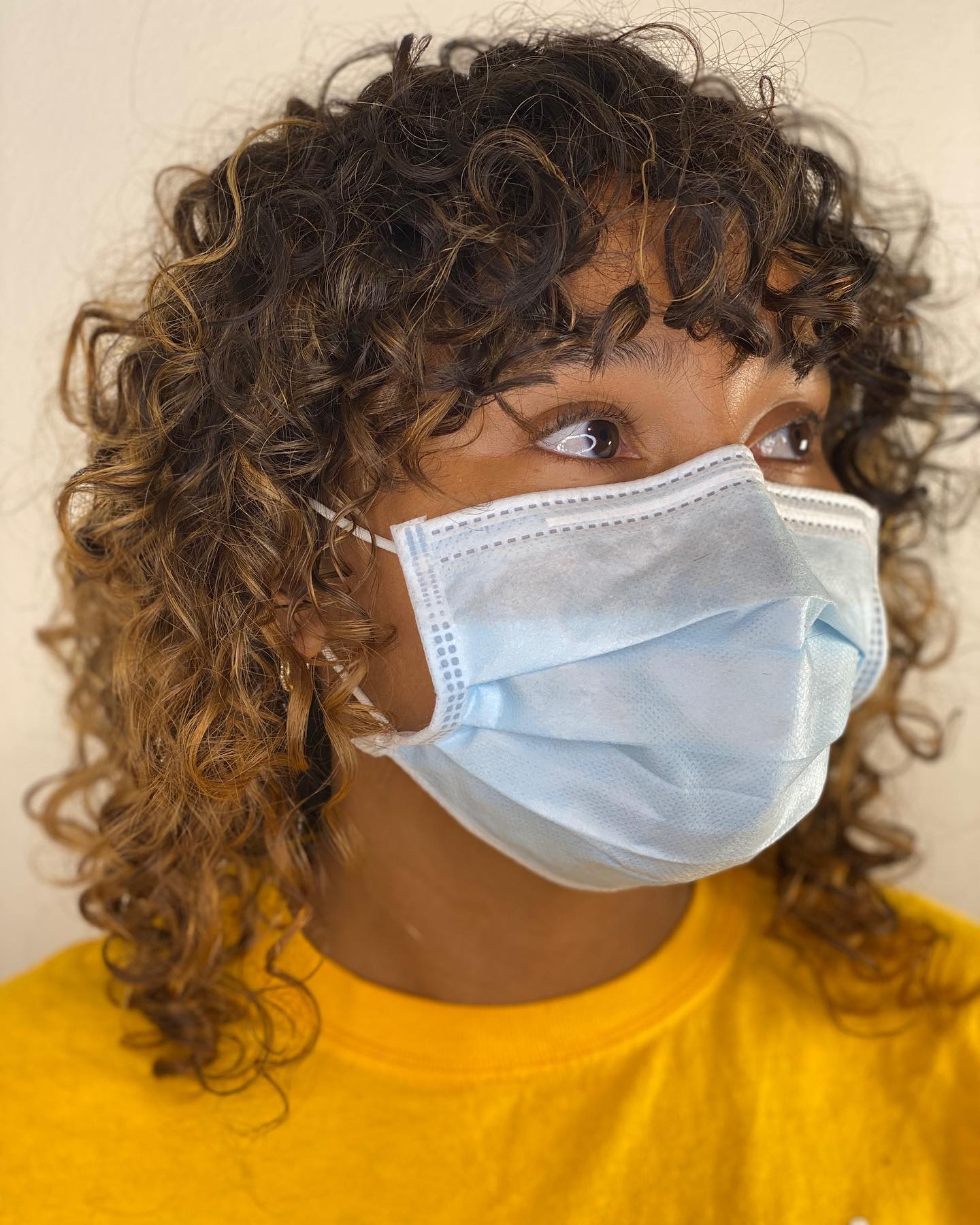 Simple yet so colorful! This blonde curly look with messy bangs will look lovely for most age groups. Color your hair every 3-5 months and maintain the look.
6. Light Blonde Hair With Bangs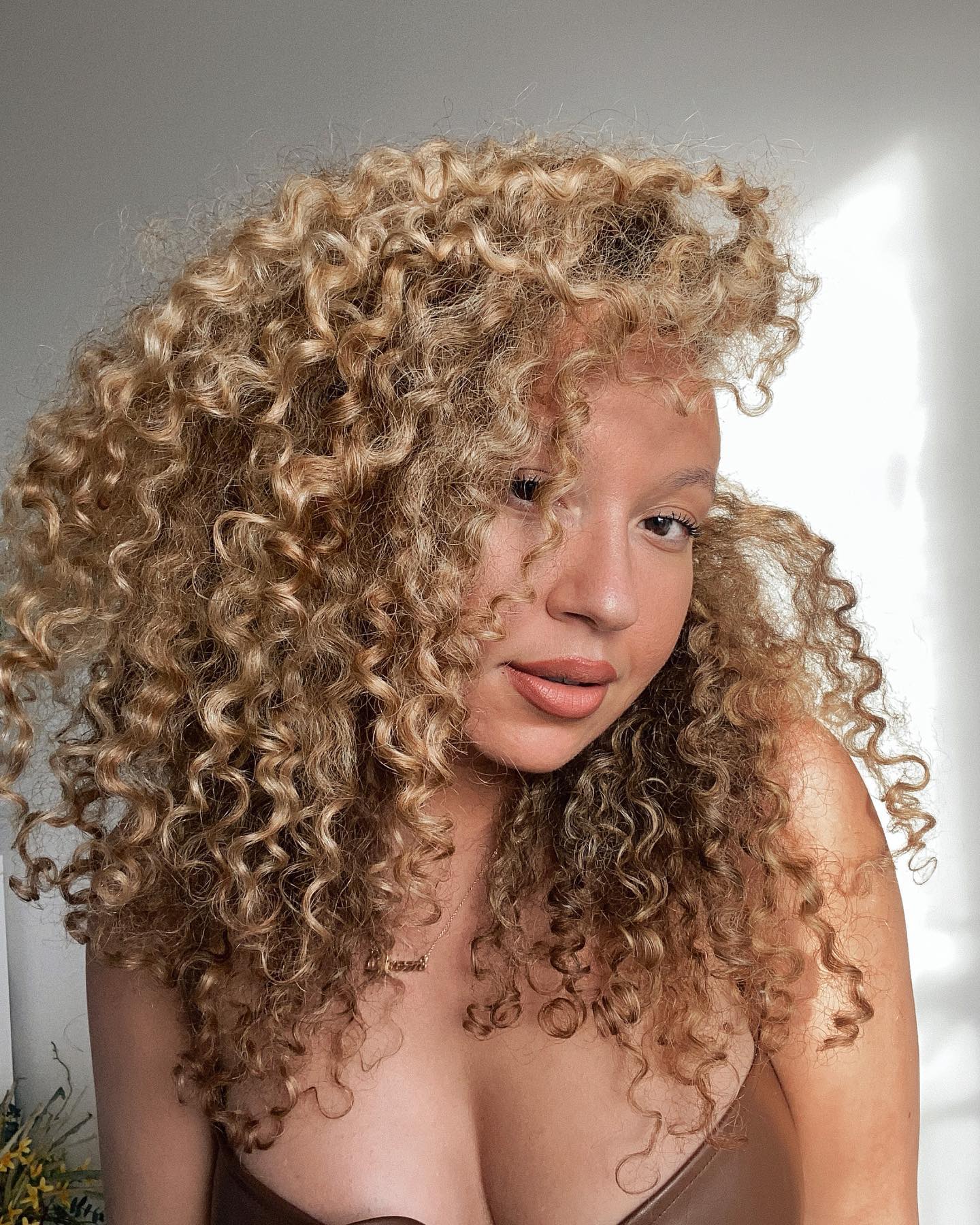 Bright blonde curly look with stylish bangs that you can wear on the side. Once styled this way your hair will look playful and flirty.
7. Soft Curl With Bangs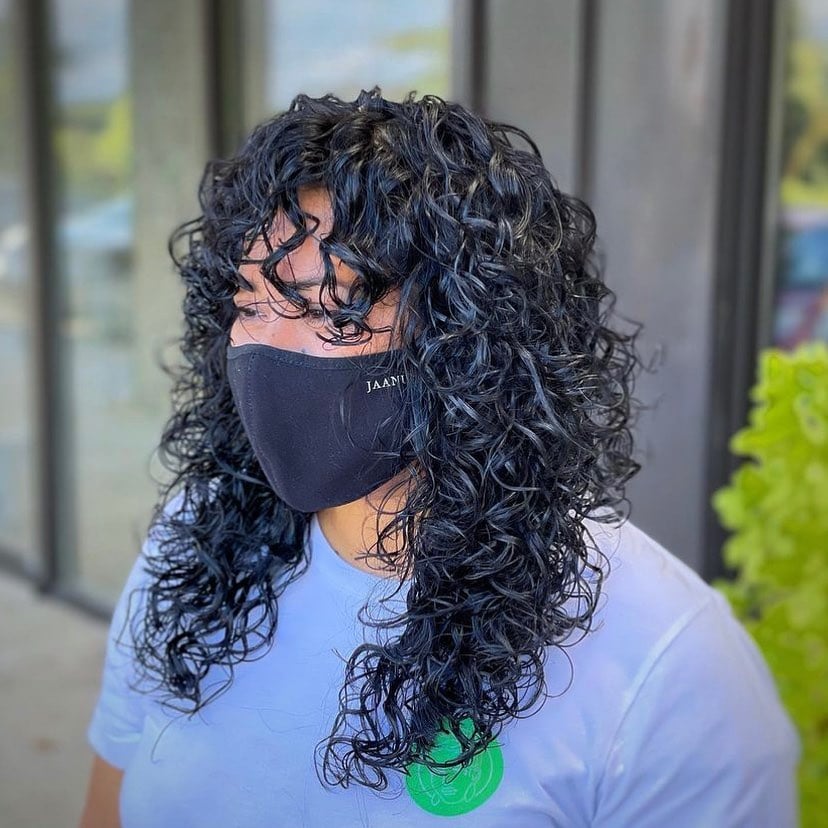 Embrace this "wet" look and show off your curls anywhere you go. This kinky curly look with long bangs is for women who can handle the maintenance.
8. Blonde Kinky Curly Hair With Bangs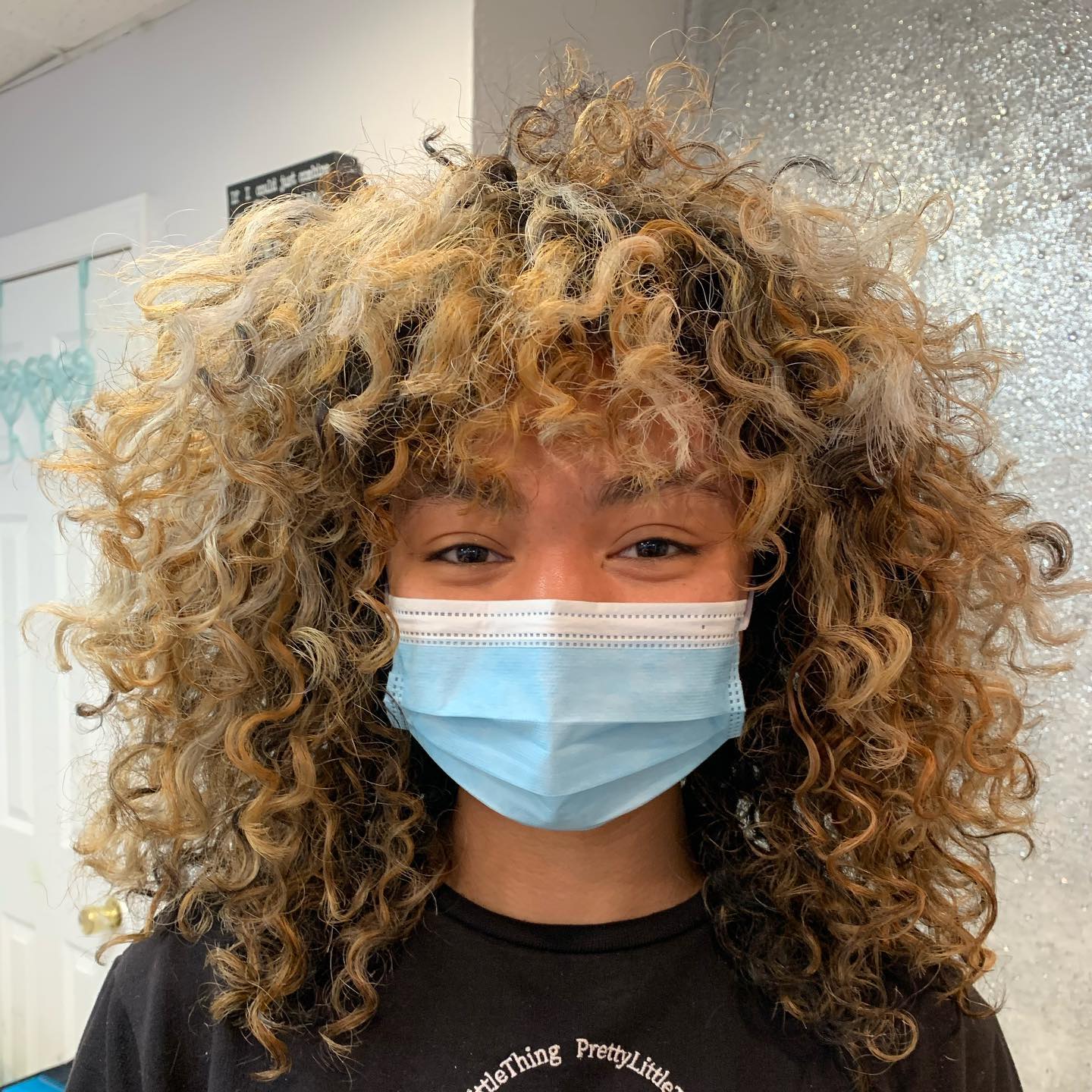 Long locks and shorter bangs are a dream duo! Everyone will fall in love with this bright blonde messy hair and your bold sense of style.
Curly Lob
A lob is just like a bob cut, only a tad bit longer. It falls down below your ear and can even reach your collarbone. It is a curly hairstyle that is perfect for women who are not ready to get rid of their natural length, texture, and volume, yet they want their own take on a bob cut.
1. Curly Lob Balayage Hair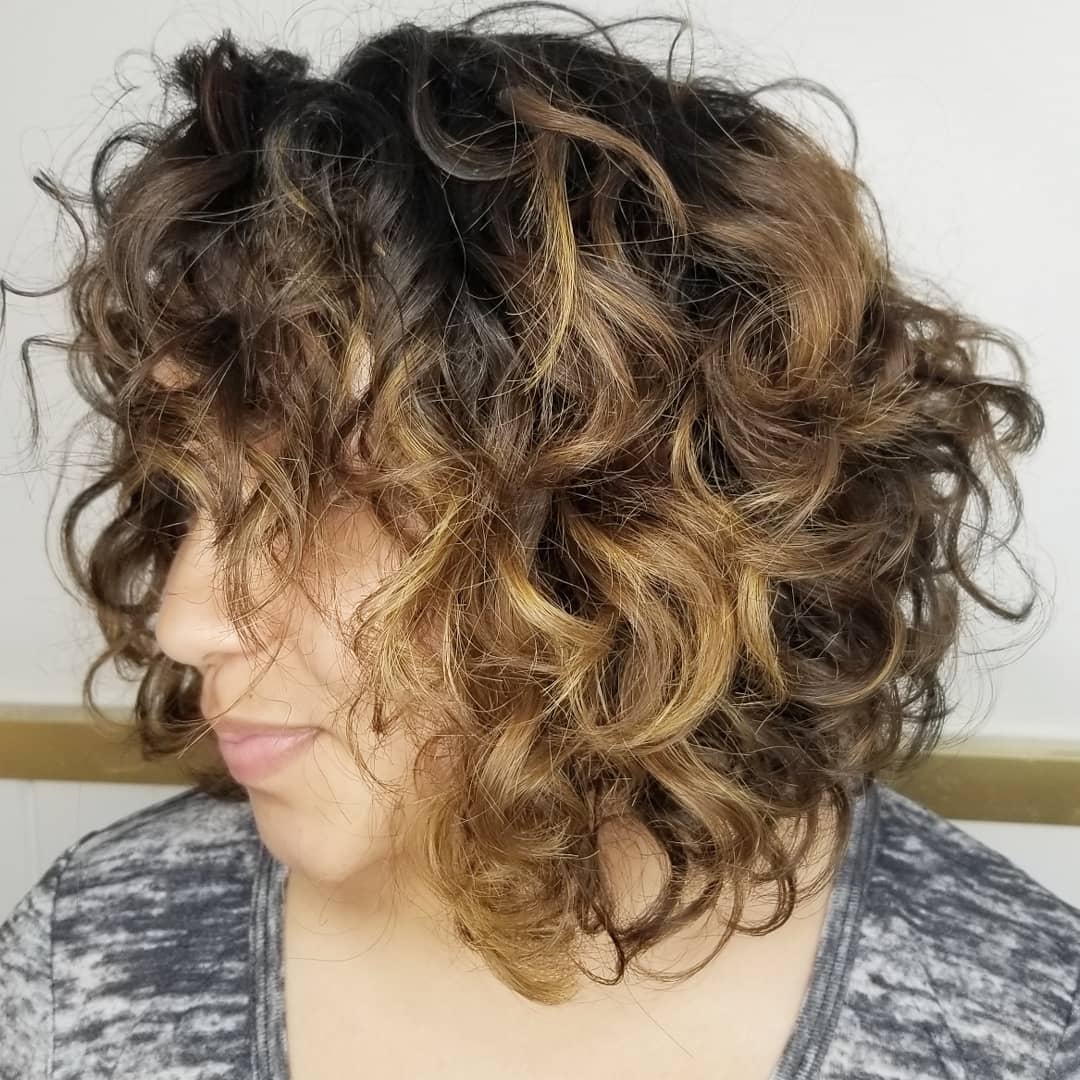 This curly lob and highlight duo will look great on younger women. You can also consider this lob for your office or work wear.
2. Bright Blonde Curly Lob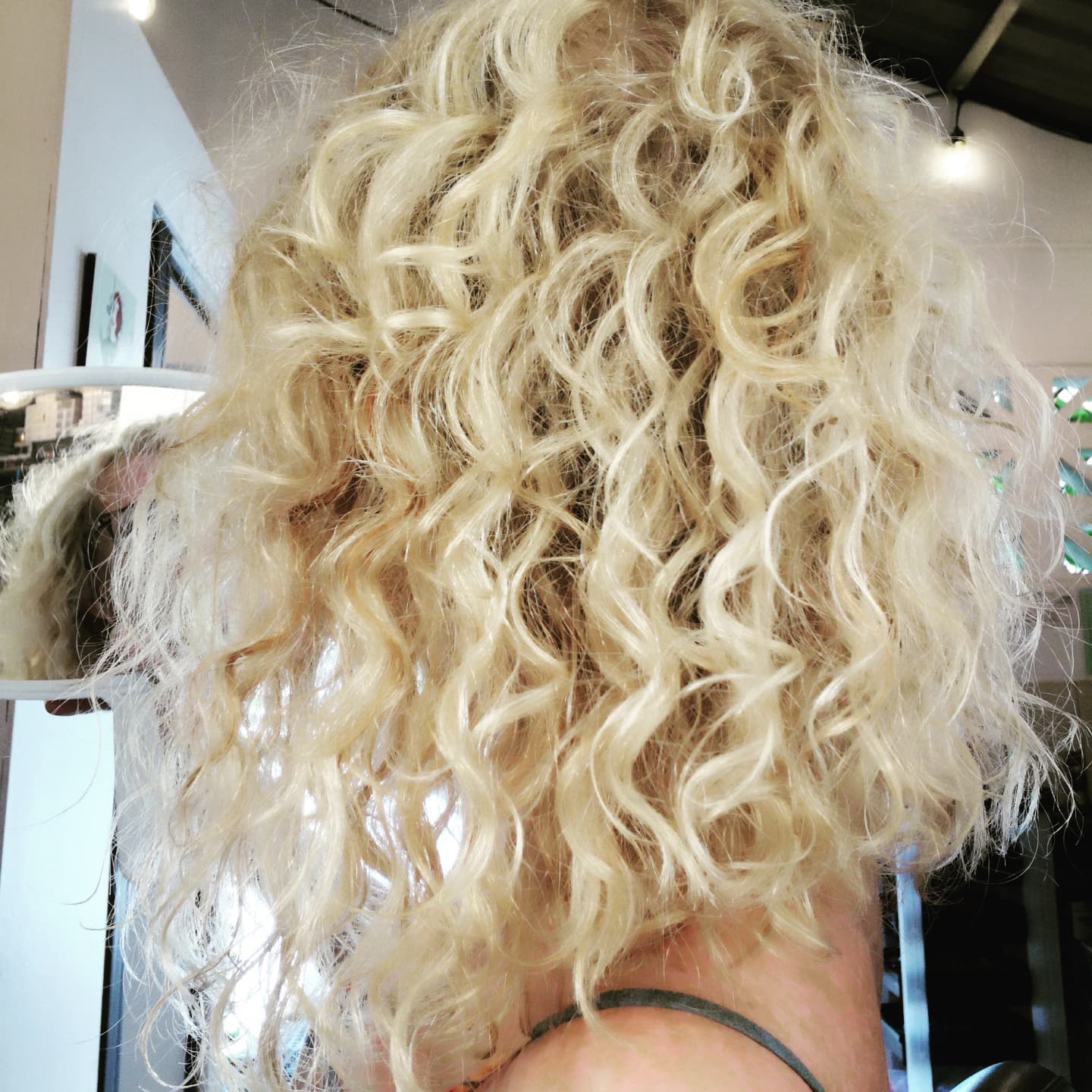 Blonde hair is high-maintenance. Color your hair every 2 months to maintain the results and keep your lob looking fresh as ever.
3. Red Curly Lob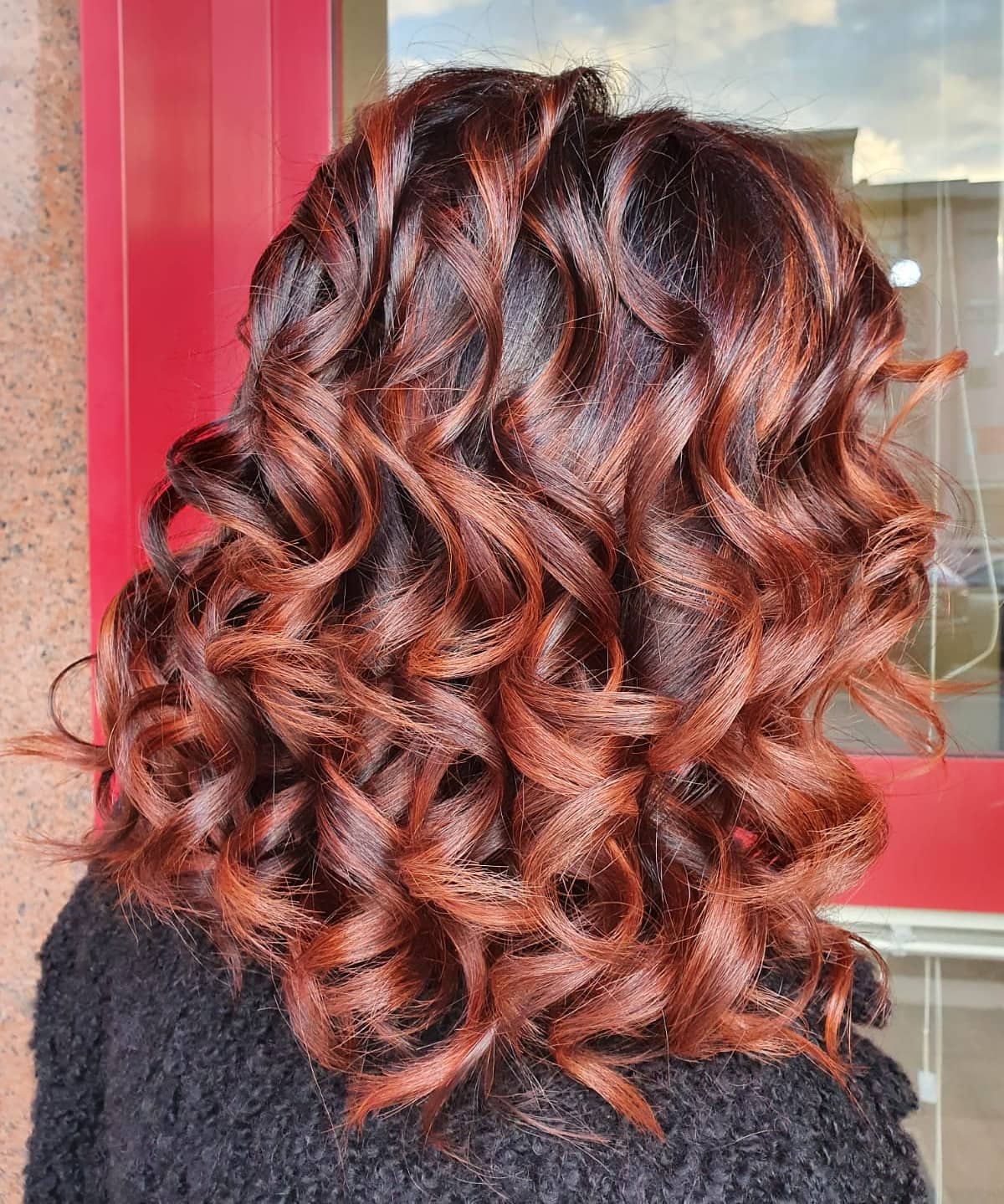 Red is a color of passion. If you want to look like a true diva and you like bright "fiery" cuts, this lob is for you.
4. Black Curly Lob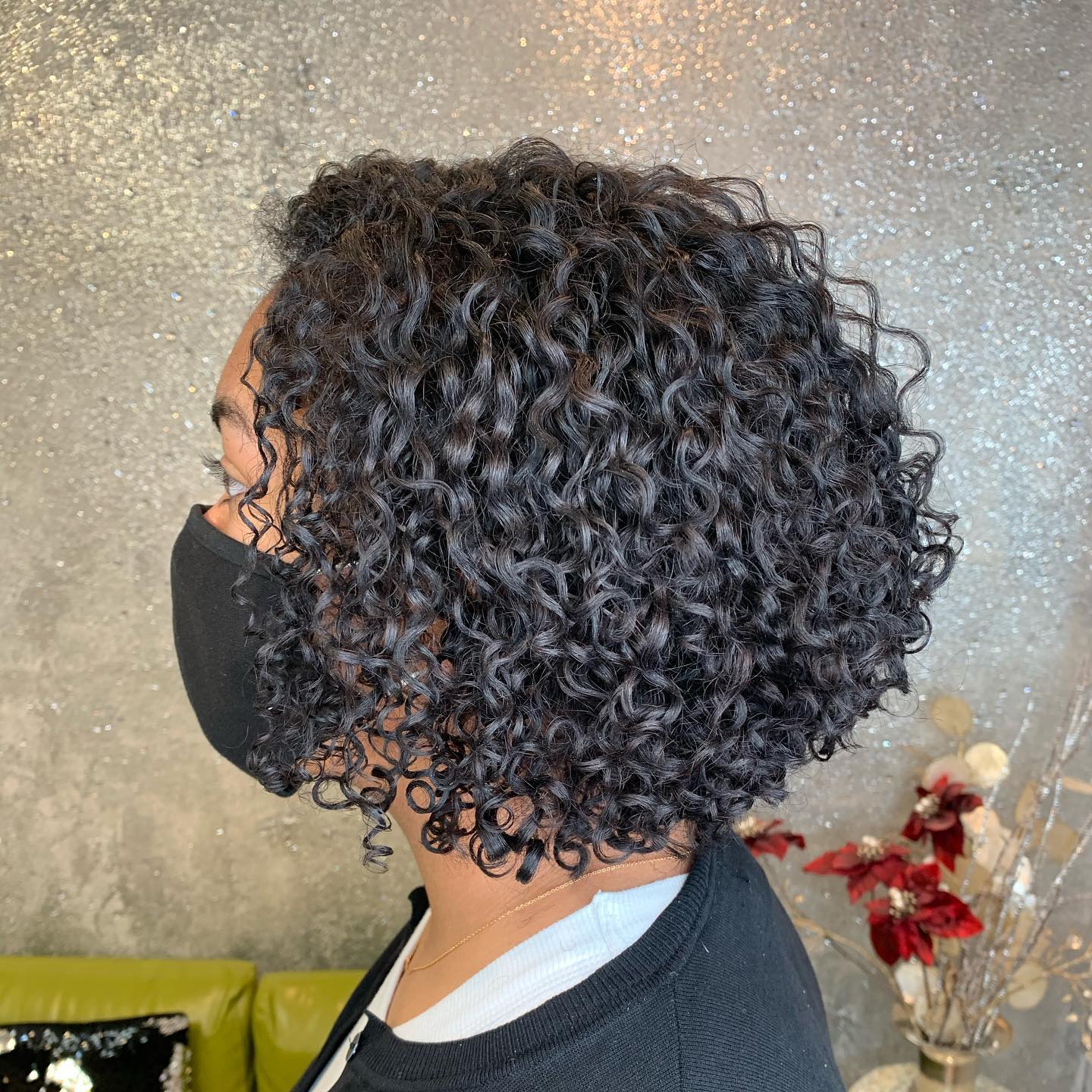 Define your curls with a curling cream and show off this lob with ease. Women who have naturally darker or curly hair will easily rock this look.
5. Hair With Highlights Lob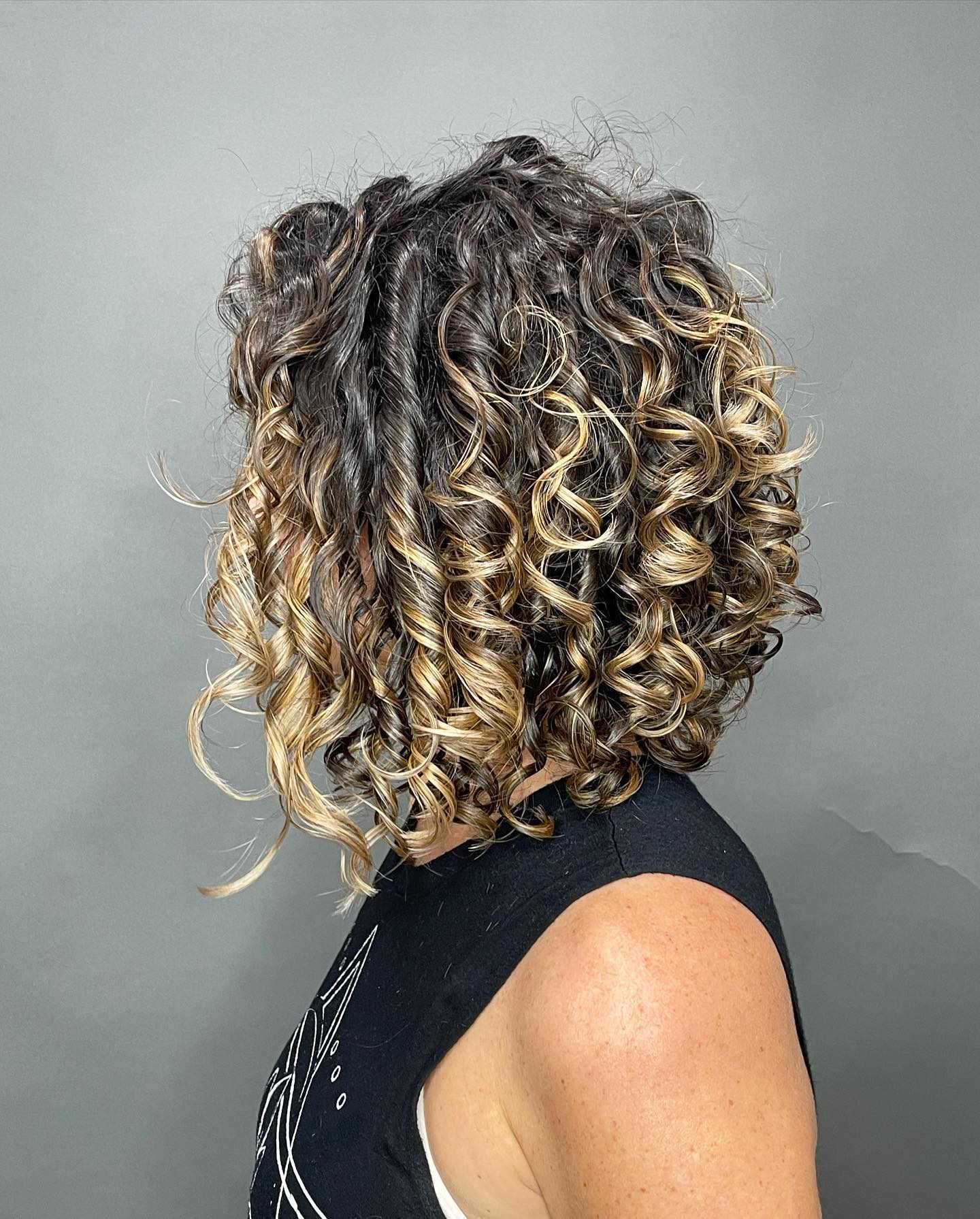 Cute highlights and this lob work so well together. Add more volume and curl to your natural hair with a curling iron and show off the vibe everywhere you go!
6. Ombre Lob Curly Hair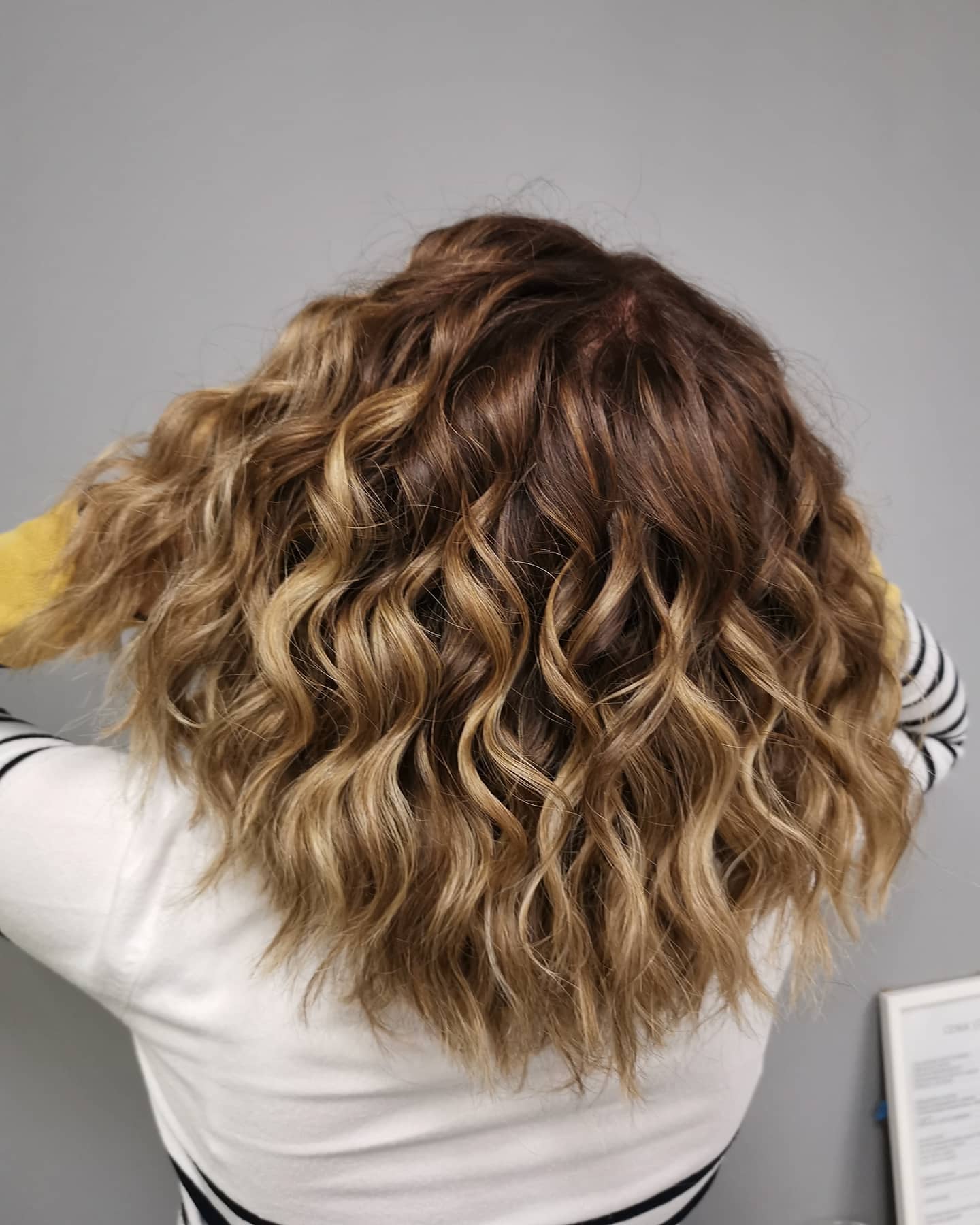 Make sure to book the best hairstylist you know of when it comes to this bright blonde curly lob hairdo.
7. Pink & Orange Curly Lob

Such a unique color combo, who can wear it and give it a go? Combine pops of coral pink, red, and orange and show off your new curly lob!
8. Natural Soft Curly Lob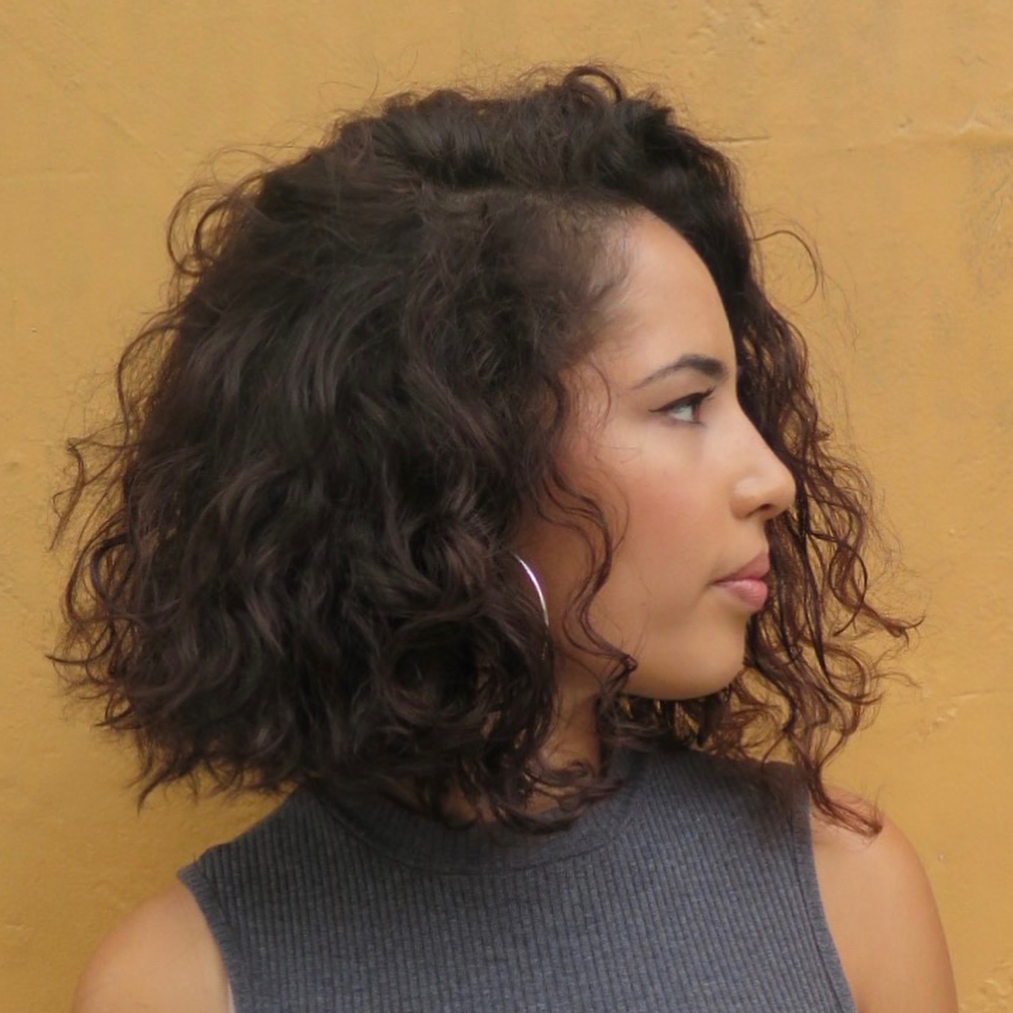 This hairstyle is a quick and easy look, a must-try for women who like practically and elegance on a daily.
Summing Up
Ready for these cool and cute looks? Which design is your favorite from the list? Let us know what you can't wait to wear and try out yourself. All of these cuts and looks will suit every girl. It all comes down to customizing it and adjusting per your preference and head shape. Ready to experiment and wear something curly? Can't wait to see it on you!
What are some popular curly hairstyle ideas?
Curly bob, pixie, afro and curly bangs are among the most popular cuts with curly hair. In this article you can view curly hair examples with these styles.
Who are celebrities with curly hair?
Beyonce, Zendaya, Rita Ora and Taylor Swift are the celebrities who wear curly hair styles.