Looking for a new hairdo, or something quick & sweet that you can rock and try out in the upcoming period? Are you interested in a formal hairdo for your prom, wedding, or your birthday party? If you're someone who prefers classical hairstyle ideas and you prefer a bit of wave to your hair you will enjoy this article. Here, we bring you the top 21 finger wave haircut options.
How To Achieve Finger Wave Haircuts?
A finger wave haircut can be a bit tricky if you are not a professional hairstylist. Here are your steps to understand & try out on your own:
Make sure that you wash your hair & deep condition it before you begin your styling process.
Brush out your hair with a fine tooth-comb brush.
Use a small spoolie to tame your baby hairs at the front and take care of your edges.
Use your fingers to style the rest of your hair in waves.
Set the back portion with a lot of hairspray for its long-lasting properties.
Top 21 Finger Wave Haircuts That You Need To Try Out
1. Long & Silver/Icy Blue Finger Wave Haircut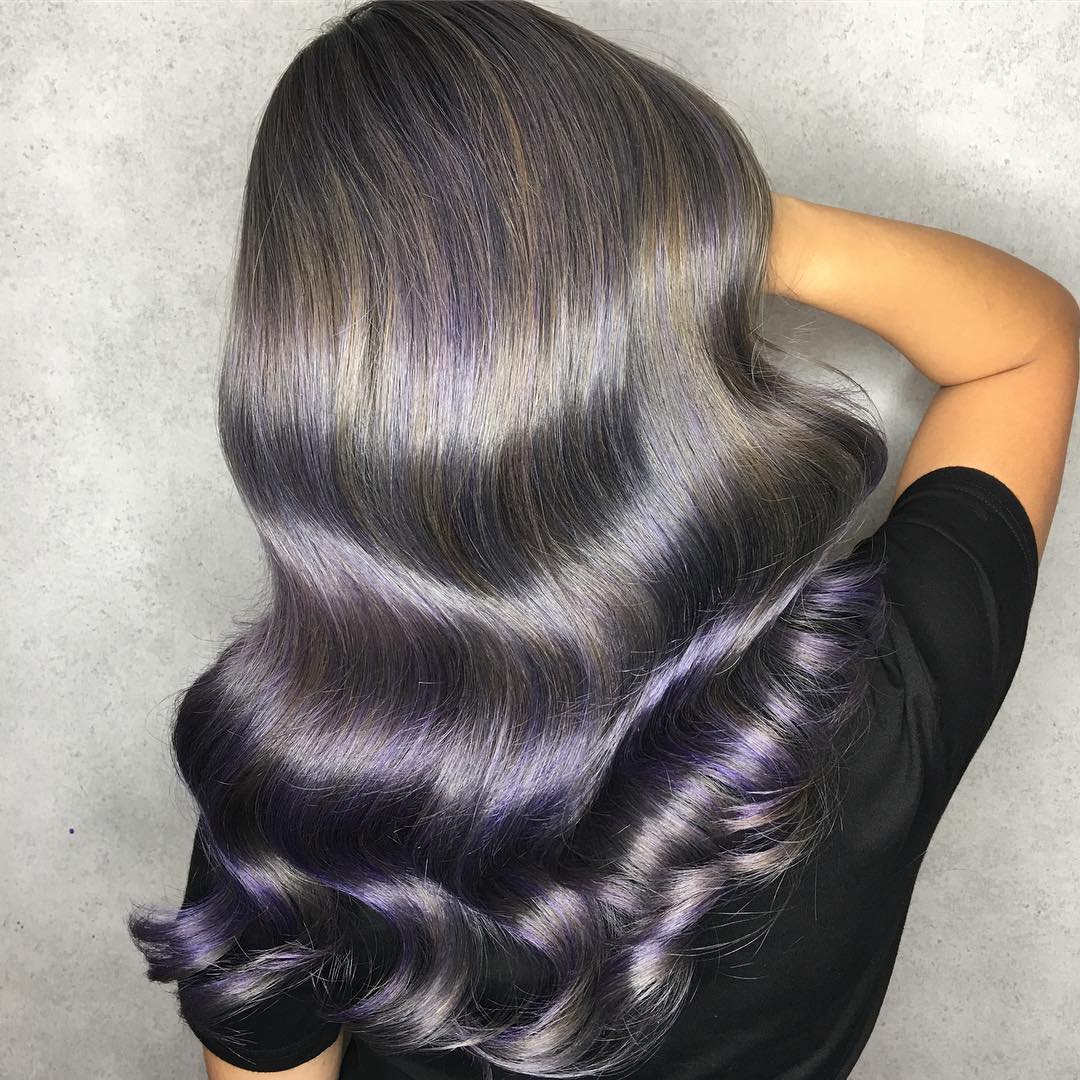 Long and silver hair has that perfect feminine vibe. Get these finger waves and enjoy them for formal events or night-time activities. They are super easy to achieve as well.
2. Defined & Retro Short Finger Waves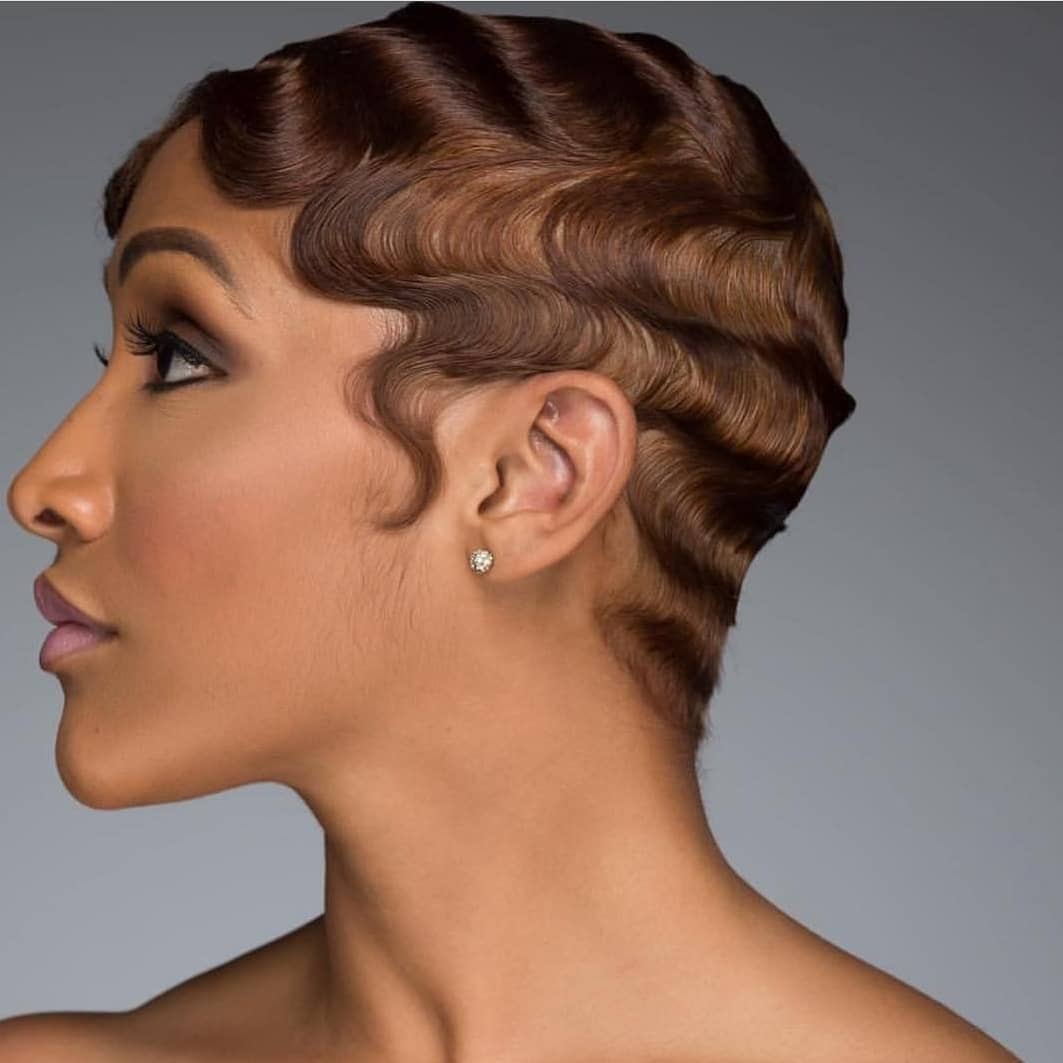 Women who prefer shorter hair and those who have retro curls or waves will enjoy this idea. Embrace the defined curl and make these finger waves sexy and adorable.
3. Blonde Formal Haircut Finger Waves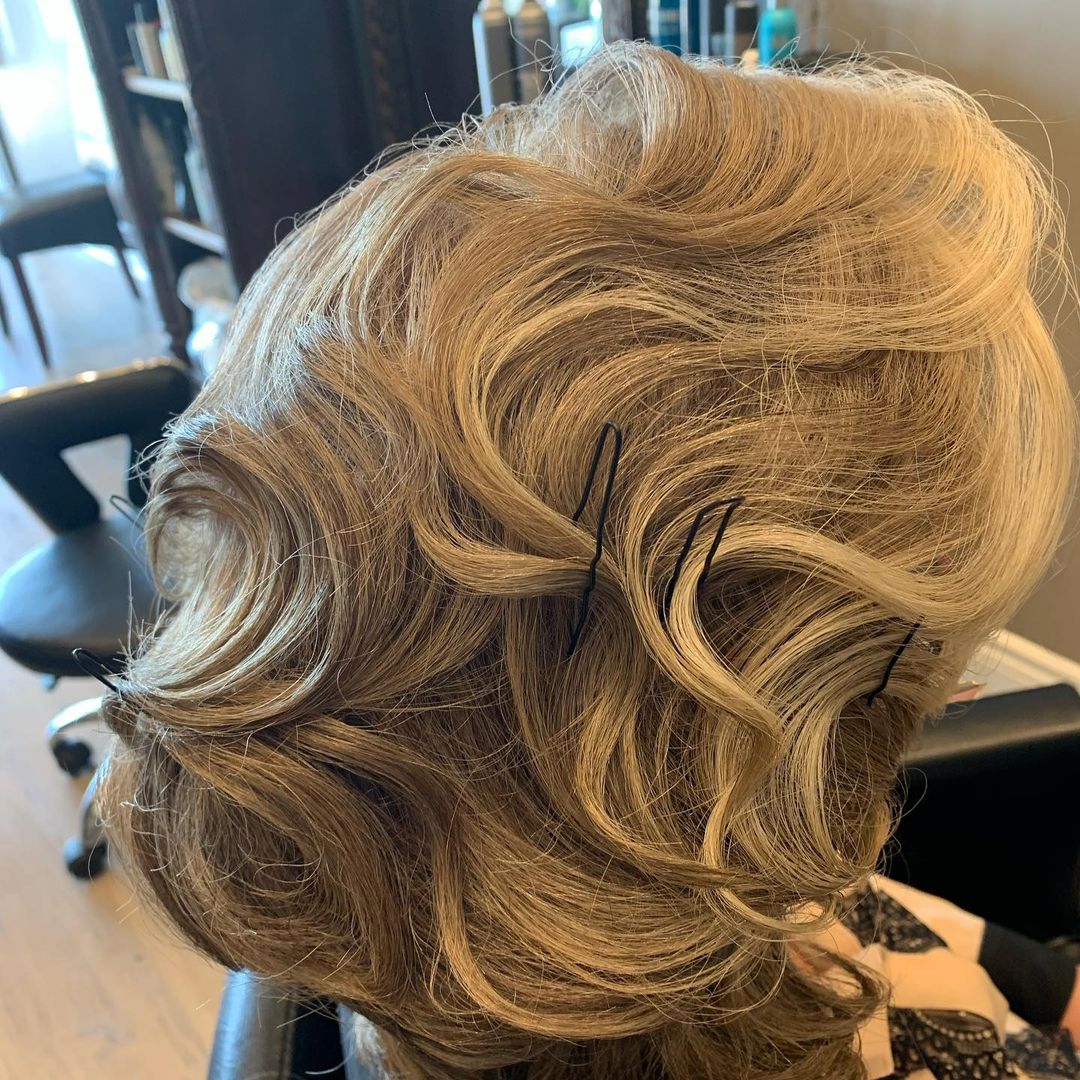 Blondes or women who have highlights know how to pull off a fancy hairstyle. If you're a bride-to-be, for instance, you'll enjoy showing off and styling your curls in this particular way.
4. Gorgeous Purple Finger Waves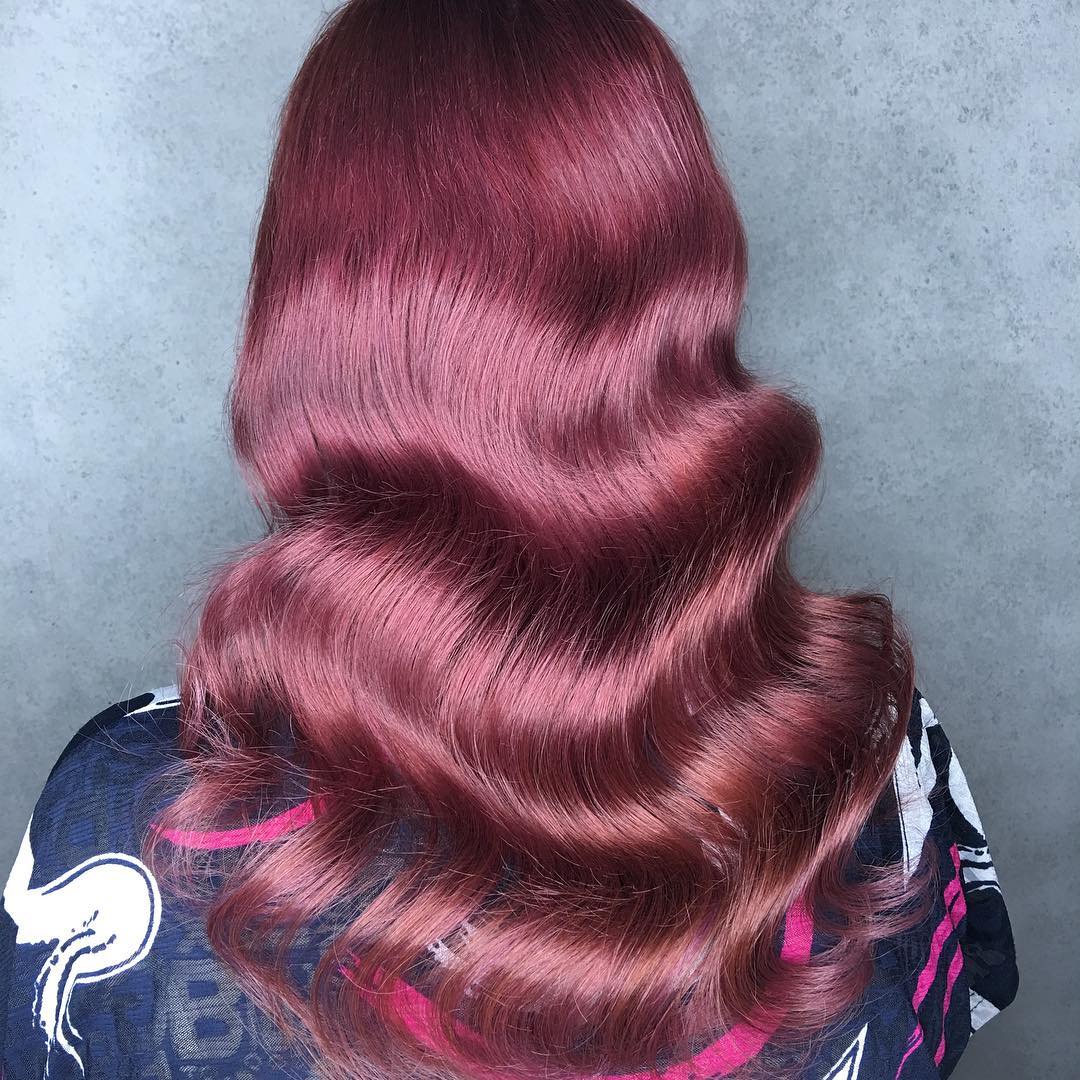 If you're someone who wants to stand out with your chosen color you'll love this pinky/purple vibe. It is unique and different, as well as one of a kind.
5. Short Black Hair Finger Waves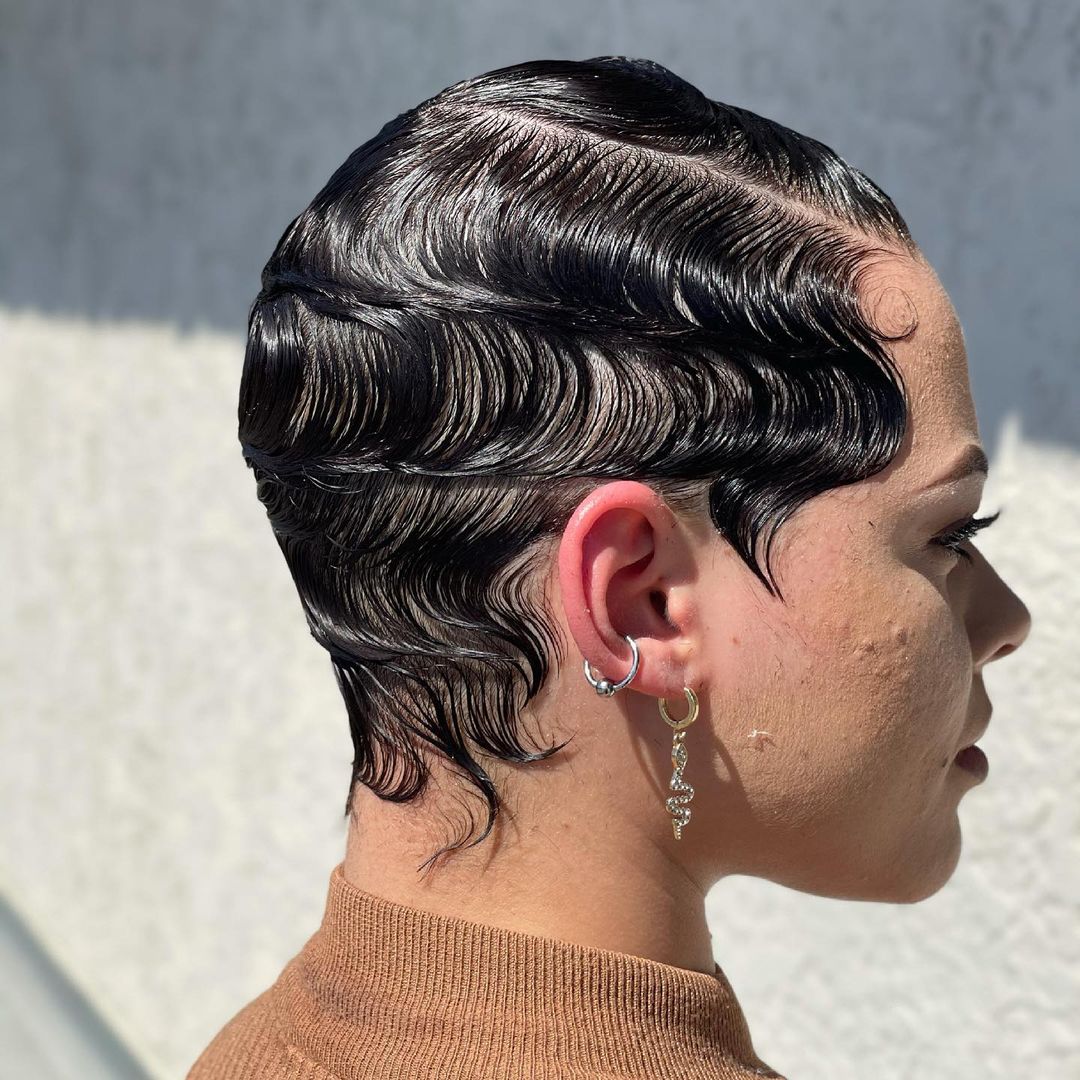 If you have short and natural hair, and you are in love with your color, you can enjoy this stylish and shorter hairdo. Embrace the finger waves and style this hair for everyday events and activities.
6. Defined Finger Waves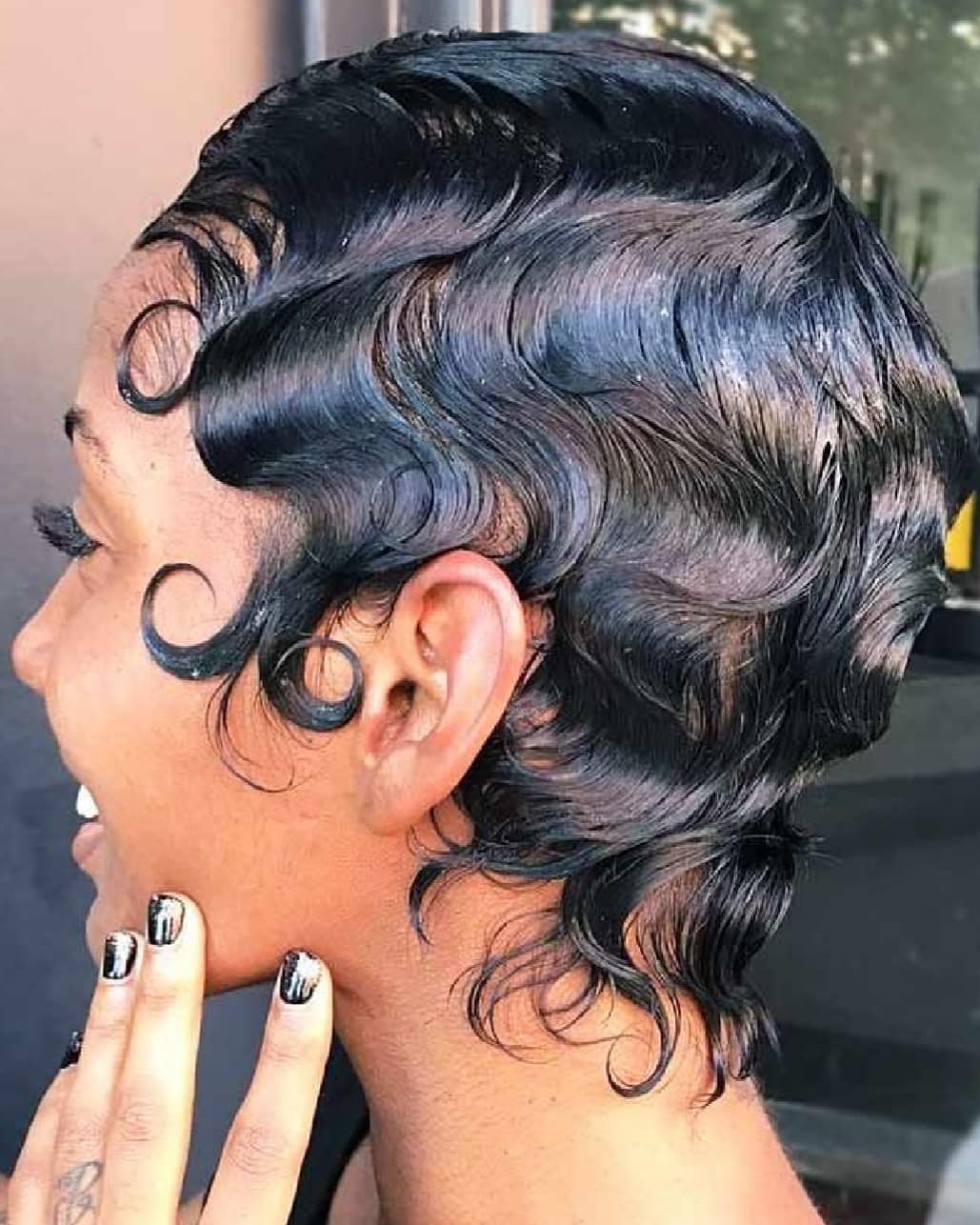 If you have a ton of baby hairs just know that you will look definitely noticeable everywhere you go. The best part? It takes you less than three minutes to achieve this look.
7. Short & Retro Finger Waves With Babyhairs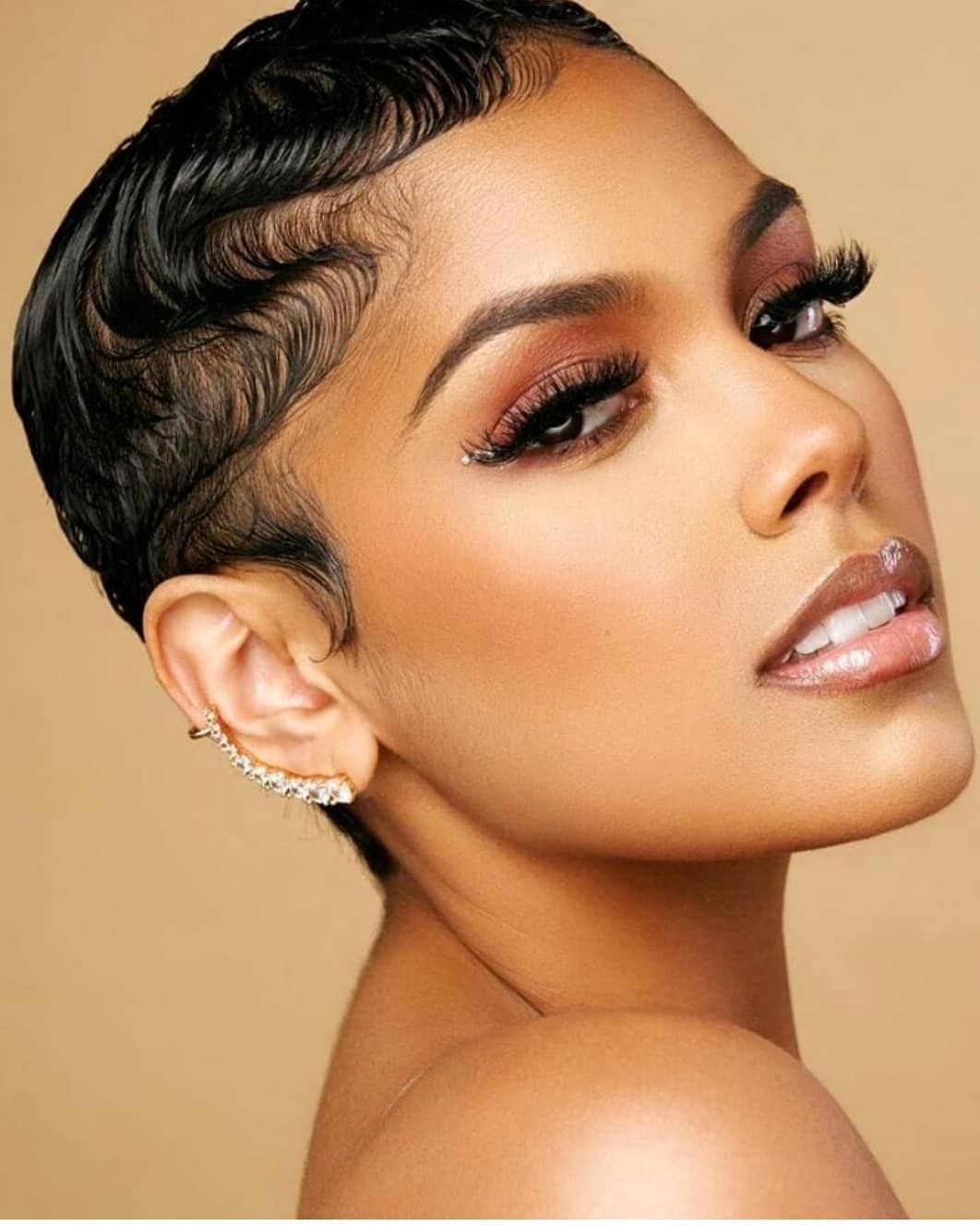 Short baby hairs and naturally brown hair will look good on low-maintenance women. Comb your hair on the sides to achieve that cohesive look.
8. Long Finger Waves Haircut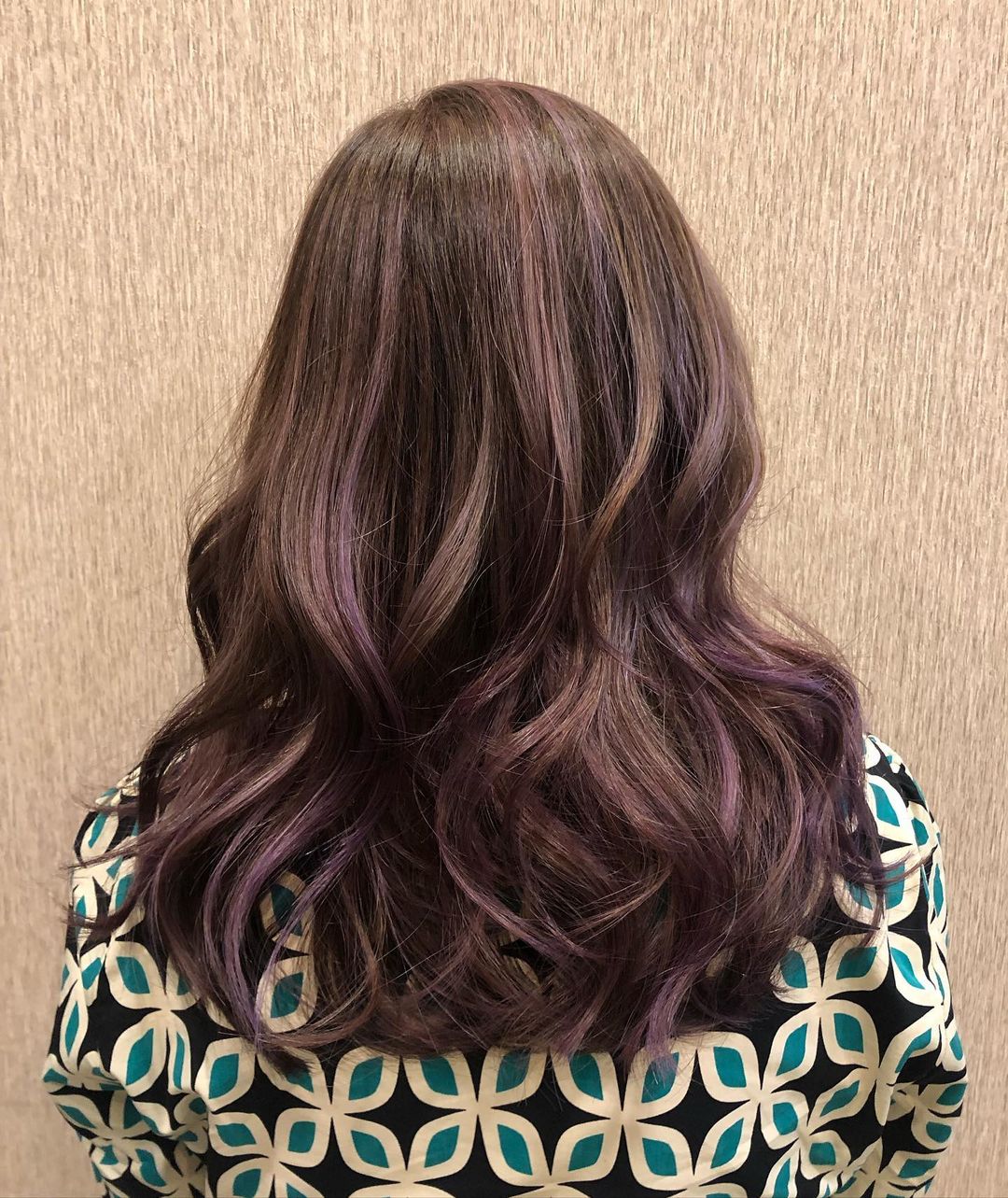 Longer finger waves should be brushed out with an amazing brush if you need a look that is friendly for the office. It is ideal for younger women.
9. Blonde Finger Waves Platinum Hair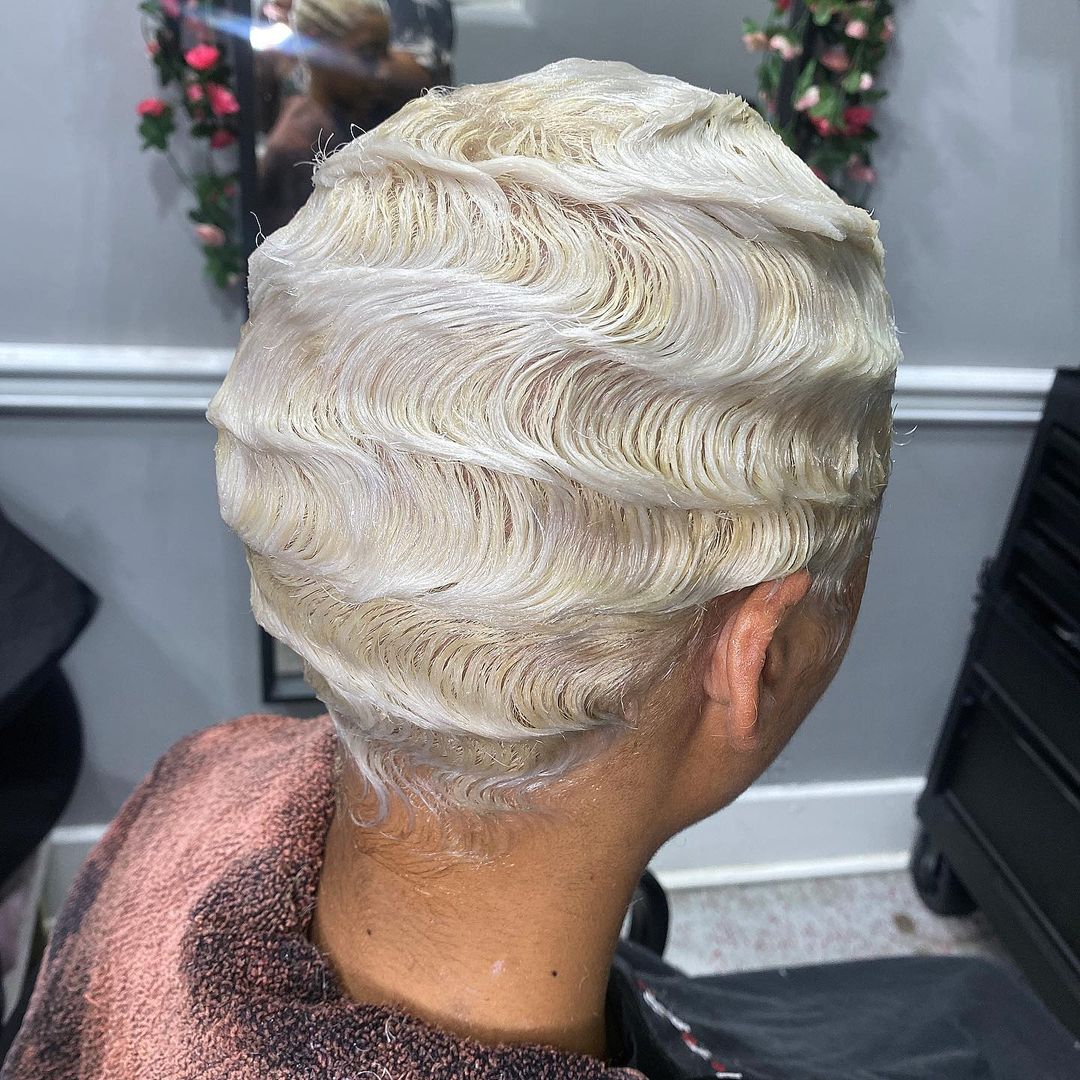 Platinum hot icy hair is not for everyone. If you're up for a dramatic change and you enjoy icy blondes this chic look will suit you, just make sure that you invest in your hair-care products.
10. Natural Dark Hair Finger Waves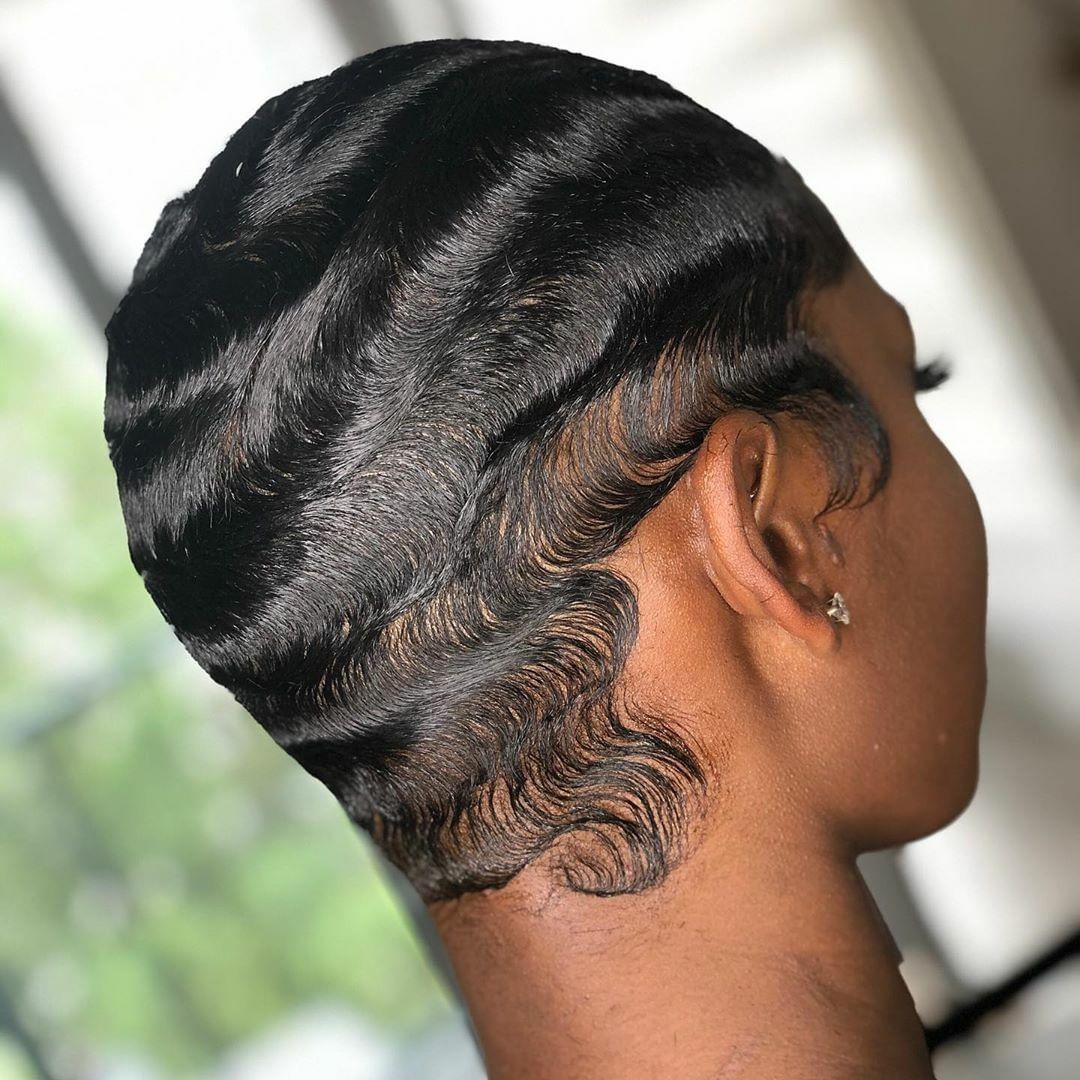 You can make your hair even more defined by brushing it out with a small tooth-comb for defined and waves.
11. Light Brown Hair With A Braid Detail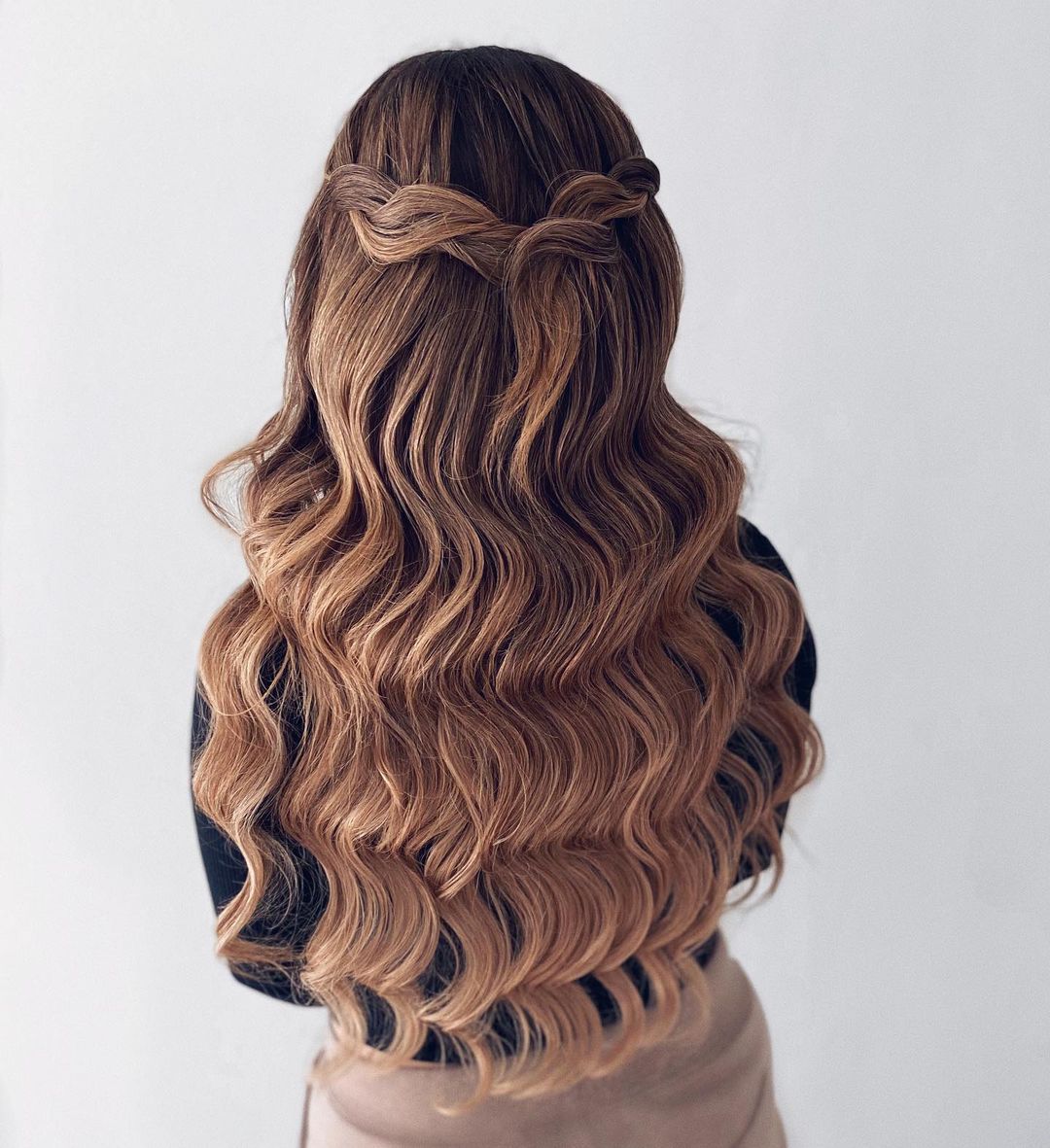 Get a cute braid and pair it along with your loose cute waves. These finger waves need to be set in place with clay so that they don't move throughout the day.
12. Short Blonde Hair Finger Waves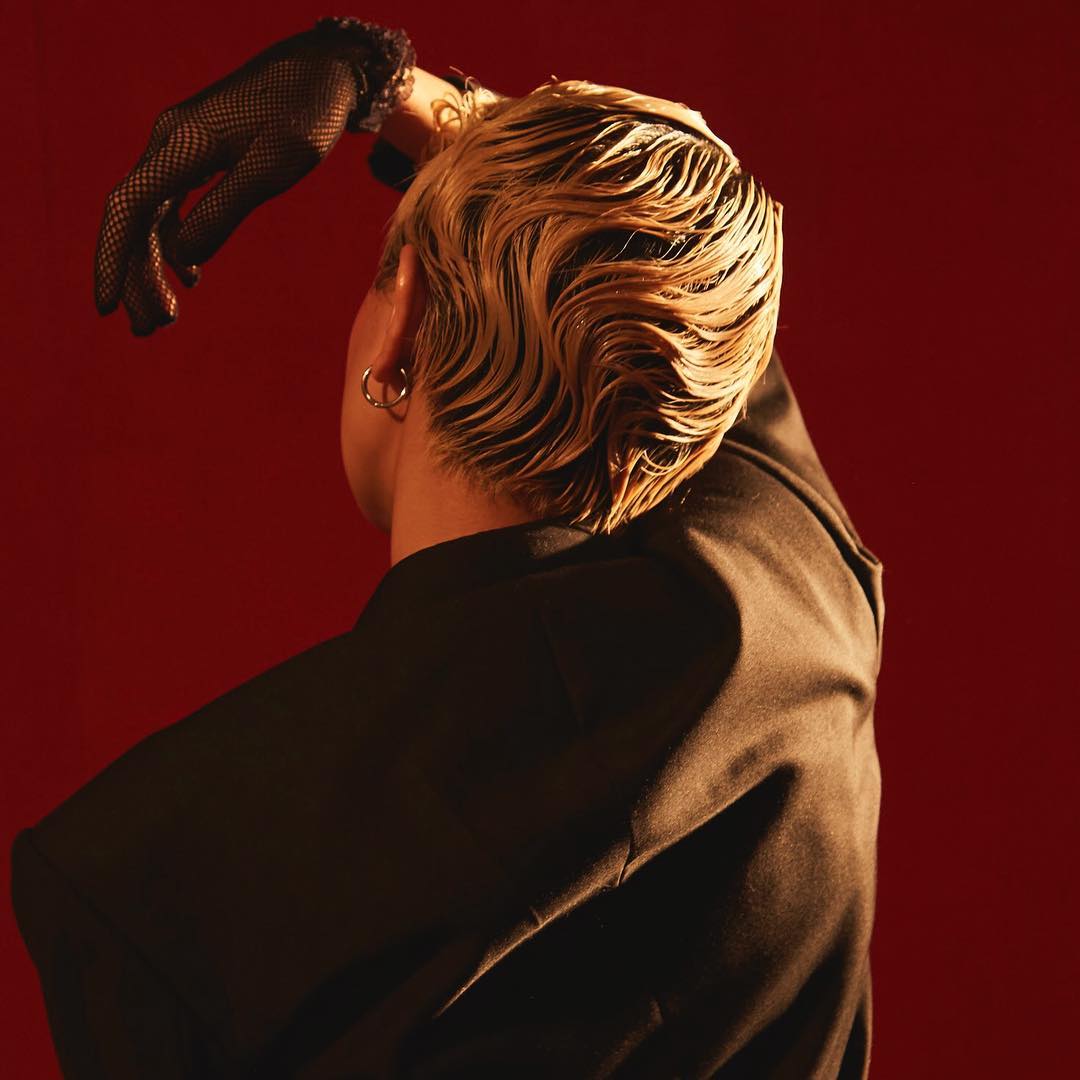 If you want a hairstyle that has that fierce runway model vibe you'll like this blonde finger wave cut. It is short and super low-maintenance.
13. Retro Pink Finger Waves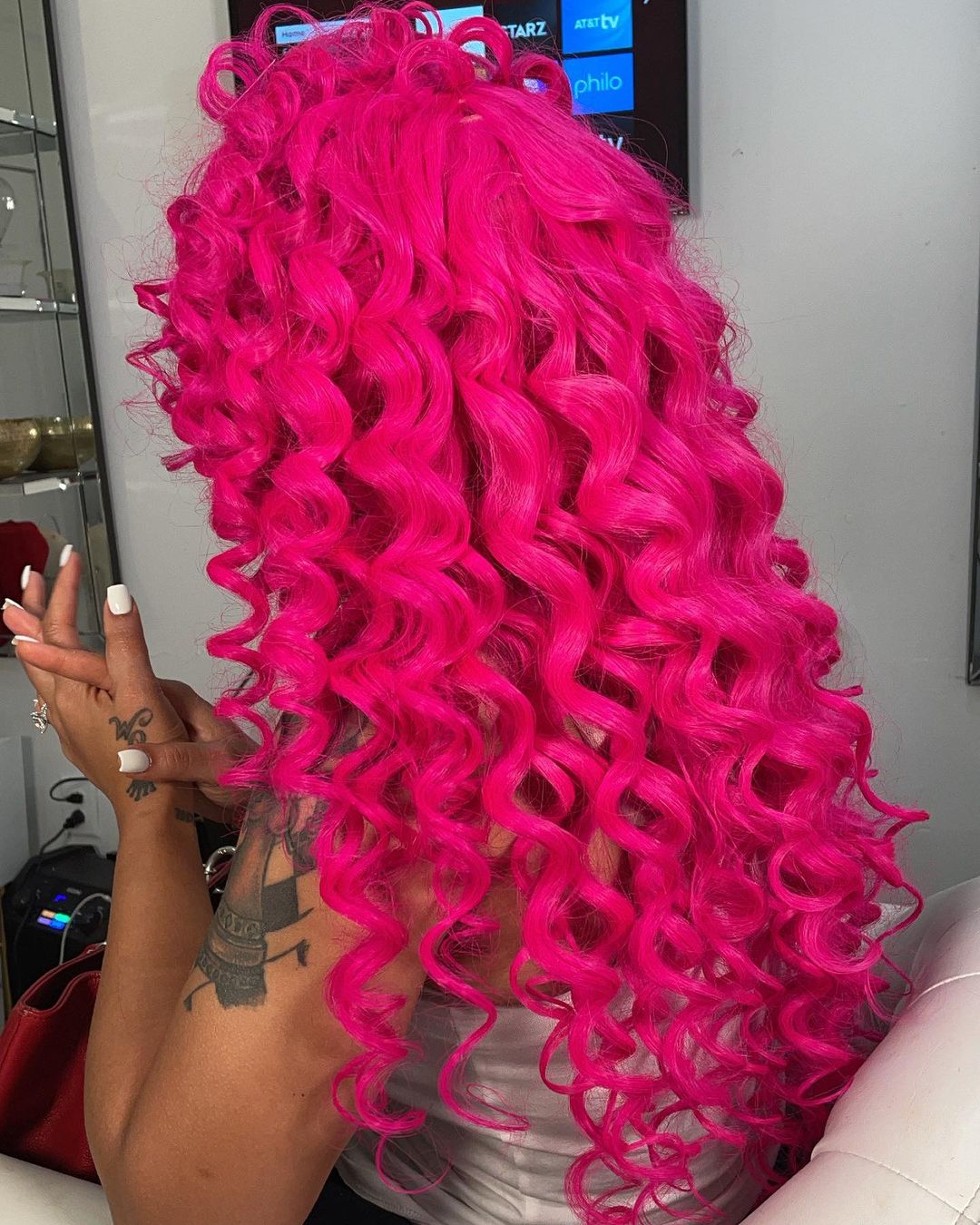 Women who love to stand out and those who enjoy a pop of color will like this design. Pink and finger waves will look dramatic on every girl.
14. Bridal Inspired Finger Wave Hairstyle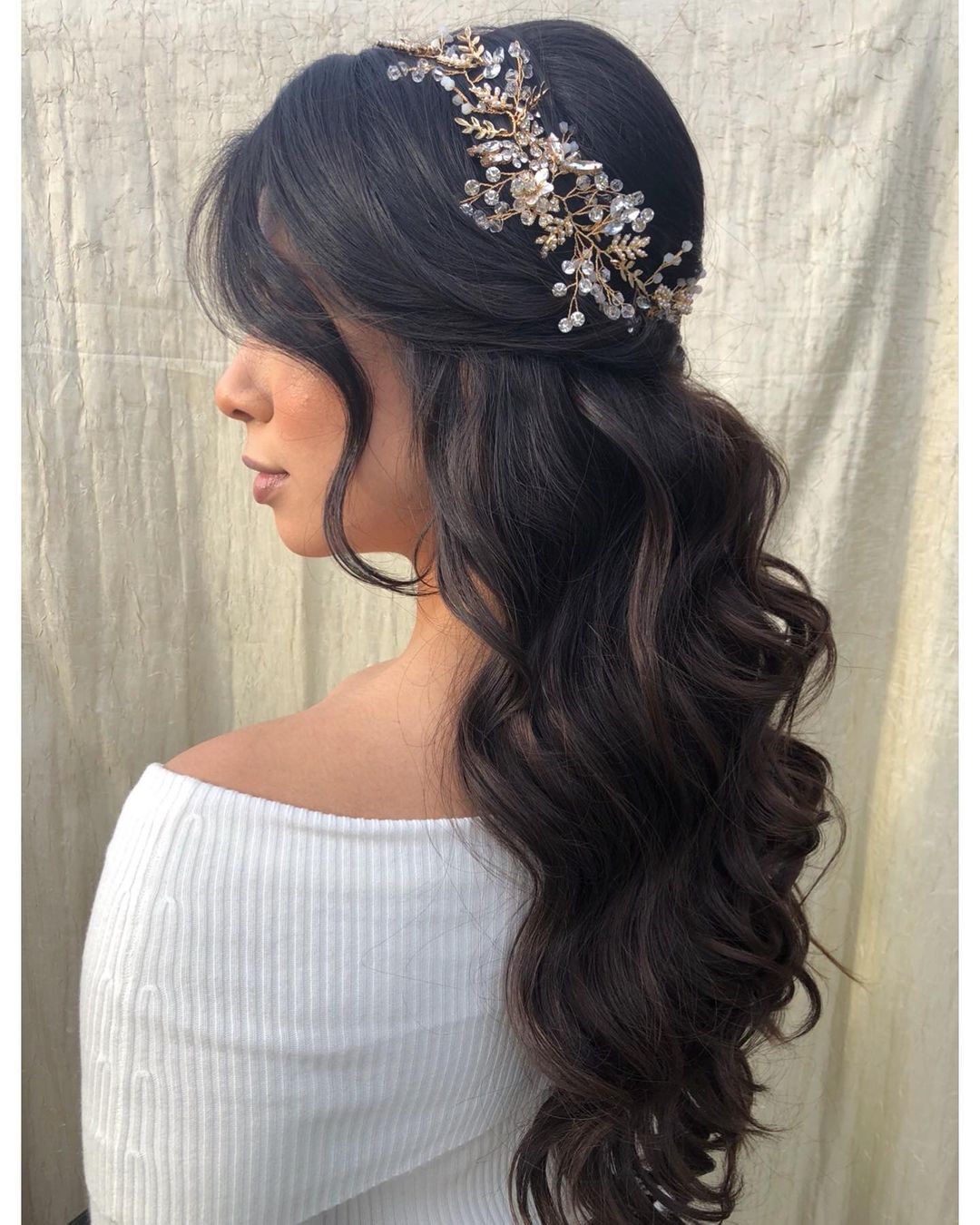 If you're a bride-to-be and you're looking for a cute hairstyle you'll love this one. Get a hair accessory and make it even more stylish and trendy.
15. Short Black Hair Finger Waves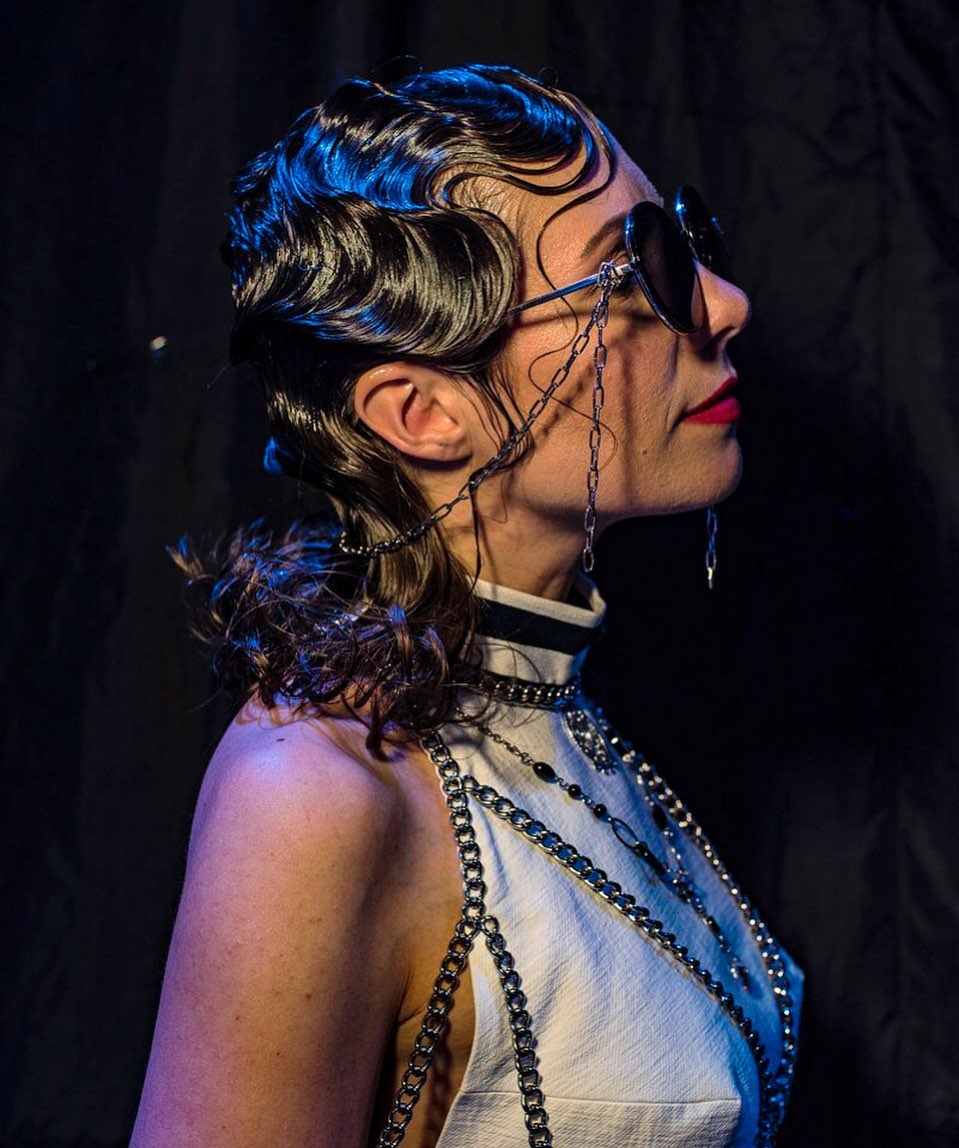 Black finger waves and this short hairstyle is sleek and perfect for those who want to show off their baby hairs as well as loads of shine. Are you one of those women?
16. Buzz Cut Finger Waves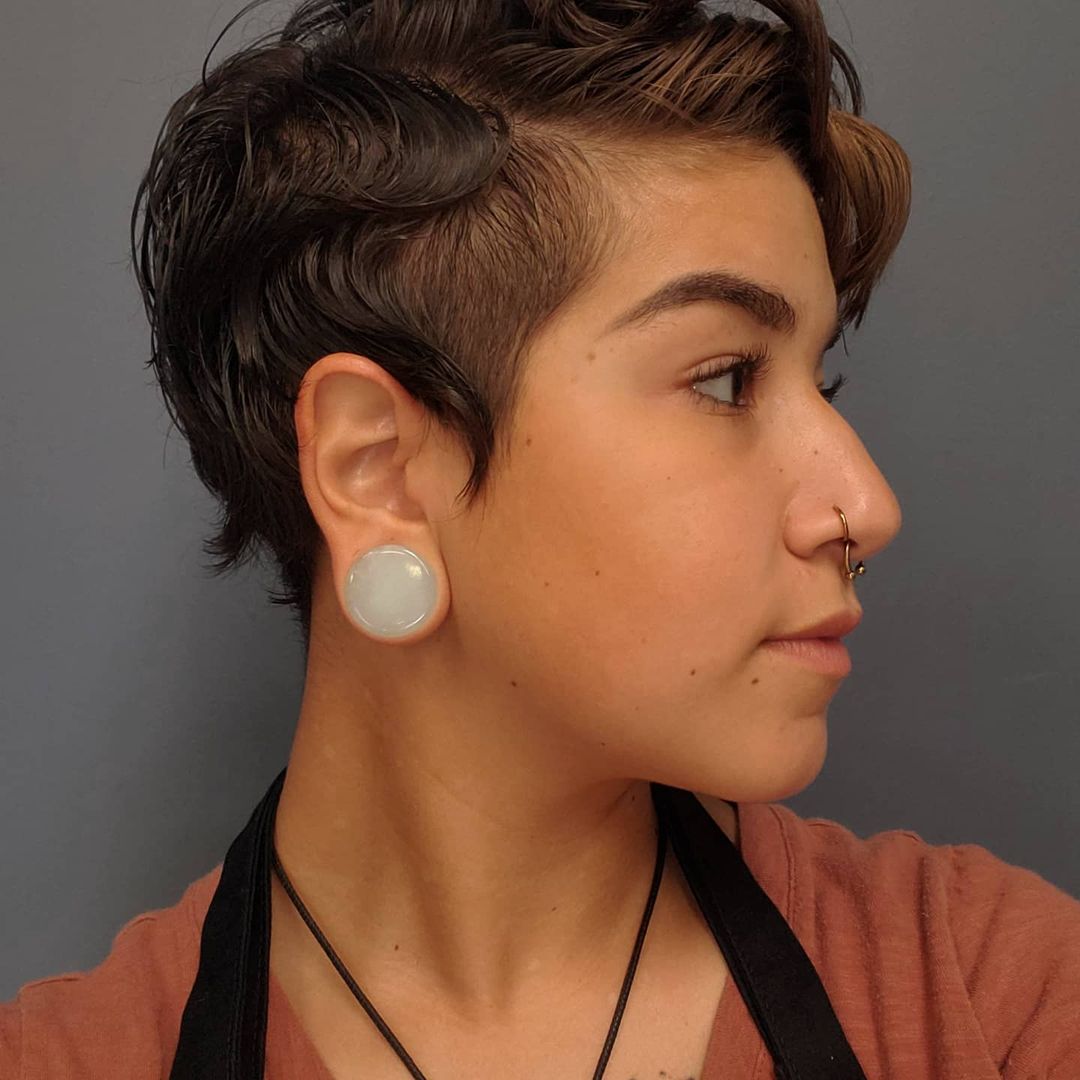 You can get a short hairstyle and pair it with a buzz cut to make it even more playful and different. Ideal for the summer season!
17. Light Blonde Finger Waves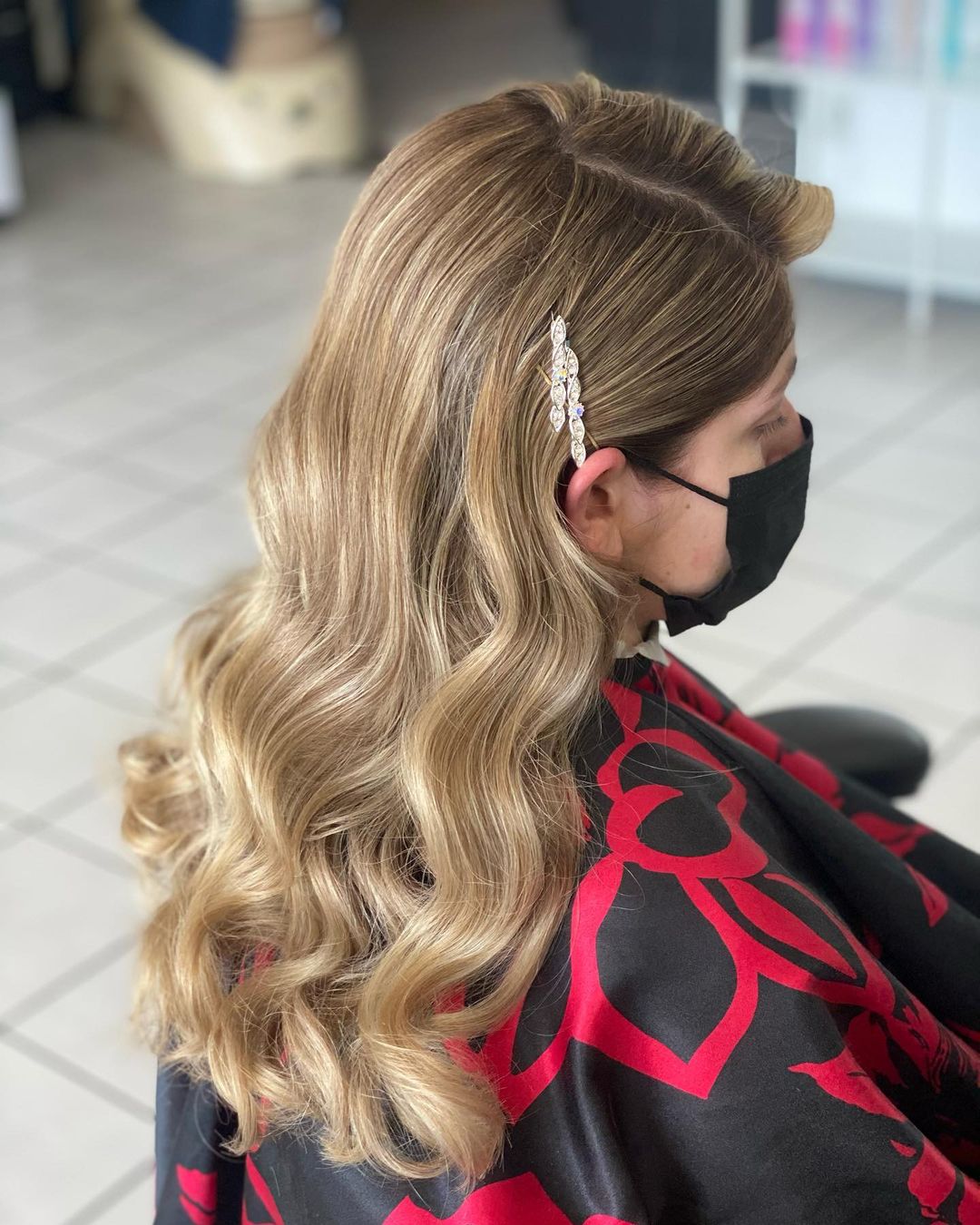 You can flawlessly rock these waves and these highlights. Get this hairstyle if you're a bride-to-be who's trying to look like the show-stopping girl got her big day and pair it with a stylish accessory.
18. Naturally Curly Hair Finger Waves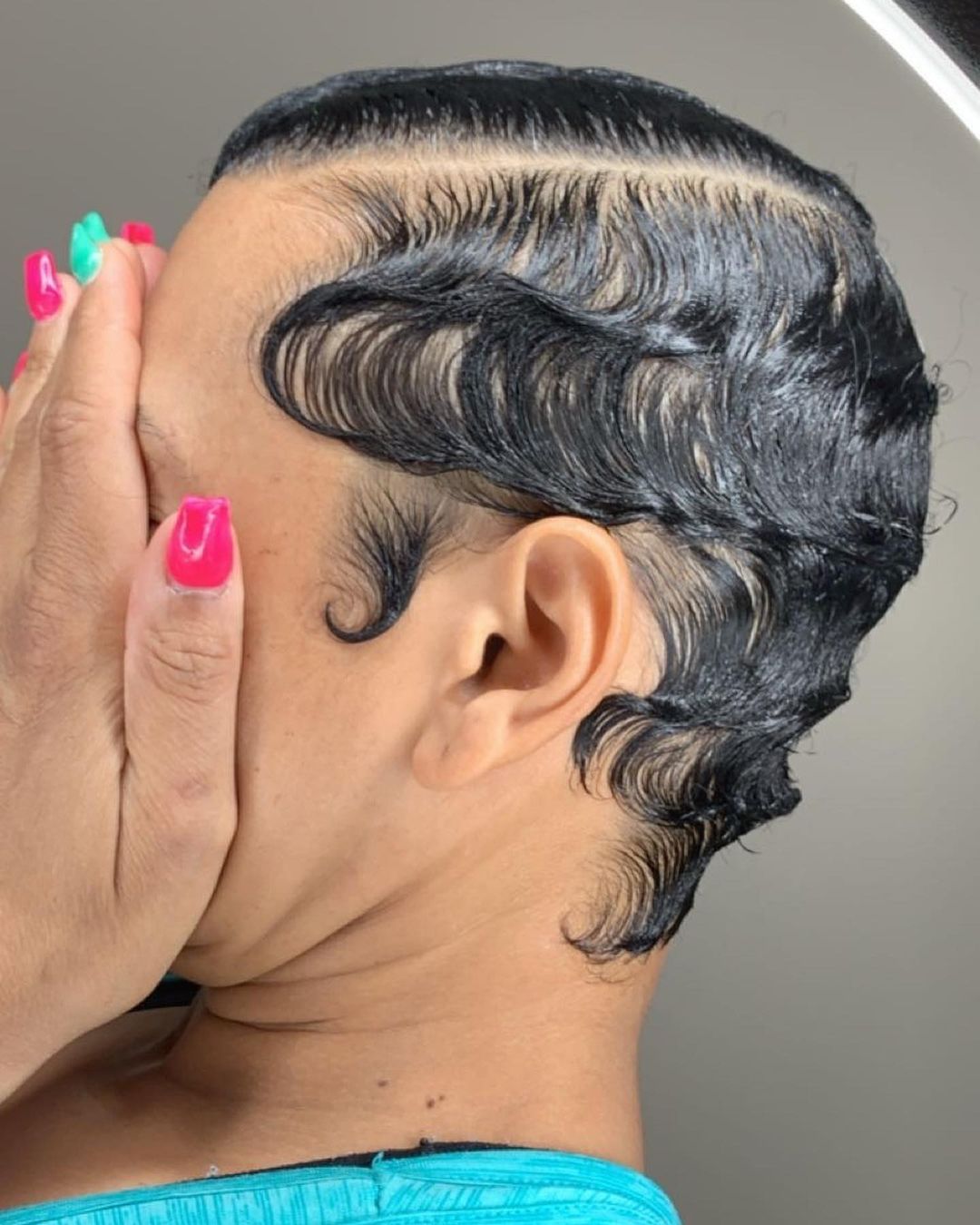 Naturally curly hair is a blessing! If you're lucky enough to have short cute baby hairs tame them in place with hair cream and show off this look for your everyday activities.
19. Rainbow Colors Finger Waves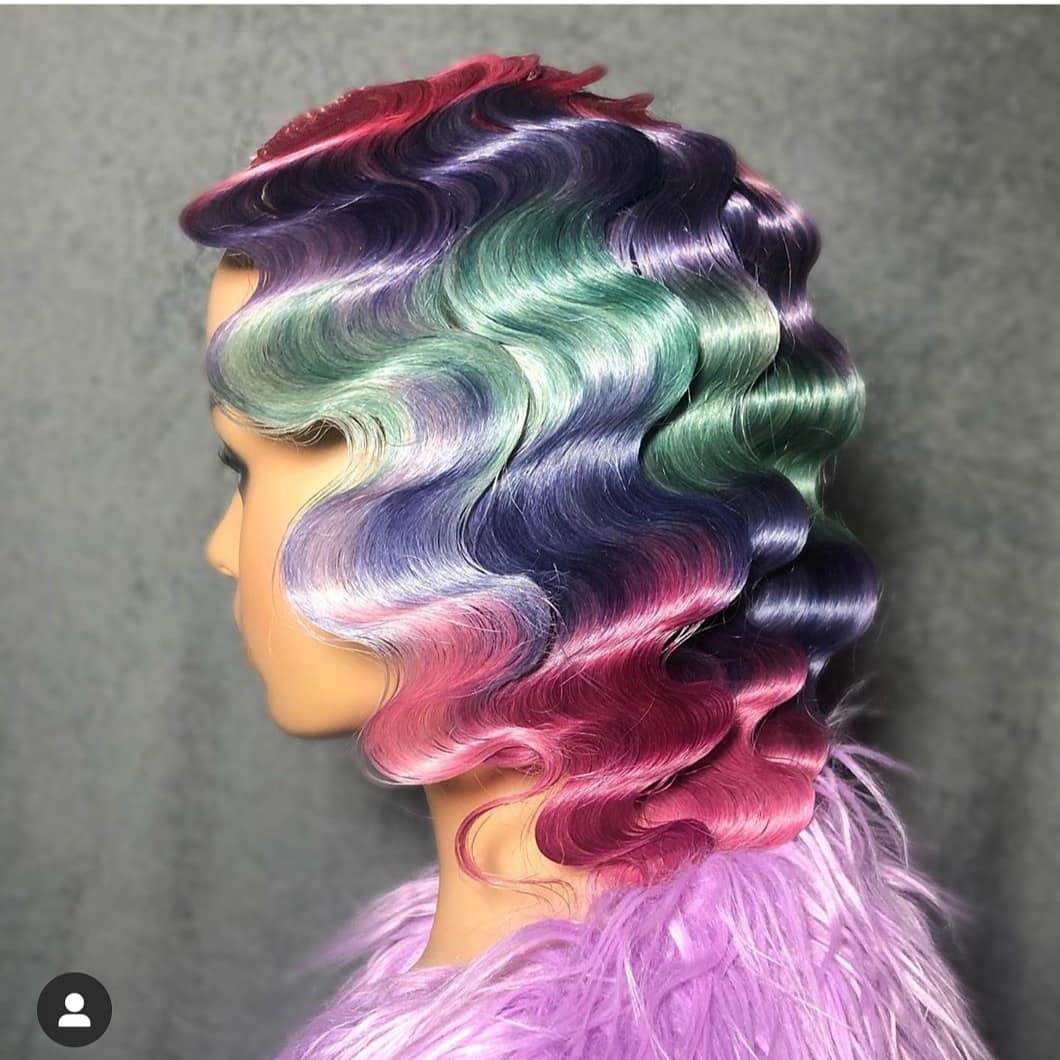 Are you bold enough and brave enough to rock thud hair color combo? This is an unusual choice for those who really trust their hairstylist. Make sure that you have 3-4 hours to spare before you commit to this color and style.
20. Brown Color Finger Waves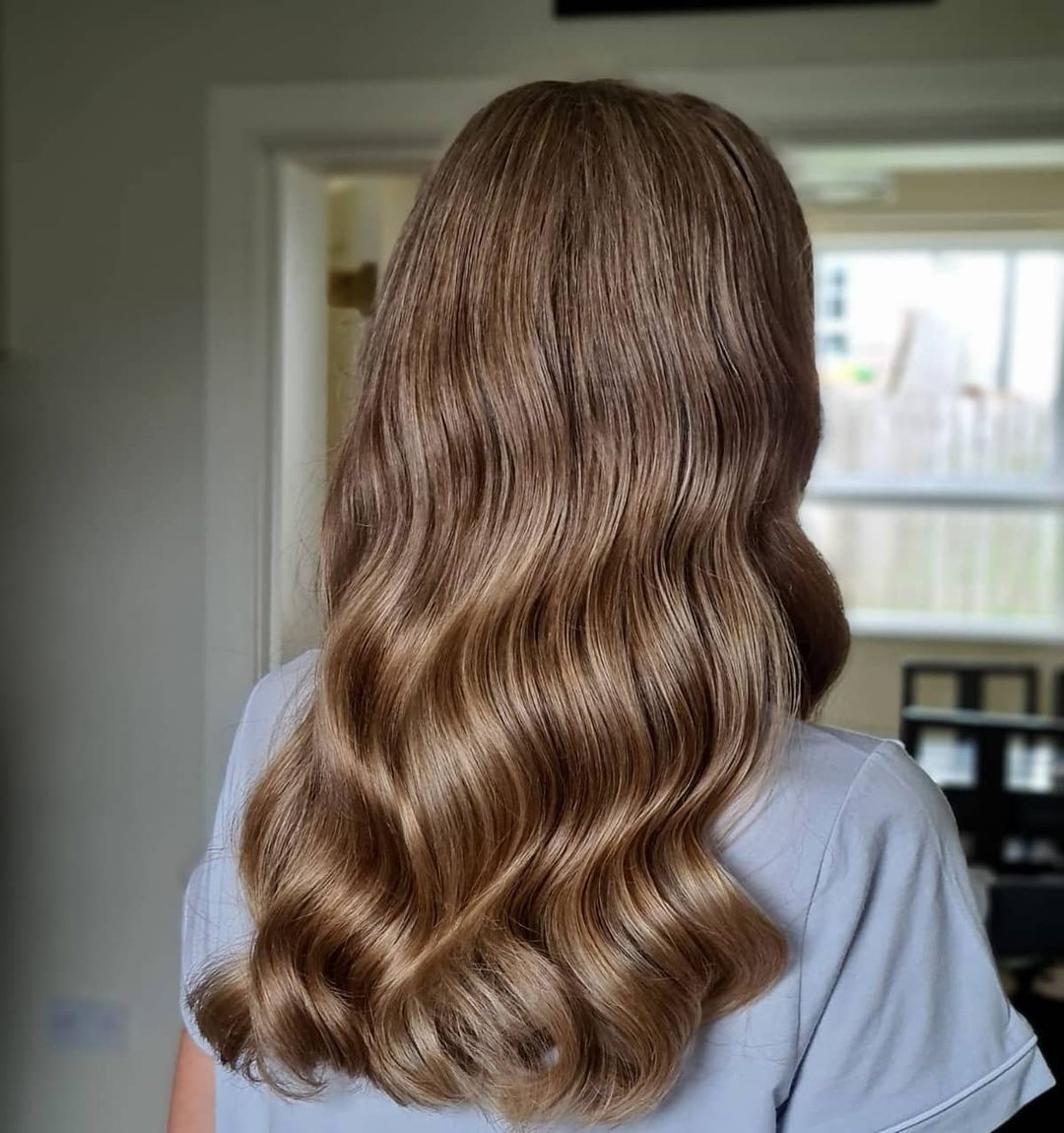 If your hair is on the lighter side you'll easily rock this look. Go for loose finger waves and wear them for nighttime events and when you have enough time to invest in your hair styling.
21. Retro Blonde Finger Waves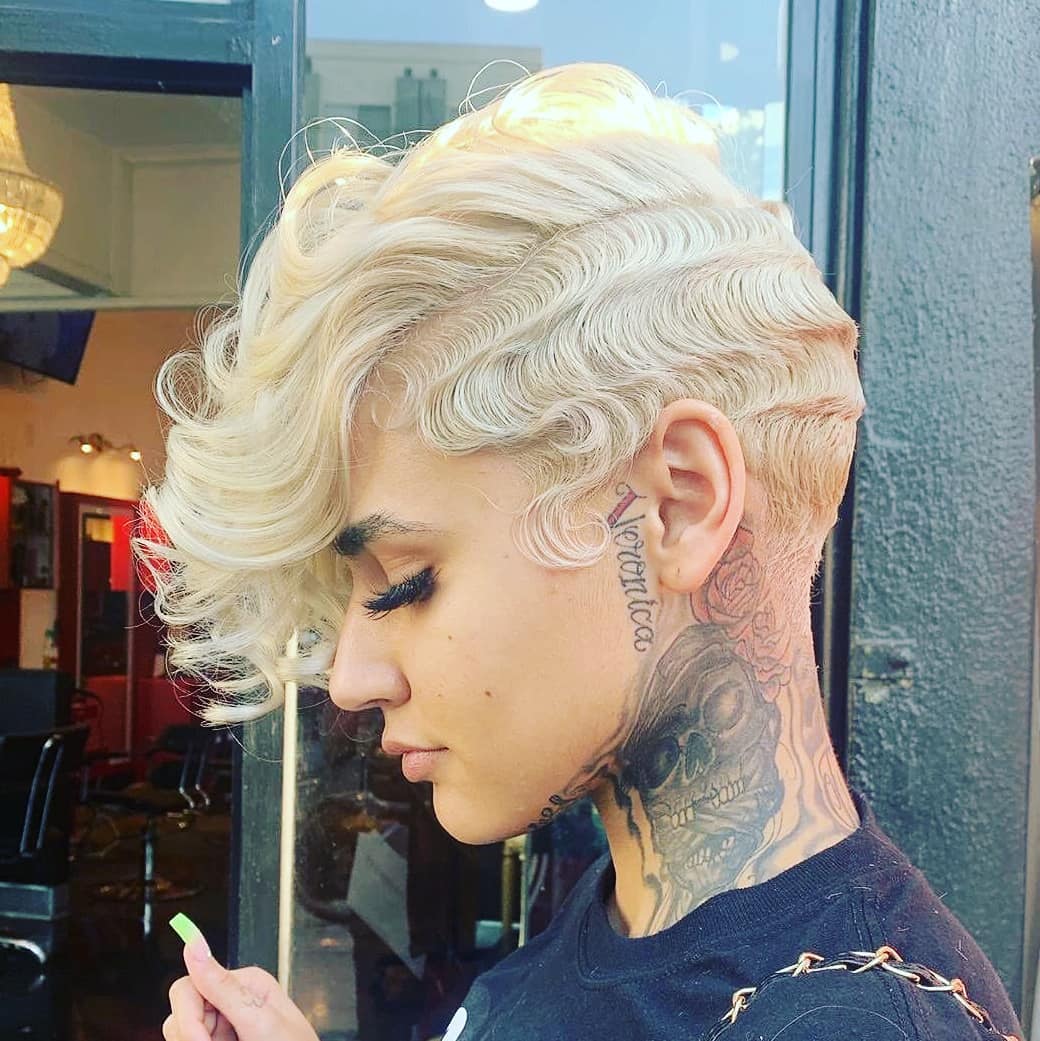 Are you a retro girl? If you're someone who enjoys cute and bold cuts give it a go with this one since it is so different. Make sure that you go for an undercut detail to make it even prettier.
Ready For A Gorgeous Change?
If you're ready for a new change and you want to experiment with new hairdos make sure that you give it a go with one of these 30 finger wave hairstyle options. Every girl will easily find something that suits her, just make sure you book a well-trusted hairstylist.