If you have a wedding coming up and your daughter seems like a good fit for a role of a flower girl – you're exactly where you need to be! You can ask any little girl to take on a role of a flower girl. As long as if she's willing to give it her all and if she's a positive ray of sunshine she will easily take on this role. Keep on reading and find some amazing and gorgeous hairstyle ideas that will suit most young girls, despite their age.
What Are Some Of The Most Common Flower Girl Hairstyle Ideas?
Flower girl hairstyles are a common theme and a common go-to style for a wedding. If you have someone who loves to do funky designs and you're a flower lover yourself just know that you will love this outcome. It will suit different age groups, and some of the most popular hairstyle options are:
Braids
Semi-formal buns
Loose waves
However, any style that you commit to and go for should have flower details of some sort. Make sure that you stick to some fancy updos and braids with natural or artificial flower details, they will look outstanding and feminine on any hair length!
1. Bright White Hair Piece For A Flower Girl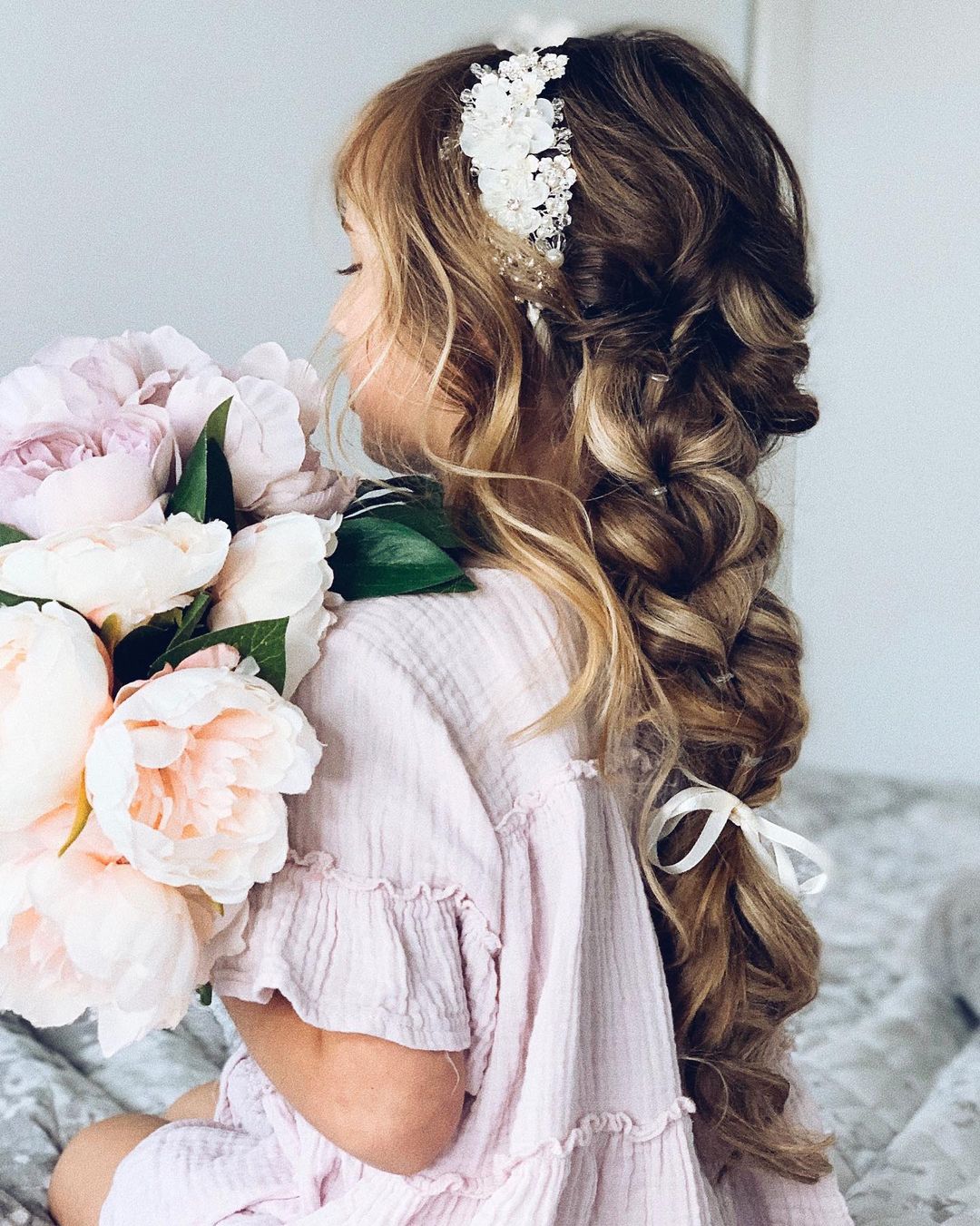 This little braid is cute and playful while being ideal for younger girls and for anyone who is around the age of five. Make sure that you seal these flowers and the braid itself in place with bobi pins and clips that will hold the flowers for the entire day.
2. Pink Flower Idea Braid Look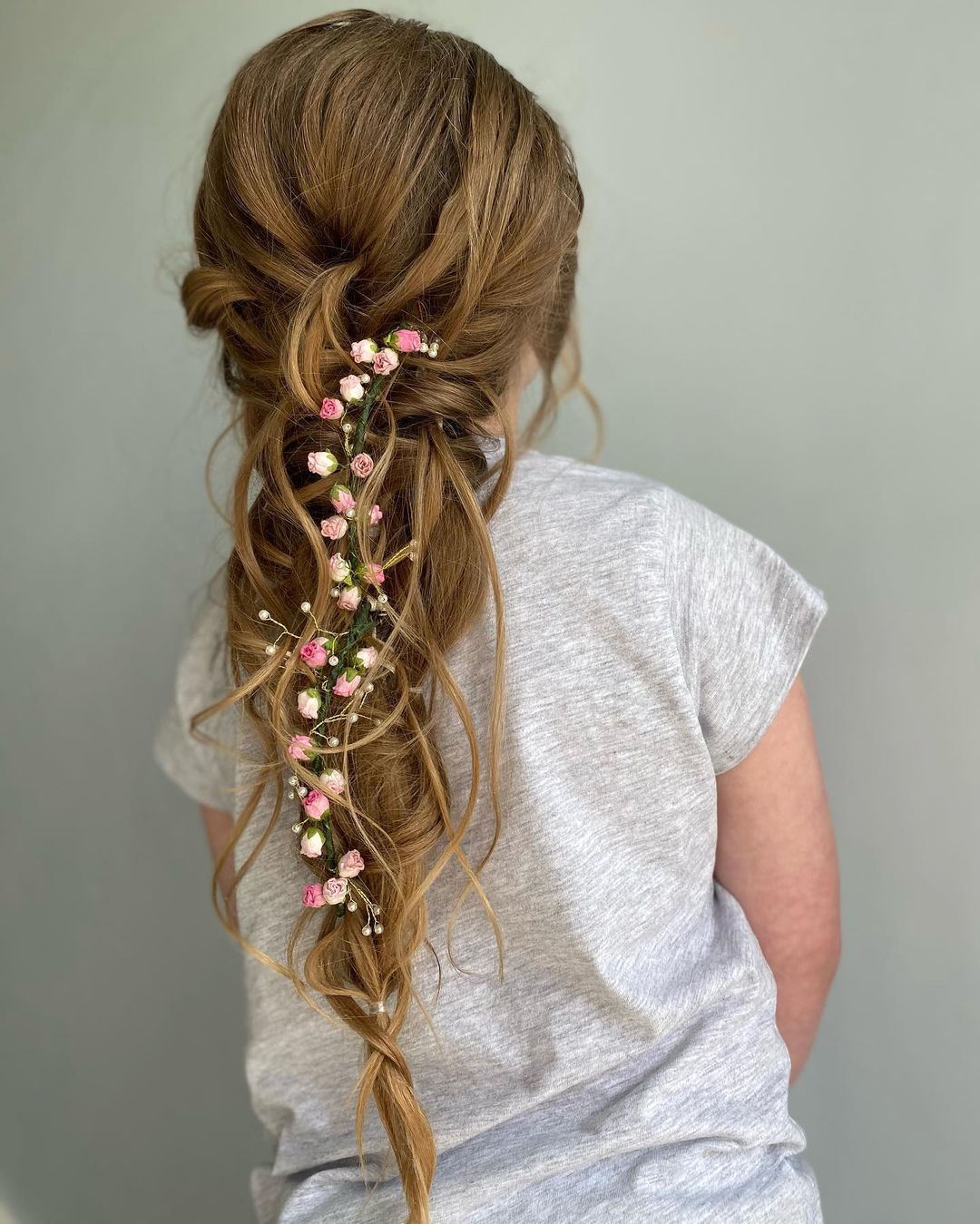 This long braid with loads of pink flowers and little details will look so cute and feminine on most girls. Make sure that you try out this hairstyle if your little one is planning on wearing a pink dress for the big day.
3. Short Hair With A Rose Detail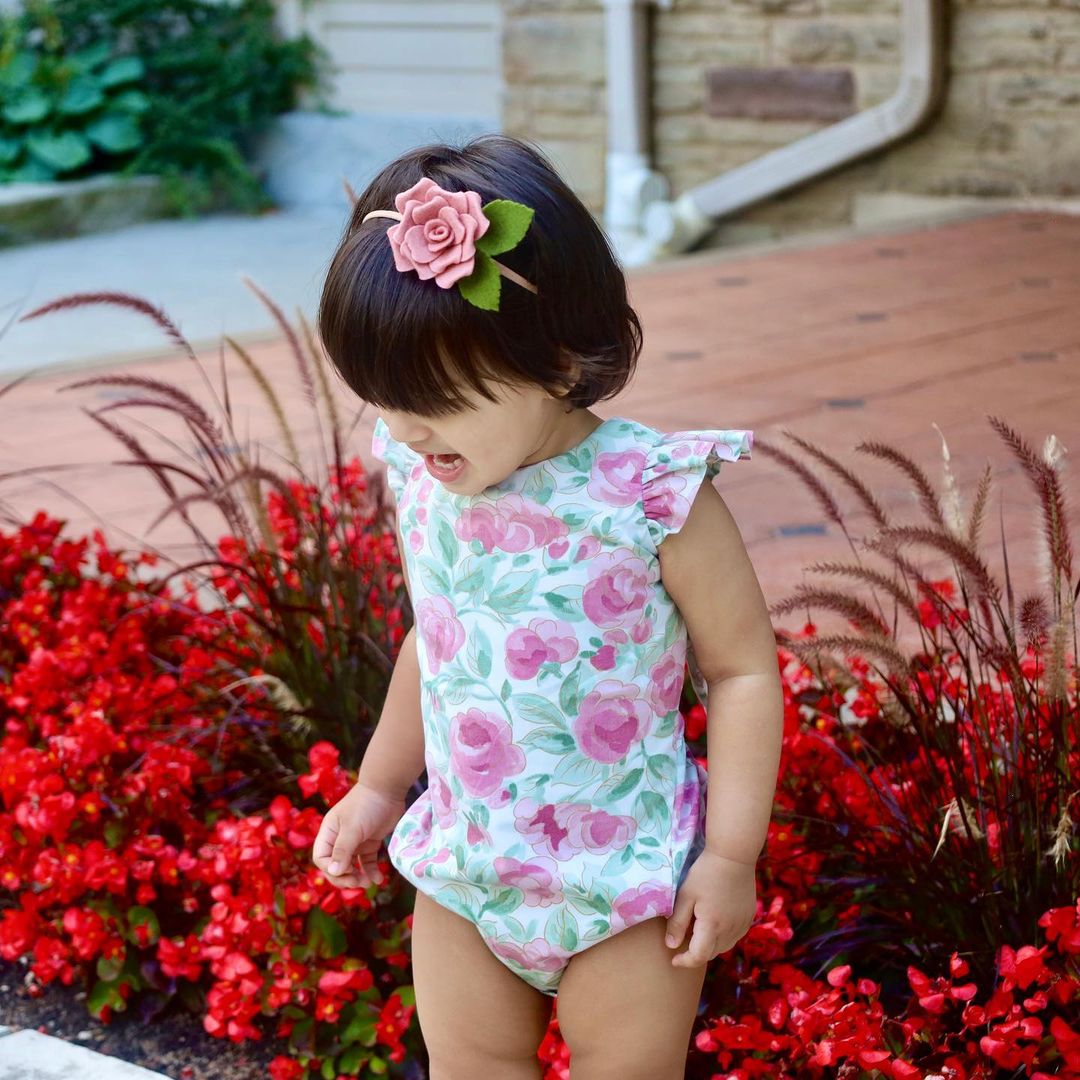 If your little girl is not a fan of longer hairdos and her hair often gets in her way, why not try out this shorter bob cut with bangs? Add a dramatic and large flower on top to make the look wedding-appropriate and girly.
4. Formal Bun With White Flowers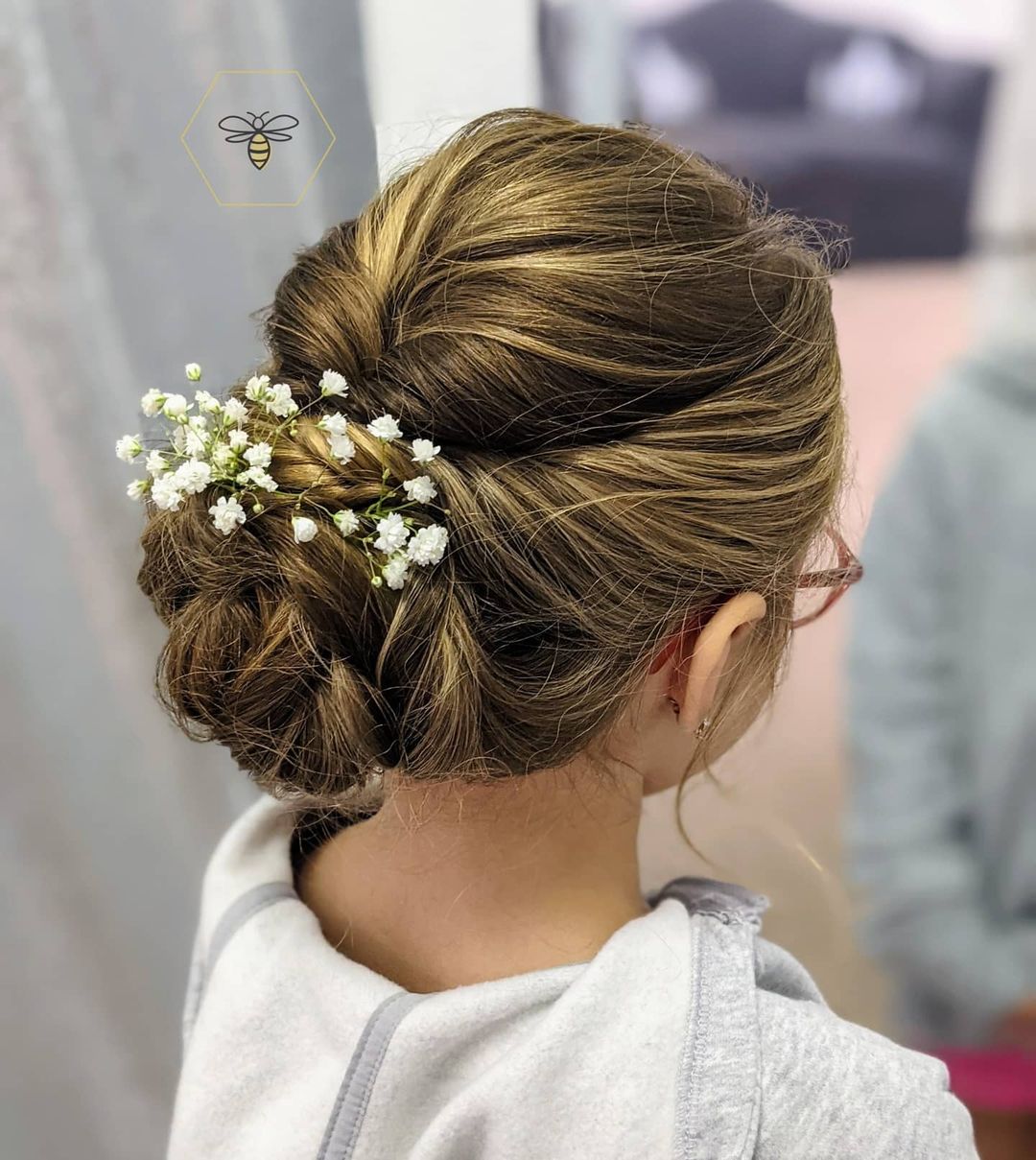 Some girls love it all! The attention fun, and flirty looks, wouldn't you agree? This bun hairdo is perfect for any upcoming summer wedding. Twist the bun in the back and add white flower details to round up the look.
5. Loose Waves Hairdo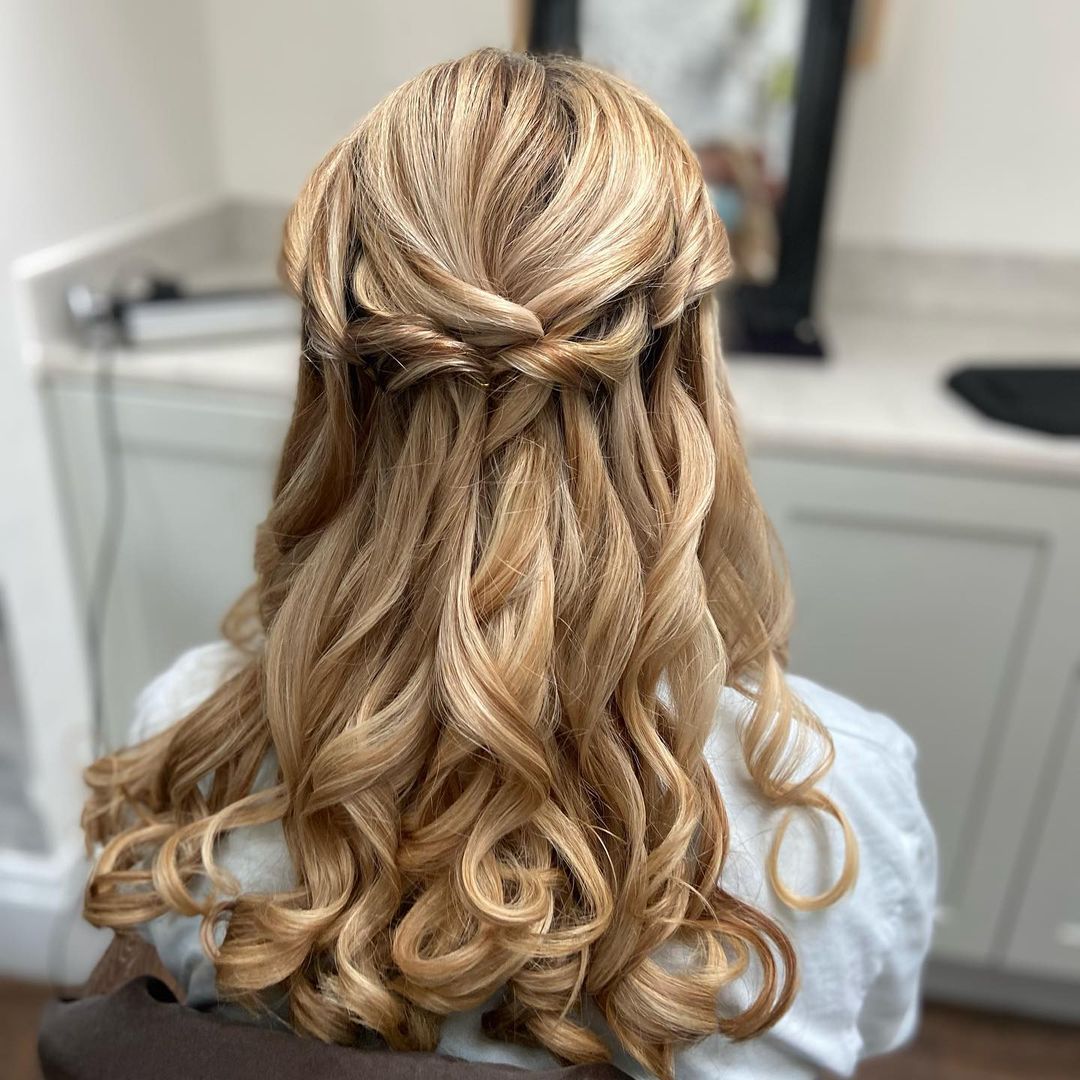 If your little one is a fan of longer hairstyles and waves, she is going to enjoy this transformation. Make sure that you show off this hairdo without any floral accessories. It is strong and feminine on its own.
6. Formal Blonde Hairbun Flower Girl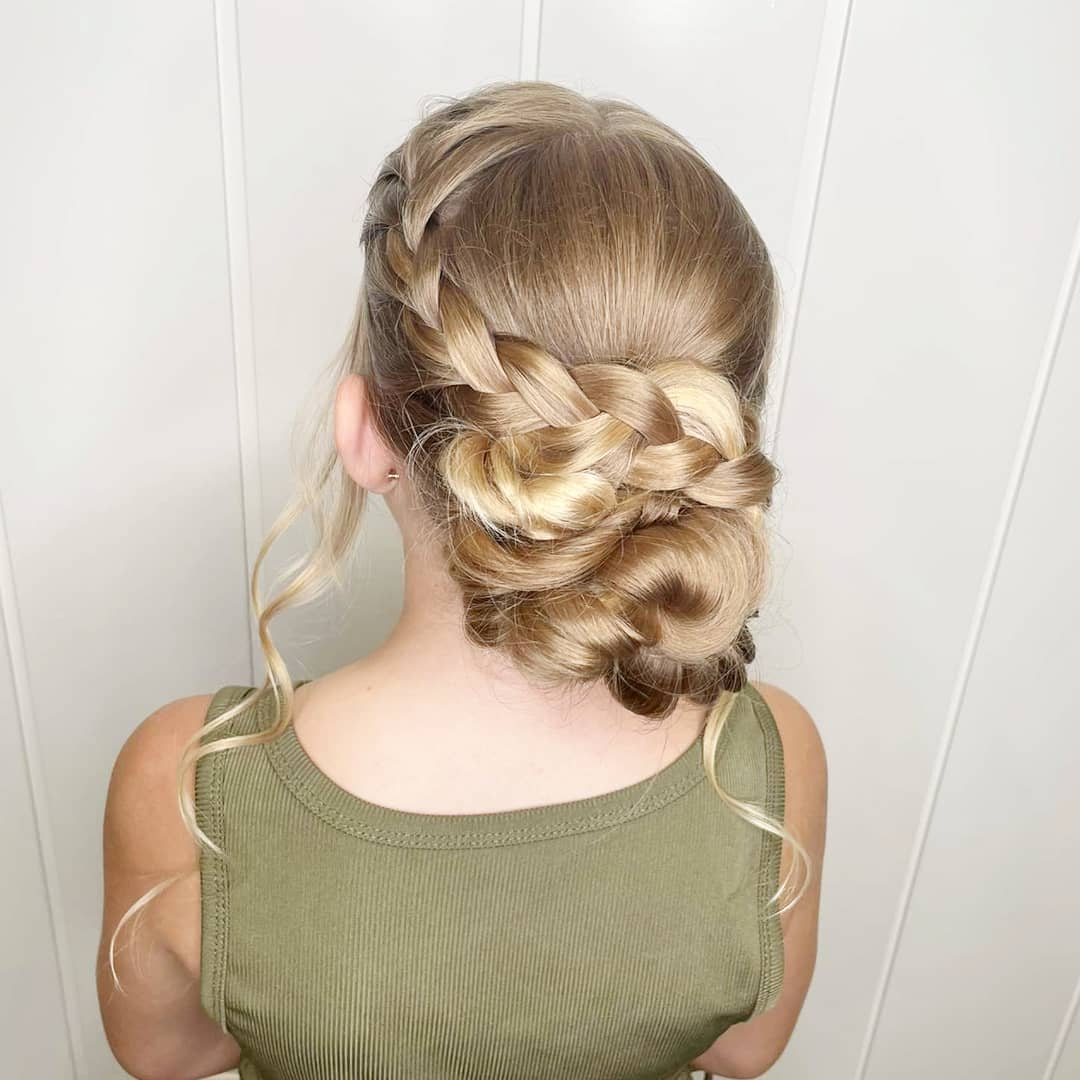 If you know of a hairstylist who knows how to do stylish bun looks, book them in advance and try out this gorgeous idea! Tie one long strand in a braid and let it look chic and playful for her flower girl duties.
7. Tight Braids Flower Girl Blue Detail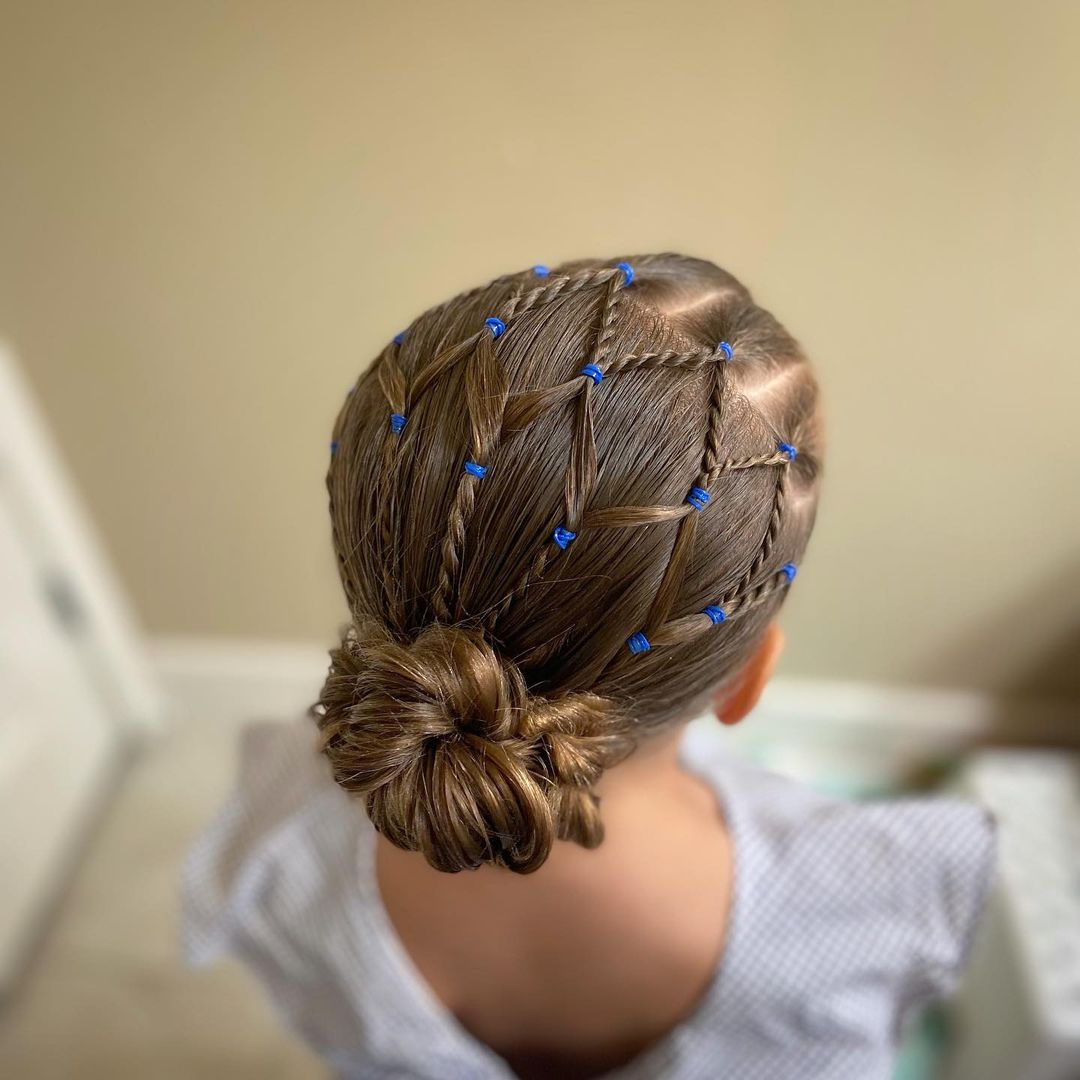 If your girl loves delicate braids and she is a fan of romantic looks just know that she's going to enjoy this one. Go for loads of little blue braids at the top section, especially if you plan on dressing her up in a blue dress.
8. Floral Crown Idea Design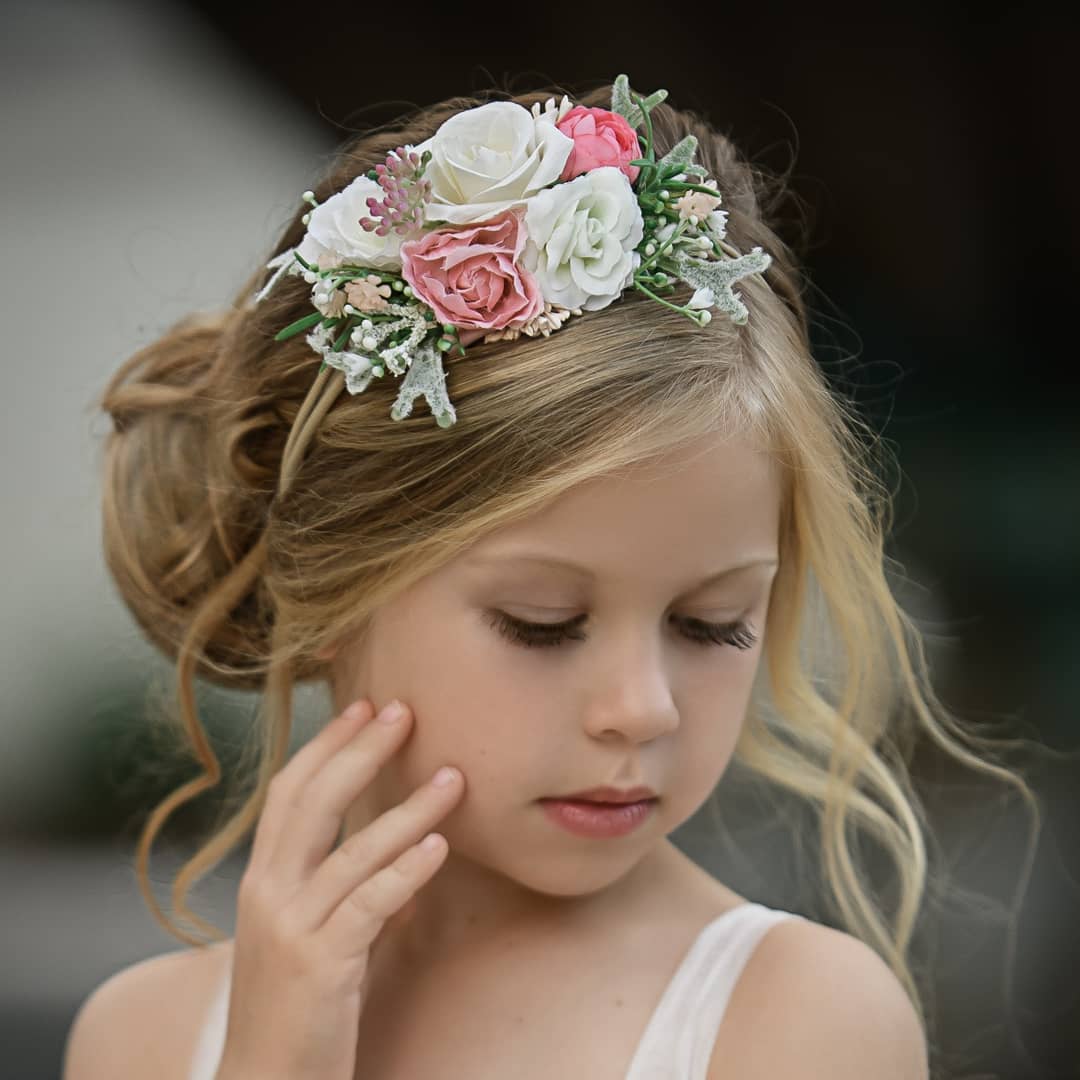 You can always opt for a cute crown detail that is made out of gorgeous and feminine flowers. If you prefer a low-key hairstyle yet something that is still extravagant in its own way, you're going to like this crown!
9. Neutral & Gorgeous Flower Girl Hairstyle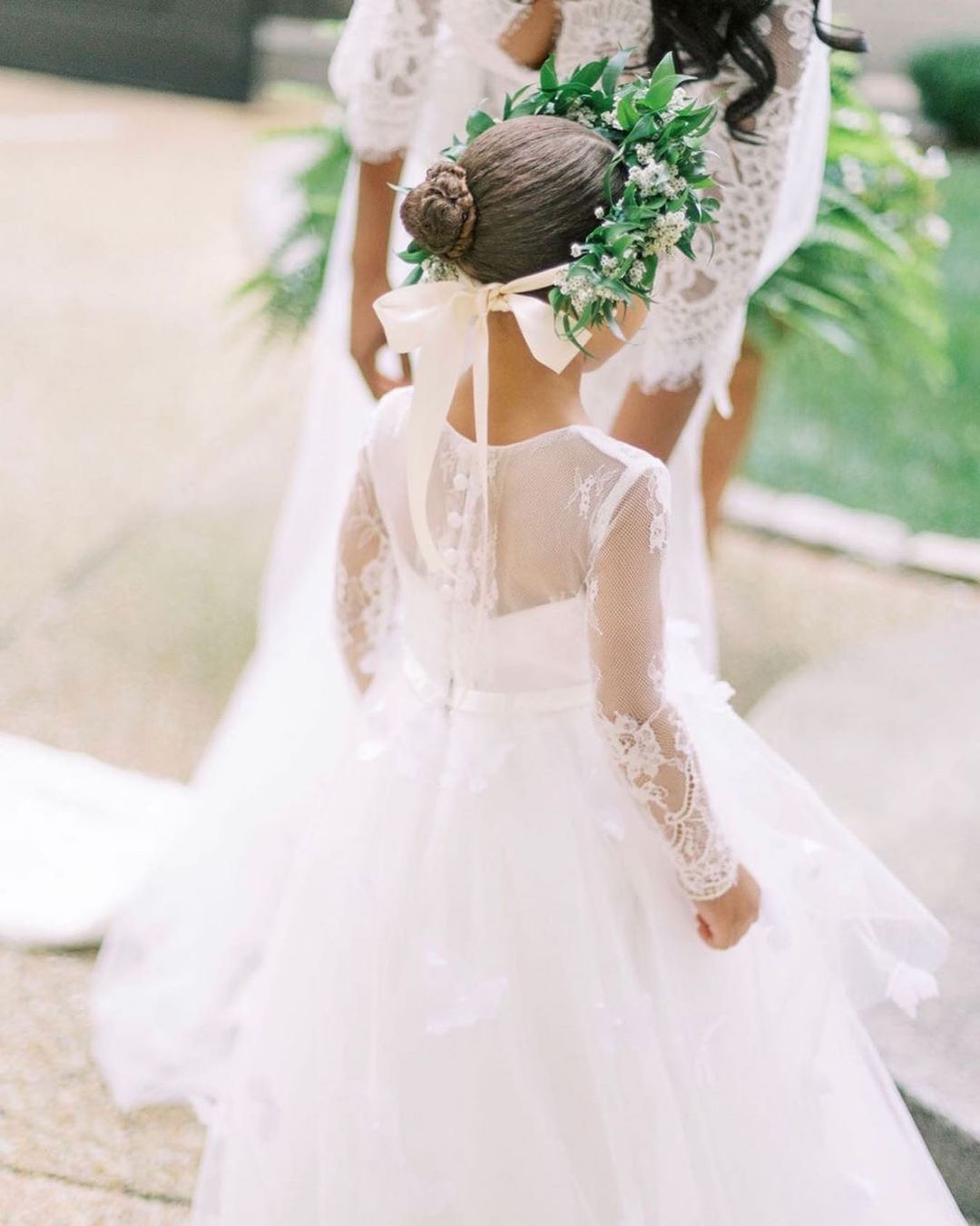 If your girl is not afraid of all the little details and she is also a fan of drama – this is the look for her. You can decorate her hairdo with some white and green flowers to further emphasize this earthy Spring-perfect look!
10. Long Braid With A Crown Detail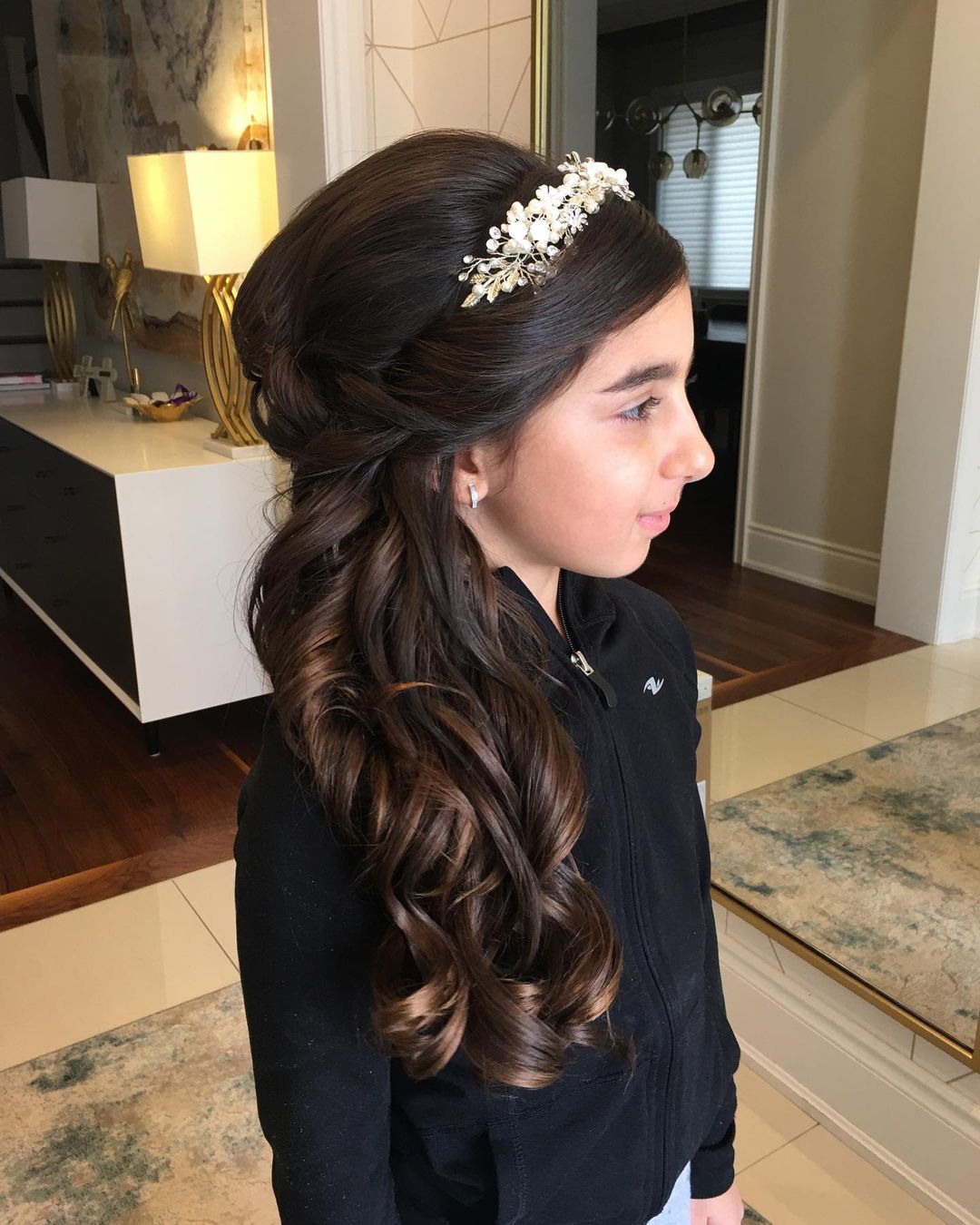 Dark brown hair and naturally healthy hair will look so good once paired along with a white accessory on top. Make her flower girl dream become a reality + let her feel like a princess with this detail.
11. Fishtail Braid For Flower Girls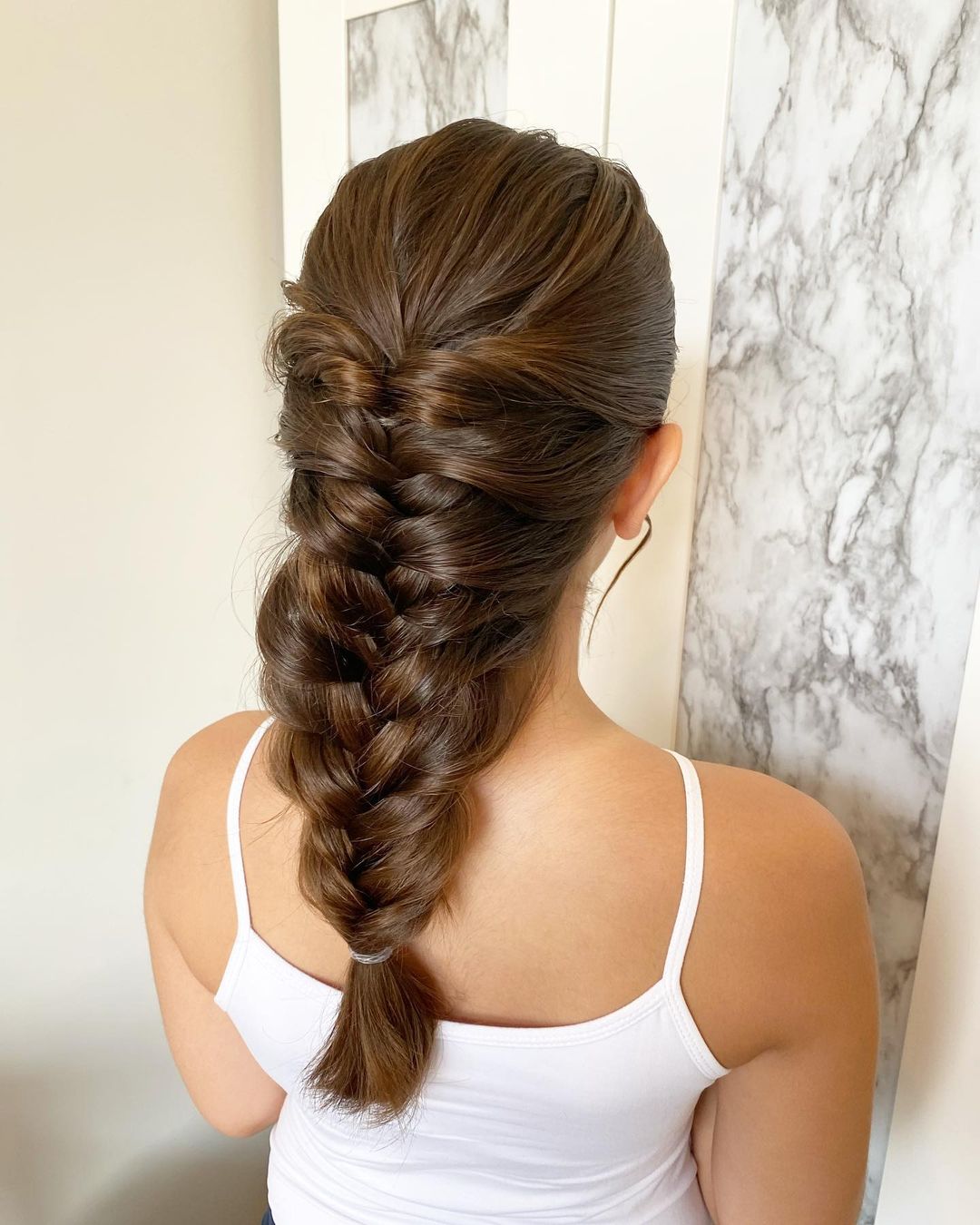 If your girl has naturally longer and healthier hair just know that she is going to love this look. Set it in place with some bobi pins and reconsider throwing in a flower detail. The look itself is bold and voluminous, no reason to spice it up furthermore!
12. Side Braid Look With Actual Flower Details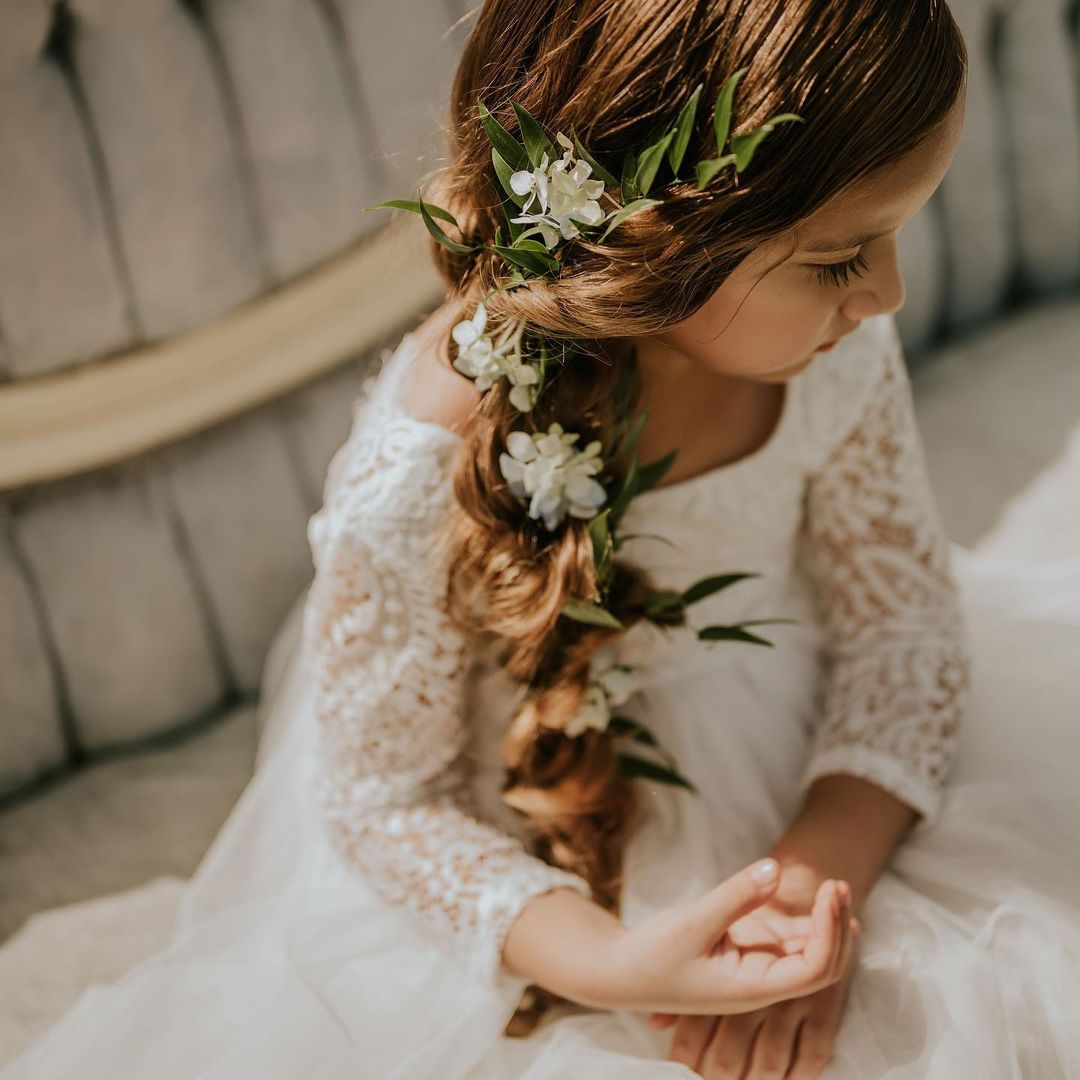 Let your little one wear her hair on the side and represent this side braid. If her hair is naturally thick and healthy she will easily pull off this look. Let a combo of green and white accessories make her look chic and flower girl perfect!
13. Loose & Retro Waves With Back Flowers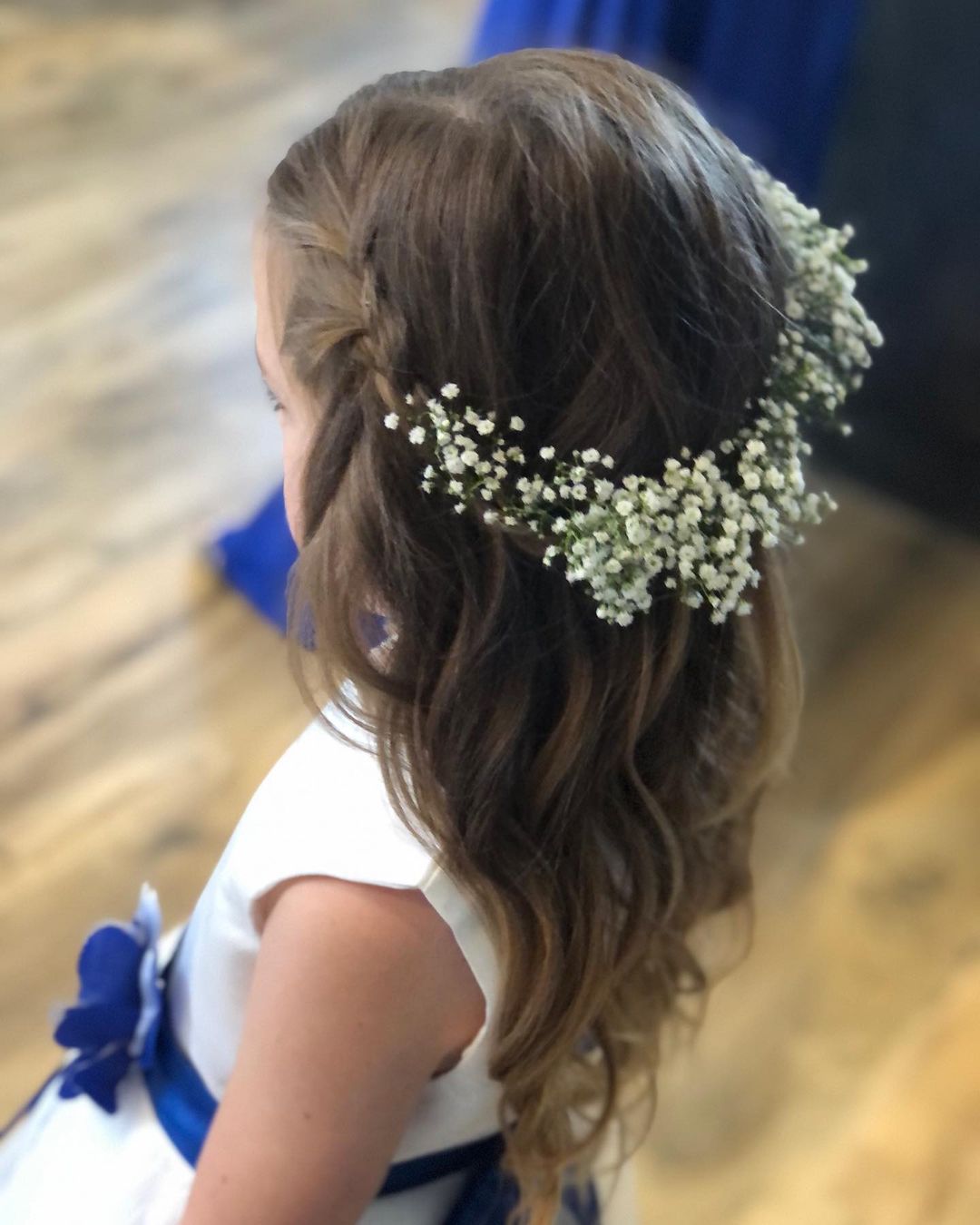 If your child loves to wear and show off her hair just know that you can make her look like a true princess by decorating her head with this crown detail! Stick to plain white flowers and make it cute without being too overpowering or dramatic.
14. Subtle Playful Braid Flower Girl Look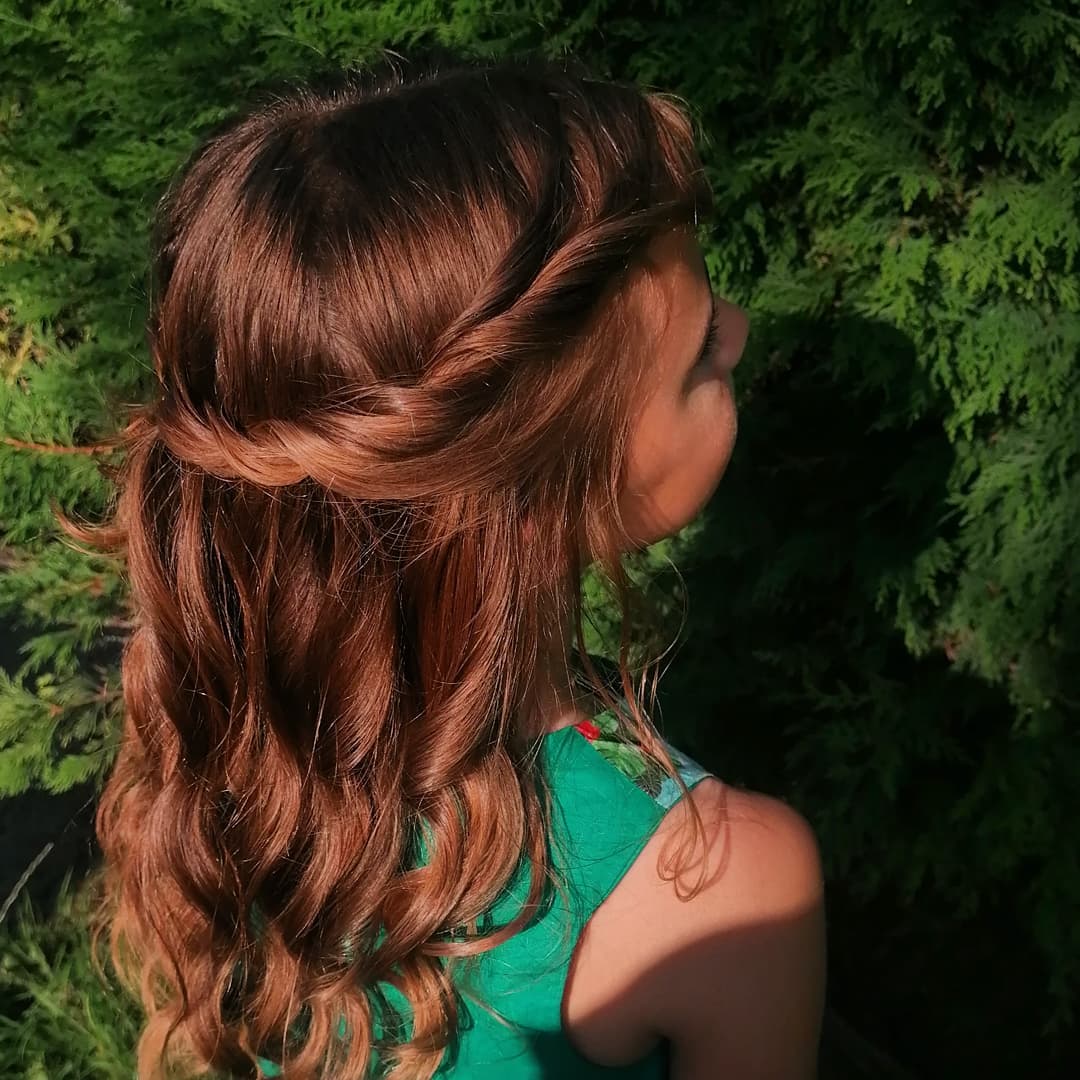 Loose retro waves and a bun detail on top of the head and around her back portion will look glamorous without being too dramatic. If your little one loves subtle details and hairstyle options make sure that you give it a go with this bun combo.
15. Space Buns With Braids Hairdo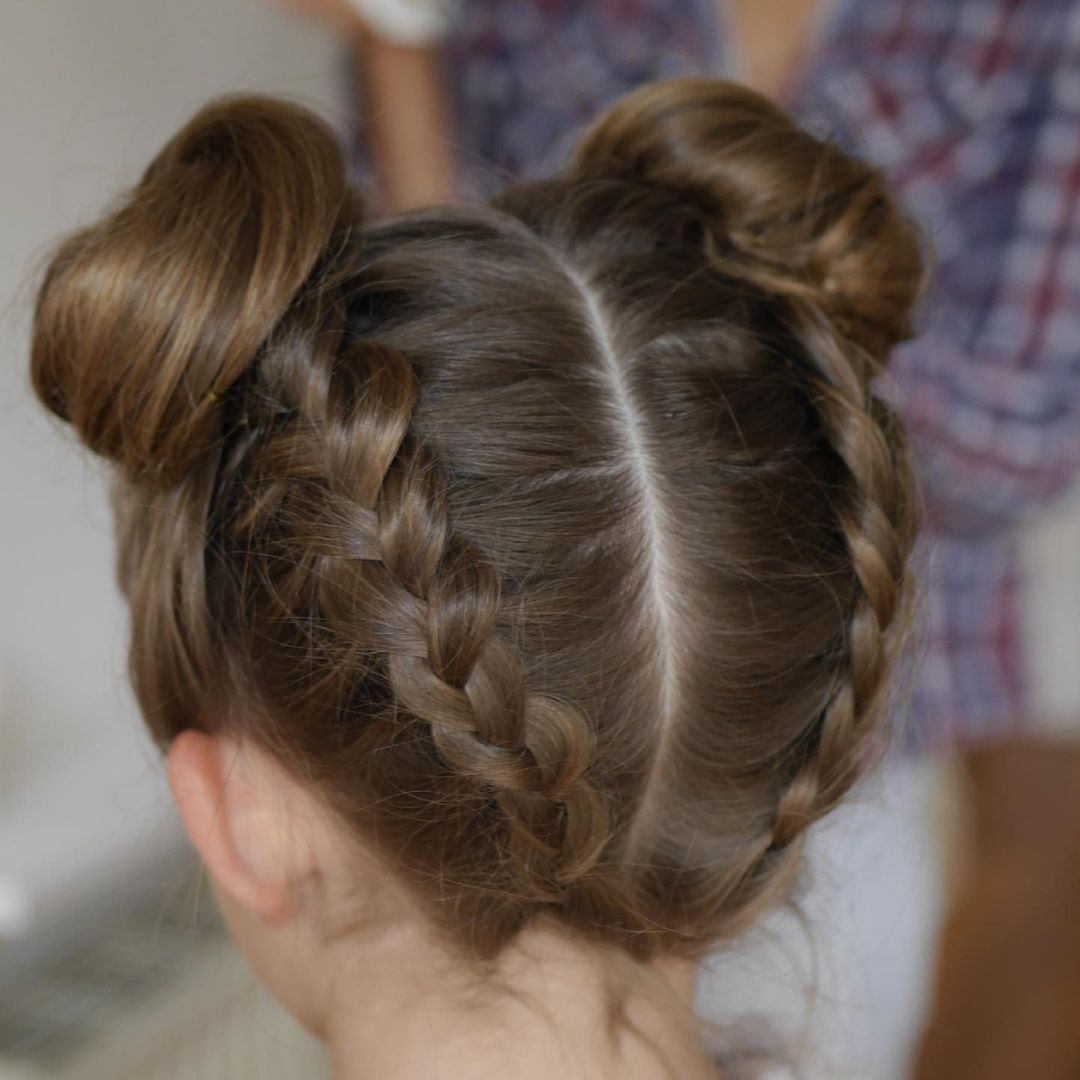 Two different kinds of braids in the back will look retro and artsy for girls who enjoy delicate ideas. If she is blender enough to have such gorgeous blonde hair you can make it work so well with this two-sided idea.
16. Loose & Retro Hair For Flower Girls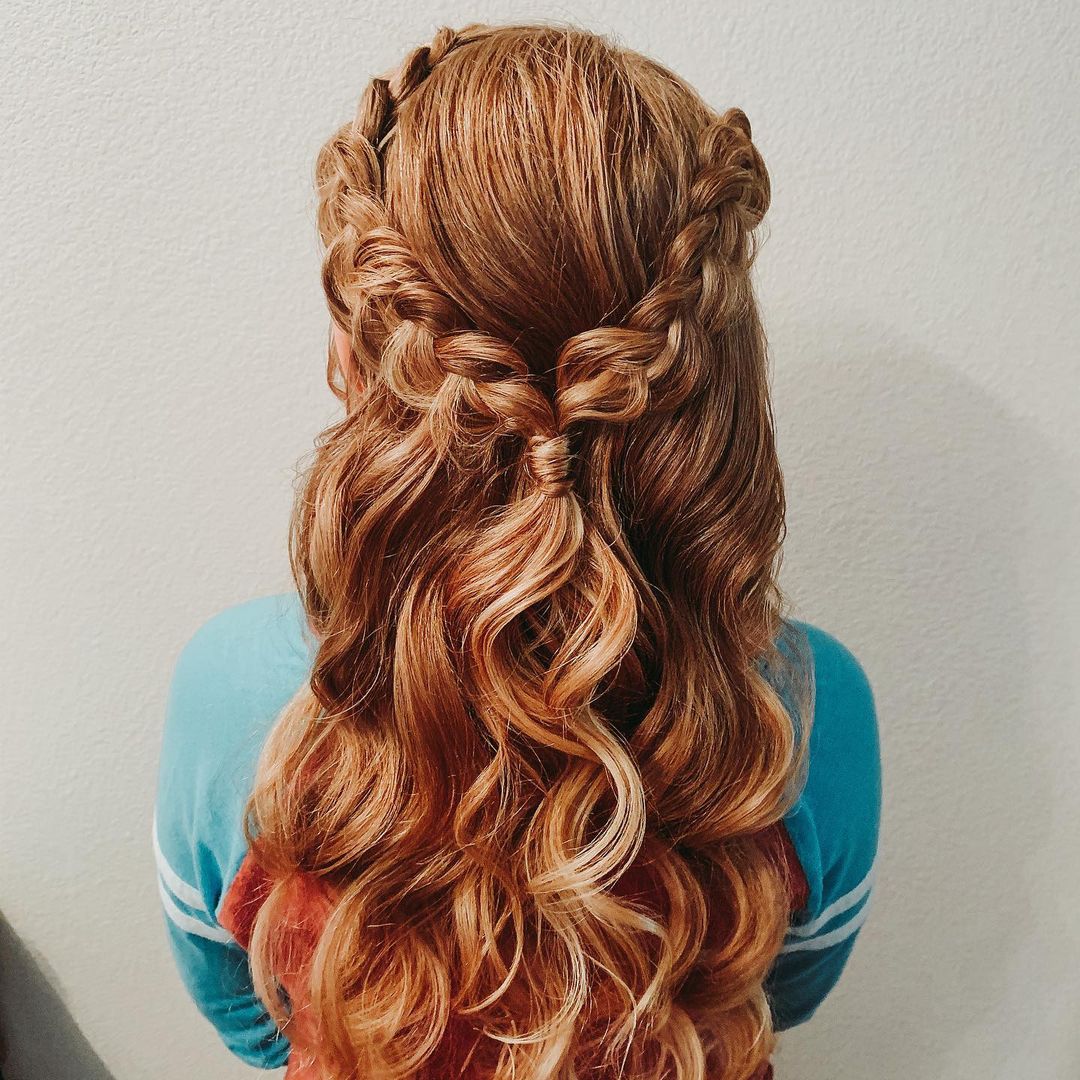 Back braid and these loose waves will look cute. Ginger-colored women can also easily recreate and copy this look. If you're a fan of long hair that doesn't have a lot of accessories or details, this is your go-to flower girl look!
17. Tight Pigtail Hair With Bow Details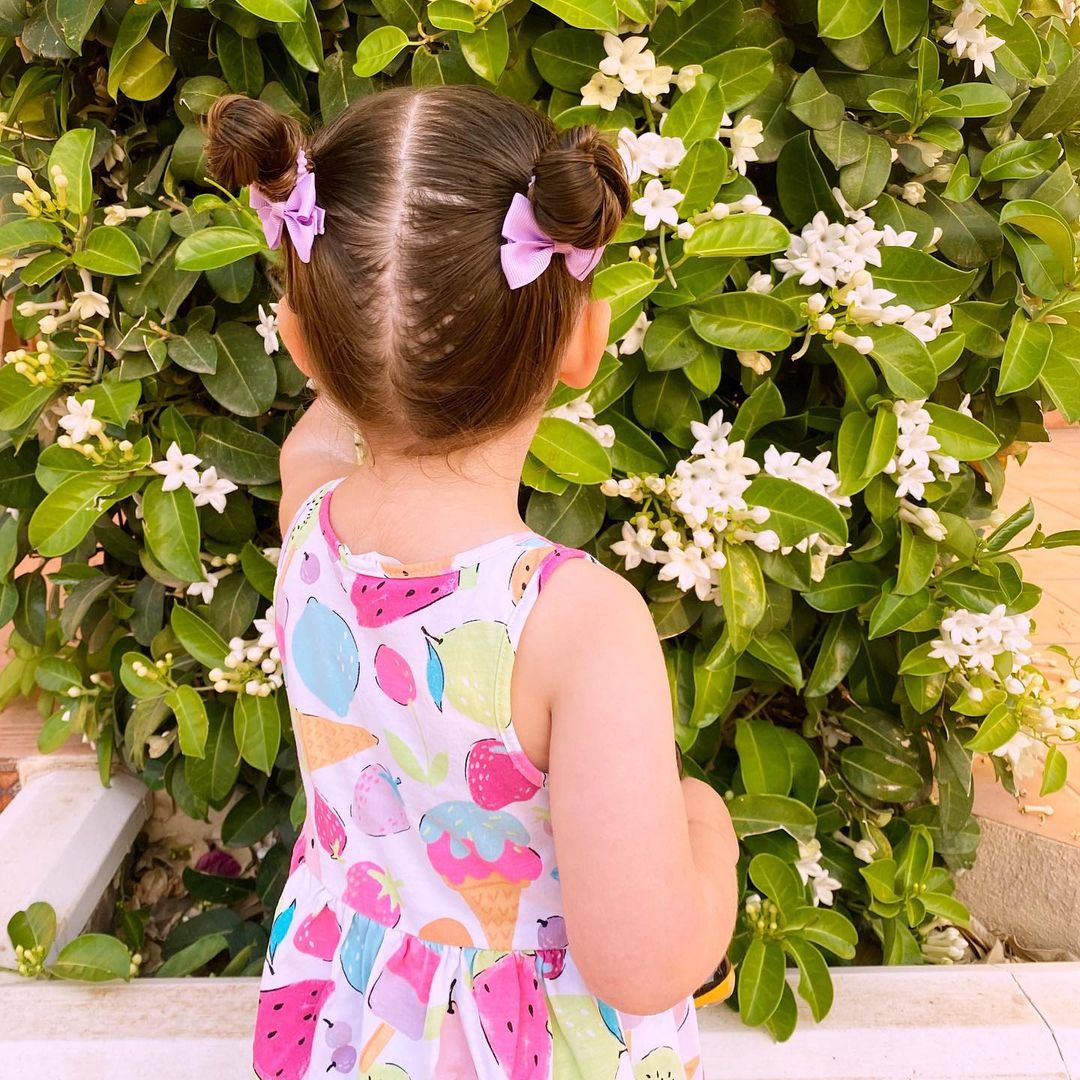 These back twisted piggy buns are so cute and are perfect for younger girls. If your little angel has shorter hair you can give her this bun look and decorate it with some simple bow details.
18. Curly Hair For Flower Girls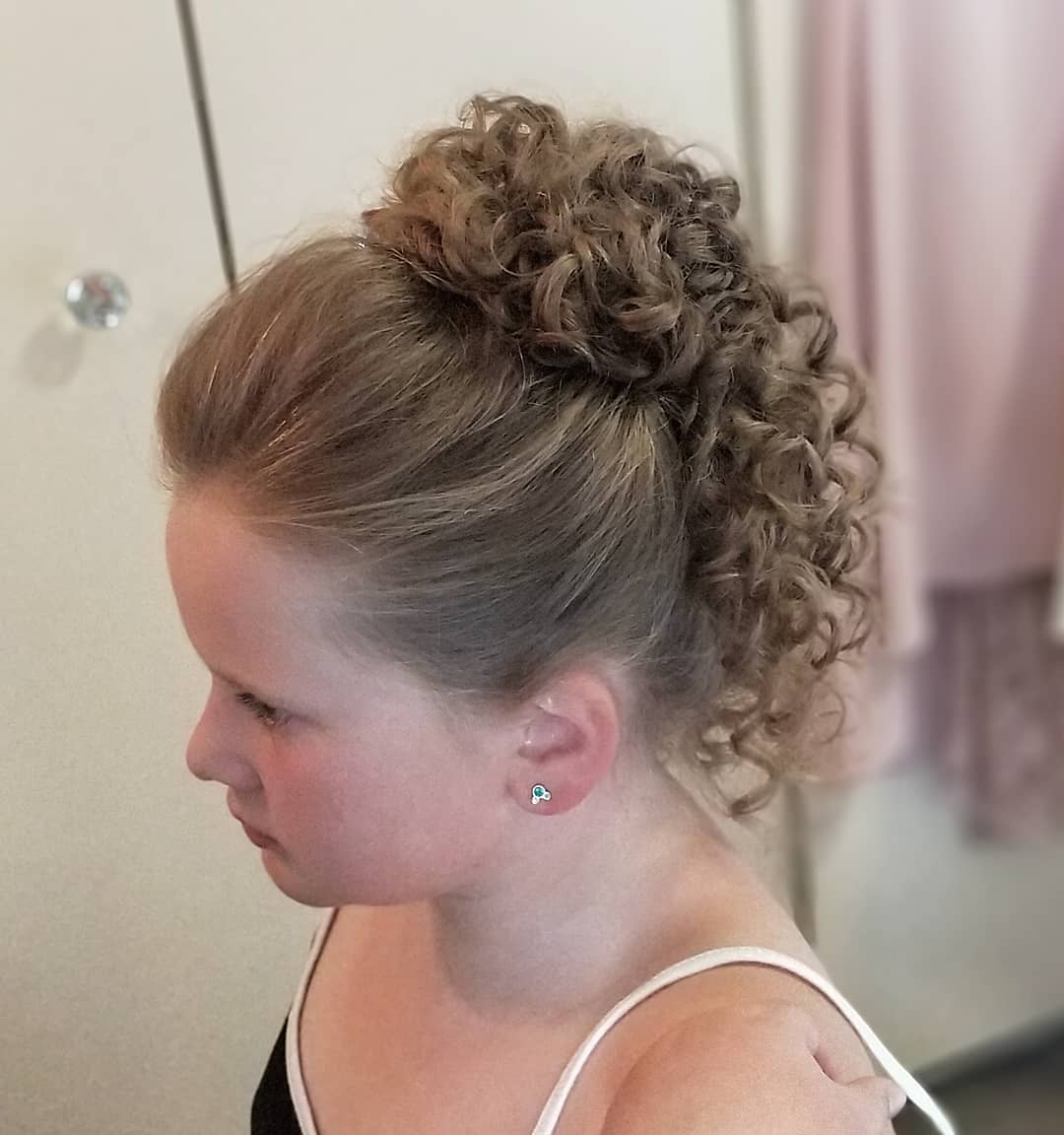 This mohawk look with retro curls and loose waves is for girls who are not too girly or girls who don't care about that pink-girly vibe. Make sure that you add a significant amount of hairspray to set it in place for the entire day.
19. Dutch Braid For Flower Girls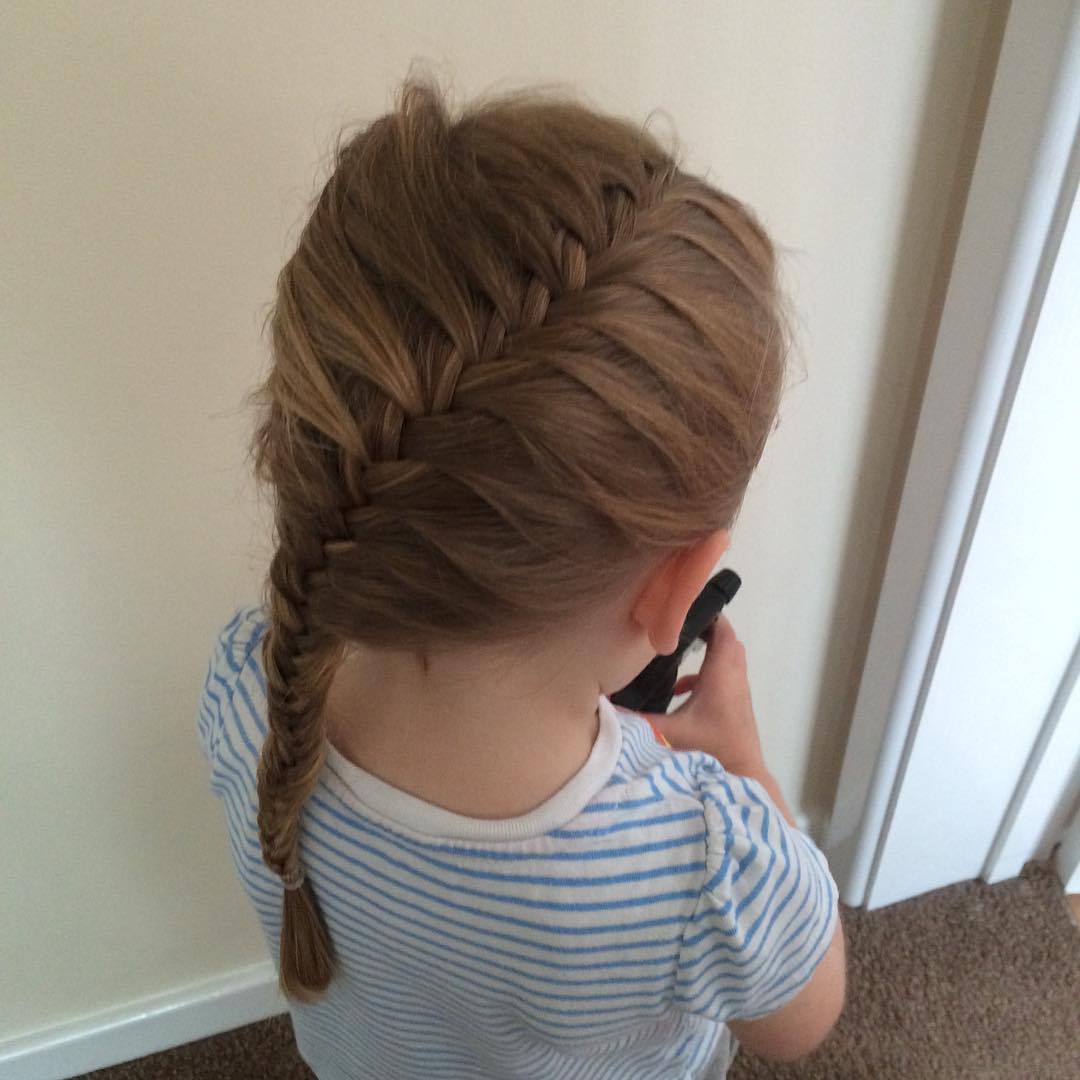 This long fishtail braid is a cute design for women or girls who love popular hairdo options. Fishtail braids are perfect for weddings and for your role as a flower girl, wouldn't you agree?
20. Cute Updo With Flowers For Flower Girls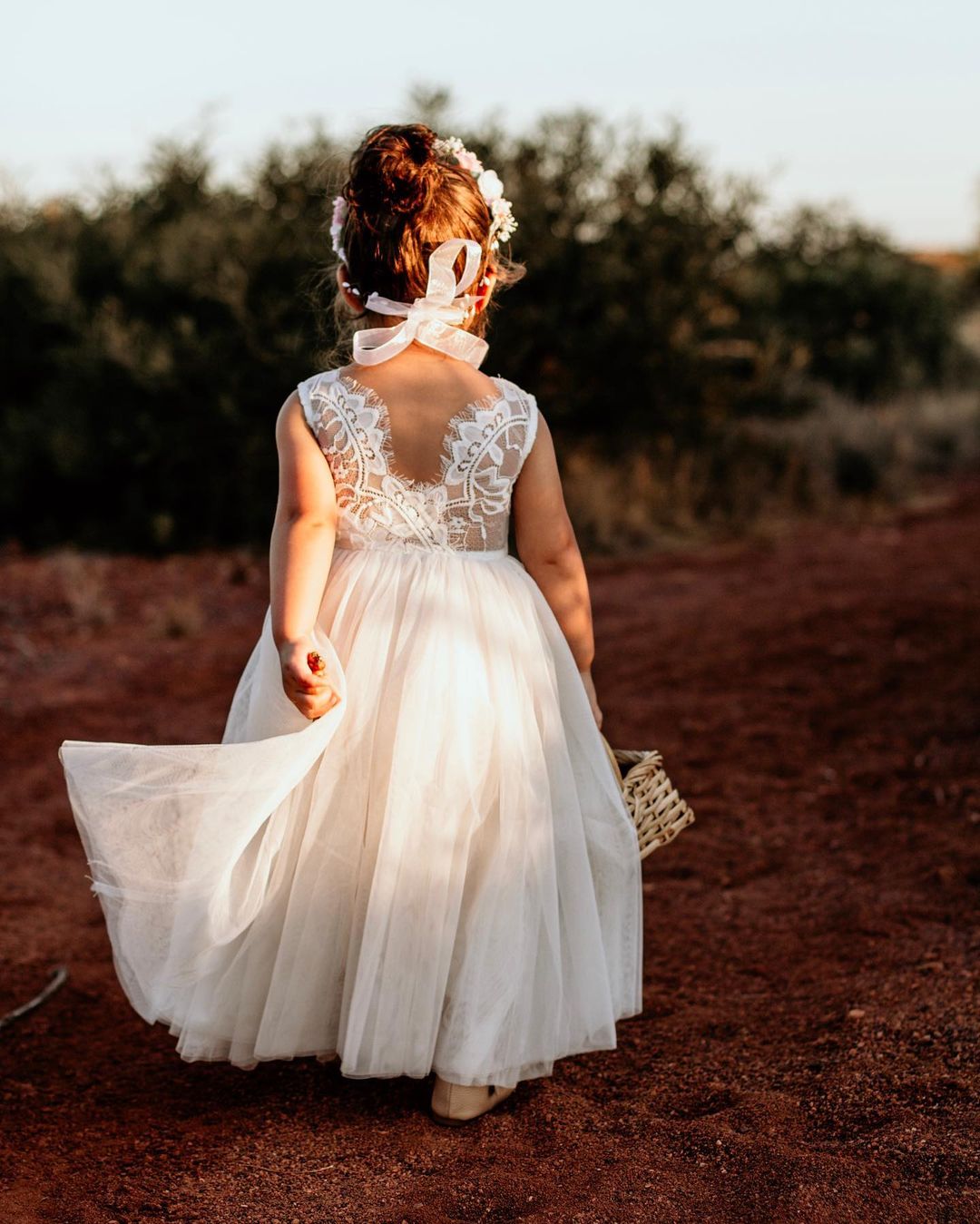 This gorgeous bun with some white bow details is cute and not too flashy. If you want to put your girl in a white dress consider this duo and this white accessory on top to make it look cohesive.
21. Loose Hair With A Clip Detail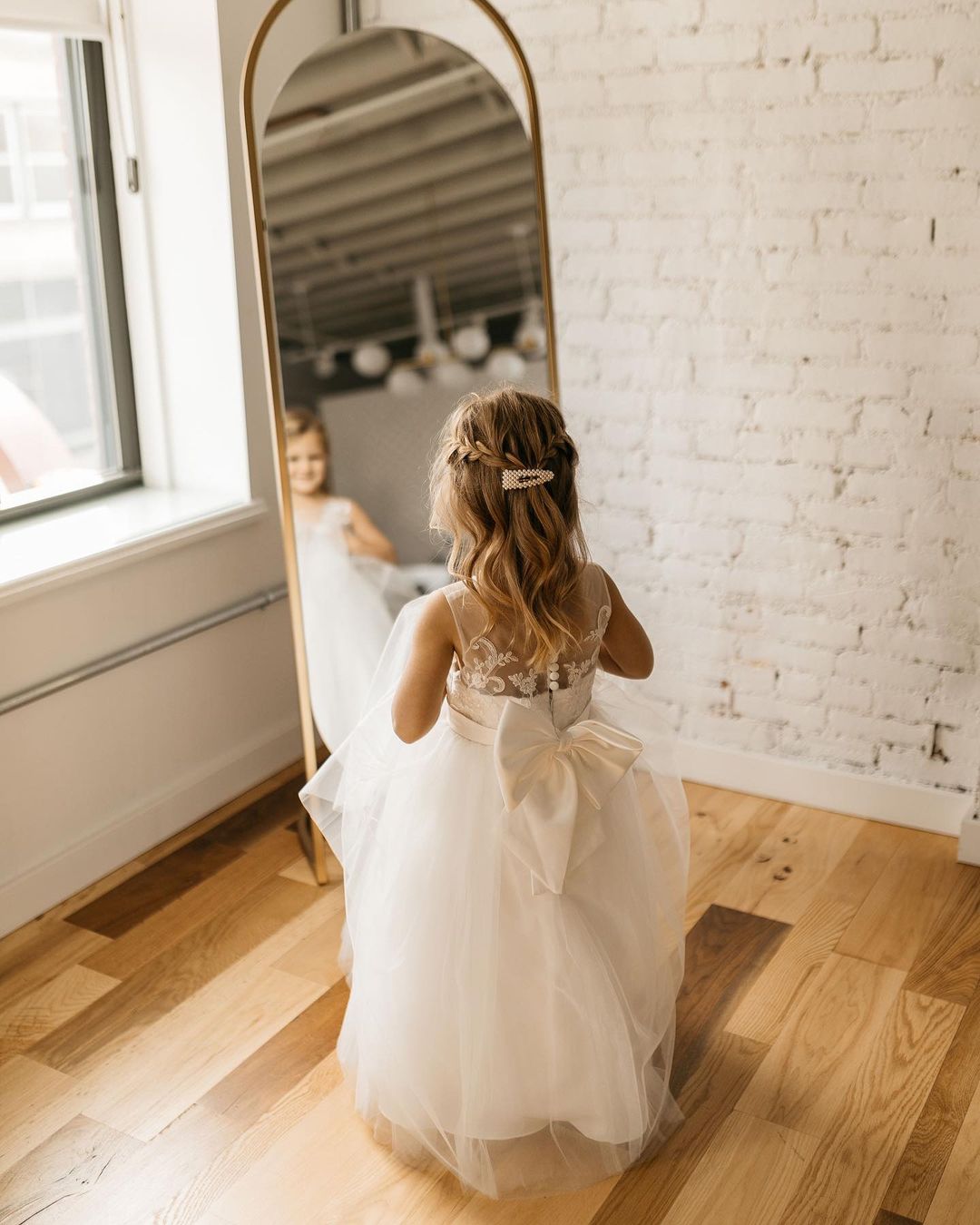 Go for loose waves and set your hair in the back with a large and cute clip detail. This look works so well if you plan on dressing her up in a white or light pink dress, perfect for her role of a flower girl!
22. Retro Yellow Flowers Crown Detail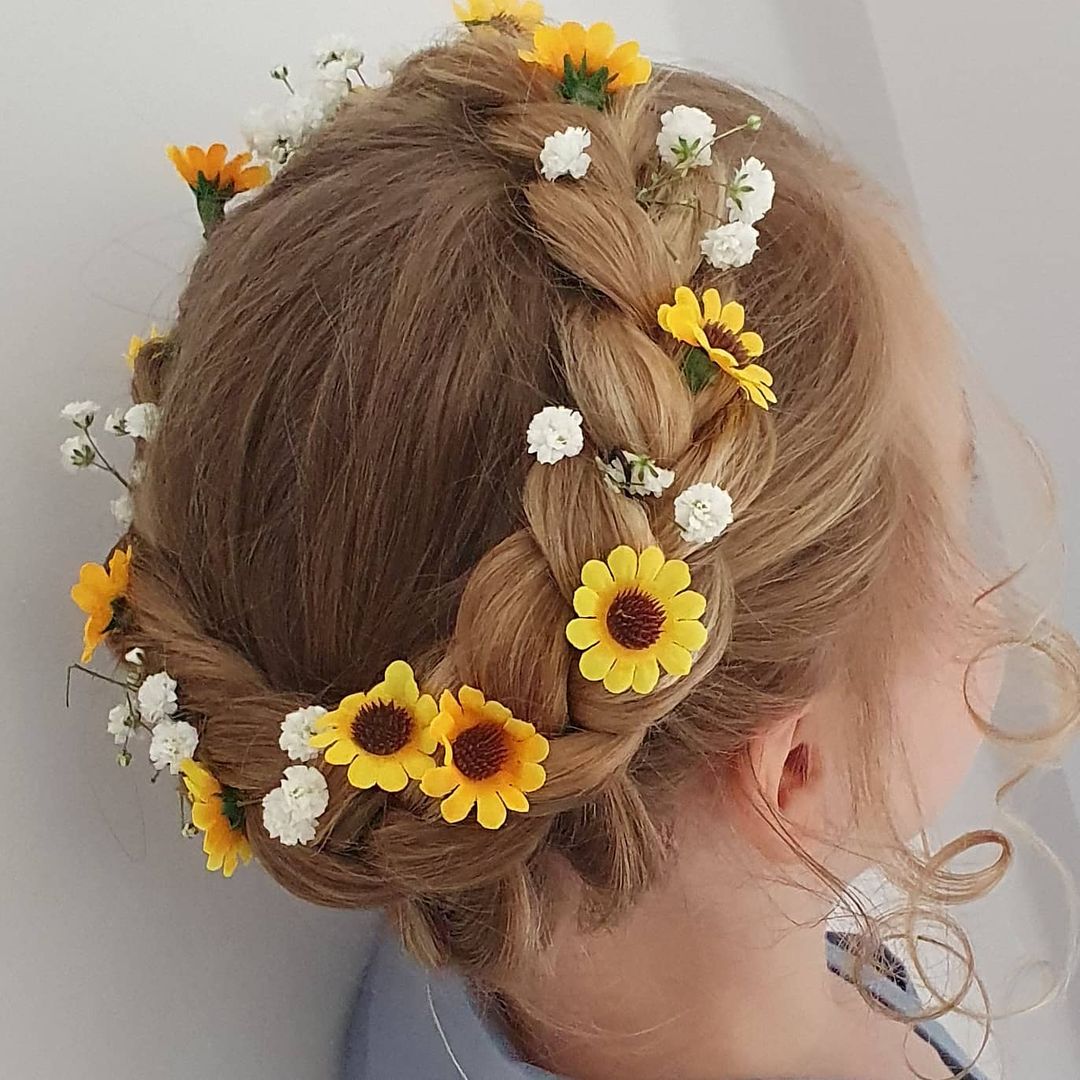 If you have a wedding going on in the summer make sure that you consider this hairdo. It is perfect for the summer season due to its pop of yellow color. Every girl can easily rock this design, just decorate her crown with some actual sunflowers and white daisies to make it work.
23. Blue Flowers Loose Curls Look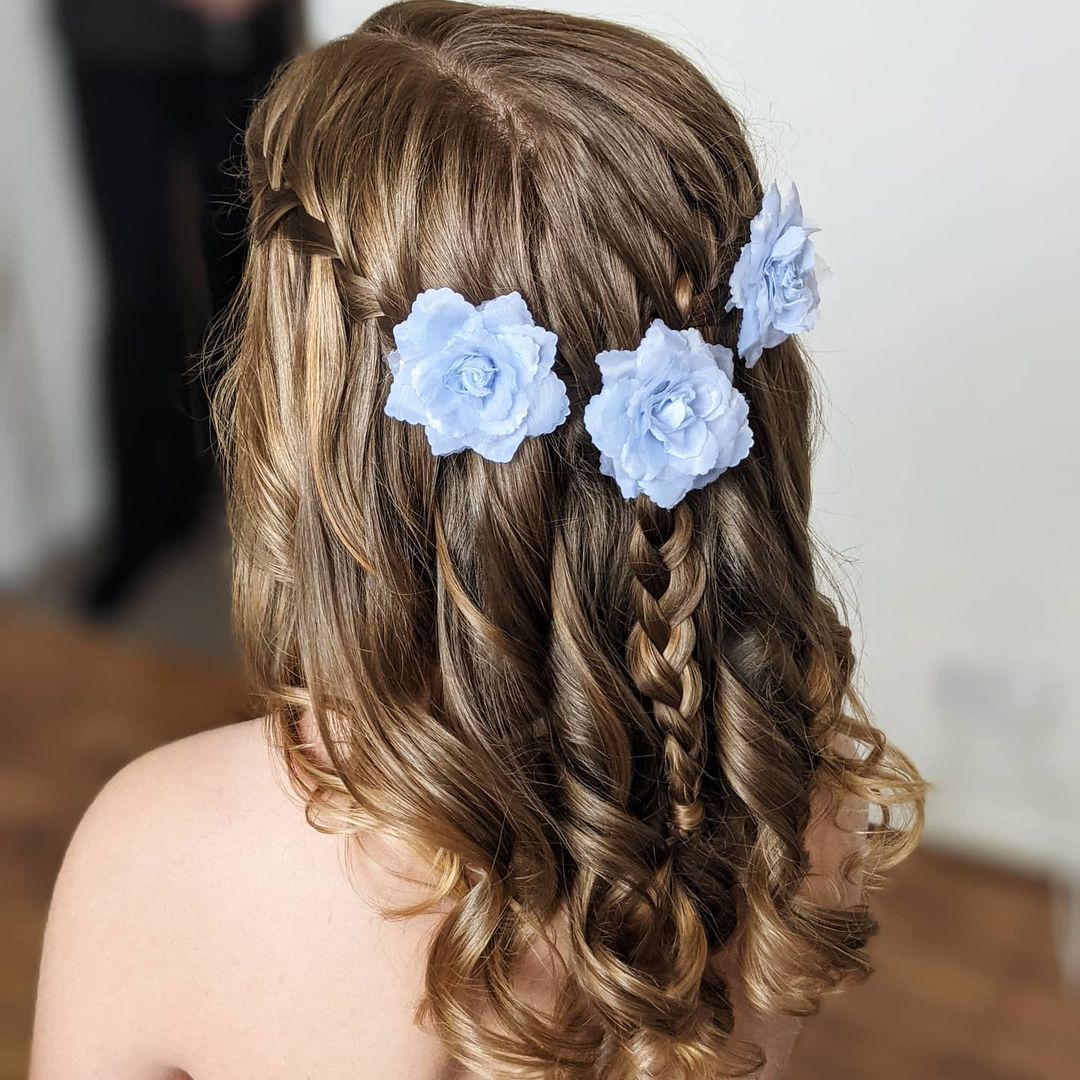 Long hair is naturally gorgeous and voluminous. You can make it look feminine by placing three simple white flowers in the back to look even more playful and perfect for the wedding season.
24. Tight Braids With White Flowers Hairdo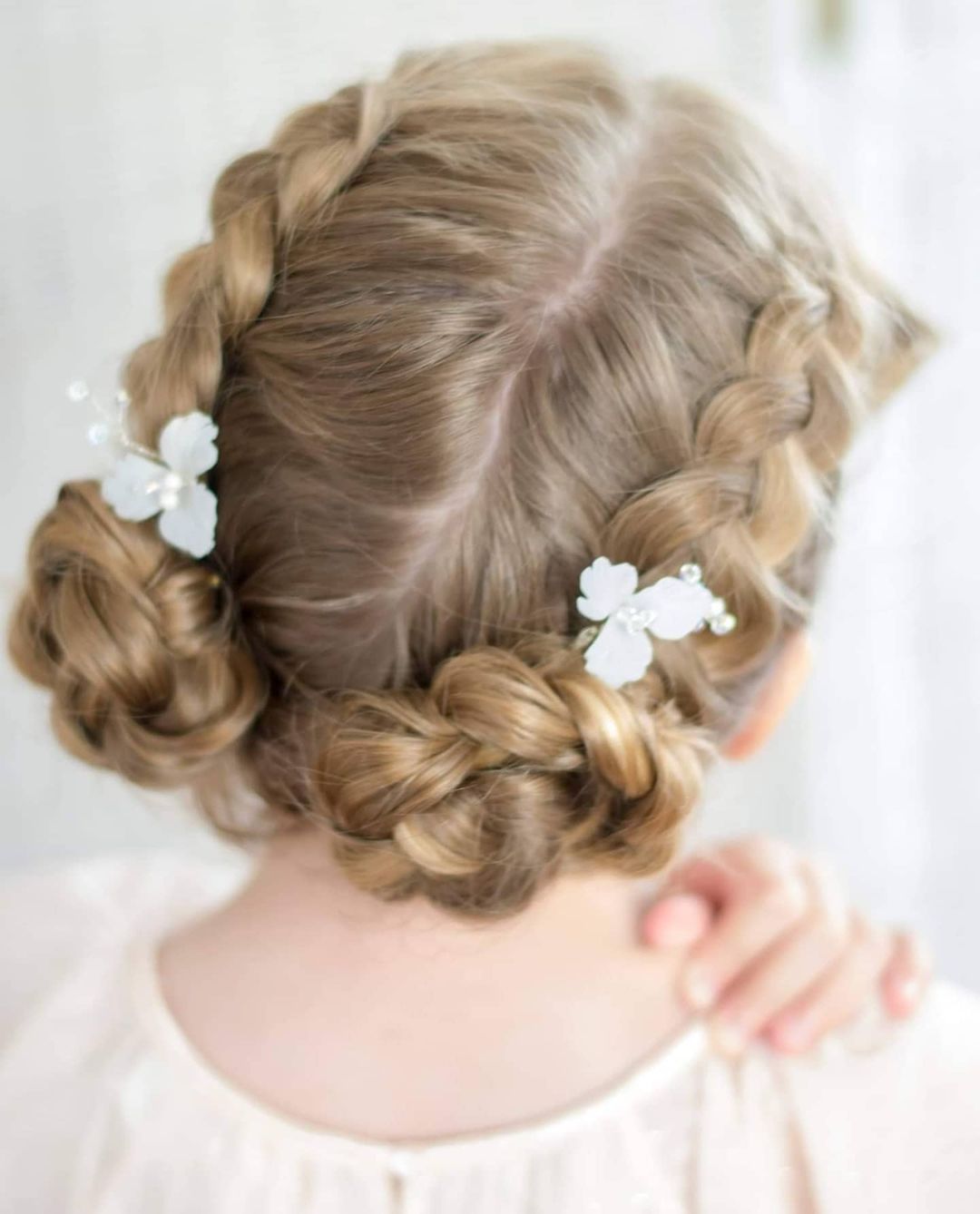 Lastly, how about this braid duo that ties in the back?! If you're a fan of gorgeous braids and something a bit more complex – ask your hairstylist to give it a go with this design. Add two giant flowers to make the hair girly and stylish.
Ready To Style Your Girl?
So, which one hairdo with floral details was your favorite? Do you think that your little girl will proudly rock our recommended and suggested options? Let us know which one was your favorite and which hairstyle was her favorite, we would love to know!