Are you looking for that perfect new hair color that will transform your face? Thinking about giving it a bit of life while also taking a couple of years off your face? Read through this article, and discover your next go-to hair color that matches your skin tone & age!
What colors to go for?
Red – every girl will look gorgeous once she adds a bit of warmth to her face. You can stick with some highlights and give your face bounce, color, as well as fierceness.
Blonde – do not go for any blonde, but stick to the one that matches your skin tone & complexion. For some, this can be an ashy blonde, while others will know how to rock platinum white in a cute bob cut!
Brunette – lighten up your dark roots with the right brown color and see how it takes off 10 years! The best part about brown hair is that it will always look healthy and like your natural color.
Highlights – you can easily frame your face and dictate the look however suits you. Ombre, sombre, as well as some babylights, will give you that glow & warmth that is effortless yet youthful.
[powerkit_toc title="Table of Contents" depth="2″ min_count="4″ min_characters="1000″ btn_hide="false"]
1. Light Blonde & Yellow Highlights

The perfect icy blonde with some yellow highlights that will add warmth to your face. Perfect for moms who wish to rock a low-maintenance & effortless hairdo.
2. Shaggy Shoulder Length Light Blonde

This light blonde can be achieved in two tries & touch-ups. The color will suit those who have a pink undertone the best.
3. Layered Bob Light Blonde

Women who love to rock layered cuts and a warm-toned blonde will appreciate this hair combo.
4. Honey Blonde Wavy

Longer naturally blonde hair will look amazing with a hue of light sand-colored highlights. You don't have to color your roots either to make it work.
5. Shoulder Length Light Blonde

Light blonde hair such as this one will require maintenance, but it is a gorgeous go-to for women who have a light complexion.
1. Light Orange Long Hairstyle

Light orange with touch of pink is stunning and will make you look like you're in your 20s in only a few hours!
2. Dramatic Auburn Hair

Auburn base with some balayage orange highlights is sexy & low-maintenance while enhancing your natural beauty.
3. Hot Orange Long Hairstyle

If you are a natural ginger you can make a slight change to your hair yet experience phenomenal results. Add some light baby lights and enjoy its shine!
4. Dark Red With Orange Highlights

Dark red base and auburn colors can look youthful with the right technique. Add some highlights to the inner portion of your hair for that subtle change.
5. Fiery Red Bob

This red will look amazing on shorter hair! Ideal for lighter skin tones who need a dramatic change.
Brown & Ombre Highlights
1. Chocolate Brown Hair

Chocolate brown is one of the most popular go-to colors. If you love hair colors that are easy to pull off and wear this one will suit you.
2. Brown Hair With Yellow Highlights

A pop of gold or yellow to your hair is always a good idea!
3. Blonde Ombre On Brown Hair

Naturally brown hair will look even more alive once spiced up with light yellow or blonde ombre highlights.
4. Wavy Blonde Hair With Platinum Highlights

Light platinum highlights on long & wavy hair are always a bulletproof solution.
5. Ombre Hairstyle Shoulder Length

This length & the color itself are the best solution for women who want a quick change and who are interested in a subtle transformation.
1. Light Pink Hair On Blonde Base

Naturally blonde hair with a hue of pink will look glamorous & breathtaking!
2. Medium Pink On Curly Hair

Curly hair and pink highlights will transform every hairstyle, and will make you look 10 years younger overnight!
3. Wavy & Shaggy Pink Bob

This cute bob with different kinds of chunky highlights will make you look like you're back in your school or college days.
4. Pink With Purple

Blondes that want to spice up their hairstyle can go for this combo of pink & purple, ideal for those who wish to look bold and noticeable!
5. Pink Hairstyle With Blonde Highlights

Decorate your hair with pink, white, purple, as well as beige colors to give it that innocent and playful outcome.
1. Dark Brown Hair With Caramel Highlights

Naturally darker hair will look great with a touch of some ashy highlights.
2. Shoulder Bob Chocolate Brown

If your hair is naturally brown you can switch it up by going just one shade lighter. It will create a dramatic difference.
3. Dark Brown With Highlights

Women who have naturally curly hair will appreciate a couple of caramel highlights for that extra pop!
4. Sleek & Shiny Natural Brown

Your hair can look sleek, shiny, as well as soft & natural with the right technique and the right shade of brown.
5. Natural Brown With Yellow Highlights

If you don't want to dye your natural hair you can go for some yellow highlights instead.
1. Icy Grey Blonde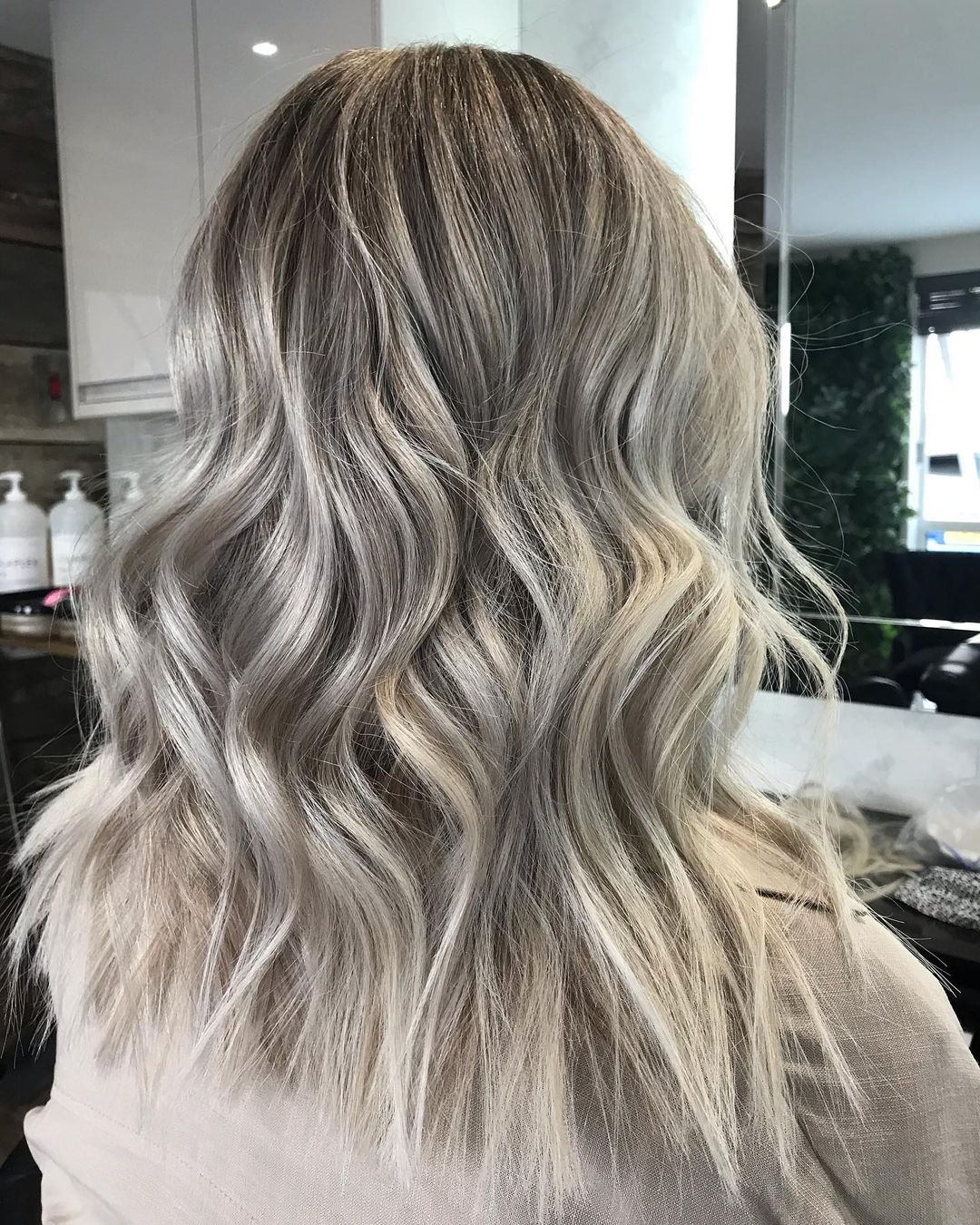 This blonde hairstyle has that greyish hue that, once properly done, will look feminine & attractive!
2. Silver Blonde

Hot silver blondes & shaggy cuts with bangs are fashion-forward and a huge trend at the moment!
3. Platinum Shoulder Length Bob

Go for some waves when it comes to this color combo. Women who have a light pink tone will rock it with ease.
4. Icy Silver Short Hair

This icy silver blonde is sexy & attractive. Make sure that you go for a hairstyle that it young, chic & edgy at the same time.
5. Platinum Blonde With Highlights

Straight hair that is naturally light or blonde is a great base for different kinds of highlights, as well as experimenting with color!
Which Color Was Your Favorite?
In the end, which one hairstyle & hair color is on your go-to list? All of these can look stunning on different women, age groups, as well as skin tones, just make sure that your hair stylist caters it per your needs. Rock your new hair color with confidence while also looking 10 years younger, easily!