Even with the high promises of premium haircare brands, you might still pick up the wrong products for yourself and your hair type.
To help you make the best decision and get your hair in its best natural shape, we need to clarify some basic hair care rules.
Do you know what your hair type is? If not, let's figure it out. We'll start from hair type 1, with all its particularities and best tips for care and styling.
Hair type 1 means plain, straight hair. No trace of curls, not even the softest ones. You'd think it's pretty simple to take care of straight hair. And while it is simple, you need to keep in mind what's in your advantage and what's not.
1a, 1b, 1c
For you to be absolutely sure you find your hair type, you need to know about the sub-types of hair type 1.
The original we described above is 1a, followed by 1b which differentiates not through aspect, more through what it can do. Hair type 1b is able to hold a curl longer and it keeps bouncy blow-dried ends in or out very easily.
Lastly, hair type 1c will surprise you with some waves here and there, very likely to the underneath layer, offering some sort of volume to the overall look.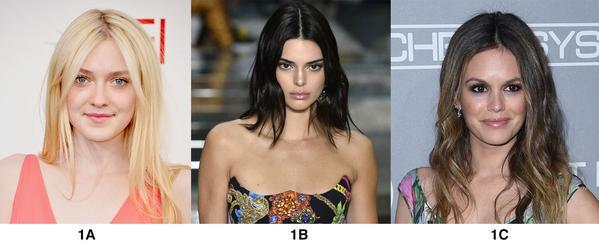 Dry as hay?
For the washing stage, to maintain a lustrous and non-greasy appearance, it's highly recommended to use a sulphate and paraben-free shampoo.
If you feel that the ends of your hair are dry, look out for moisturising ingredients: shea butter, argan oil, castor oil, jojoba oil, avocado oil as well as plenty of rich, bond-building add-ins like vitamin E and peptides.
On the other end, if you feel like your hair is getting too greasy too soon after washing, you need to start supporting sebum regulation. The ingredients to look for if you're constantly battling greasy hair are aloe vera, apple cider vinegar, and only certain oils such as rosemary oil.
In terms of products, look for the light version of hair oils, Moroccanoil has been extra thoughtful in creating their best-selling oil in a light-weight option to assist different hair needs.
Oily hair needs hydration!
Why use oil at all on oily/greasy hair you might ask? There's a strong misconception that oiliness needs to be treated by absorbing and avoiding oil. While the irregular production of sebum is a nuisance for hair appearance, it doesn't cancel hair's needs for hydration.
On that note, growing beautiful, shiny hair should be a fun self-care mission, and educating yourself on how to do it is the best part.
Moving on to extra care such as conditioners, masks and leave-in treatments, we will follow the same strategy. Nourish the hair from the middle root to the ends for dry hair and only apply on the tips in case you have oily hair.
Styling and finishing straight hair to get that shiny, dense and smooth effect
Finally, the best part, STYLING AND FINISHING! The wrong approach to styling can be strongly damaging to your hair and provoke long-term destruction to the hair fibre. For straight hair specifically, if the damage is done, it might take ages to regain the straight look without help from products or heat.
Using heat
With that in mind, whenever you intend to use heat for styling, make sure to apply a protective shield of thermo-cream or thermo-spray as well as a detangling oil before blow-dries.
Redken Diamond Oil is the absolute master to sort a blow-dry before it even starts. Apply a small amount and massage the hair just from above the ends.
Volume and shine
If you need volume, avoid hair mousse for straight hair and opt for a texturizing spray instead, preferably a sea-salt water spray.
This will offer the right amount of puffiness to the root while keeping you far from the "hard-wire" hair effect the mousse might create. To avoid confusion, mousse is an excellent product for curls, as it gives a strong definition, and it melts into dense hair (link to hair type 2 for curls)
The texturiser will also help lock in moisture, so the straight look won't be ruined by humidity. Compared to strong hold hair spray, the sea-salt water spray is a long-term healthier alternative. Finish off with a light illuminating oil on the ends for a sleek look.
Ready to get smooth, shiny, perfectly straight hair?