Do you love Jane Fonda? Which line of work and past social activities do you associate her with? This gorgeous bombshell has been known for loads of different & creative steps in her career and she can be an amazing hairstyle inspiration for women across the world. Keep on reading and browse through some gorgeous hairstyles down below.
Who Is Jane Fonda?
Jane Fonda, or Jane Seymour Fonda, is a skilled American actress, as well as a political activist. She used to be a former fashion model, while nowadays at the age of 83 she's a fashion icon for mature women, as well as mom's and grandmothers.
Which Hairstyle To Copy?
What is your favorite hairstyle to wear on a daily, and do you wish to copy something from this icon? Luckily for you, Jane Fonda has been rocking loads of different low-maintenance yet beautiful hairstyles that will suit the following group of women:
Those who have short hair
Women with wavy hair
Mature women
Blondes
Low-maintenance women
Top 10 Jane Fonda Hairstyles
1. Jane Fonda Wavy Ends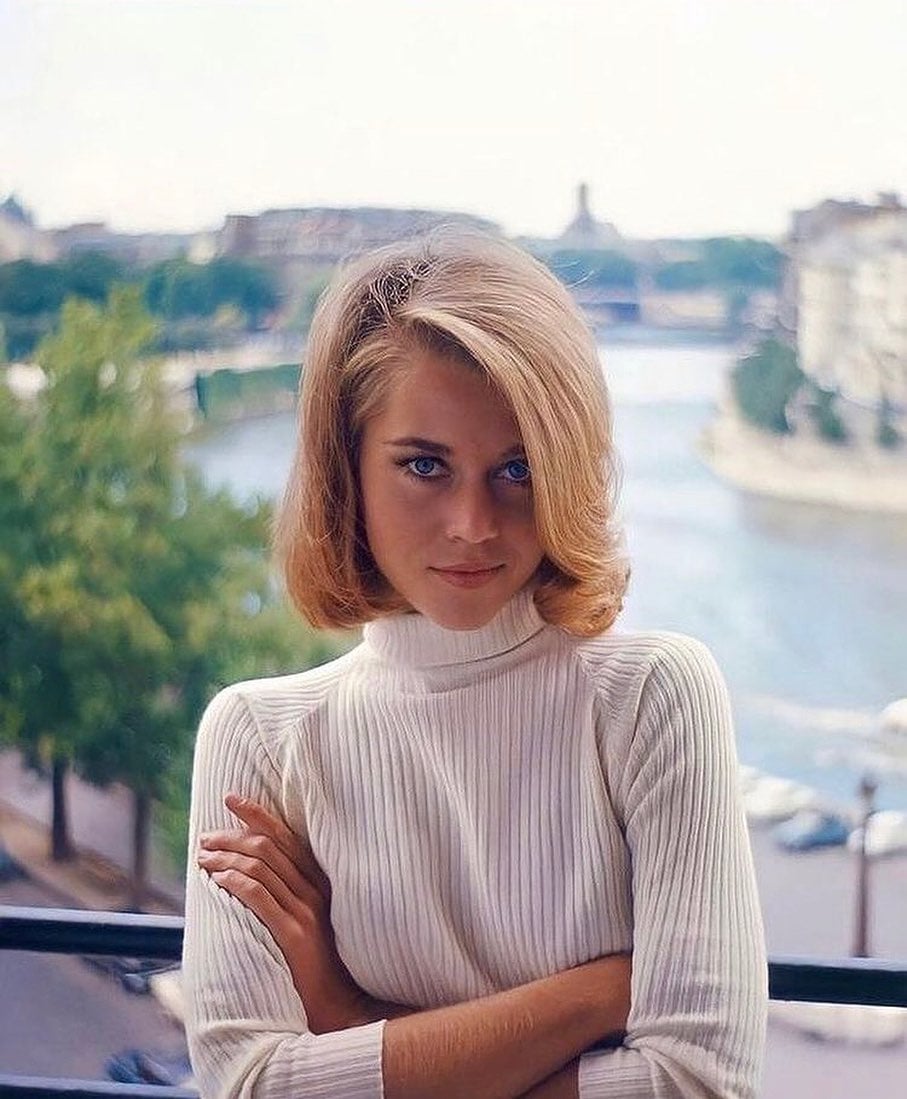 This blonde bombshell looked so good in her early 30s! Wouldn't you agree? This retro look is easy to achieve and it looks gorgeous and perfect for everyday wear thanks to its retro and wavy ends. Simply curl the ends with a curling wand and rock this hairdo with confidence. It can be amazing every day and office hair.
How to style it? Just add a bit of hair gel over your ends to keep them voluminous throughout the day.
2. Jane Fonda Front Hair Volume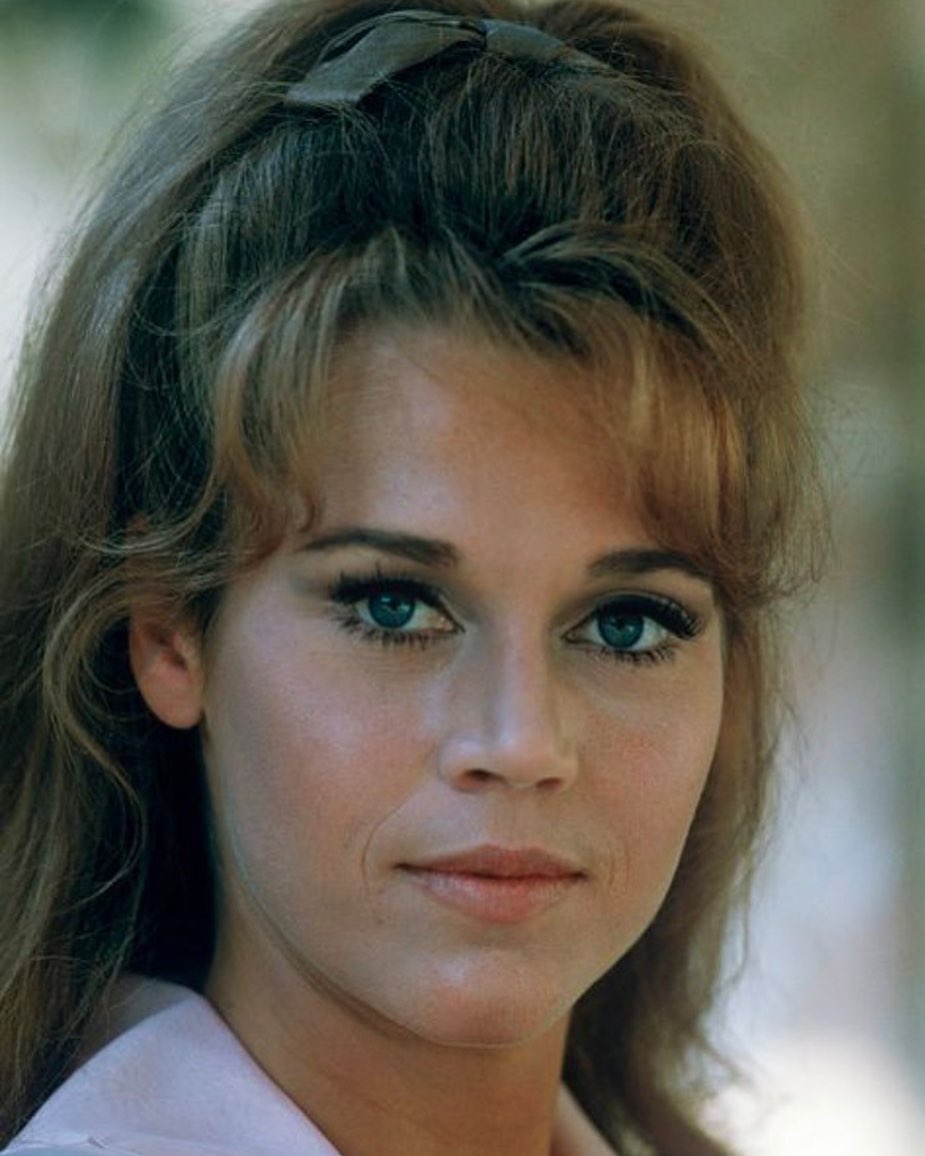 Jane Fonda is embracing that puff and retro voluminous bangs while being so feminine & attention-seeking in her twenties. She was enjoying her modeling career and was one of the prettiest women on the scene during this period. Still to this day, everyone remembers her & her initial look – which was this one.
How to style it? Use a rattail comb or a teasing brush to add volume and tame your baby hairs. This look is for younger women who want to rock volume while enjoying low-maintenance and appropriate everyday looks.
3. Jane Fonda Retro Volume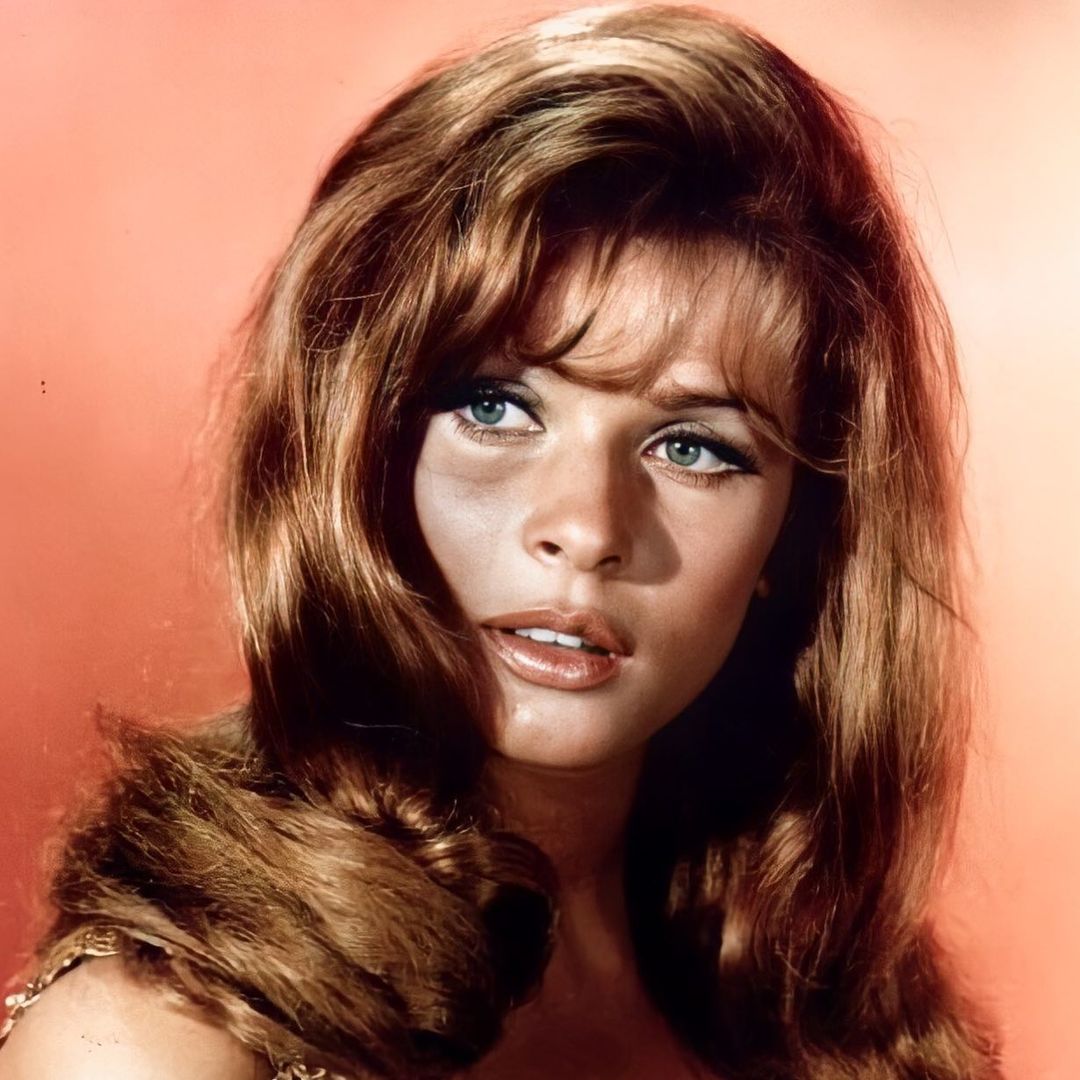 This look is flawless and sexy, wouldn't you agree? Jane Fonda is so young and is flawlessly enjoying her Hollywood waves in this picture. This color also suits her, wouldn't you agree? If you are a brown or dark brown beauty you will enjoy this look the most + it is easy to style.
How to style it? You will need a lot of your favorite hairspray to achieve the waves. Brush out your hair and get the Hollywood look on your own.
4. Side Swept Voluminous Hair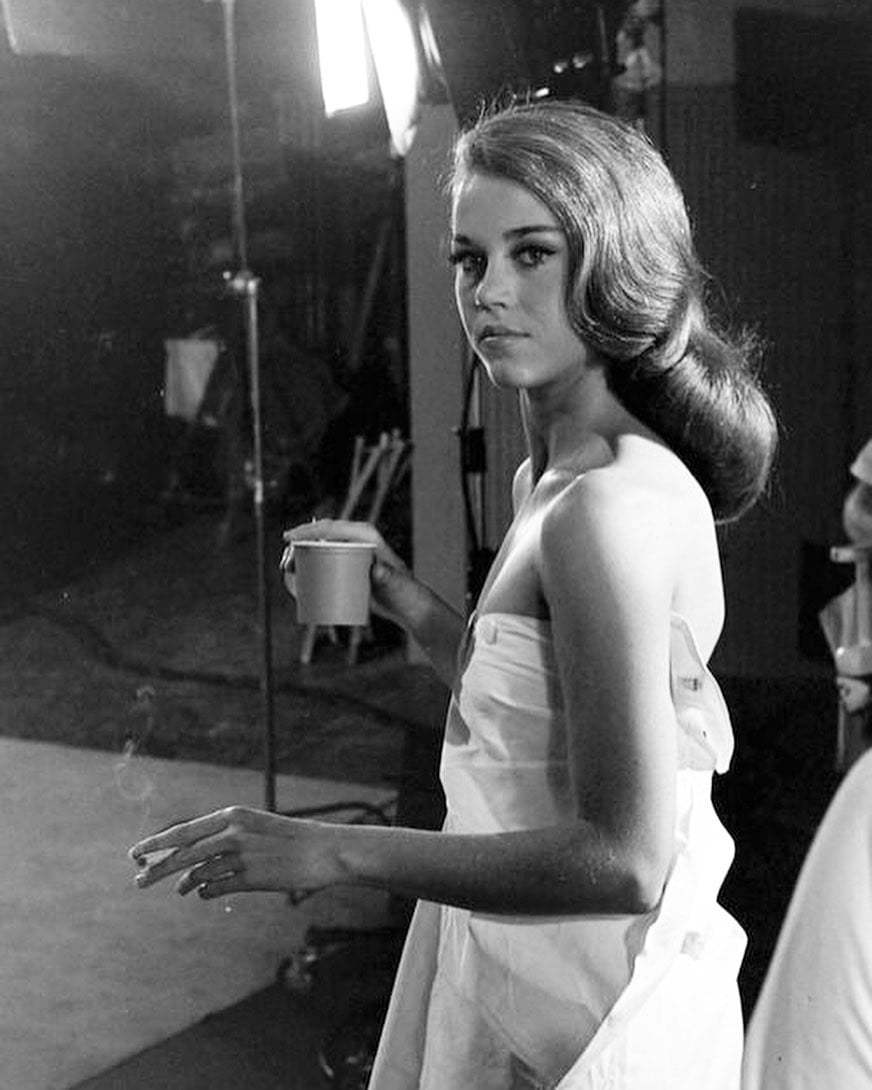 Although black & white, this picture still looks gorgeous and screams class. Old Hollywood actresses rocked these looks with ease. This hairstyle is pretty and it can look amazing on blondes and brunettes.
How to style it? Make sure that your hair is straight but only curl the ends and get a bit of volume to achieve that sleek look, perfect for night-time wear.
5. Curly Hair Jane Fonda Short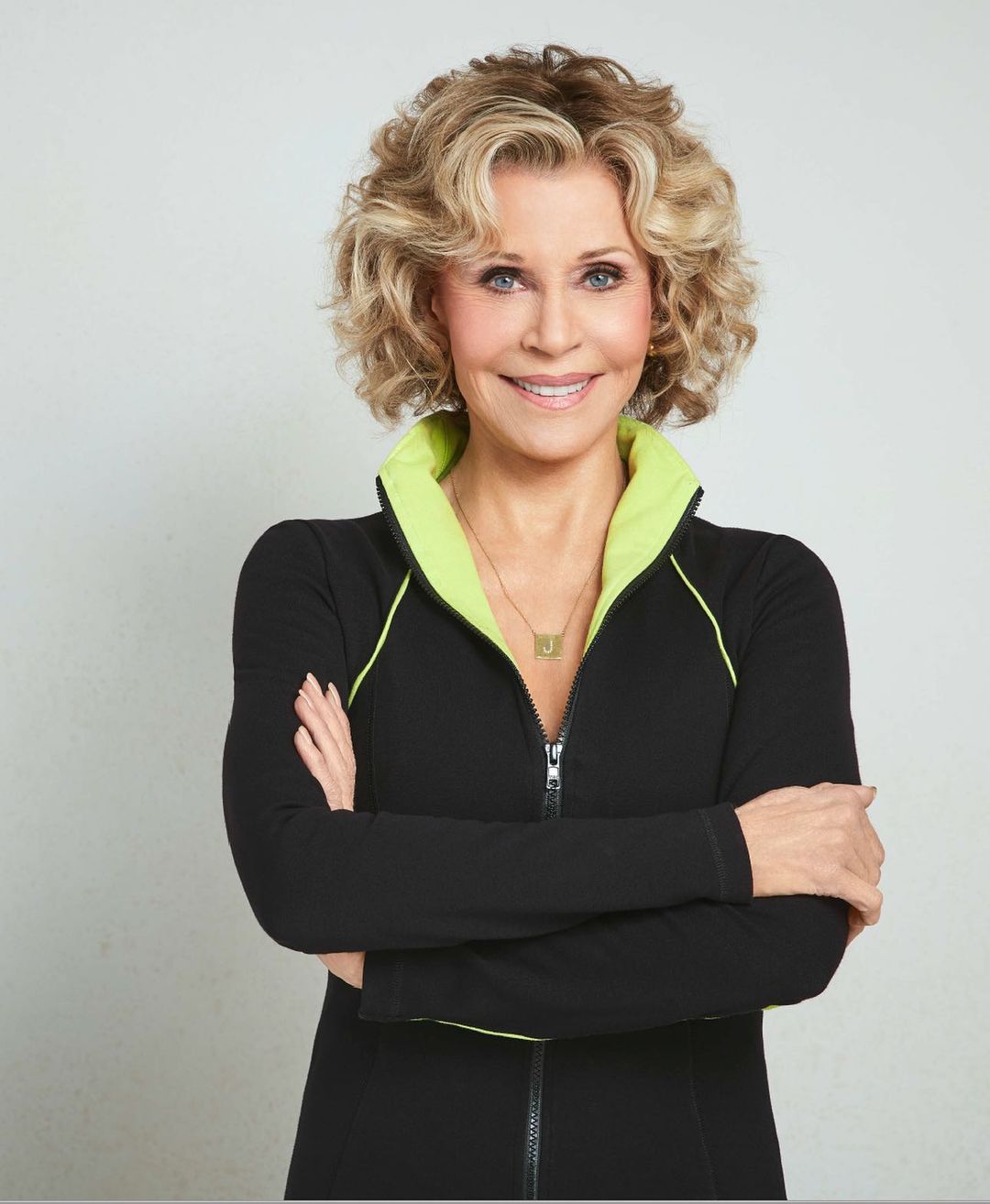 Jane Fonda looks so pretty in this picture, even though she's a bit older. She ended up going for this short wavy hair that suits her face and age. Gorgeous highlights also complete this look, wouldn't you agree?
How to style it? Rock this hairdo when at formal and informal gatherings. Make sure that you book an amazing hair artist that knows how to give you the hair of your dreams.
6. Balayage Hair Jane Fonda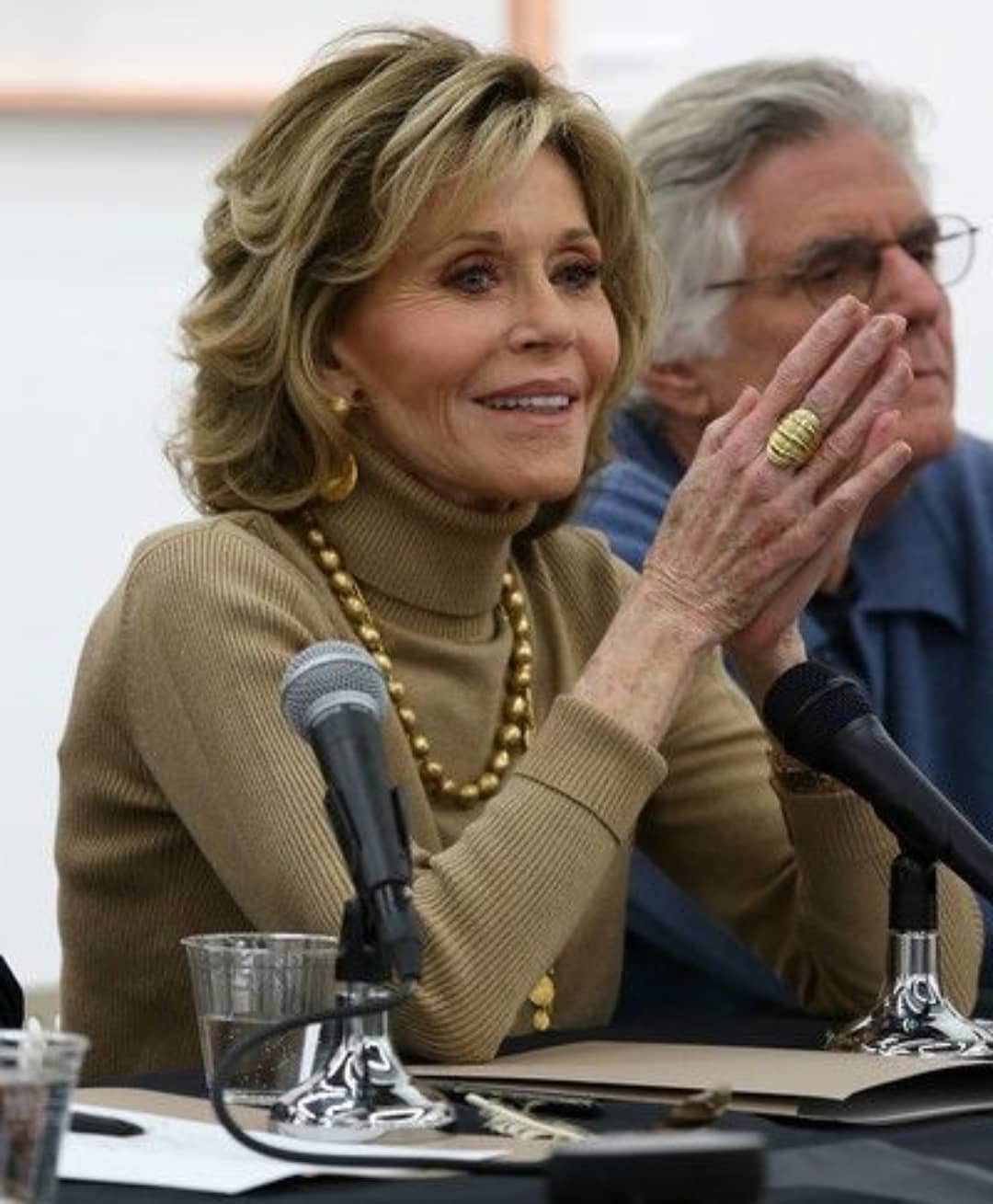 Do you love balayage highlights? A lot of girls prefer this hair coloring method since it is so effortless & long-lasting, as well as beautiful. This is also a timeless look, just ask Jane!
How to style it? Go for some subtle highlights since they will give you warmth and they will make for an amazing transformation.
7. Short Flipped Hair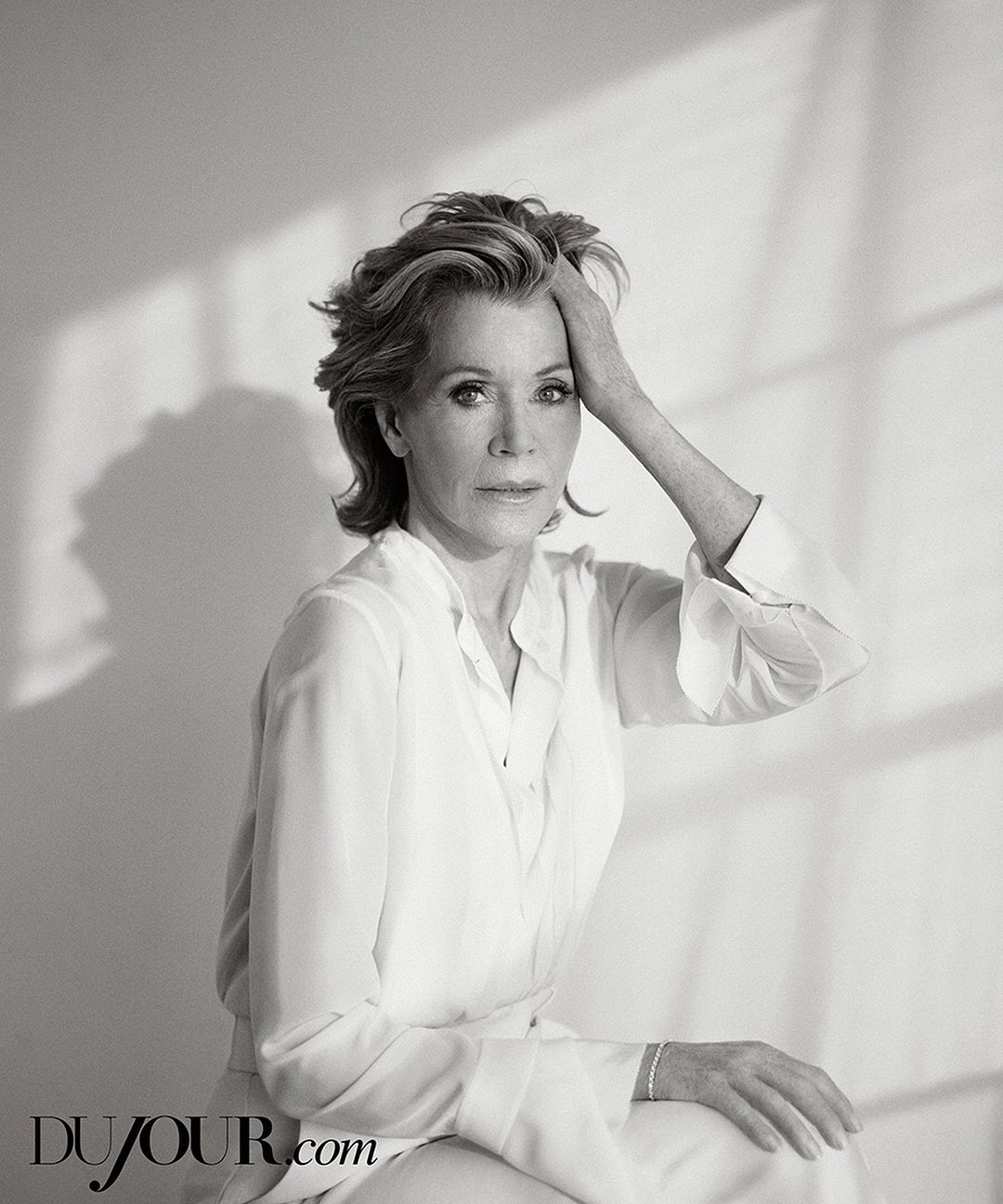 Black and white will make every picture instantly timeless. The hair in itself is cool and perfect for mature women. This is also a low-maintenance cut and something that you will enjoy if you are a mom looking for quick and easy looks.
How to style it? Go for a mullet and style it on the side. Wear it on your favorite side and show off your pretty face features.
8. Silver Icy Jane Fonda Pixie Cut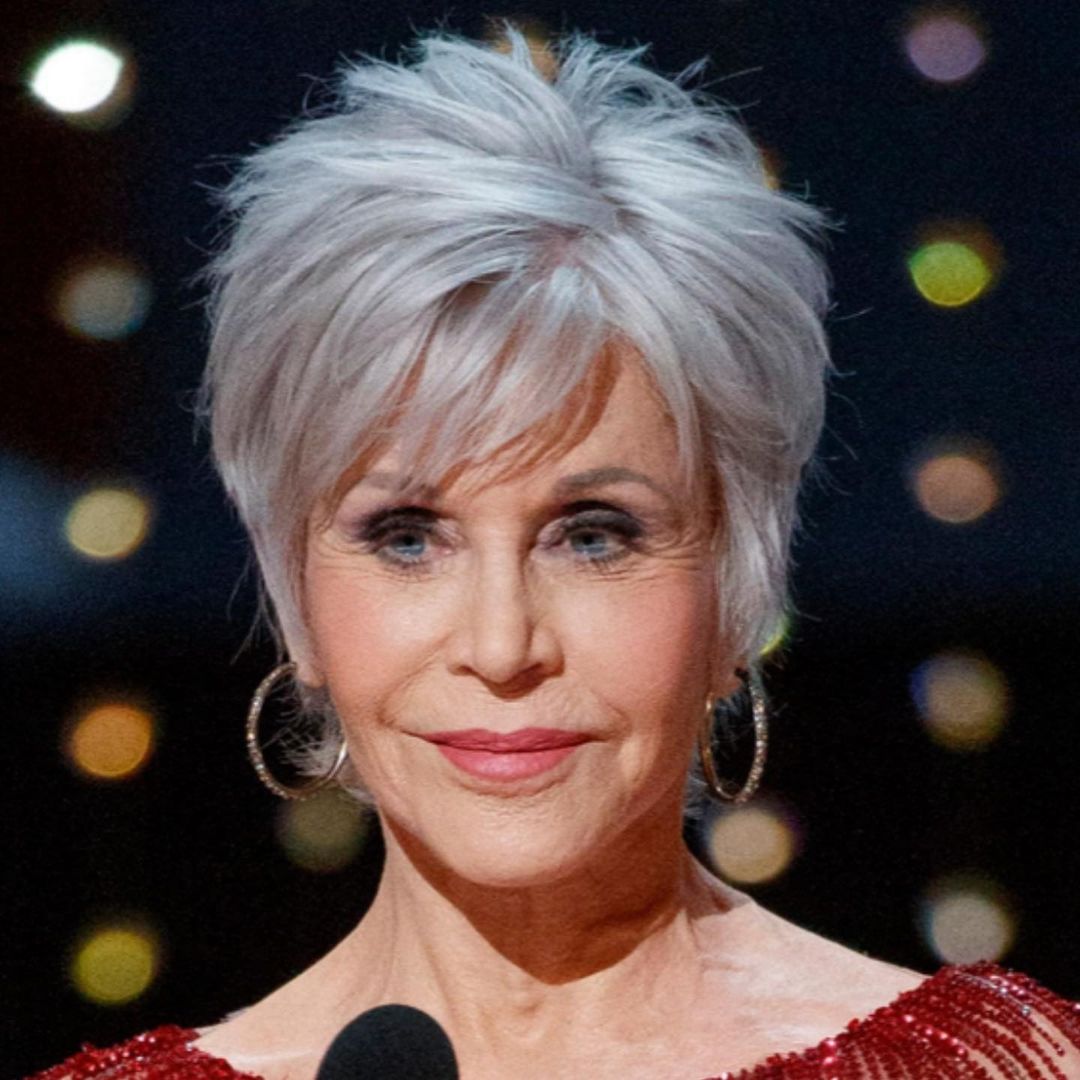 If you love icy and silver hair this one will look great on you. It is a gorgeous pixie cut and it will suit mature women the best. The bangs will also help you frame the face and they will look high-end on every woman!
How to style it? Cut your hair short and show off your gorgeous bangs. Make sure that you go for side-swept bangs since they are the best trendy option.
9. Voluminous Bob Jane Forda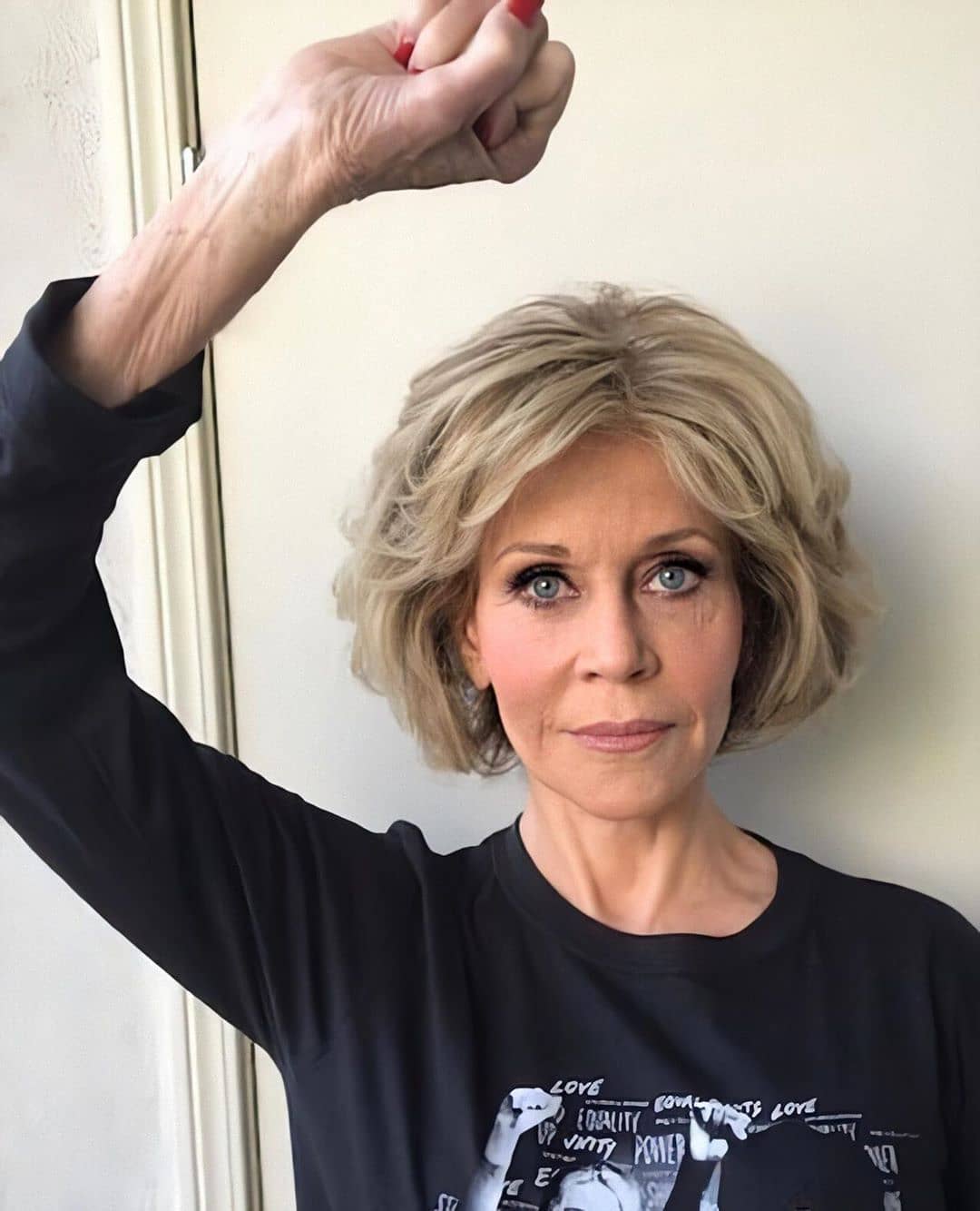 Do you enjoy fuller hair and dramatic looks? This one is perfect for moms who are on the go. You will look put together in a matter of minutes, and who wouldn't want that?
How to style it? Add volume by brushing your hair backward to the front. Flip your hair and rub it between your fingers. Create some friction and achieve volume when brushing it out.
10. Silver Bob Wavy Hair With Bangs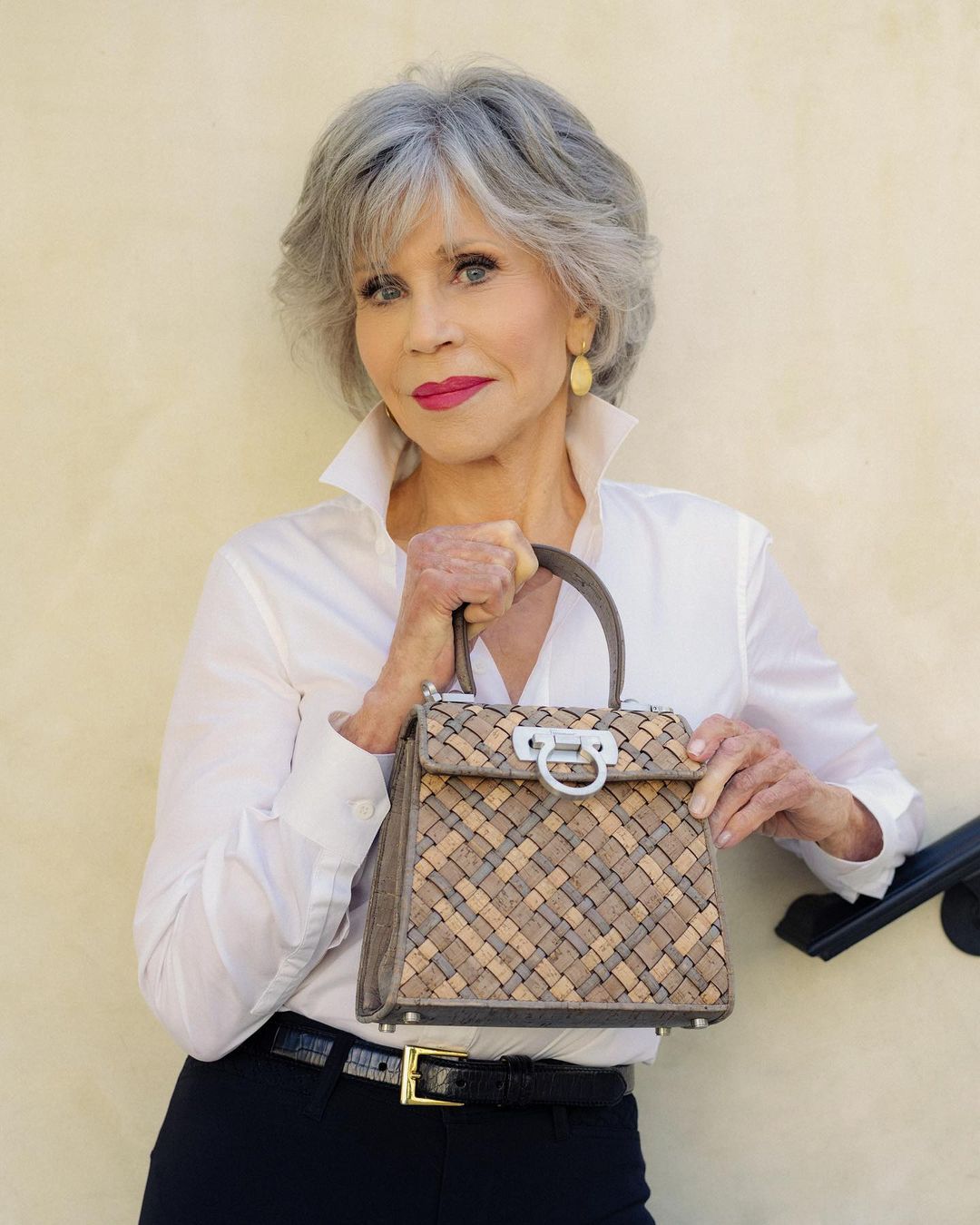 Last, but not least, wouldn't you agree that Jane looks so good and feminine in this picture?! Icy silver hair can look so gorgeous, but only when done right! This look is full and complete with bangs, ideal for those who wish to stand out!
How to style it? Style this lob with your favorite hair gel and make sure that you achieve volume at the front section with the best hairspray that you own.
Which Hairstyle Is Your Favorite?
Are you ready to embrace and rock one of these top 10 Jane Fonda hair ideas? Mature women, as well as girls who are into low-maintenance looks, will enjoy our selection, as well as this list. Let us know which one is your absolute favorite.