A pixie haircut with bangs is a statement, but also a look worth doing! Anyone who enjoys volume and wispy bangs is going to love pixie haircuts. If you're a young girl who likes defined and sleek edges (but you want something that is a lot more low-maintenance), this is for you! In this article, we're going to list some gorgeous options and pixie designs that can suit different age groups. Here is what you should consider doing.
Top 26 Pixie Haircuts With Bangs
1. Natural Blonde Pixie Hair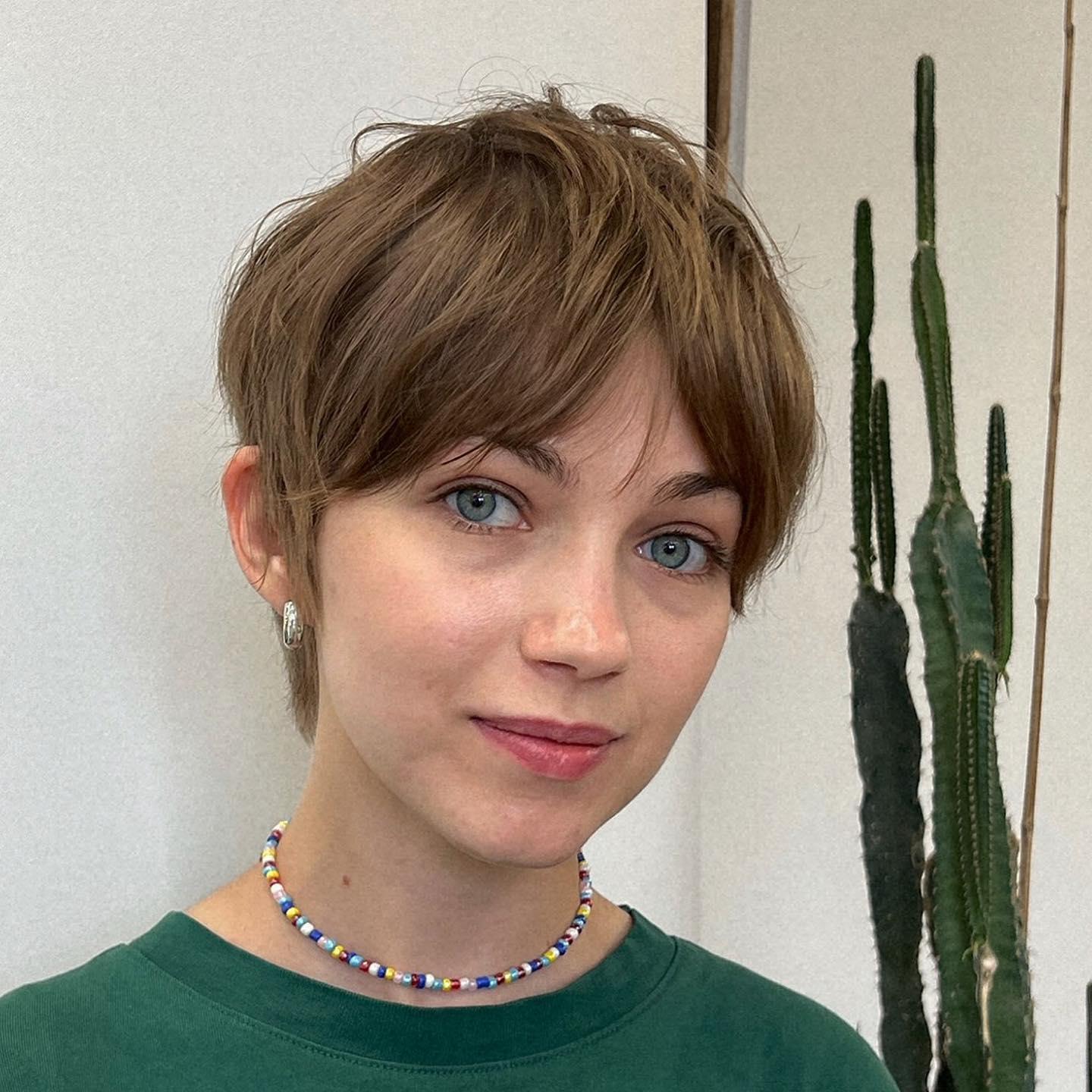 If you're a natural blonde and someone who loves their natural texture, this is a must-do beauty in your case. Add some long curtain bangs to recreate the exact same look.
2. Dark Brown Pixie Hair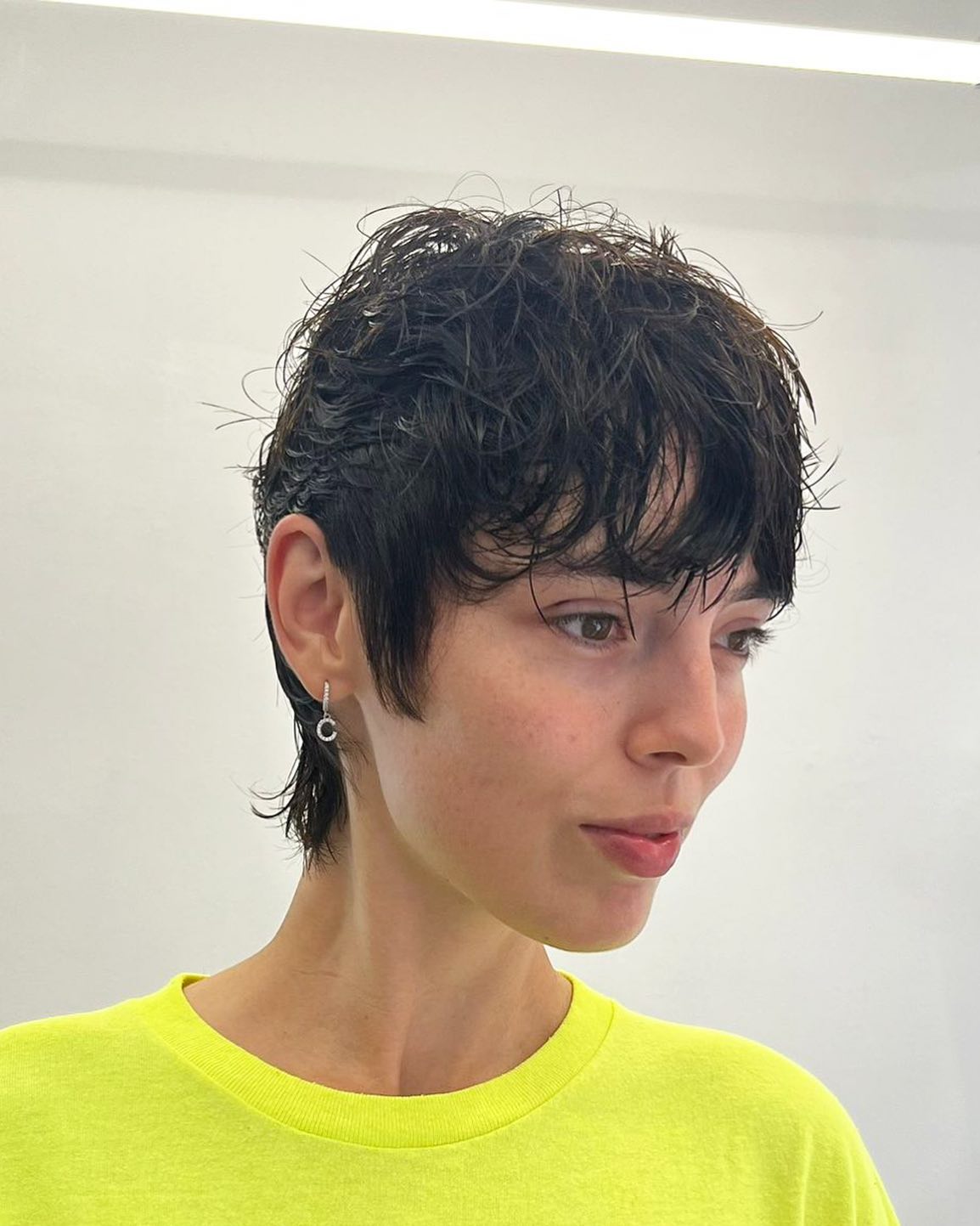 A dark brown pixie with fringe bangs is going to attract a lot of looks. If you're a fan of wispy ideas and you enjoy elf-inspired bangs and you love your natural hair color – this is worth checking out.
3. Pixie Hair With Highlights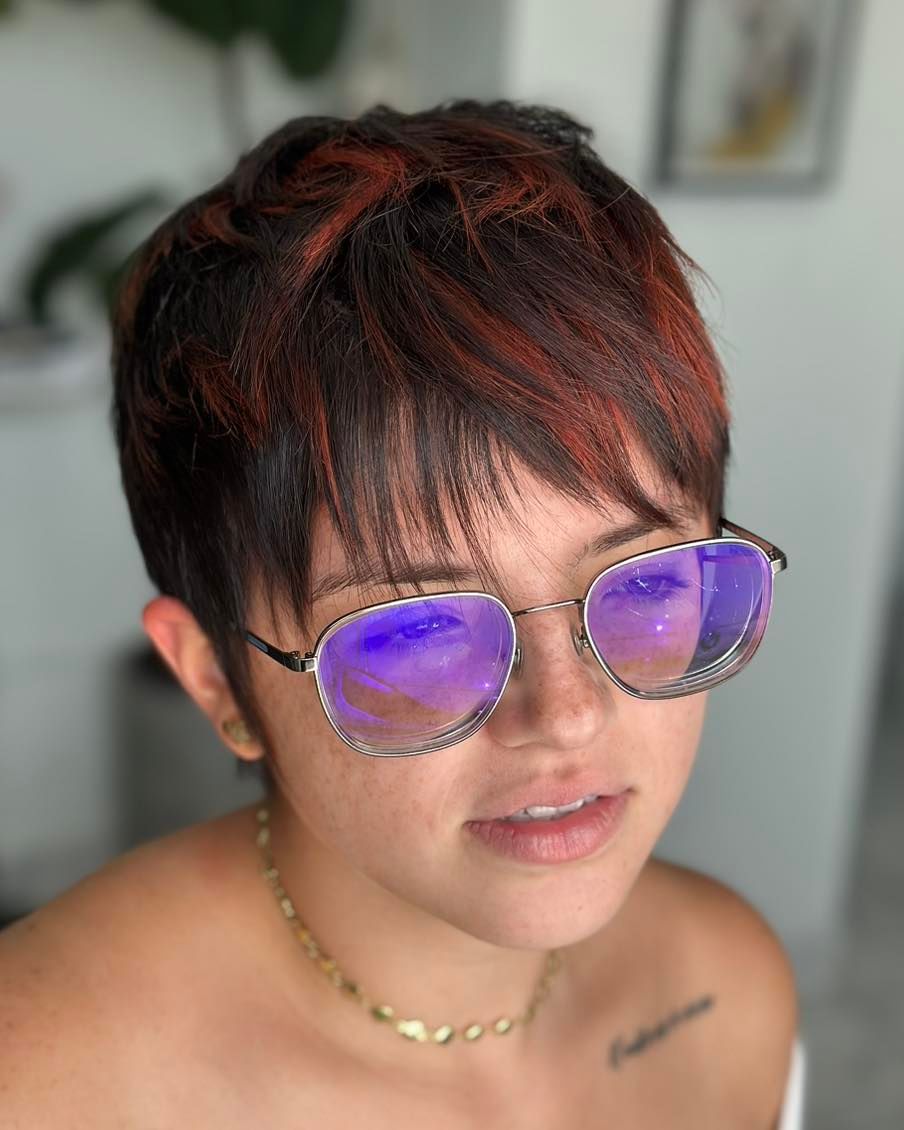 Go for red warm toned highlights and place them all throughout your hair. A Pixie hairdo with full and voluminous bangs is a popular look for mature women who love chic and trendy ideas.
4. Pixie Hair With Long Bangs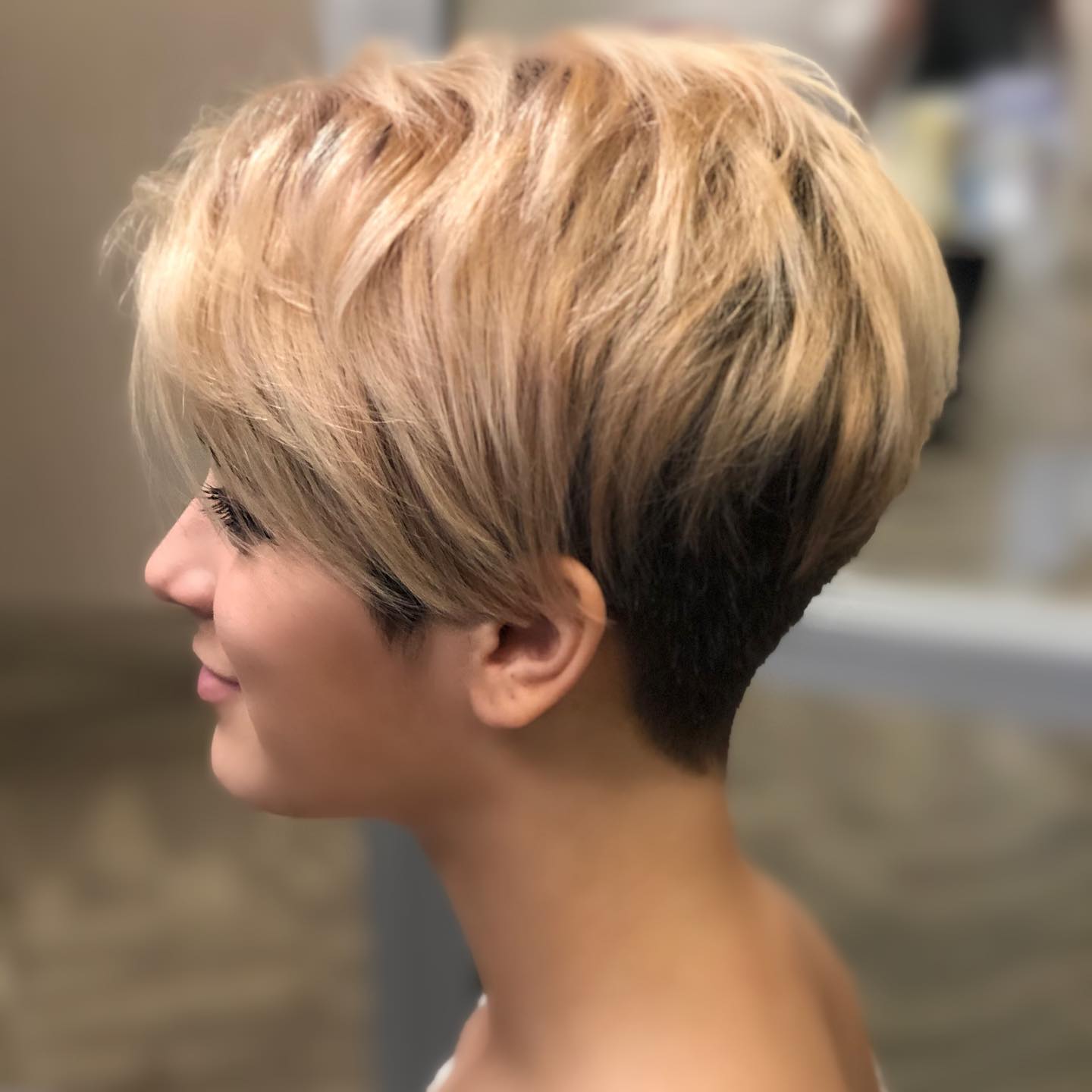 A Pixie hairdo with long bangs and a fluffy top will make you look like a true diva who enjoys dominant haircuts. Have time and patience in growing out this look as it can be very time-consuming and not that easy to recreate.
5. Orange Pixie Hair With Bangs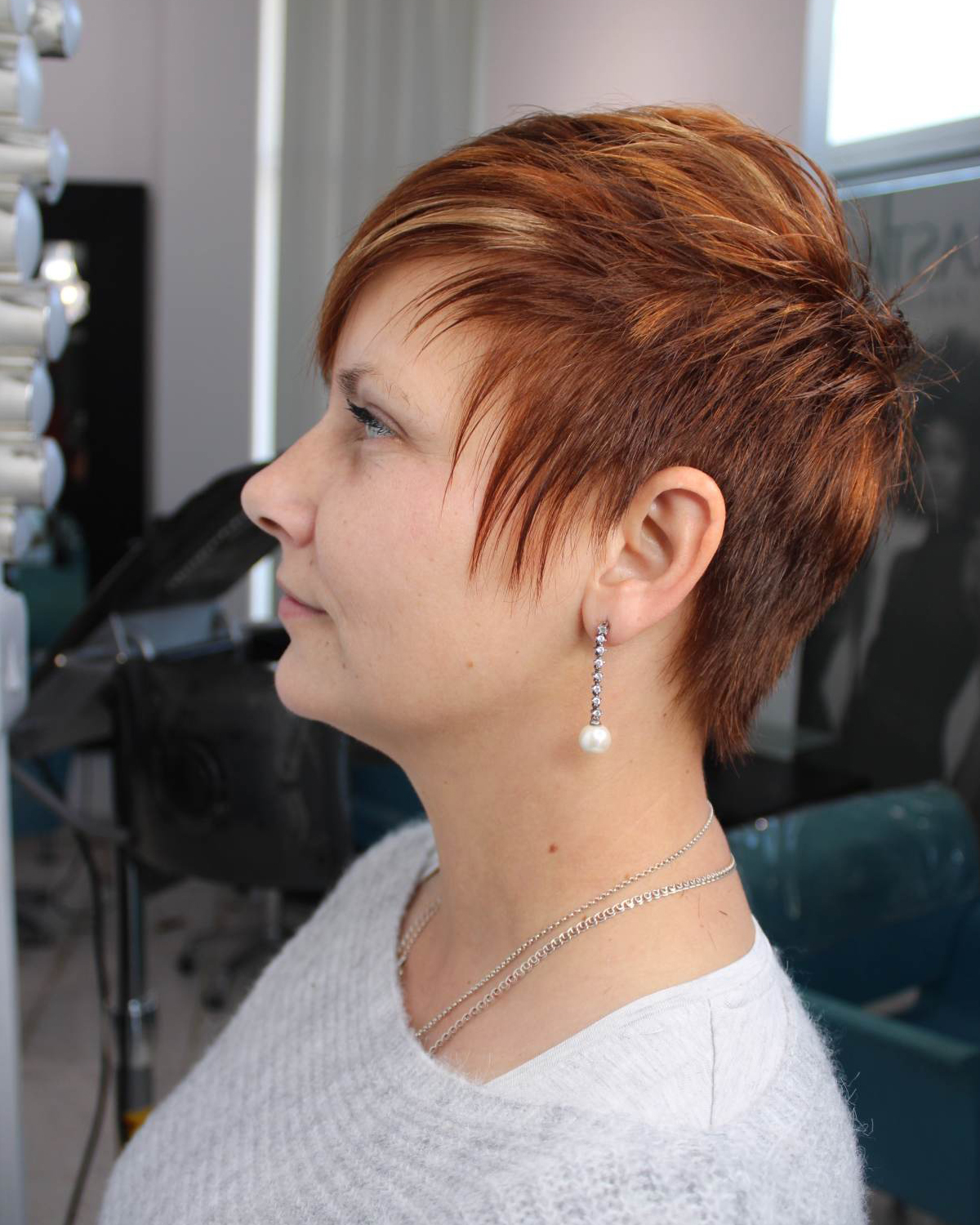 An orange pixie haircut with light blonde bangs is a statement that not everyone would dare to wear. If you enjoy shorter haircuts that are done in style and have that intriguing look, this is for you!
6. Lilac Pixie Hair With Bangs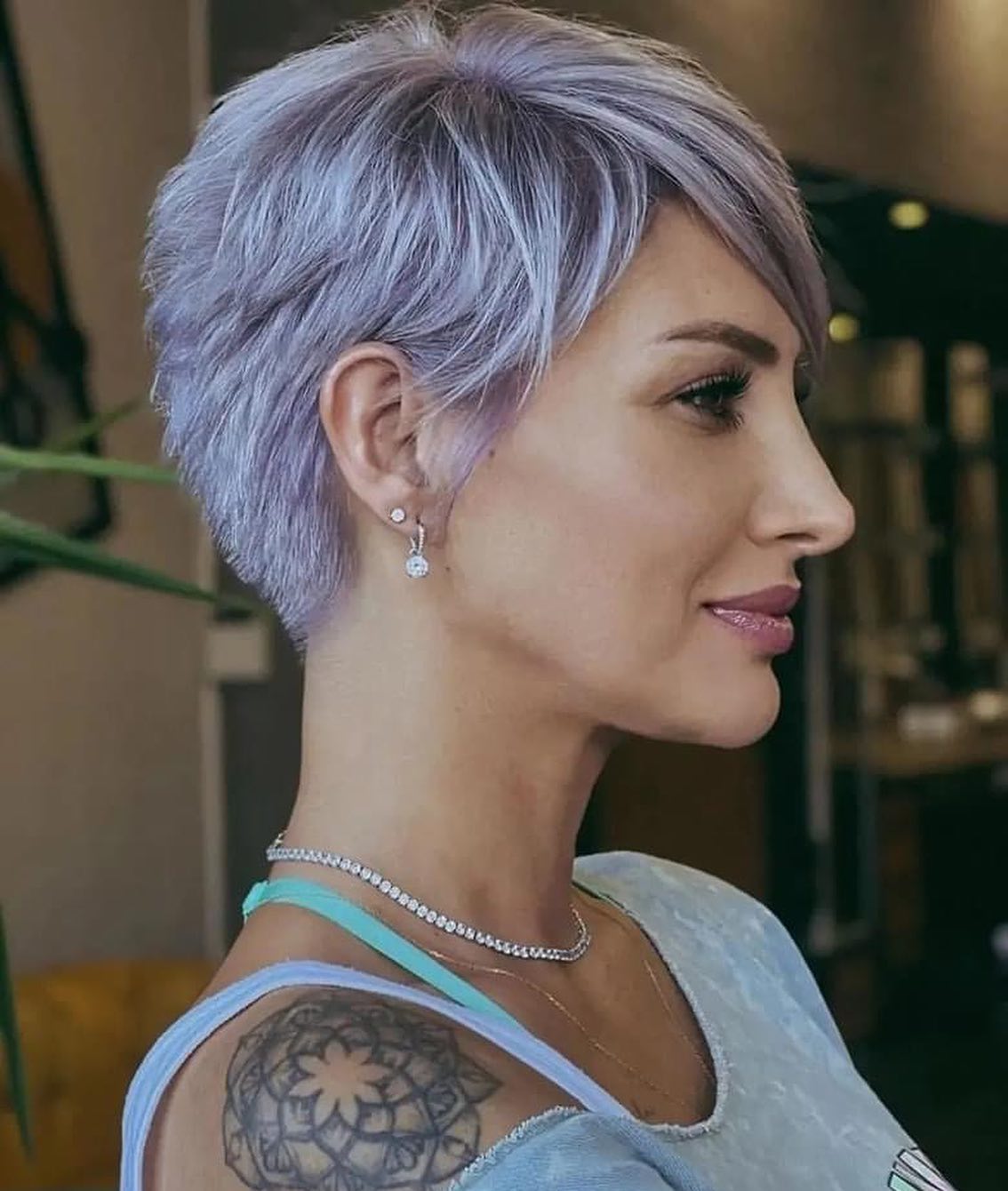 Lilac is such a fun color that not everyone dares to go for. Do you? If you love shorter pixie hairdos yet you want an unusual color that is very bold and funky, this will look lovely on you.
7. Sleek Black Pixie Hair With Bangs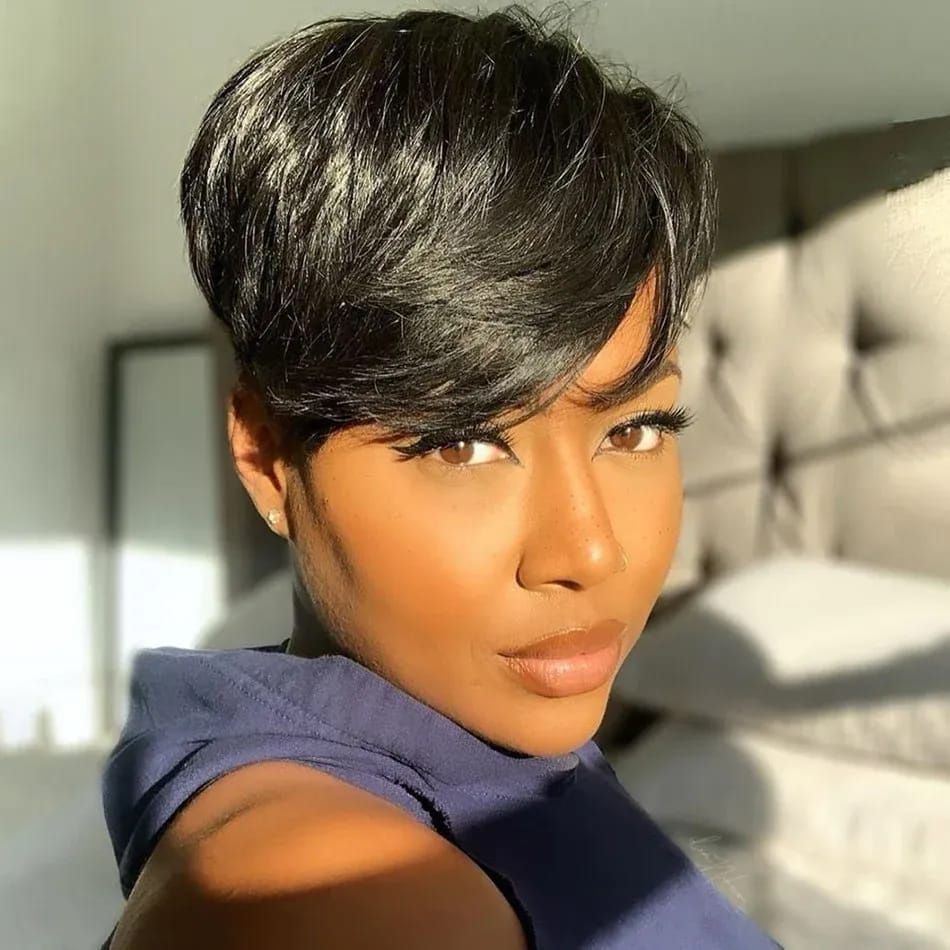 Throw your bangs on one side and embrace this fluffy and voluminous hairdo. Ladies who love dominant and wispy bangs are going to adore this hairstyle. If you trust your hairstylist doing this look on you, book the appointment asap!
8. Chocolate Pixie Hair With Bangs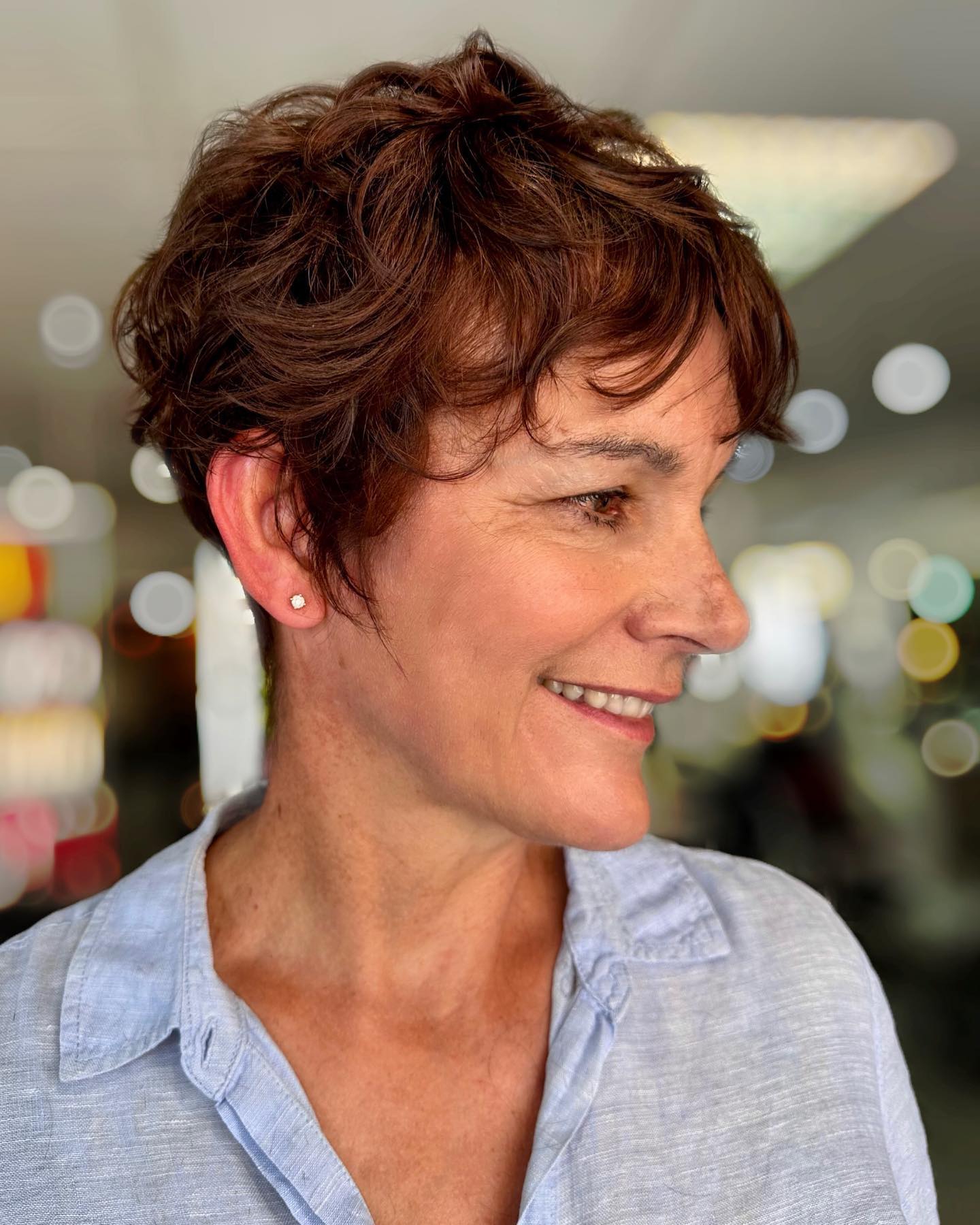 Chocolate and warm-toned look with baby bangs that is going to suit mature women the best. If you're someone who loves shorter low-maintenance and low-key ideas, we know that you're going to fall for this look.
9. Black Glossy Pixie Hair With Bangs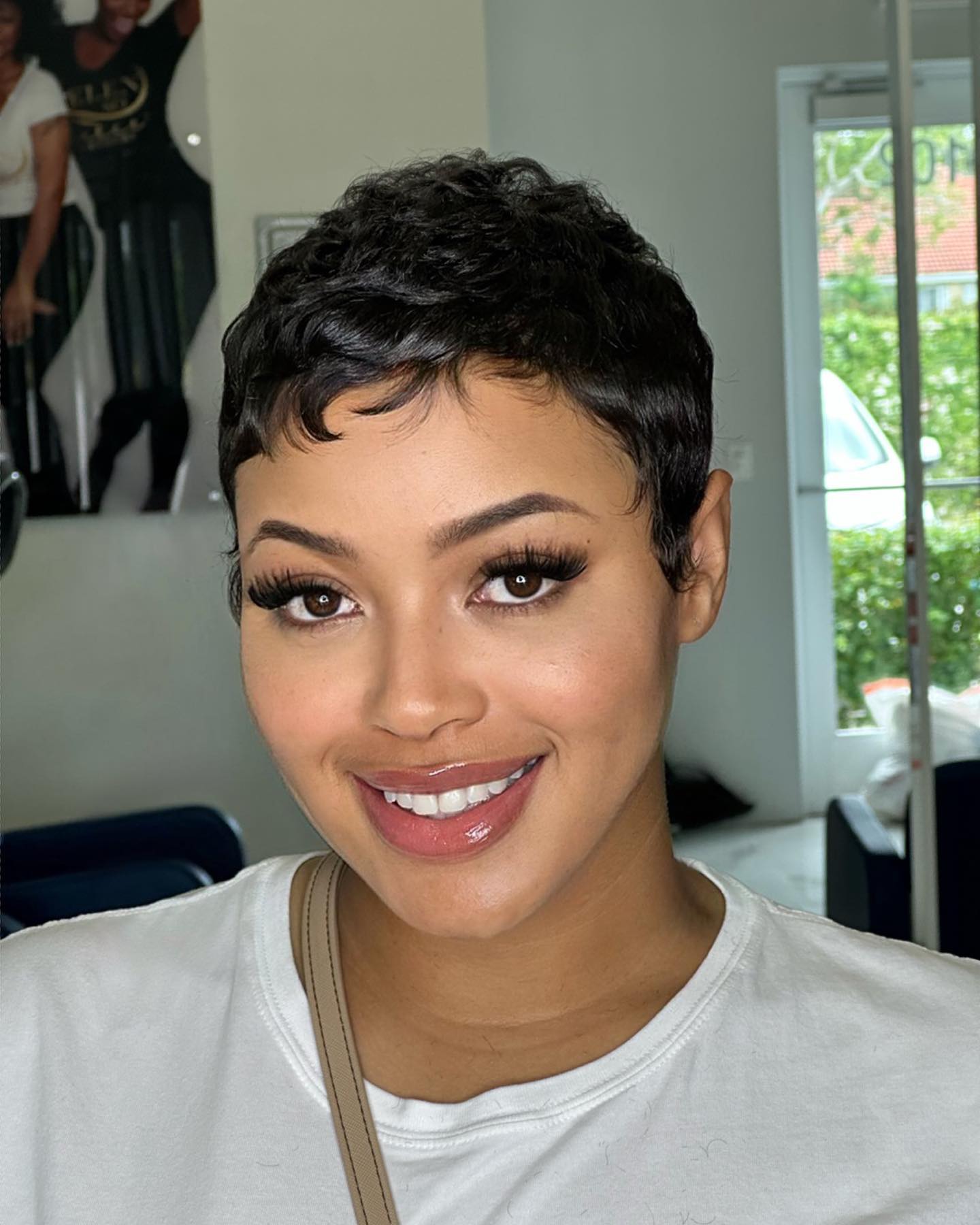 Black and glossy pixie that ladies of all ages can enjoy. If you prefer short and wispy designs and you like romantic designs that are stylish and easy to maintain on your own, now is the right time to try this look!
10. Natural Blonde Pixie Hair With Bangs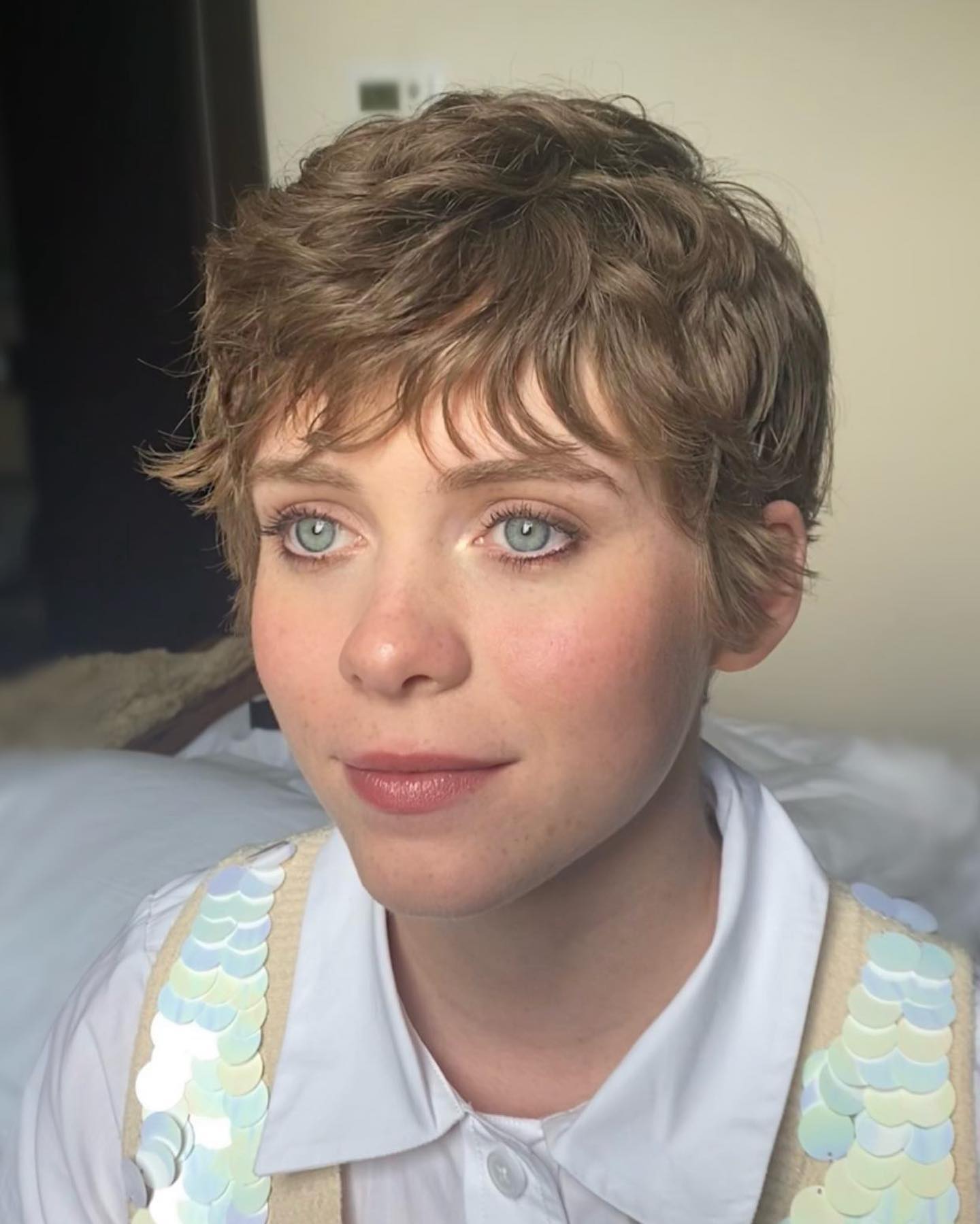 Natural blonde and defined pixie is a dream come true! Women who love shorter hair which is on the low-maintenance side will appreciate this look. Just a bit of your favorite curl cream and you're going to make these locks pop!
11. Pixie Hair With Bangs And A Fade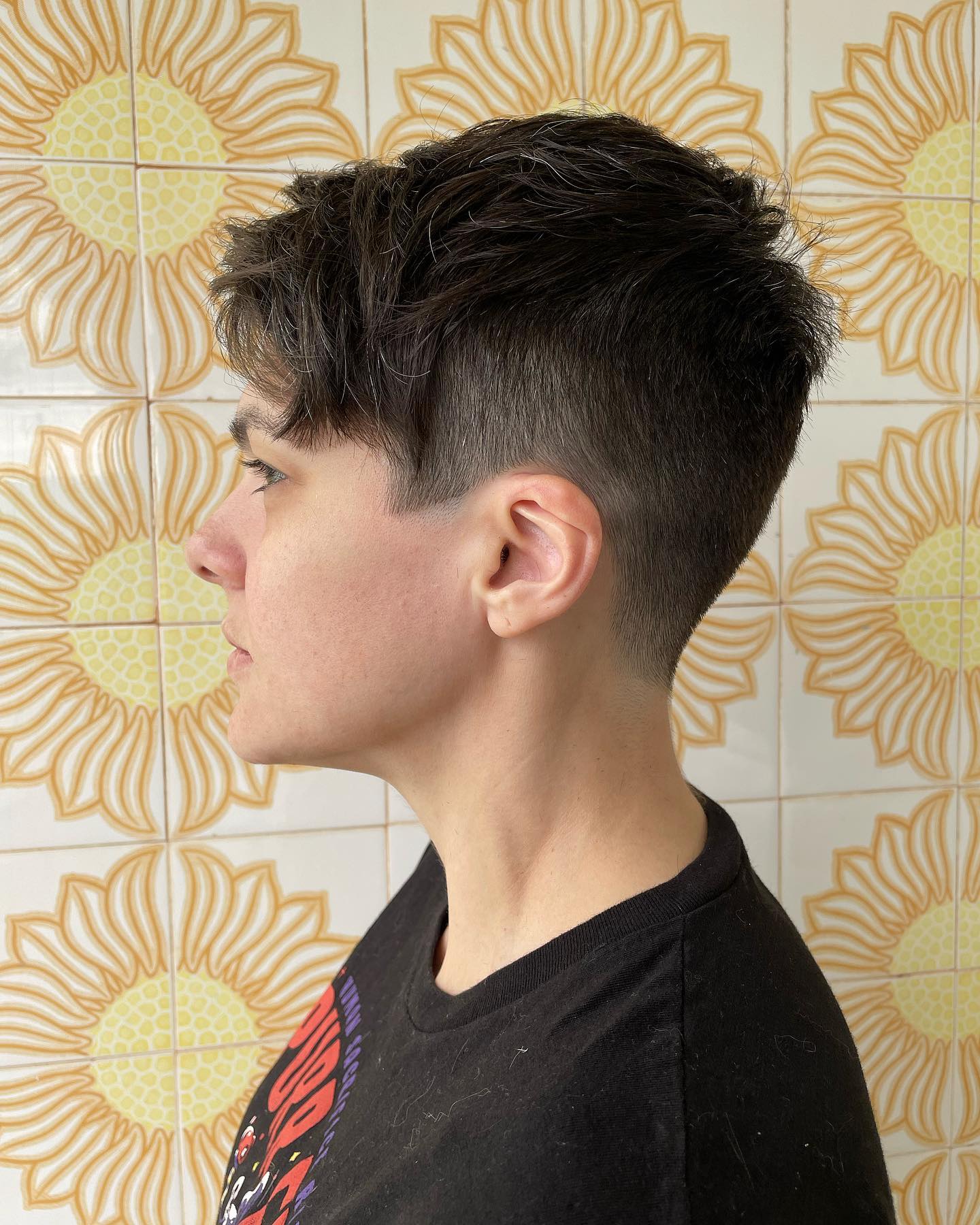 Try out this hairstyle and add a fade detail to it. Women who enjoy that boyish look and vibe to their hair are going to appreciate this look. It is cool and modern at the same time.
12. Black Hair Pixie Hair With Bangs Voluminous Look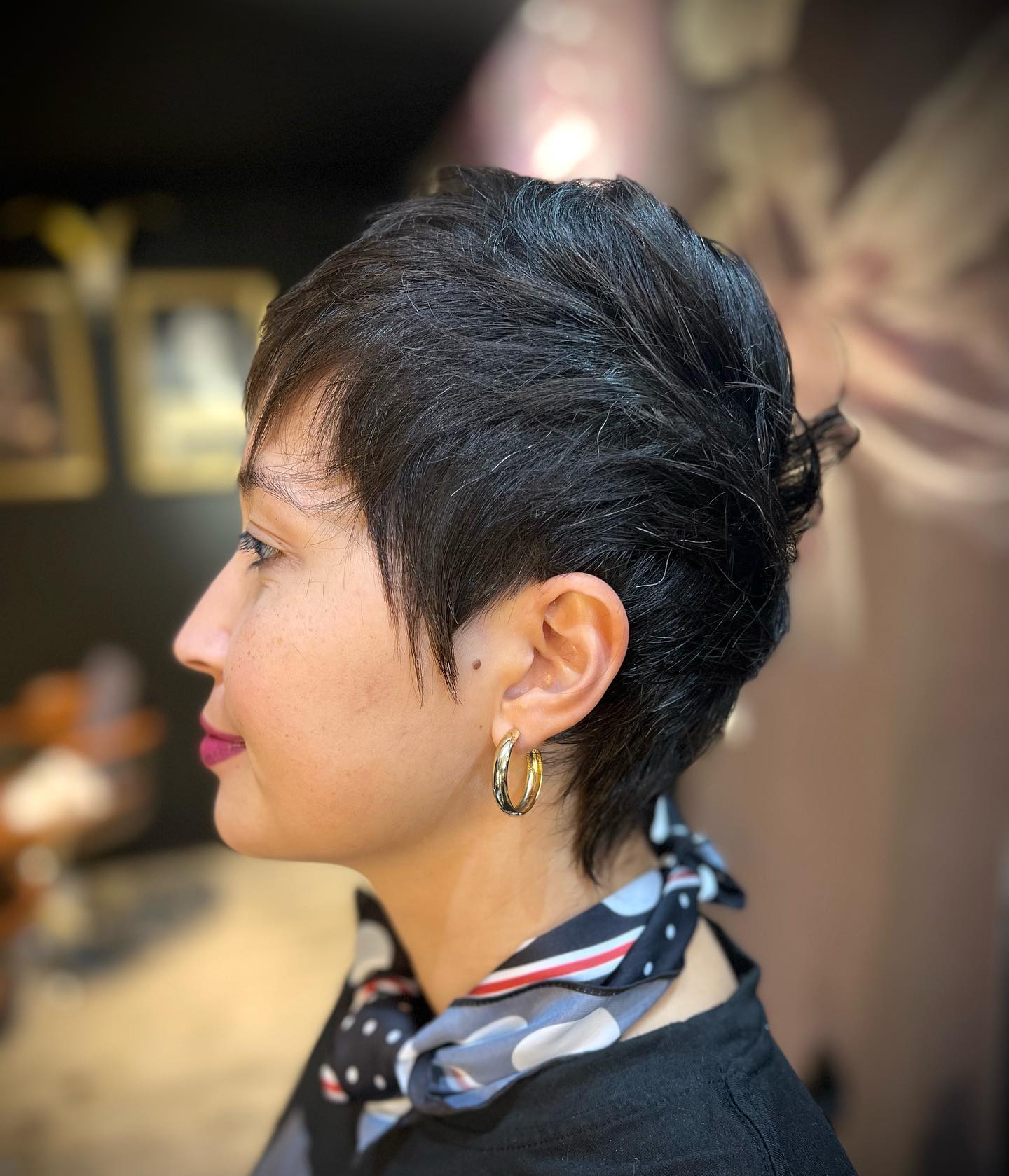 Mature women love to rock their simpler hairdos. If you are into quick and easy ideas and you are over the age of forty, this fun little pixie is for you.
13. Black Hair Cool Pixie With Bangs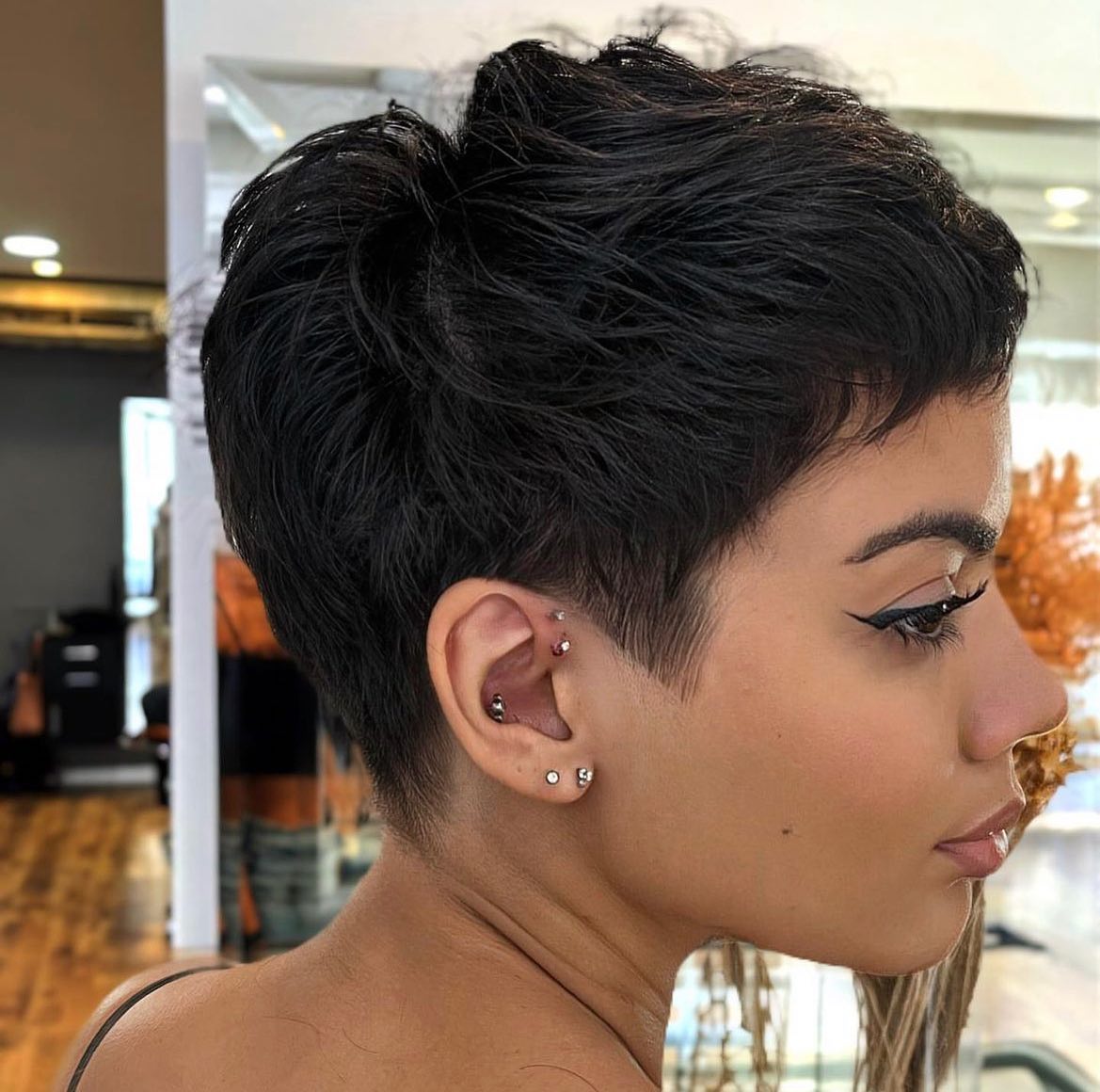 Short, sweet, and romantic, this haircut has it all! If you're a party woman who loves elegance and posh hairdos + you enjoy practical looks, this is going to scream your name!
14. Blonde Pixie Hair With Bangs Look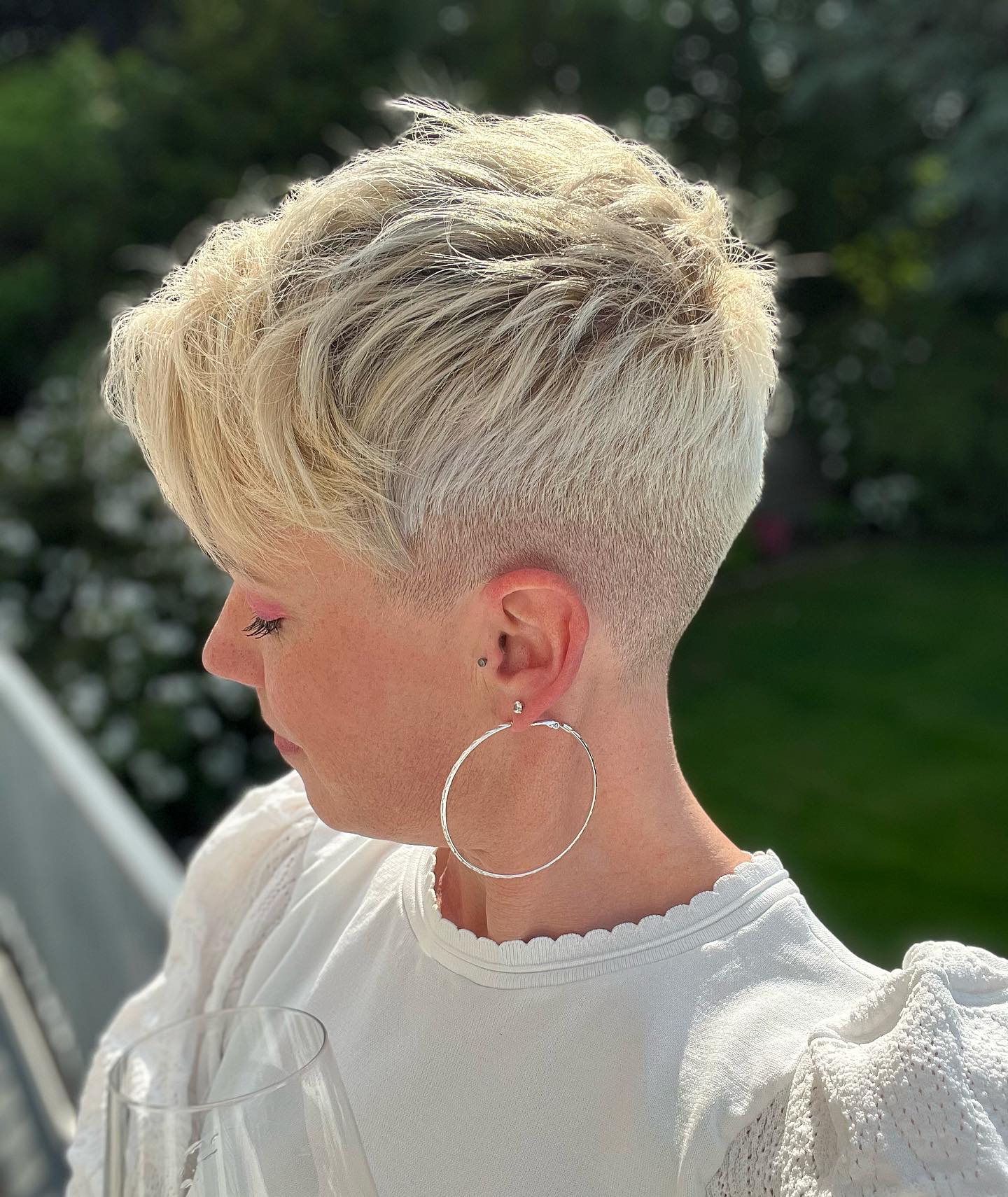 Go with a blonde hairdo and recreate this pixie in style. If you're in your thirties and you need an office-friendly look, this is a true beauty for you!
15. Blonde And Pink Duo Pixie Hair With Bangs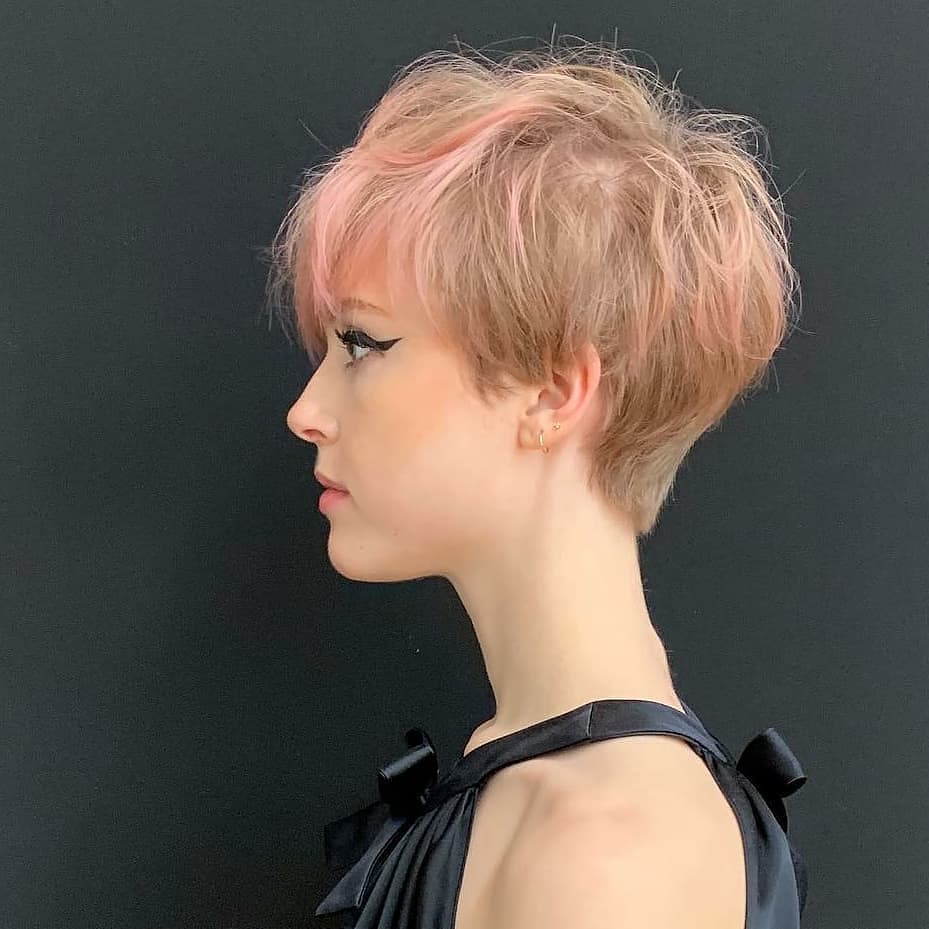 Combine these bright colors if you love to stand out. Women who are in their teens are going to fall in love with this urban and trendy look. Give it a go if you're someone who loves to follow new ideas.
16. Thick Pixie Hair With Bangs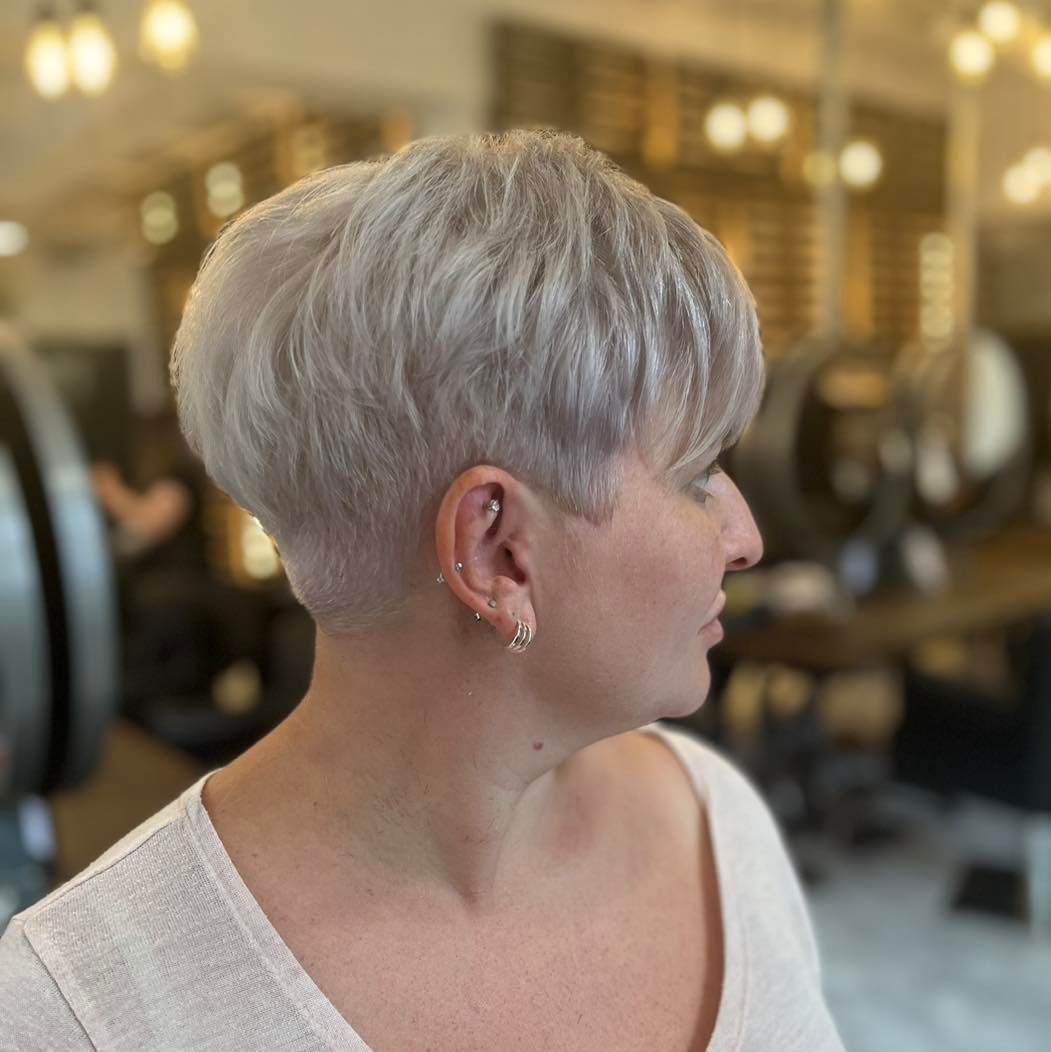 Thick and chunky hair with subtle blonde hues is for ladies who are slightly showing grays. Try this look out if you wish to assert your presence and dominance everywhere you go.
17. Warm Toned Pixie Hair With Bangs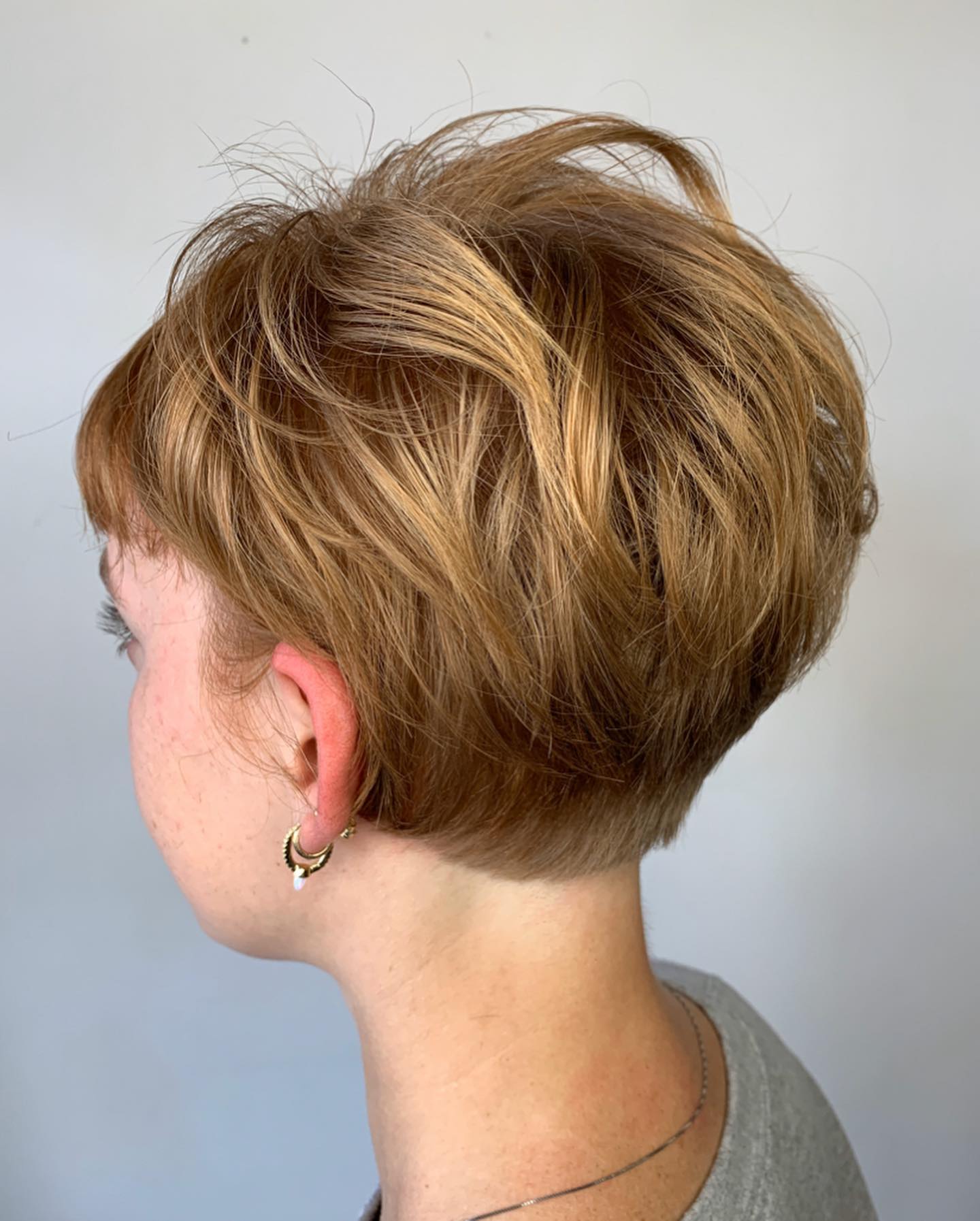 Warm-toned and fluffy pixie with swept-back bangs is a look that you're going to love if you're in your forties. Anyone who enjoys elegant ideas will fall for this effortless idea.
18. Brown Pixie Hair With Bangs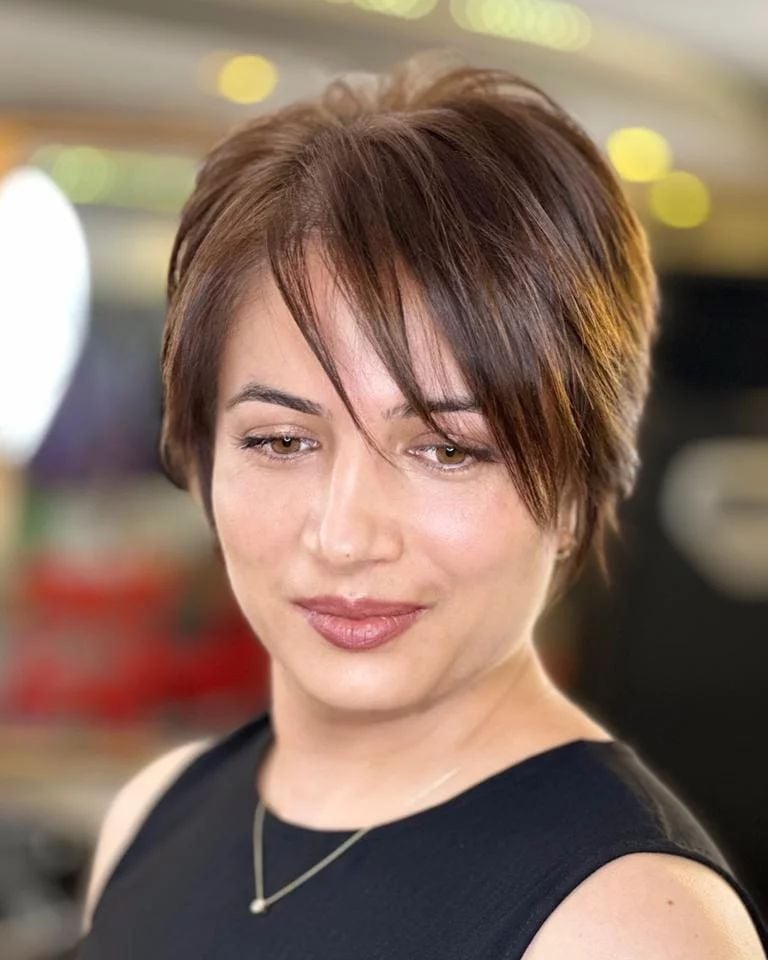 Show off your fun and long bangs and combine them together with a pixie cut. If you are in your forties and you want something elegant, why not this beauty?
19. Fluffy Voluminous Pixie Hair With Bangs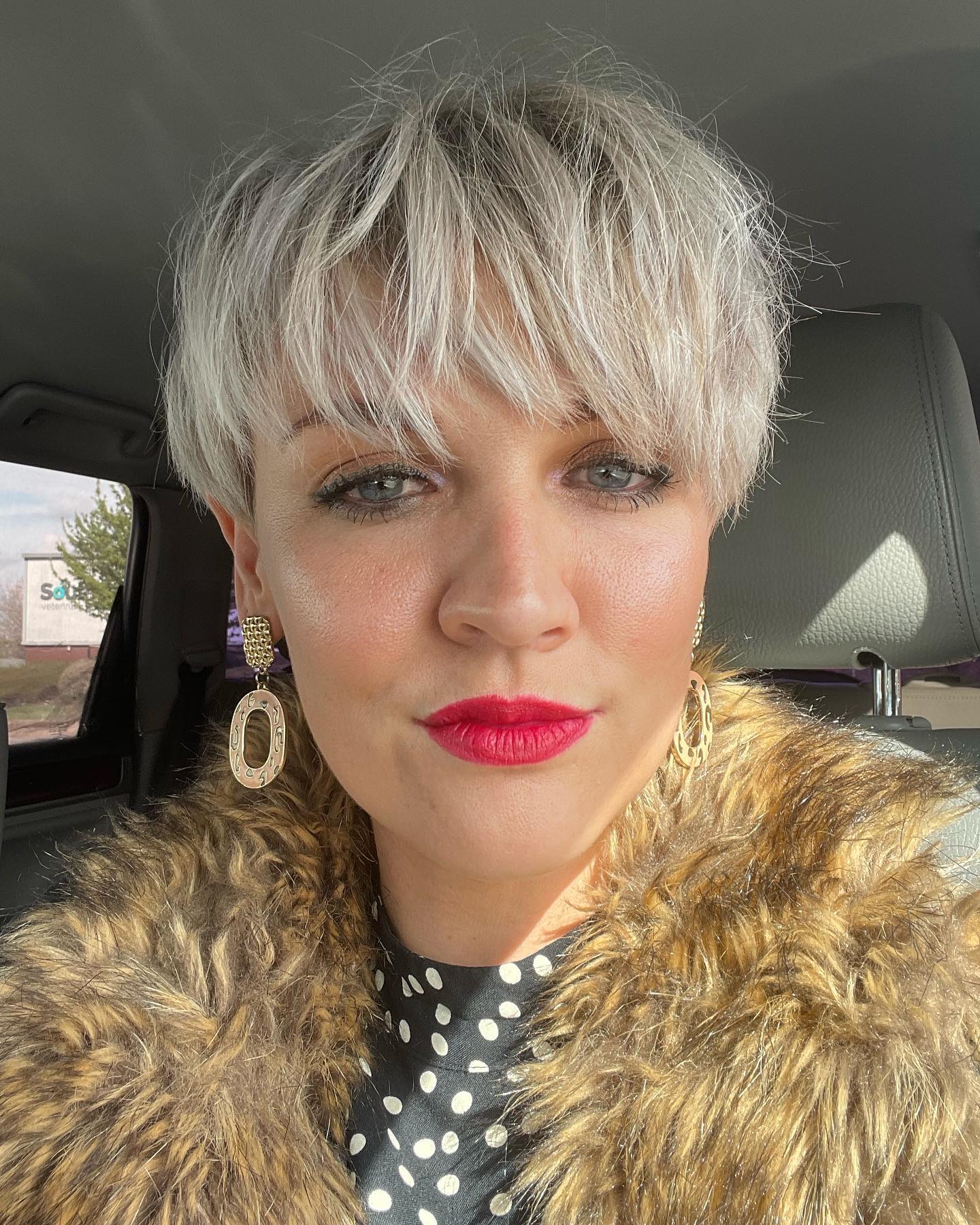 Go bright blonde and recreate and embrace this icy blonde shade if you're someone who likes volume. Ladies who love to pile on a ton of makeup and look breathtaking will fall in love with this overall concept.
20. Stylish Pixie Hair With Bangs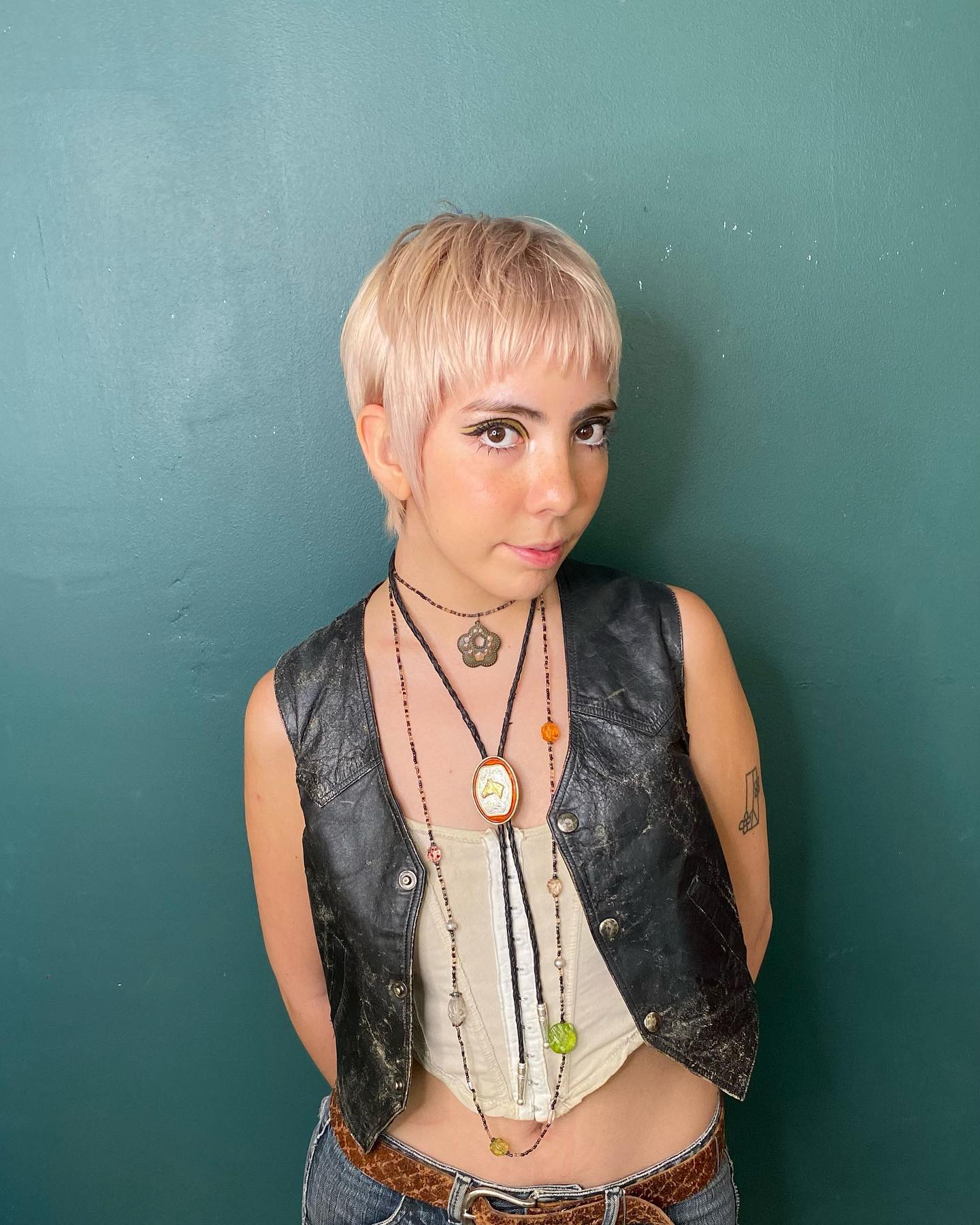 Look like a true little punk rock start with this hairdo. Women who love their shorter fringe bangs will also want to incorporate this style into their everyday look.
21. Brown Color Pixie Hair With Bangs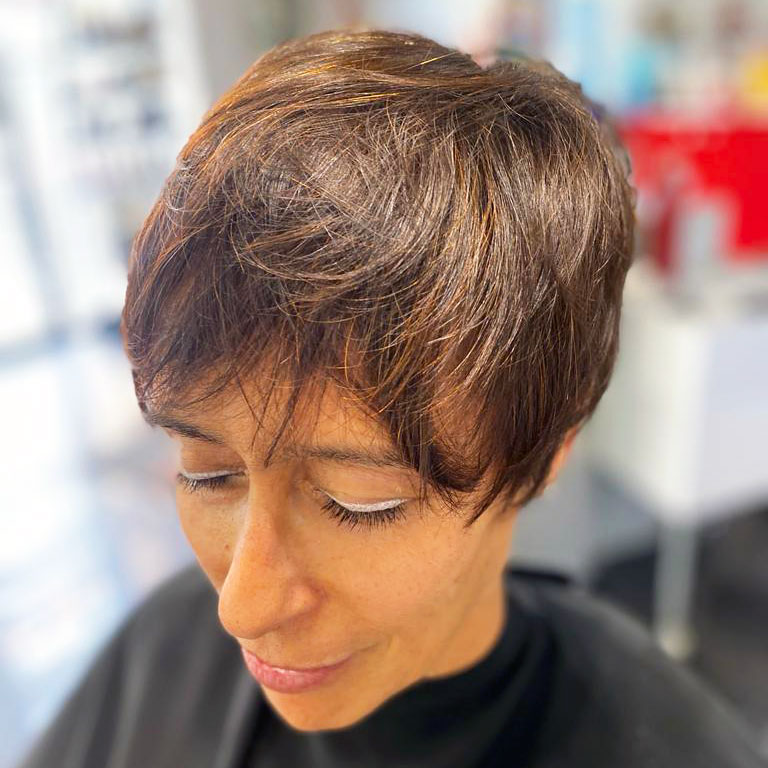 Dark brown and voluminous hairdo with pixie elements and subtle bangs is a must-do for mature women. If you enjoy low-maintenance ideas and you fancy glamour (but in your own way), we know that this is for you!
22. Pixie Hair With Bangs Side Part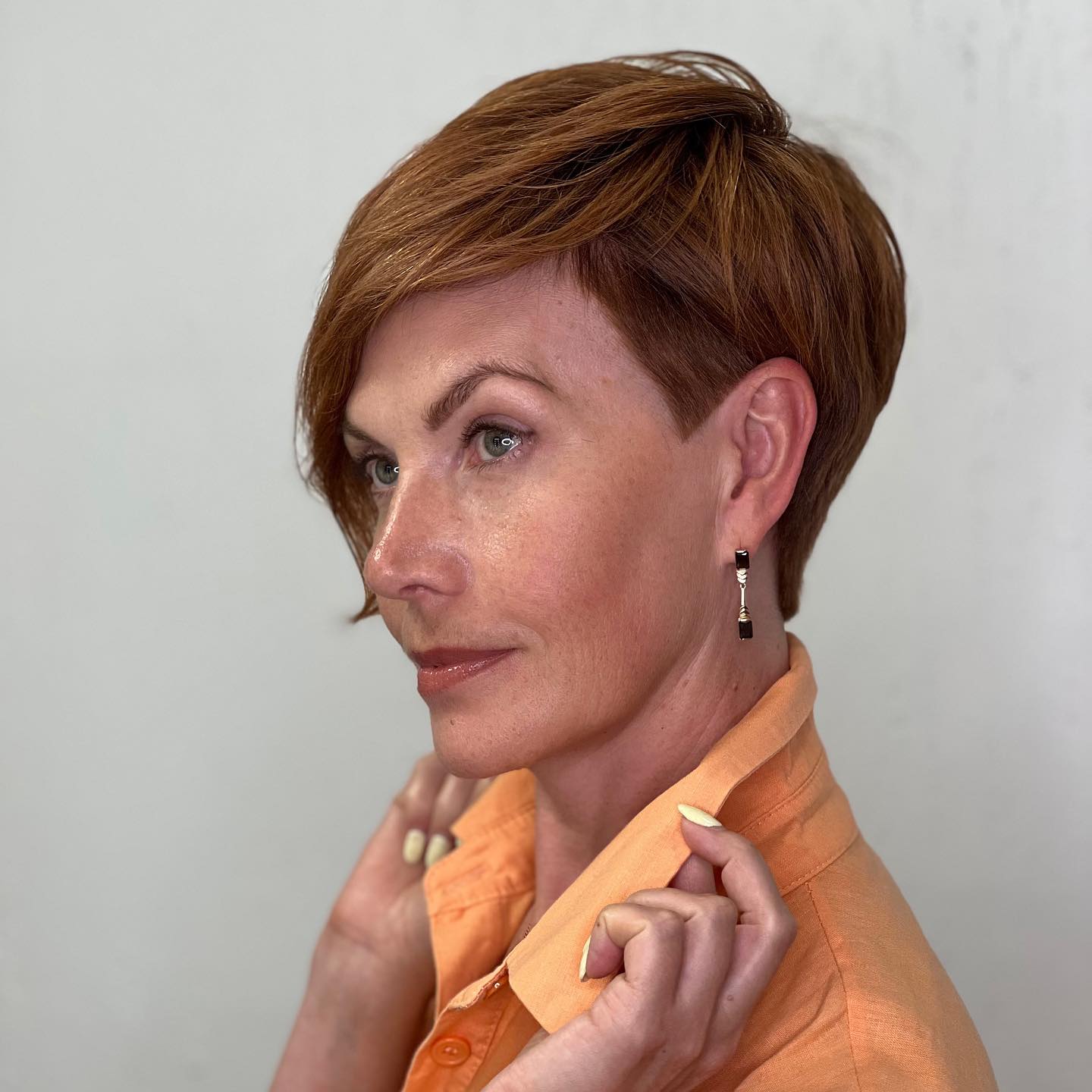 Ladies who are in their forties to fifties will fancy this look. If you're someone who loves to do bold statement ideas and you want to look like a true elegant diva with your new haircut, who are we to stop you?
23. Black Glossy Pixie Hair With Bangs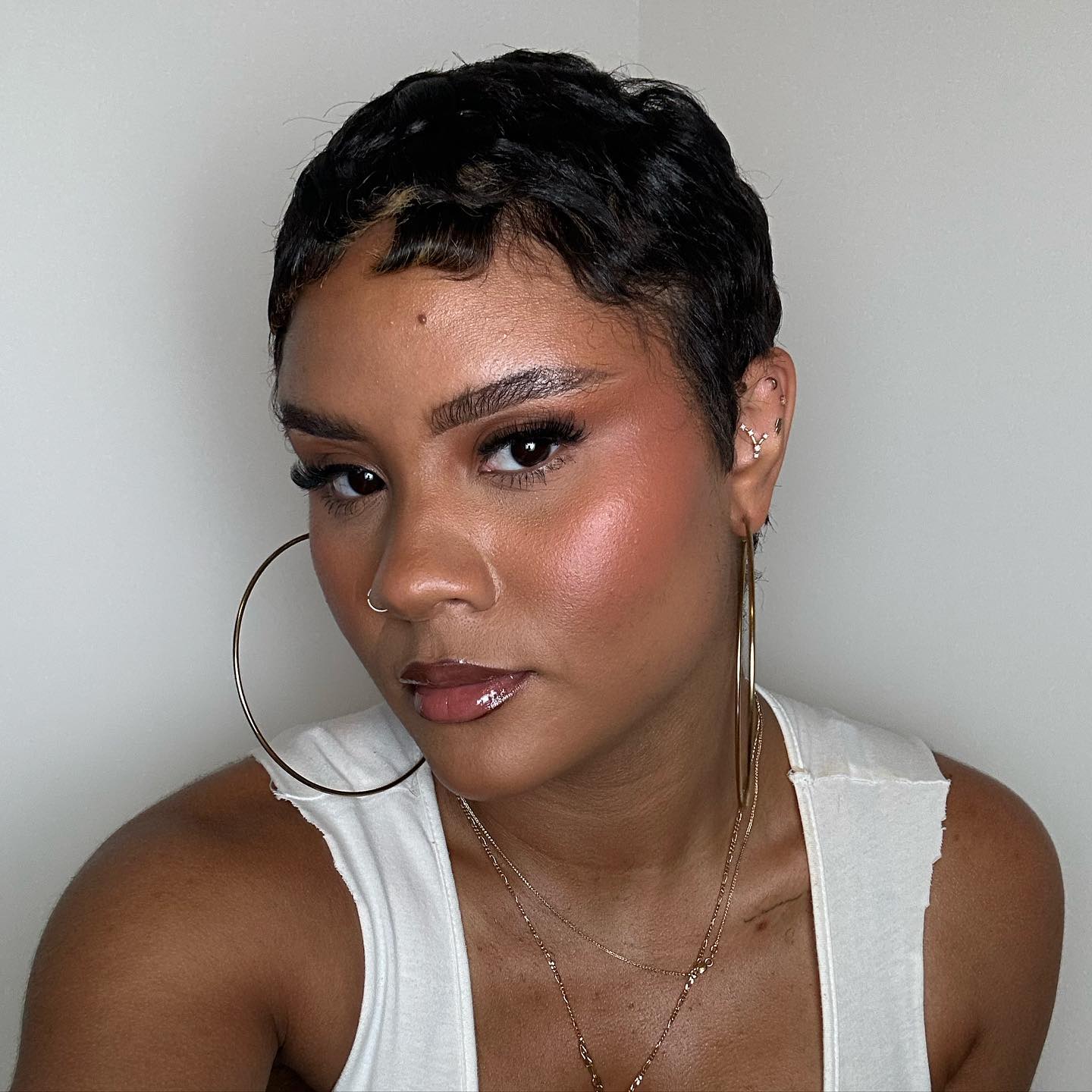 Go for a short black pixie hairdo and rock your natural curls! Style them with only a bit of hair gel or hairspray to keep them intact for the entire day.
24. Natural Brown Pixie Hair With Bangs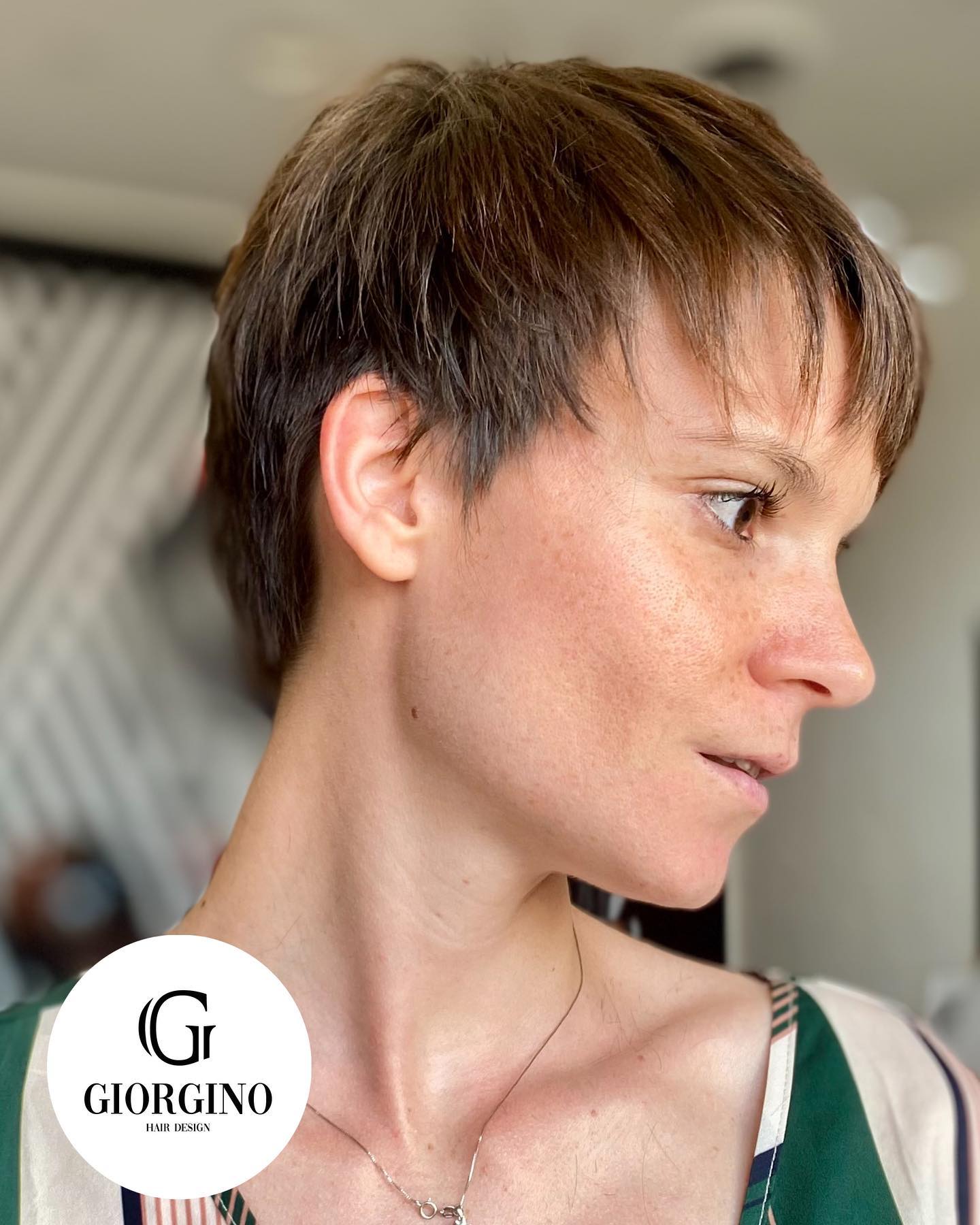 A short and sweet pixie with longer bangs is a must-try for outgoing women. If you wish to look retro and edgy, who are we to stop you?
25. Icy Pearl Pixie Hair With Bangs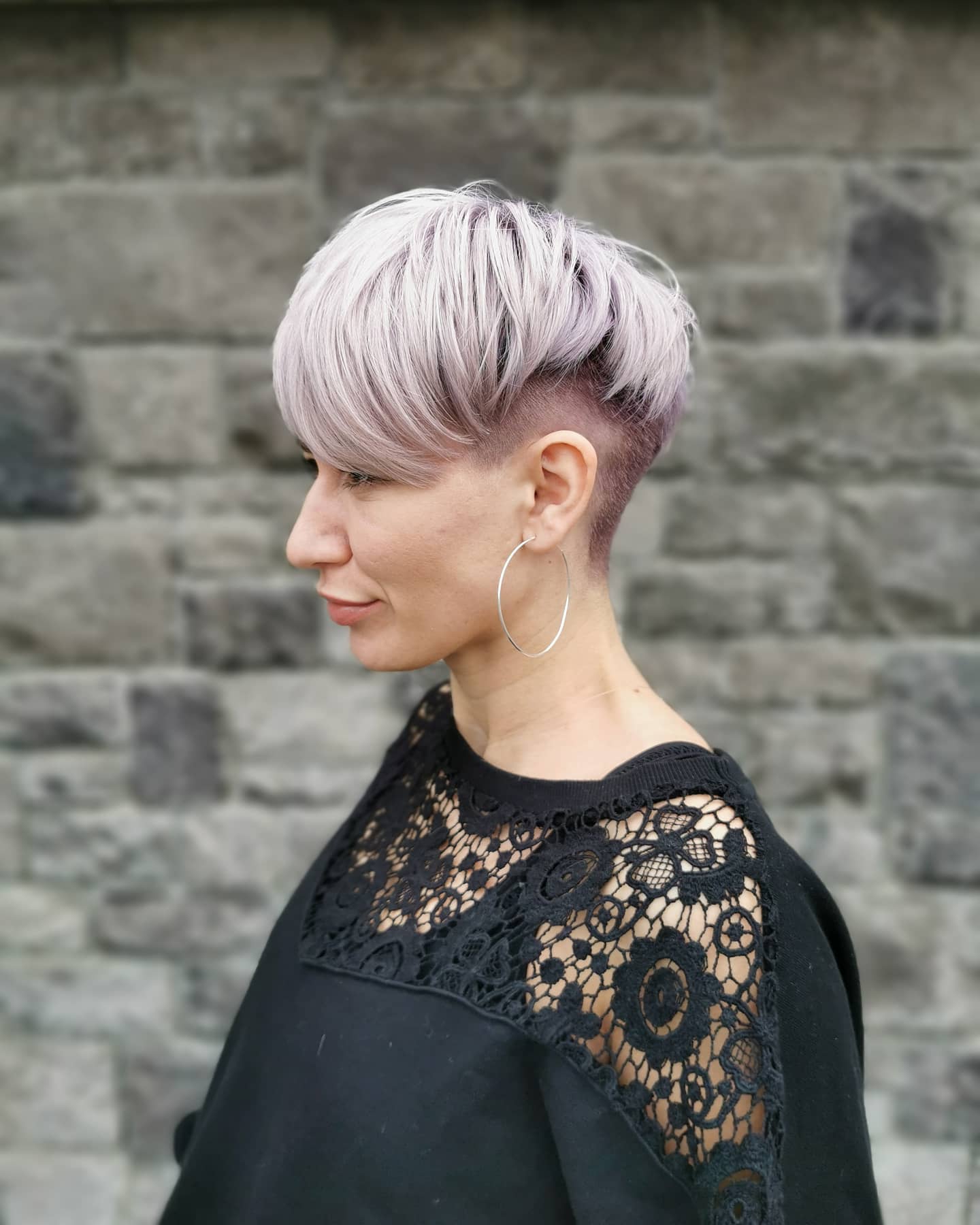 An icy pearl shade and this design is a must-do for times and moments when you want to get noticed. Invest in your hair toner since this design is on a high-maintenance (tricky side).
26. Yellow-Toned Pixie Hair With Bangs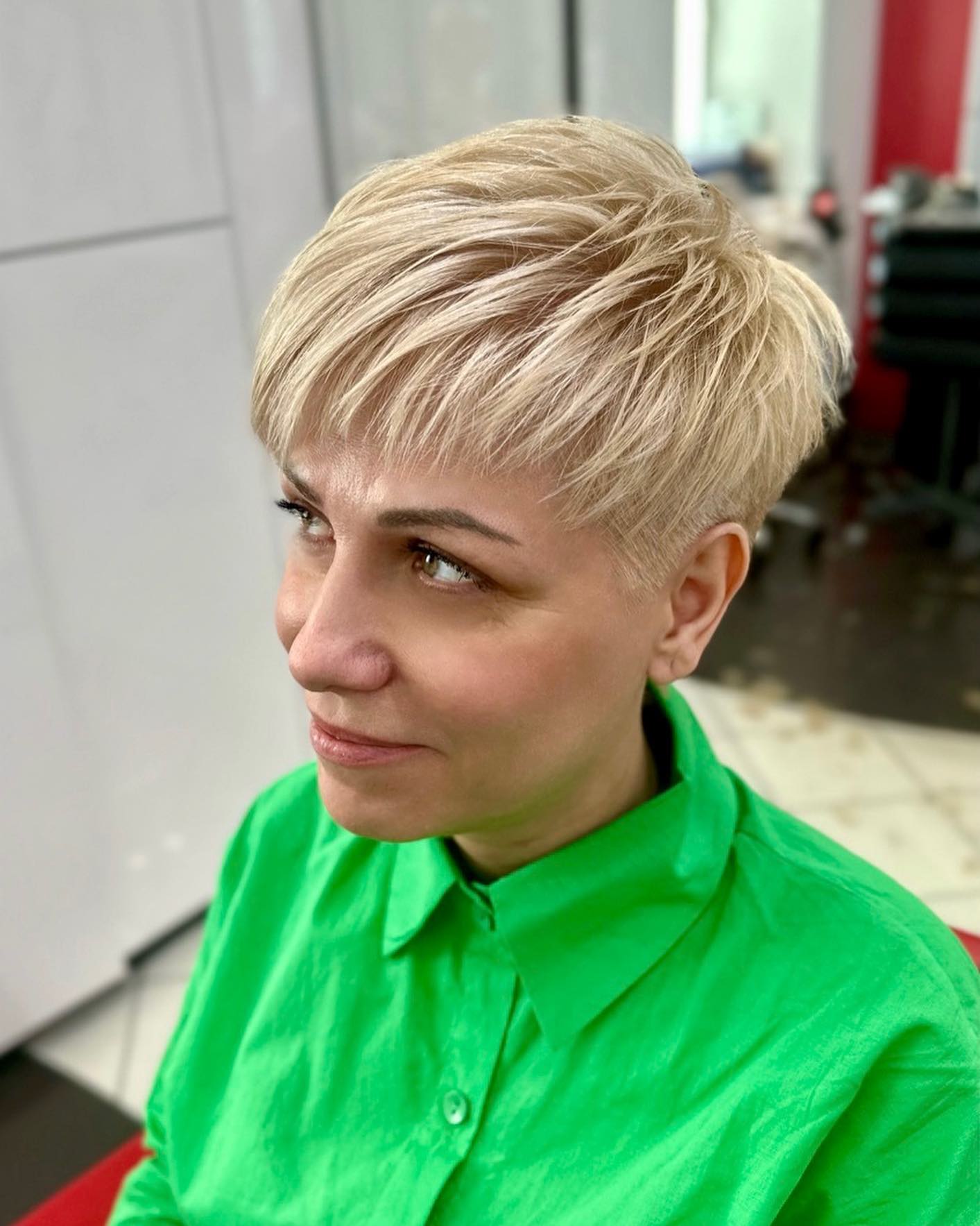 Lastly, go for a yellow-toned pixie if you want your own unique take on blonde hairdos. Anyone who loves defined tops and cute bangs will love this look, no matter their age.
Want A New Pixie Hairdo?
Want to spice it up with some of these designs? Which haircut do you like the most, and what is something that you can't wait to wear in the near future? Let us know girl!