Are you ready for that new ponytail look or hair touch-up? Ponytail looks for black women are quite complex yet popular and stunning! If you can't make up your mind and you're not too sure which look to go for, don't worry, since we got you! Here, we will talk about loads of different ideas that will suit women of different age groups and hair lengths that will intrigue you.
Why Go For A Ponytail Look?
Ponytail looks can seem pretty simple or straightforward. However, the thing is that most black women have a hard time styling their hair. This is because their hair is quite thick, coarse, and often curly. This is why you might want to consider booking a hairstylist that will tame your hair and help with unruly strands. In some cases, this is where your hairstylist will use wigs or hair extensions to give you ideal results.
How To Achieve A Gorgeous Ponytail Hairdo?
Your ponytail will look retro, sleek, or elegant – based on your preference. When it comes to its styling, here is how it should look like:
Wash your hair and comb it through
Make sure that you get rid of any knots or frizz with a hairspray
Tie it in a ponytail and secure it with an elastic
You can leave it straight or wear it curly
Style your hair with a flat iron or with a curling wand to end up with flawless and salon-like results
Add a lot of hairspray to keep the hair in place and to achieve a significant amount of shine
1. Black & Loose Ponytail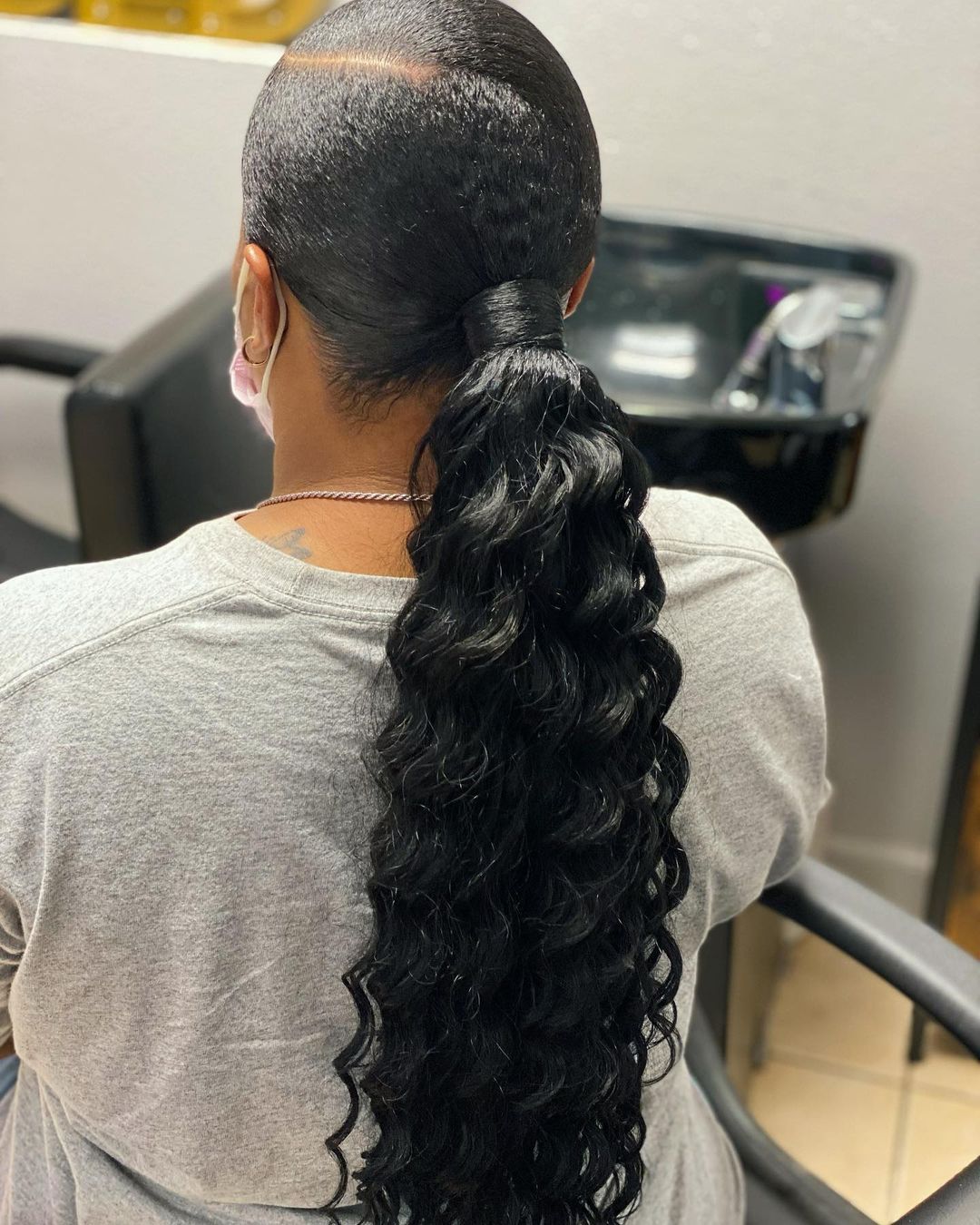 The perfect color for women who like natural-like results! This is the perfect every day or party-perfect pony that you can achieve with a curling iron.
2. Caramel Highlights Ponytail Hairdo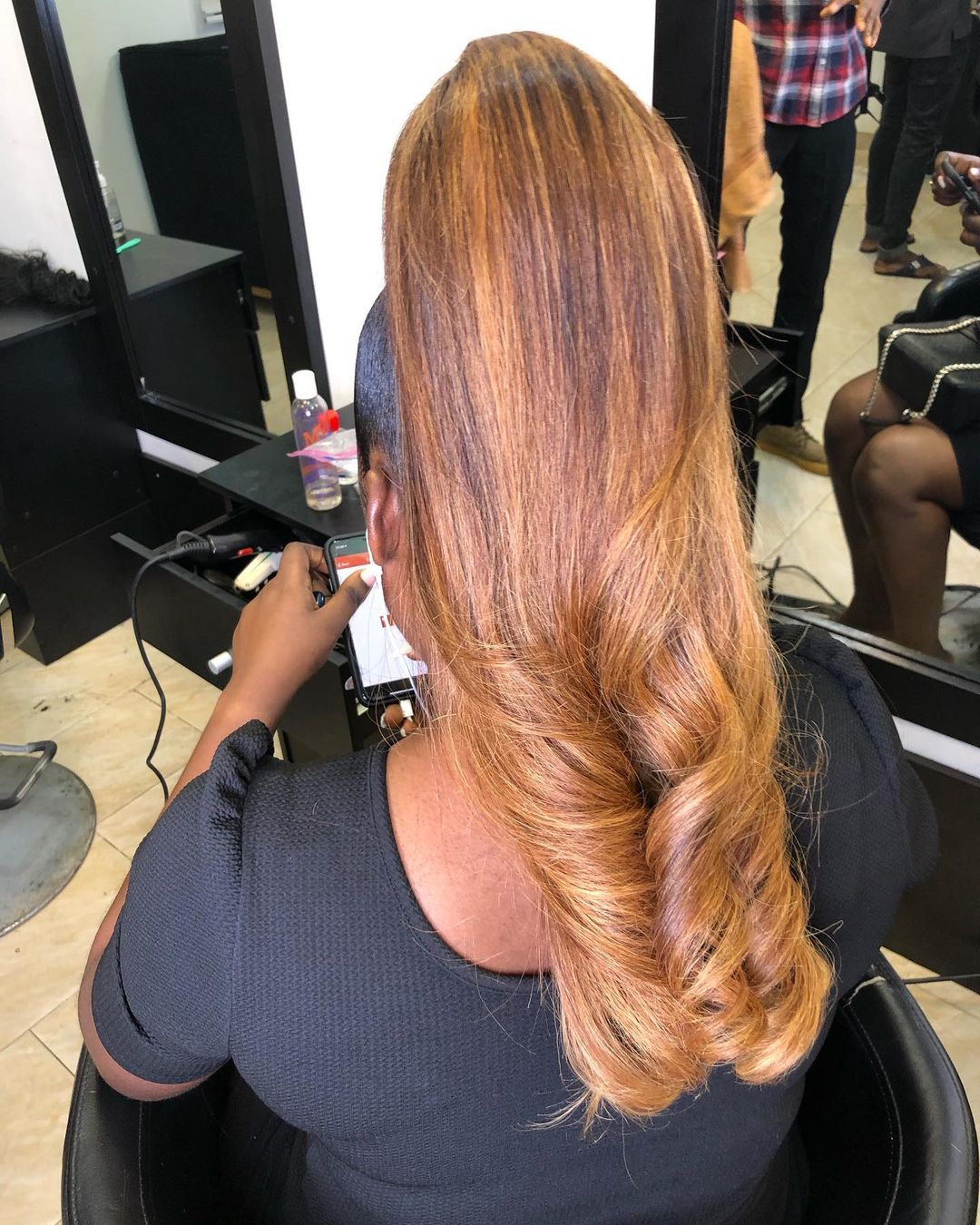 Color your hair and switch it up by sticking to this light blonde caramel look. Women who are in their twenties are going to like this ponytail the most!
3. Brown Sleek Ponytail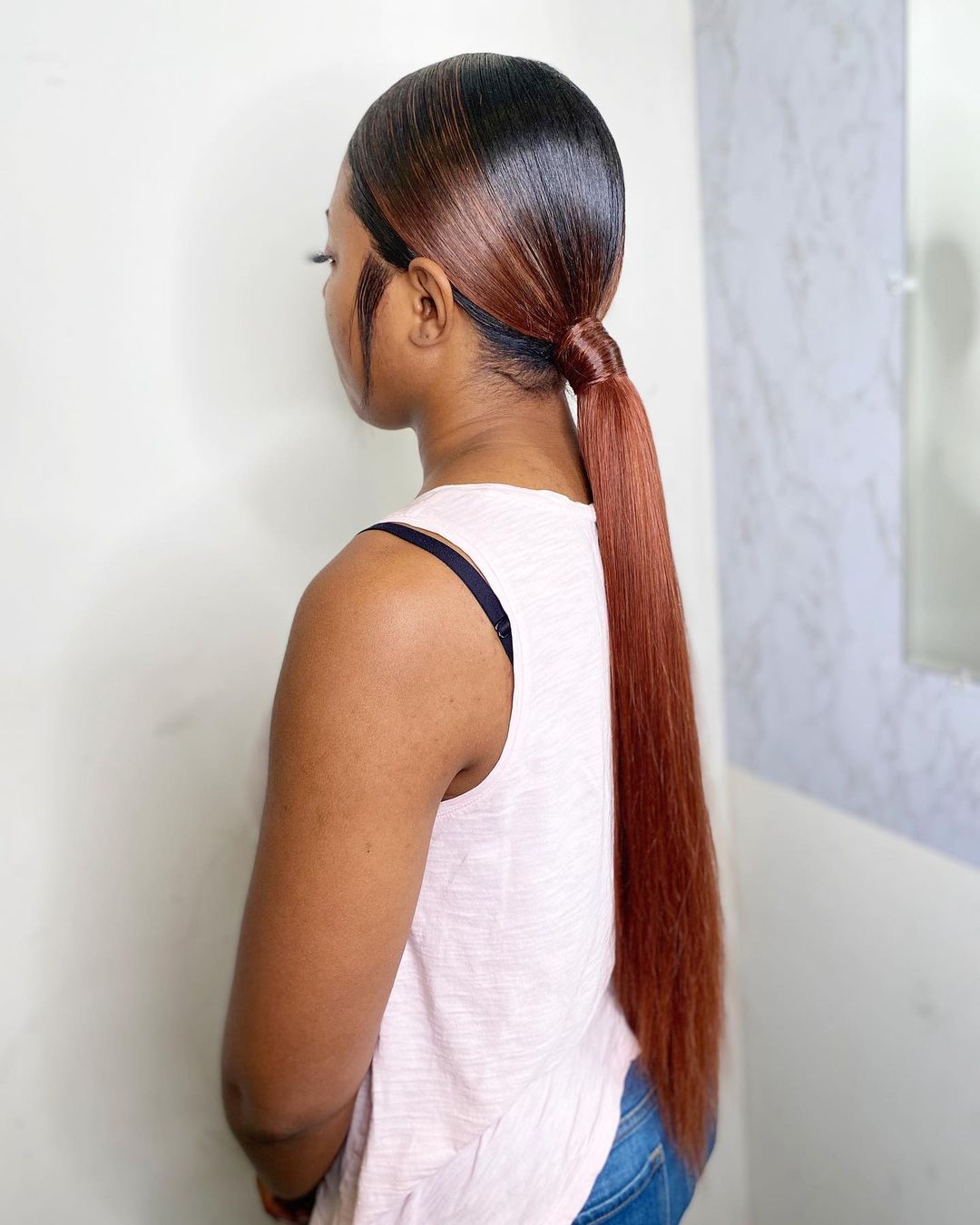 Secure your ponytail in the back with an elastic and this twisted hair approach. If you want an elegant, sleek & straight hairdo make sure that you iron it properly before you wear it out and about.
4. Braided Hairdo Ponytail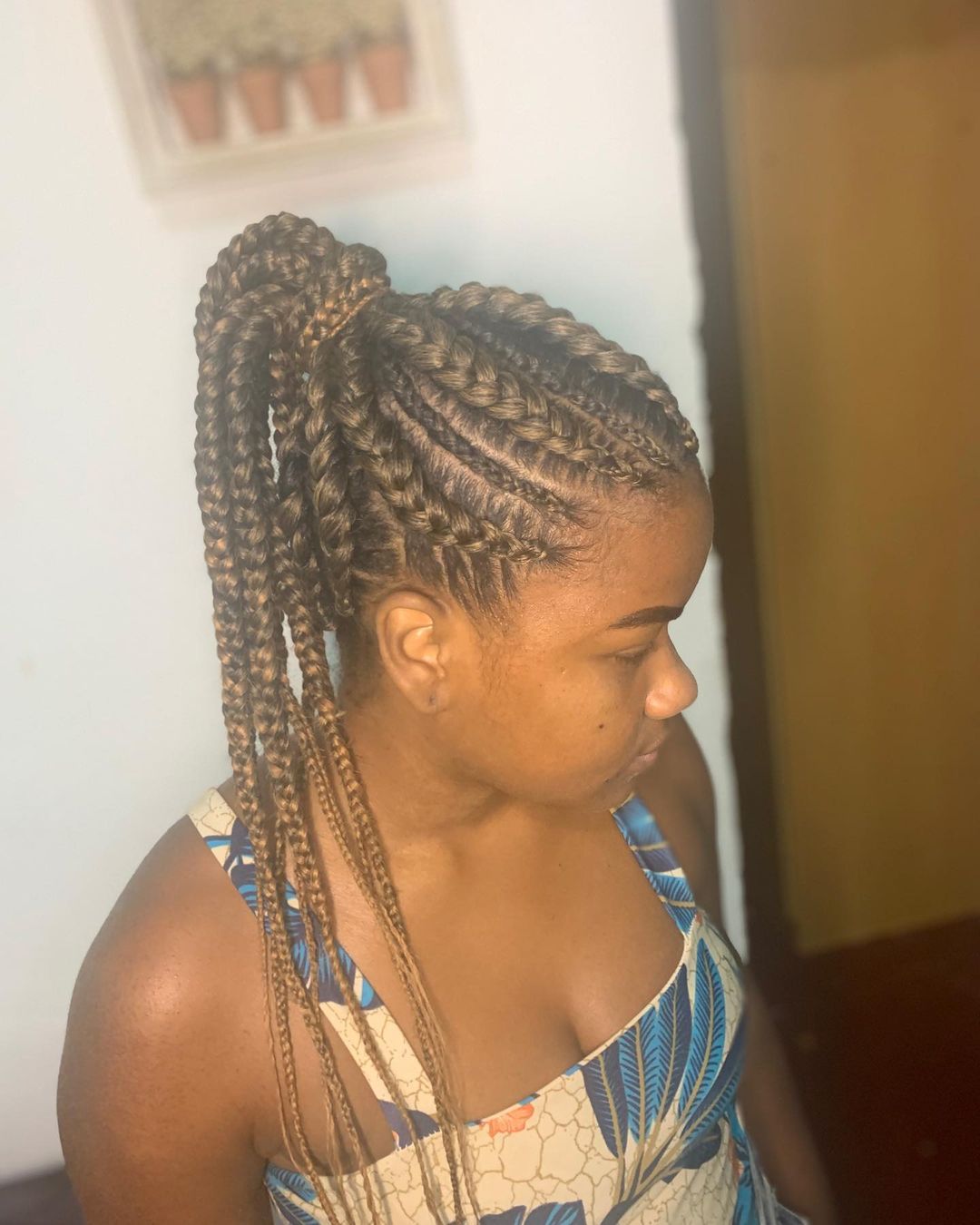 Braided ponytail ideas are perfect for women who like retro looks. If you are a teen and you like to experiment or show off with your ideas – this is ideal!
5. High Up & Sleek Ponytail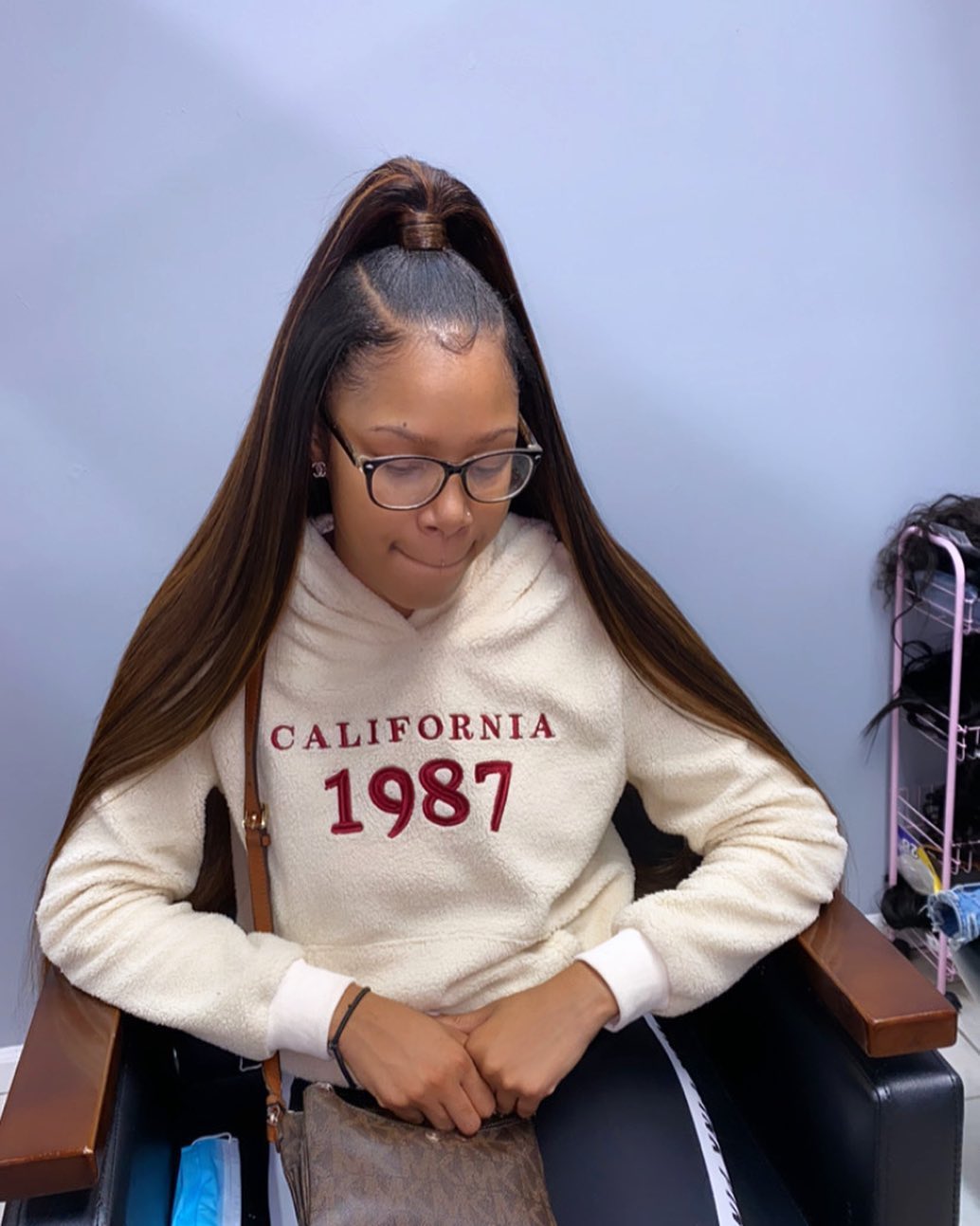 Embrace your inner Ariana Grande look and wear your ponytail this high! This straight sleek look will look the best for your formal events or even the prom itself!
6. Curly & Voluminous Black Ponytail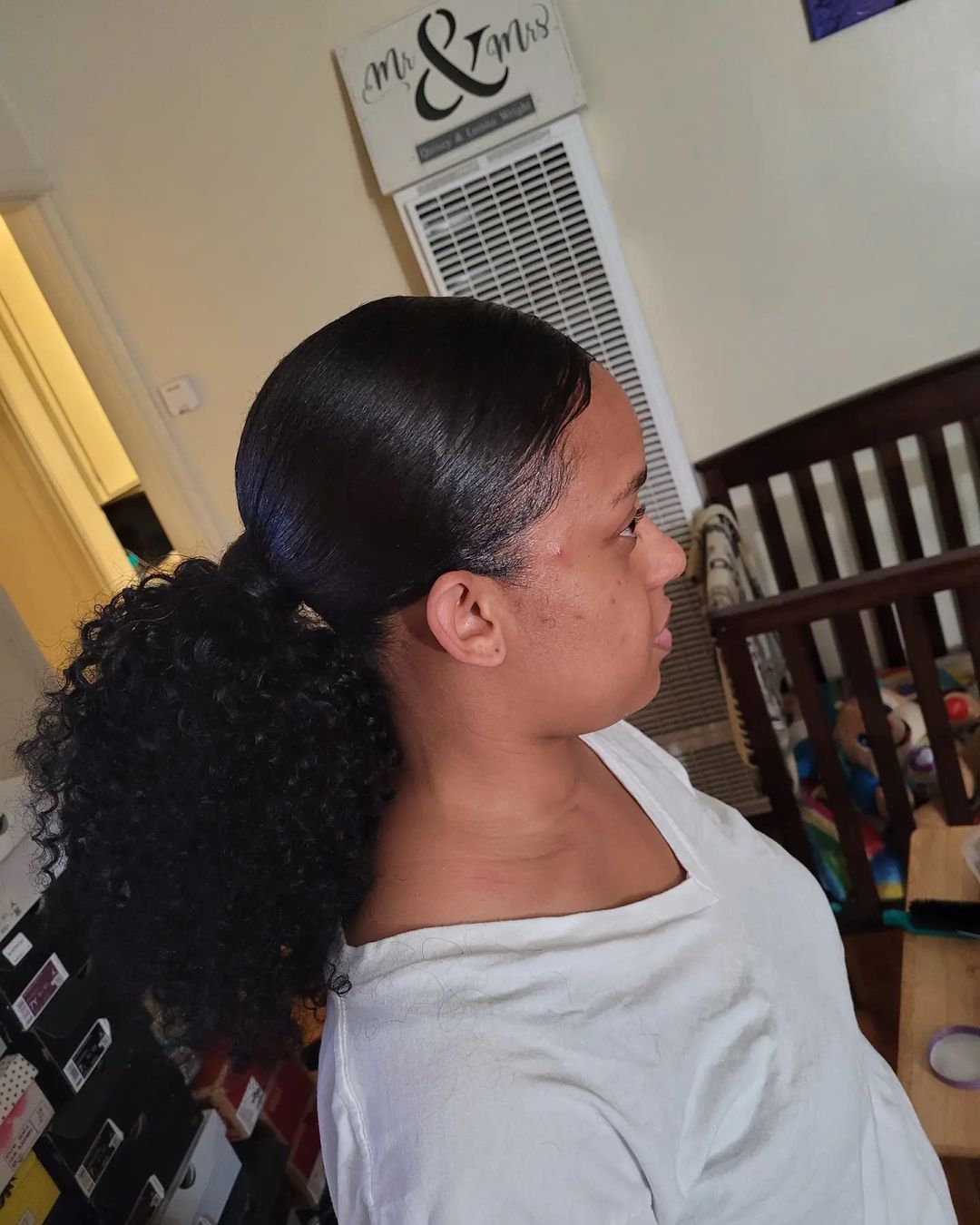 If you are blessed enough to have curly & voluminous hair you're going to enjoy this retro design. Add a lot of hair gel or a curling cream in the back to make your ponytail pop even more!
7. Light Blonde Bleached Ponytail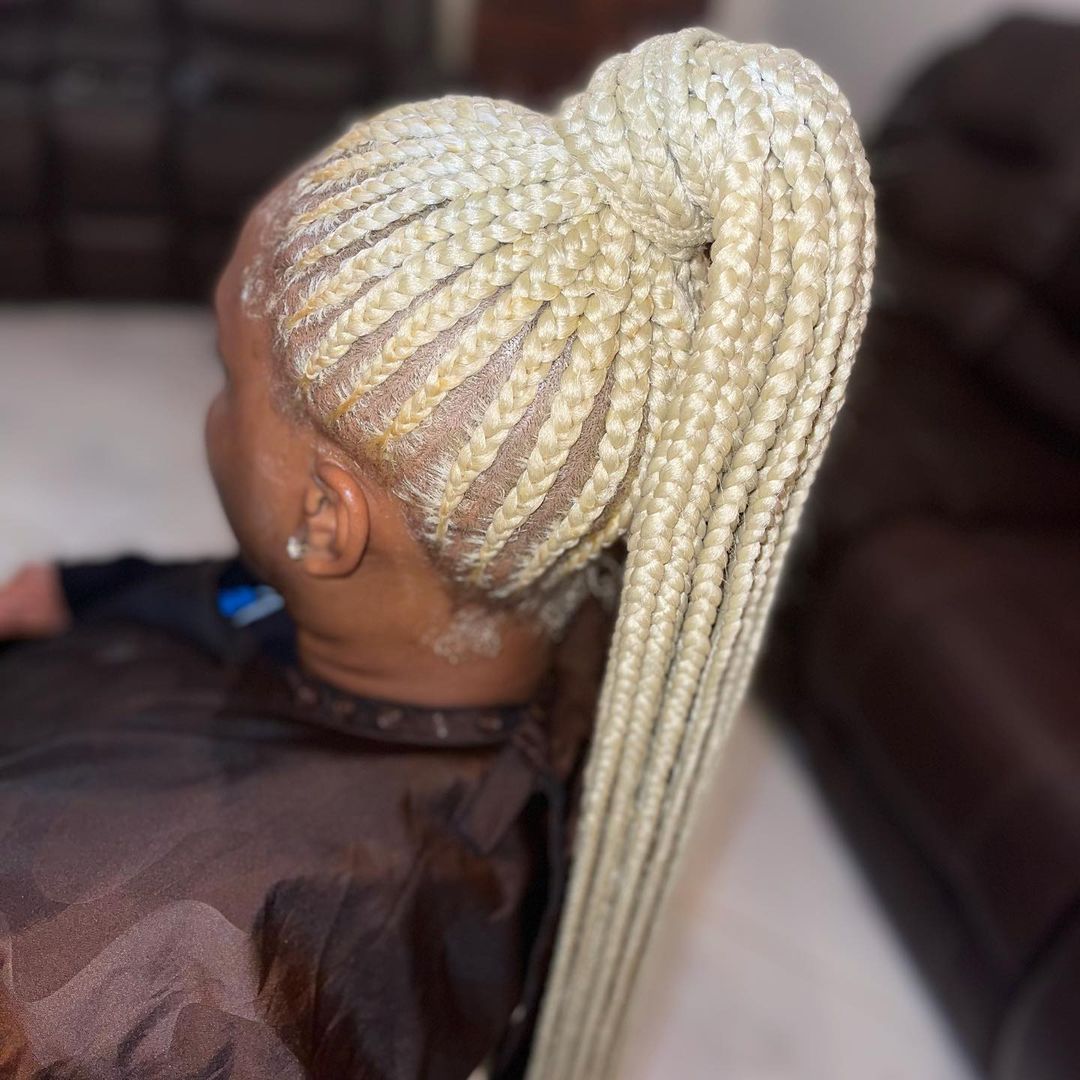 This hairstyle might be a challenge for you, so why not ask your hairstylist to recreate it? Although a time-consuming twisted ponytail – the results are going to last for weeks!
8. Curled Up Natural Ponytail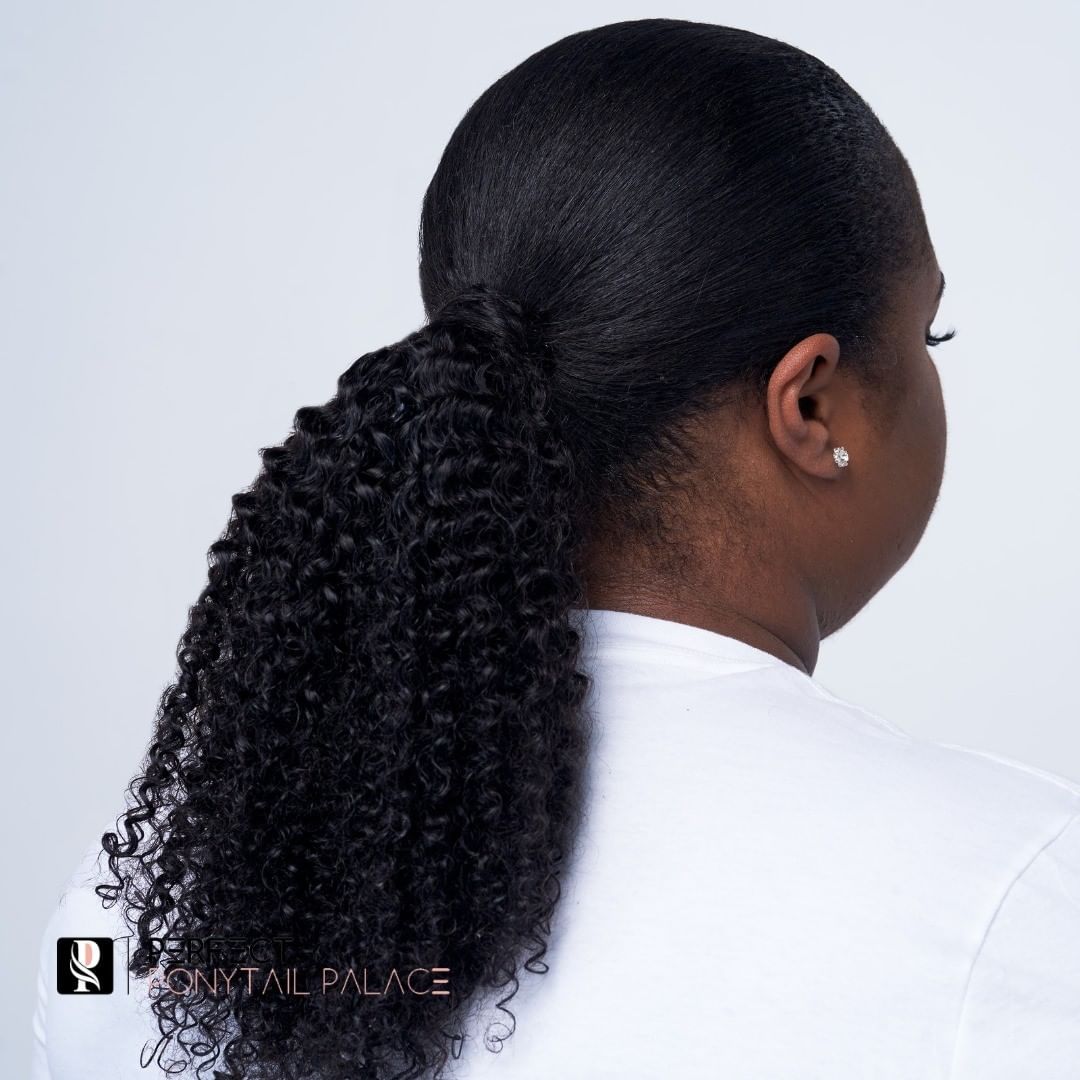 Black hair and loose curls are a dream combo. Show off your natural texture and secure the ponytail in the back with a sturdy elastic.
9. Long & Wavy Brown Ponytail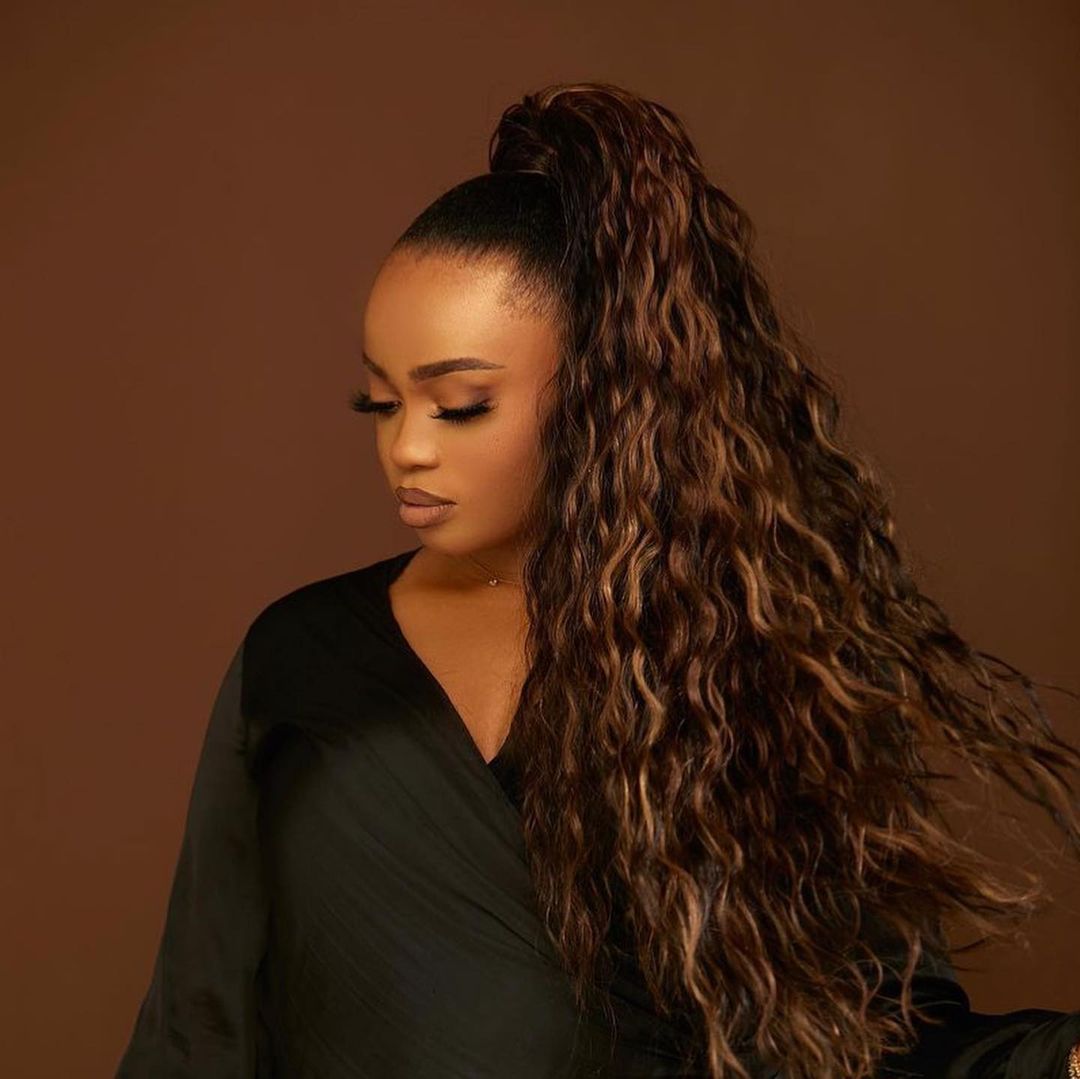 Brown hairdo with highlights will always look chic & elegant. This loose wavy ponytail will suit young women and those who need a party-perfect look!
10. Tight Blonde Ponytail Bleached Hairdo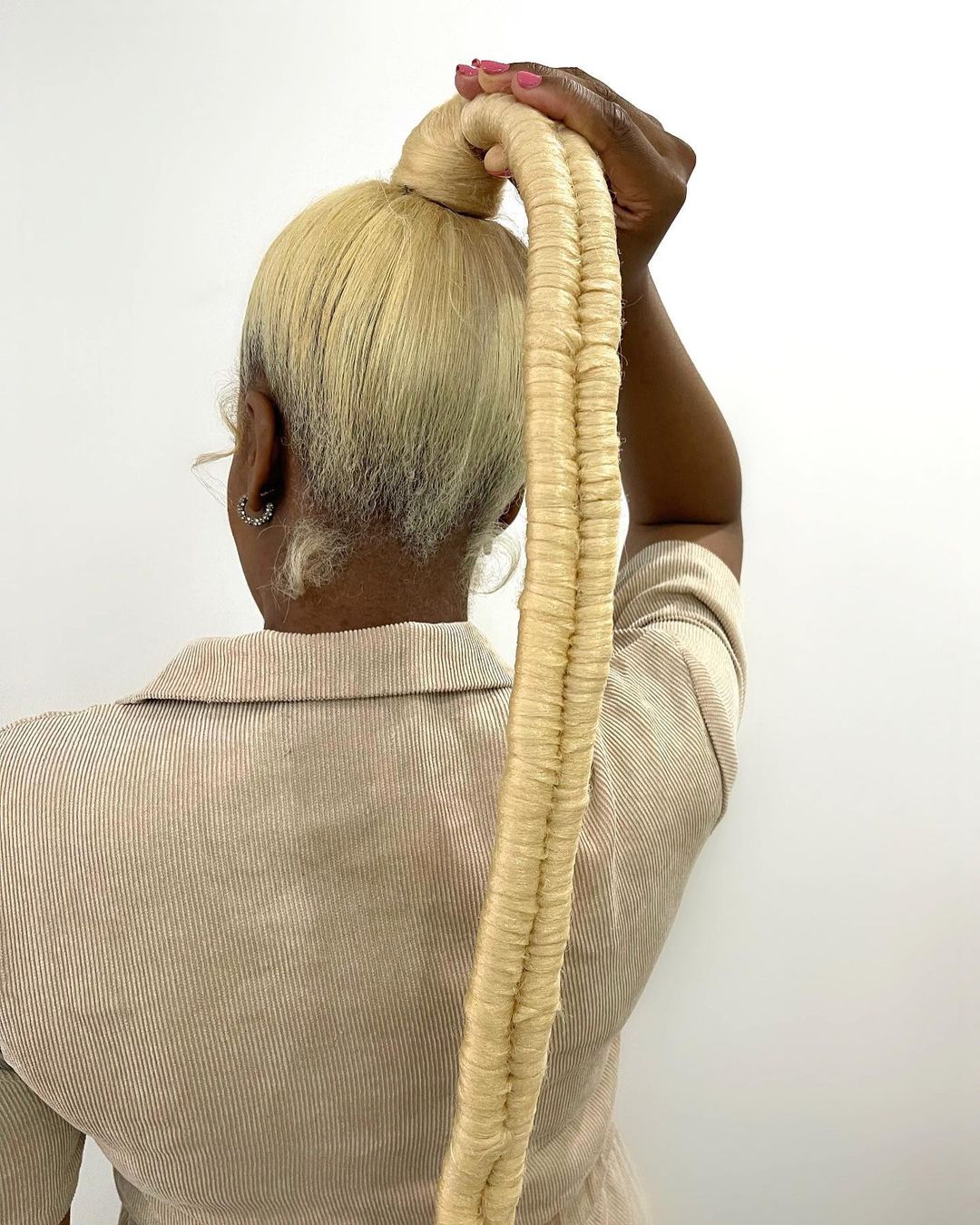 Bleach your extensions and install this ponytail! It is a retro idea that works so well on black women! Add a lot of hairspray to secure it and enjoy wearing it at night.
11. Orange Ponytail With Braids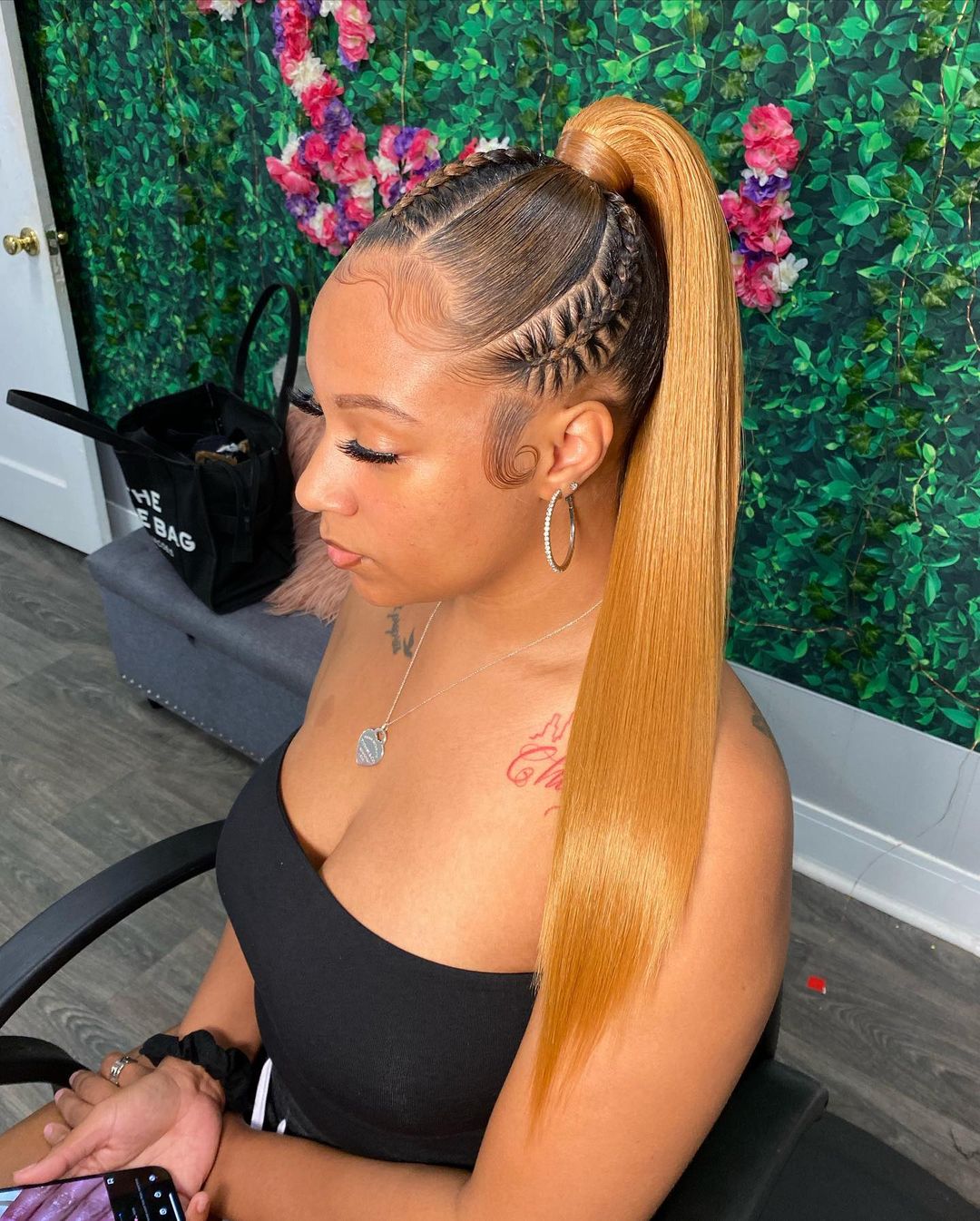 Orange hair is risky, but so are you! Add a pop to your ponytail with these side-placed braids and wear this style for any event or season.
12. Black Ponytail Extensions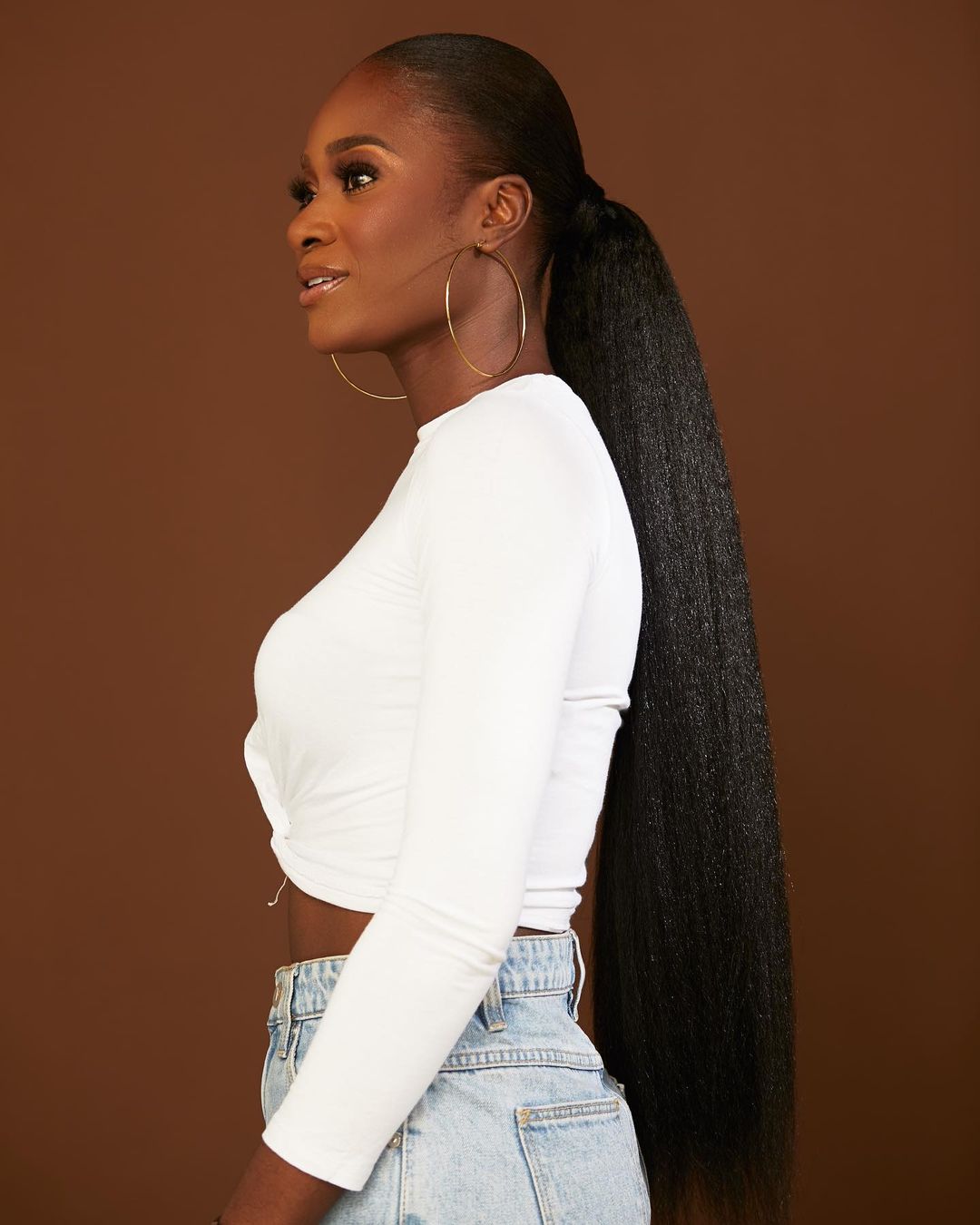 A lot of black women prefer inches and loud extensions when it comes to their appearance. Are you one of those women yourself? Show off this long & extravagant ponytail any place, any time!
13. Long & Voluminous Dark Brown Ponytail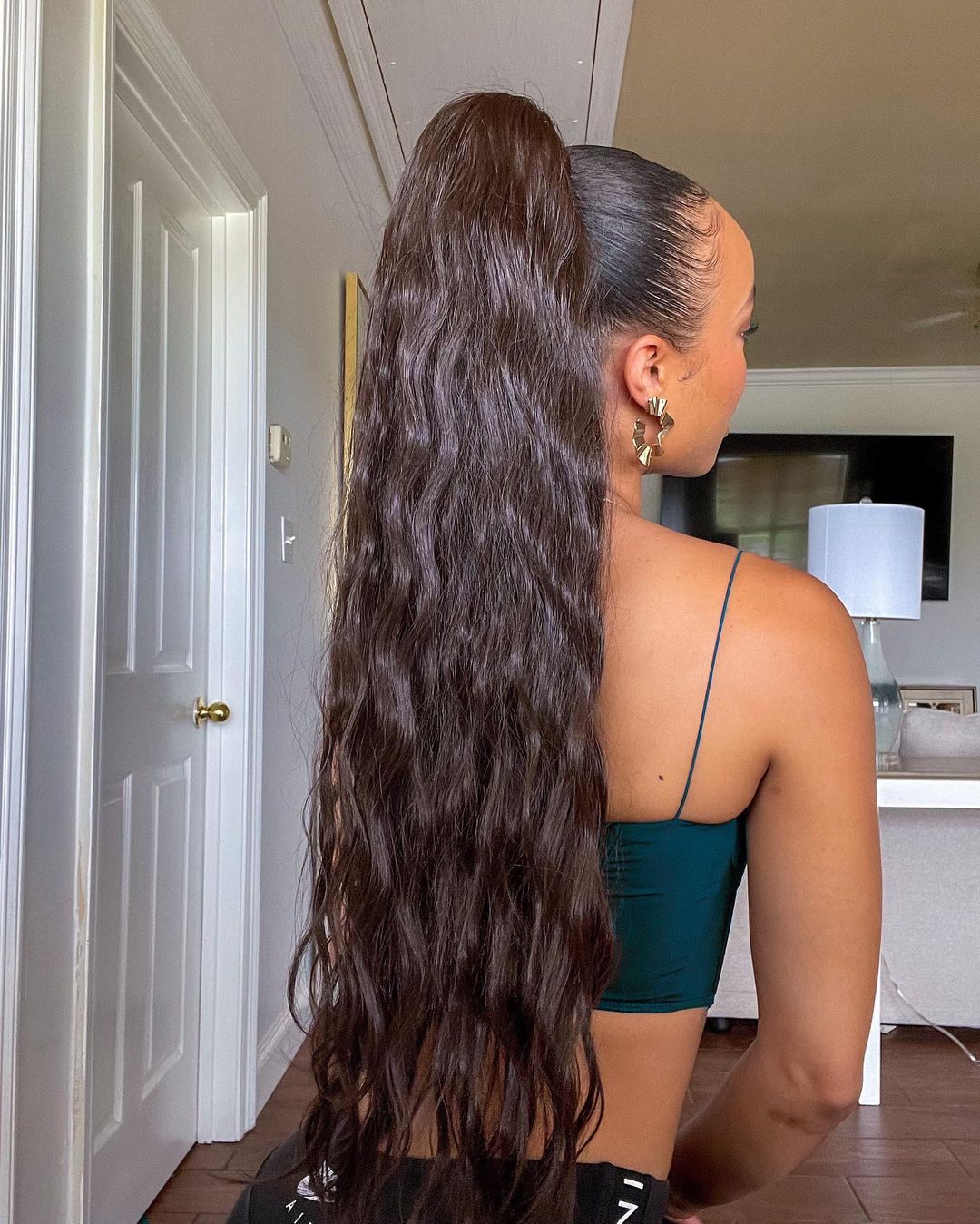 Add that soft curl and loose waves to your long ponytail to make it stand out from the rest. This hairdo might take 1-2 hours to do.
14. Curled Loose Brown Ponytail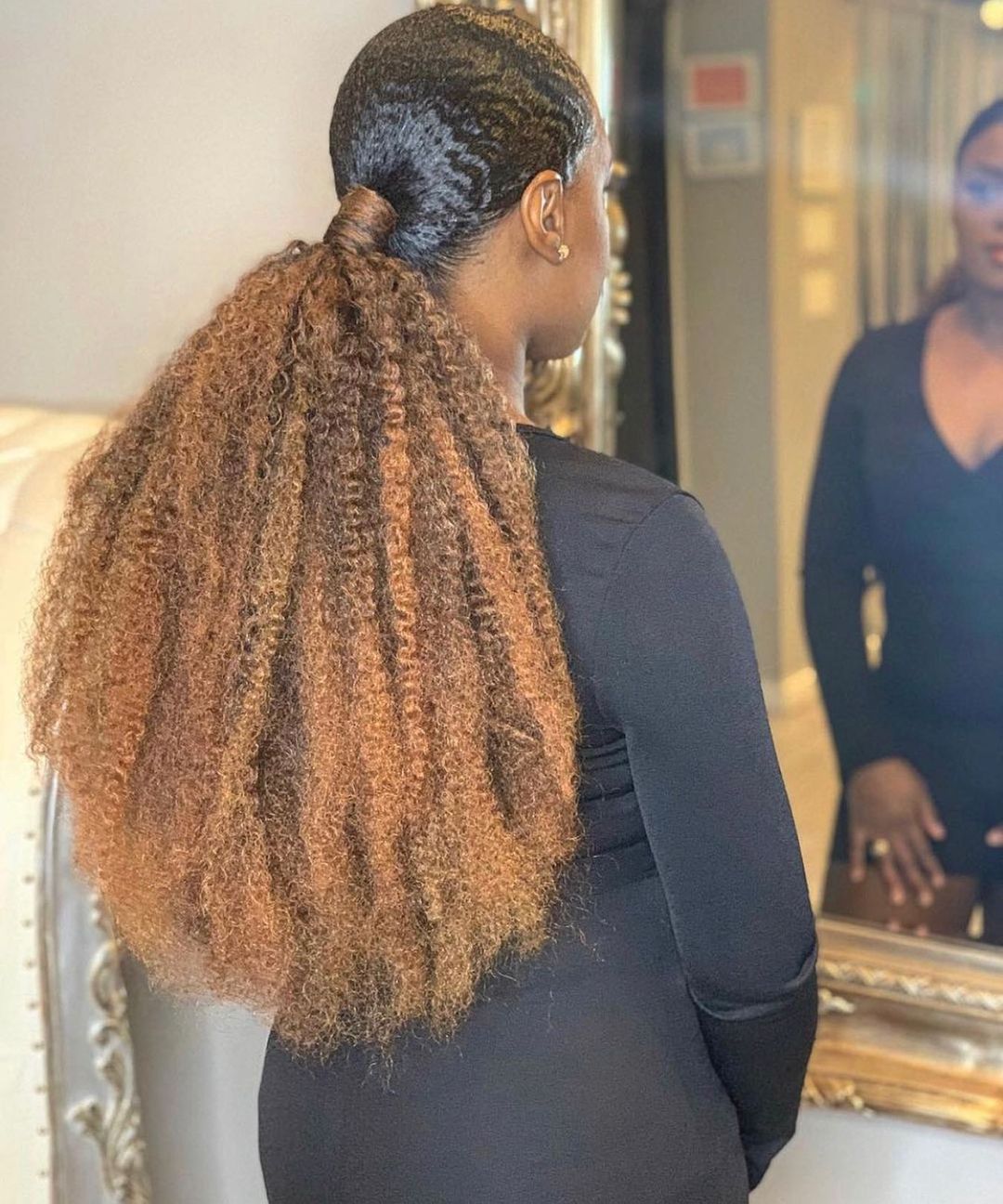 Show off your tight curled coils and wear your fluffy ponytail with confidence. Although on a high-maintenance side, girls of any age can wear it.
15. Hot Fiery Red Ponytail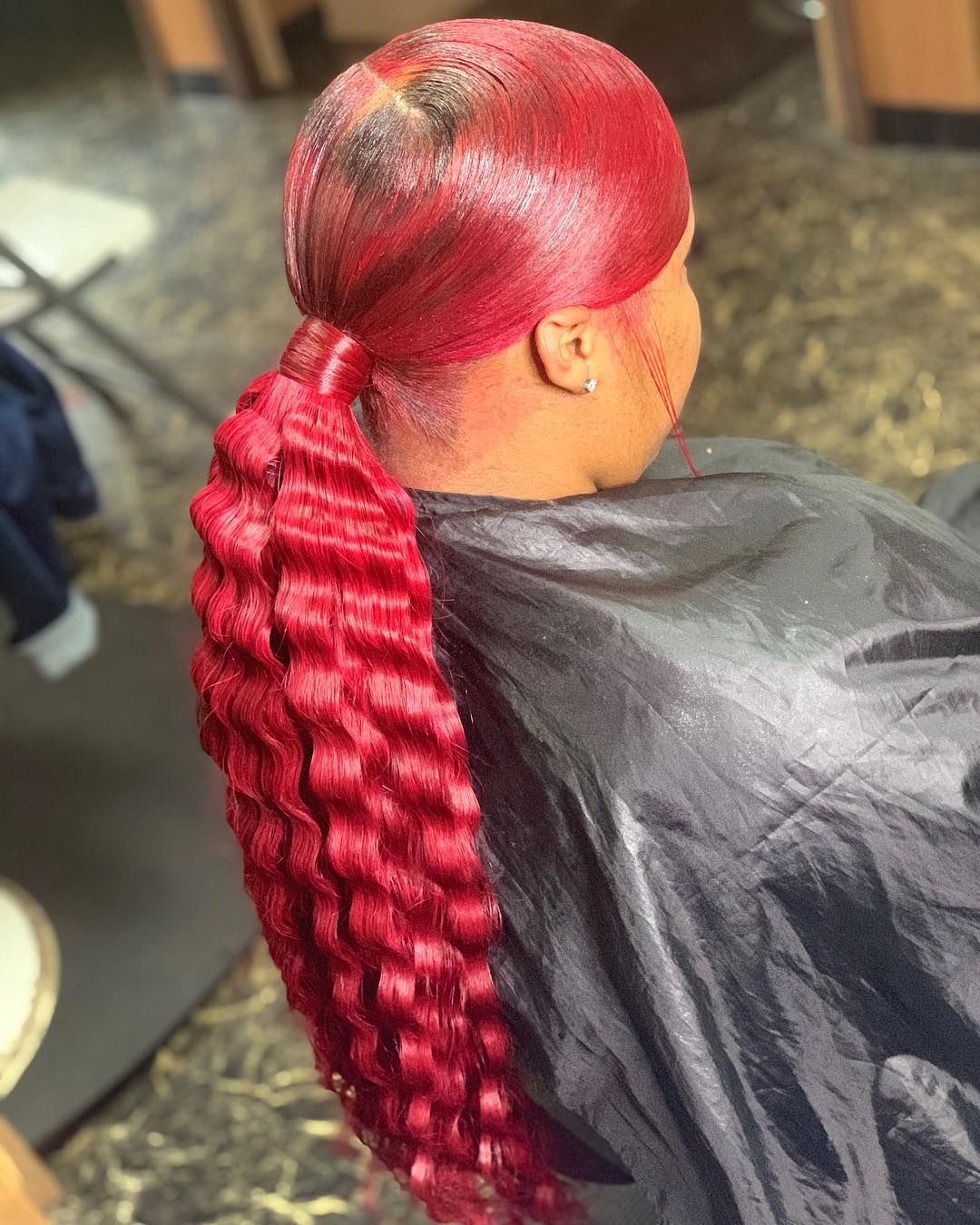 Hot red and fiery auburn options will suit mature women. Make sure that you're up for some regular color touch-ups since red can be tricky to maintain.
16. Elegant Slicked Back Ponytail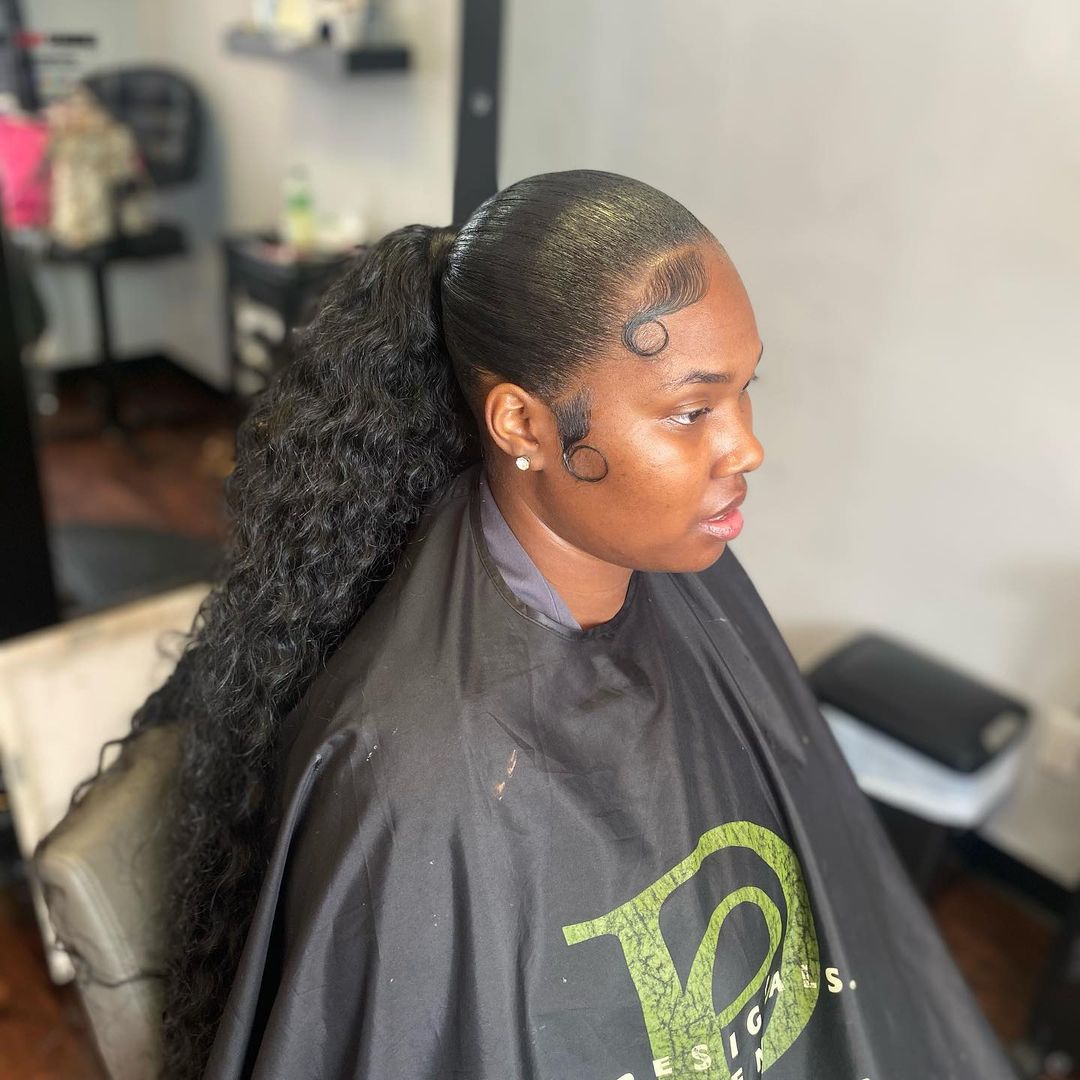 Slick back your baby hairs and keep the back portion voluminous. This retro ponytail with curls in the back is perfect for everyday wear!
17. Ponytail With Braid Details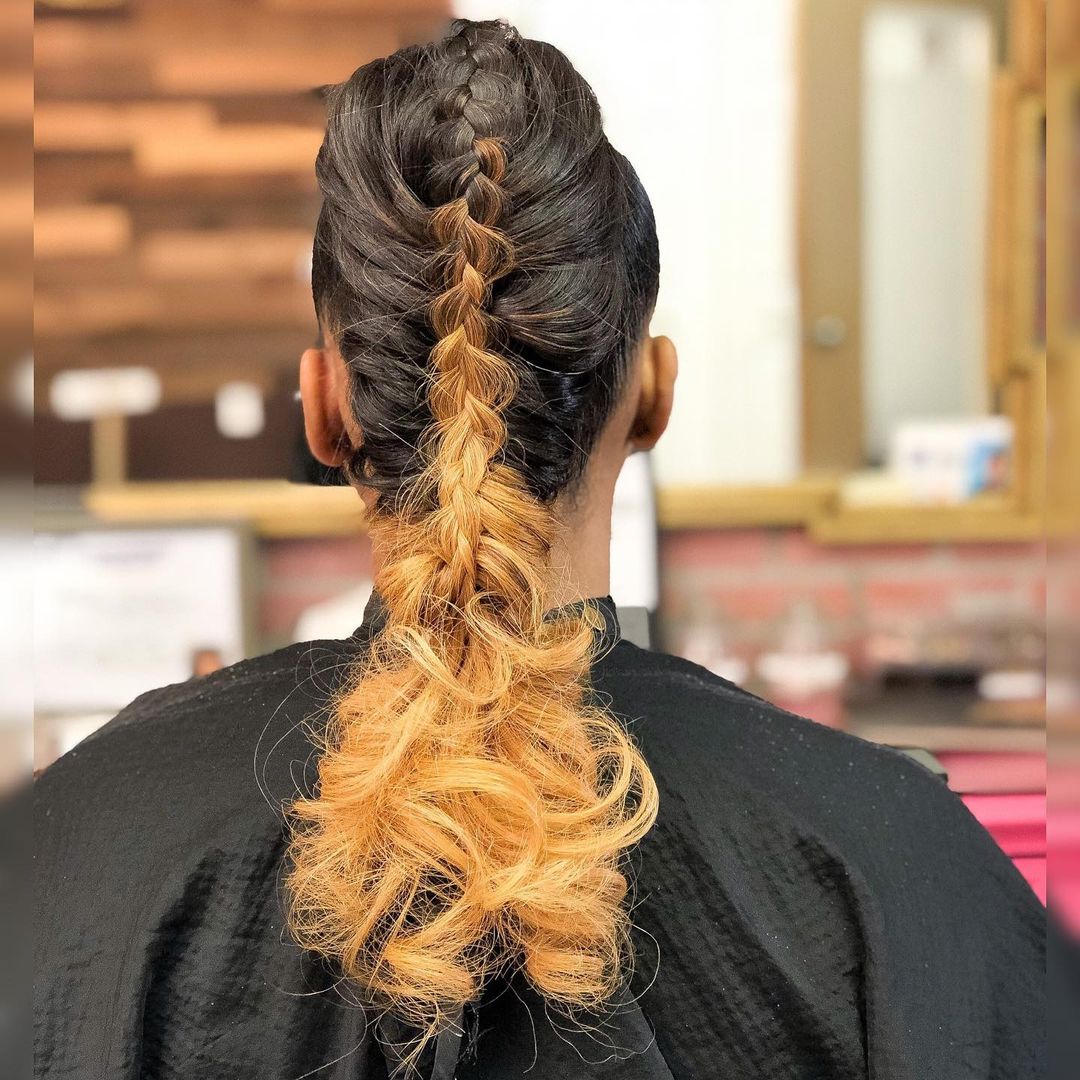 You can DIY your hair color and ponytail in order to achieve and end up with this design. If you are a DIY girl – give it a go.
18. High-up & Straight Sleek Ponytail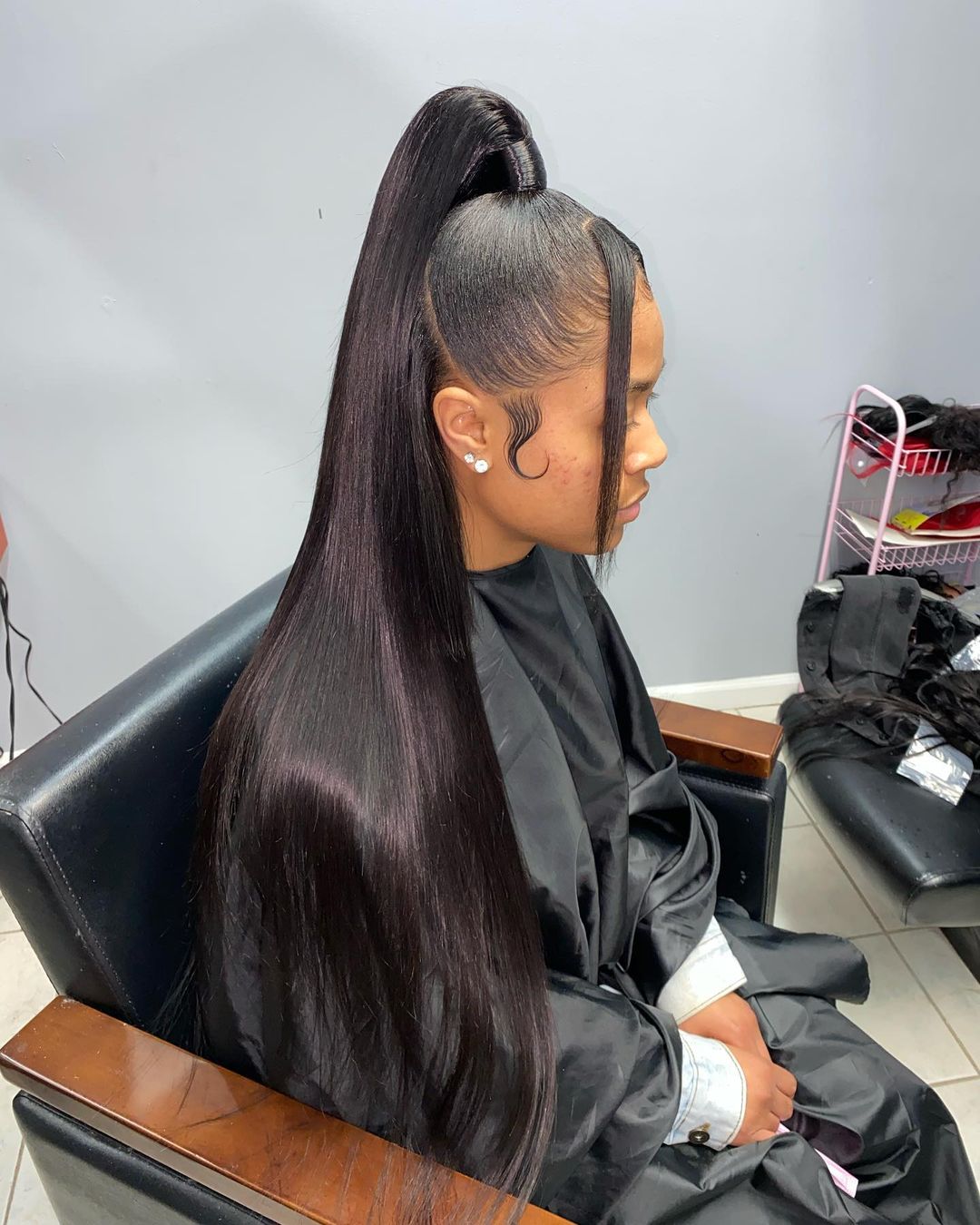 Inches of hair have never looked better! This long shiny ponytail is attention-seeking and ideal for women who like to attract looks.
19. Party Perfect Ponytail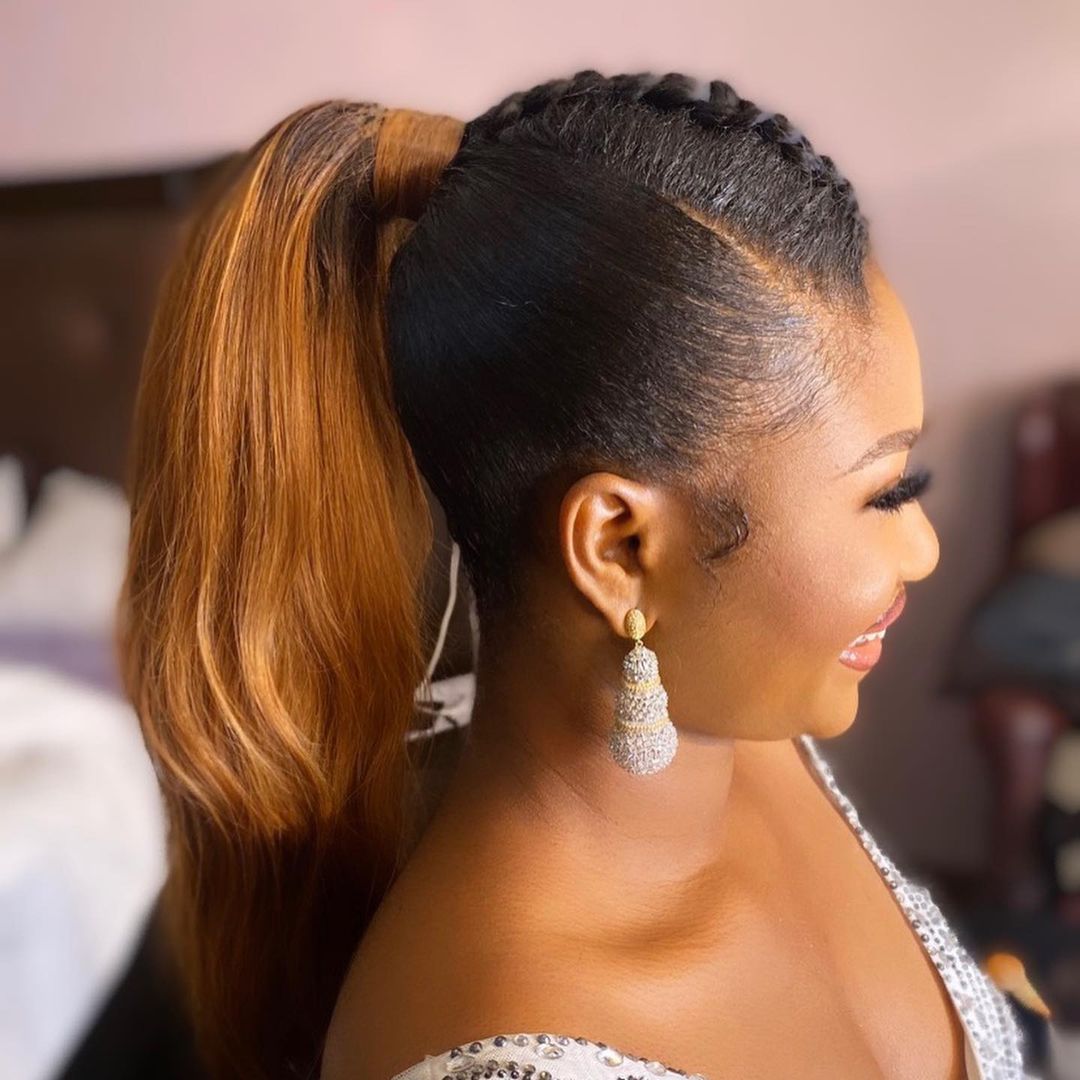 Add a braid detail to your ponytail to make it even more retro & party-perfect! This light brown ponytail will suit younger women and teens the best.
20. Jasmine Inspired Ponytail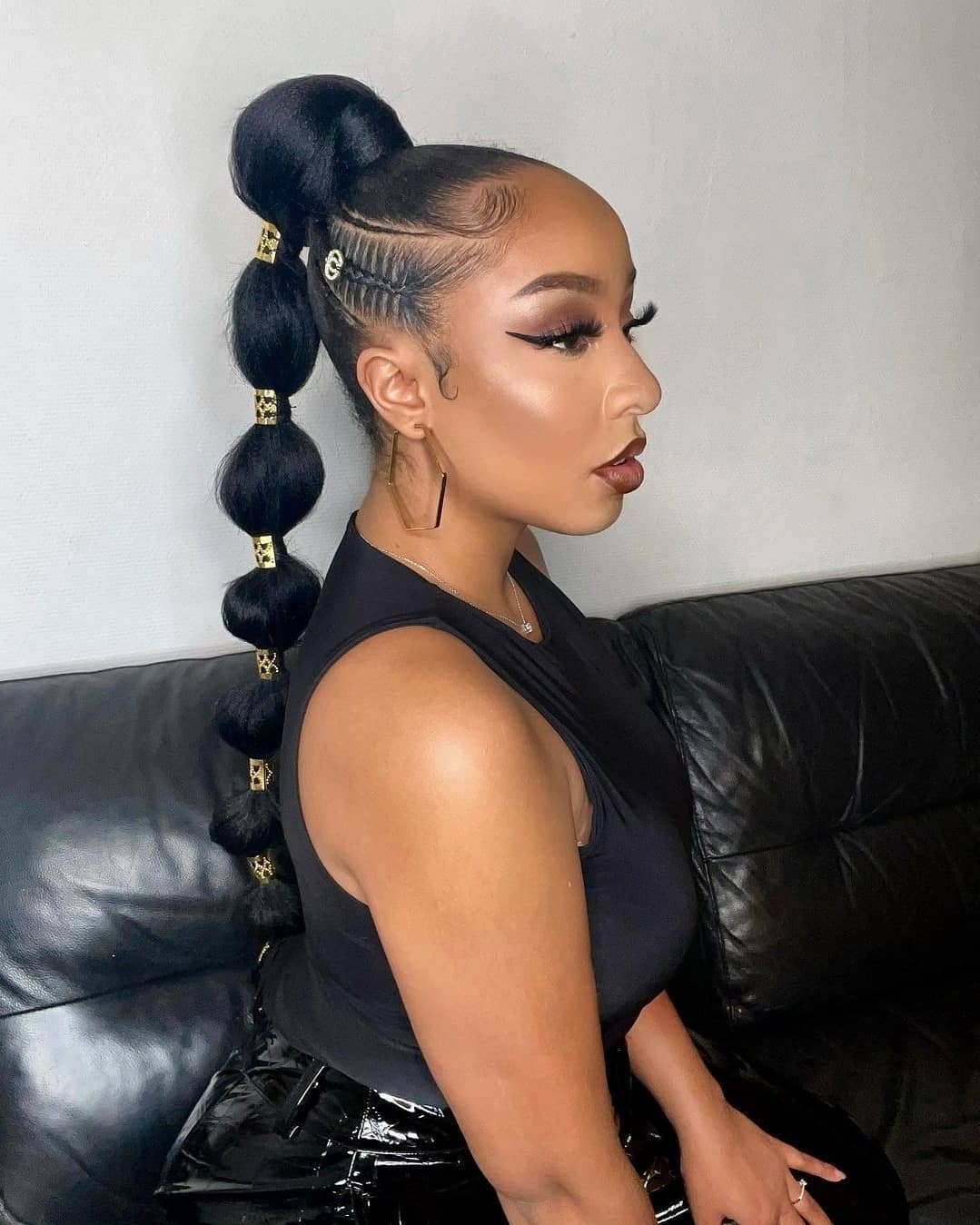 Give it a "twist" and show off this Jasmine-inspired ponytail! Ask your hairstylist to pay close attention to details, and you're going to fall in love with the results!
21. Fluffy Blonde Ponytail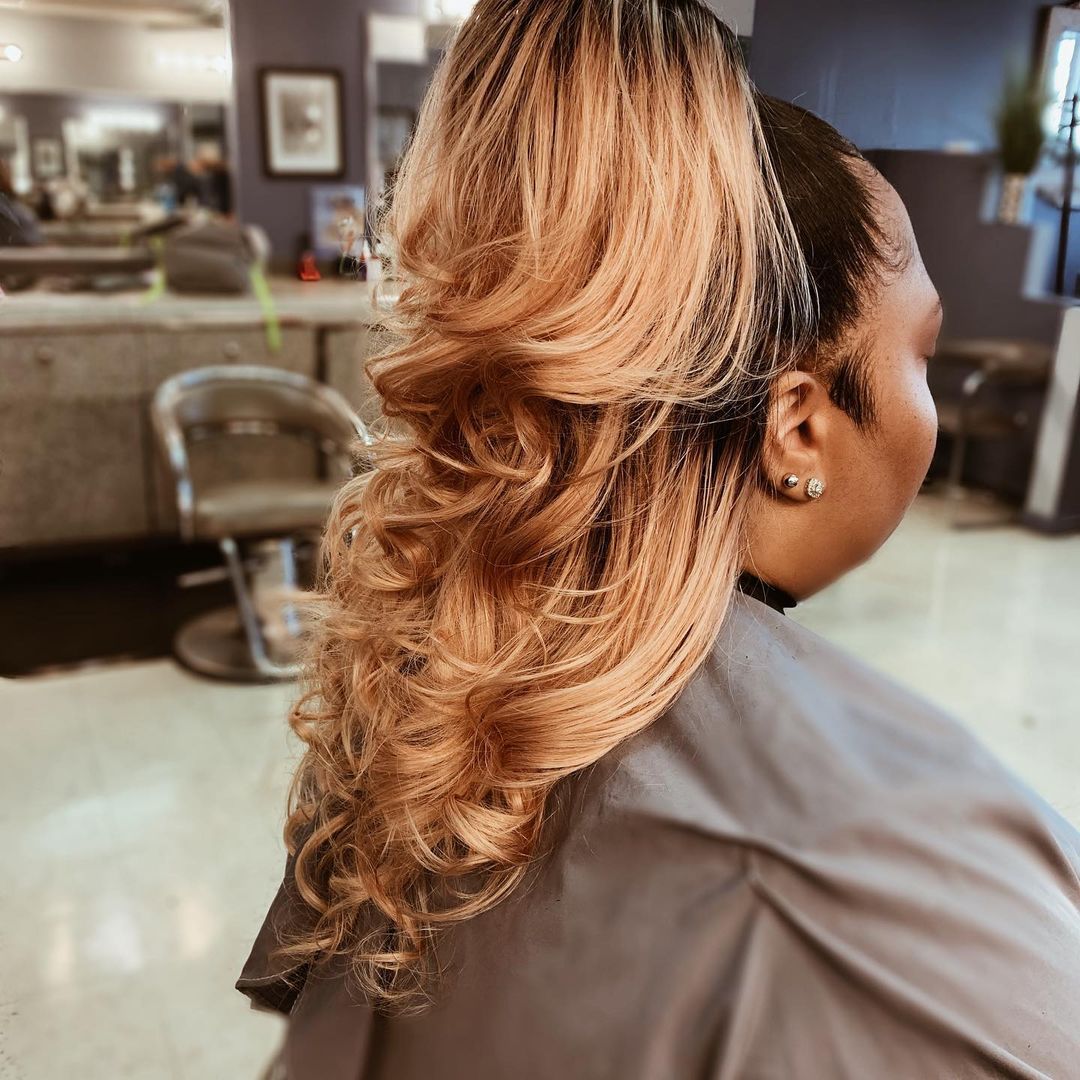 Your blonde ponytail can look chic & elegant. Make sure that you add a lot of hairspray and hair gel in the back to keep these curls loud & retro-looking!
Time To Slay That Ponytail
Which hairstyle and ponytail look was your favorite from our list? Let us know your top pick and if you're ready for something new. We would love to know which design you fancy the most from the list.