The year is winding down and you may be thinking of changing up your hairstyle for the new year. Going short could be on your mind and you're not the only one thinking about it. The lob cut was very popular among female celebrities this year but there are even more options that you can do to really give yourself an edgy new look that will be turning heads. What is a lob you may ask? It is similar to a bob but a little bit longer, hence the lob.
Maybe consider diving into a blunt cut or a pixie cut that will make your morning routine fly by even faster. Before you decide to chop it all off, make sure to look at all your options and figure out what short hairstyle is best suited for you. Fortunately, there are a ton of celebrities that are rocking the short hairstyle that you can pull inspiration from and get that perfect style and texture that your heart is dreaming of. These short hairstyles are effortless and timeless, making it easy to see why so many people are ditching their long locks for something a little shorter. You can even go a bit edgy with your short locks by adding in a Mohawk or some cool shaved sides, the decision is yours.
Check out our list of the best 65 short hairstyles that celebrities have worn.
1. Natalie Portman's Pixie Hairstyle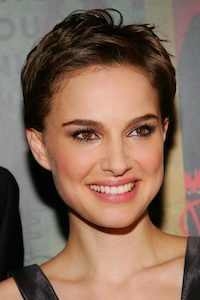 If you are looking to go super short with your pixie cut, then look no further then Natalie Portman. Natalie's post-buzz hairstyle is perfect for a starter pixie cut and offers a lot of texture to give you a good feel. If you're a gym junkie, this style is perfect to keep hair off your face and neck and you don't have to constantly worry about readjusting that pesky ponytail. Pixie lovers can even add in a bit of color to give their hair dimension or keep it simple like Natalie did with just your natural color.
2. Keira Knightley's Bob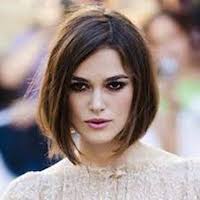 If you aren't 100% ready to chop it all off, why not try a Bob instead? Keira Knightley's angled Bob is super chic and with the razor-sharp edges you'll be turning all the heads. This hairstyle can be worn as a part down and middle or thrown to either of your favorite sides, you could even rock it with some bangs. The Bob also helps accent your face, having the edges drop right below your chin, and giving your face an amazing angel.
3. Twiggy's Crop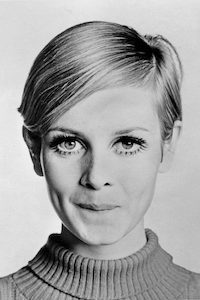 We all remember back in the day when Twiggy wore a stunning sleek crop and you could do the same thing. This crop is worn parted on the side and is perfect for a classic and simple look. If you are constantly running late in the morning, then this look is really going to help you out because a simple spritz of hairspray and a comb is all you need to obtain a sleek and amazing look. You can also wear a bang with this look and simple brush it to the side when you don't want them covering your face.
4. Yara Shaidi's Lob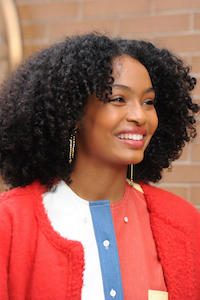 The lob has really been popular this year and we can see why. This hairstyle is easy to wear and really works with any face type and hair type. Yara Shadidi rocks the lob with her naturally curly hair and packs on the volume as well. Wear you lob with a center park and layered to give your style an elevated look that is almost effortless. If center parts aren't you think, don't worry, the lob also looks great with a side part.
5. Victoria Beckham's Bob Haircut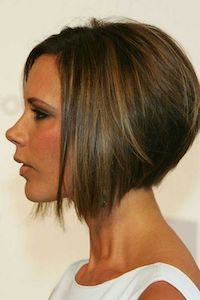 If your hair is thin, then a stacked Bob is the perfect hairstyle for you. Similar to Victoria Beckham, a short, stacked Bob is perfect for accenting your cheekbones and angels. If you're worried about going too short, this look gives you the both of two worlds. Being longer in the front helps you still have that long hair feel but being shorter in the back helps relieve some of the weight from your hair and pushes you in the right direction for shorter hair. Wear this style pencil straight or with some waves.
6. Ruth Negga's Curly Pixie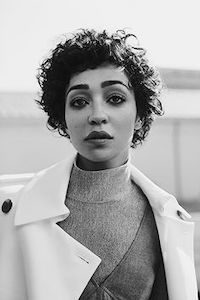 Pixie cuts may be hard to decided on but get inspiration from Ruth Negga's curly style. Worn in a slight side part, this style gives a vintage look but is completely effortless. Use a little water to get some finger wave curls to really ramp up your style and have heads turning. You can even add a little volume to your pixie by brushing it out or keep it tame with some hairspray. This look is just as glamorous as have long curly waves.
7. Coco Rocha's Asymmetrical Pixie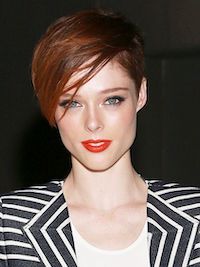 Pixies can be very versatile and worn in tons of different ways, so make sure to really research the pixie cut you want. Coco Rocha's wears her pixie in an asymmetrical style that offers a lot of drama on one side and a super short undercut on the other. If you are really trying to change your look then this is it. The short undercut will almost give you a shaved head feel but you still have the longer pixie cut on the opposite side, giving you options to have straight hair or wavy hair, maybe even throw a bang in there.
8. Tyra Bank's Crop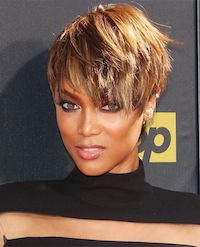 If legendary Tyra Banks can rock a cropped hairstyle, so can you. This hairstyle is short in the back but gives you a lot of volume in the front. Add in some highlights to really give yourself some shape and definition, and you'll be turning heads left and right. If you're looking for a more styled look, add some gel or hairspray and run a comb through for a more styled look.
9. Emma Watson's Bob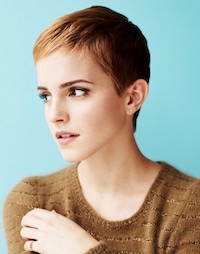 It was shocking for most to see the Hermoine Granger without her poufy hair but Emma Watson sure looked stunning in her Bob. This Bob style is super versatile and can be worn as a soft classic look to a retro slicked back look. It is perfect for almost anyone since it can be styled in so many ways, even if you're lazy it still looks awesome. Wear it with some bangs to the side for a modern look or sweep those suckers back for an edgy look.
10. Halle Berry's Tousled Pixie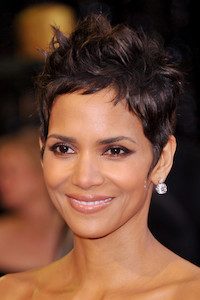 If you aren't ready to commit to the full short pixie then turn to Halle Berry for some inspiration. Her tousled pixie is short on the sides but packs on the volume on top. The hairstyle is still long enough on top to style and play with, you can easily run your fingers through it, but still short on the sides if you were looking to experiment. Add in a little highlight like Halle did for a little added drama and you won't be questioning your short style anymore.
11. Scarlett Johansson's Pixie Haircut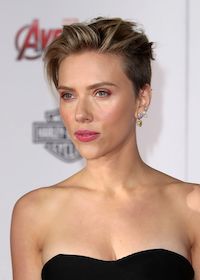 Scarlett Johansson took her pixie cut to the next level by adding bangs to it. With brushed down sides, longer then the traditional pixie, and a messy top, this pixie cut is perfect for someone who loves having short hair that is easy to deal with. Add in some texture spray to add dimension, or just move it around with your fingers for an easy go-to look. Add a few layers while you're at it to give your hair a little lift and volume.
12. Janelle Monae's Choppy Do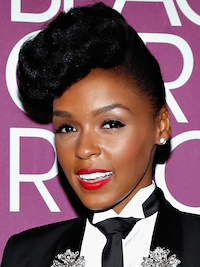 Amp up your basic pixie cut by adding if a lot of choppy layers and making that pixie a little bit longer. Keep the back and sides traditional to the pixie style by keeping it short but really change it up on top by adding in a ton of long and short layers to give yourself that choppy look. Swipe some pomade through your strands to give it some texture and hold and your look is completed.
13. Katy Perry's Cropped Hairstyle
For a while now, Katy Perry has been rocking some cropped short hair and we are living for it. Fade buzz the side of your hair to achieve some really short pieces and add some asymmetrical layers to the top and back to make it look piece-y, in a cool way. Finish the whole look off by adding in some styling cream to keep the hair in place and looking fabulous all day.
14. Rooney Mara's Blunt Bangs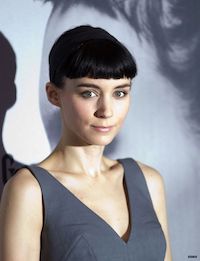 Sure, you can have just short hair but what about short bangs? Rooney Mara takes bangs to a whole new level in this look where she chops those strands down to hit the middle of her forehead. Known as microbangs, this style has really been making a scene lately and it will be a straight-up game-changer when you decide to rock it. The look is both modern and retro, giving you the best of both worlds.
15. Samile Bermannelli's Heart Shaped Hairstyle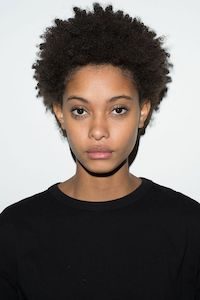 Now for some it may be hair to obtain the heart shaped style that Samile Bermannelli is going for her but if you have that volume, then girl go for it. With beautiful curls on top and a ton of volume, it seems that this look is effortless but trust us it isn't. Adding a lot of gradual layers helps give this look its pop and to get the style make sure to give yourself a deep side part over the arch of one eyebrow.
16. Andrea Riseborough Flapper Haircut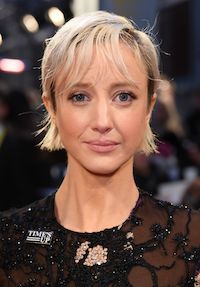 Similar to a pixie, this cut is super short but trust us you're going to want to wear it. To get the flapper aspect to the look make sure to add waves to the side of top and keep all your hair slicked down. Use some hairspray to make sure every strand stays in place and if you really want to amp it up, do what Andrea Riseborough did and dye your hair a platinum blonde to give yourself another edge.
17. Winnie Harlow Old Time Pixie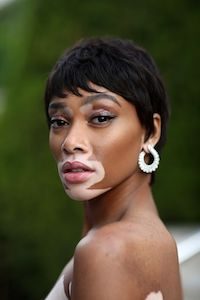 Winnie Harlow really rocks a classic pixie look and channels her inner Audrey Hepburn with it. Give yourself some bangs to achieve the same look and layers on the side to give your hair some more dimension. Use your fingers to make your classic pixie a little messy or just some styling products to keep everything rightfully in place and sleek, either one is going to look amazing.
18. Zendaya's Curly Lob Haircut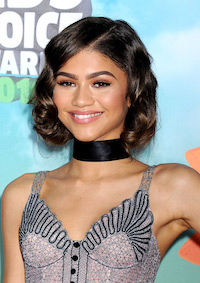 Once again, the lob makes an appearance but this time it adds some amazing curl to your look. Zendaya rocks the curly lob and channels her inner 60's girl group with this look. Add some volume to your curls by adding hairspray to keep everything perfect and use a big barrel curling iron to achieve those perfect bouncy curls that will look amazing with your lob style.
19. Kacy Hill's Thick Bob Hairstyle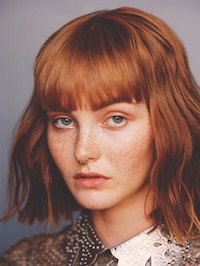 Sometimes it may seem impossible to have a great hairstyle with thick hair but you're wrong. Kacy Hill shows that a thick, cropped, Bob can easily be achieved and looks amazing. Add some bangs to really change your look and give yourself a shard dramatic edge that comes right under your ears and directs a lot of attention to your face.
20. Coco Rocha's Beachy Waves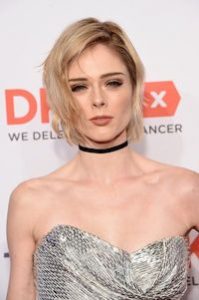 Beachy waves were super in this year and we can see why. The look seems effortless and looks great on anyone, giving a feel of super classy hair that wasn't at all hard to achieve. The lob is the perfect hairstyle to try these beach waves on and the waves will have an easier time holding since there is less hair to weight them down. Use a wand to get your beach waves and some hairspray to hold them in place.
21. Rihanna's Bold Lob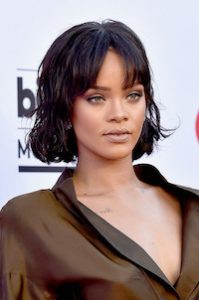 Just like Rihanna's you can wear a bold lob and look fabulous. Add in some thick cut bangs to really add the drama to the look. With some textured layers to added volume and blunt edges, this new lob will be turning heads when you walk pass. Wear the look straight or wavy like Rihanna's and add some styling cream to hold everything in together but still give that messy feel.
22. Carrie Coon's Curly Do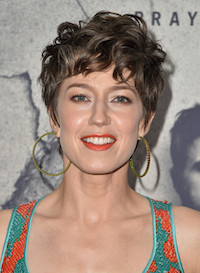 Carrie Coon really embraces her curly hair her and adds volume on top with them. Cut your sides a bit shorter and let the top go wide. With a little grow out in front and tousled bangs, this style is easy to maintain and won't leave you sweaty in the summer. If you don't have naturally curly hair, just keep it long on top and curl the longer pieces to add the curl and volume.
23. Kristen Stewart's Buzz Cut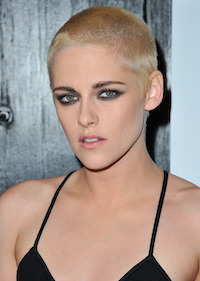 If you can brave it then do what Kristen Stewart did and cut everything off. The shaved head will take eyes off your hair and really help enhance your other features, not to mention keep you super cool. Dye your hair a crazy color, Kristen went for bleacher hair here, to give yourself the added edge and sit back and enjoy your new hairstyle that will let you get those extra fifteen minutes of sleep in the morning.
24. Michelle Williams Crop
Michelle Williams rocks this crop look with platinum blond and you can do the same thing. Flat iron your hair down to really get the sleek look and tuck each side behind your hair to get a sweet, girl next door look. Add a side part and some styling products to keep everything smooth and in place and you won't regret going short for this look.
25. Halsey Short Hairstyle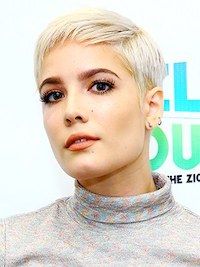 It's hard to picture Halsey without her signature pixie cut that isn't so average. This boyish shape helps transform the pixie cut by adding some short bangs in the front. Keep the sides and back short to really get the same look and you can even add some color to your hair for some added drama.
26. Sarah Paulson's Blunt Cut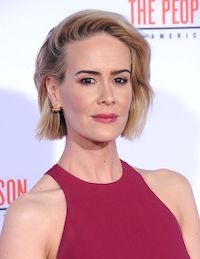 Sarah Paulson has had a number of hairstyles, but this is the one you should be taking to your stylist. With a blunt cut and shadow roots, this look is so in right now that your Instagram will be lighting up with compliments. Add some waves in like Sarah did for a edgy look and move it around with your fingers so it's a little messy.
27. Rachel McAdams Easy Lob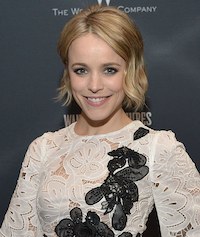 This look is really simple and easy to maintain, perfect for the busy person out there. Although this is a typical lob, elevate your look by quickly running a curling iron through a few of your strands to give it a little volume. Side bangs will always be in and easy to maintain as well, so let those babies grow out and sweep them behind your ear. Add the final touch of a side part and your finished.
28. Kiersey Clemons Volume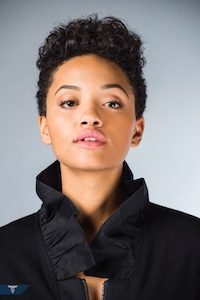 Bring on the volume with this look from Kiersey Clemons. Keep your sides short and your top super long to achieve this similar look.  Add in some styling products to help add volume but keep your sides smoothed down. If you don't have natural volume like Kiersey does, try teasing your hair a little to give it that added oomph.
29. Jaime Alexander Sweet Lob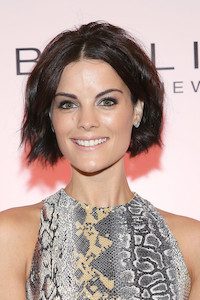 This simple lob is really easy to maintain and looks both professional and fun. Added in layers like Jamie did and have your stylist cut it to really angel your face perfectly. You can use a flat iron to achieve a nice wave or if your more of a straight person, flat iron that thing down. Add a side part for a little more drama and some styling cream to finish it off and make your hair super shiny.
30. Rose Byrne Dip Dyed Lob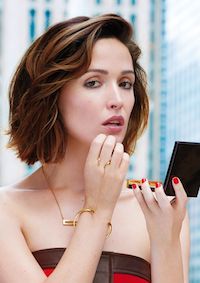 The popular lob is back again but change it up a bit by adding a little dip dye to your ends. Similar to Rose here, have your stylist add a little pop of color on the ends of your hair and give yourself something new but not too wild. Wear the look wave for a little more of a classy look. The best thing about this lob is it is still long enough to wear in a pony tail.
31. Julie Garner's Curls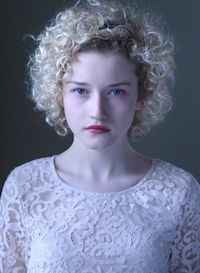 Embrace your natural curl and cut them into an amazing lob like Julie Garner. To really add volume, use a diffuser when you dry your hair which will also keep the fly-aways at bay. If you don't have your own natural curl, use a corkscrew curling iron to obtain some gorgeous ones yourself. You can even wear the look with bangs hanging along your forehead, or push them to the side like Julie did here.
32. Kate Mara's Boyish Haircut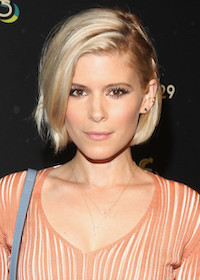 If you love wearing your hair straight then this is the cut for you. Have your stylist cut your hair right under your chin with blunt edges and make sure to add some side swept bangs. Tuck one side behind your ear and pin it back for a faux up-do look and hold everything in place with some hairspray. You can even wear this look with some waves for a more casual look or pulled back into two little pony tails.
33. Jessica Chastain's Messy Ringlets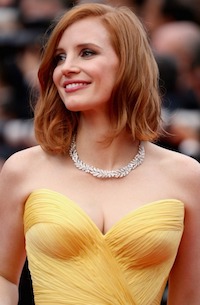 Sometimes it is okay to wear your hair a bit messy, just like Jessica Chastain did here. Cut your hair into a short Bob and add some drama with big ringlet curls. Tease your hair so it is less then perfect and add some styling cream for shine and hold, and tada you have an amazing look. If messy hair gives you anxiety, then skip the teasing step and keep your curls nice and smooth.
34. Millie Bobby Brown's Super Short Cut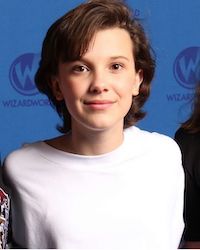 Millie Bobby Brown chopped off all her hair for her role as Eleven in Stranger Things and boy has her new do turned her into a style icon. Get the same look as Millie by cutting your hair short, but still keep a little length to add texture to your hair. Add a little styling cream and tousle your hair back so it is out of your face, and that's all there is to it. A very simple and effortless look that will be all the rage.
35. Taylor Schilling Waves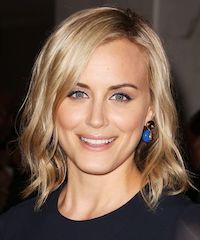 Taylor Schilling perfectly shows off why you shouldn't be nervous to chop your hair off and rock a beautiful wavy Bob. Add in some side bangs like Taylor did and a nice side part to help give a nice angel to your face. You can even wear the Bob two ways, wavy like Taylor did or straight if you don't want to break the curling iron out. Adding some styling cream to hold everything in place and you won't regret this style.
36. Taylor Swift's Messy Bob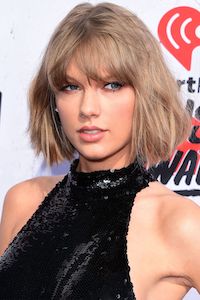 Taylor Swift is a style icon in numerous ways and her hair is included in that. When the new Taylor showed up this year she came with a rocking messy bob and some dramatic bangs. Get the same look by curling your hair and then tousling the curls with your fingers. Ask your stylist to give your some feathery bangs and curl them slightly under so they hit right at your eyebrows.
37. Karlie Kloss' Super Short Hairstyle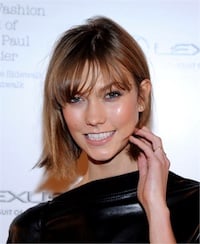 Karlie Kloss really wears the French girl short Bob cut well and so can you. When you create your Bob make sure to add some bangs and a slight wave to give it a flapper feel. The messier you make this look the better. The Bob is so versatile that you can wear it straight, wavy, or curly, so you really can't go wrong.
38. Dianna Agron's Simple Bob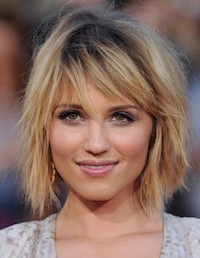 When you decide to go for the Bob it doesn't have to be super dramatic, look at Dianna Agron's for example. Keep your Bob simple by adding in some side swept bangs and have it end right before your chin, to give yourself a little length. Wrap a curling iron around a few strands to give yourself a little dimension, and you have a simple and easy look with just the right amount of layers and texture.
39. Carey Mulligan's Pixie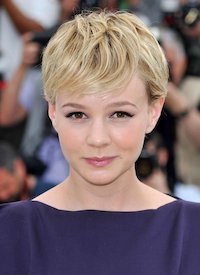 Carey Mulligan really outs her own touch on this pixie cut. Have your stylist give you a ton of layers to really help keep your pixie interesting. Add in a wispy fringe if you;re into bangs and don't forget to throw in some highlights or low-lights to give yourself an added boost. Mix a little styling cream into your new do and move it around with your fingers to give a little bit of a messy finish and your look will be complete.
40. Lily Collins' Long Pixie Haircut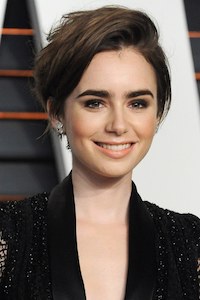 Just because you decide to get a pixie cut doesn't mean it has to be short. Lily Collins wears her pixie with longer sides and a top that gives her an edgy look. Add in some layers to keep the pixie a little wild and include a side part so the top is a little longer on one side.
41. Emma Stone's Perfect Length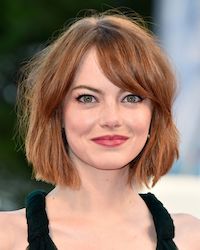 Deciding on just how short your want to go can be difficult but Emma Stone had the right idea with her length. Have your stylist cut your hair right between the shoulders and your chin to give you a not too long, but not too short look. This style is perfect if you aren't full committed on going short and just want to dip your toe in. Add some waves like Emma did with a curling iron and part it on the side for a little more of a dramatic look.
42. Leighton Meester's Slicked Back Do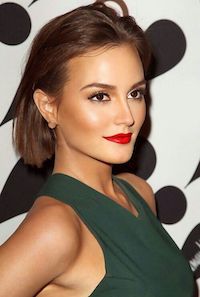 Skip the curls and go straight to this amazing slicked back style like Leighton Meester did. Part your hair in the center and run a flat iron across the whole thing to get a super straight look. Pin your hair behind your ears to keep it our of your face and add some styling cream to hold everything down. This look will perfectly show off your face and having it end right at the nape of your neck is a great length.
43. Beyonce's Bold Bob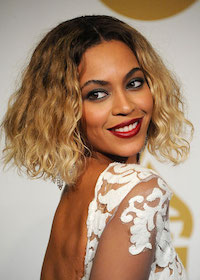 Let's never forget when Beyonce graced use with her thick, bold Bob. Part your hair in the center and skip the bangs fr this look. Add in some blunt ends and if you really want to channel your inner Beyonce, add in some golden highlights to really give this Bob a whole new look. Wear it like Beyonce with some curls, or straight, whatever you're feeling.
44. Vanessa Hudgen's Stick Straight Look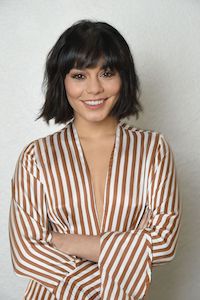 Don't be afraid to wear your hair super straight and slick like Vanessa did here. Give yourself a slight side part and run a flat iron through your hair to help give it a slick finish. Add in some styling cream to keep everything in place and pin it behind your ears to give yourself the finishing touch.
45. Anne Hathaway' Curly Bob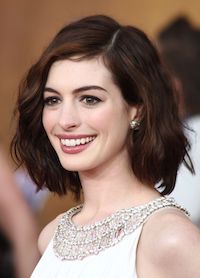 Anne Hathaway really shows the right way to wear the classic Bob. With added layers and rounded ends, this style will shape your face perfectly and have you wondering why you didn't go short before. Wear it with a middle part so your rounded ends perfectly surround your face and wear it with a slight wave like Anne did here.
46. Miley Cyrus' Messed Up Pixie Hairstyle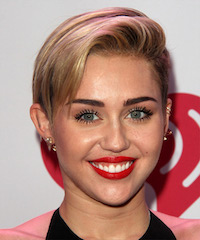 For Miley exiting her childhood phase meant chopping all her hair off and dying it blonde and you can do the same thing if you want to, don't worry it's not too wild. Go for this messy pixie cut that had a ton of layers to add texture and dimension. Include a small side bang and keep the sides a little shorter and you will rock this amazing pixie just like Miley. You can even take it up a notch and dye your hair platinum blonde to really wow your friends.
47. Lily-Rose Depp's Classic Lob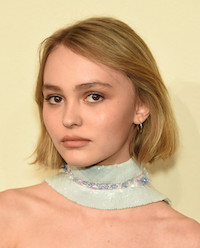 With the lob being in style it doesn't mean you have to put a lot of work into it. Look at Lily-Rose Depp's lob which is parted in the middle and offers a slightly rounded edge. Take a curling iron or flat iron and slightly round the edge under to this elegant look and add styling cream to make sure everything is tame. It's that easy and your hair will look great.
 48. Marion Cotillard's Sophisticated Look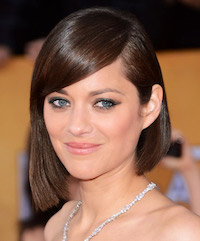 Marion Cotillard really brings the holiday glam into this look and it's the perfect style to go from long to short easily. Have your hair cut to just under your chin and add a nice side part. Use a barrel curling iron to curl the ends inward that will loosely hang around your neck. Add some hairspray to keep everything in place and comb down any stray hair.
49. Lupita Nyong'o's Short Look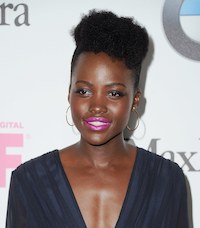 Lupita has always pulled off the perfect short hair effortlessly. Shave most of your hair off but keep it a little longer on top to give yourself some volume. You can even tease the top a bit to give it a messy flair and even more volume. This look is pretty simple to do and perfect for the busy person.
50. Sienna Miller's Retro Bob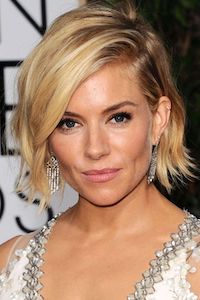 Let your natural curls show with this amazing retro Bob. Tuck on side behind your ear to get a retro feel and add a deep side part so your bangs hang to one side. Secure some pieces behind your ear with a bobby pin and add a little wave with a curling iron and this look is ready to go.
51. Alexa Chung's Layered Bob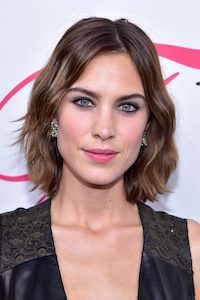 The Bob makes an appearance again with Alexa Chung and this one has some pretty beachy waves and a lot of texture. Add in a lot of layering to get that perfect texture and wear it in a part down the middle to make both sides even.  Use a curling iron to add in the waves you want that will help keep the look from going flat and give you a ton of amazing volume. Finish off with some sea salt spray to keep the curls intake or some styling cream.
52. Emilia Clarke's Retro Lob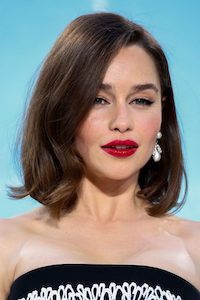 The retro lob makes another appearance with Emila Clarke, which is screaming to be worn by you. Add a deep side part to really give yourself that retro feel and finish off by curling the ends to give it a classic finish. Touch the whole thing up with some styling cream and this look will be Instagram worth for sure.
53. Ellie Kemper's Choppy Lob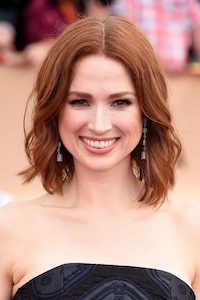 The great thing about a lob is the numerous ways you can wear it, that's one of the reasons it is so popular today. Take inspiration from Ellie Kemper and wear your lob a little choppy. Add in a ton of layers to get that choppy feel and part it don the middle so both sides are even. Run a curling iron through it to get some perfect curls and finish off with some hairspray.
54. Emma Roberts' Short Cut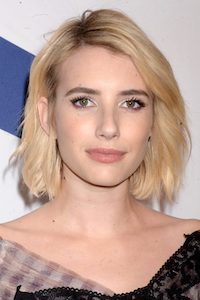 Channel your inner Emma Roberts and rock a short cut. Have your stylist cut your hair right at the nape of your neck and right above your chin. Add a side part to give the cut a little definition and some styling cream to make it shiny and smooth. This cut is perfect for the person who doesn't want to bother with their hair in the morning but you can also class it up when you have a little extra time.
55. Gabrielle Union's Fun Bob Haircut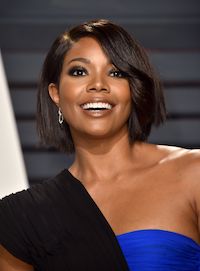 Just look at Gabrielle, she loves this bob and so can you. This awesome bob is longer in the front and shorter in the back with a little bit of layers added in. Use some texture spray to give it a little volume and drama and run a flat iron through it to give it a little bit of structure. Added a deep side part to one side and  take this look out for a spin.
56. Cara Delevingne Buzzed Head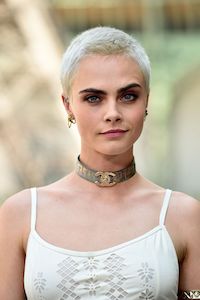 Cara Delevingne went all out and completely shaved her head to complete her short look. Shaving your head is the perfect way too reset and get great healthy hair. If you think you can do it make sure to visit your stylist so your hair is perfect trimmed and you don't hurt yourself in the process.
57. Audrey Hepburn Pixie Original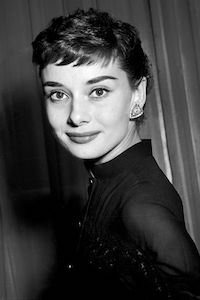 Audrey was the person who really made the pixie cut what it is today. Add a micro fringe like Audrey did with a little curl to really give yourself the original look and run a curling iron through it to add a little wave. Don't go overboard with this since Audrey made it look effortless.
58. Elizabeth Debicki's  Crop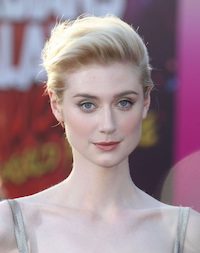 Crop your hair down but keep it longer on top like Elizabeth Debiki did here. Add a slight part to each side and slick park of your hair down and the other part up. Add a lot of volume by drying your hair with a round brush and finishing it out with some hairspray. You can even go for a faux up-do with this look.
59. Jennifer Lawrence Cool Pixie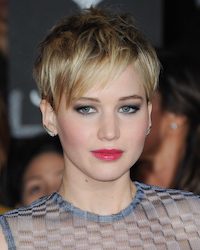 When Jennifer Lawrence debuted her pixie, her fans were both shocked and in love. Follow her look by adding a lot of layers to your pixie to get some texture and keep it a bit messy. Add some highlights to bring a little definition to your look and add a bang for a slightly cooler look.
60. Zoe Kravitz Super Short Crop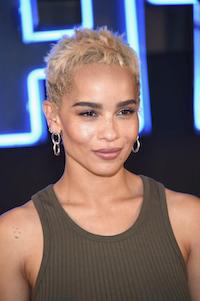 Embrace short hair just like Zoe Kravitz did with this super short crop look. Add a tiny bang to give yourself a little pop and keep everything else super short and buzzed. If you want to elevate your look a little add a little dye to give yourself a pop of color.
61. Alicia Keys' Short Hairstyle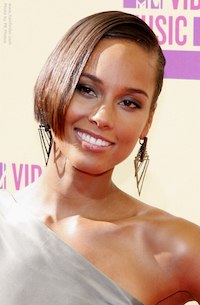 Alicia Keys took her lob to the next level and made it super short in the back and long on the sides. Create a similar look by adding a deep side part and really give yourself some volume on the side. Have your stylist cut your hair short on one side and in the back then add some styling cream to finish it off.
62. Gemma Arerton's Bowl Cut Hairstyle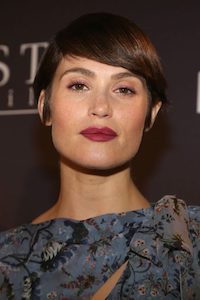 Bare with us on the bowl cut because trust us you can rock it. Keep the sides a little short and the top longer with some dramatic bangs. Keep the back a little longer and add in some smoothing cream to get an amazing style just like Gemma Arerton. Add a bit of highlights to add a pop and this bowl look will go from zero to hero really fast.
63. Kaley Cuoco's Messy Crop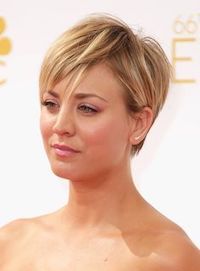 Kaley took the plunge and chopped off all her long blonde locks and we love it. Get inspiration from her messy cop that has a ton of texture from all the layers that were added to it. Add in some bangs if you like and use some styling cream to really give it that messy feel. Finish with some highlights and low lights to keep it a bit wild and you will love this style.
64. Katy Perry's Moehawk Haircut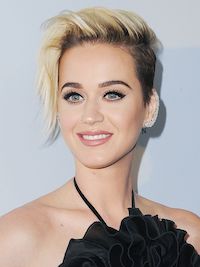 Yes you can totally rock a Mohawk and look awesome doing so. Channel Katy Perry and shave most of your head, leaving a lot of length on top. Style the top into either a Mohawk by curling it back, or use a blow dryer with a round brush to give it a lot of volume and part it off to the side. You can even add an amazing shadow root for some color like Katy did here.
65. Ruby Rose's Edgy Boy Cut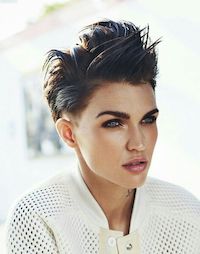 Ruby Rose really gives this look a new edge with the added shaved parts. Ask you stylist to shave most of your hear, but keep it longer on top. Finish by edging in some lines around the front of your face and the side, to really push the look over the edge like Ruby did. Use a flat iron to straighten the top and some texture spray to give yourself some volume.
Deciding to cut all your hair off and go for a shorter look can be really scary. Take some inspiration from these celebrities and really go for it. You can start off small by going for a lob and gradually work your way up to something a lot shorter like a cool pixie. Just remember to really speak up to your stylist and clear describe what you want and bring a lot of photos with you to make sure you get your perfect look. In the end if you don't like it, your hair will always grow back and it will be a thing of the past but trust us, you won't regret going short.