Having short hair is a great way to show off your personal style and not have such a heavy load on your head. Some may think that there isn't a lot of styles you can pull off when you decide to chop your locks off but boy are they wrong. Spice up your short hairstyle by adding some bangs to the mix to really amp up your style and have all your friends jealous of your cool new look.
Take a look at 30 of our favorite short hairstyles with bangs.
1. Sassy Pixie with Bangs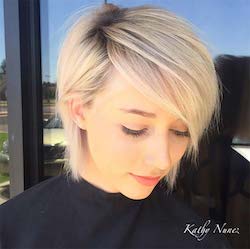 Just because you decide to go super short with your pixie cut doesn't mean you can't have bangs. Have you stylist cut your bangs, so they are side swept, perfect for still having some bangs but enough where they aren't falling into your eyes. You can make the bang long or a little shorter depending on how you are feeling.
2. Baby Bangs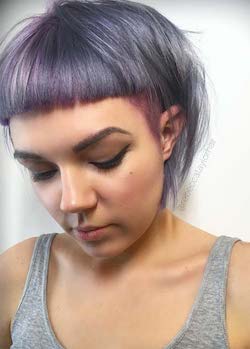 If you really want to turn heads, then try out these super short baby bangs with your next cut. Ask you stylist to chop those suckers down and make then edges blunt. Have your bangs fan out across your head and use a straightener to keep them down.
3. Balayage Lob with Bangs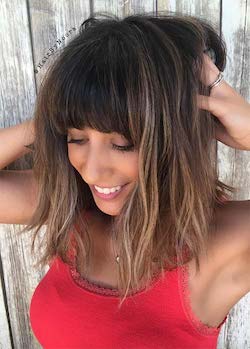 This two-toned hair is in style and looks great on anyone. Cut your hair into a lob and have your stylist balayage it. Add a set of super thick bangs to the mix but keep them a darker, more natural color. The color difference looks amazing and gives your hair a lot of dimension, you will instantly love it.
4. Futuristic Bangs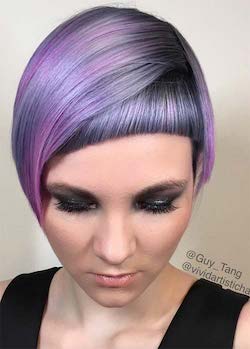 Jump into the future with these bangs and be the envy of all your friends. Cut your bangs into a micro style but have your stylist cut them a little uneven so they are shorter towards the middle and longer on the sides. Add a cool fashion color, like purple, to really amp up this style that will look awesome with a shorter bob cut.
5. Girl Next Door Bangs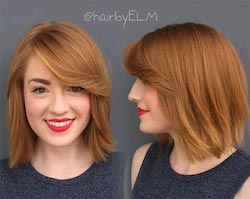 If you are nervous about trying bangs for the first time, then just dip your toe in. Start with a nice lob so you still have a little length on your hair then cut your bangs into a long side swept style. Keep your bangs on the longer side so if you don't like them, they can naturally fall back into your hair. Create a deep side part to really get the best of your bangs.
6. A 70s Shag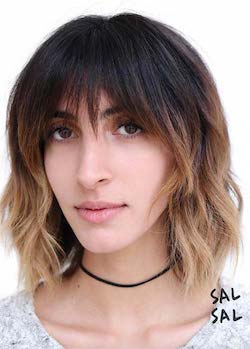 Don't be worried about adding some fringe to your look especially with this style. Keep your bangs a little longer and make them super wispy so they are light and feathery. Wear these bangs with a lob and give yourself a lot of volume to really give yourself a great style.
7. Peekaboo Bangs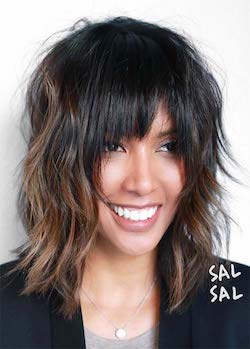 These bangs are adorable on anyone but can instantly be turned sexy too. Have your hairdresser cut your bangs right below your eyebrows and leave a little section open, hence the peekaboo. The slit breaks the bangs up a little and gives you a unique touch. Add in some curls and crazy volume and boom instantly sexy hair.
8. Modern Shag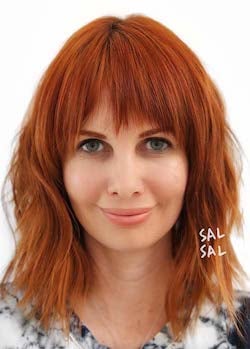 Wispy bangs look amazing with anyone and when you pair them with a nice lob it is a match made in heaven. Add a lot of layers to your lob to give yourself a slightly messy feel and then add in the wispy bangs that are less then perfect. Keep your bangs straight and your hair curly to really give yourself the perfect look.
9. Uneven Bangs with a Bob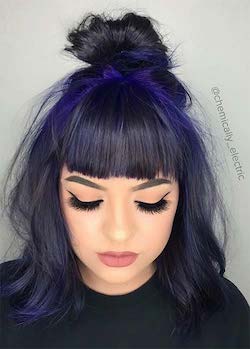 You might think we are crazy but bear with us. Uneven bangs can look awesome especially when you pair it with a lob or a bob. Cut your bangs right about your eyebrows and don't worry about how perfect they are, just make sure the two sides are longer so then blend nicely into your hair. Really amp this look up by wearing a crazy fashion color with it.
10. Long Bangs with a Bob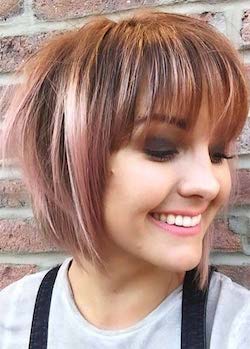 Grab your curler and really take it back with these long bangs. Cut your bangs so they are a little past your eyebrows then curl them inward a bit with your curling iron to get a lot of volume and a classic look. These bangs pair perfectly with a bob and can really turn heads.
11. Curly Side Swept Bangs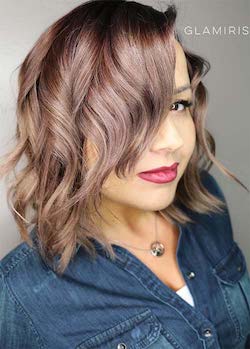 Side swept bangs are still popular and add a little pop to yours by giving them a little curl. Part your hair to one side and run a curling iron through your bangs. You don't want to curl tight, just some nice loose ones. Use some hairspray to keep them in place and you got some gorgeous bangs.
12. Messy Side Bang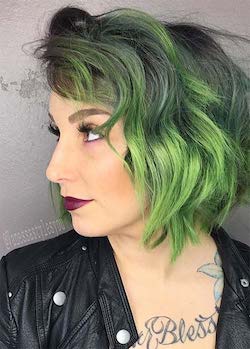 The side bang is back again but for lovers of messy hair, this one is for you. Curl your hair all over, including your bangs and add some texture spray throughout it to really give yourself a good lift. Sweep those bangs to the side and spray them in place so they are high, messy, and out of the way.
13. The Textured Bang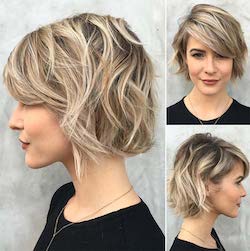 Give your bangs some texture to really give your hair some dimension and a pop. Have your stylist cut a bunch of layers in your hair, including your bangs. These pieces can be long or short and all over the place. Wear your bangs with a deep side part and add some volume spray to really give those babies a lift. Take it up a notch by adding some highlights throughout your hair.
14. Straight Pixie Bangs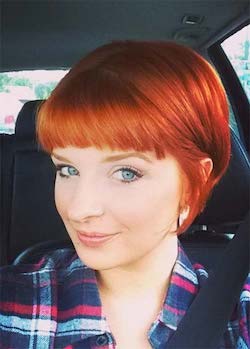 Blunt straight across bangs can really give you hair a next level vibe. Cut your bangs so they hit the middle of your forehead and make then extremely blunt. Have the sides a little longer so they blend nicely and wear your hair straight to give yourself the full effect of the bang.
15. Airy Bangs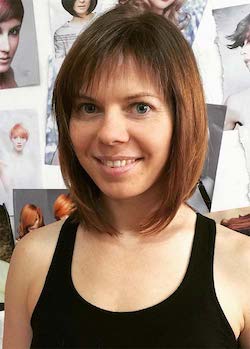 If you're worried your bangs will get annoying, then try a nice airy bang instead. Tell your stylist you want some light bangs, nothing too heavy, and weep the benefits of these light and flowy bangs. These bangs are perfect for a person who is too busy in the morning to deal with their hair.
16. French Bob with Bangs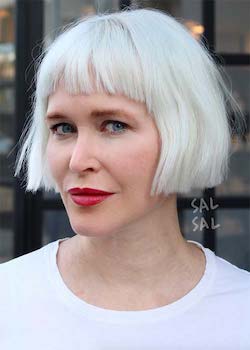 Go for a classic French bob style and cut your hair short with some blunt ends. Add in some short bangs that hit the middle of your forward and make them a little feathery to help offset the bluntness of the rest of your hair. Wear the look pencil straight by running a flat iron through the entire thing.
17. Super Curly Bangs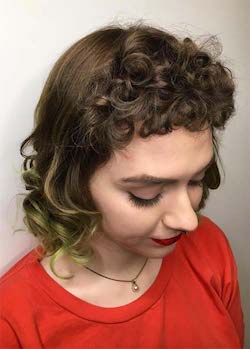 If you have curly hair, then embrace it. Wear your hair curly and give yourself some awesome bangs with it. Let your curly bangs sit on top of your head and let them rock their natural curl. The bangs should be short to get the maximum style for this one.
18. Vintage Bob with Bangs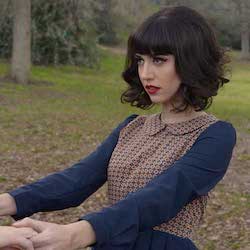 Bob styles are great and take yours to the next leave with these bangs. Cut your hair short and curl all the ends to give yourself a vintage look. Add in a nice full bang to take your hairstyle to the next level. Keep your bangs extremely straight and sleek to give your hair some more dimension.
19. Thick and Short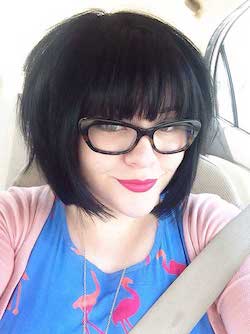 Really embrace your short thick hair and give yourself and awesome bob to go along with it. Add in some full bangs that are a little past your eyebrows and give your hair a nice tousle to give it a not so perfect look. Keep everything straight to really show off the thickness and give yourself some volume.
20. Scattered Bob with Bangs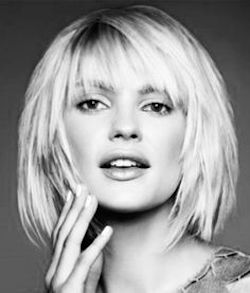 Take your bob up a notch by adding in a ton of layers to give it a scattered and messy look. Do the same thing with your bangs to really take the look to the next level. Wear your hair straight so you can see the layers and really show off your hairstyle.
21. Stylish Bowl Cut with Bangs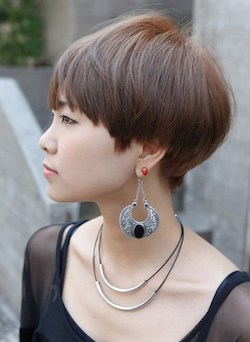 When we imagine a bowl cut its what our little brothers wore when they were seven but trust us on this. Cut your hair so it is a little longer than a pixie and tailored nicely. Add in some textured bangs that flow nicely with your bangs and wear the look straight.
22. Brush Backed Bangs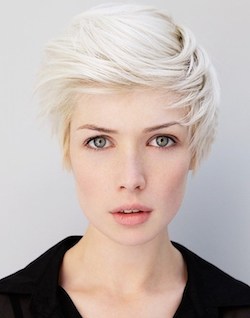 Pixie cuts are the rage and take yours to the next level with these brushed back bangs. Create a feathery pixie with a lot of layers and texture. Give yourself some bangs but sweep them back into your hair so they are off your forehead and off your face. This gives your hair a lot of volume and really shows your face off.
23. Short Pixie With Bangs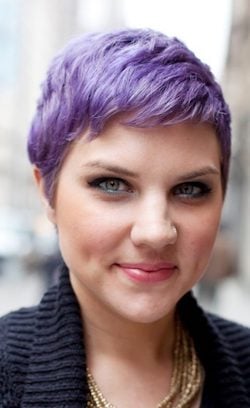 Give yourself a classic pixie with some small bangs to give yourself a cute next-door look. The bangs are easy to maintain and short enough, so they are out of your face and off your forehead. Add in a funky color to really make your hair pop.
24. Asymmetrical Bangs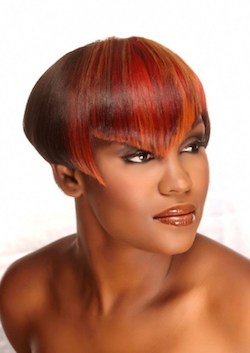 Take a dip on the wild side with these awesome bangs. Cut your hair into a short pixie and add some asymmetrical bangs to the look. Think of an inverted triangle where the middle is the longest part of your bang. This may be too wild, but you can rock it.
25. Piecey Bangs with a Bob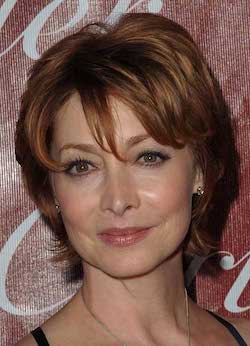 If you like the idea of bangs but don't want to fuill style, try these barely there bangs instead. Have your hair cut shorter into a pixie or a bob and then add a few bangs in place. Have them a little longer so they reach right below your eyebrow but not too much in your face.
26. Chucky Side Bangs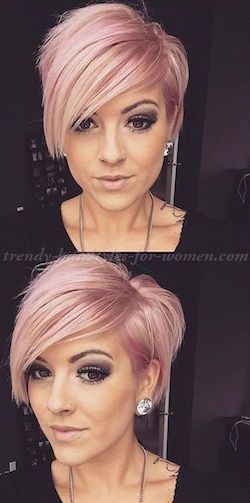 Enhance your pixie with some chunky bangs. Layer your bangs so they go from longer to shorter and sweep them off to the side. Create a deep side part to really enhance the bangs and give the back of your pixie a little volume.
27. Barely There Bangs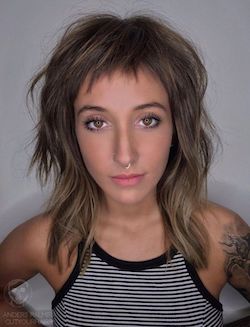 Amp up your lob with some barely their bangs. Curl your lob so it is a little crazy and wild and have your stylist cut your bangs super short and piecey in the middle of your head. It gives you a small illusion of bangs without having them in your face.
28. Bob with Long Bangs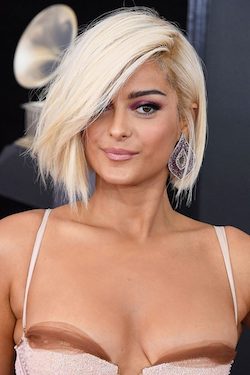 Cut your hair into a bob and add in a lot of layers to give yourself some texture and dimension. Add in a long side bang that easily blends into your style but stills gives you a nice bang that you are looking for. Add in some styling product and give yourself a lot of volume to really get the full hairstyle.
29. Short Side Swept Bangs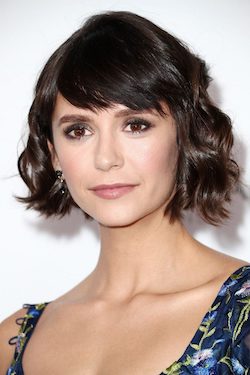 Wear your hair in a short bob and add a nice curl to it to give it a nice flair. Go to your stylist and cut your bangs shorter so they sit right above your eyebrows and sweep them to the side. Your bangs don't need to be cut evenly or blunt, the unevenness helps make the look like great.
30. Long Bangs with Lob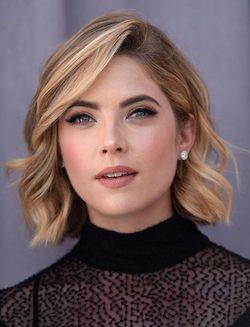 Embrace your lob and wear this popular style in a nice wavy look. Take your curling and side swept bangs back so they flow nicely into your hair and stay out of your eyes. Elevate your look by adding some highlights to give yourself some dimension and really make your hair pop.
Adding bangs to your short hairstyle can really elevate your look and take you from boring or stylist. If you are quickly getting bored with short hair, adding bangs is a great option to change it up a little bit and add a little flair to your look. Bangs are versatile and can be worn in a lot of different ways, so next time when you visit your stylist give it a shot and add some bangs to your look.