Edgy undercut hair for women can look bold, brave, and stylish. Are you looking for something new and different that you can wear every day? Are you into bold and unique looks? If you're into something short and edgy, as well as low-maintenance, it's your lucky day! Here, you're going to find a ton of cool and different cuts and looks that will suit you. Keep on reading and find a hairdo that is perfect for you!
What Is An Undercut?
An edgy undercut is anything that has that fierce vibe to it. It is usually a hairstyle that has defined lines and bold colors somewhere around the lower portion. It is cut with defined lines and the right pair of scissors, usually with a trimmer to achieve the right balance and that defined sexy look. It has an undercut usually at the back portion, worn by most teens who wish to stand out.
How To Style An Undercut?
When it comes to doing the look or making a hairdo for everyday wear it is crucial for you to have only five minutes during the day. You should do the following steps:
Step 1: work with clean and washed blow-dried hair.
Step 2: add a bit of hair gel or cream underneath your layers to style the undercut and give it a bit more shine and set it in place.
Step 3: part your hair per your preference and wear it how you prefer.
Step 4: if you have an important event or something that requires longevity make sure that you set your hair in place with your favorite hairspray.
Who Can Go For An Edgy Undercut Haircut?
Any woman can go for an edgy undercut. The real question is if you're brave enough and "edgy" to try it yourself? An edgy hairstyle is a look that you can wear if you're trying to leave a dominant presence. You can also give it a go if you're looking for a shorter haircut and a hairstyle that is low-maintenance or possibly has an edgy undercut detail. There are no age restrictions when it comes to this look.
Top 30 Edgy Undercuts
1. Blonde Bowl Edgy Undercut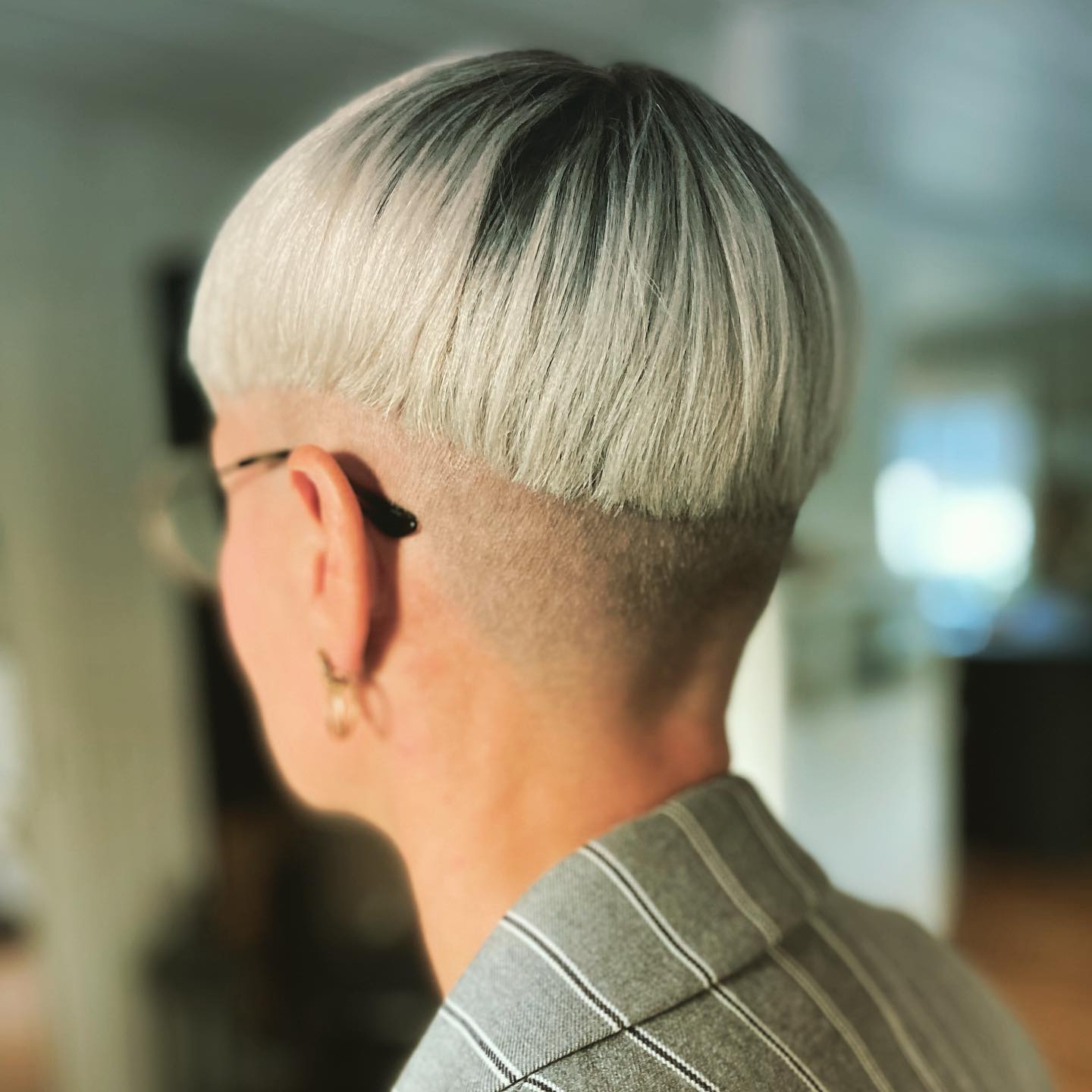 A simple blonde moment with cute defined edges done in this bowl cut will look phenomenal! Give it a go if you're into edgy and fierce undercuts.
2. Auburn Space Buns With An Undercut

A pop of red pigment and this undercut defined edgy detail is for younger women, especially teens who like the energetic appearance.
3. Long Pixie With An Edgy Undercut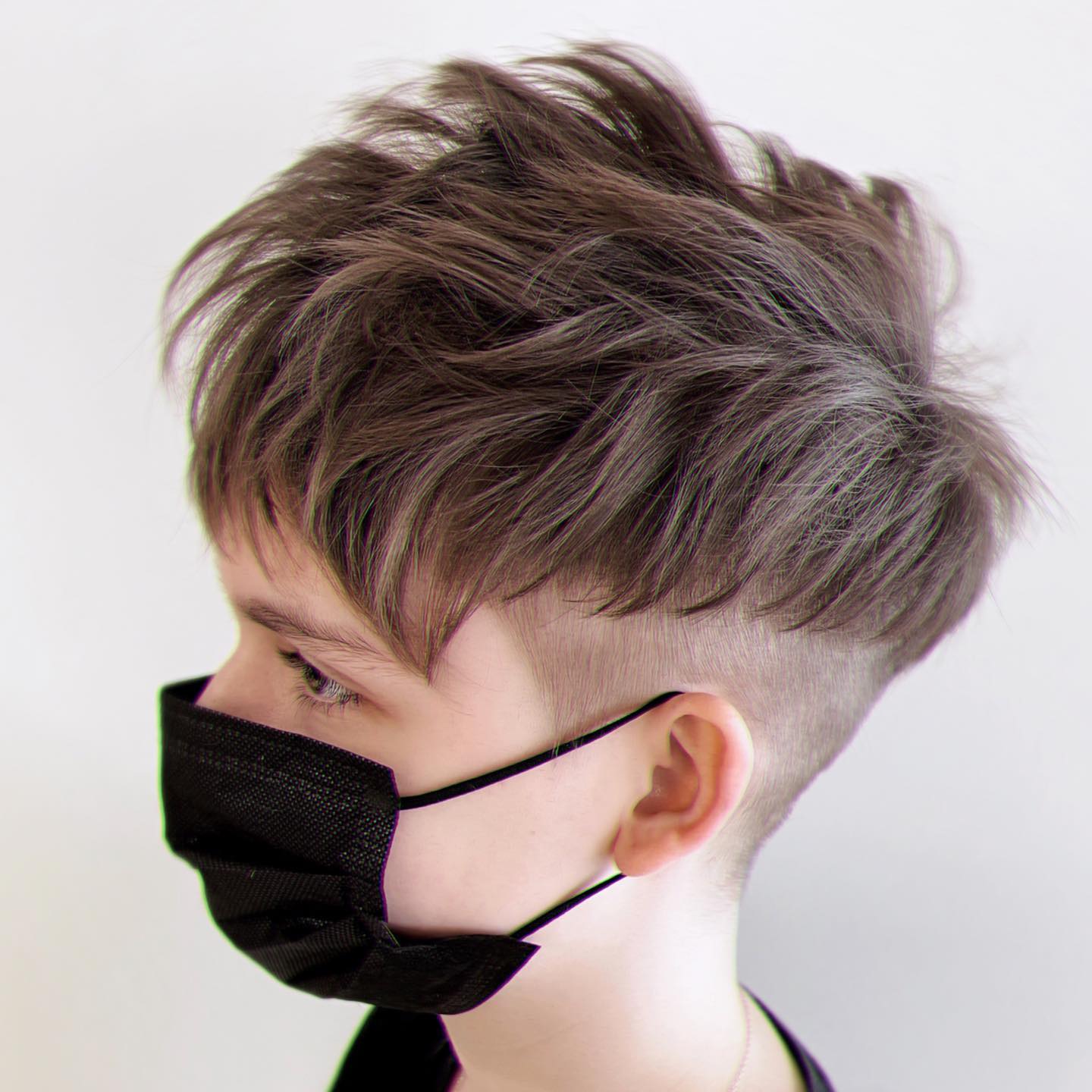 This look is edgy in its own way without being too overpowering. In fact, it has a sleek detailed line and an undercut that goes so well with that natural brown hair color, perfect for most women!
4. Undercut Buzzcut Hairstyle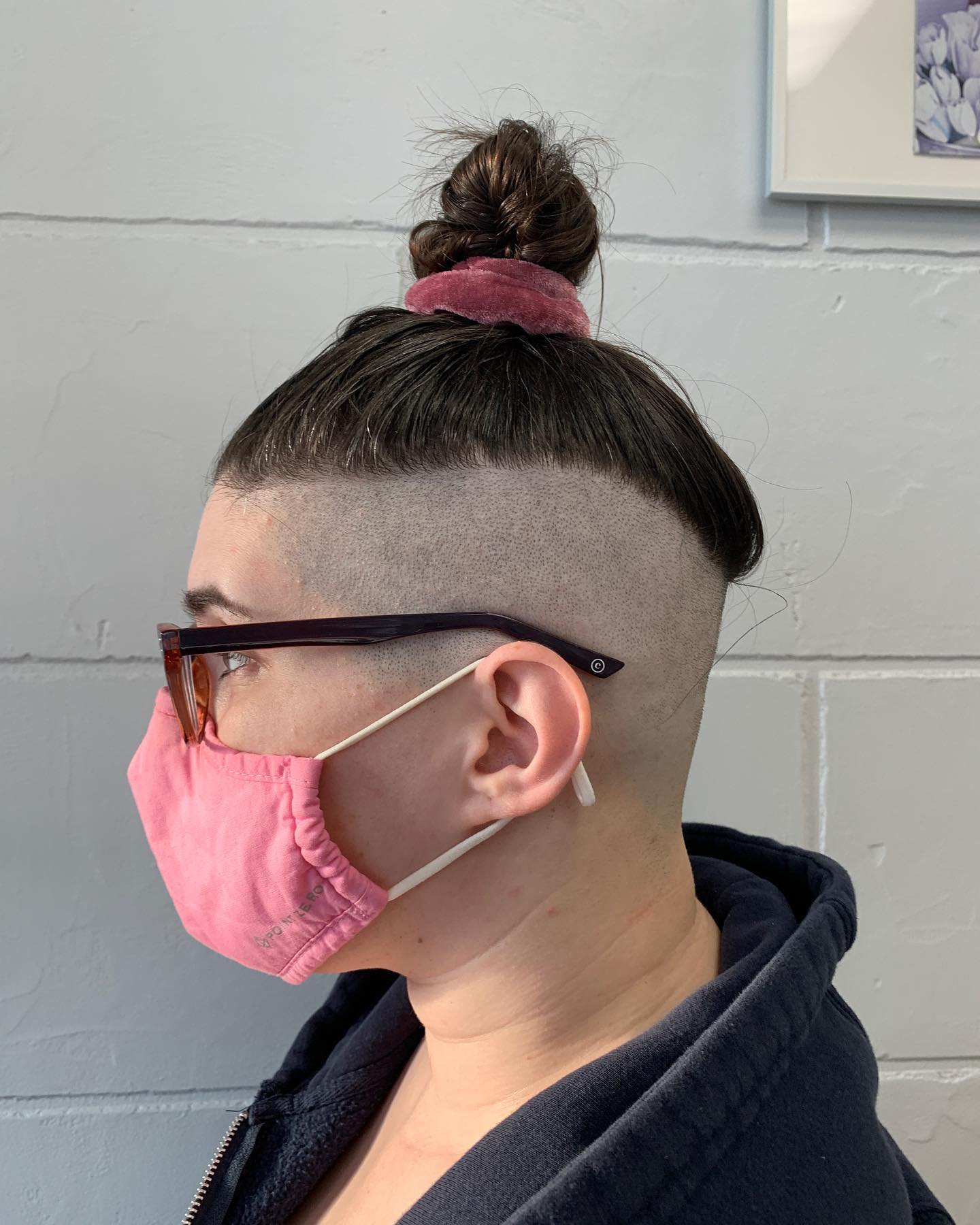 Edgy and can be worn two different ways, this look is for anyone who likes switching up their appearance and trying out something different regularly.
5. Platinum Blonde Side Swept Undercut

Blonde hair that can be worn to any event! Give it a go with this edgy undercut and just know that it can be appropriate for the office.
6. Rainbow Colored Hair With An Undercut

Go for an undercut detail along with all the little colors of the rainbow! Women who can't make up their minds when it comes to their look and those who enjoy colors will like this outcome.
7. Fiery Red Hair With An Undercut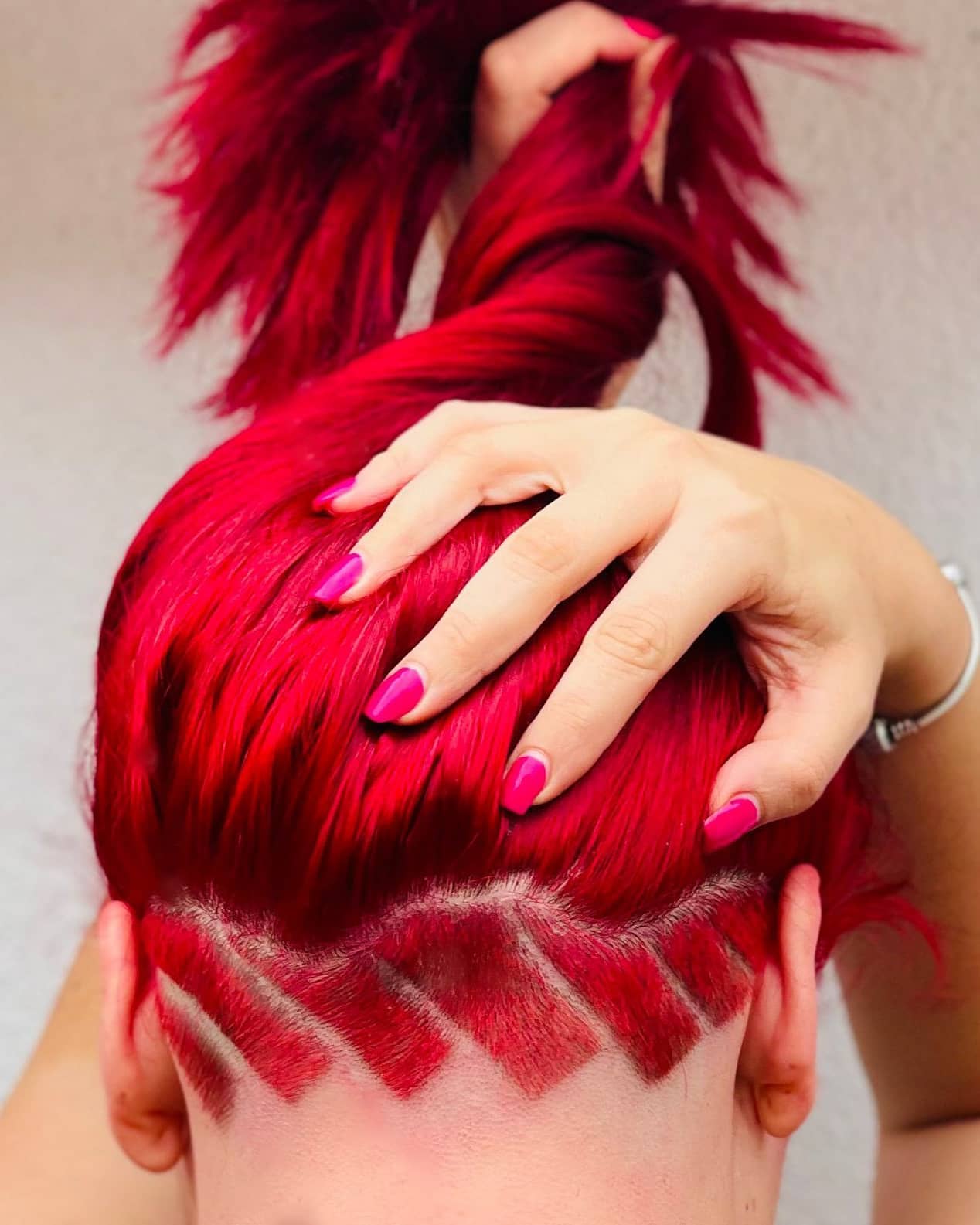 Bright and sexy red, this hair color is often worn by women who like the attention! This color and cut is a must-try for the fall season.
8. Short Hair With Undercut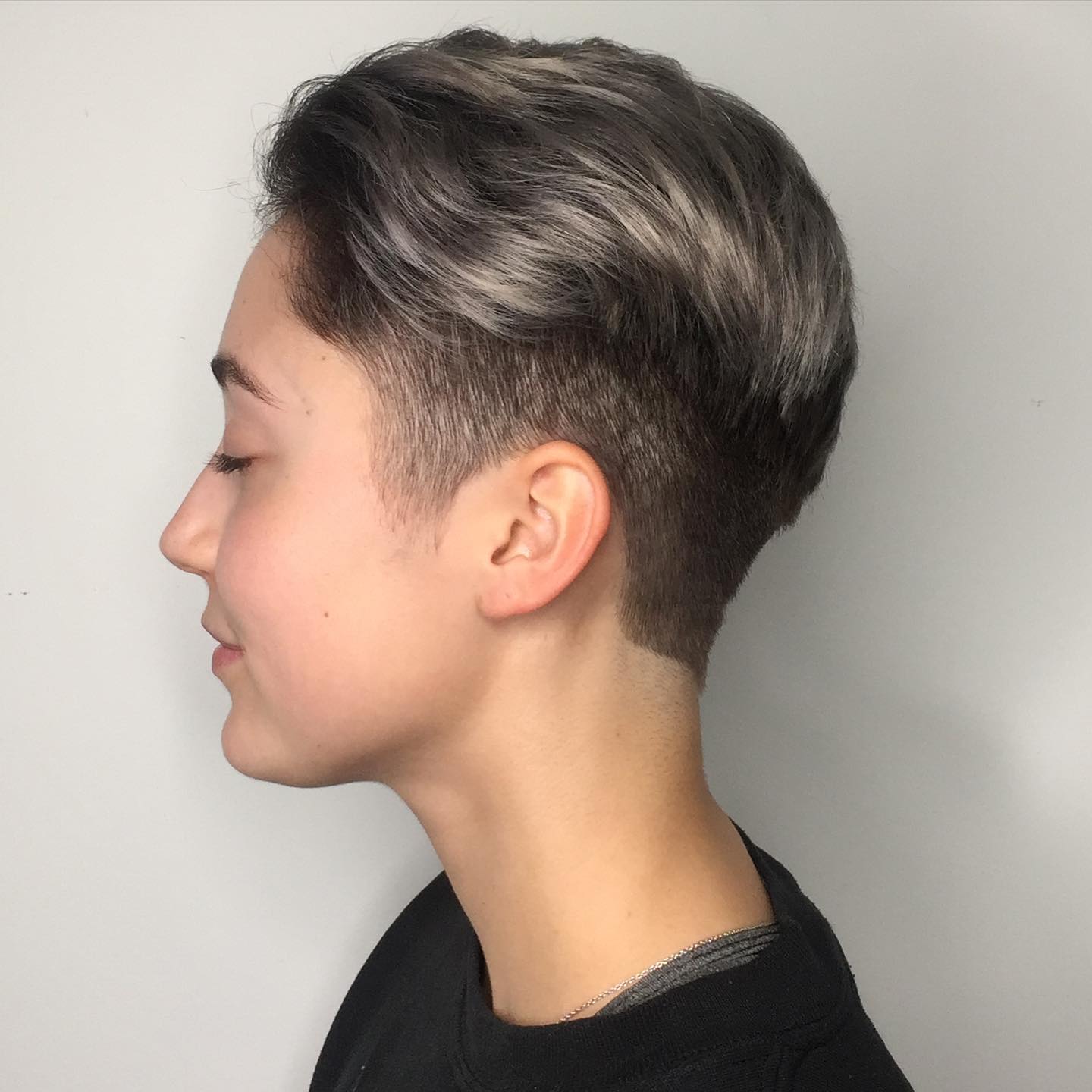 Soft light neutral brown color and the edgy detail will make your hair a lot more noticeable. Show off this beauty no matter your age!
9. Detailed Edgy Blonde Braids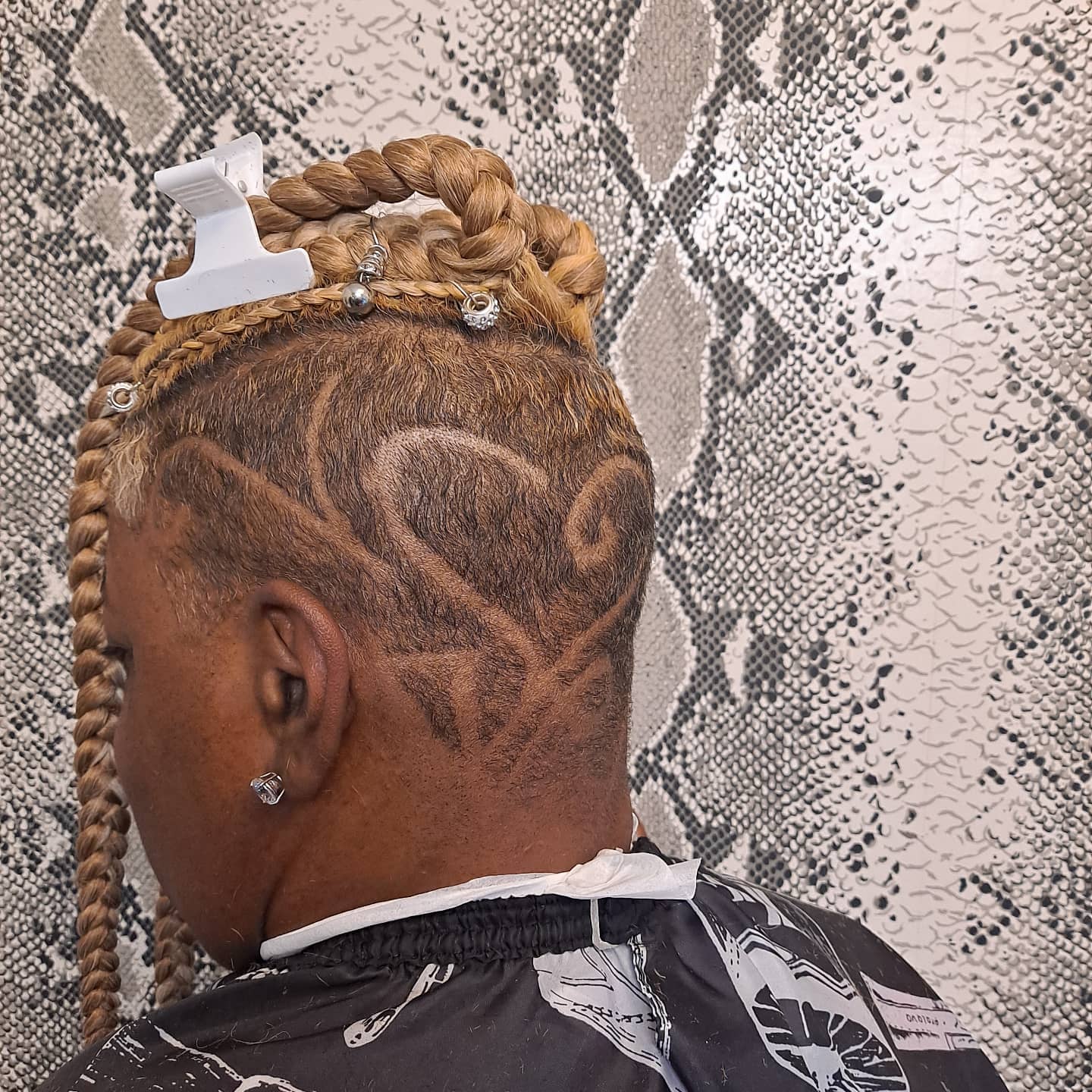 If you fully trust your hairstylist give it a go with this color and cut. It is filled with a lot of cool details, perfect for those who are outgoing and bold.
10. Black Hair With An Undercut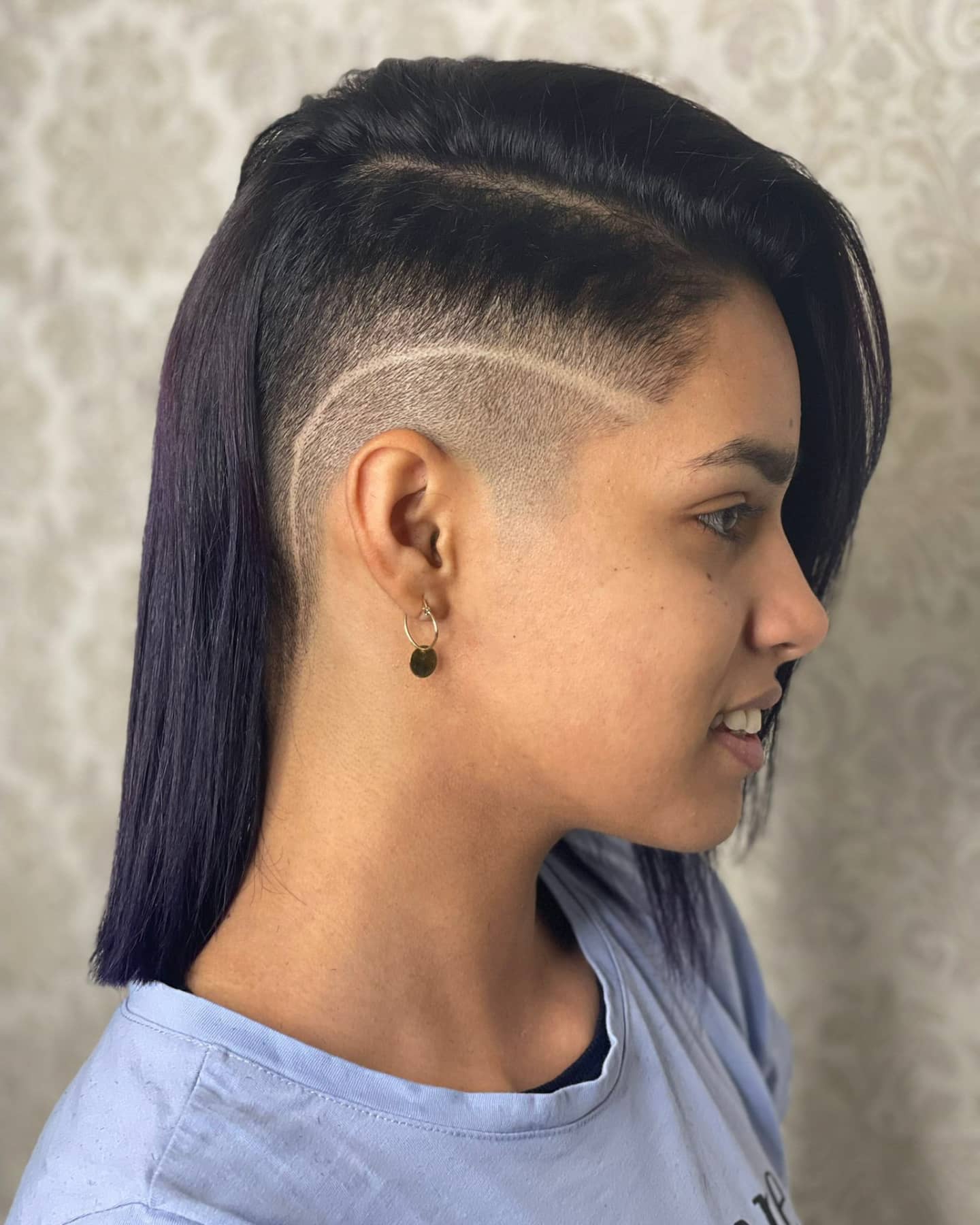 This layered edgy haircut that is worn on the side is a fierce look! In fact, you can easily fool someone with your actual hair length thanks to this trick. Feisty and often worn by teens.
11. Short Black Hair With An Undercut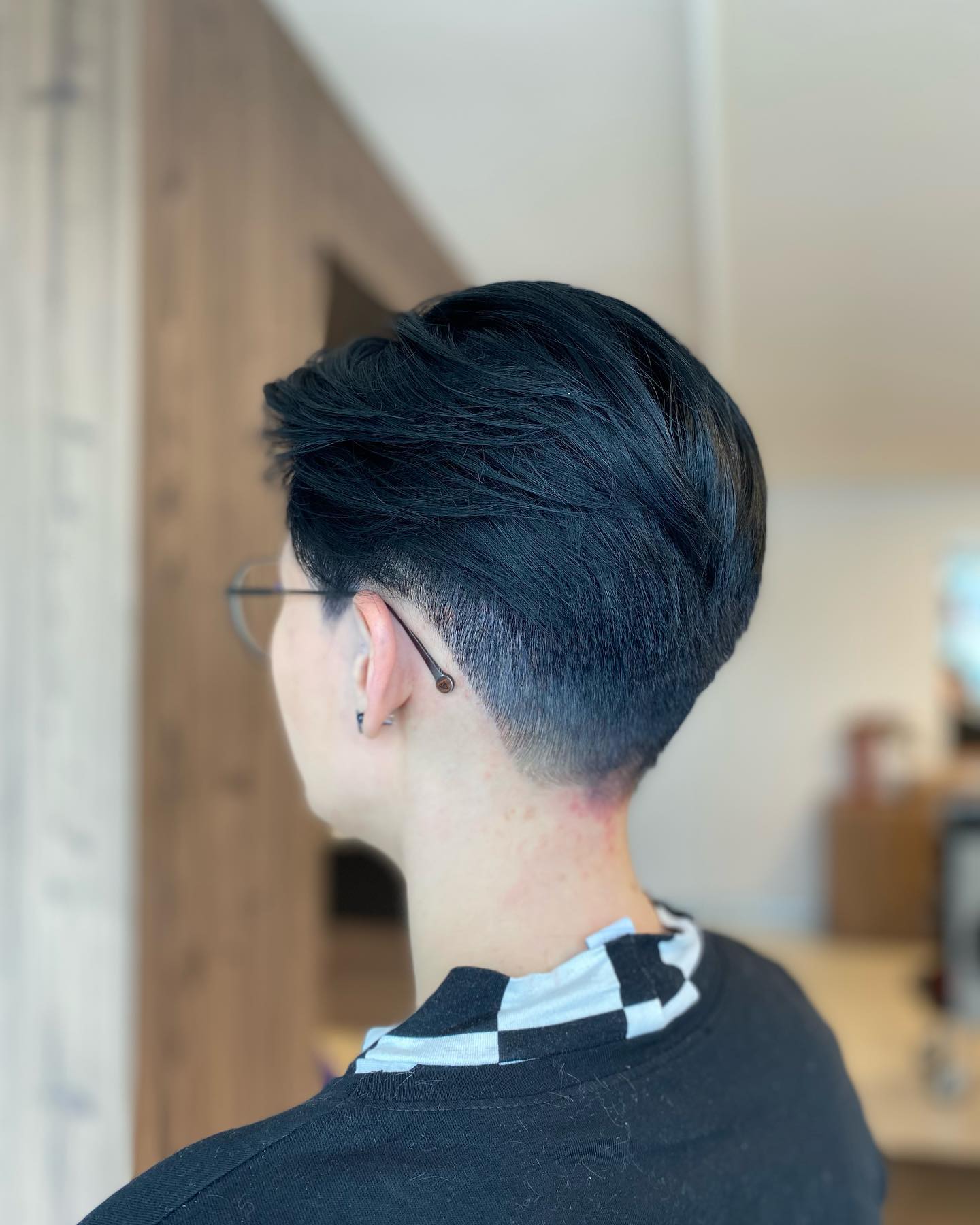 Short, detailed, and defined, this look will suit low-maintenance women the best!
12. Edgy Blonde Undercut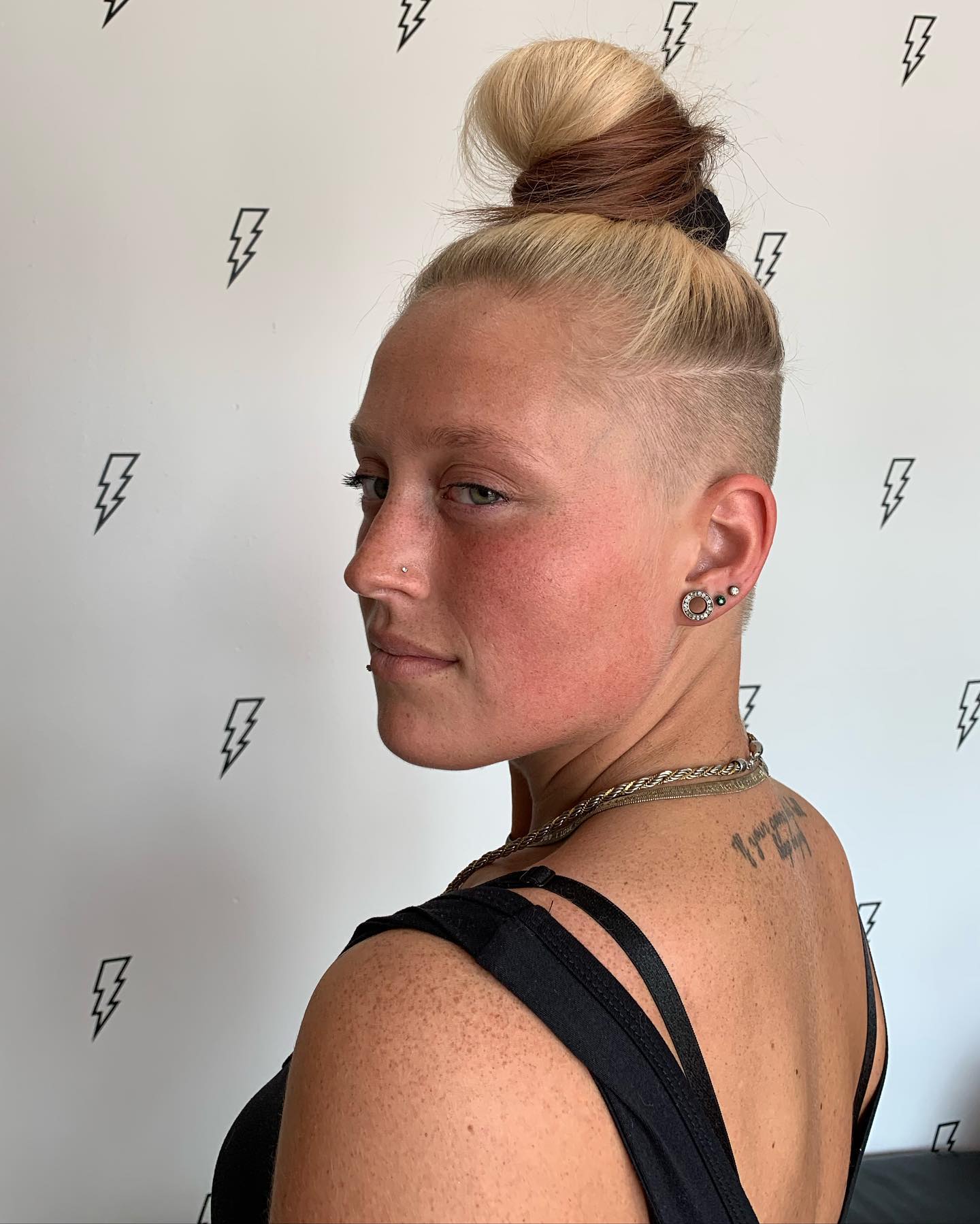 You can wear your hair up and in a messy bun, perfect for experimenting with your new look and showing off its edgy vibe.
13. Short Purple Pixie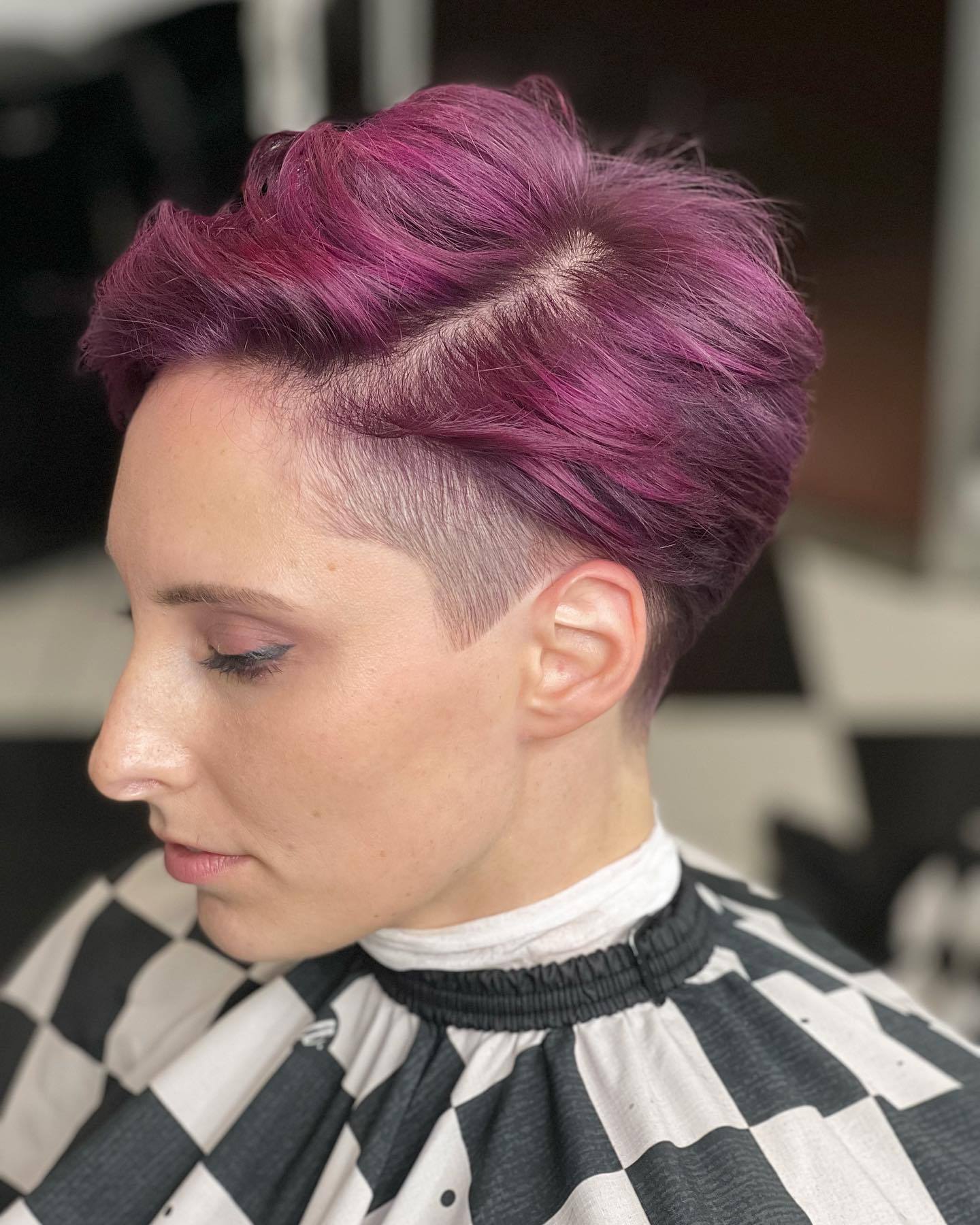 The pink and purple hue of colors can work so well together. If you're into that "young" or emo phase give it a go with this edgy cut.
14. Coral Edgy Undercut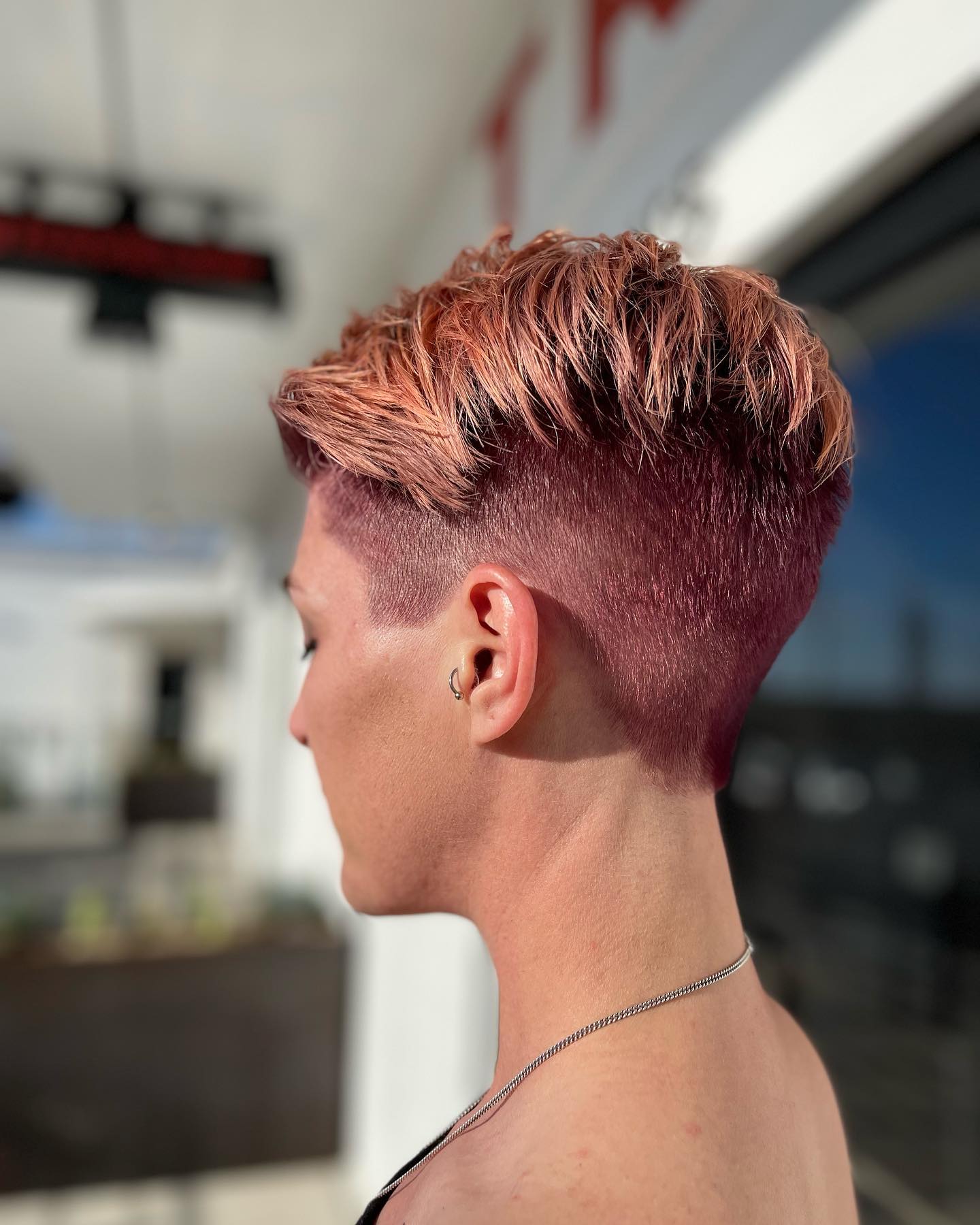 If you're a fan of pink and coral this will suit you! This short hairdo is dominant and youthful!
15. Blonde Bob With An Undercut

Cute light brown bob with a defined edgy detail. Do you like hairdos that can be worn to everyday events? This one is so universal and easy to rock!
16. Buzzcut Edgy Look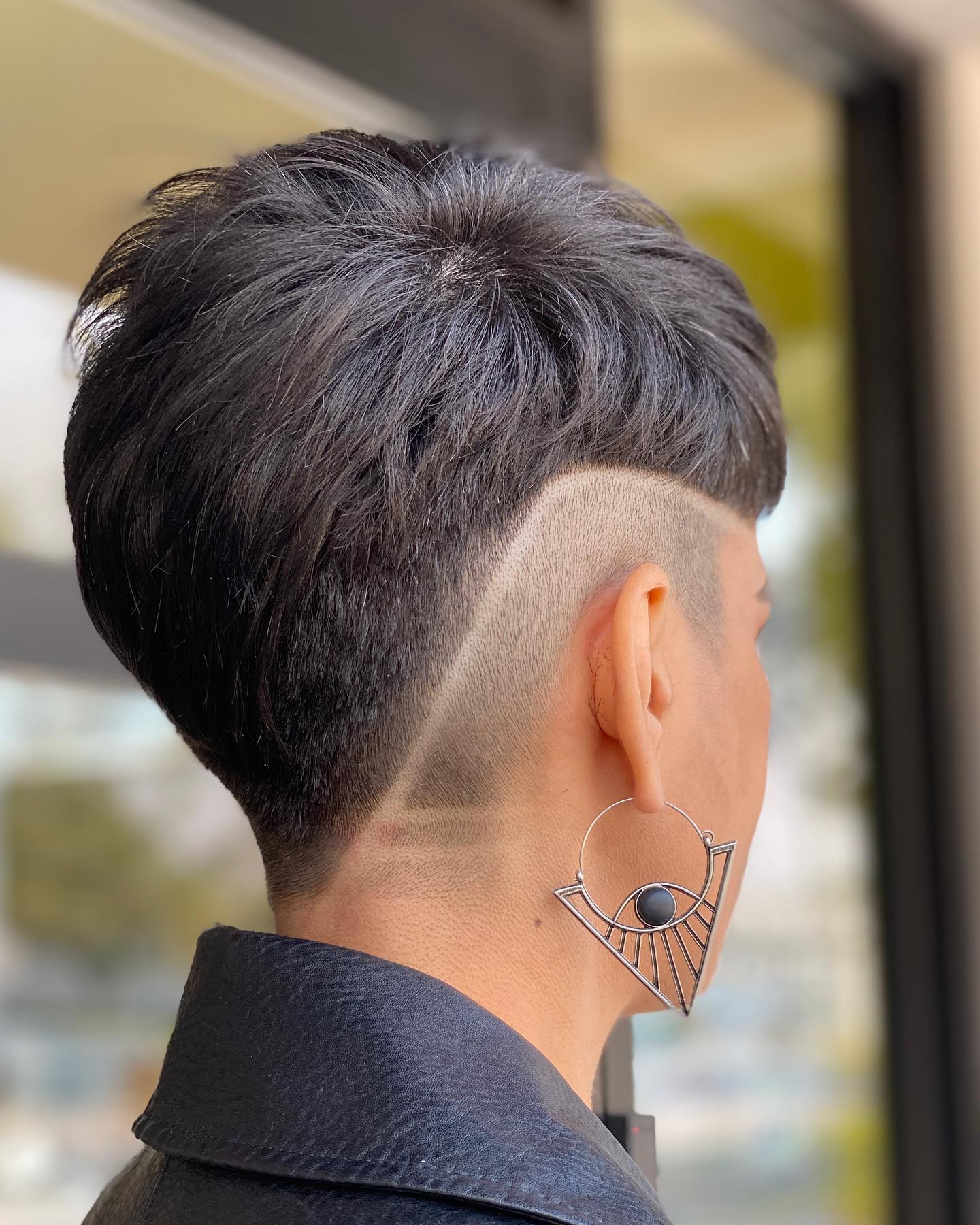 Go for defined edges and a messy pixie on top. This look will work the best for women who are in their twenties.
17. Brown Bob With Undercut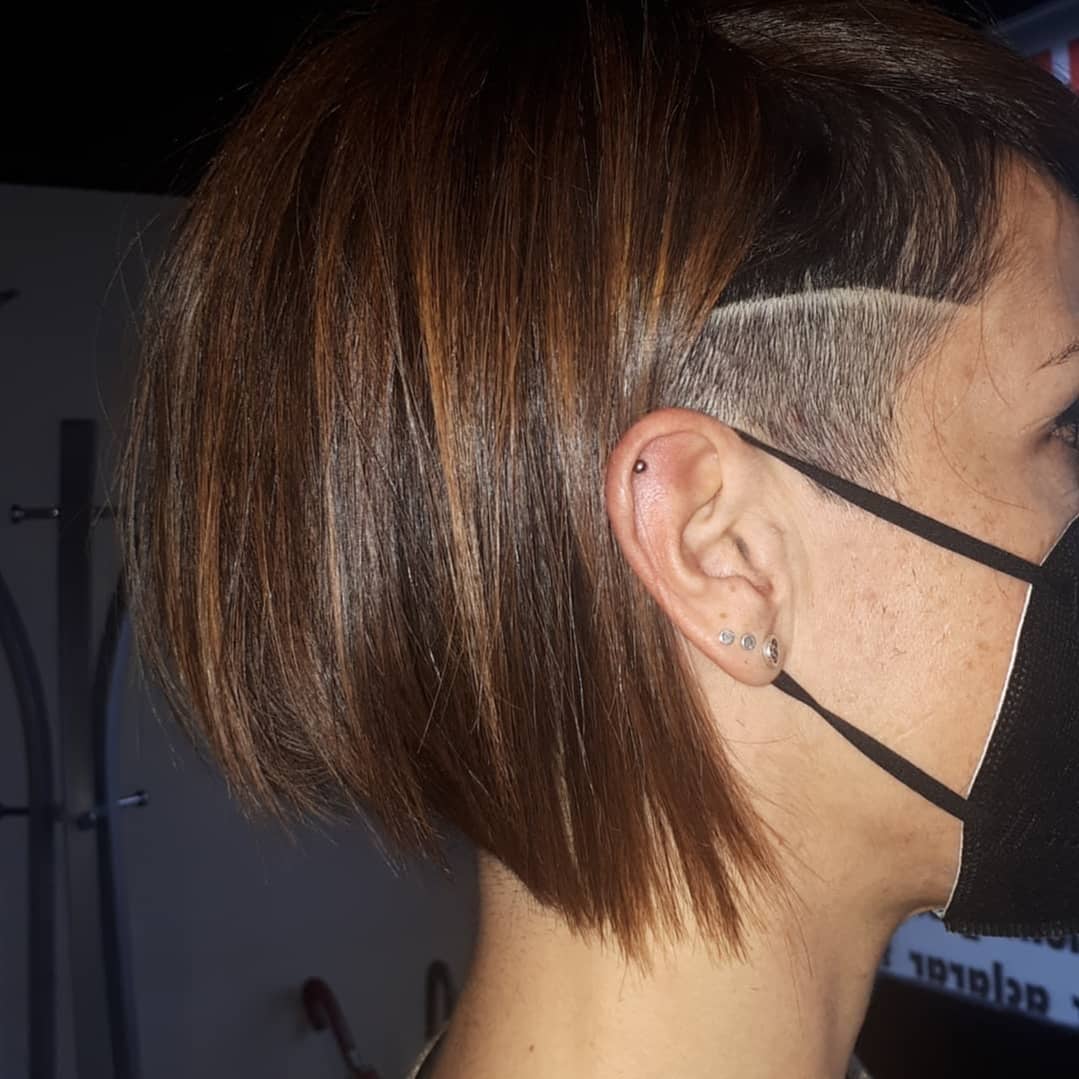 Cute bob with a delicate small edgy undercut detail. Spice up your look in one cute way without doing a drastic difference.
18. Curly Afro Braids With An Undercut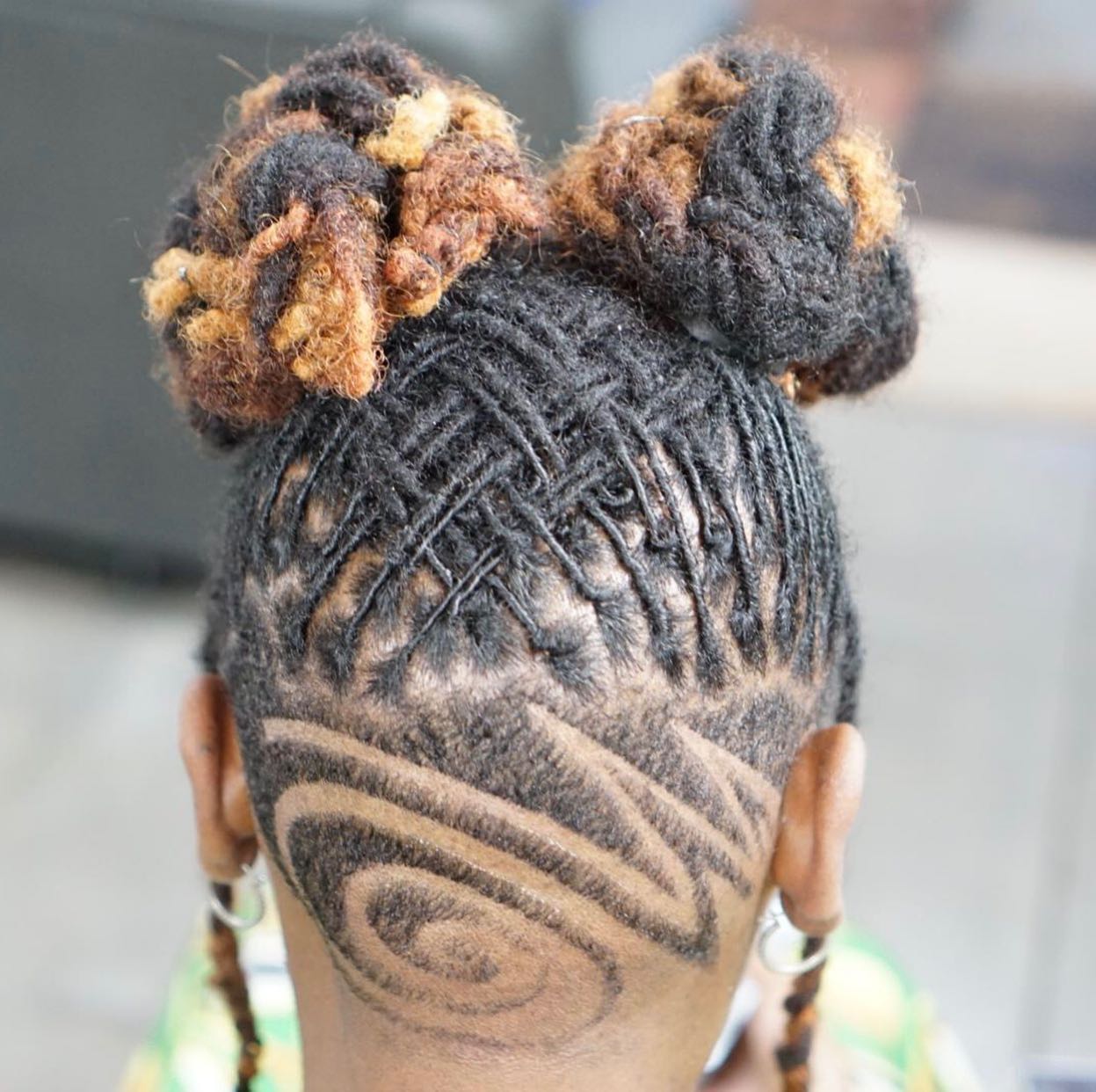 These messy buns and this cool Afro detail will look the prettiest on younger women who want to represent their culture. Give it a go with this messy bun moment if you're looking for something low-maintenance.
19. Short Brown Pixie Edgy Look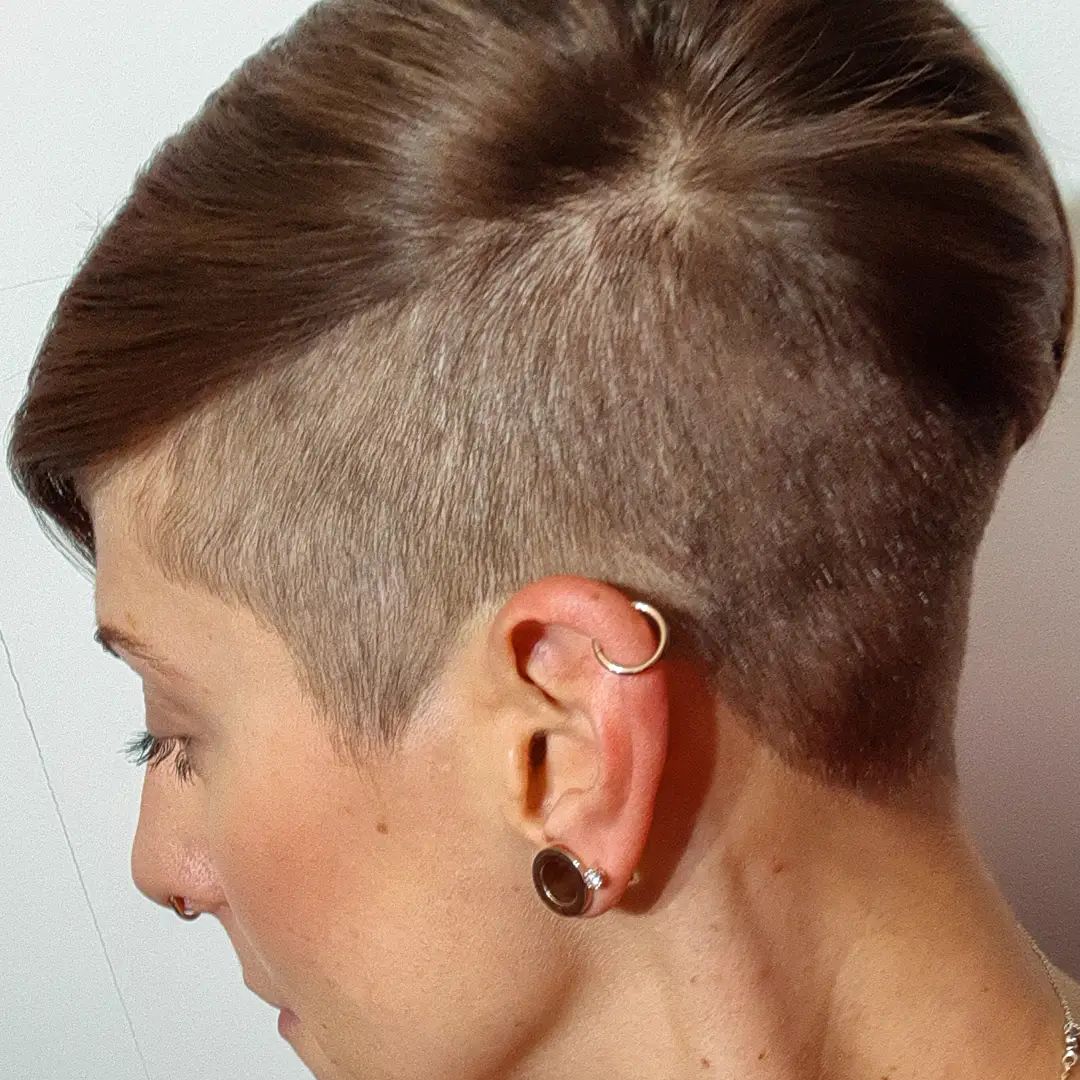 Shorter looks such as this one will look the best on younger women who like to look dominant and edgy.
20. Neon Green Hair With An Undercut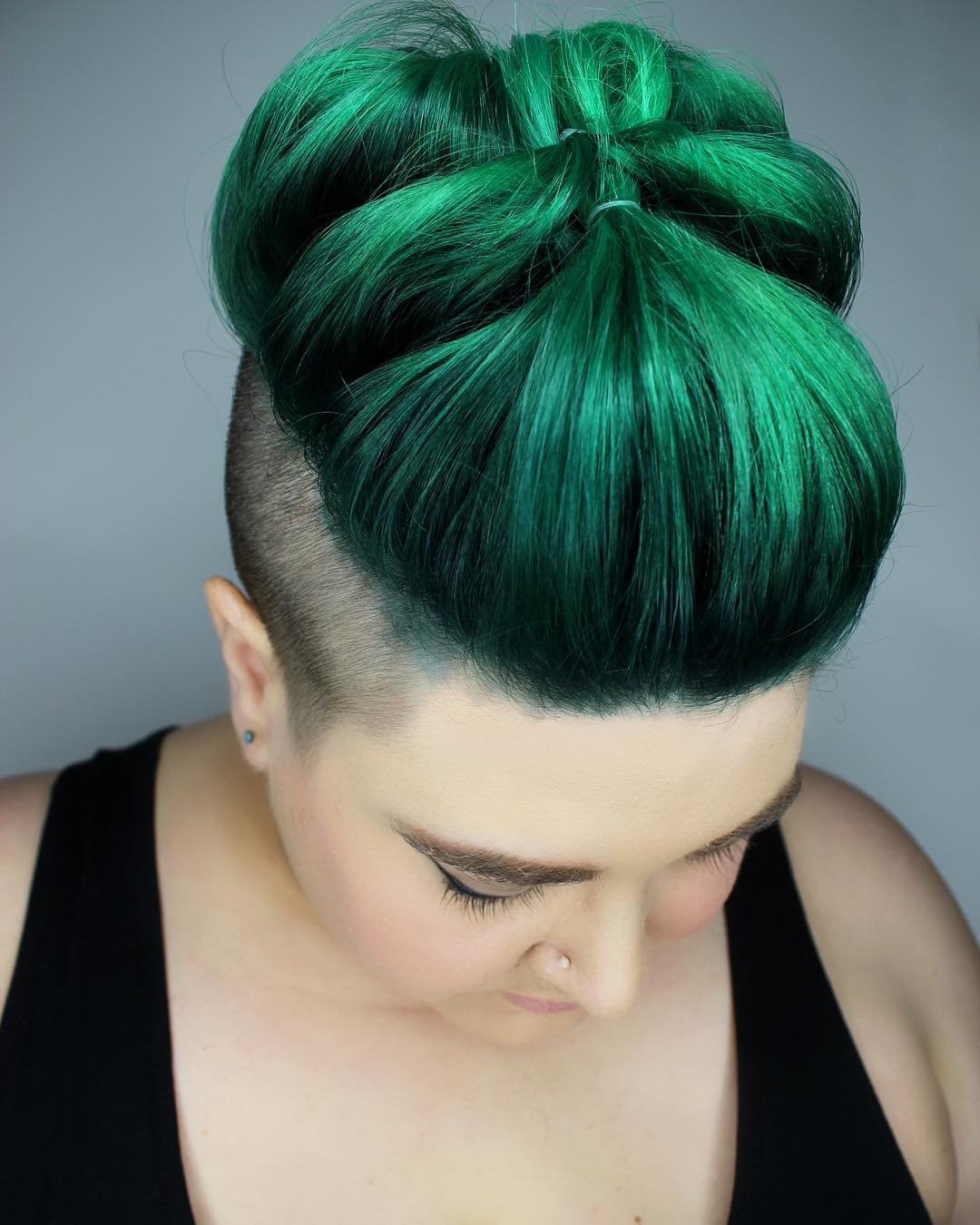 Not a lot of women dare to go green. Do you? If that is the case this bright neon beauty will work so well!
21. Blonde Pixie With An Undercut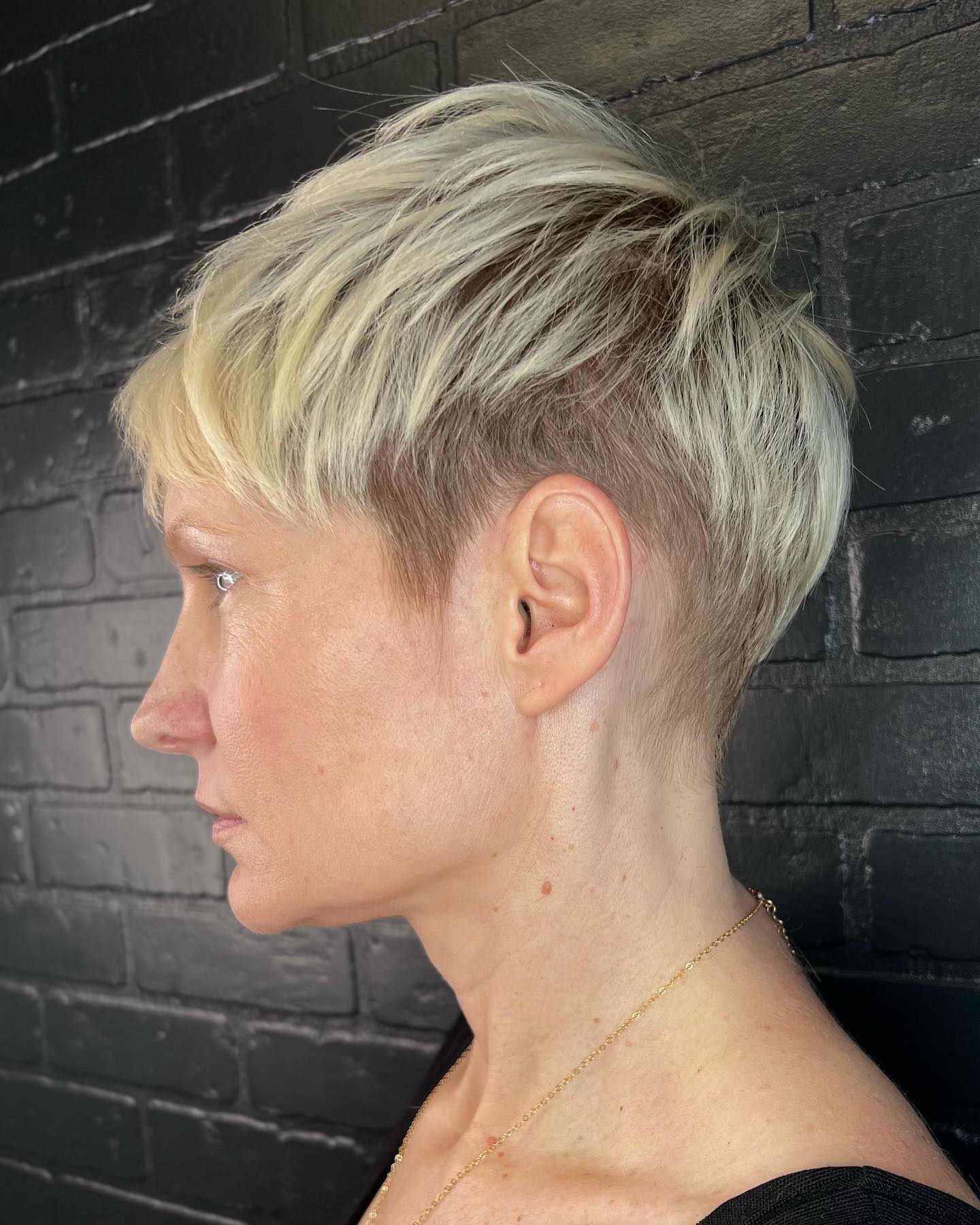 Elf cut with an edgy undercut that will make you look bold and dominant everywhere you go.
22. Brown Pixie Hair With An Undercut

Short cute pixie with side cuts and undercuts that will look cute and feminine on younger women who like to pair the look along with their favorite lip product.
23. Messy Brown Pixie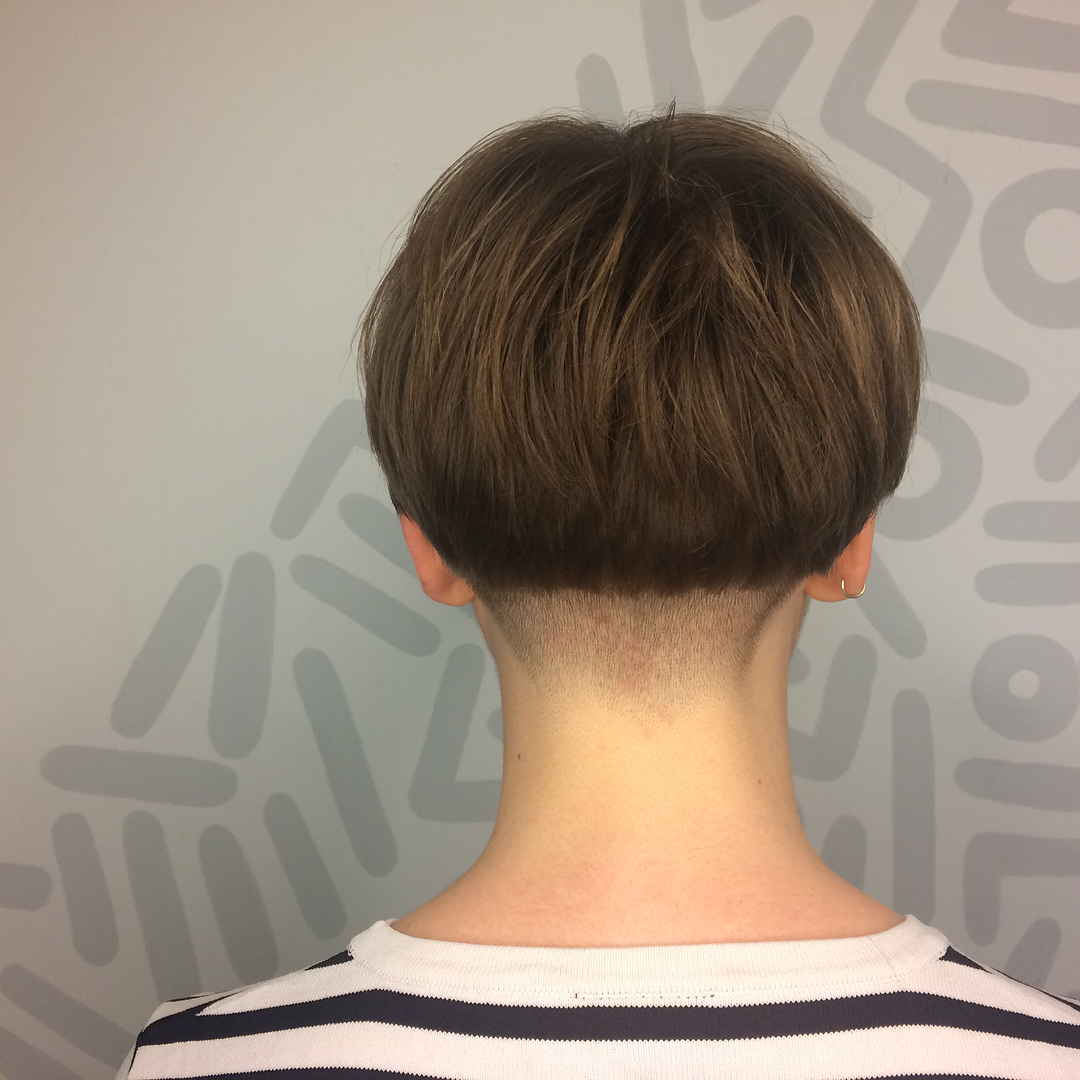 This bowl cut with edgy undercut details has to be even in order to look good!
24. Side Swept Long Hair With An Undercut

Long and very dominant, this cool hairdo with highlights and an undercut is for women who aren't ready to cut their hair yet want a stylish modern change.
25. High Updo Curly Bun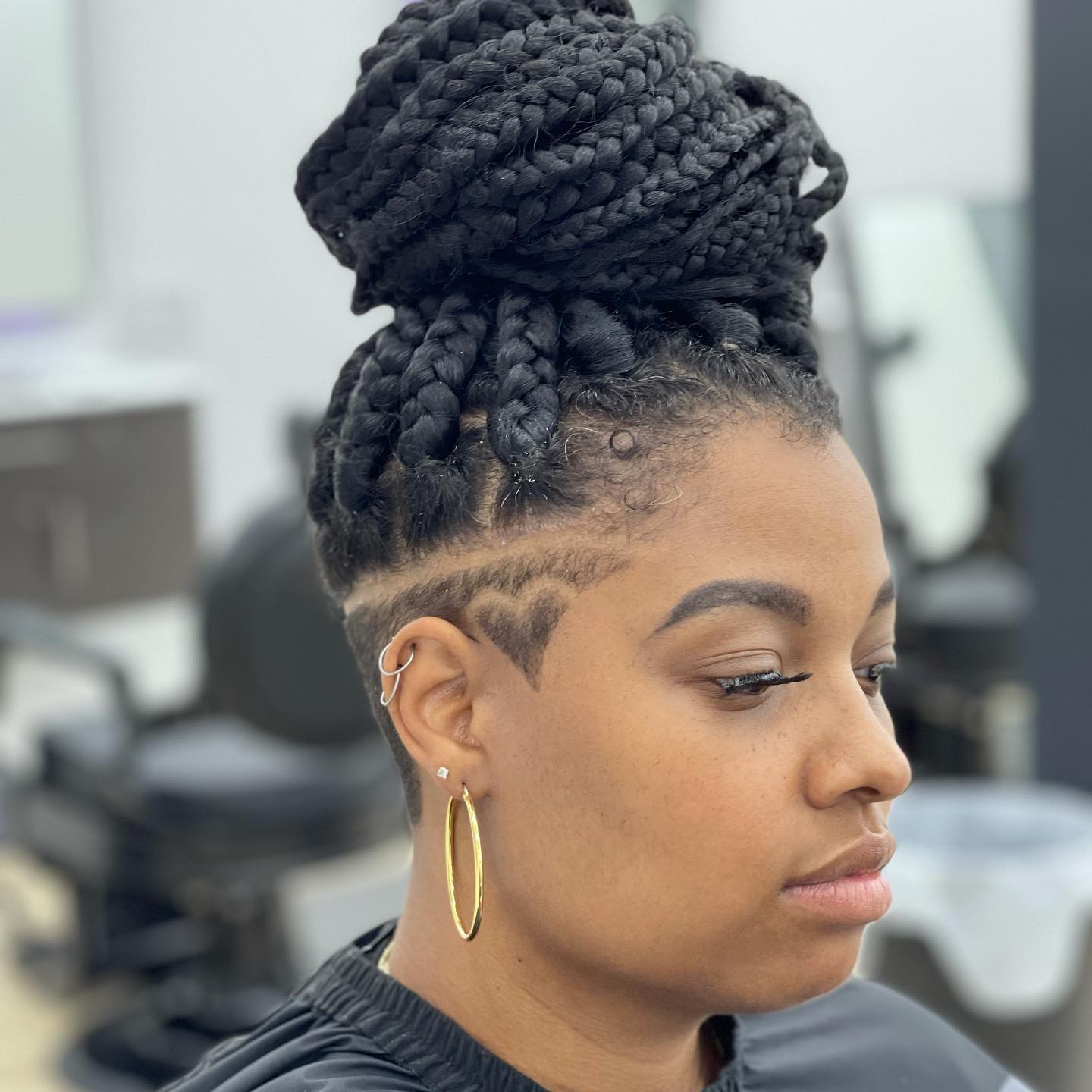 Represent your origin and stick to this cultural hairdo if you are black and you enjoy braids, along with undercuts.
26. Brown Defined Pixie With A Side Undercut

Brown and defined on both ends and sides, along with an undercut that is hidden in the back, this look is for women who enjoy dominant looks.
27. Bleached Platinum Hair With Undercut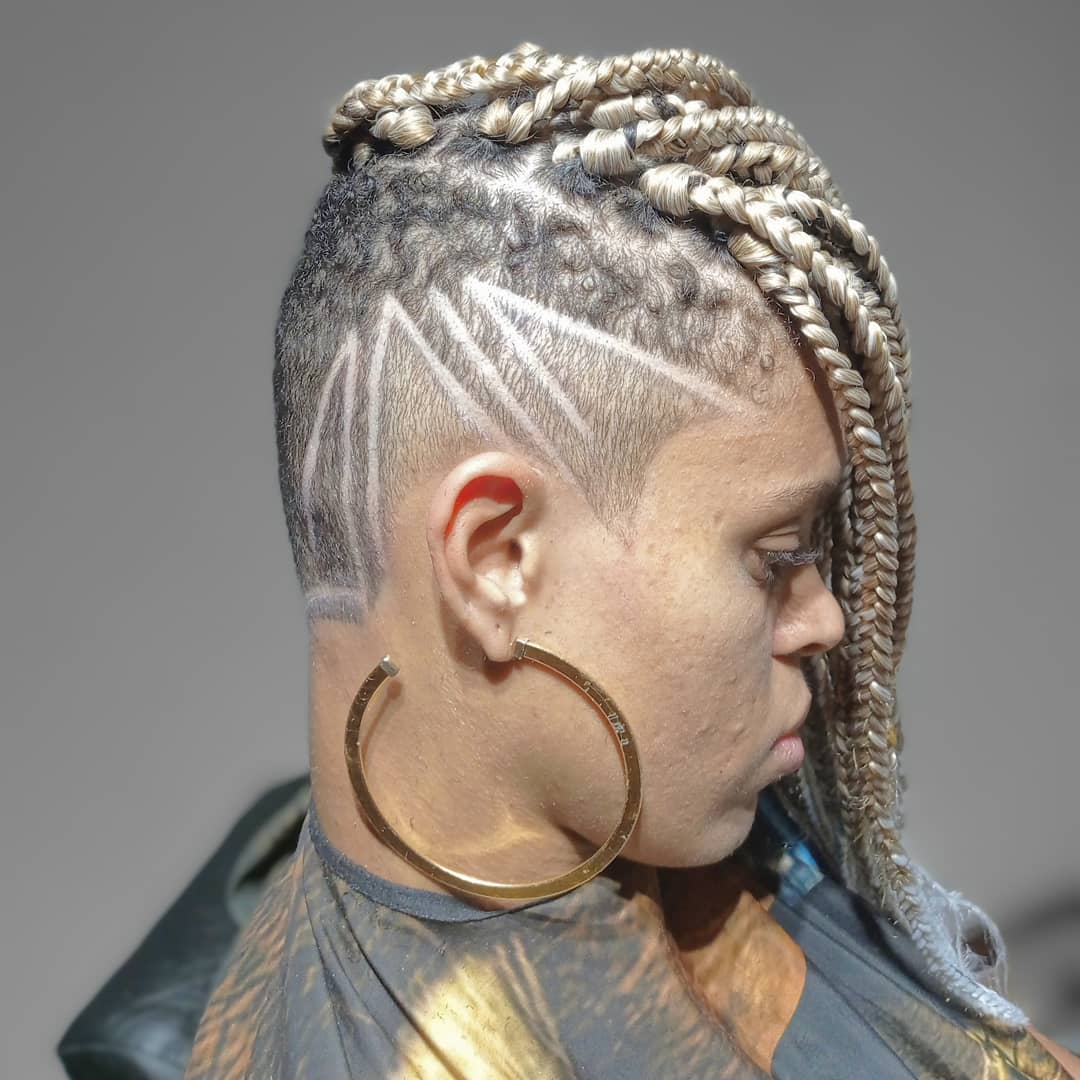 A cool blonde moment that you're going to like if you wish to stand out and try out new bold looks.
28. Short Brown Hair With Back Undercut Detail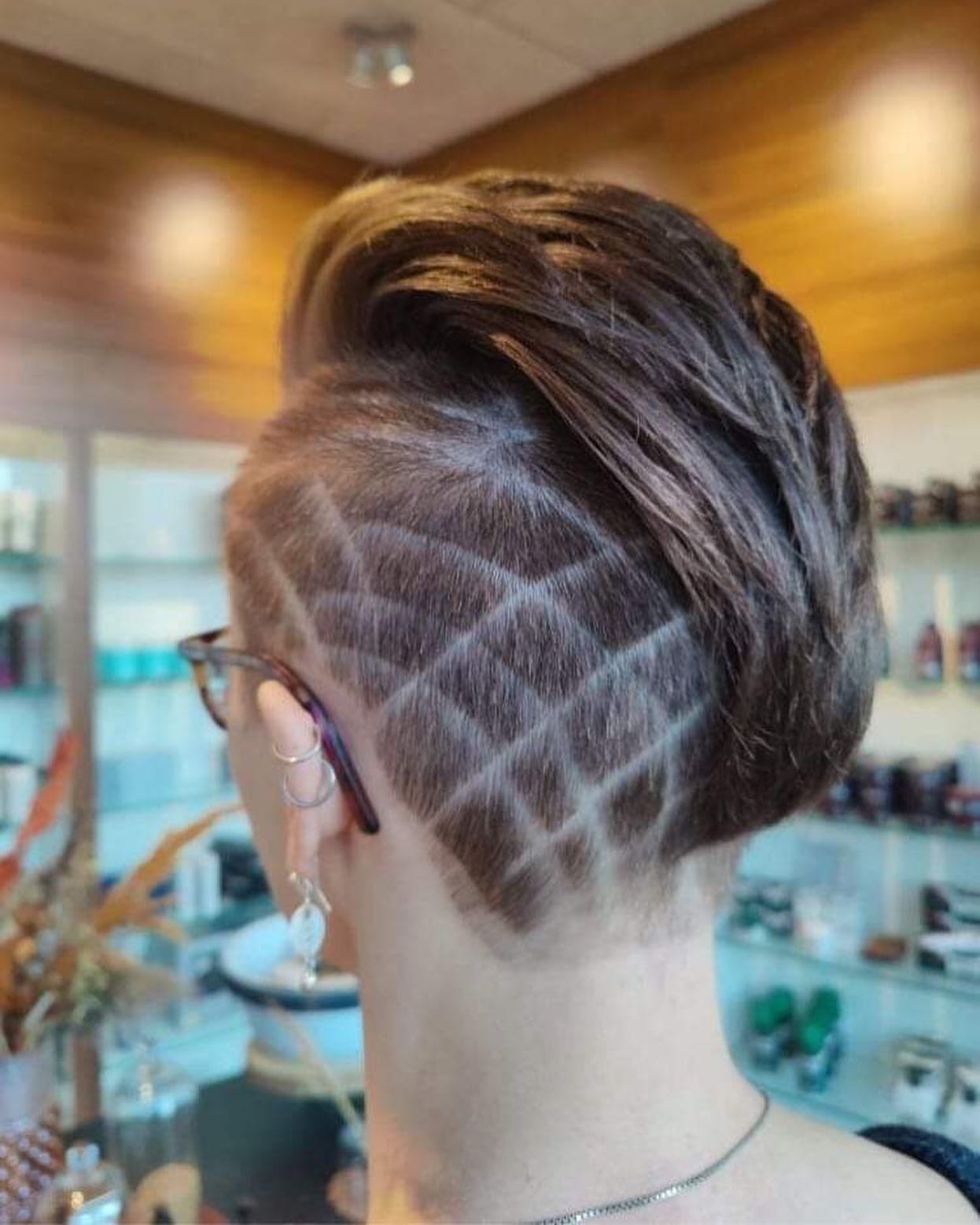 A ton of cool little edgy details and undercuts that you will adore no matter your age!
29. Funky Short Bob With Buzzcut And Edgy Undercut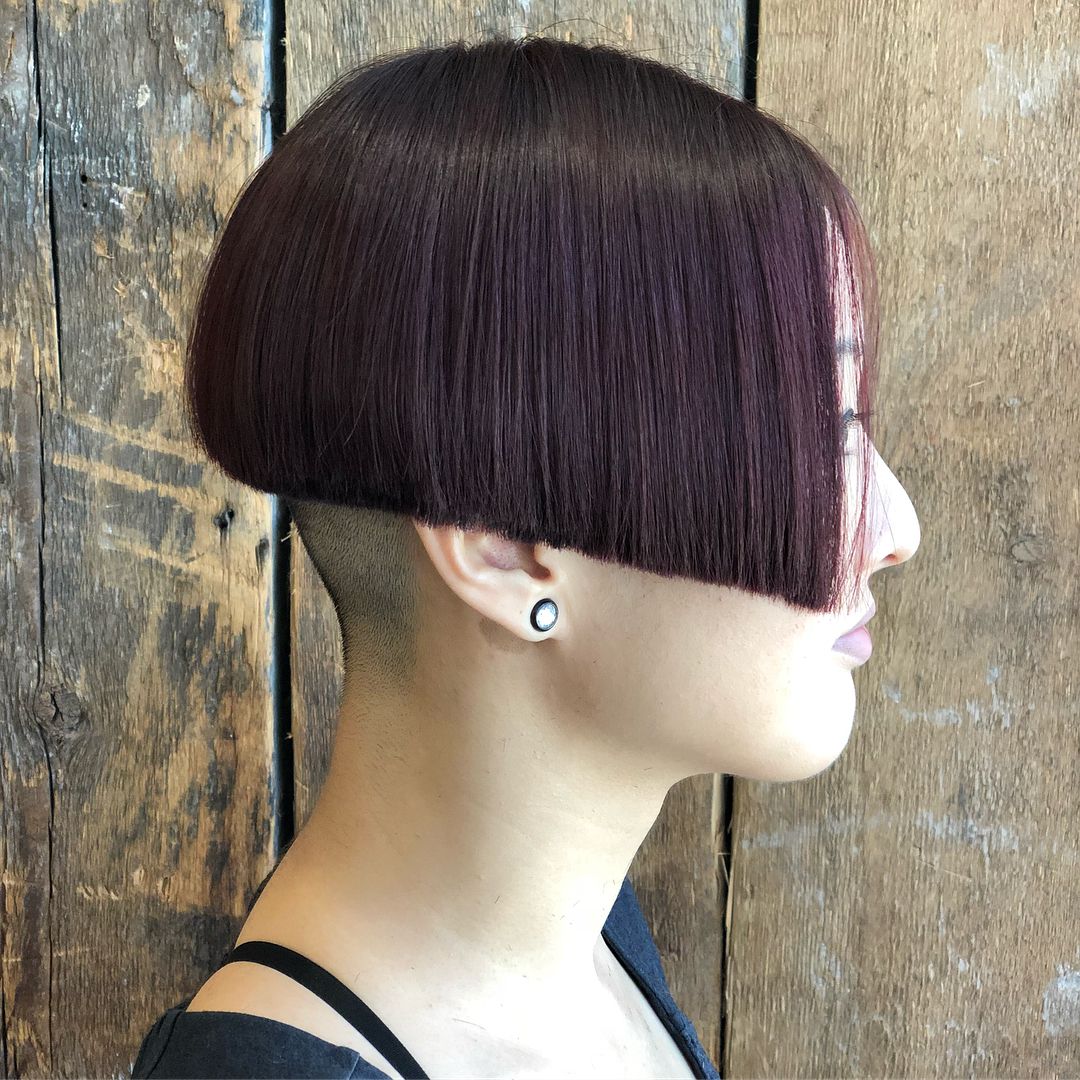 This chic bob with straight lines and undercut yet buzzcut detail will suit younger women who want to stay trendy!
30. Ponytail With An Undercut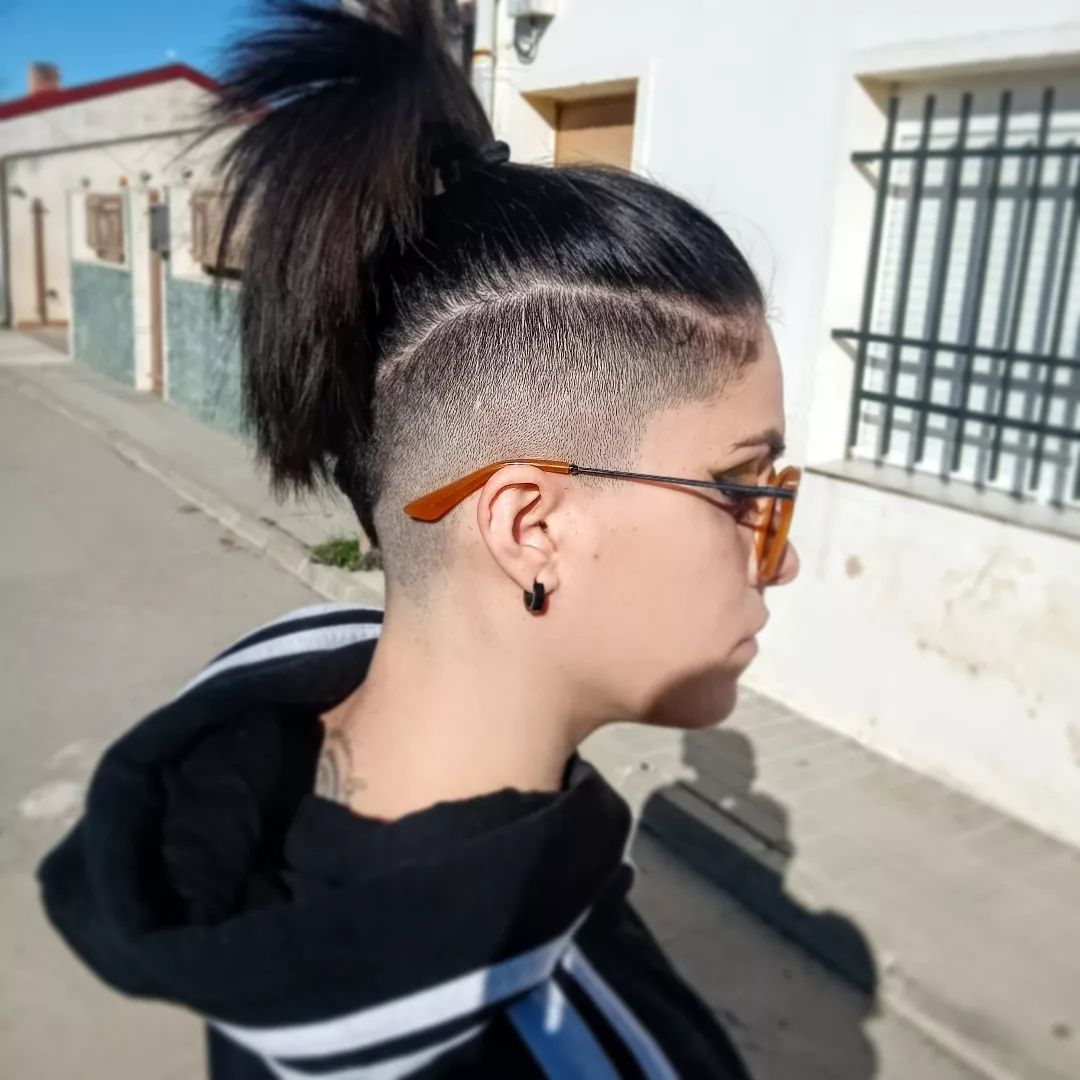 You can wear your hair in a ton of different ways when you have a buzzcut or an undercut. This ponytail is just one of them to consider!
Want A New Cool Cut?
If you're ready to rock something from this list let us know what that is. Luckily for you and every lady, this list is inclusive and ideal for those that like short and fun looks. Upgrade your look and give it a go with something from these cuts, we can't wait to see them on you!