Have you ever thought about getting some stylish knotless braids? If you are tired of your typical ones and you're also trying to find a new style that works, get yourself some new & trendy knotless braids! Here is why women love them + different knotless braid looks to choose from!
What Are Knotless Braids?
Knotless braids are a traditional look with three-strand braids but with a twist, literally. This hairdo is created with a feed-in braid technique and with a help of your fingertips, while the work itself has to be seamless & precise. A small amount of braiding is done to your natural hair, but artificial strands & beads can be used for that dramatic braid look!
How To Do Knotless Braids?
With knotless braids, the hairstyle is created with a feed-in braid technique that is only known to some hairstylists. For most transformations, here's how the process looks like:
Work with clean, washed & blow-dried hair
It can be hair of any length, color, or texture
A hairstylist will add small amounts of braiding hair to your natural hair
This approach & addition is especially used for thinner & flatter hairdos
In most cases, you will need 5-7 packs of pre-stretched braids to achieve the look
Who Should Wear Knotless Braids + Are They Time-Consuming?
Wondering if you're the right person for knotless braids? A lot of girls enjoy them, but these are mostly worn by younger girls or women who don't mind the maintenance part. The look itself is quite dramatic, time-consuming & high-maintenance, which makes them a lot to handle.
However, if you love to stand out & you don't mind getting ready for 2-3 hours at a salon – make sure that you get them!
1. Super Long & Straight Pink Knotless Braids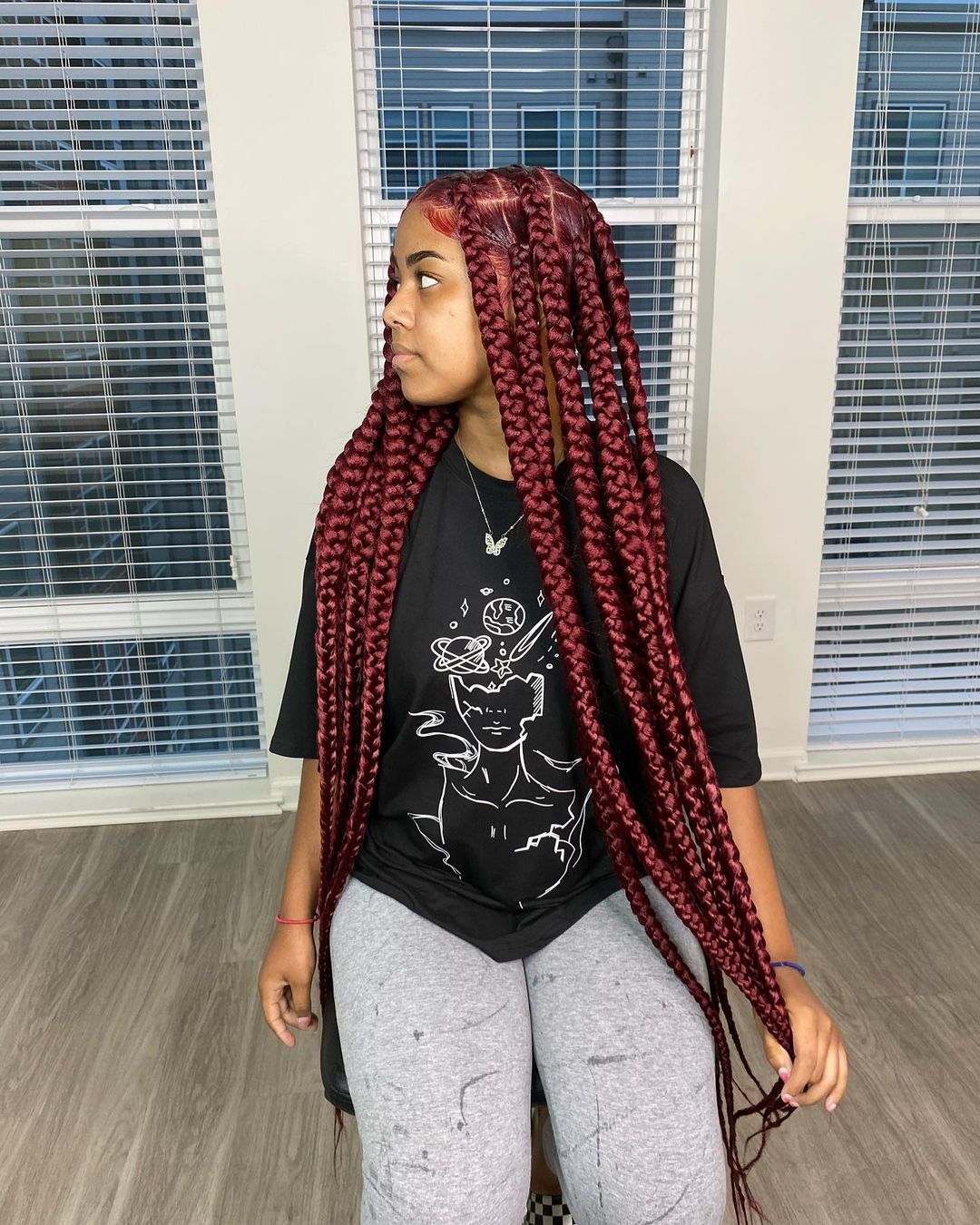 Hot fiery red is the perfect color for the Autumn season! Go for it and represent these knotless braids with an attitude!
2. Knotless Braids In A Bun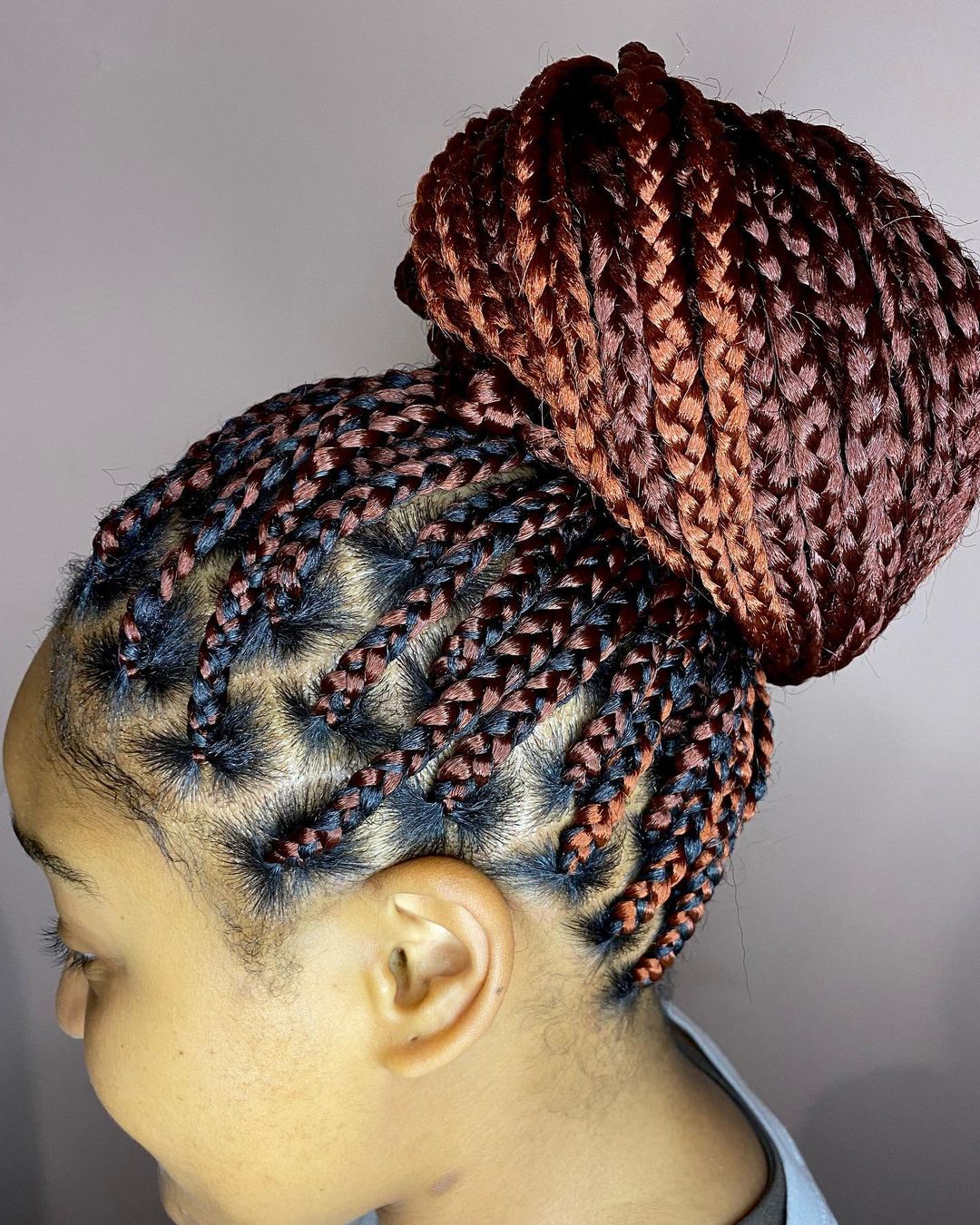 If you love low-maintenance looks just know that you can tie your knotless braids in this voluminous bun!
3. Long & Dramatic Black Knotless Braids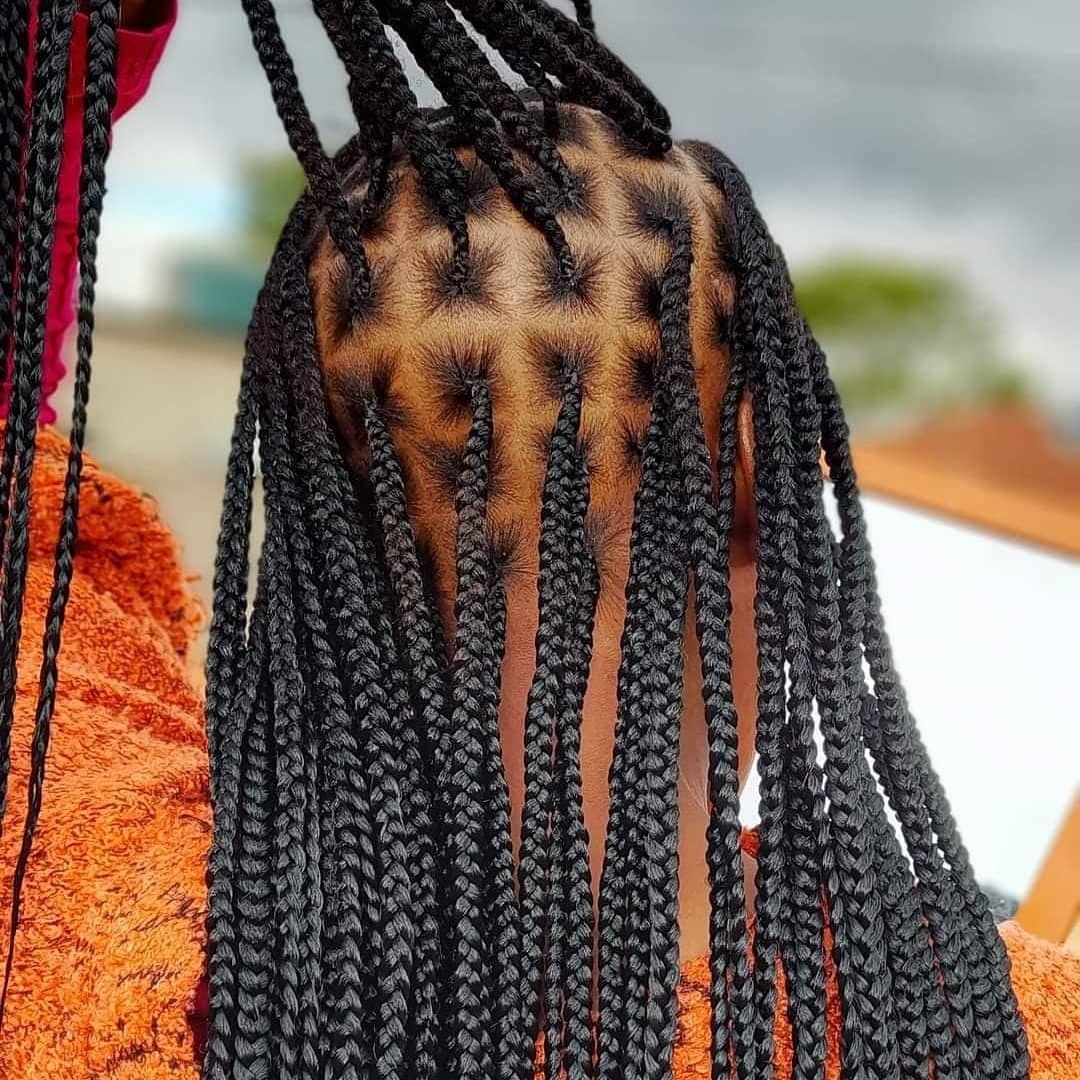 If your hairstylist is an expert and you enjoy tight curls give it a go with these knotless braids!
4. Knotless Braids With Blonde Elements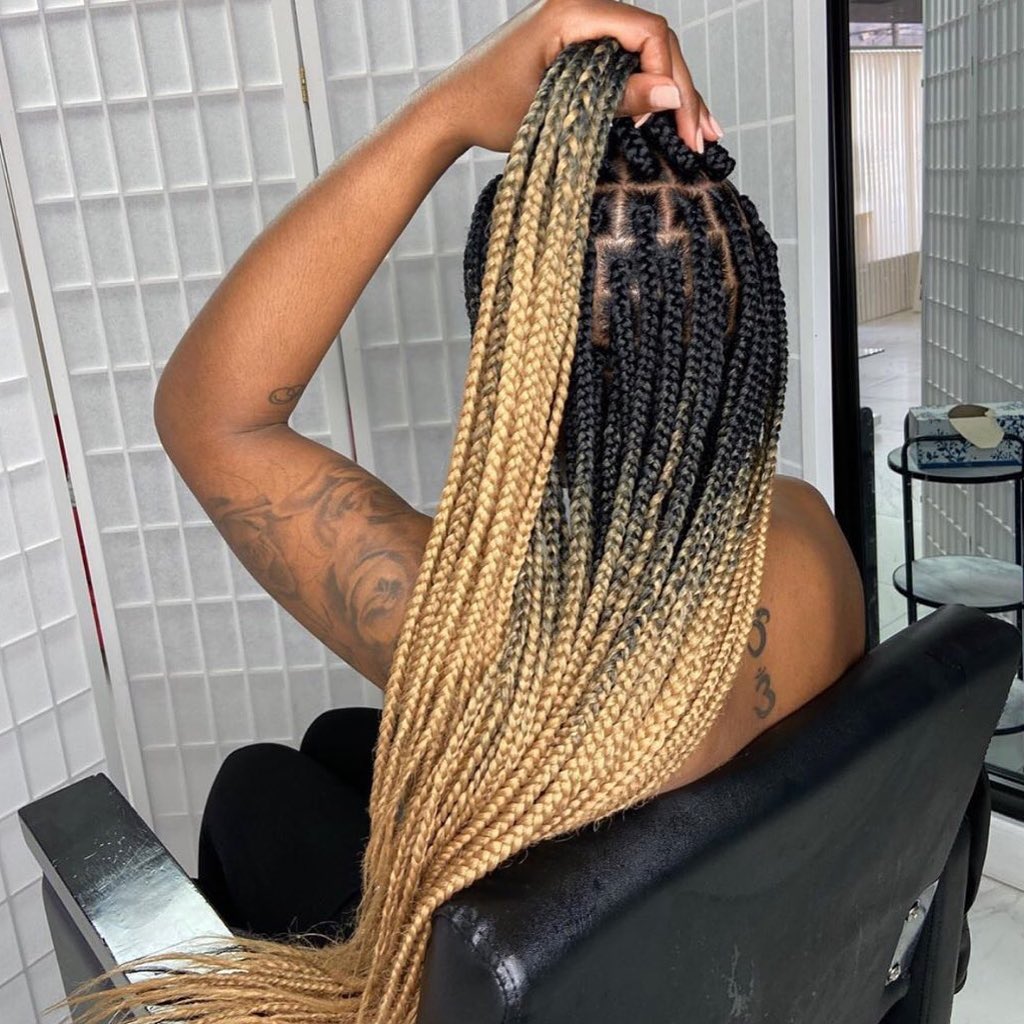 Half-blonde half-black curled look and these braids are ideal for women in their twenties!
5. Long Hair Brown Look With Blonde Knotless Braids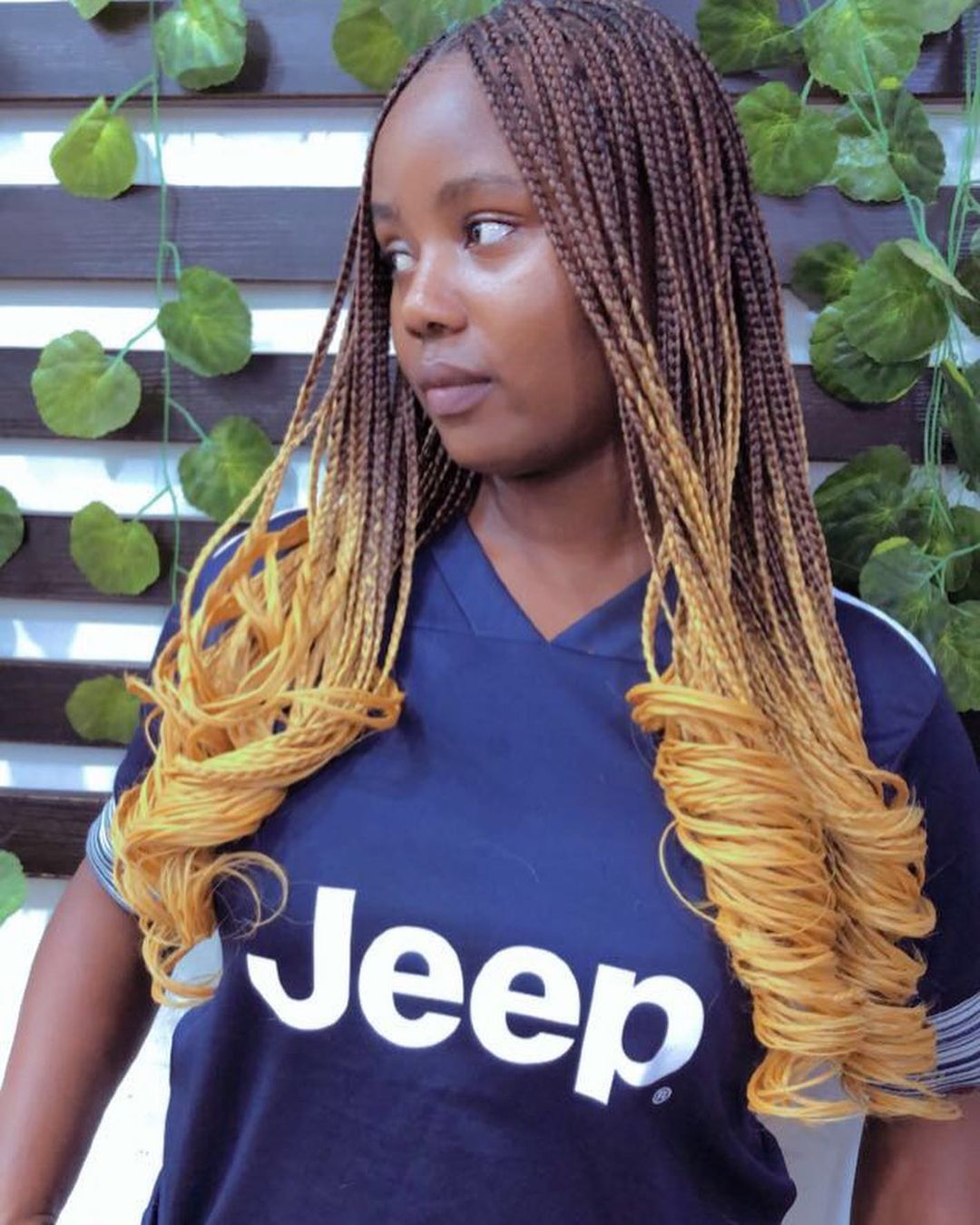 Add a twist to your hair and represent these curls & waves. These knotless braids with twisted ends are even formal & night-out appropriate!
6. Dramatic & Long Black Knotless Hairdo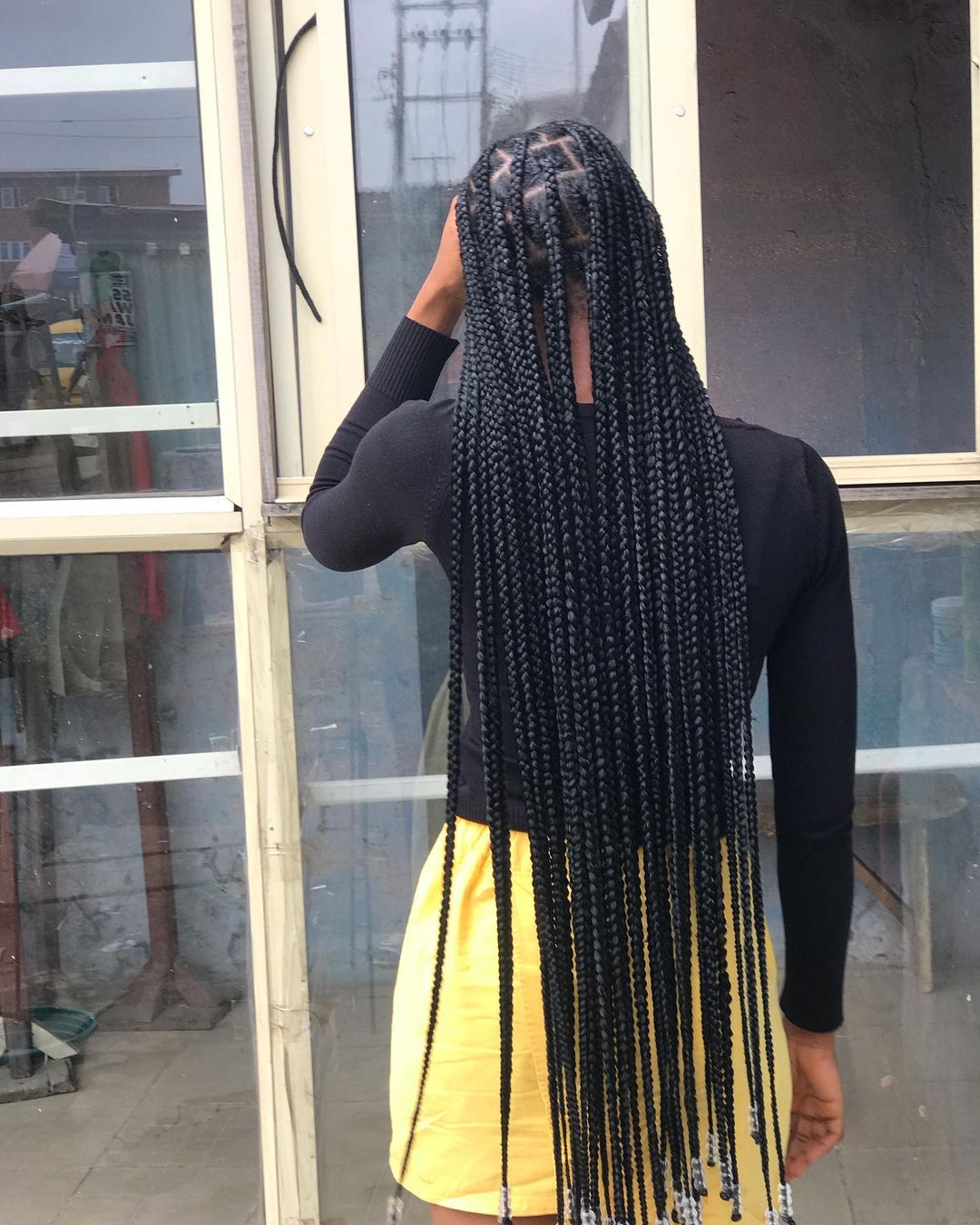 If you are a fan of precision & super extreme looks you will enjoy these black knotless braids.
7. Ombre Look Knotless Braids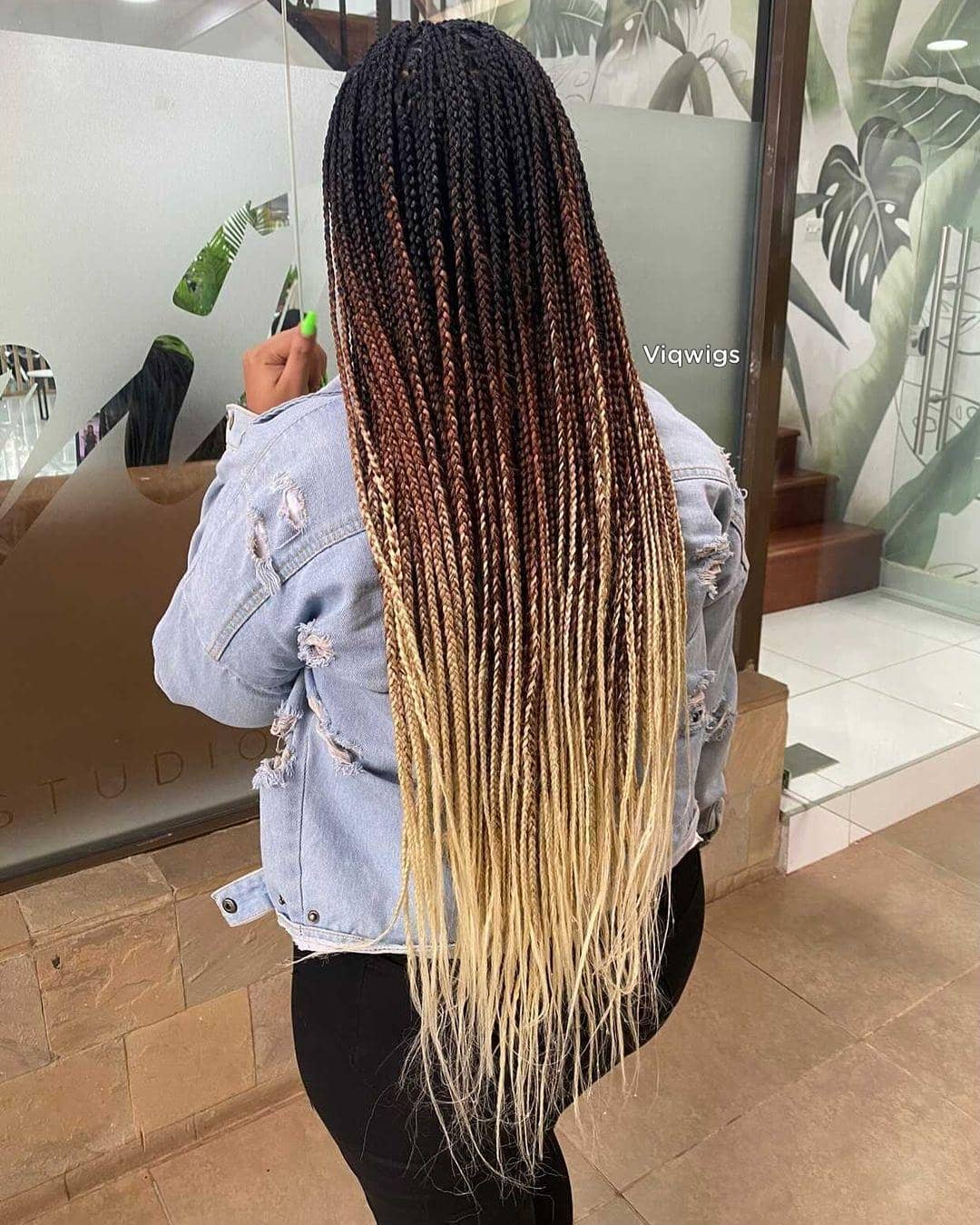 Ombre look is so fierce & stylish once done the right way. If you dare give it a go with this colorful knotless braid hairdo.
8. Symmetrical & Split-Up Black Knotless Braids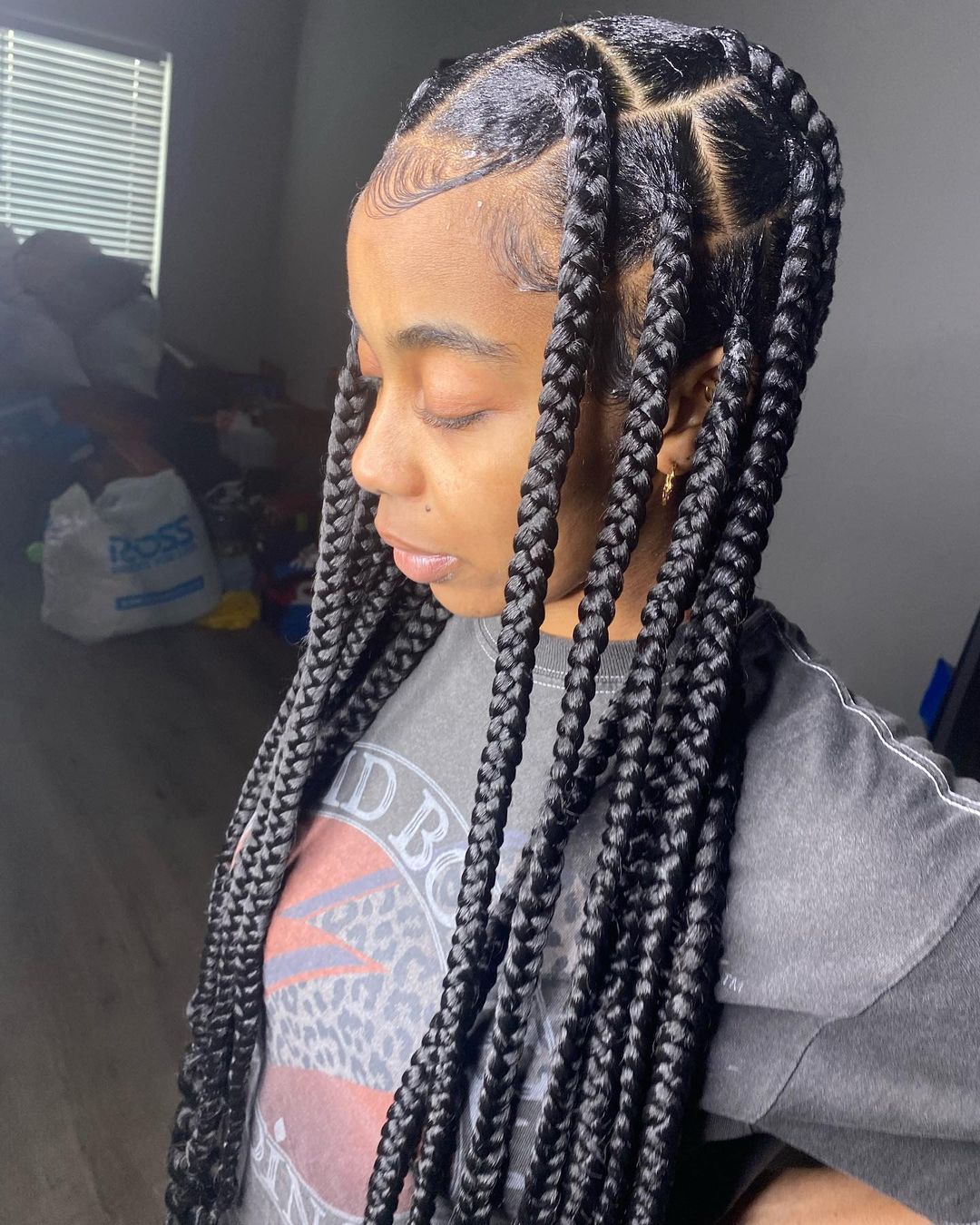 These black & thick knotless braids are for women who enjoy chunky & voluminous looks.
9. Knotless Braids Tied In A Bun Hairdo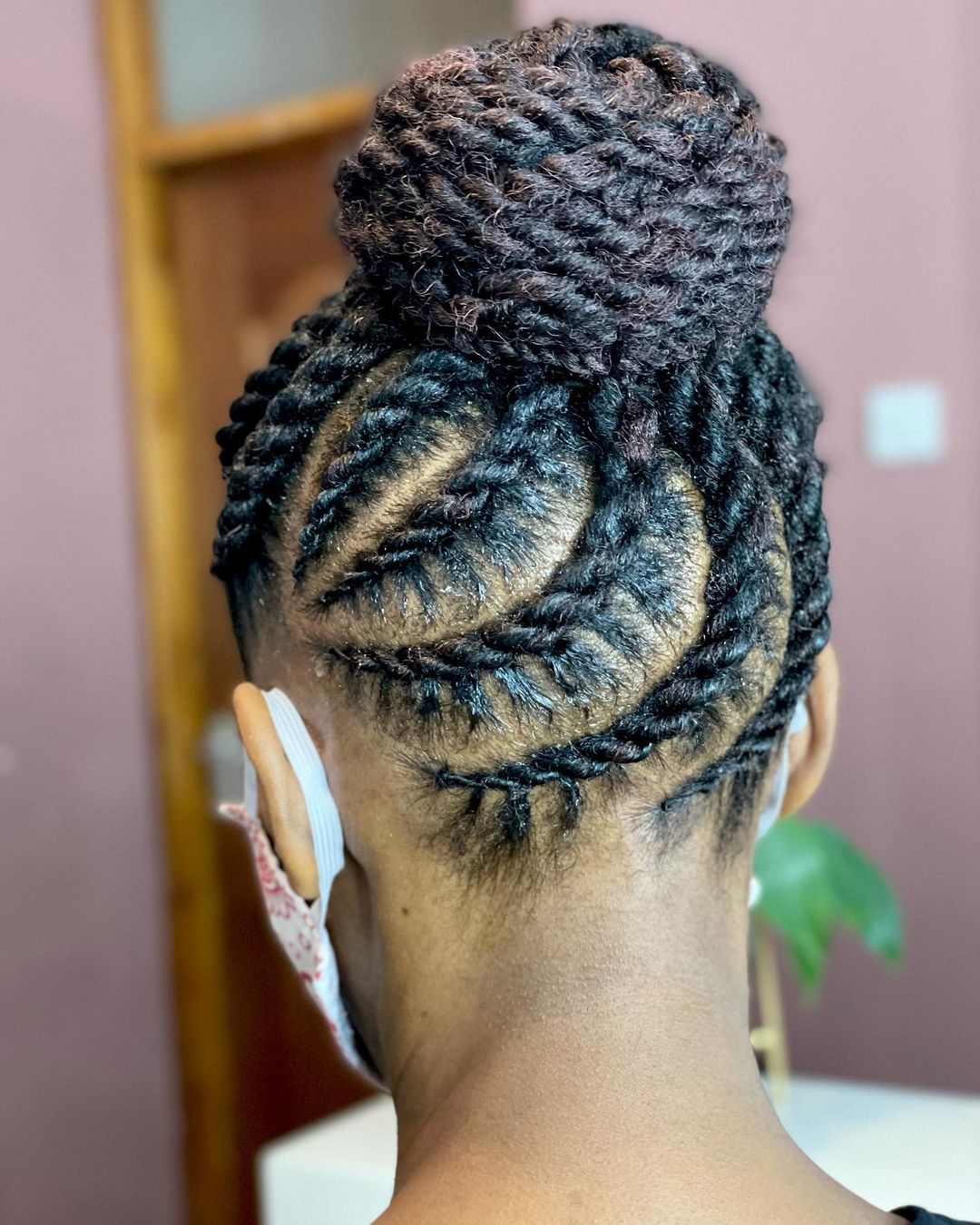 Hair in bun knotless hair is for women who have a lot of things going on, as well as for women who enjoy low-maintenance looks.
10. Slicked Back Knotless Hair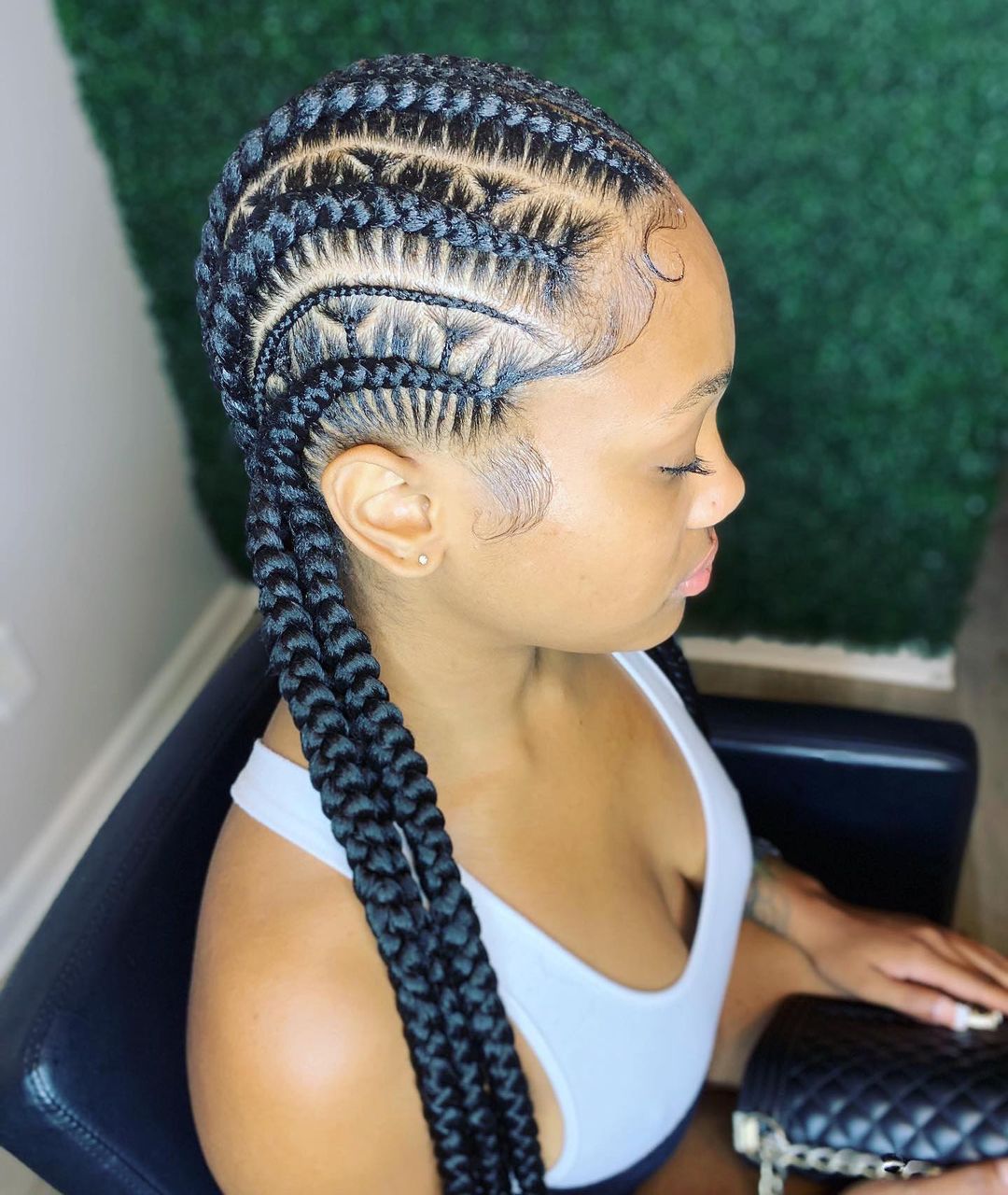 Slicked back knotless hair can truly look gorgeous & formal. If you like sleek hairdos this is it for your prom, birthday, or wedding extravaganza!
11. Side Swept Knotless Hair Braid

A side-swept hairdo is trendy and ultimate for everyday wear. Thicker knotless braids will easily attract looks and all the attention!
12. Little Knotless Braids With Accessories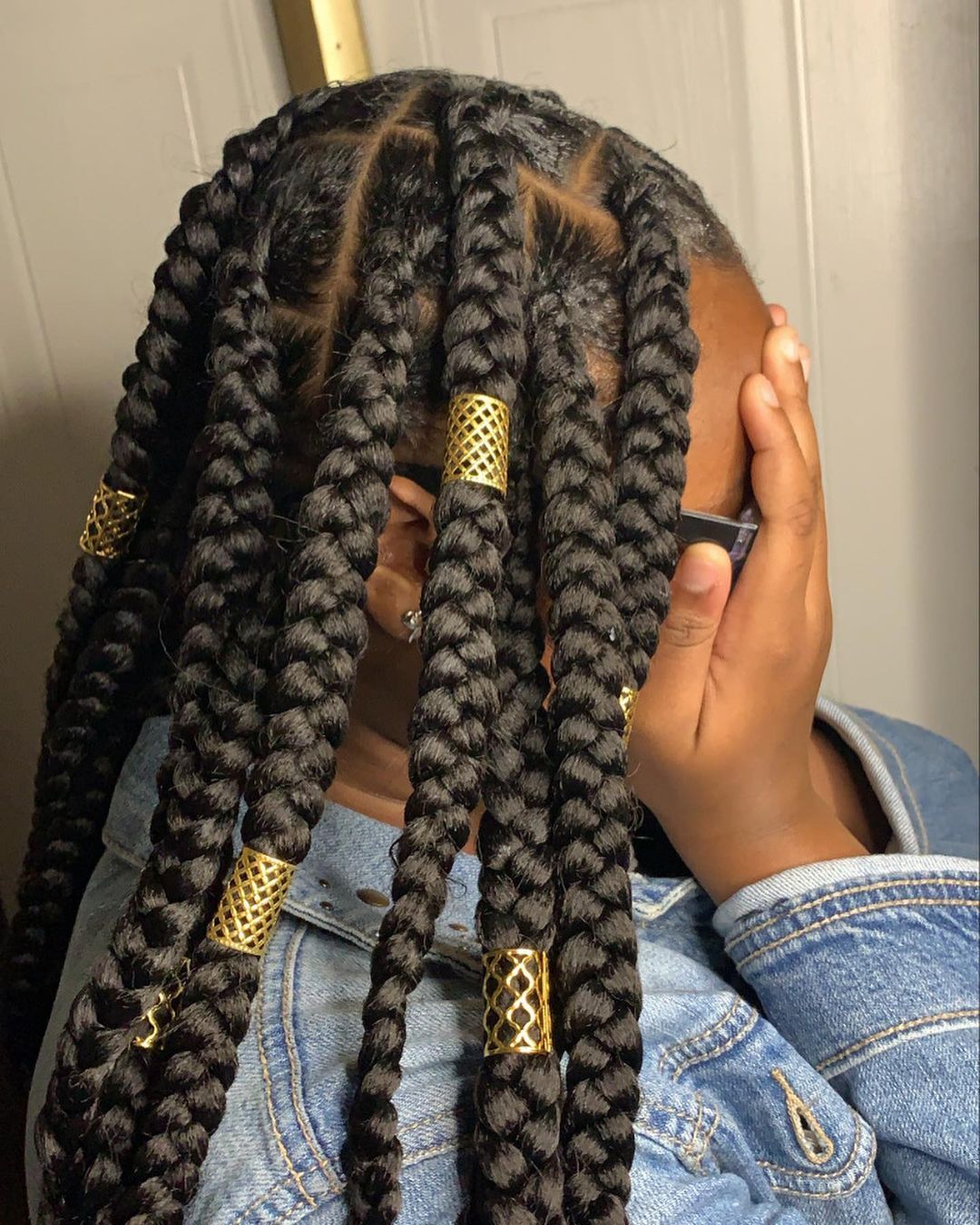 Add some gold jewelry to make your hair pop and stand out even more!
13. Ponytail Hair Knotless Braids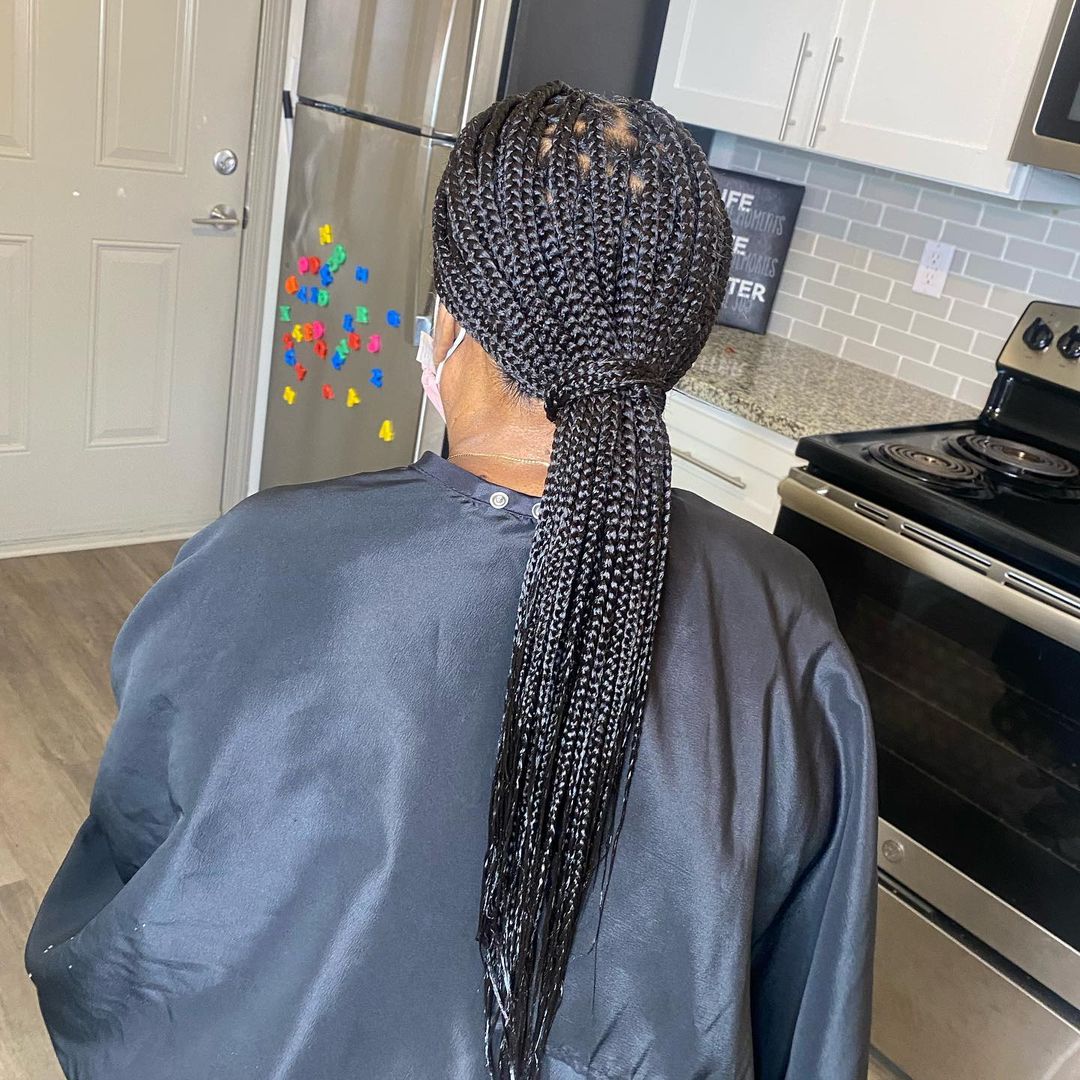 A ponytail knotless braid look is great for everyday wear and women who have long natural hair.
14. Bright Yellow & Orange Knotless Braids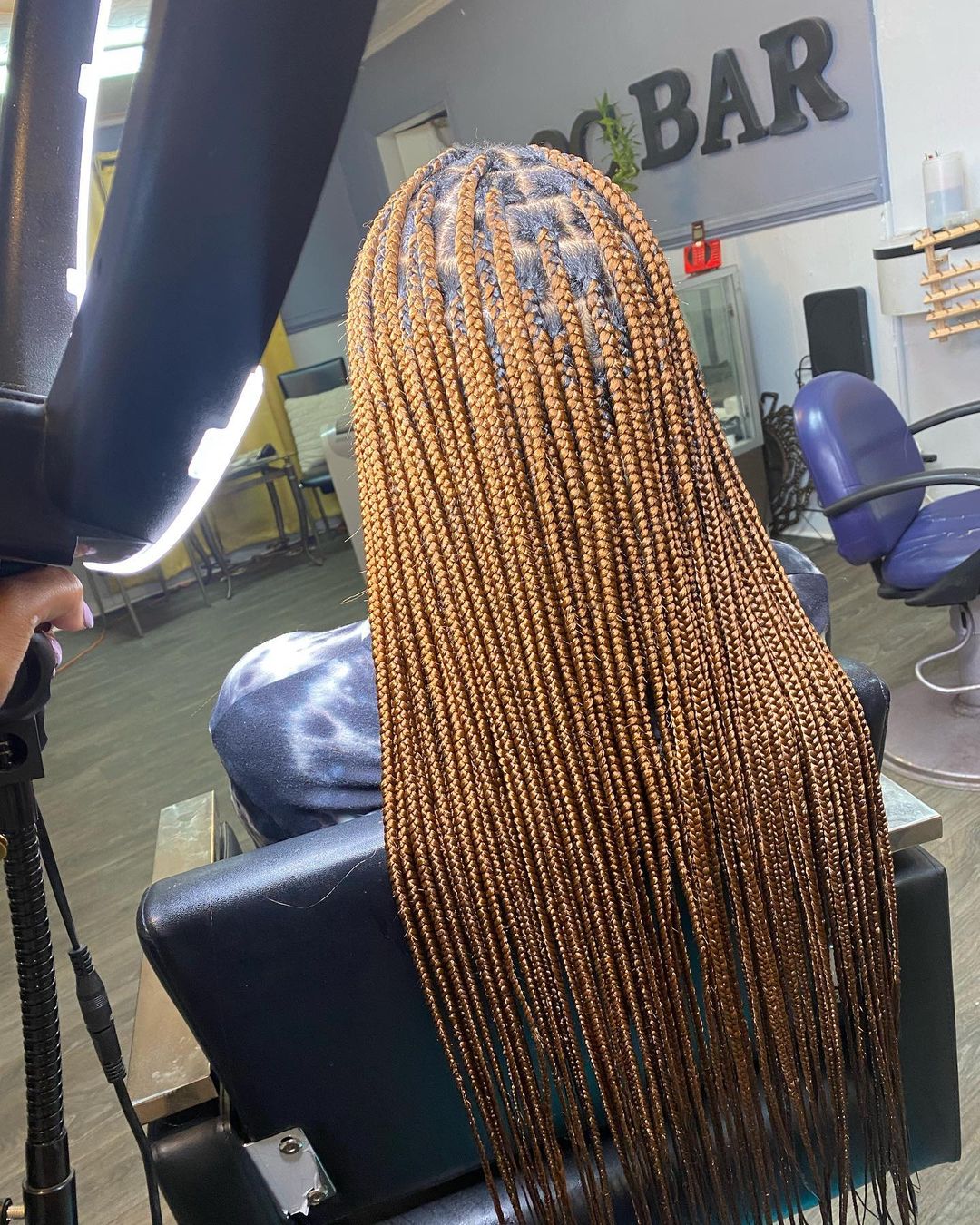 If you enjoy brighter & dramatic colors you will like these yellow knotless braids! They are time-consuming to get but so worth it!
15. Rainbow Colors Knotleess Braids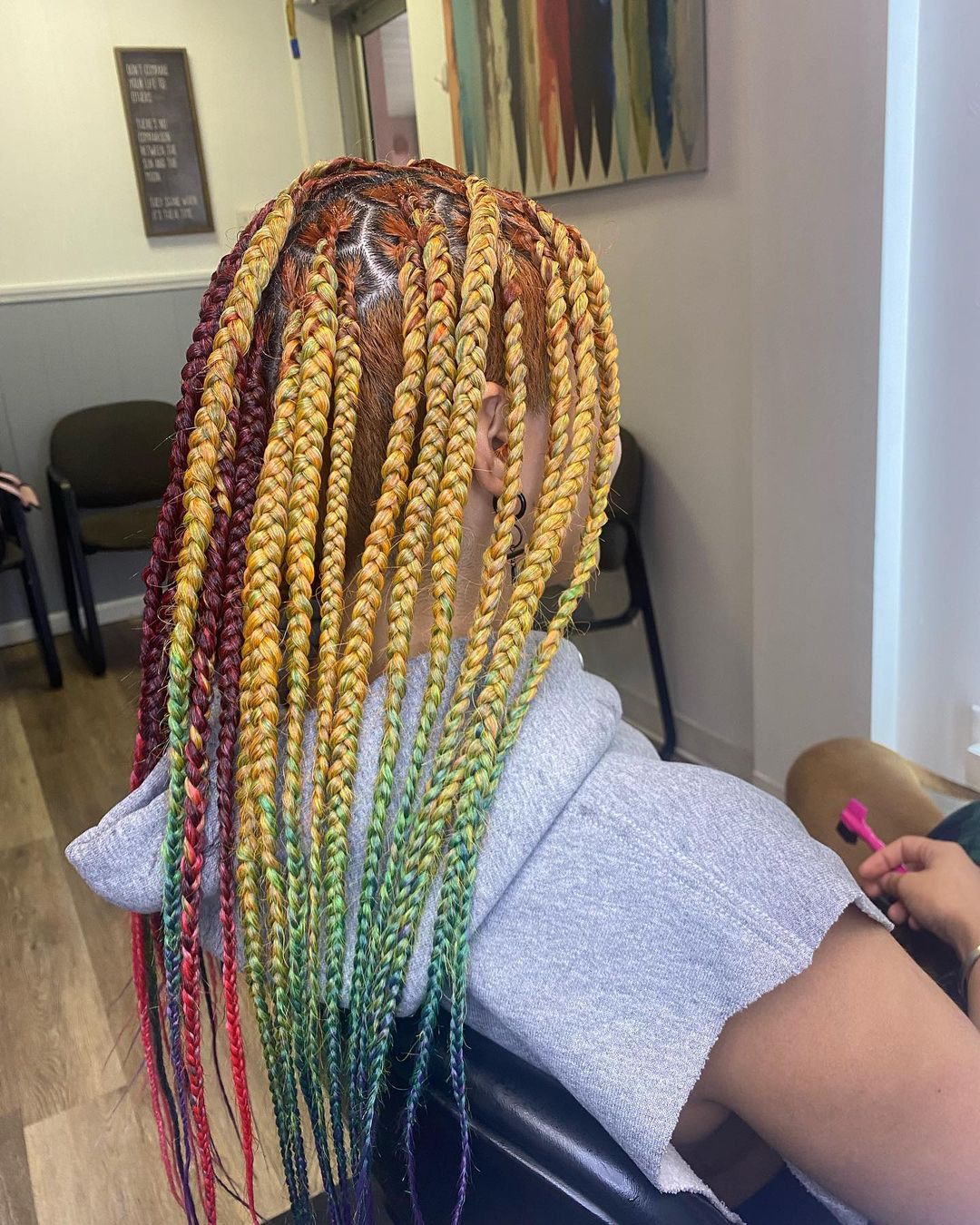 Who wouldn't love & live for all the colors of the rainbow? If you want a colorful knotless braid that is summer-perfect give this one a go!
16. Black & Red Hair In A Ponytail Knotleess Braids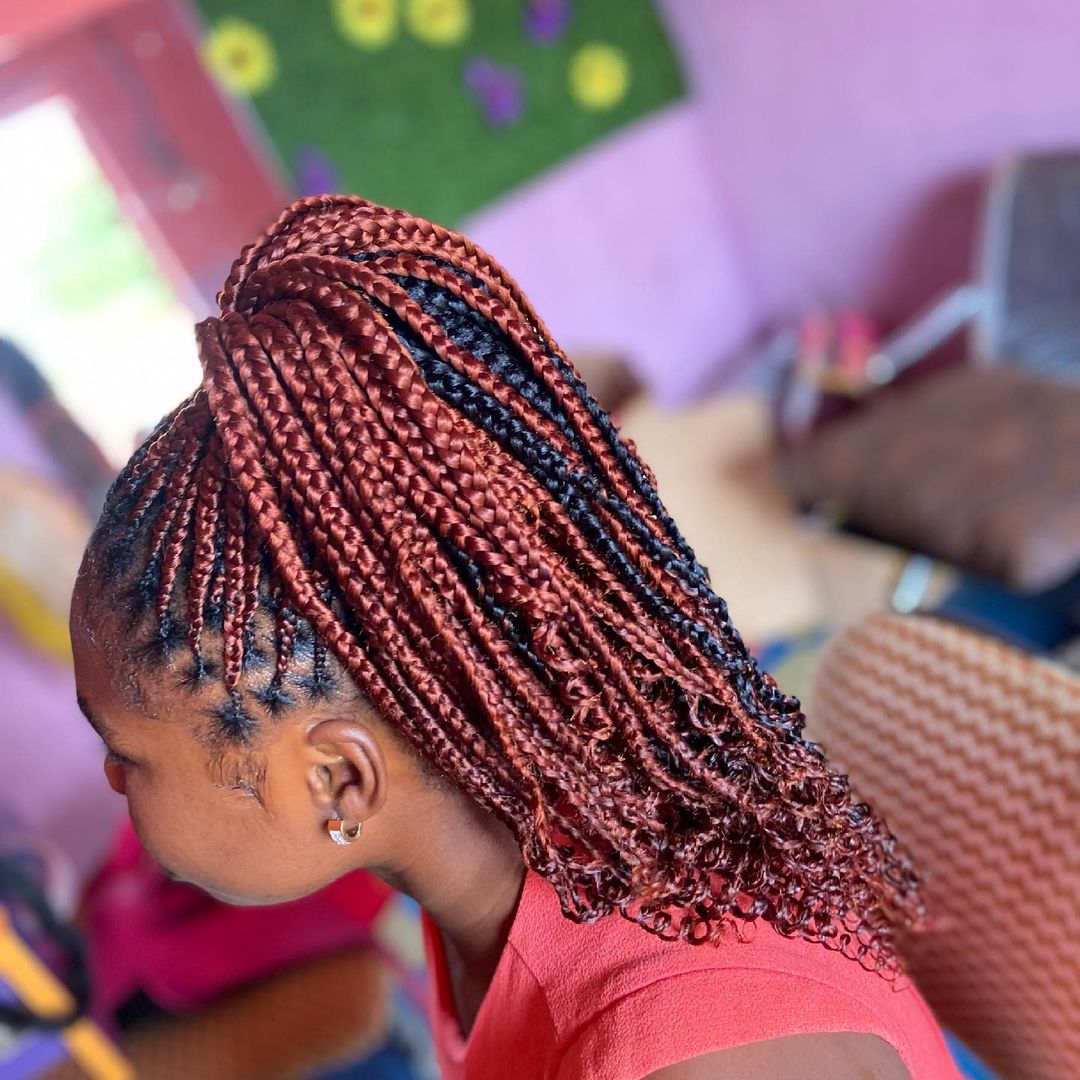 Black & red can look so great once paired together. Give these black & red knotless braids a go if you want to stand out with a pop of color.
17. Black Hairdo In A Ponytail Knotless Braid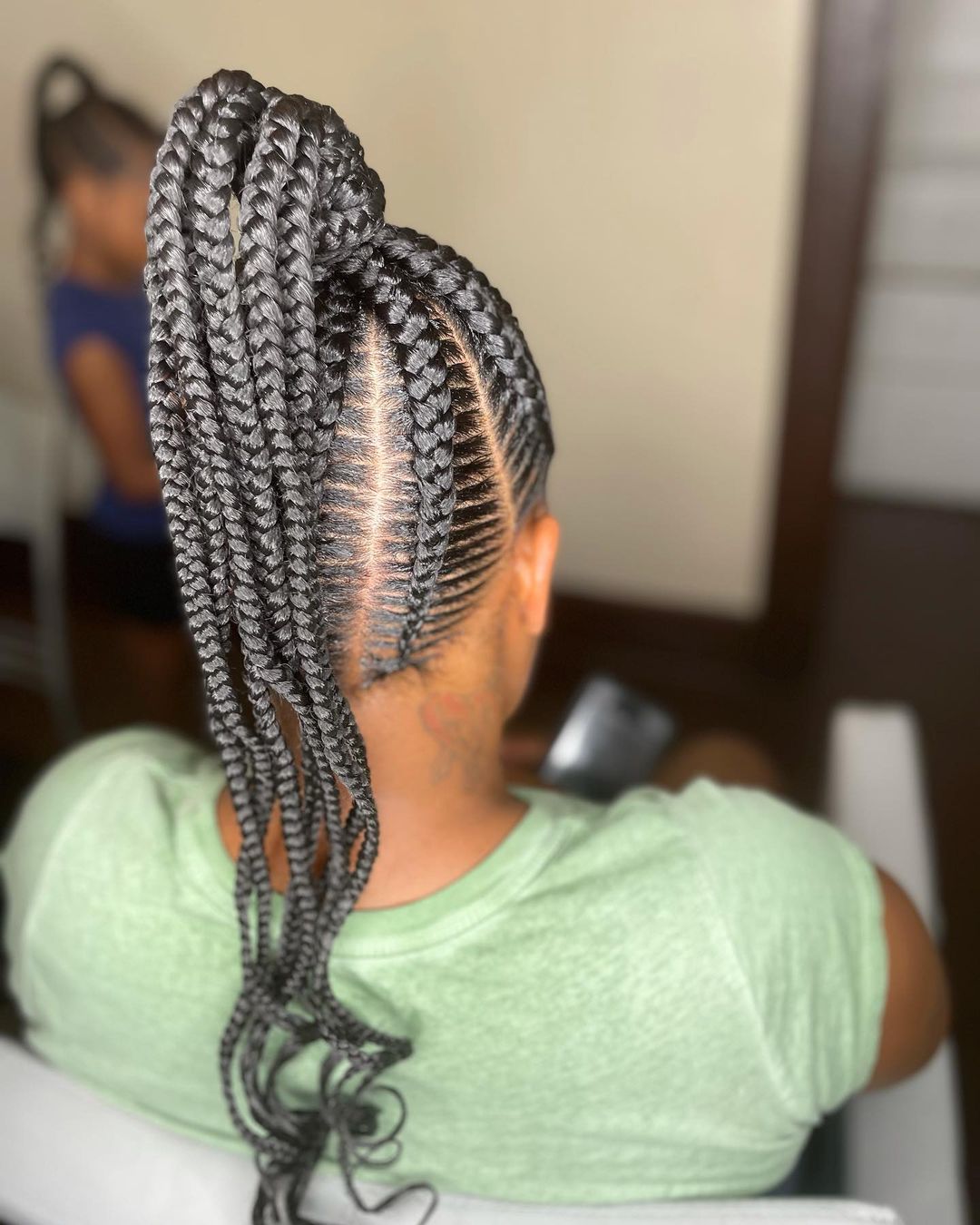 This high ponytail knotless braid is perfect for girls or women who have a fancy or formal event going on!
18. High Ponytail Knotless Braids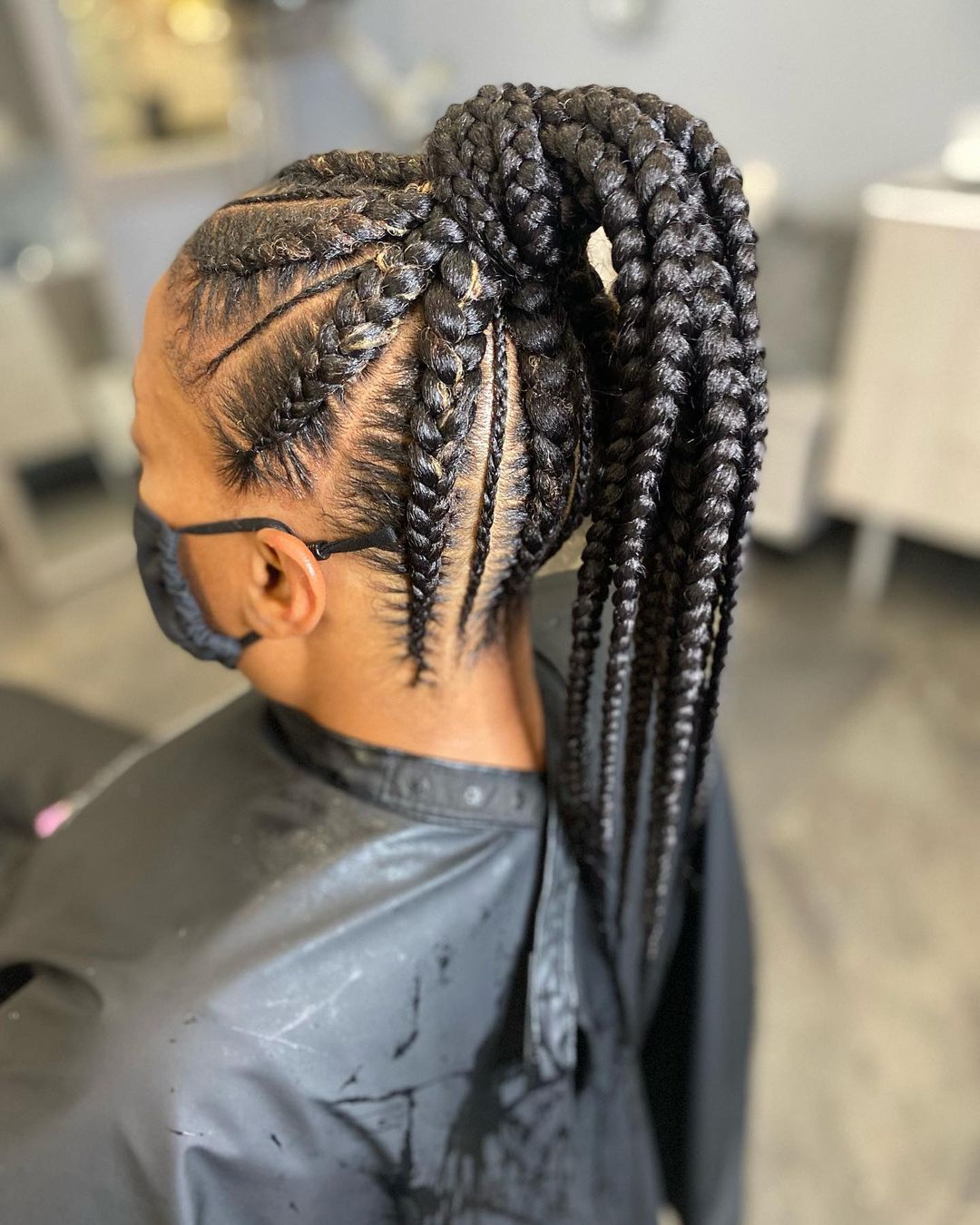 If you're more so into slicked-back high ponytails you should try this one at your hair salon.
19. Red & Black Hair Straight Knotless Braids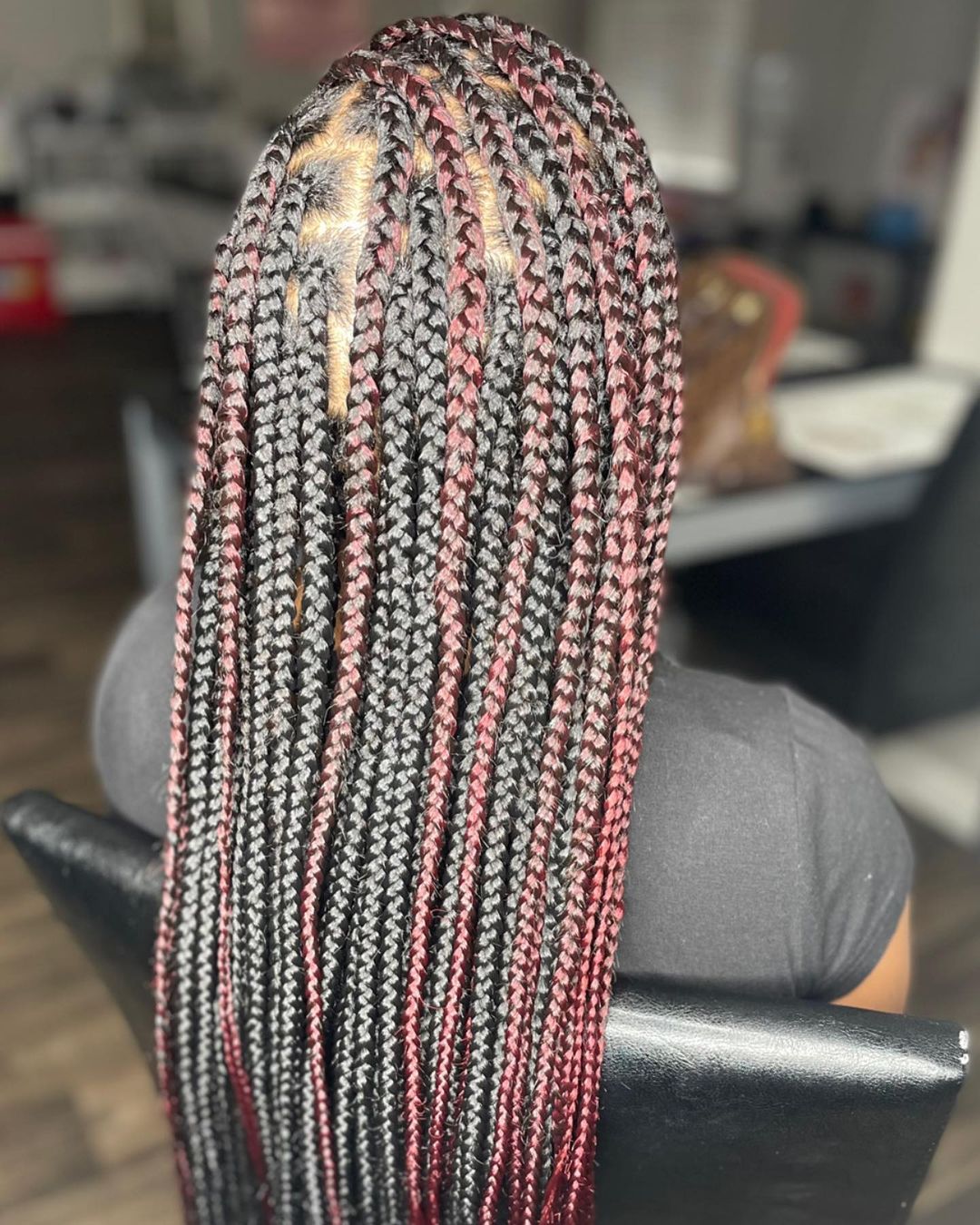 Mix & match your hairdo and try out this style for formal or semi-formal events.
20. Fiery Red Knotless Braids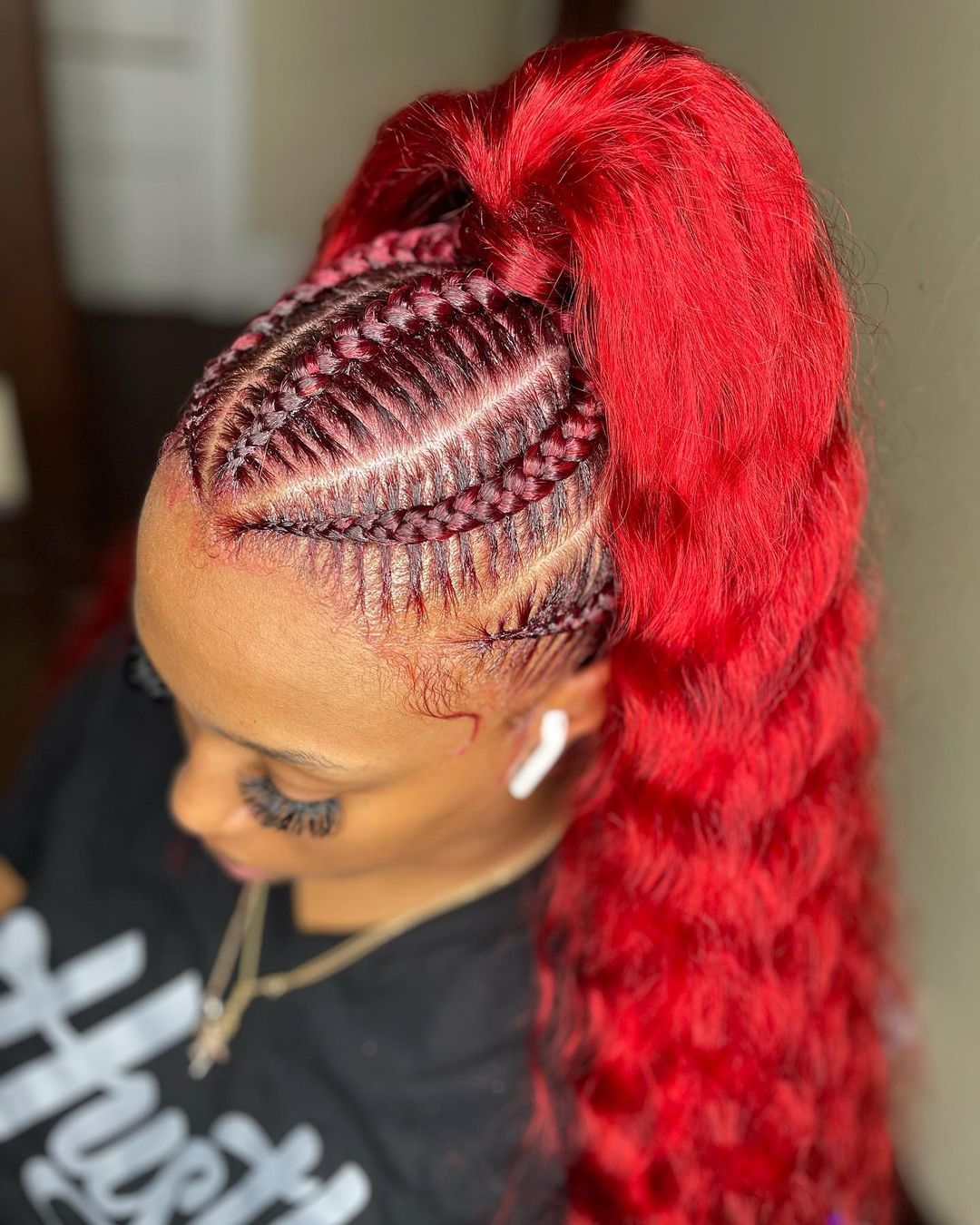 Hot bright red knotless braids will make you the star of a show! These are trendy & ideal for club lovers, as well as women who like party looks.
21. Dramatic Blue Knotless Braids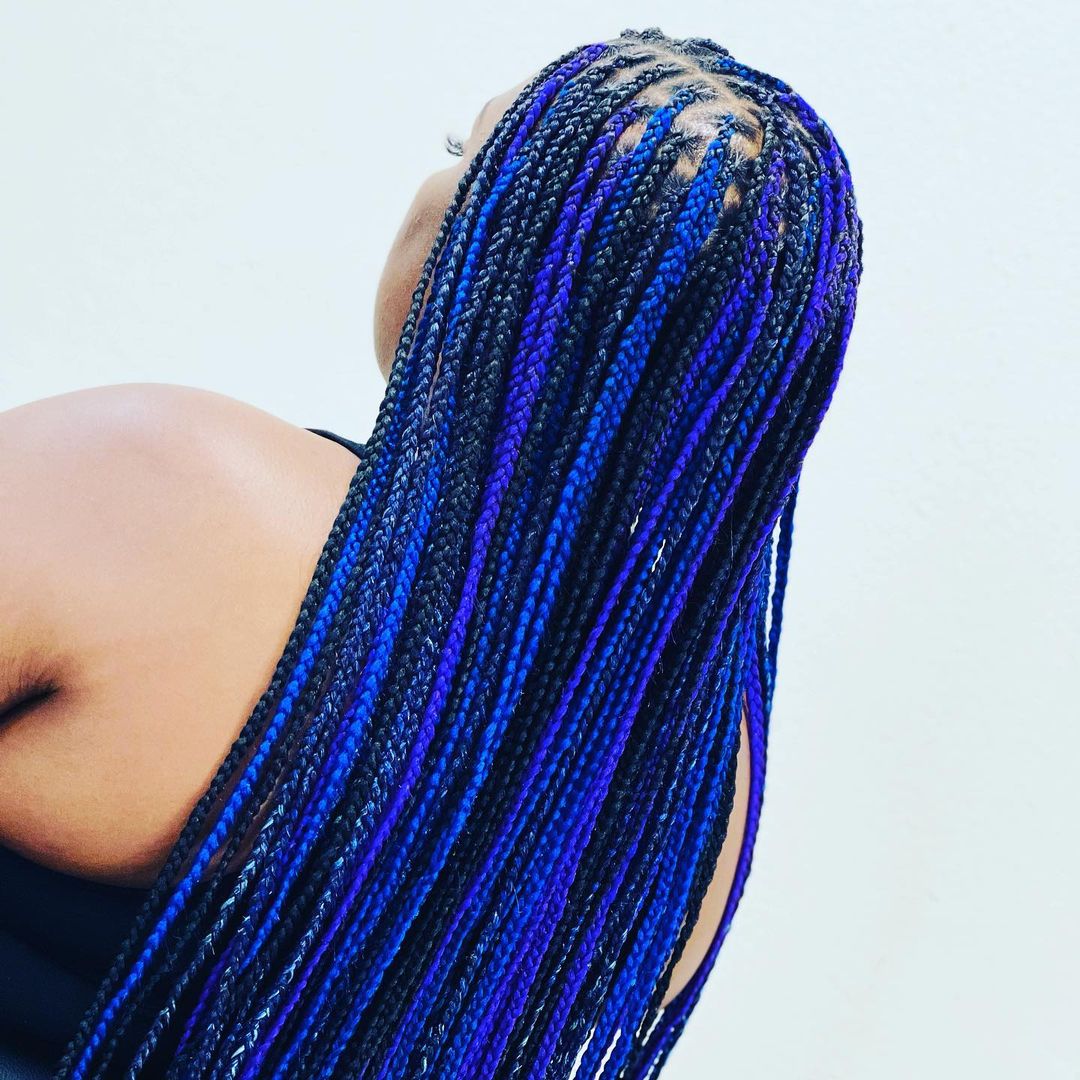 Bright blue knotless braids such as these will take you more than 4 hours to achieve, so heads up!
22. Brown High Pony Knotless Braids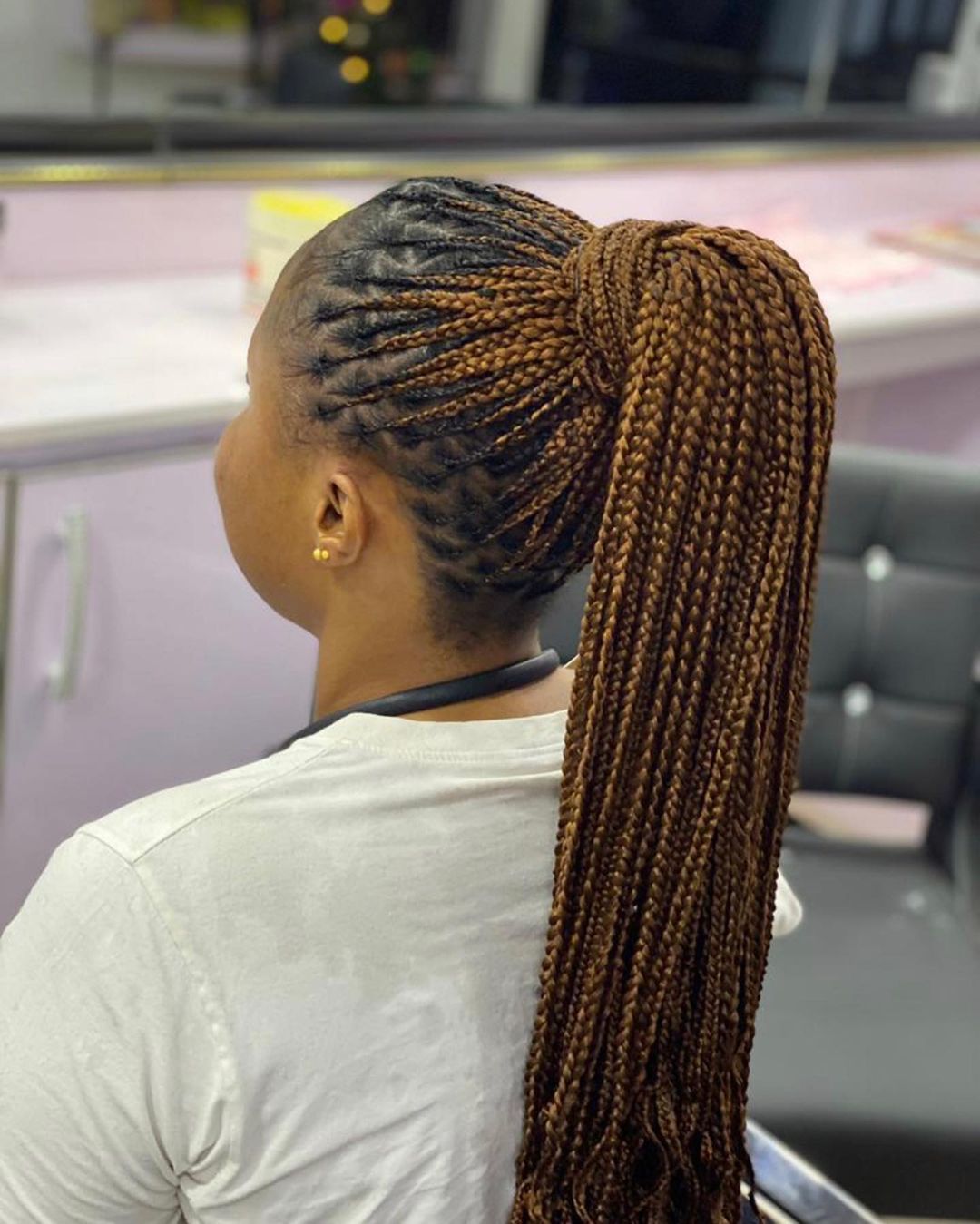 A brown high knotless braid is ideal for every day without being too complicated or flashy.
23. Block Look Knotleess Braids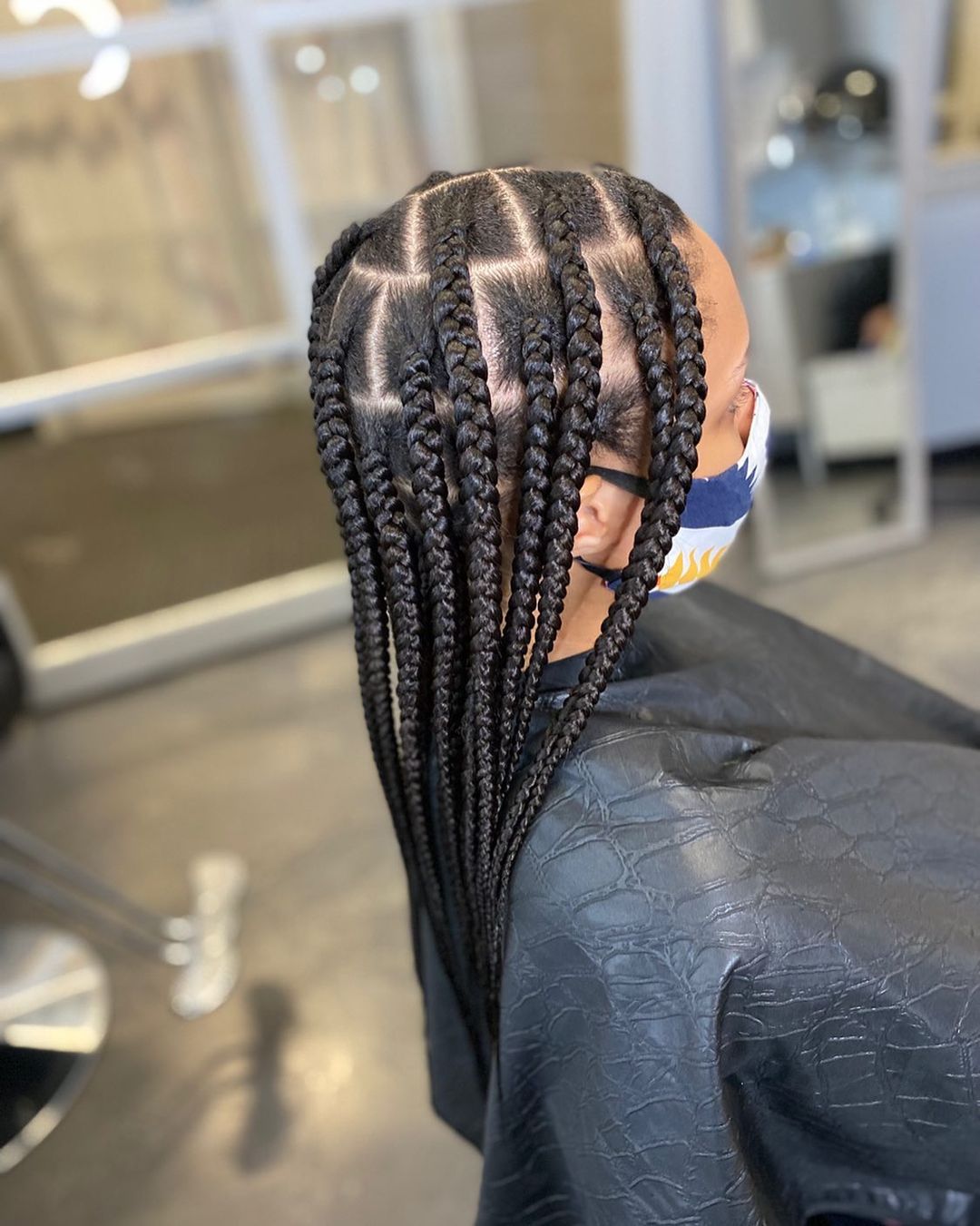 Combine the look of block and knotless braids if you like unique & powerful outcomes.
24. Slicked Back Hair Brown & Black Knotless Braids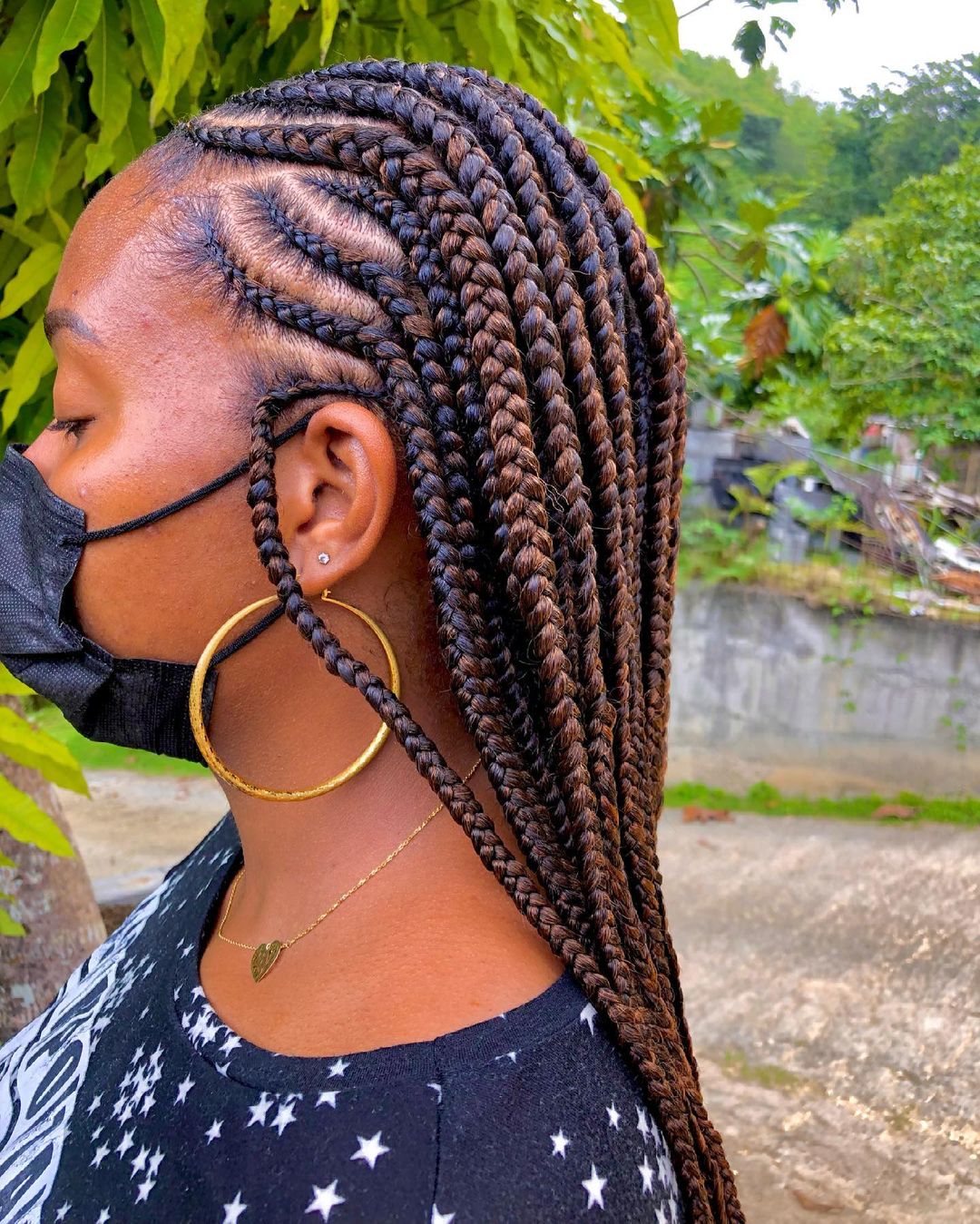 Wet-like knotless braids with a pop of brown are appropriate for different age groups, as well as women who like stylish looks.
25. Back Swept Knotless Braids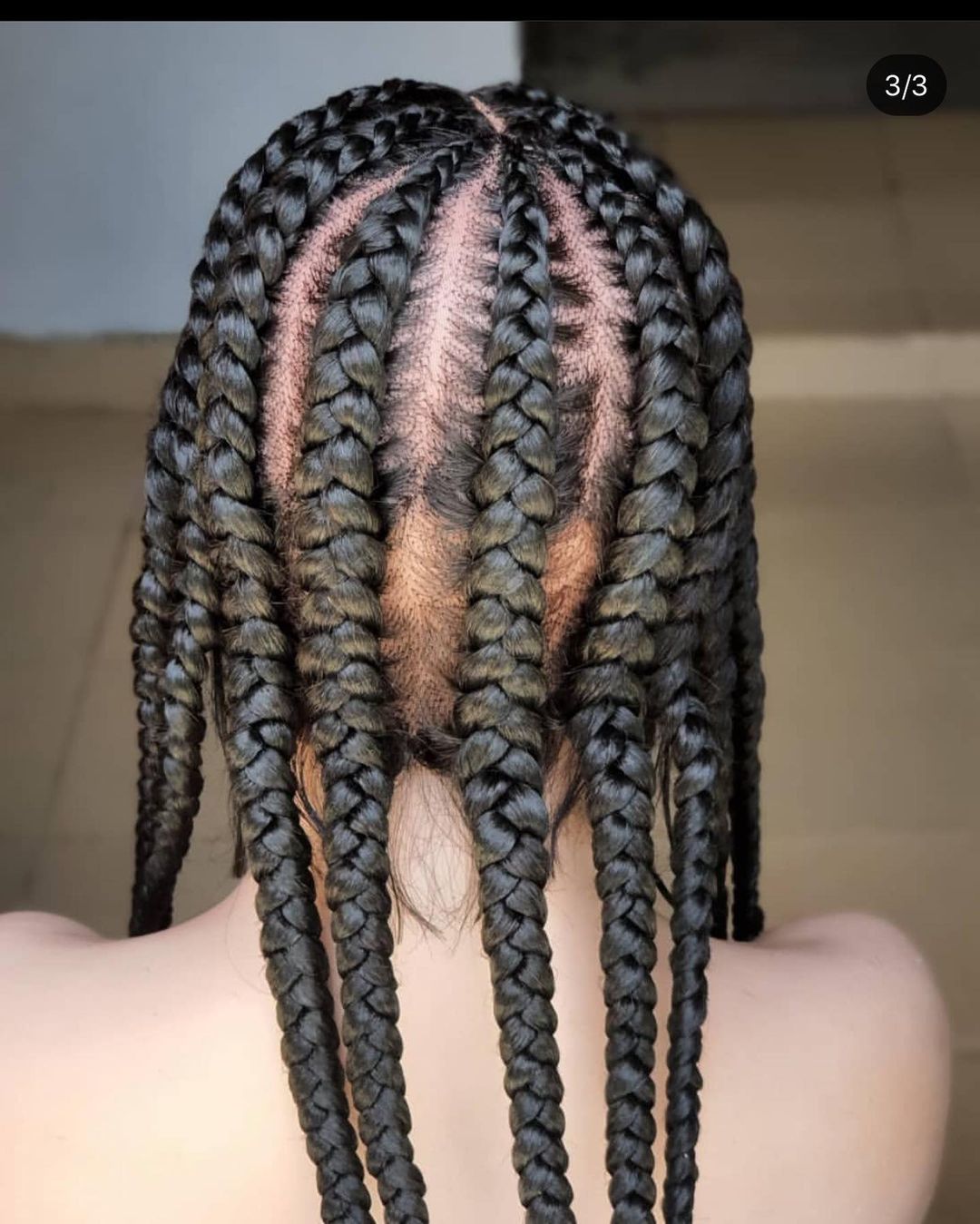 Go for these thicker braids if you like a bit of pop and volume to your hairdo.
26. Long & Blonde Knotless Braid Look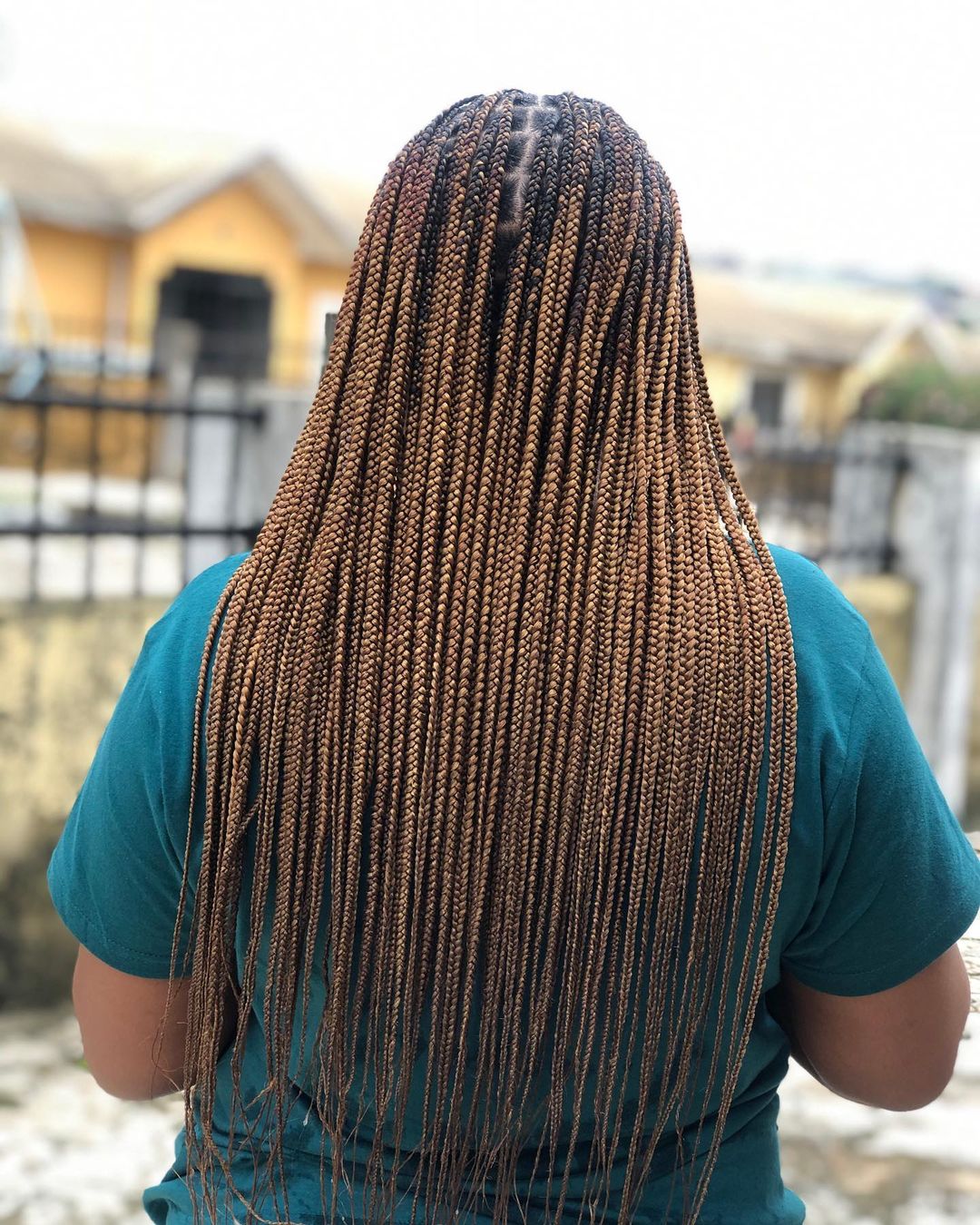 Last, but not least, try out these blonde knotless braids if you're into cute & subtle everyday knotless braid looks.
In the end, do you feel like you can rock the knotless braid look? If you're a fan of gorgeous & dramatic looks you will enjoy all of our top 26 reviewed ideas. Let us know which one knotless braid is a must-have for you!