Are you a future bridesmaid looking for your bridesmaid hair inspo? If so, it is time to get your glam on and to enjoy a full transformation! Being a bridesmaid is an important role that you need to fully embrace and prepare for. One way that we can help you is with the right hairstyle idea. Keep on reading and find the best hair choice among these 30 options.
Are you indecisive? Some of the best hairstyle ideas that women love to go for in this case are:
Loose buns
High buns
Chignon
Curls and waves
Hollywood waves
Braids and ombré highlights
Go for the best hairstyle idea that suits you and that you can rock with your natural hair. If you're unsure or indecisive we highly recommend that you consult with your hairstylist for your ideal look.
1. Loose Blonde Hair With Glitter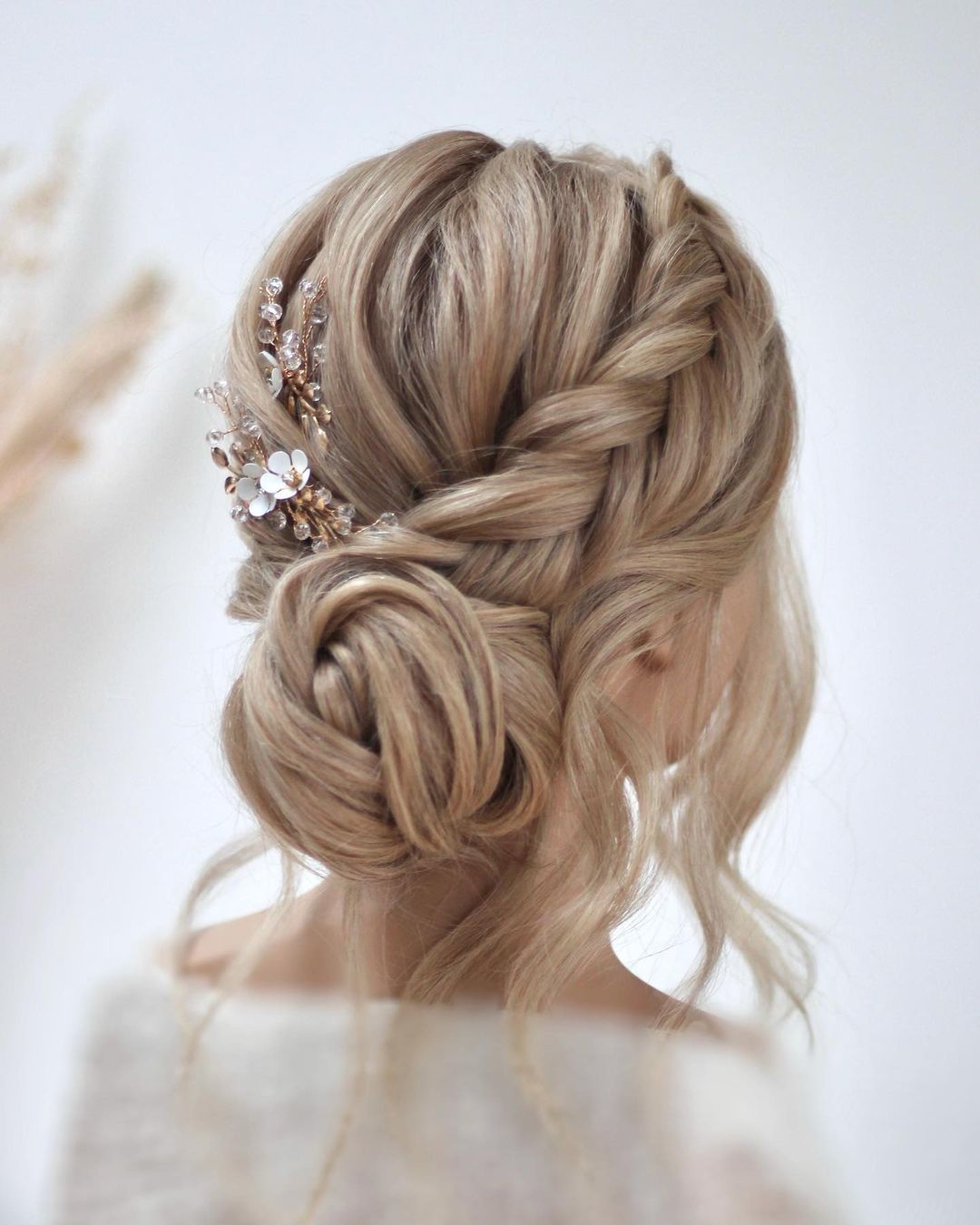 Blonde bridesmaids will enjoy a pop of color and contrast to their hair with this flower centerpiece detail.
2. Messy Bun Top Knot Look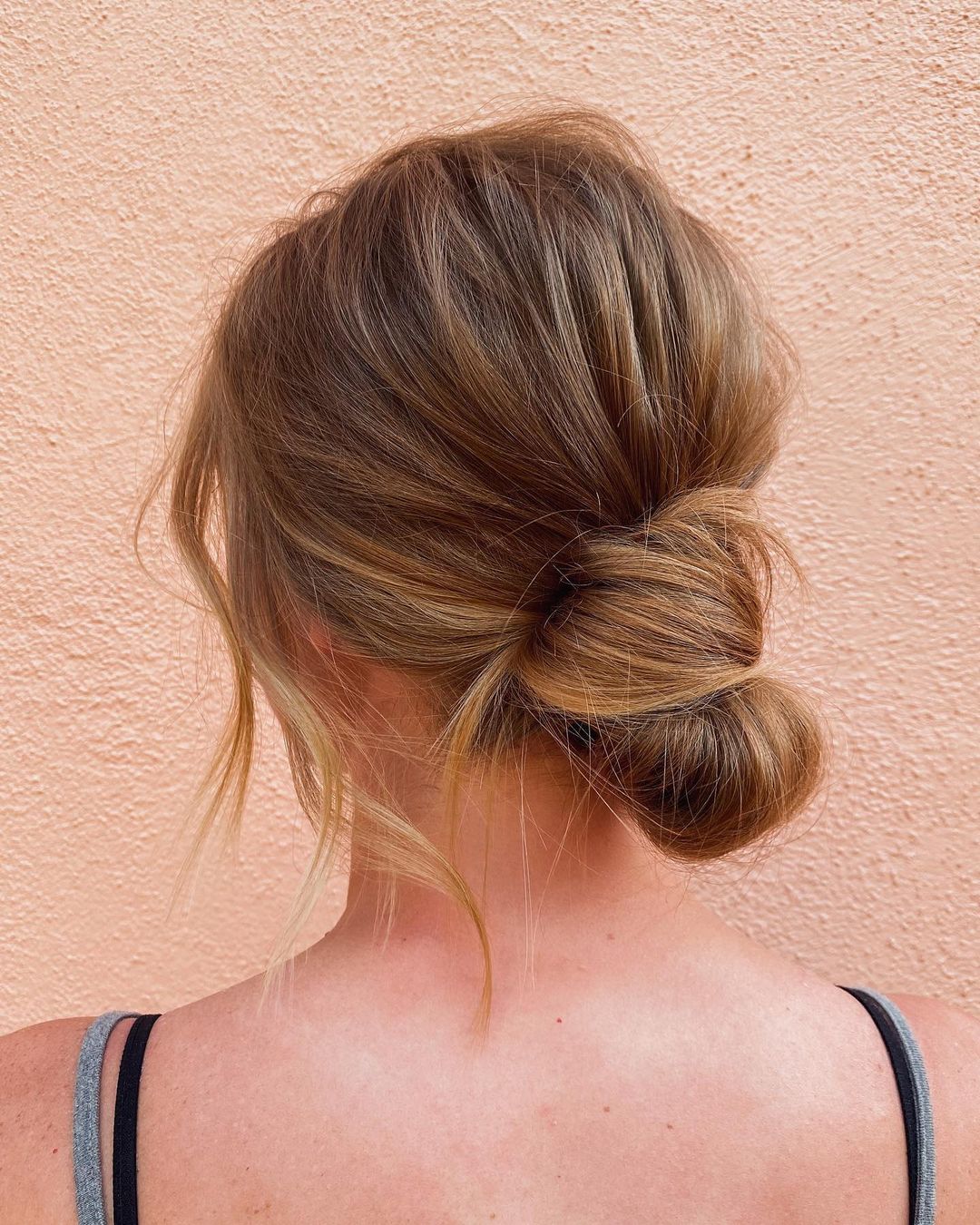 If you love messier looks and you're a fan of top knots just know that this one will look gorgeous, chic, as well as trendy.
3. Retro Loose Ponytail Blonde Look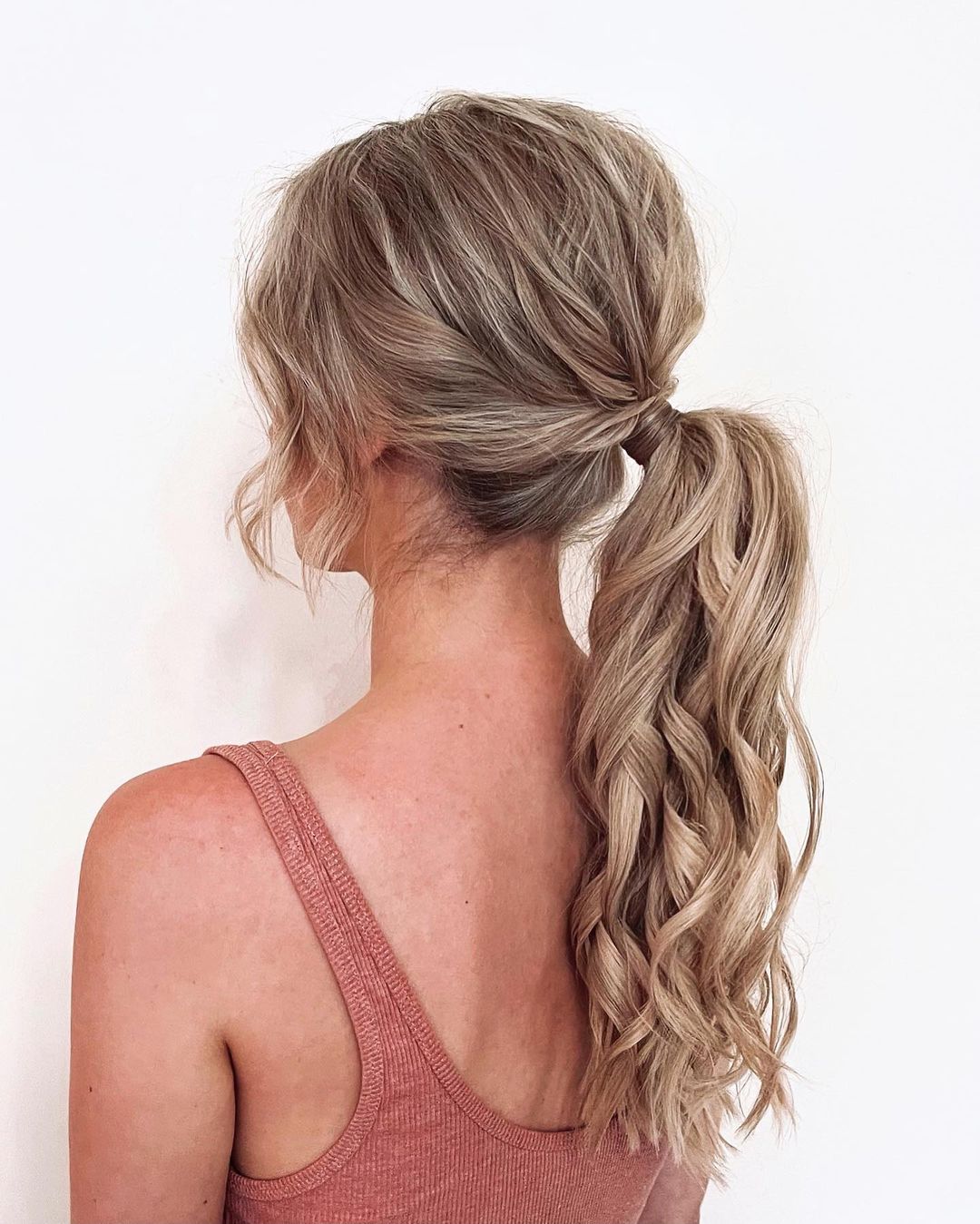 This retro and loose ponytail is for girls who love cute ideas that don't require a lot of attention or touch-ups throughout the day.
4. Blonde Ponytail With Glitter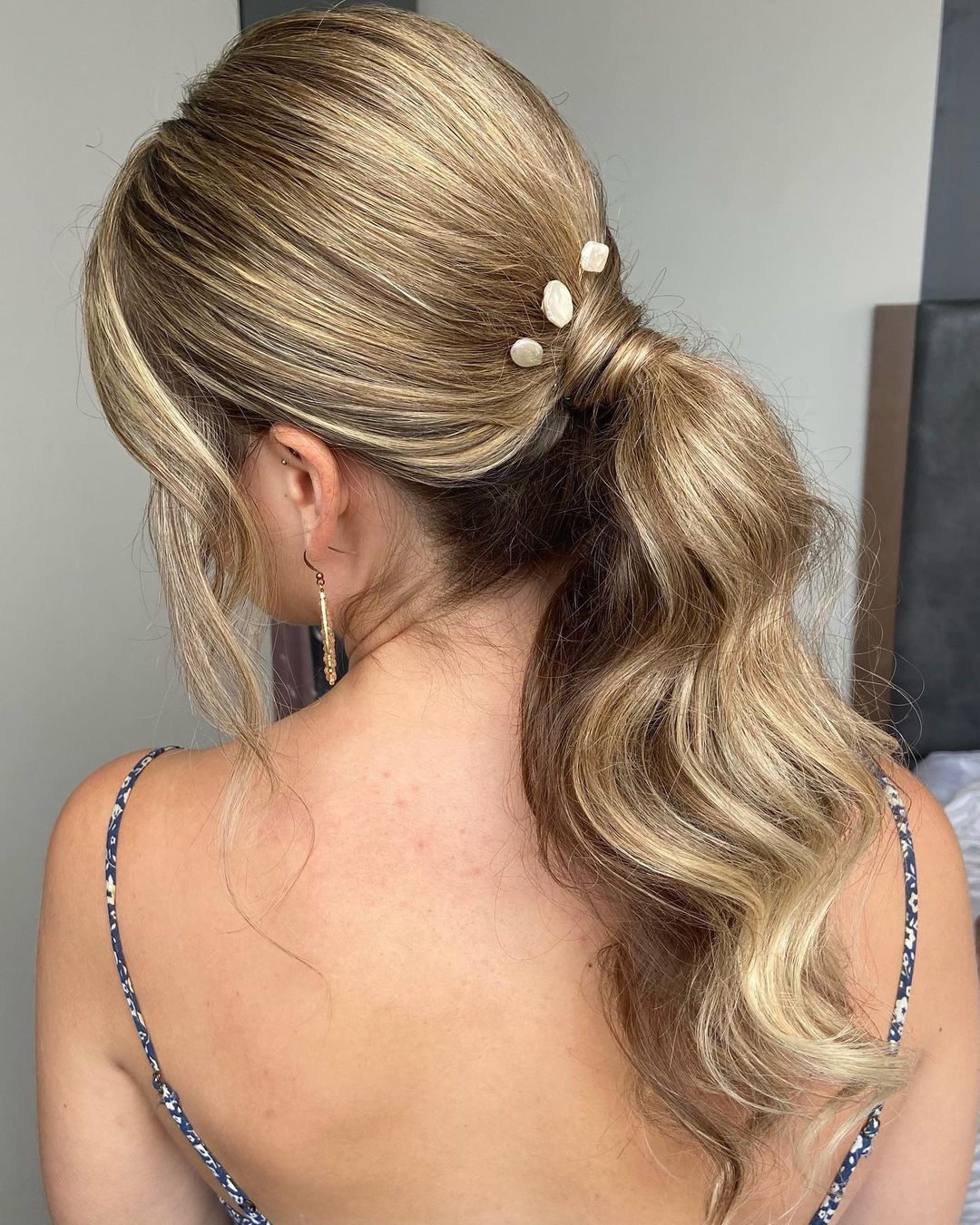 Add tons of glitter, sparkle, as well as glamorous beads to your hair to rock this elegant bridesmaid look.
5. Chic Messy Bun Hairstyle Bridesmaid Look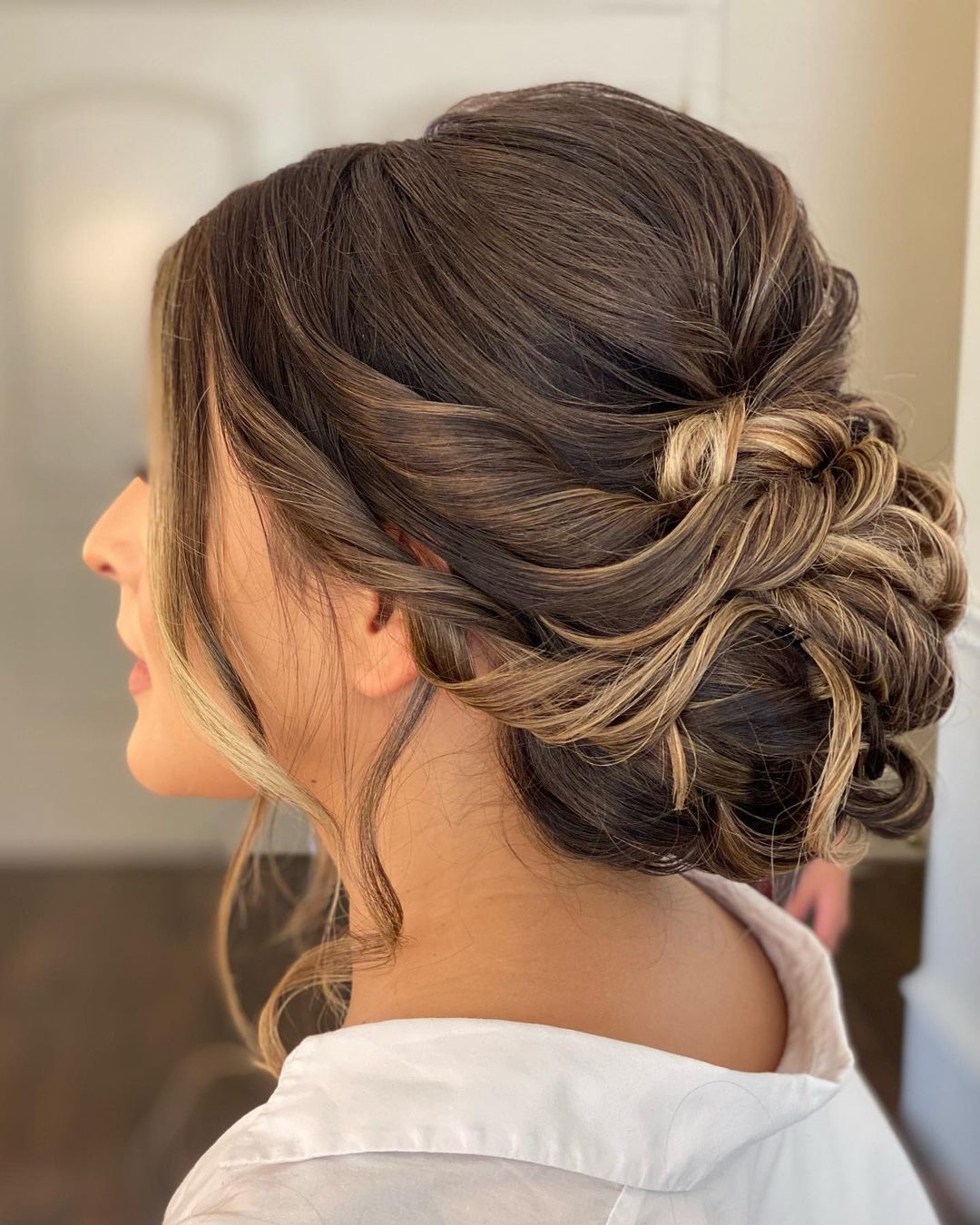 This colorful bridesmaid look with some highlights will look great on every girl, so rock it with full relief and confidence!
6. Loose & Feminine Playful Curls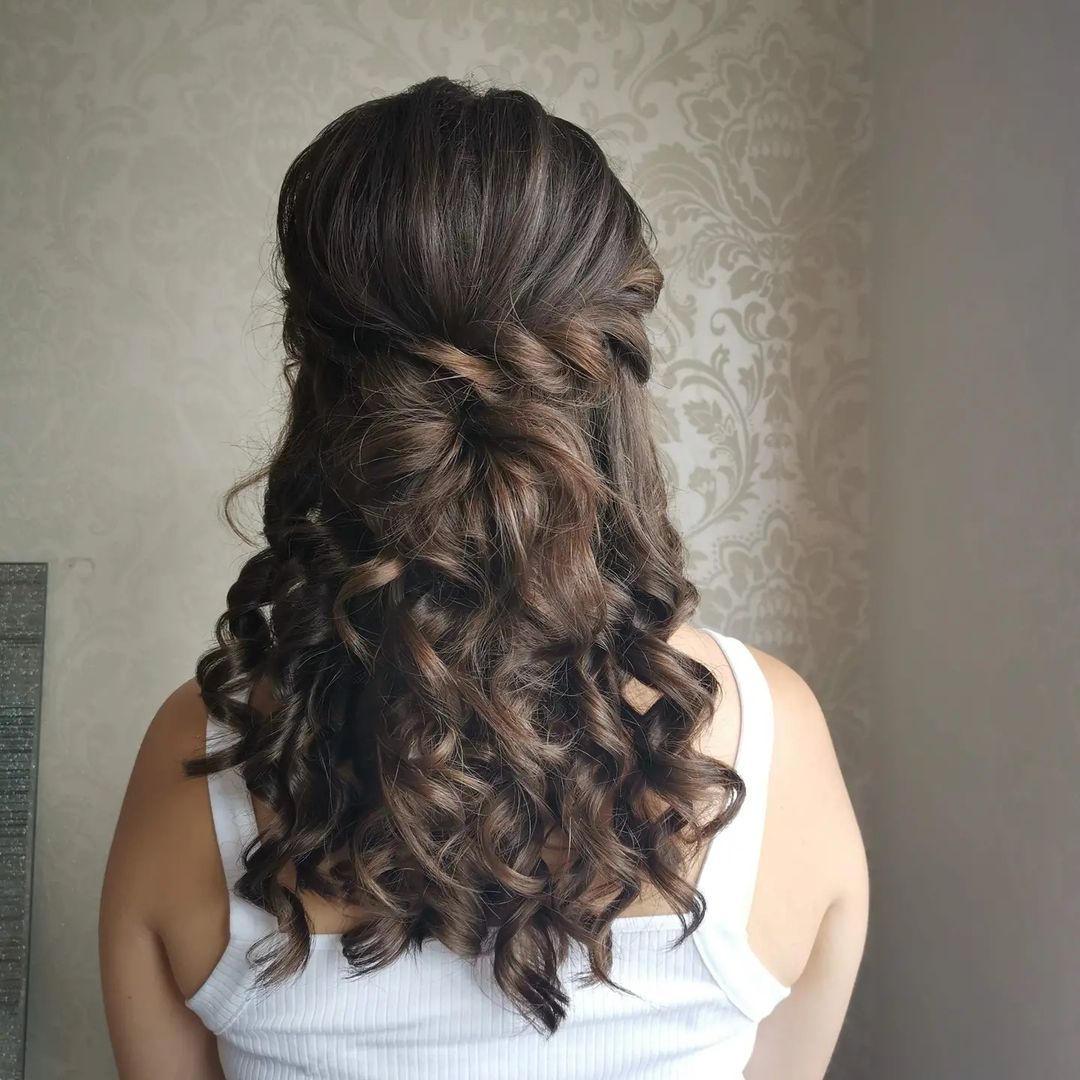 If you prefer curls & braids just know that you can easily achieve & recreate this look on your own. No reason to book a hairstylist either.
7. Blonde Hairstyle Wavy Look With A Clip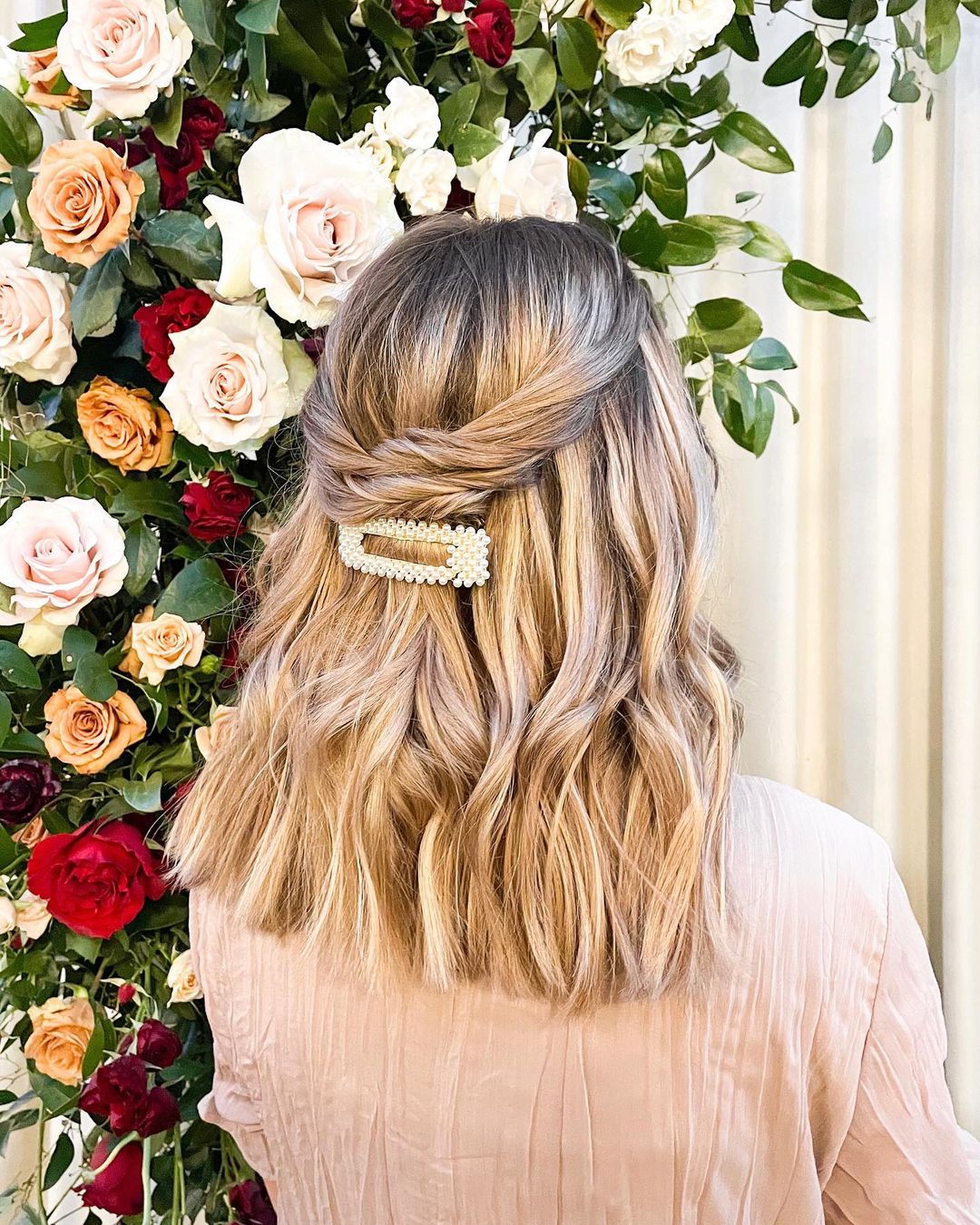 Add a simple white clip in the back and set your hair in place. Your braid won't move a lot and it will look trendy while being secure.
8. Chic Low Bun Look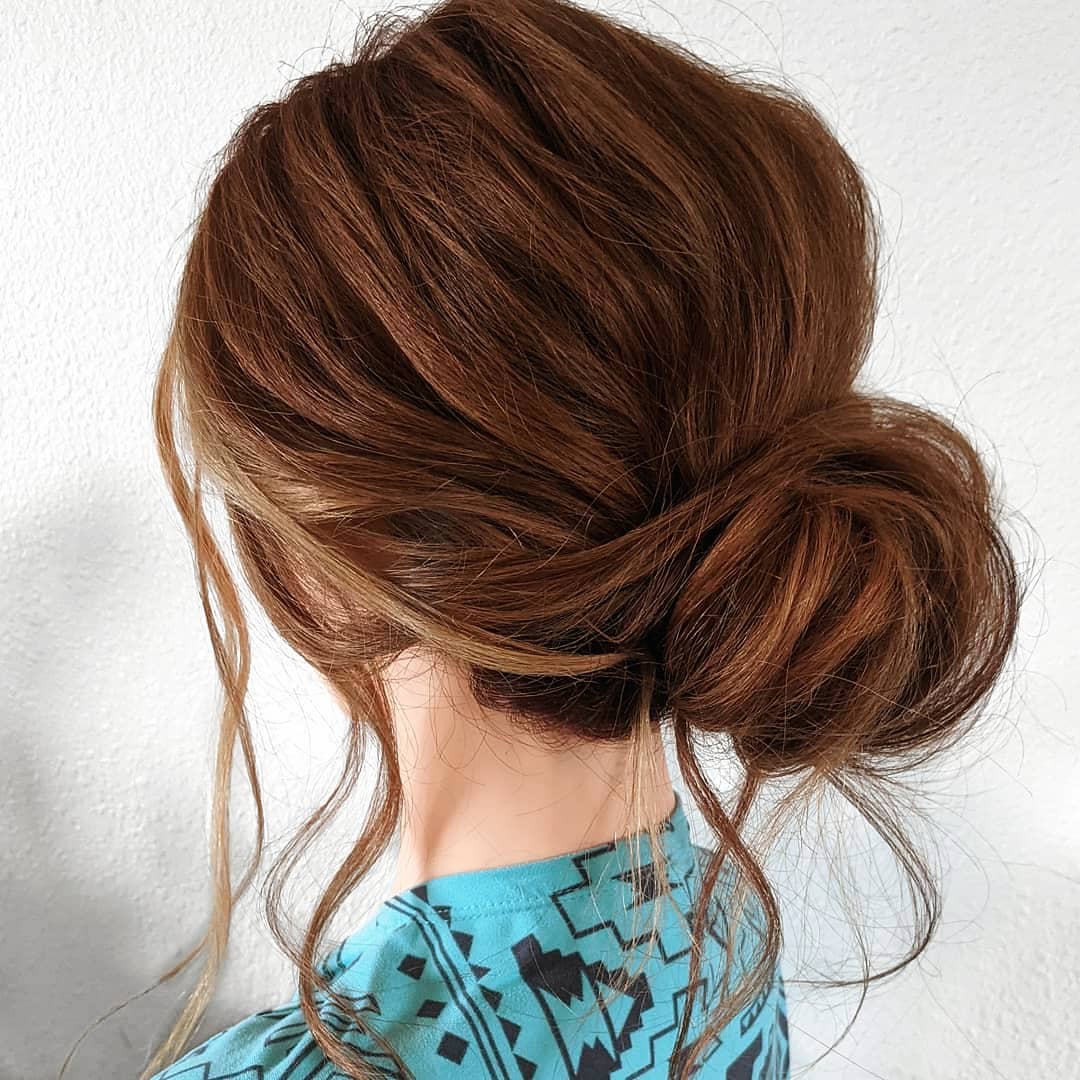 This brown low bun is so elegant and often worn by women who mean business. If you are a fan of elegant looks and this is a serious wedding that you're attending, try out this look!
9. Voluminous & Puffy Retro Ponytail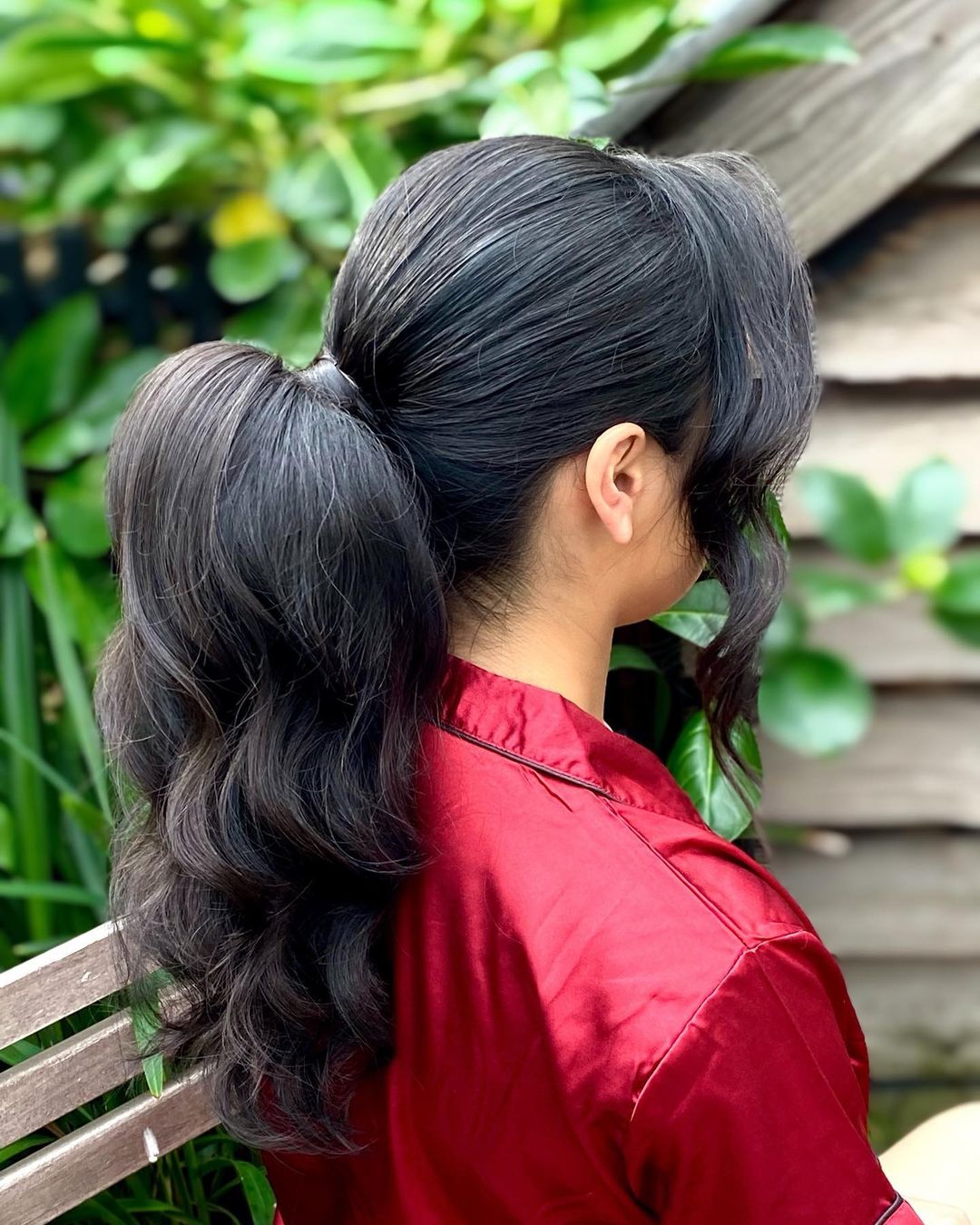 Retro & voluminous ponytail ideas usually look the best on women who have naturally straight, shiny & sleek hair.
10. Icy Blonde Ponytail Look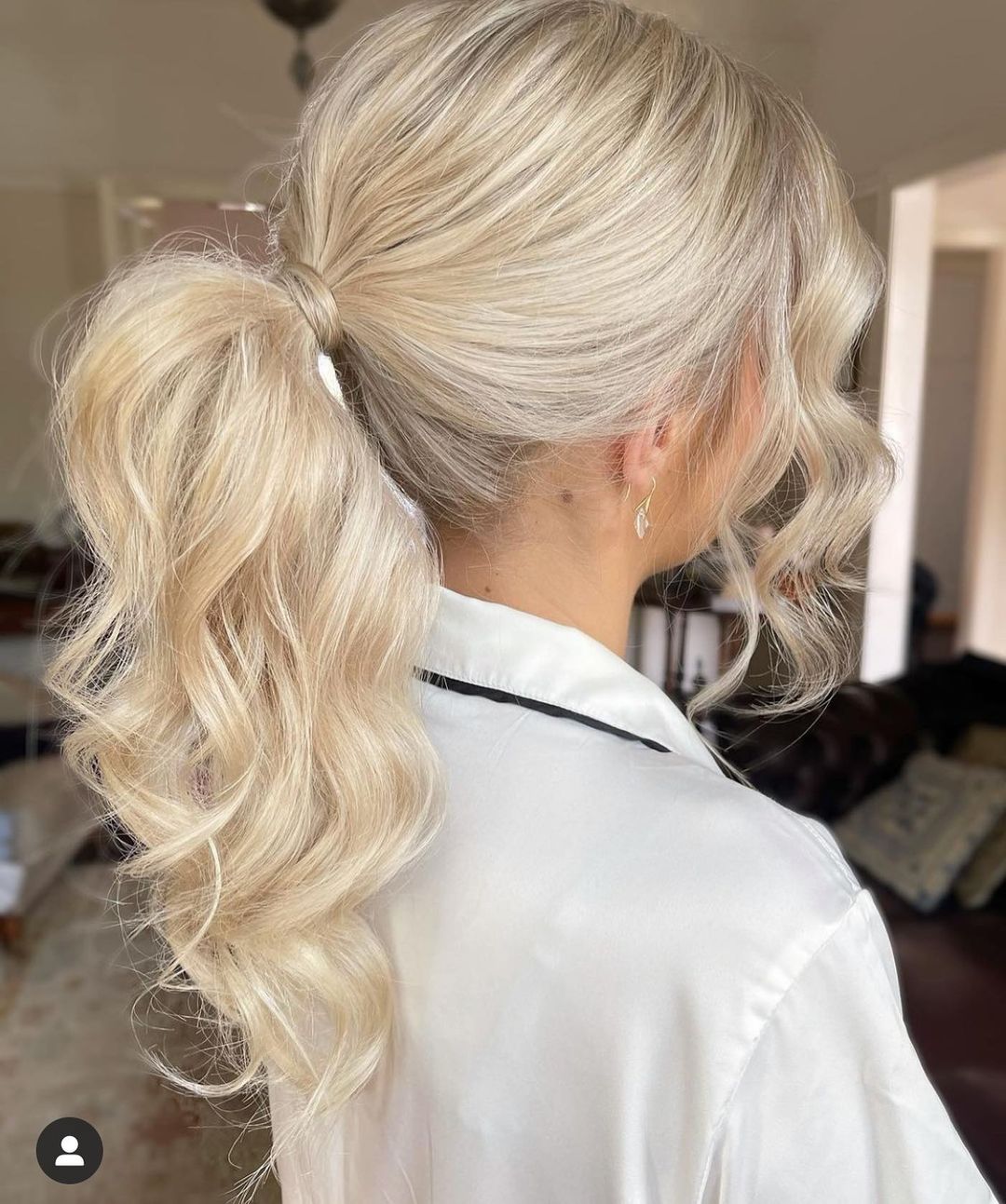 Show off this gorgeous color, but also rock the tendrils on the side with full confidence to further embrace this look.
11. Voluminous & Retro Bun Updo Look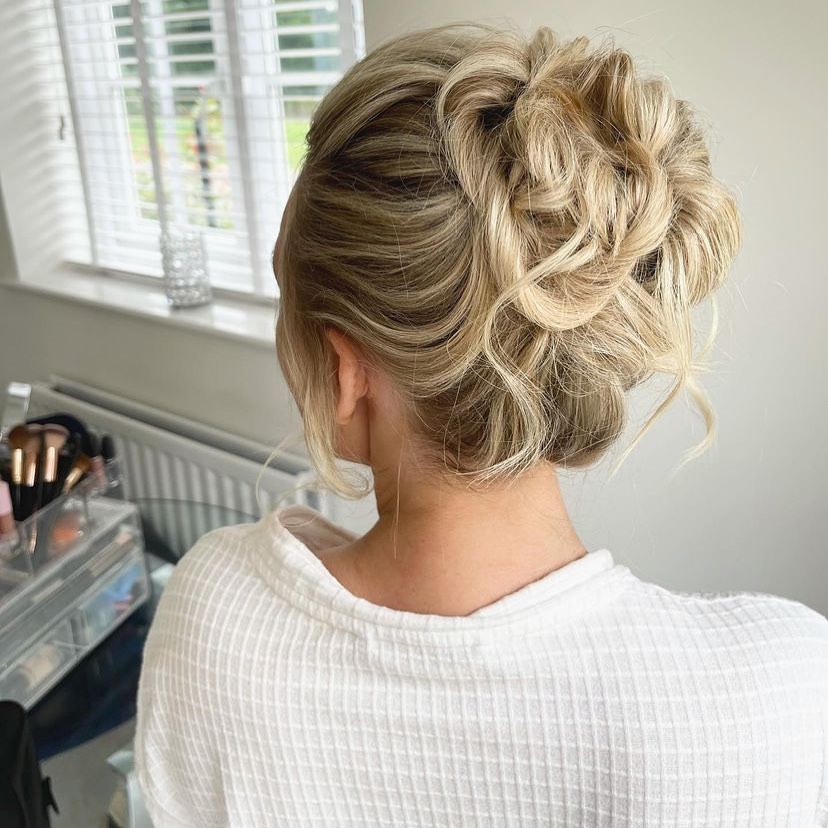 Only some hairstylists are capable of giving you this gorgeous look. Make sure that you book the best of the best before you commit to it.
12. Elegant Feminine Bun With Beads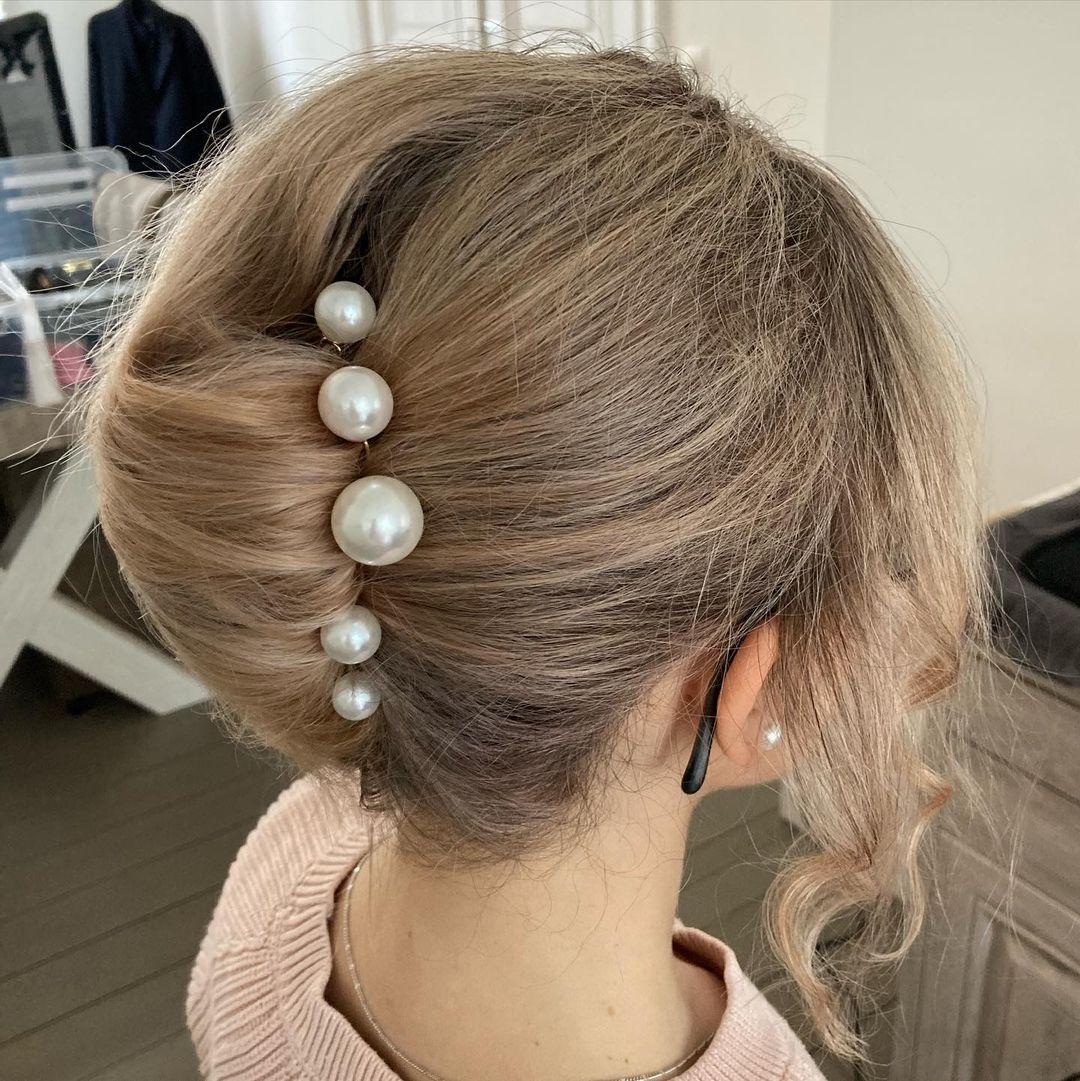 This elegant & fun high-up bun with some beads in the back is perfect for bridesmaids who love the old-school approach.
13. Blonde Bun With Flower Details

If you are a bridesmaid with wedding duties sometimes in the Spring, consider rocking this floral detail to further embrace the vibe.
14. Short Blonde Ponytail Idea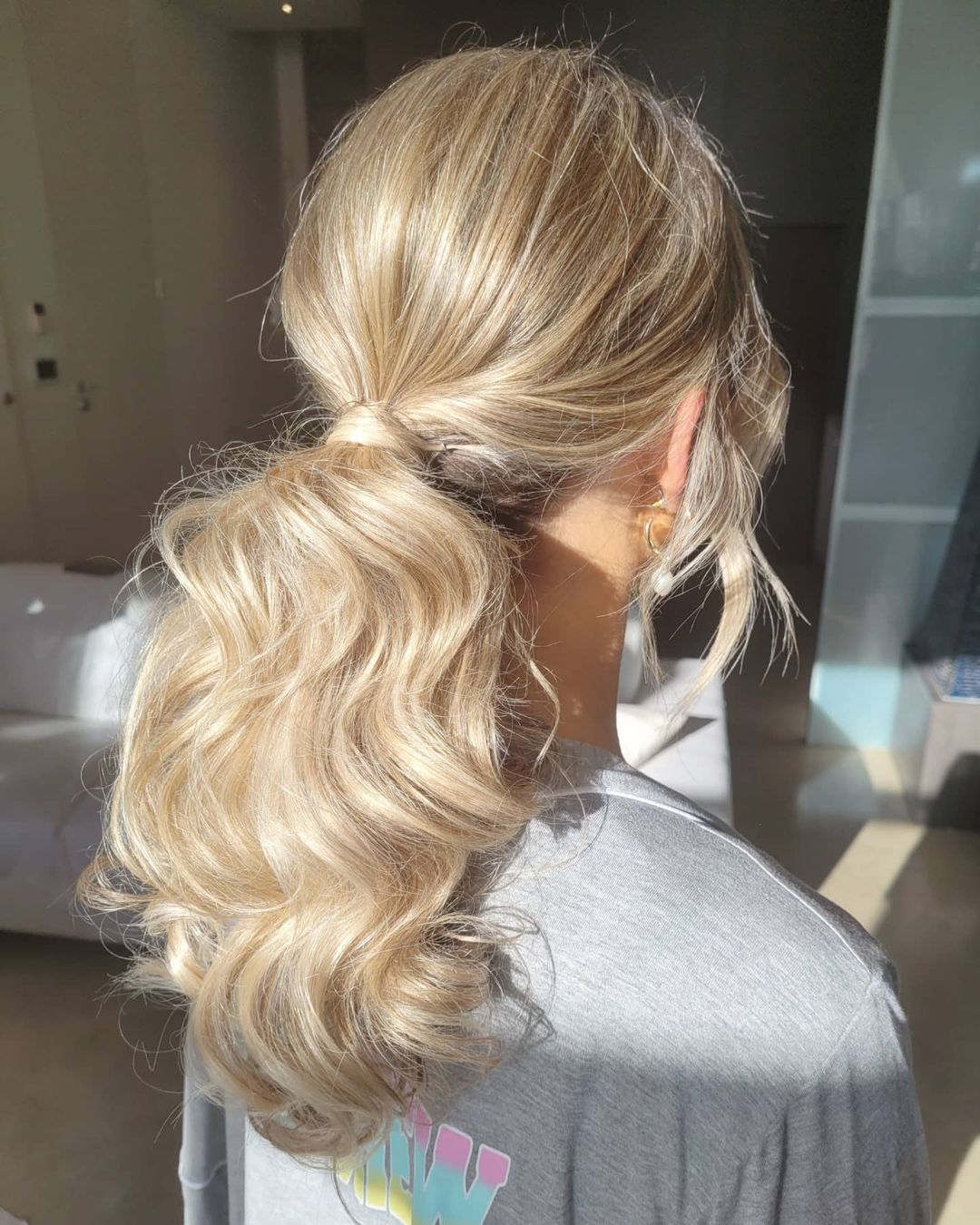 If you have shorter natural blonde hair you can still achieve a lot and seek all the attention. Show off your waves and slay this pony!
15. Brown High Up Ponytail Voluminous Look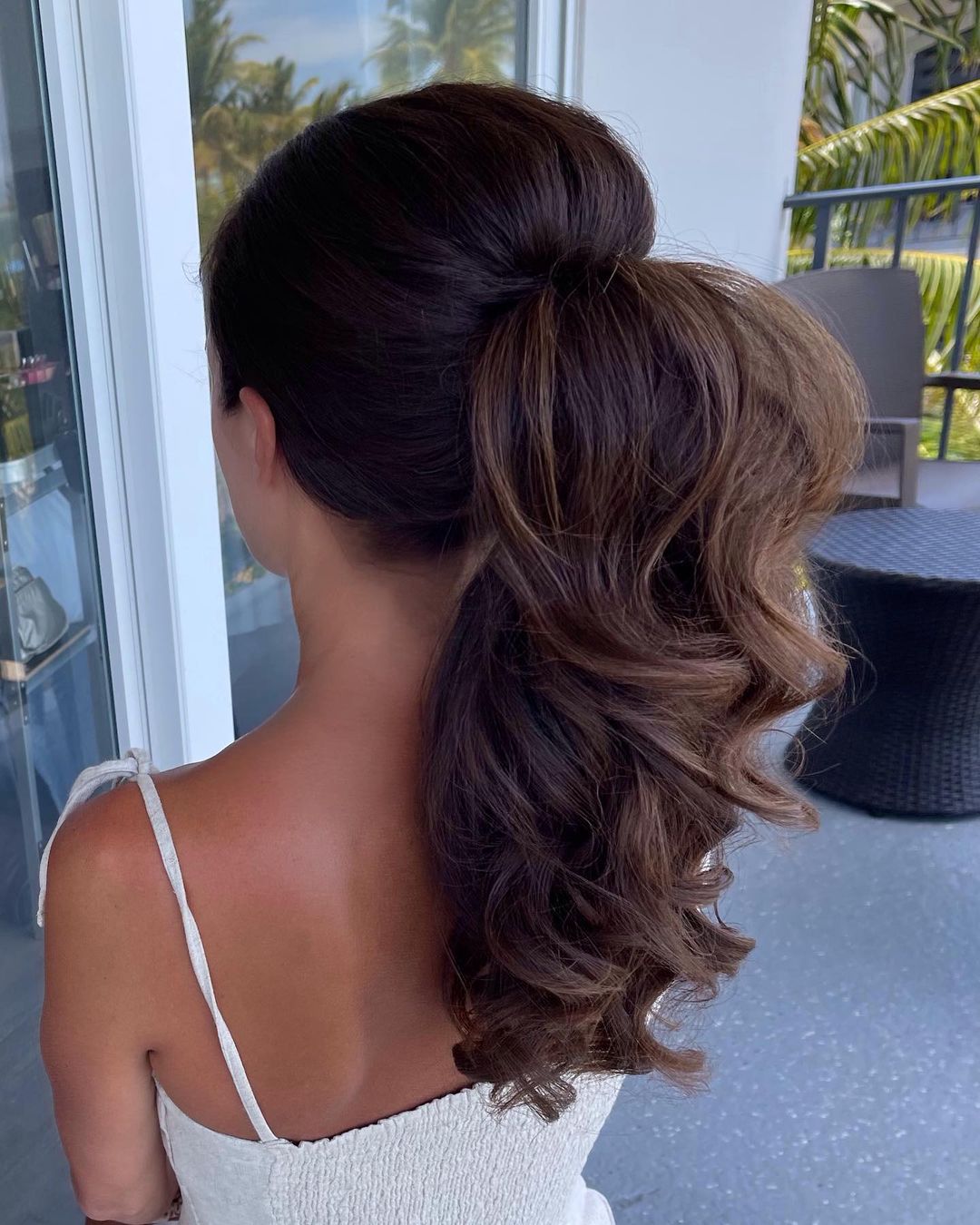 Your hairstylist can easily give you the needed volume. Rock this ponytail while adding loads of hairspray to keep it intact!
16. Blonde Retro Bun Look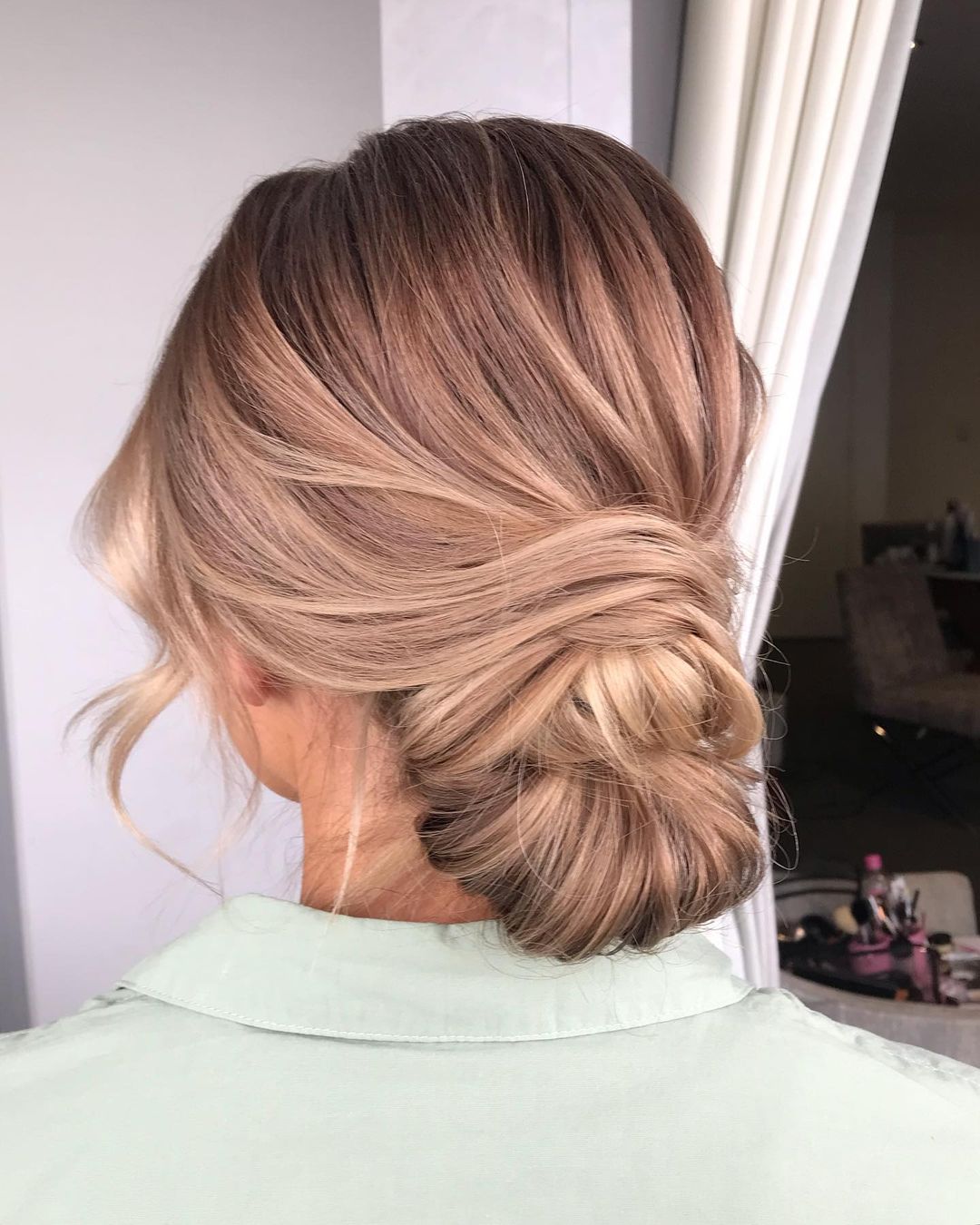 This twisted bun look is so elegant. If you are a bridesmaid attending a serious & fierce wedding, consider this look!
17. Half Up Half Down Hair With Flowers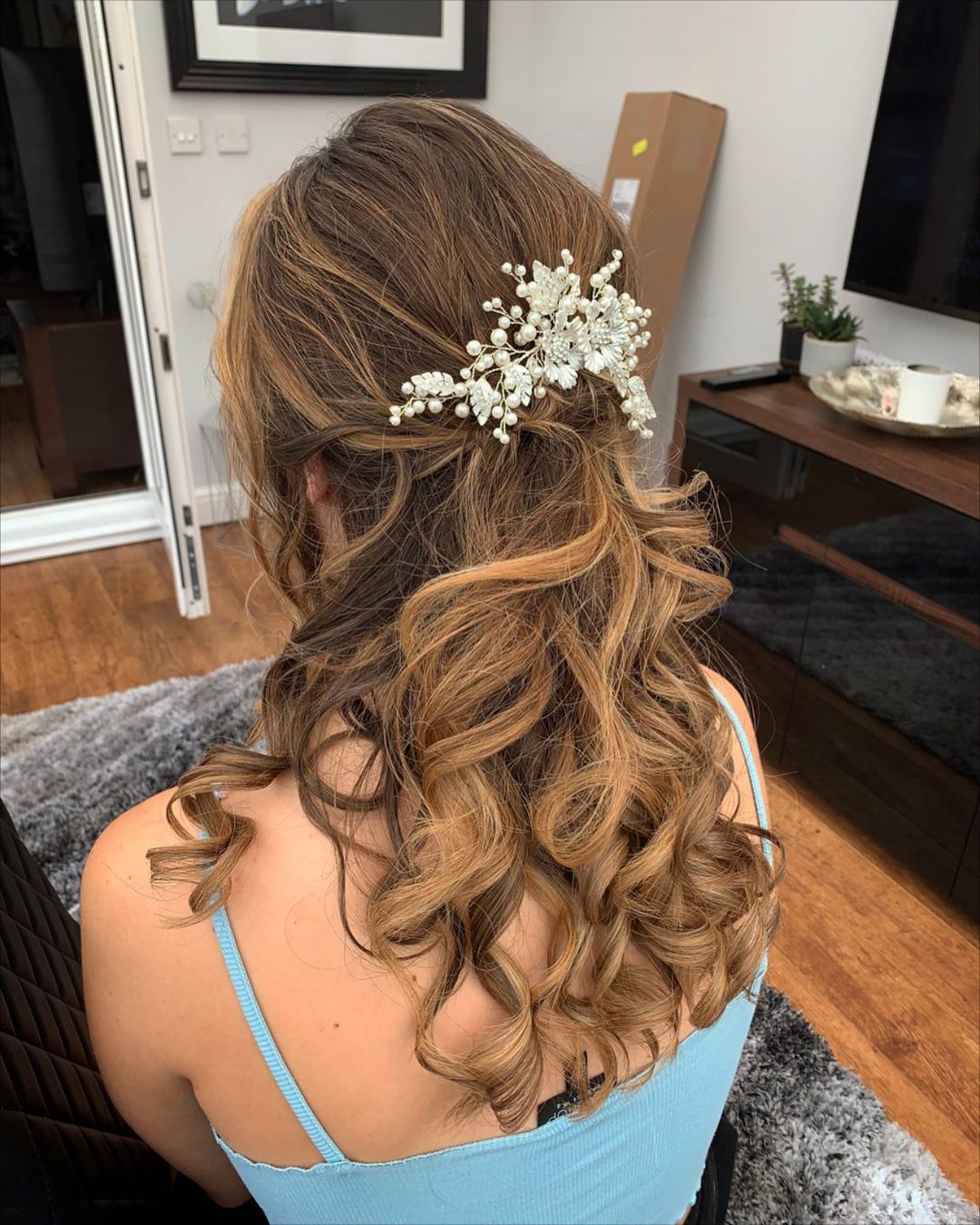 Half-up half-down looks have always been a full hit! Decorate them with some clips or flower details to enjoy this sparkling moment.
18. Braid Look In The Back Hairstyle Idea

If you are a fan of braids go for this back twisted design and show everyone how healthy and shiny your hair is.
19. Elegant & Formal Hollywood Waves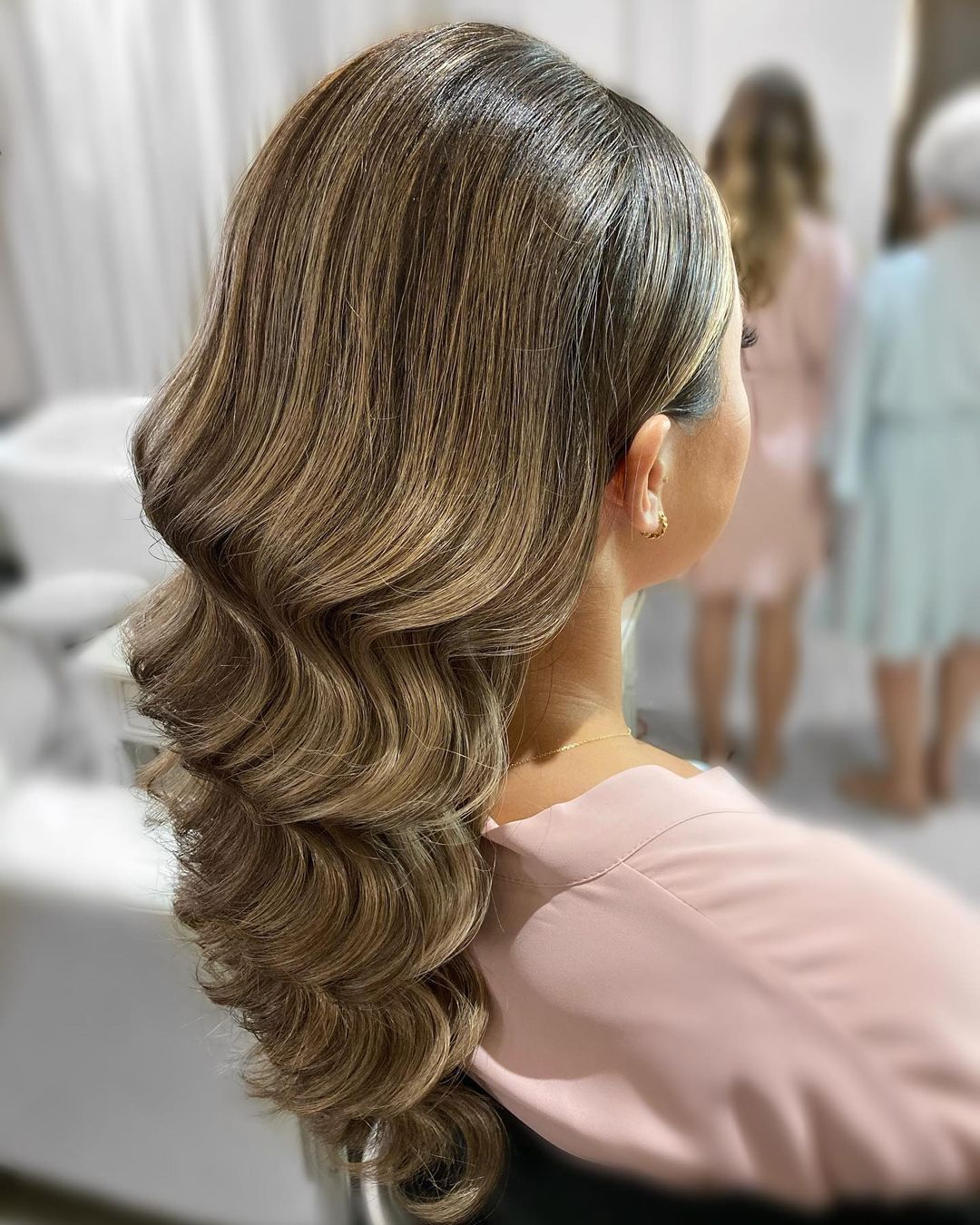 Wave hairstyle ideas will always be modern + they are a popular choice for bridesmaids who love to play it safe yet sexy.
20. Retro Loose Blonde Look With A Braid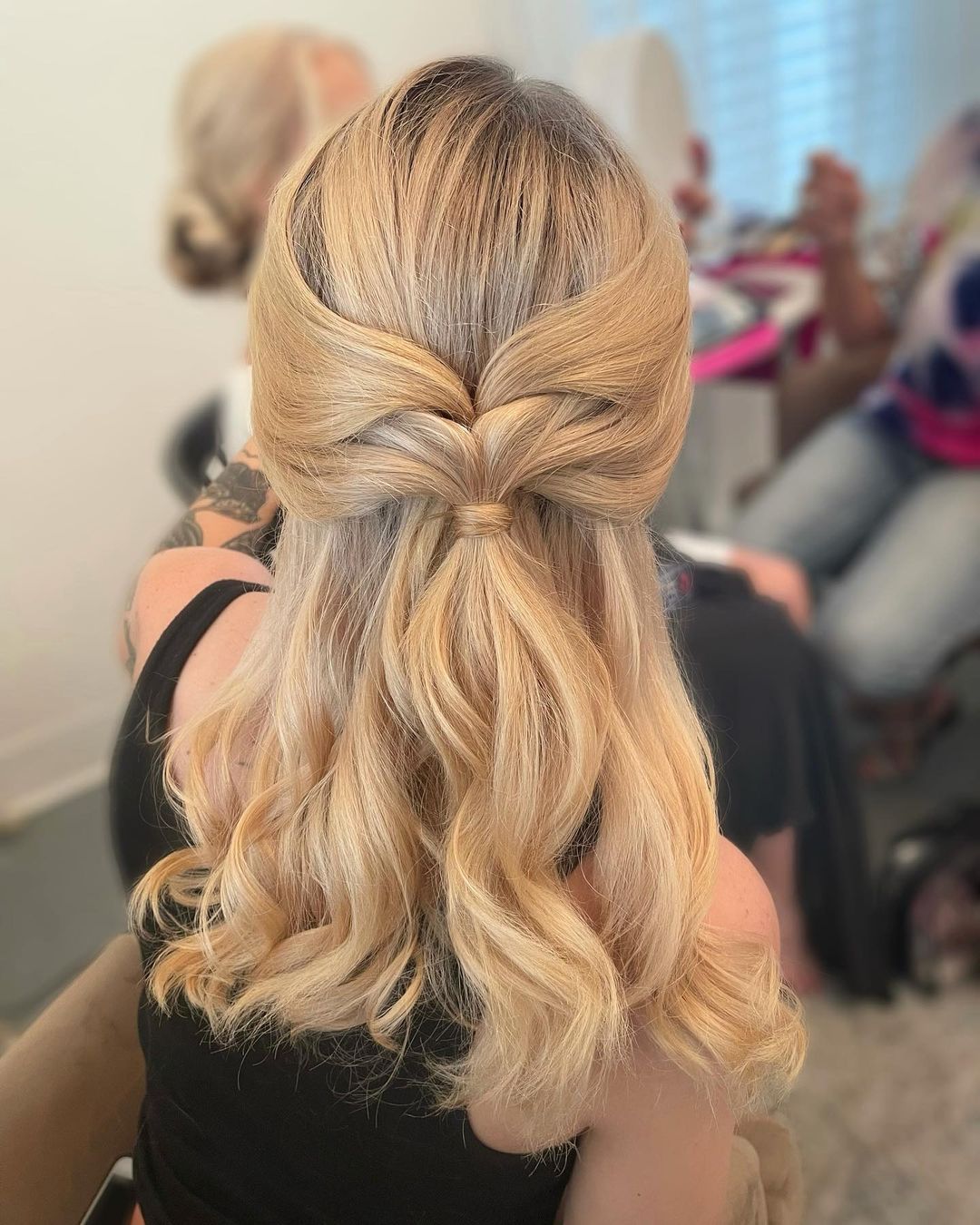 Spice up your blonde look with a simple & subtle change. Go for a braid detail in the back, and enjoy this flirty fantasy!
21. Elegant Bun Look Dark Blonde Girl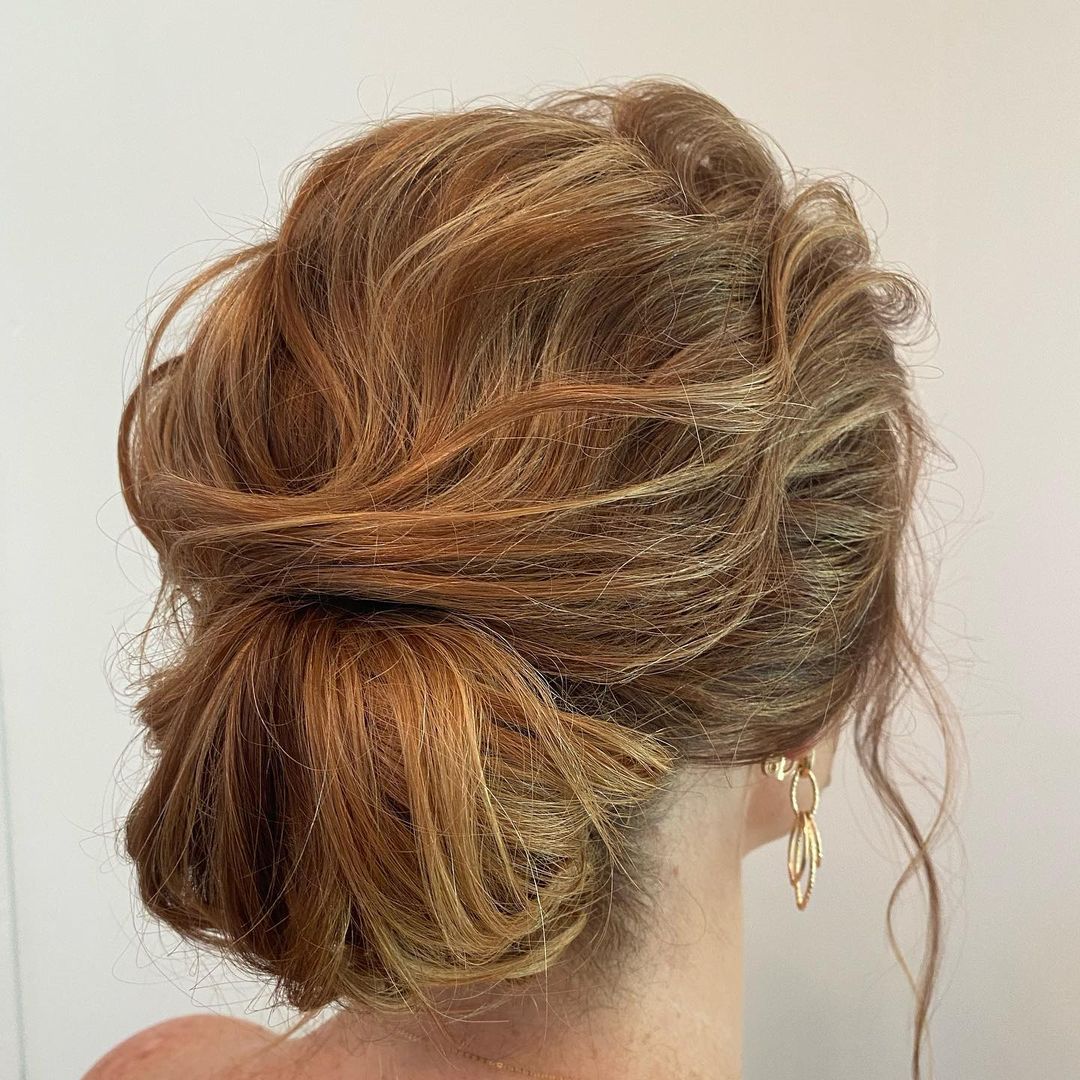 This twisted back bun design looks formal and elegant. If you are a bridesmaid who's looking for a serious look, consider this one.
22. Hollywood Waves Black Hair With Glitter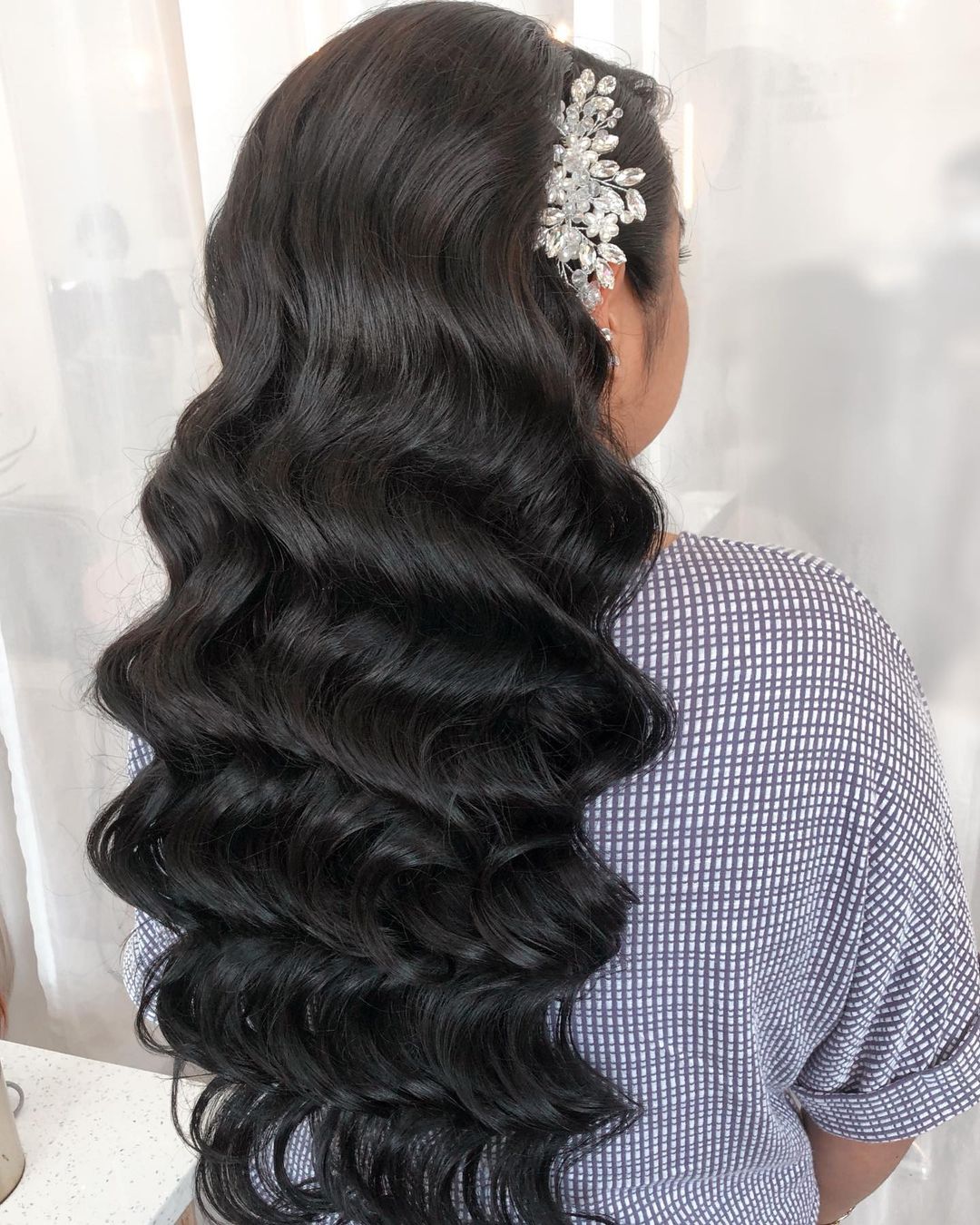 Show off your natural length and go for this black color if you wish to decorate it further with some glitter & bead accessories.
23. Retro & Loose Curls With A Braid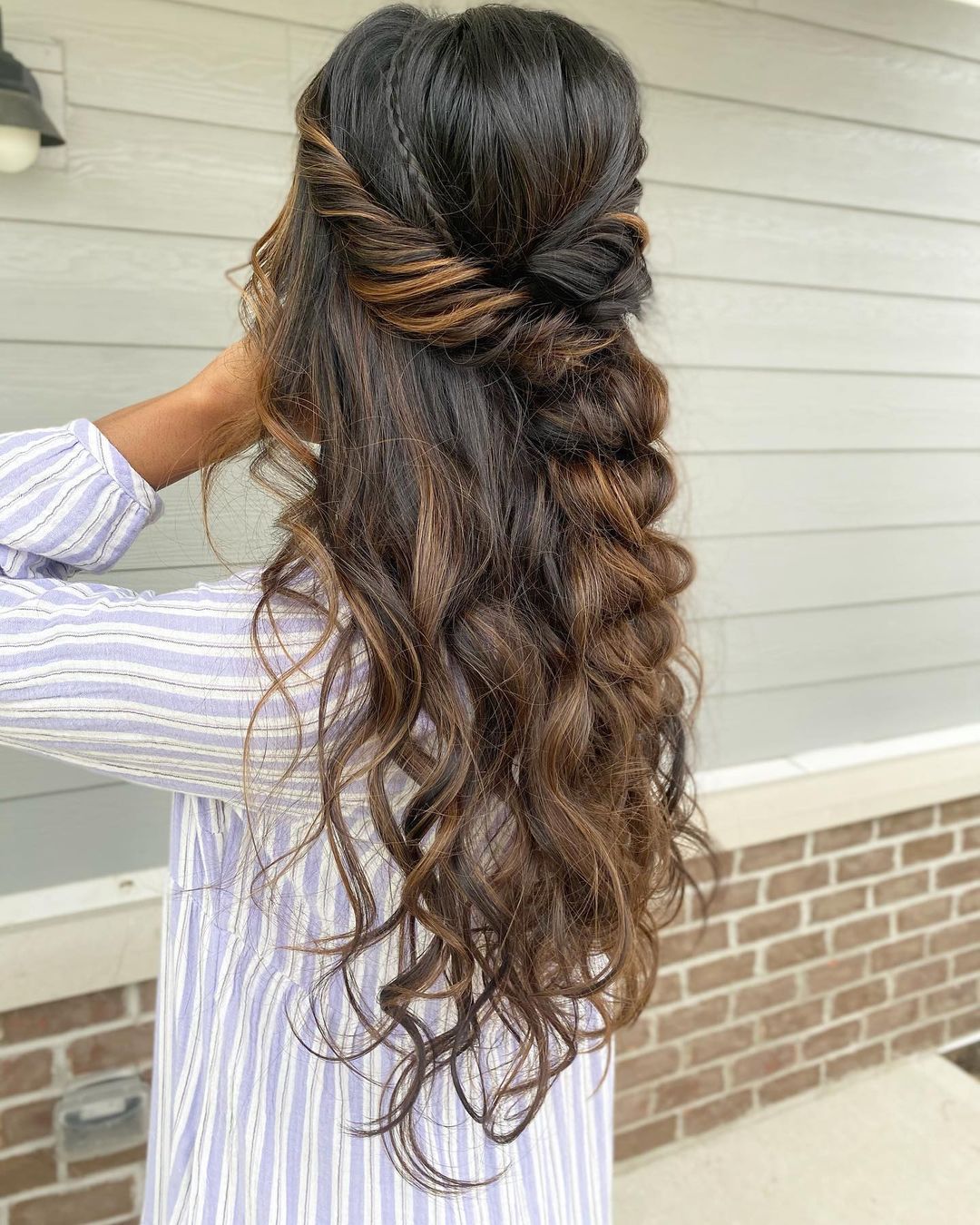 Show off your retro & loose curls and go for this relaxed look. If the wedding itself is very retro & boho you're going to love this creation.
24. Formal Blonde Updo Bun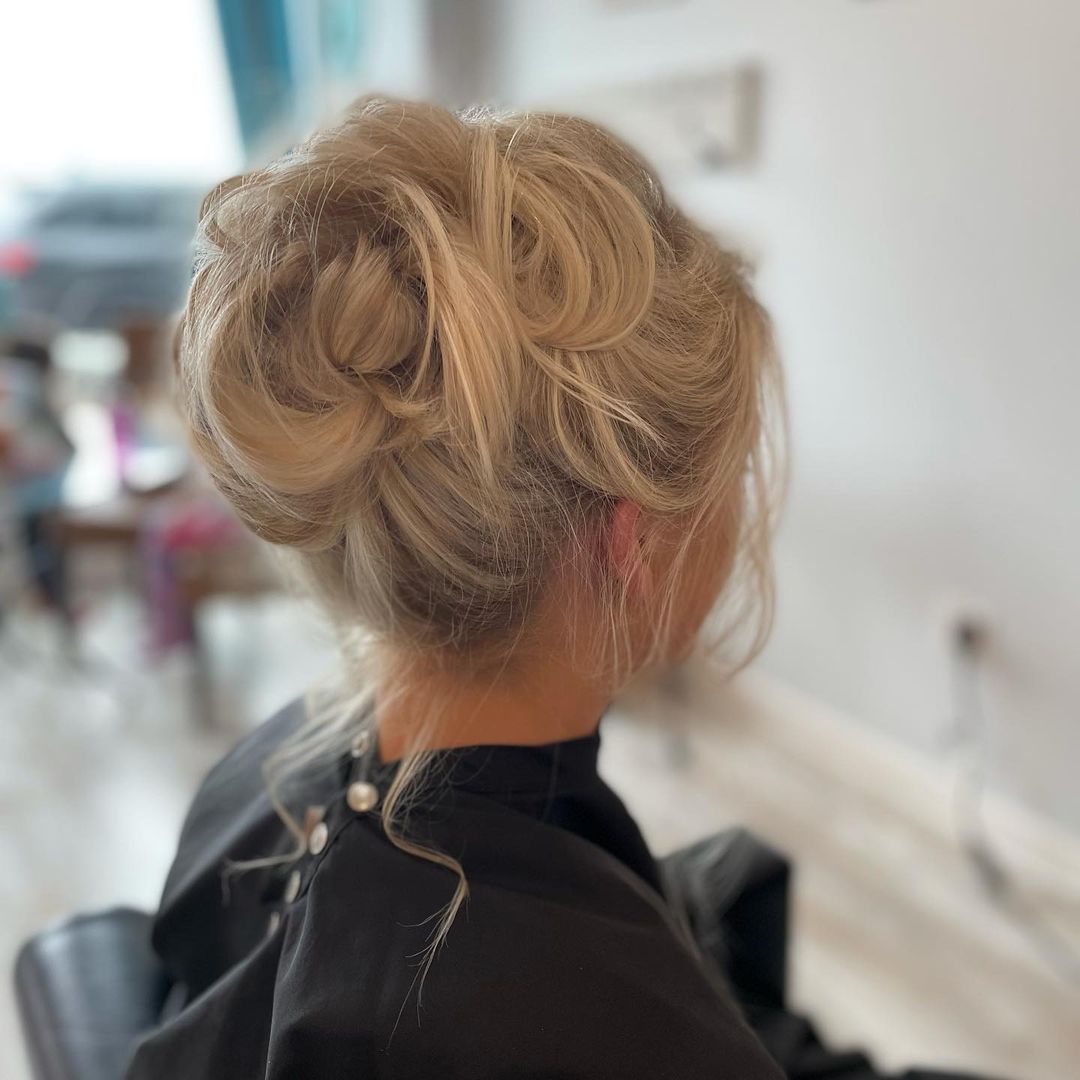 This bun will demand a lot of bobi pins. If you as a bridesmaid don't mind that and you have some time to spare, give it a go!
25. Hot Brown Loose Curls Half Up Half Down Bridesmaid Look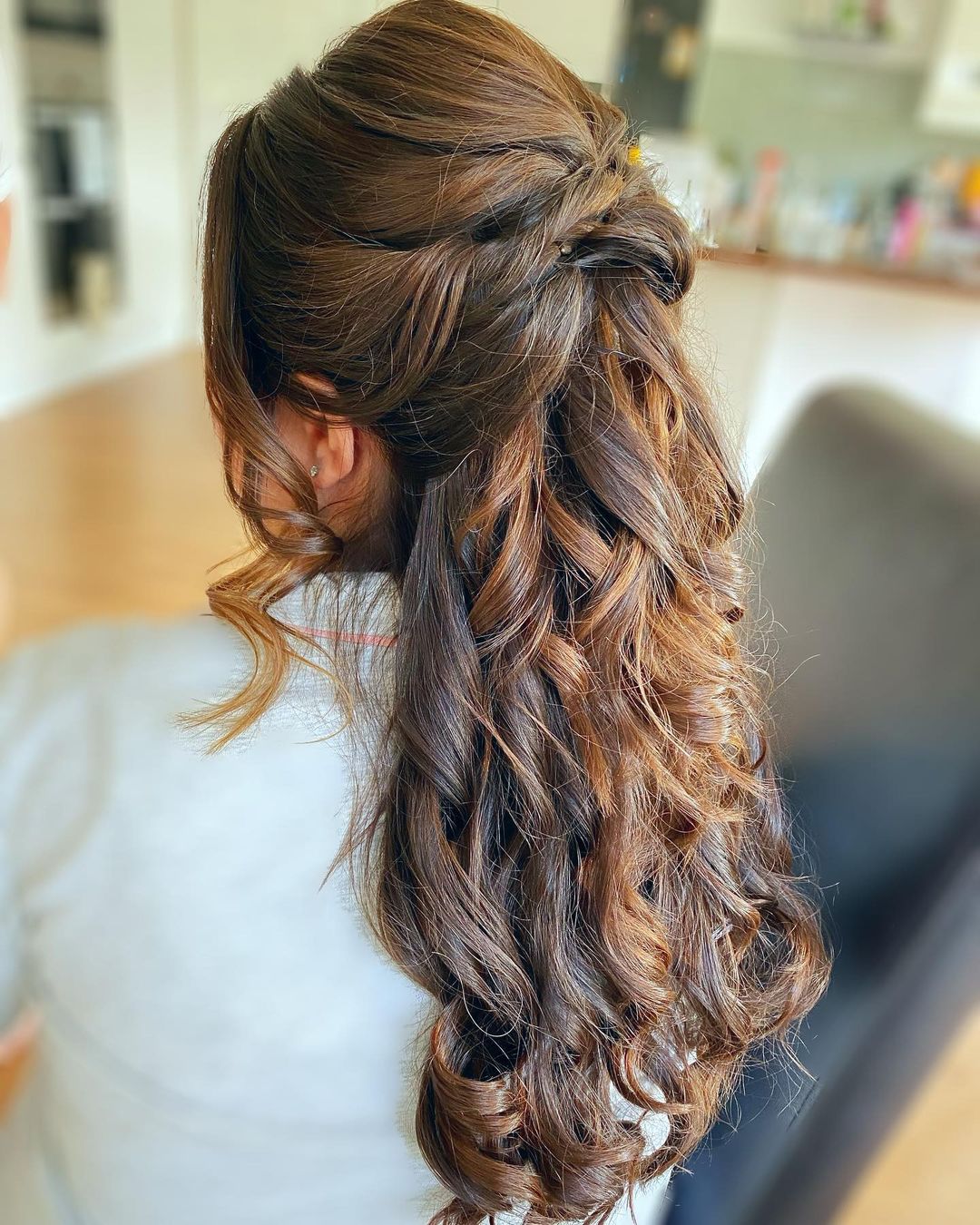 Show off your highlights and the color of your hair in this gorgeous specific way. Let your hair scream volume & color, ideal for playful bridesmaids!
26. Elegant Bun Bridesmaid Style With Flowers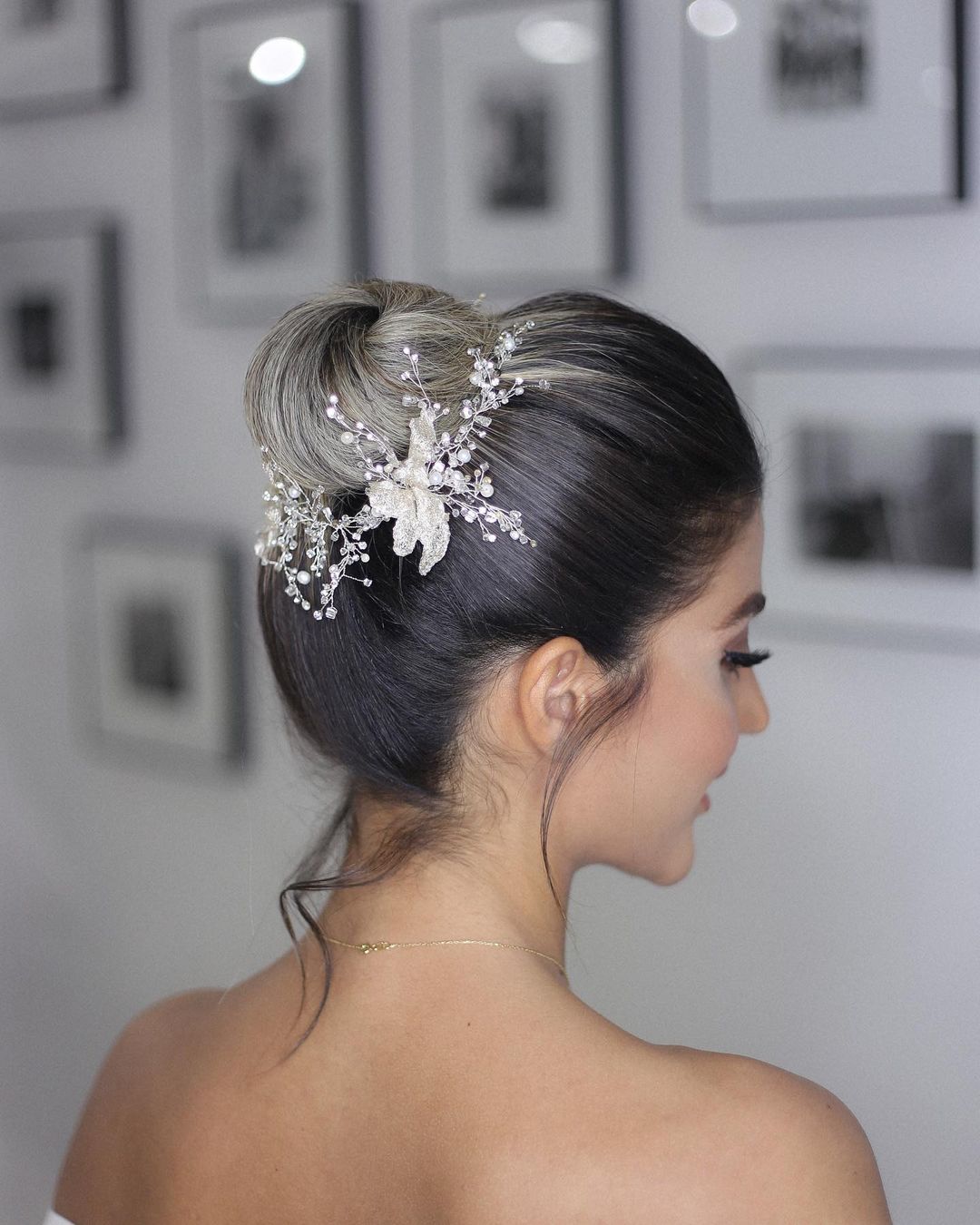 The flowers in the back will look trendy & irresistible. If you love that spring-vibe and classy look, give it a go with this one.
27. Low Formal Bun With Tendrils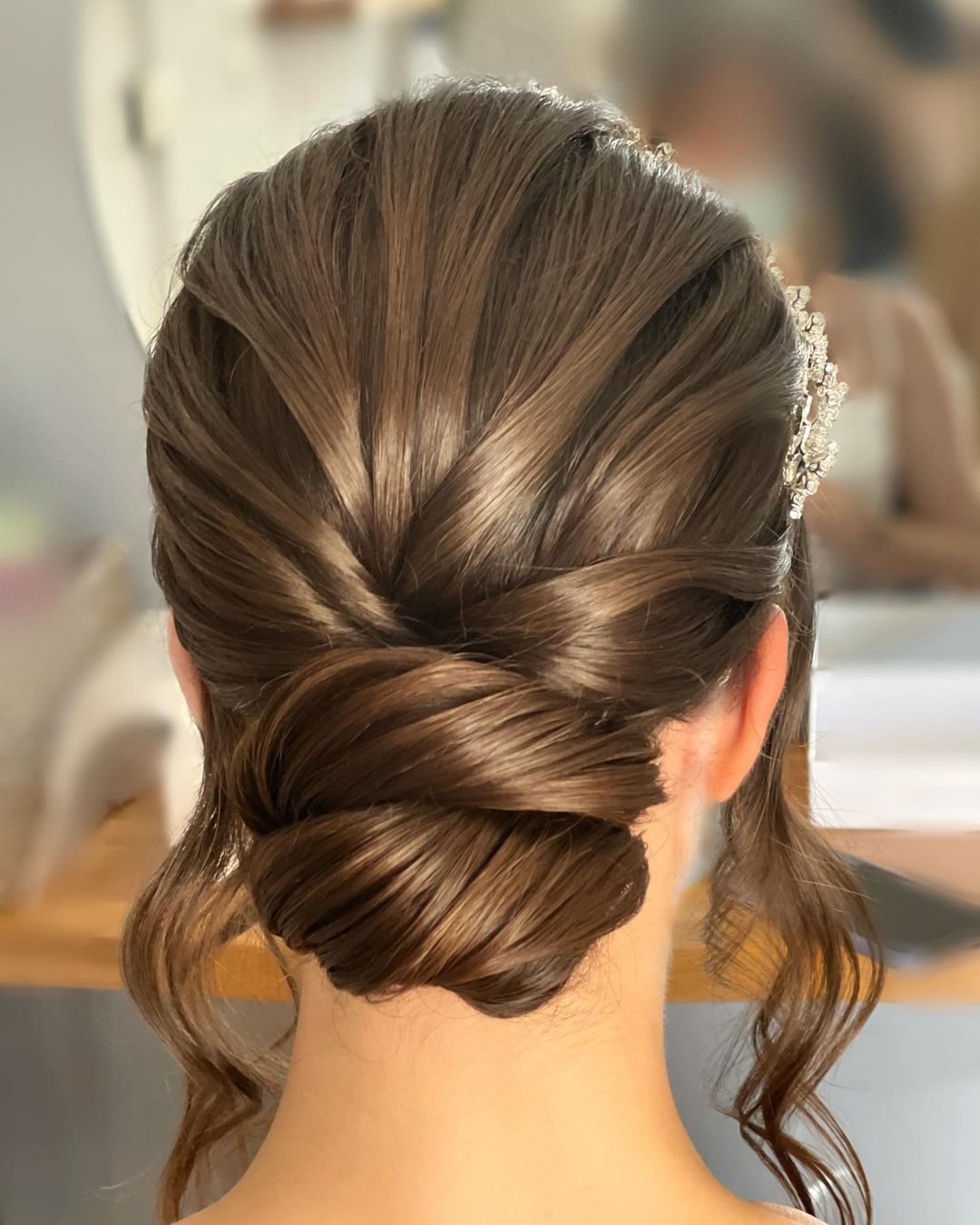 This brown bun with tendrils on the side will look classy & elegant. Make sure that you have around 60 minutes to spare before you commit to this look.
28. Low Knot Hairstyle Blonde Bridesmaid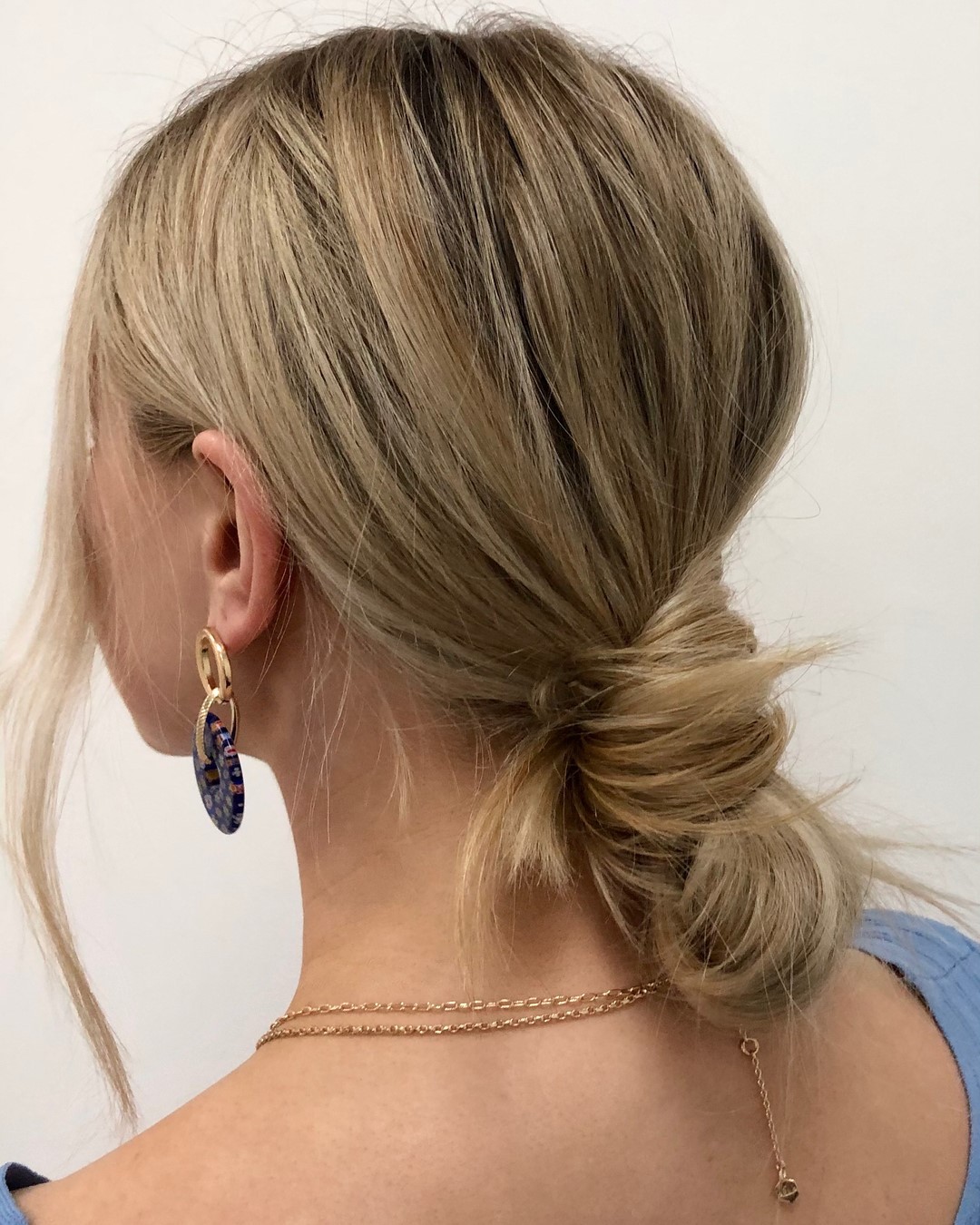 This low-knot look is for bridesmaids who are off to a simple & minimalistic wedding. If you prefer that low-key look and vibe, this is it!
29. Voluminous Hairstyle Bun Idea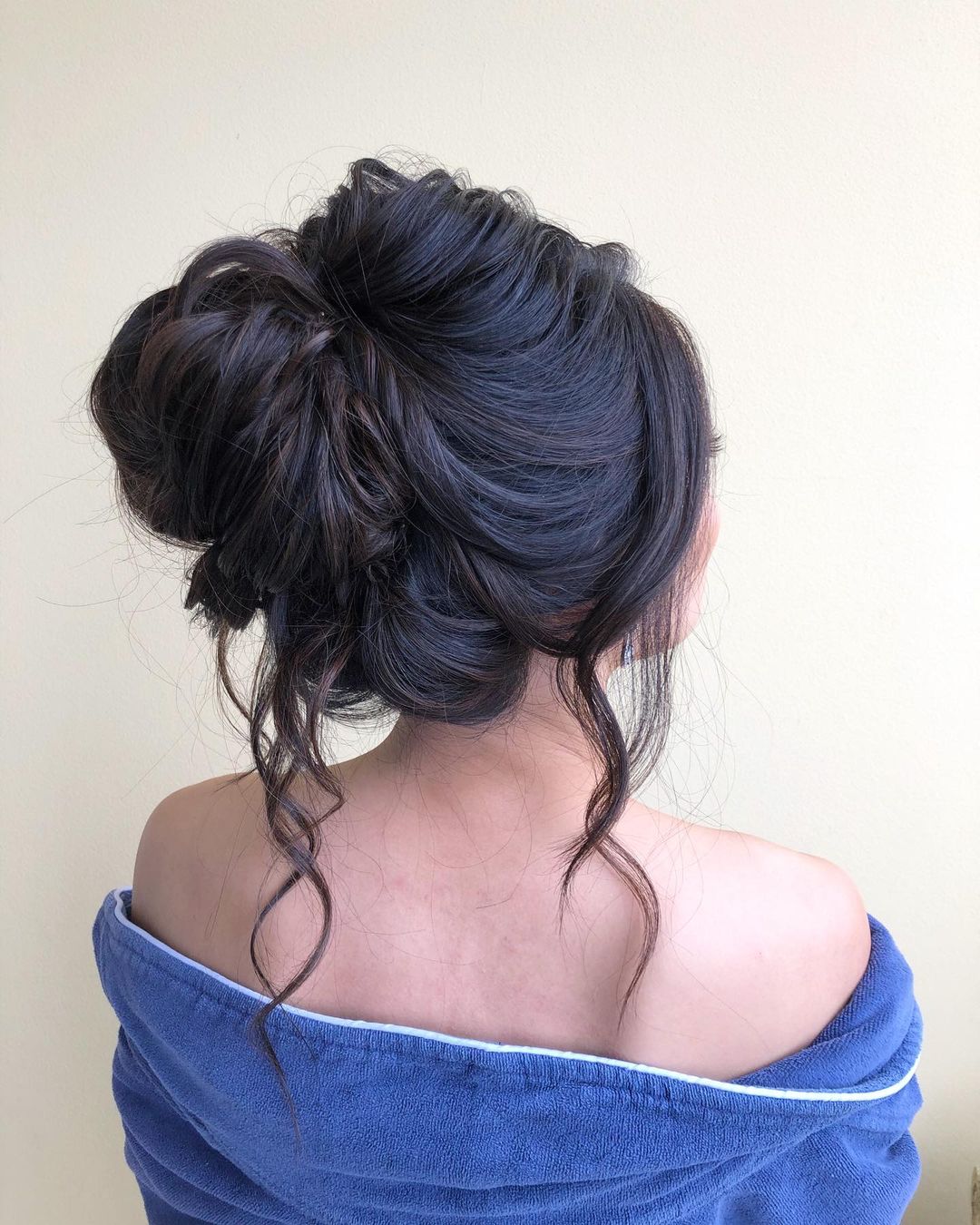 How about you give it a go with loads of volume? This is perfect for dramatic weddings and bridesmaids who need to look presentable.
30. Updo Bridesmaid Look With A Detail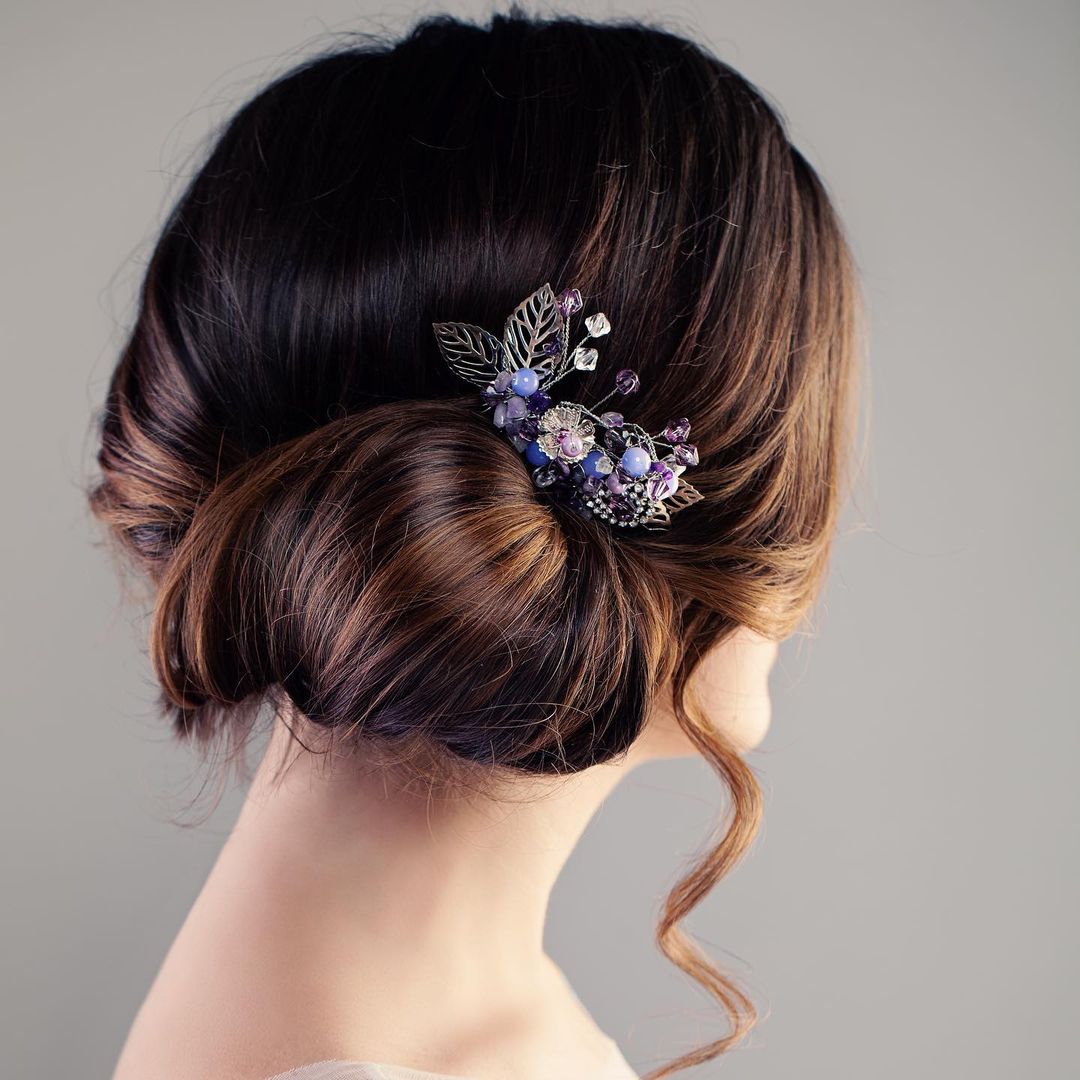 Lastly, try to decorate your hair with this gorgeous gem detail in the back. It is perfect for bridesmaids who wish to shine, without overshining the bride!
If you believe that now is the right time to shine make sure that you pick out an amazing hairstyle idea, as well as an amazing hairstylist. Which one idea was your favorite among these 30 bridesmaid options? Let us know!