Space buns are a trendy topic & something that has been a huge hit in the last two years! Have you tried them out yourself? If not, we guarantee you that you're going to be interested after you read through this article. Keep on reading & understand why are space buns so popular!
What Are Space Buns?
Space buns are a fierce hairdo look that younger girls love to wear. These buns have an artsy intergalactic vibe to them + they have that element of mystery and alien-like inspirations. They've become so popular thanks to social media, especially platforms such as Instagram & TikTok. This hairdo has a bit of a pigtail-like vibe. The only difference is in their voluminous ball-like shape.
How To Achieve Space Buns Step By Step
Step 1: To achieve space buns make sure that you work with straight, washed, as well as blow-dried hair.
Step 2: Part your hair into two different equal sections.
Step 3: Tie your hair up in two ponytails and secure them with elastics.
Step 4: Wrap the length of your hair around the base of your ponytail.
Step 5: Hold your formed buns in place and set them with bobby pins.
Step 6: Add a bit of hairspray, glitter, or even gemstones to achieve your feminine & girly look.
Who Should Wear Space Buns?
Space buns hairstyle is for anyone who dares to wear it! It is an unusual go-to, and in most cases, it works well for younger women, teens, summertime, pool parties, as well as Halloween!
1. Dark Brown Hair Color Braided Space Buns

The perfect space buns with some gorgeous golden details & hairpieces! Ideal for your night out with the girls.
2. Loose Curls Blonde Hair Space Buns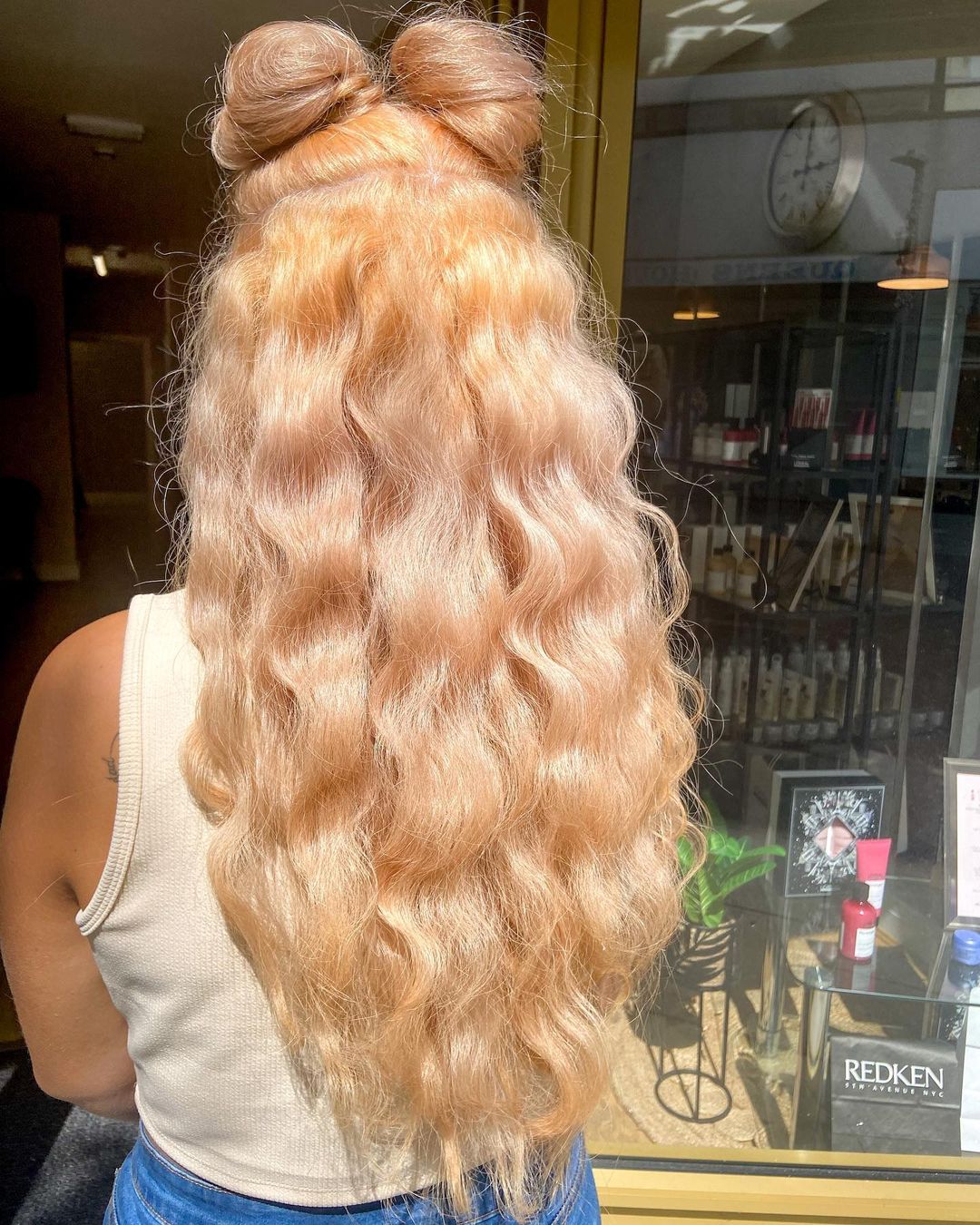 If you are a blonde you can easily achieve this look. Let your hair shine through and round up the look with these voluminous space buns.
3. Bright Pink Space Buns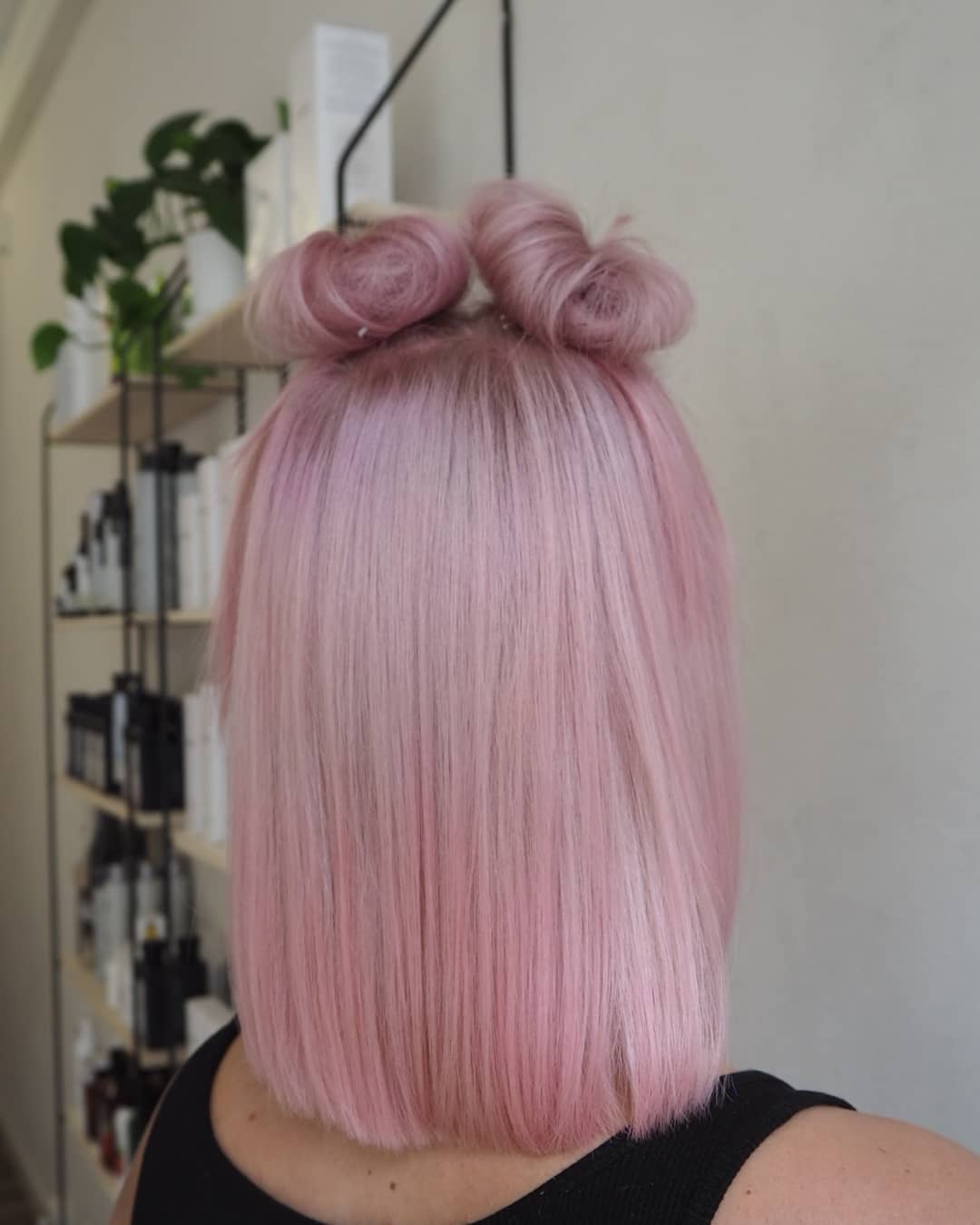 If you are someone who can easily rock pink hair we highly recommend that you give it a go with this hairstyle & these space buns!
4. Light Brown Hair Braided Space Buns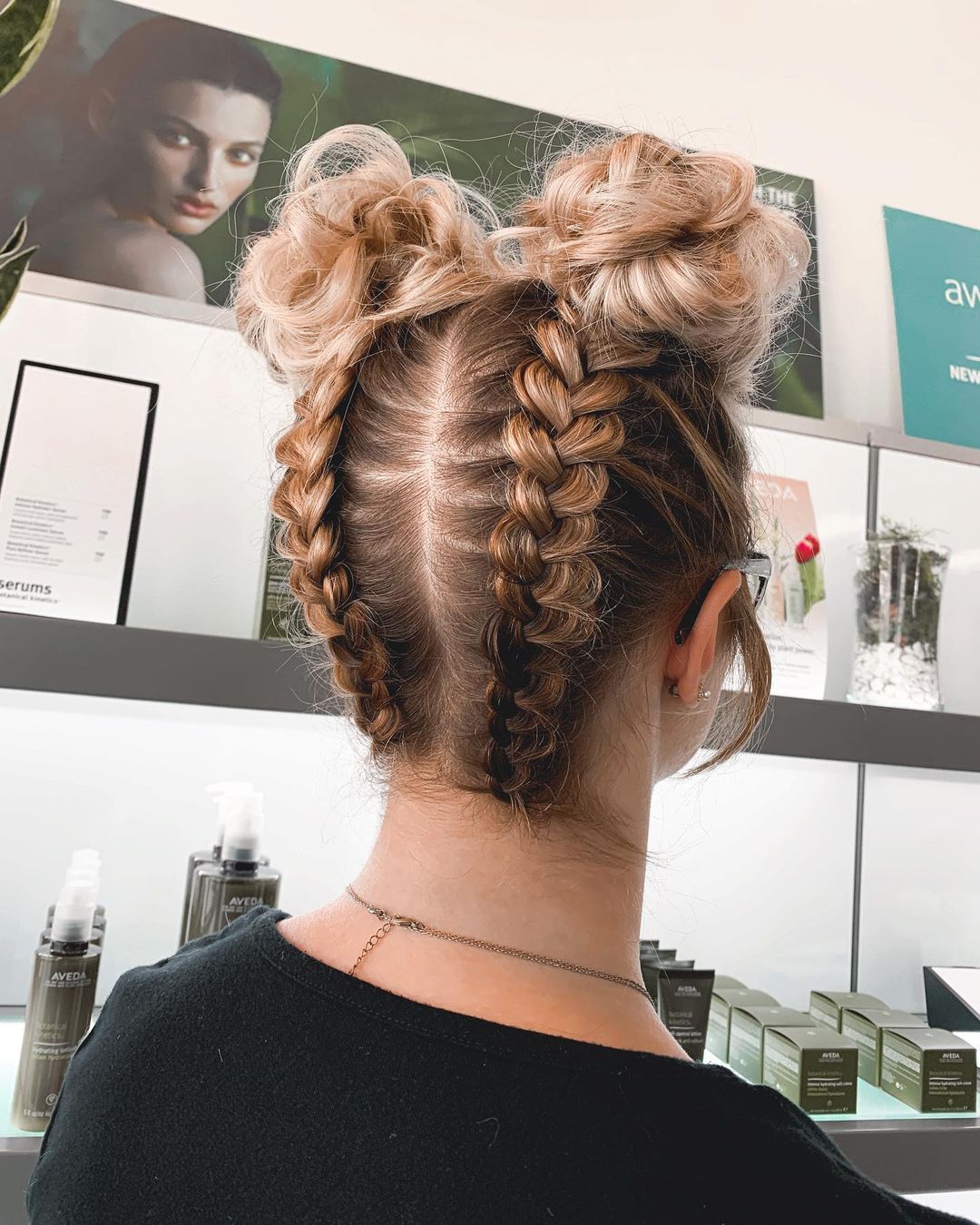 Back braided hair into space buns is so flirty and cute! If you love to seek attention with your look you will adore this one!
5. Criss Cross Pattern Low Space Buns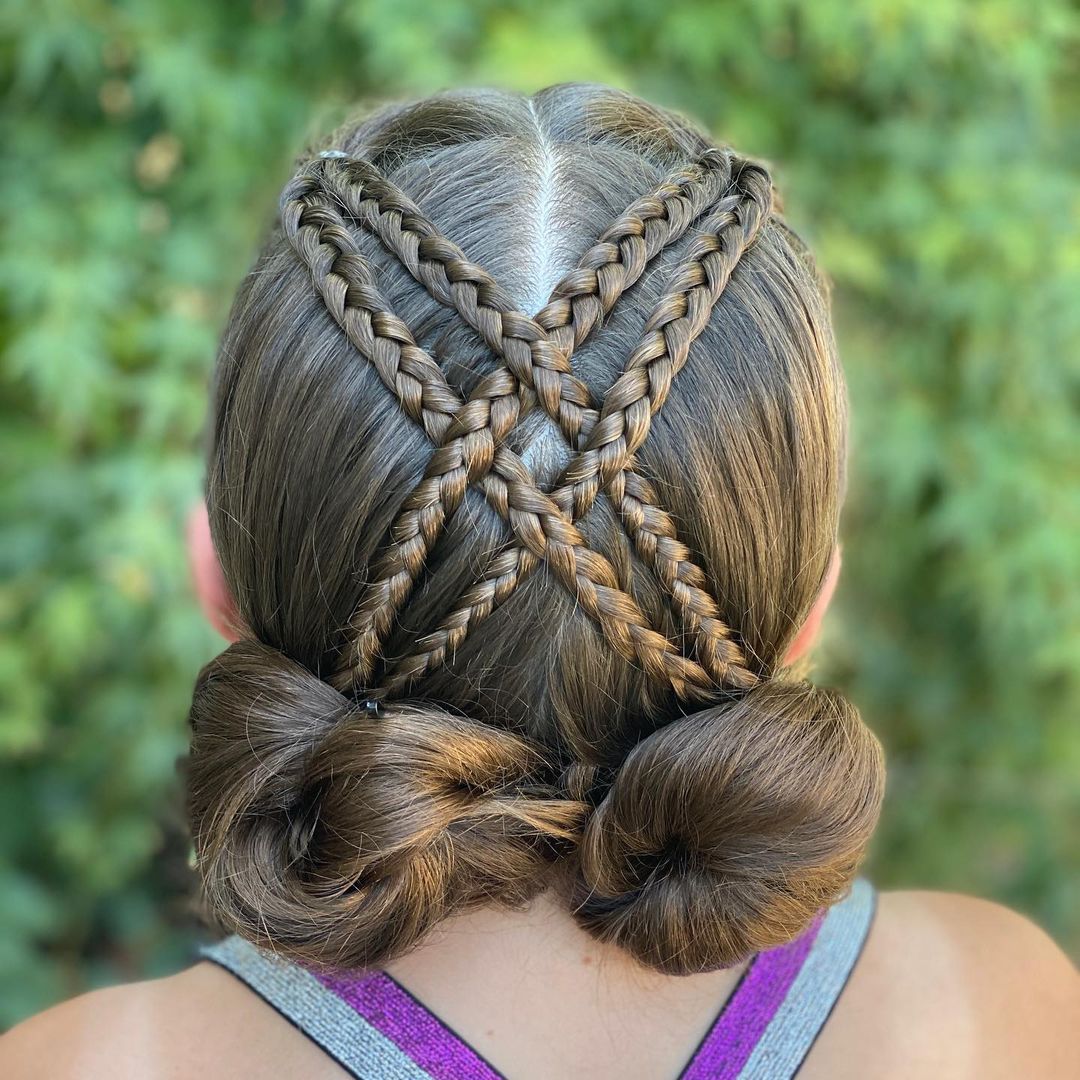 This crisis cross pattern might be a bit difficult to achieve. If you are into lower-placed space buns you will like these!
6. Retro Blue & Green Space Buns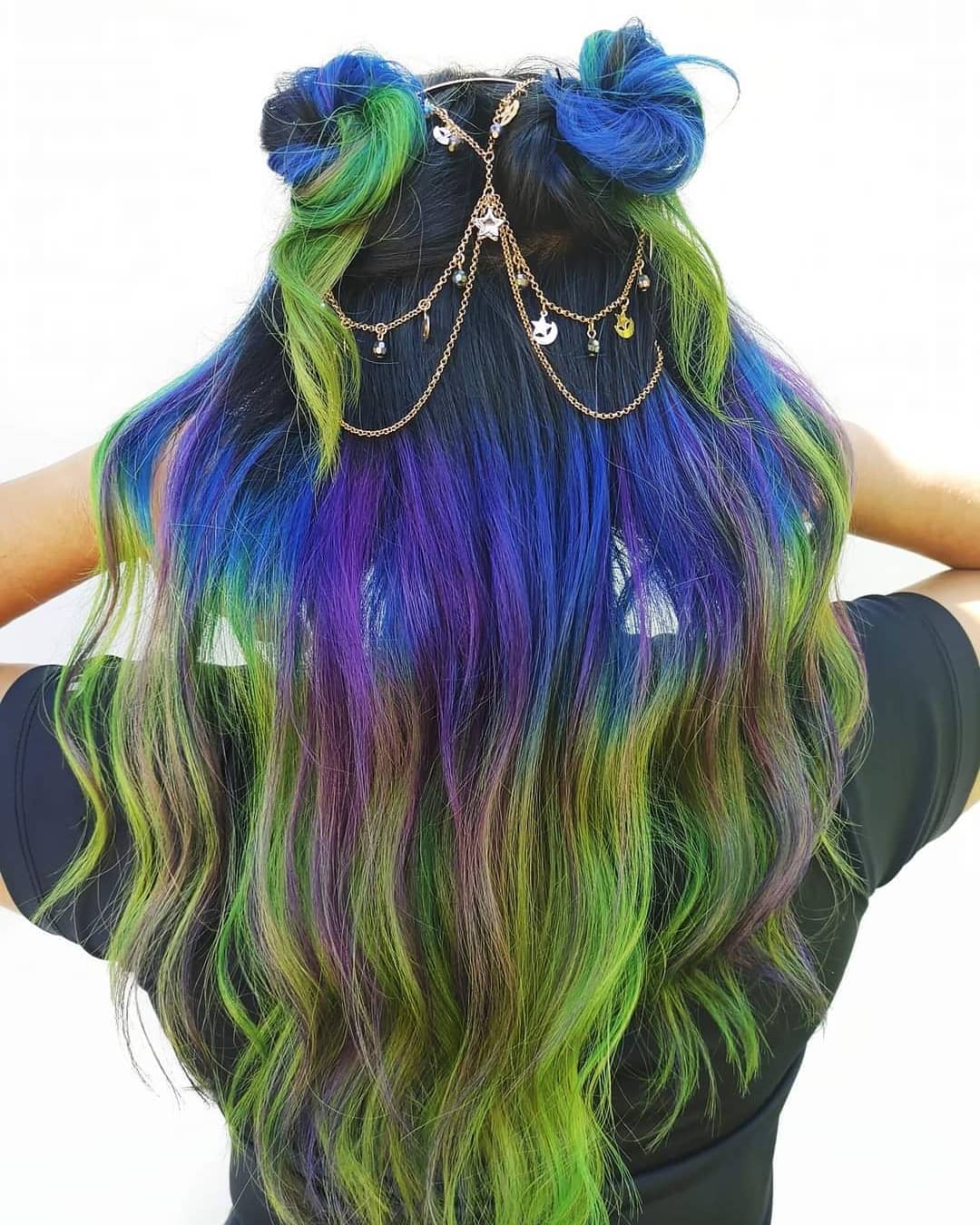 Women who dare to create & those who don't mind taking it up a notch will love this blue & green space bun look!
7. Hot Pink & Purple Space Buns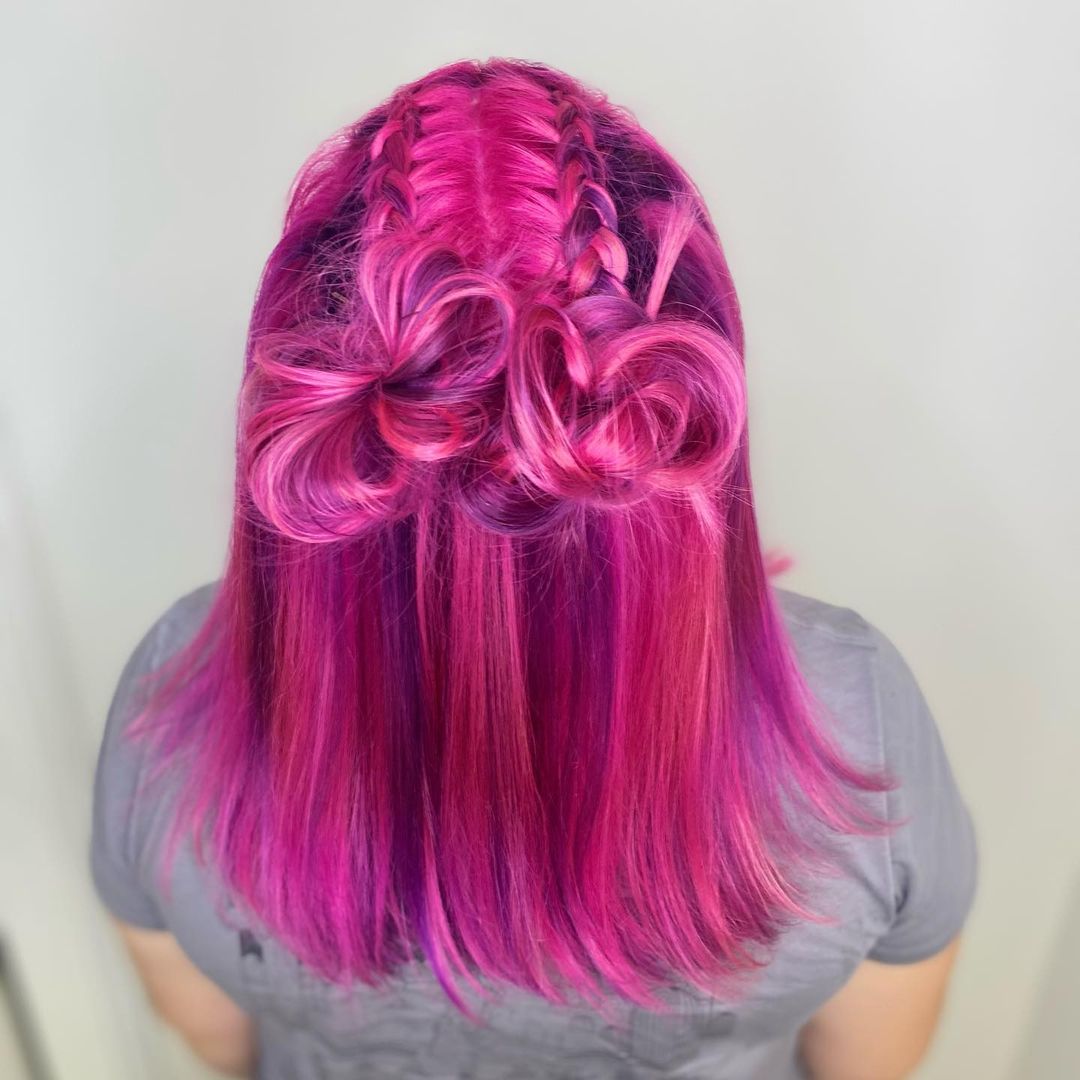 If your hair is hot pink or hot purple you can decorate it furthermore with these space buns. They are ideal for younger teens and true trendsetters.
8. Feminine Light Colored Space Buns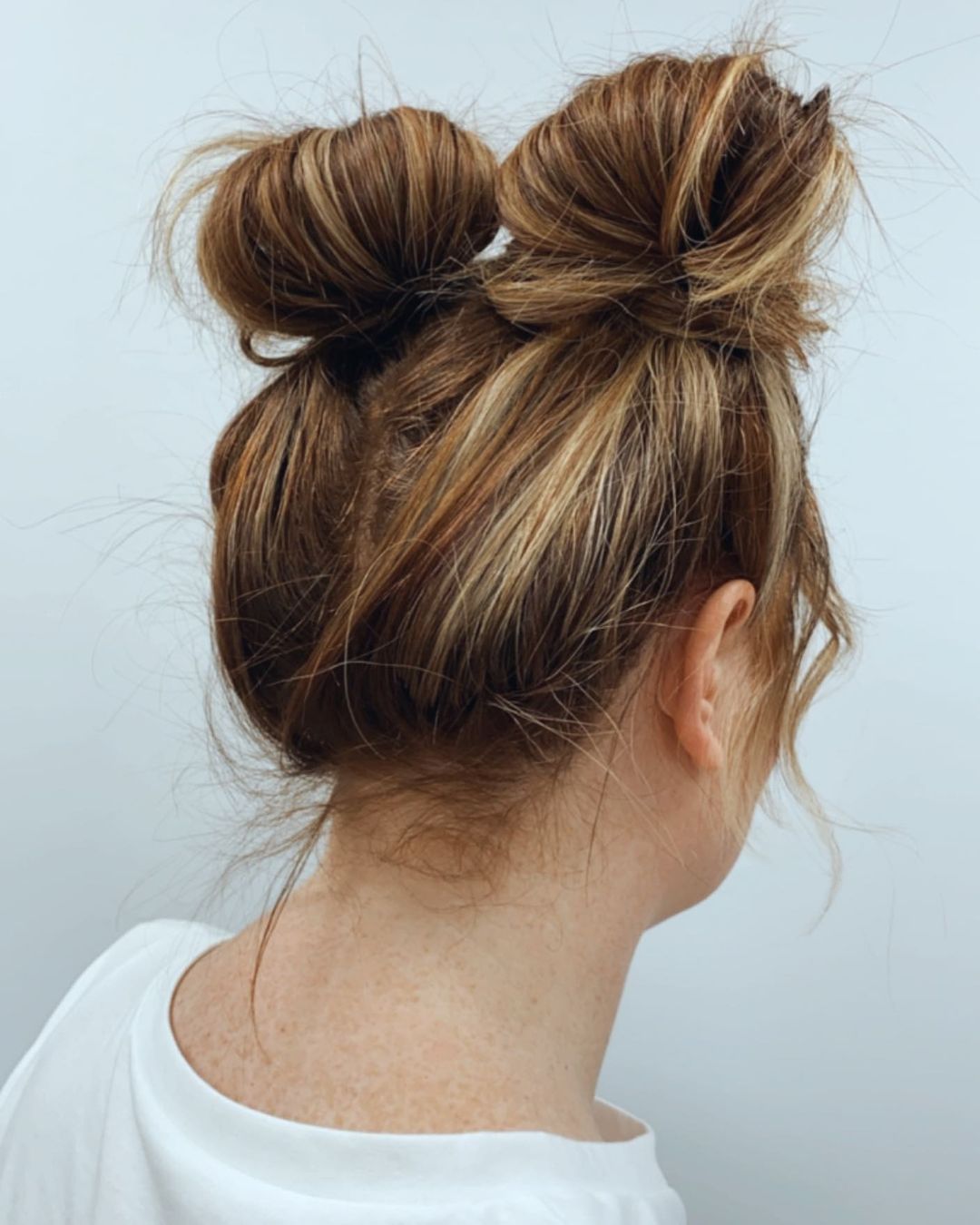 If your hair has a pop of lighter color or if you have highlights you can recreate this space bun hairdo and wear it on a daily!
9. Dark Black Hair With Pink Highlights Space Buns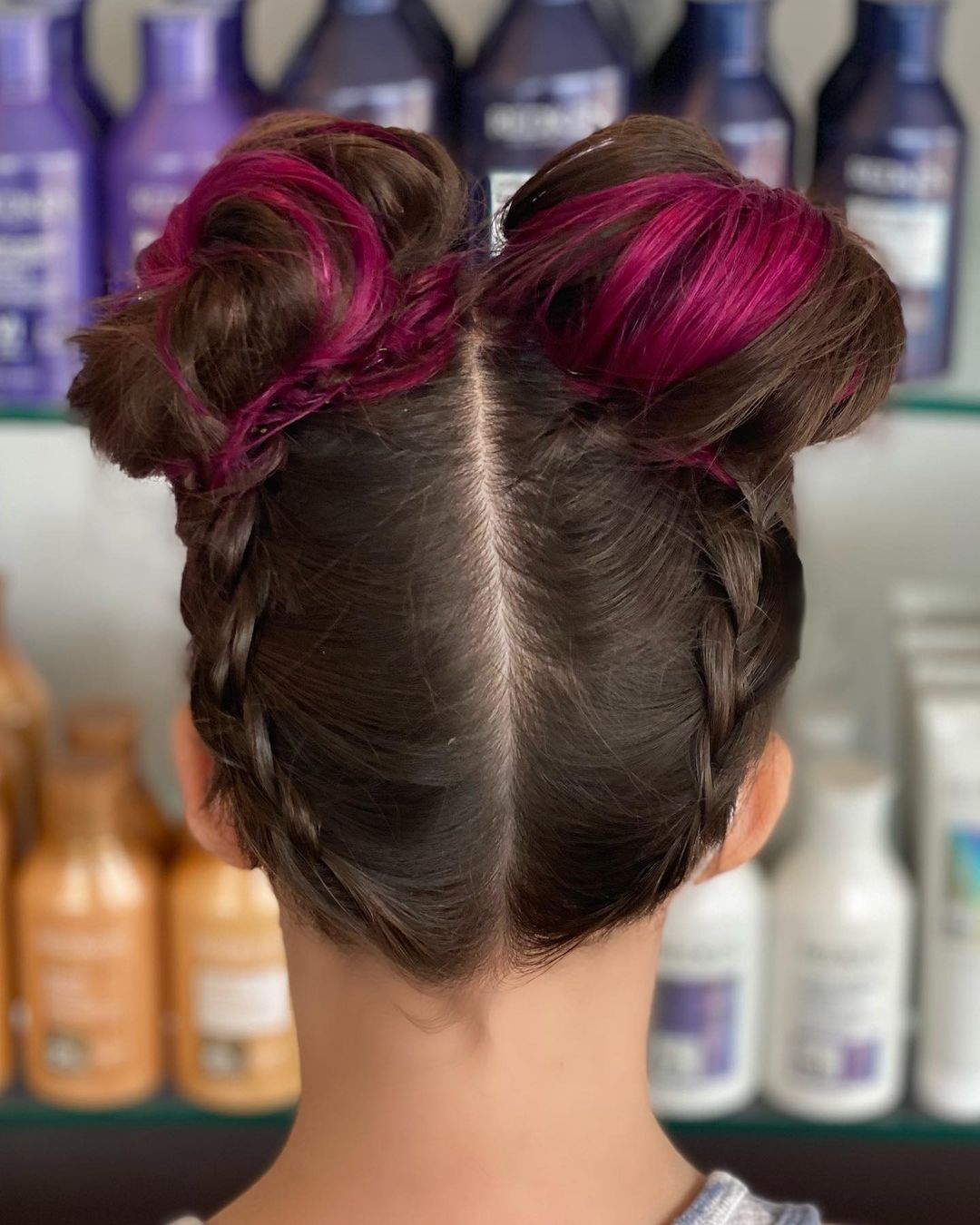 Hot pink is a must-have Summer color! If you like trendy looks you will enjoy this space bun cut!
10. Natural Brown Hair Low Placed Space Buns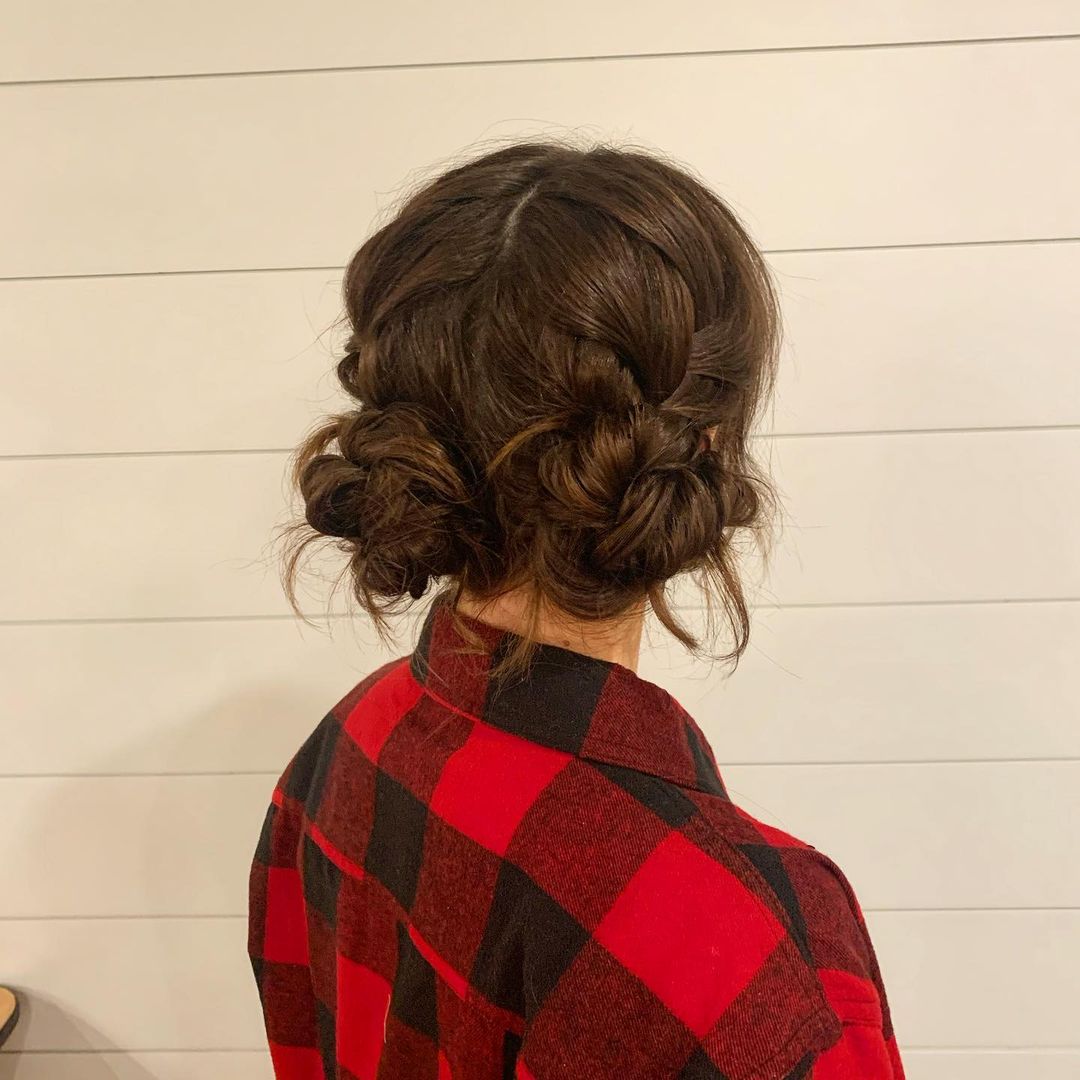 These space buns on brown hair are quite easy to achieve all on your own!
11. High Space Buns With With Glitter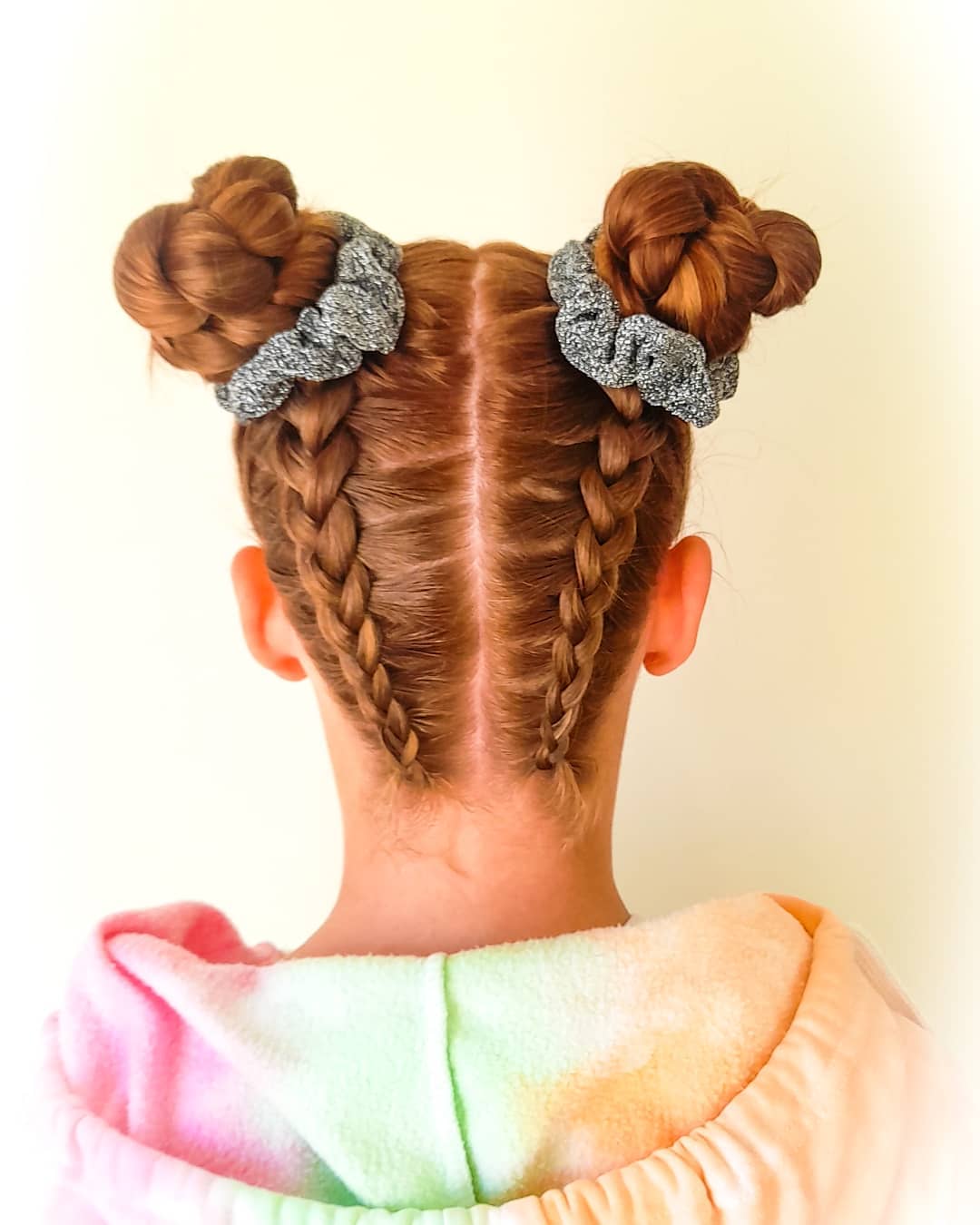 If you have an important event to attend and you need a bit of glamour gray glitter elastic is the way to do it!
12. Bold Retro Red Space Buns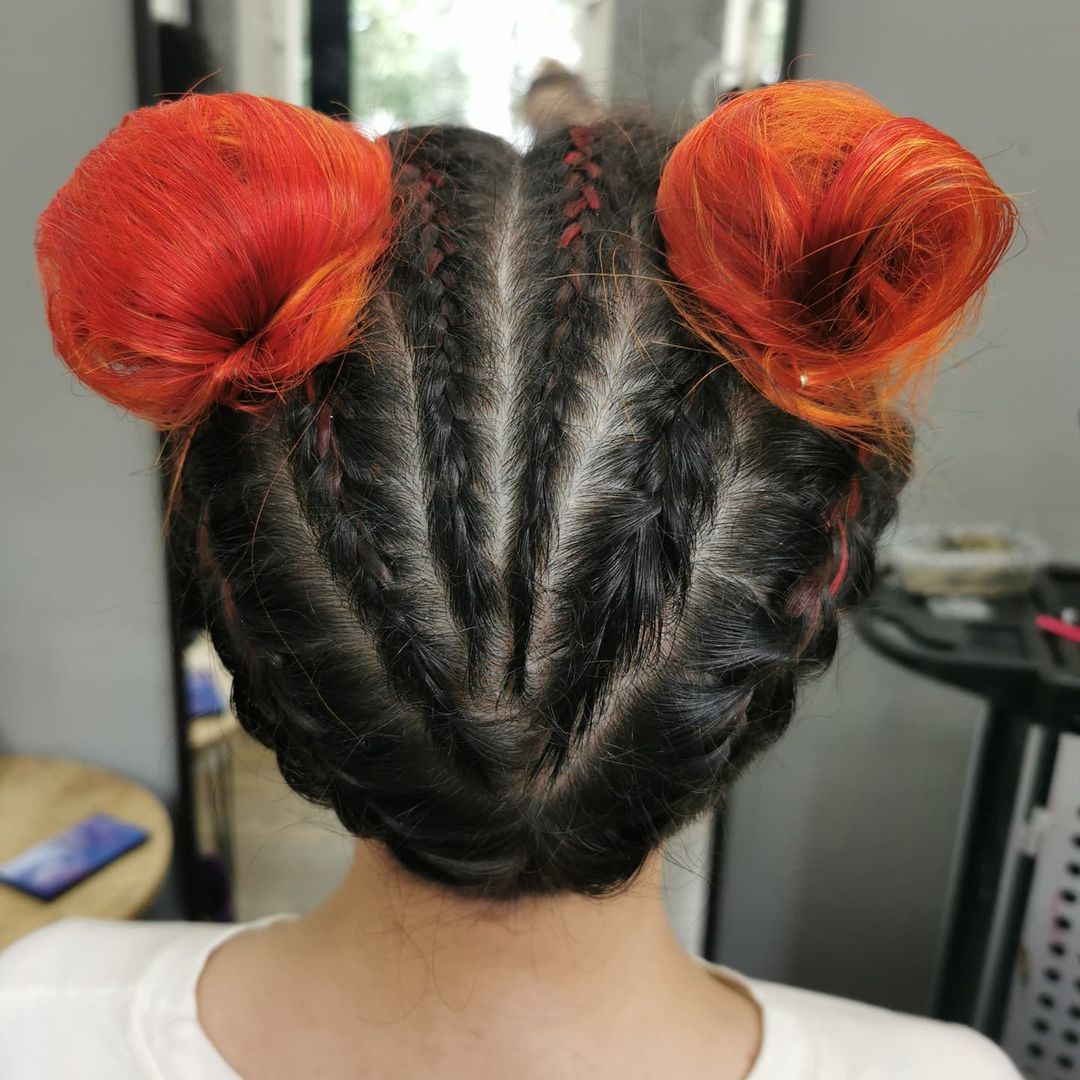 Bright red space buns will attract a lot of looks, so heads up before you wear them out into the public.
13. Natural Hair High Brown Space Buns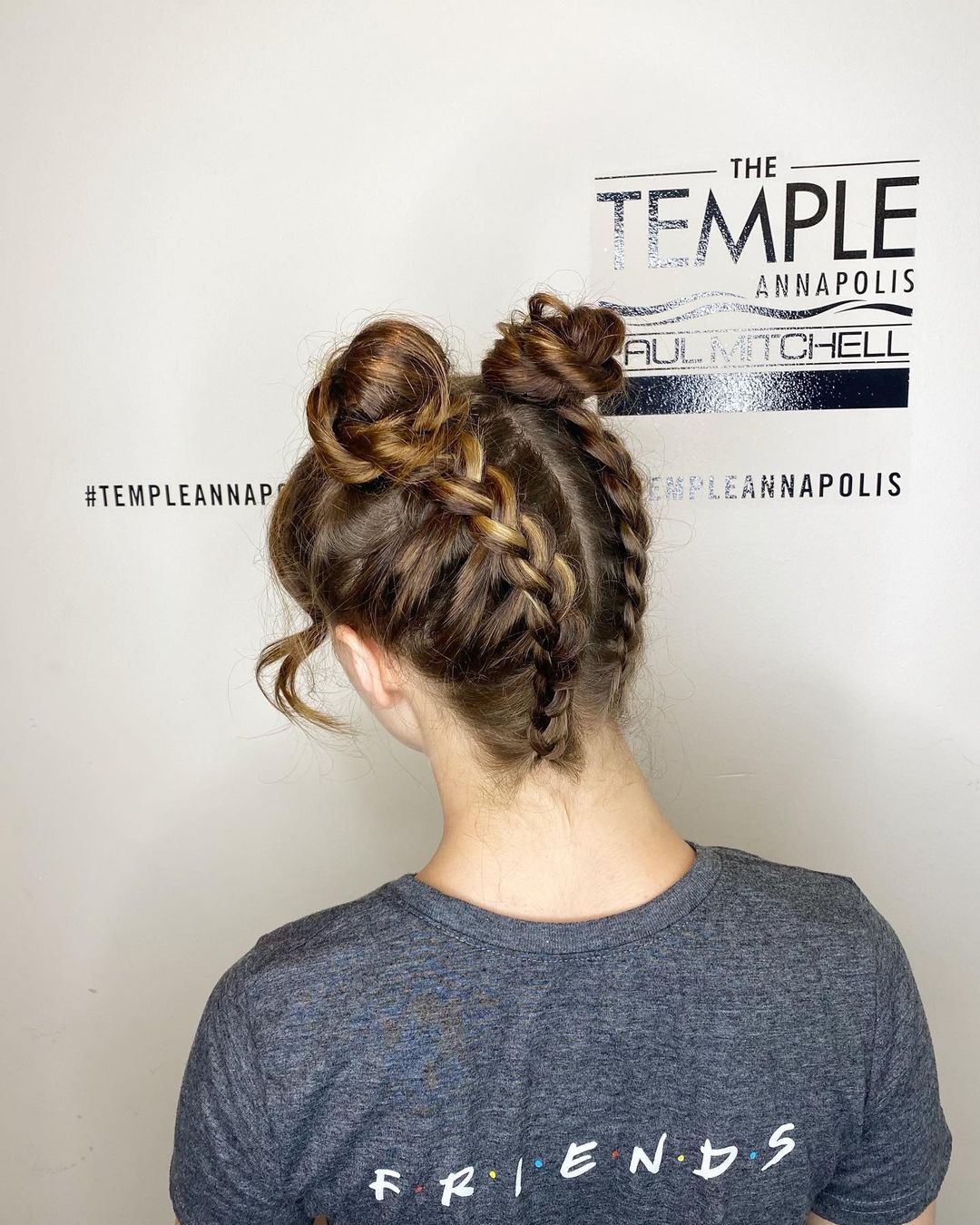 These super high-placed space buns are perfect for everyday wear + for any hair length!
14. Bright Red Hair Space Bun Look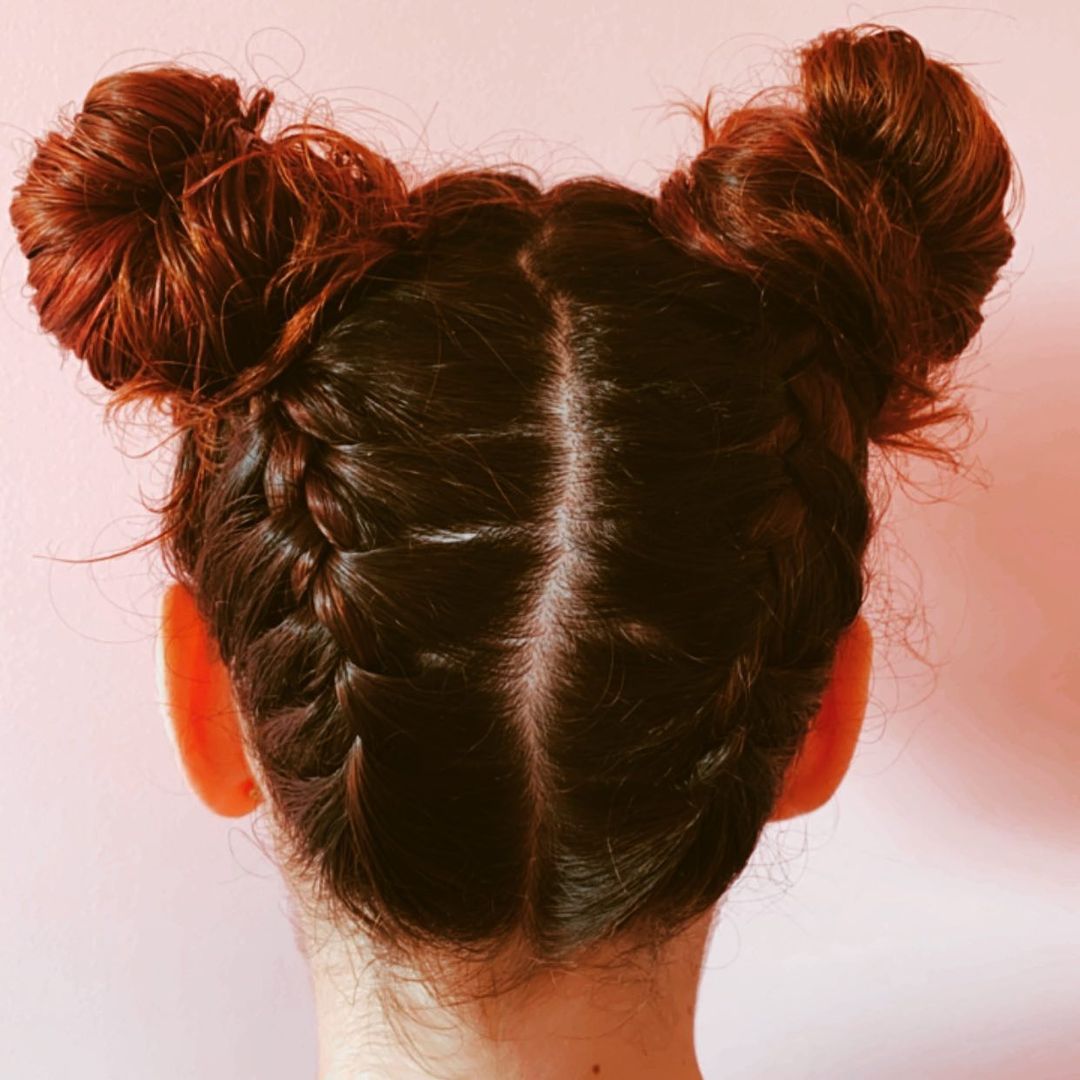 If your hair is fiery red you will recreate this design with ease and show it off to simpler & casual gathering.
15. Blue & Black Space Buns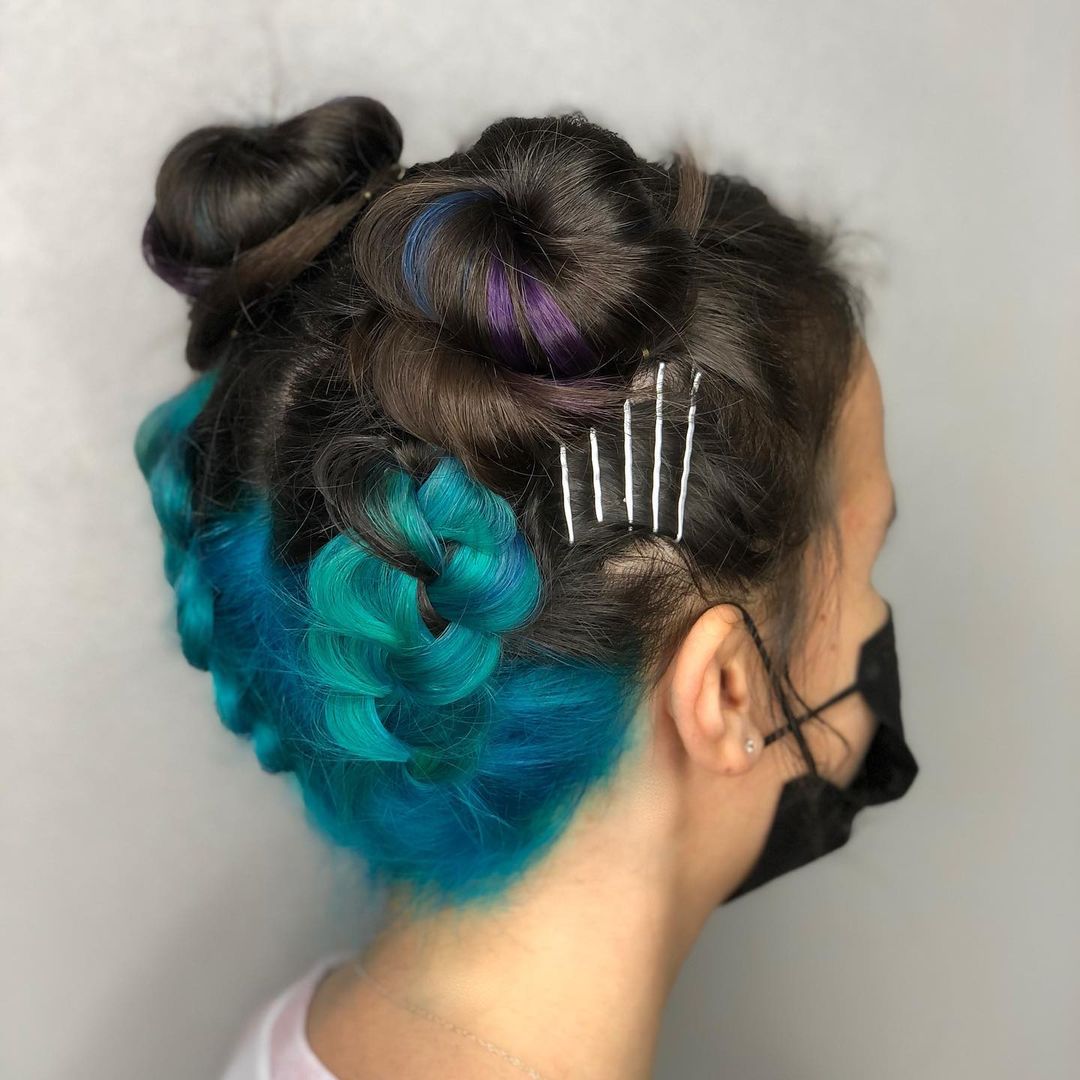 Combine blue & black when it comes to your space buns, just make sure that you set them in the back with an elastic & some bobby pins.
16. Loose Waves Purple Space Buns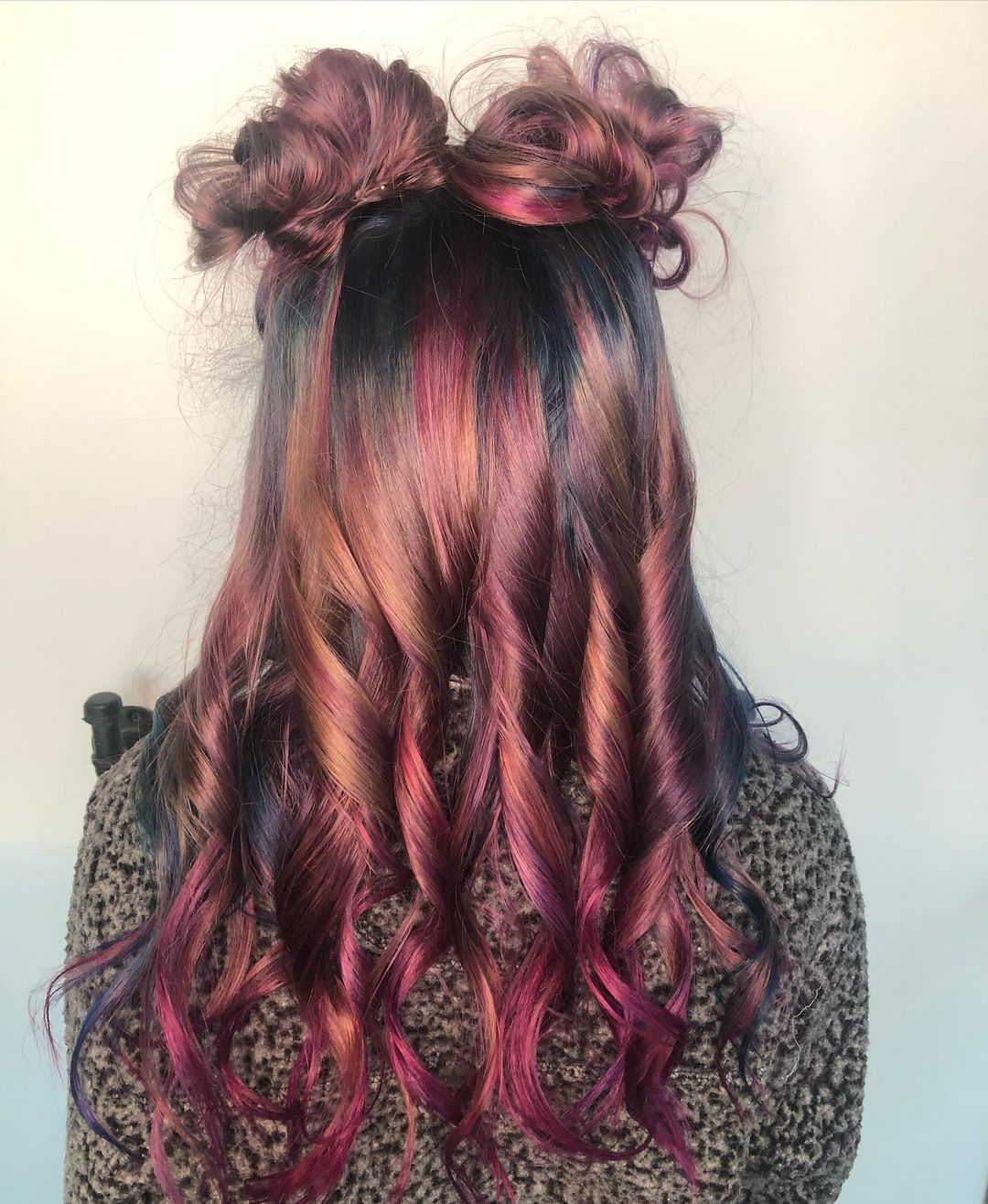 Half-up half-down space buns such as these will look lovely if you are into elegant hair options!
17. Gorgeous Blue Space Buns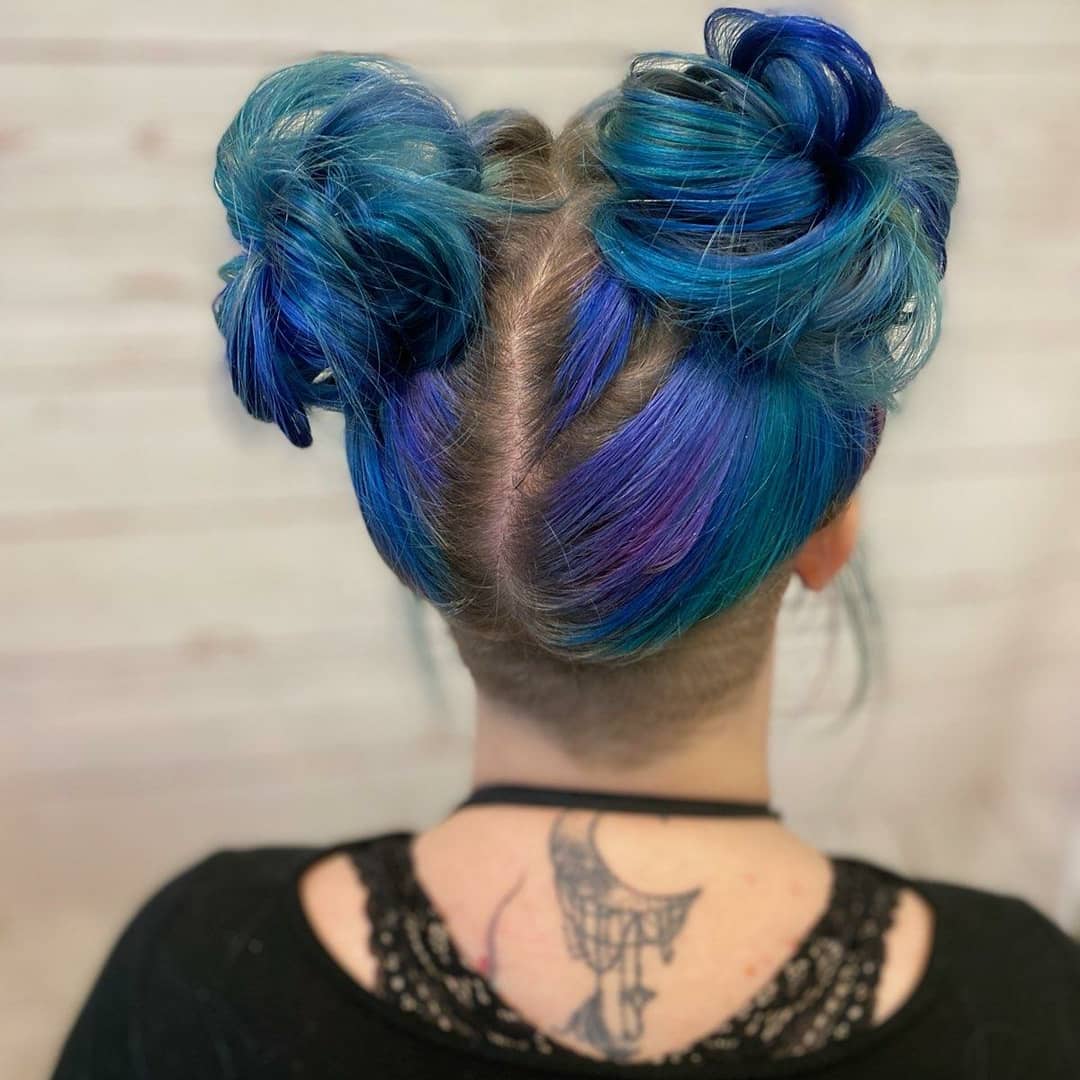 Show everyone that you know how to incorporate a pop of blue with these stunning bright blue space buns!
18. Half Green Half Purple Space Buns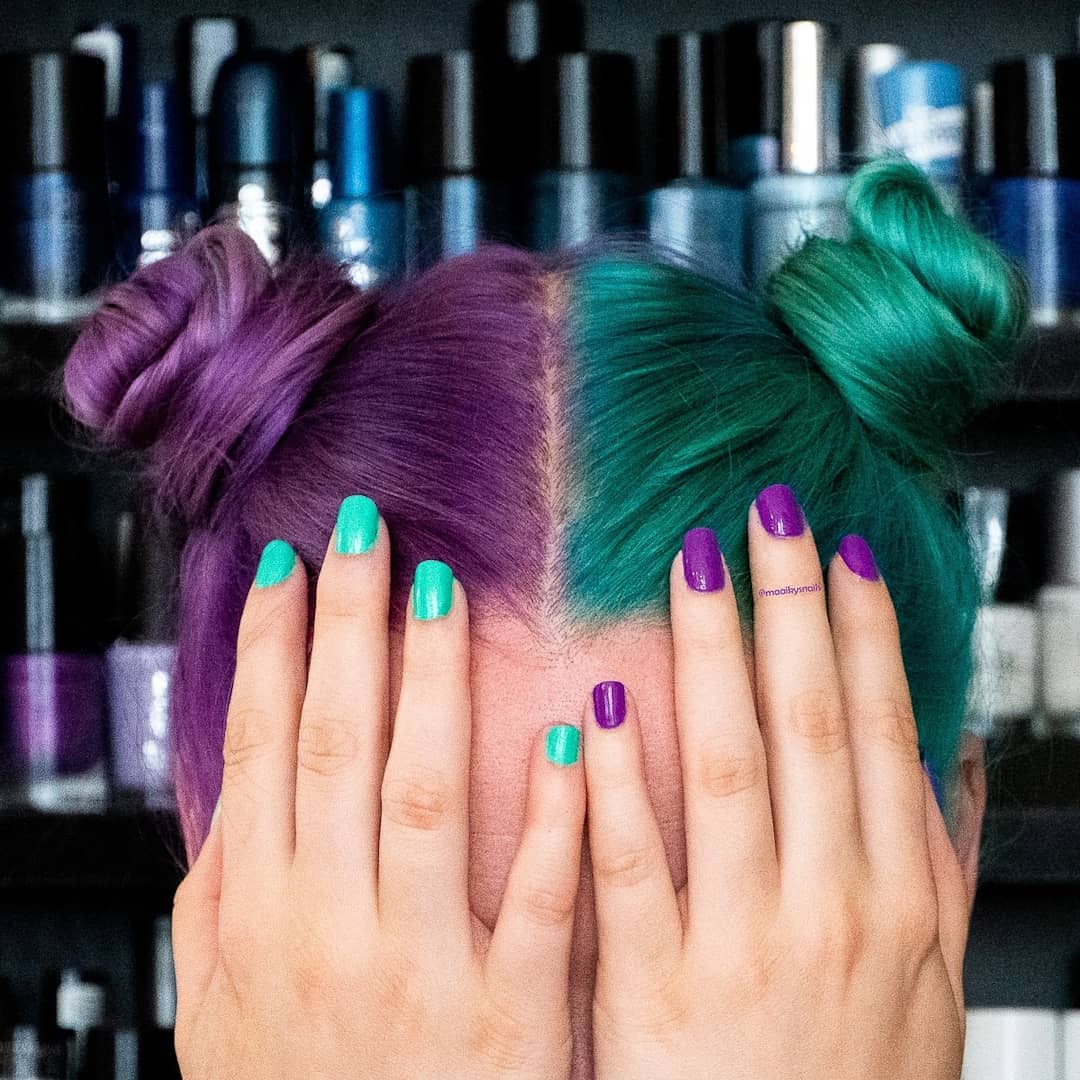 If you love current trends, you are going to love this color combo! Half green & half purple + retro space buns are so in right now!
19. Black Hair Cute Space Buns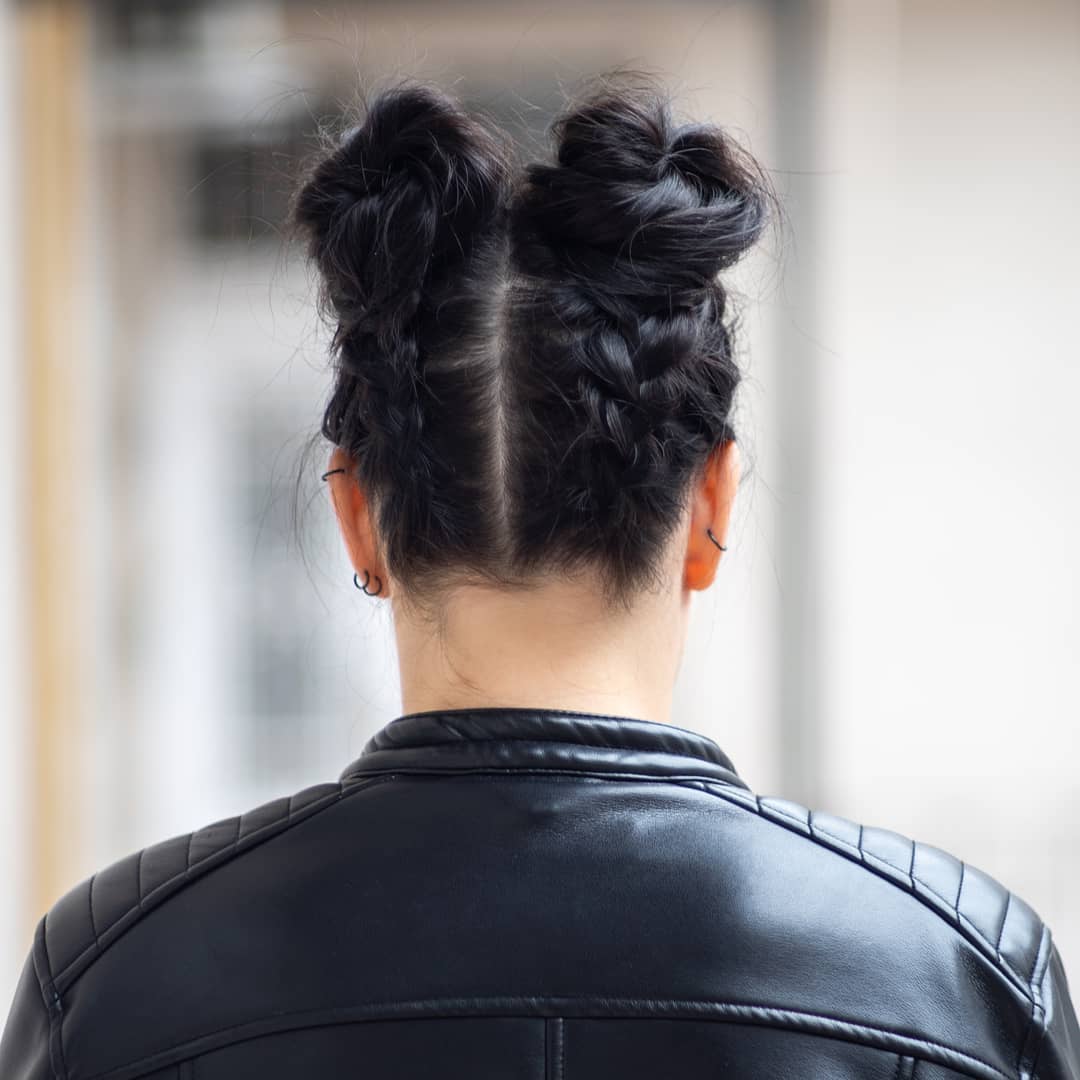 Show off your natural hair color & length with this natural space bun look approach. It is perfect for everyday wear!
20. Light Blonde Space Buns With Glitter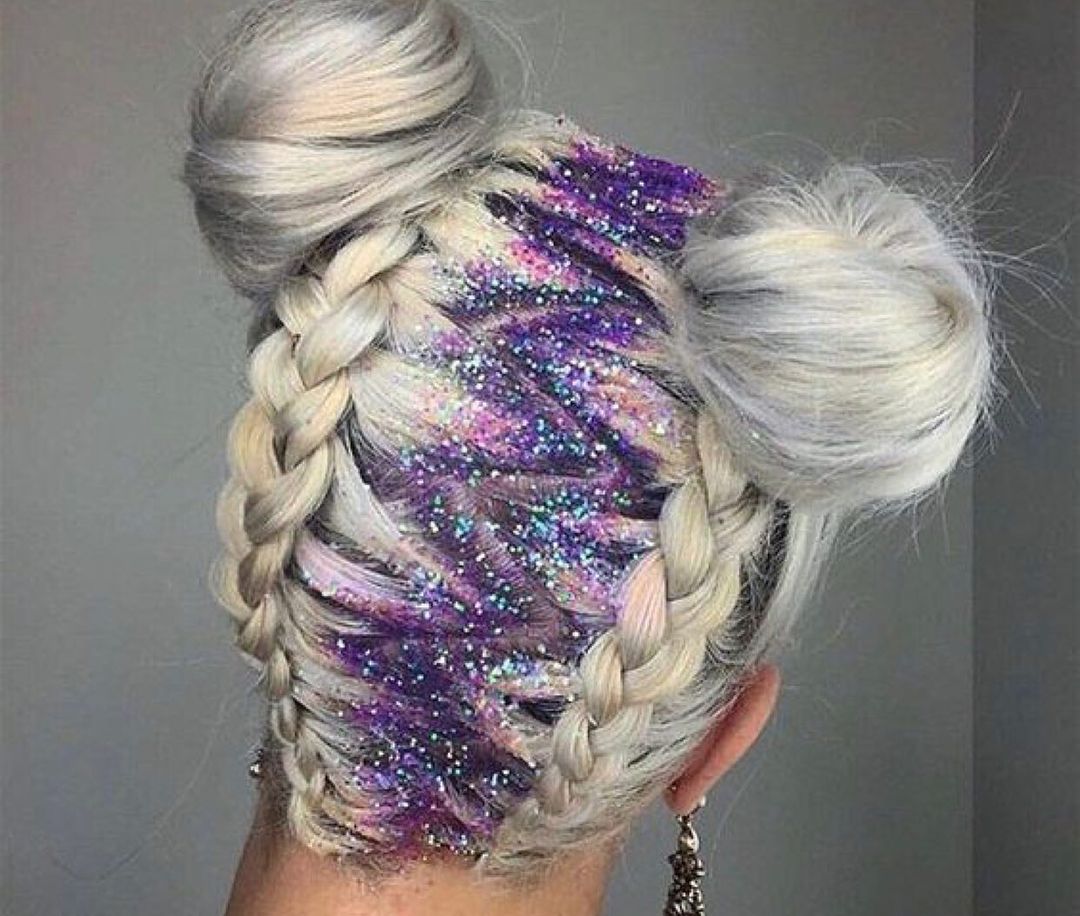 How about you add a lot of glitter to your space bun look? Make it festival-friendly!
21. Blonde & Lilac Braided Space Bun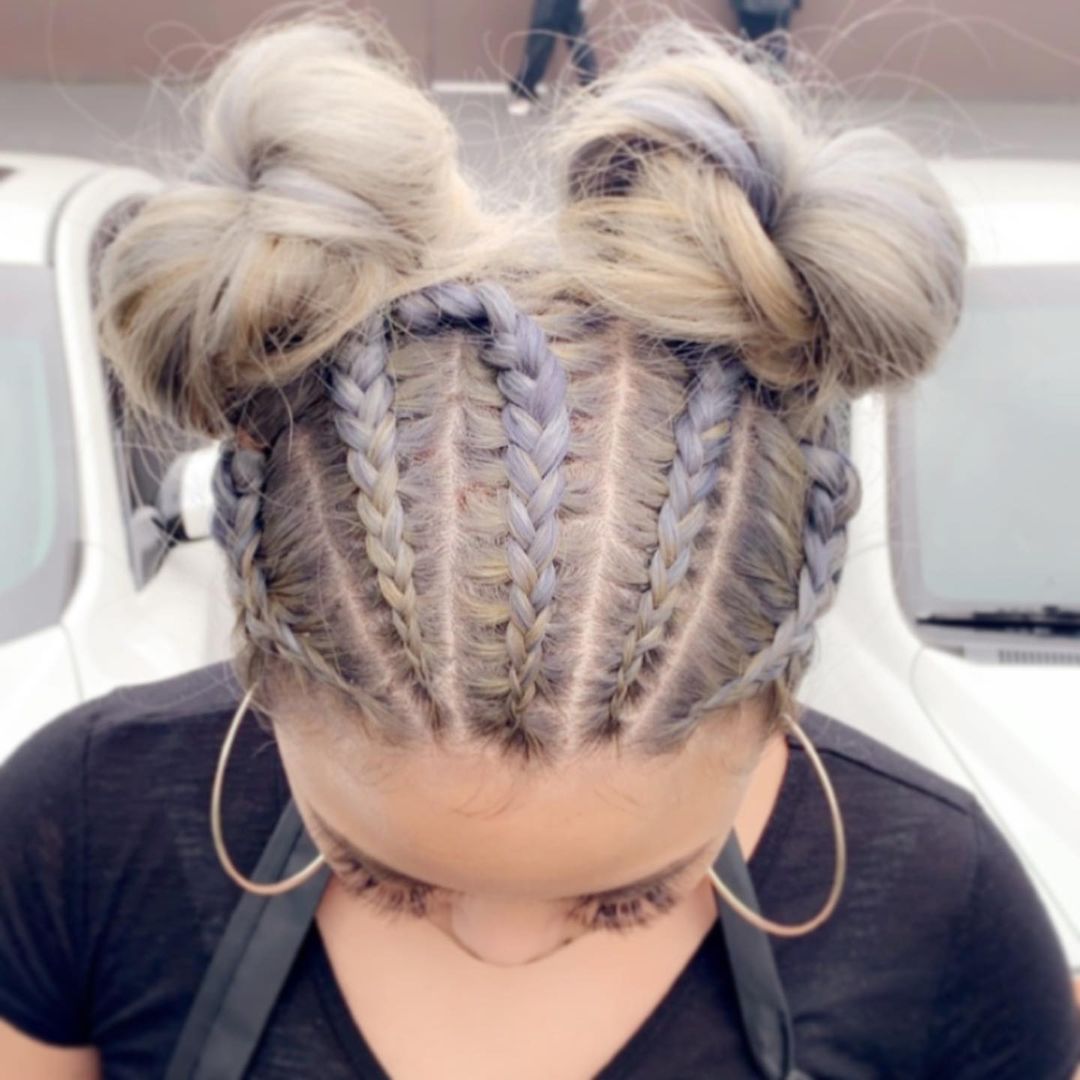 Light purple on blonde hair is so stylish & feminine. Make your space buns perfect for clubwear with this approach!
22. Asymmetrical Loose Space Buns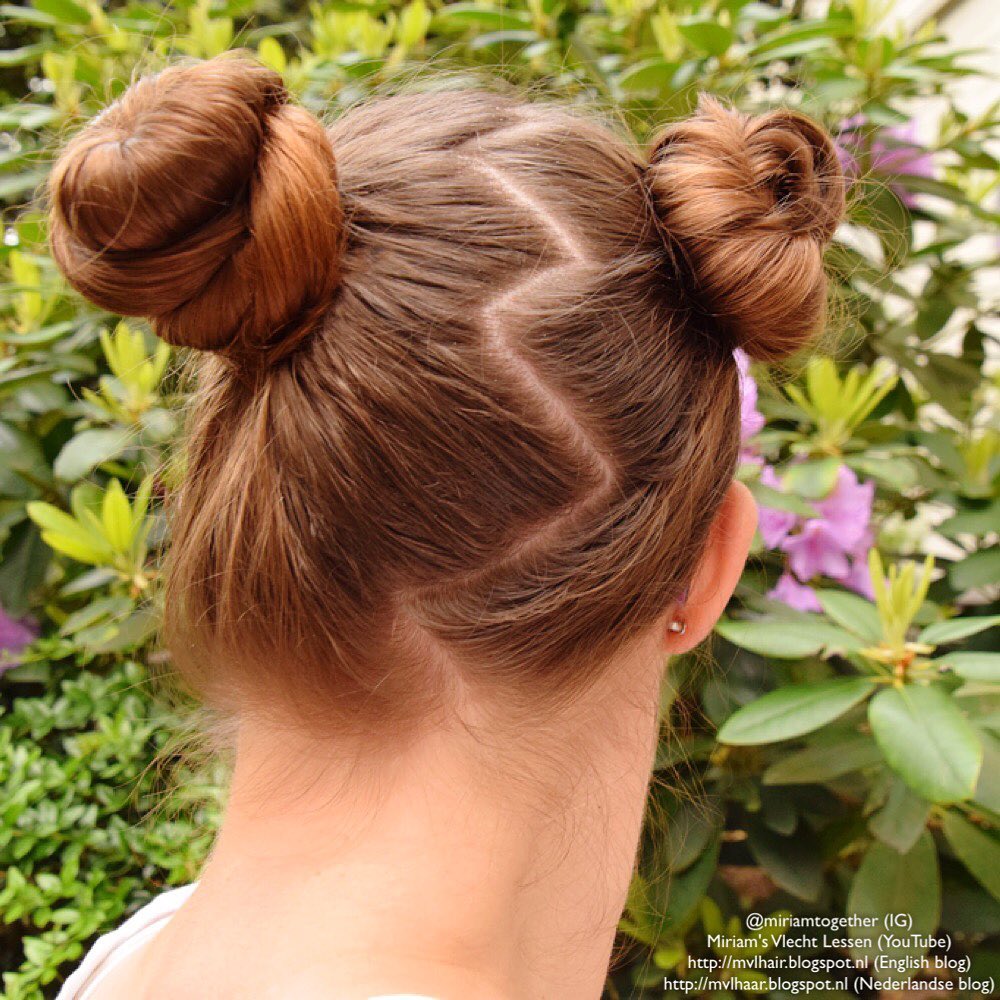 If you enjoy wearable everyday space buns on top of your natural brown hair give it a go!
23. Teal & Aqua Space Buns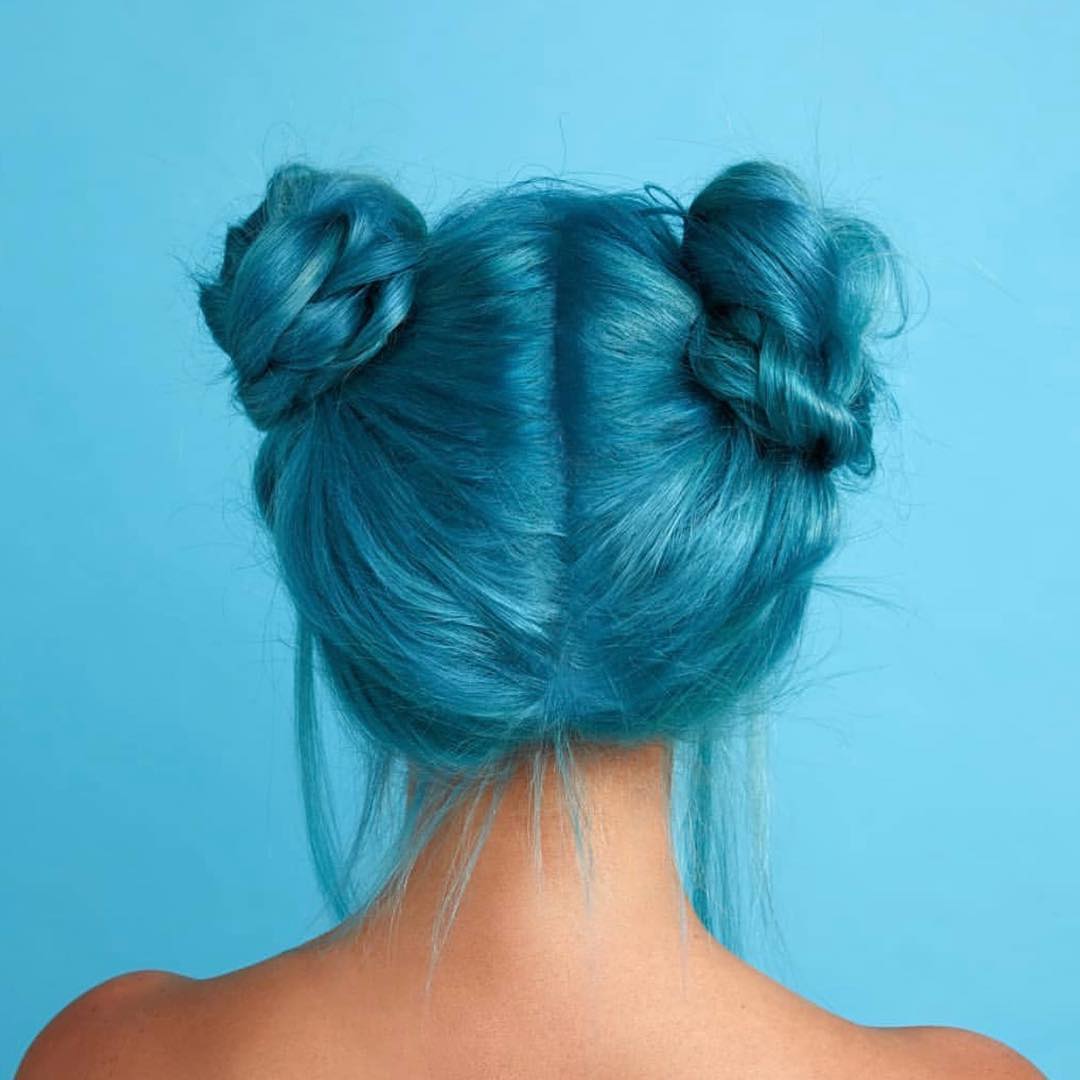 Do you enjoy bright aqua space buns? The ultimate Summer trend & color!
24. Brown Space Buns With Bangs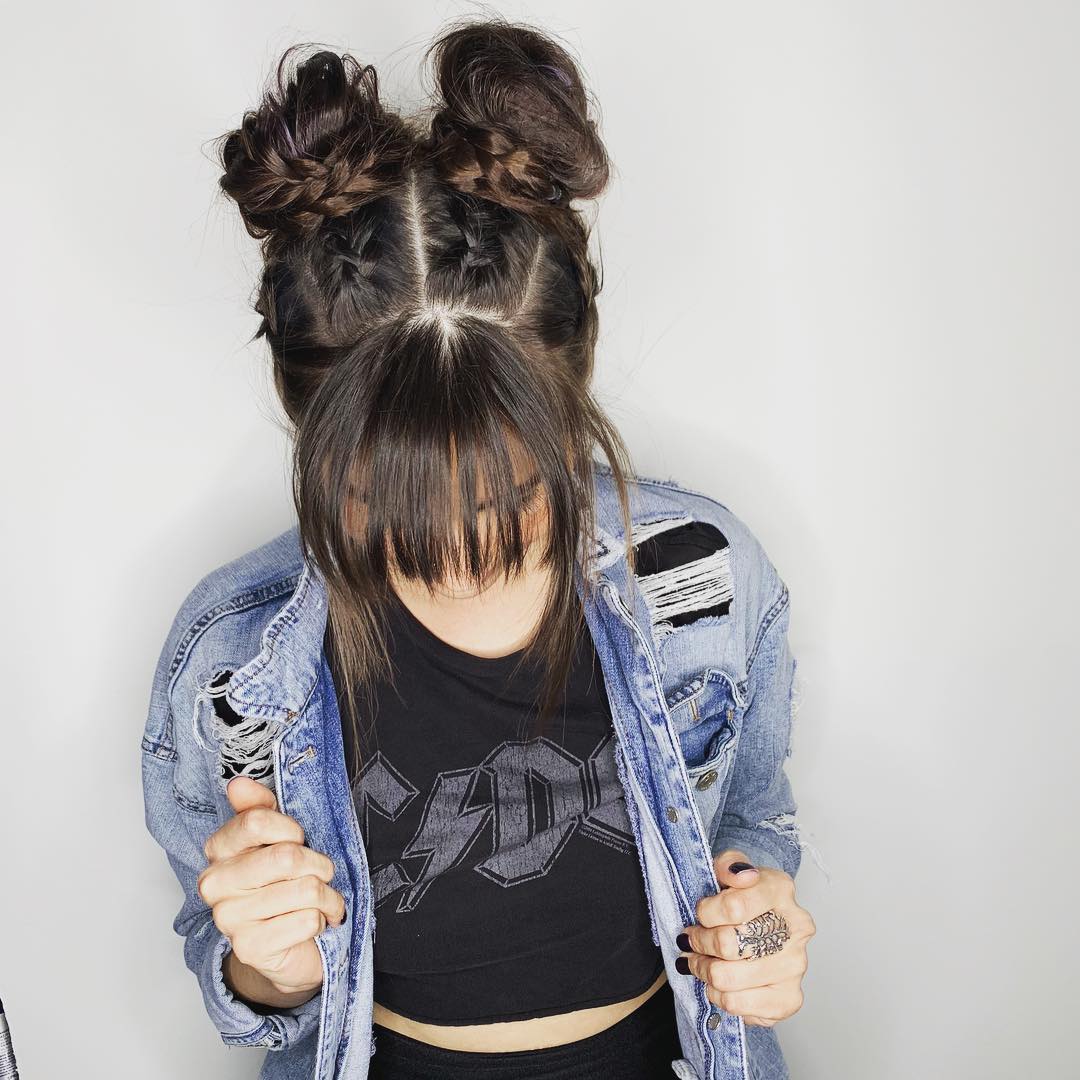 You can incorporate some gorgeous bangs with your space buns for that chic & trendy approach!
25. Hot Red Hair With Space Buns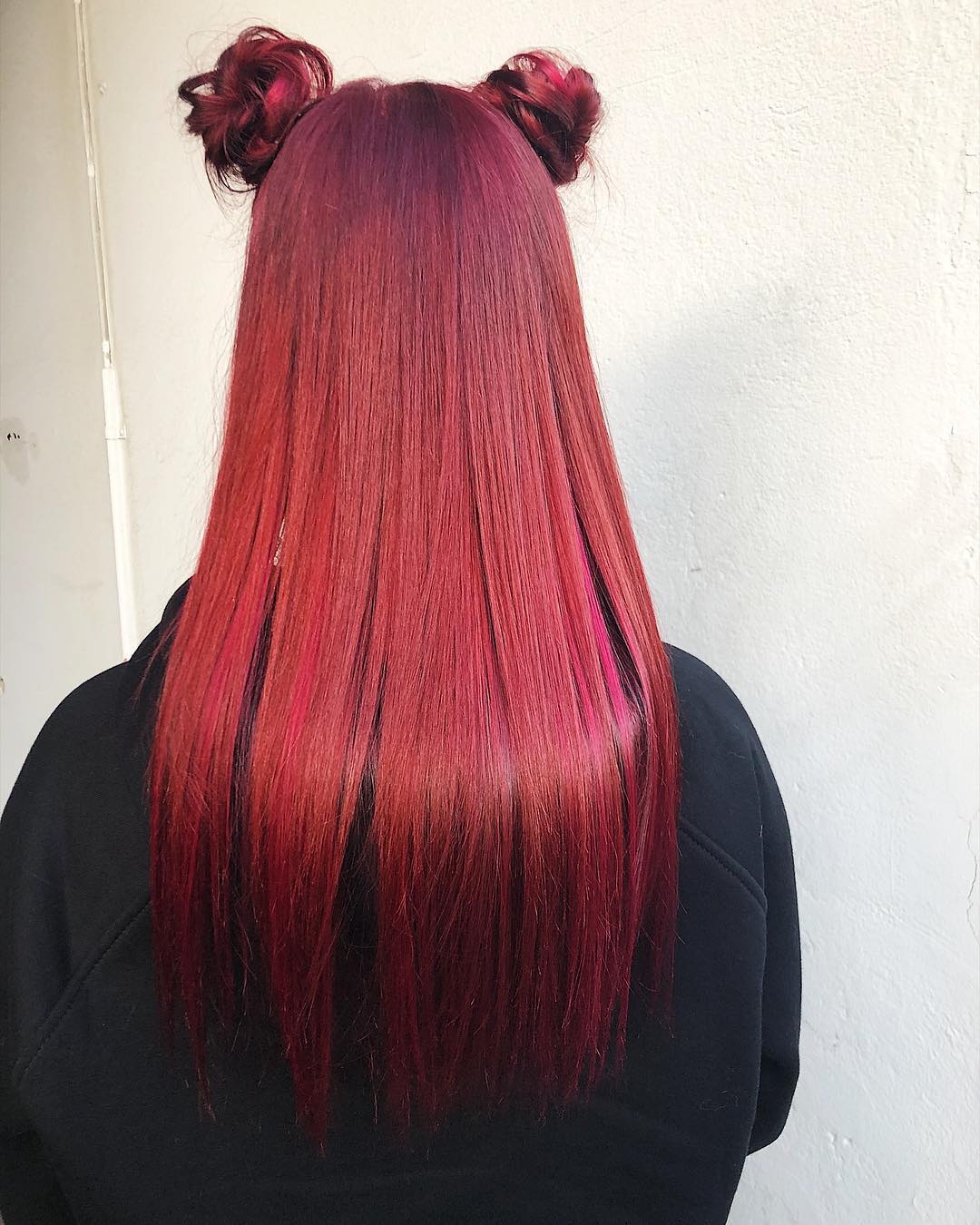 Hot red hair, as well as straight hair is ideal for girls who love to style it in a loose casual day for everyday wear.
26. Red & Pink Hair With Space Buns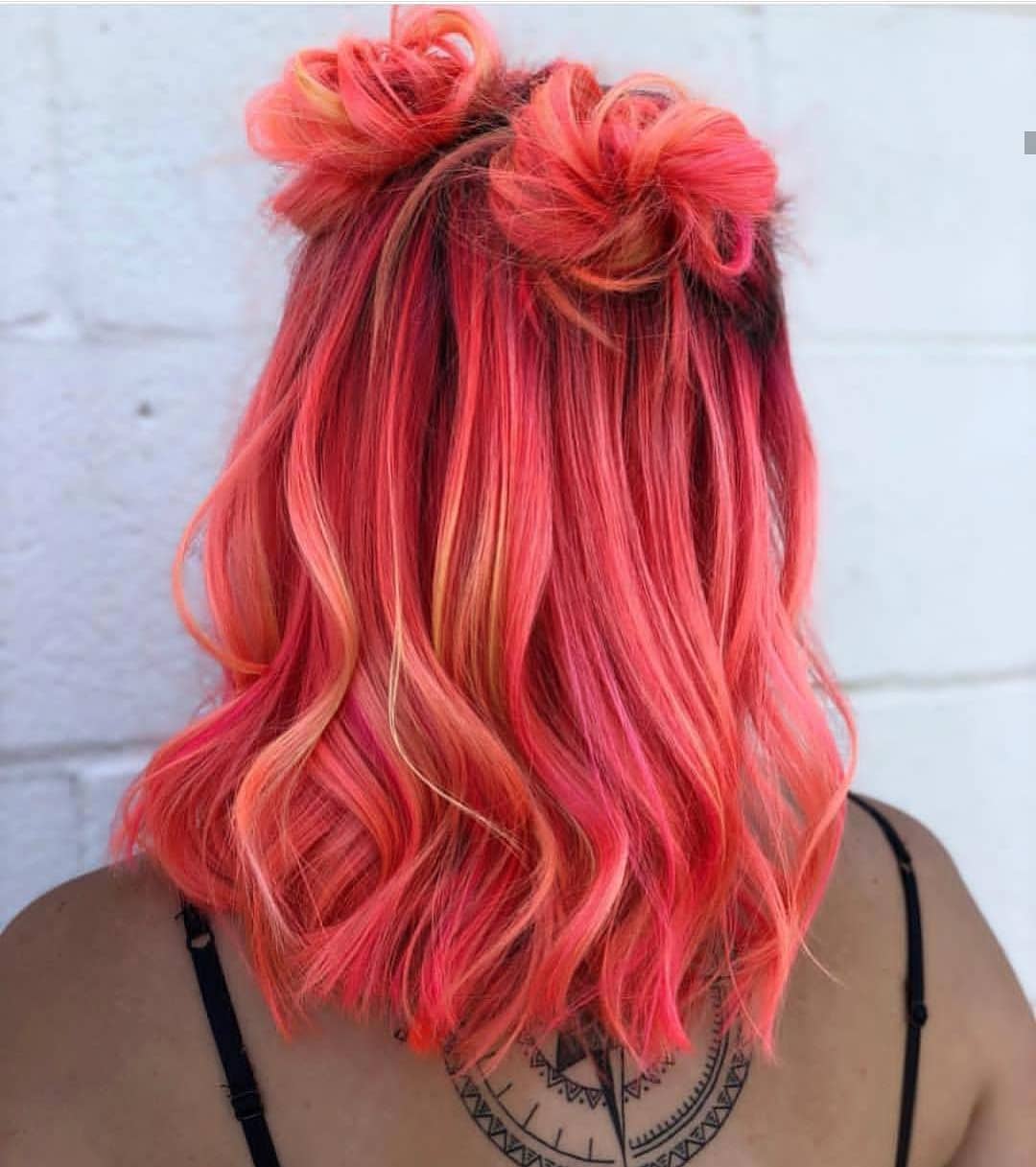 Add some hot flaming highlights to make this hairdo trendy & perfect for formal wear. It is a must-have for teens as well.
27. Simple Braid Hair With Space Buns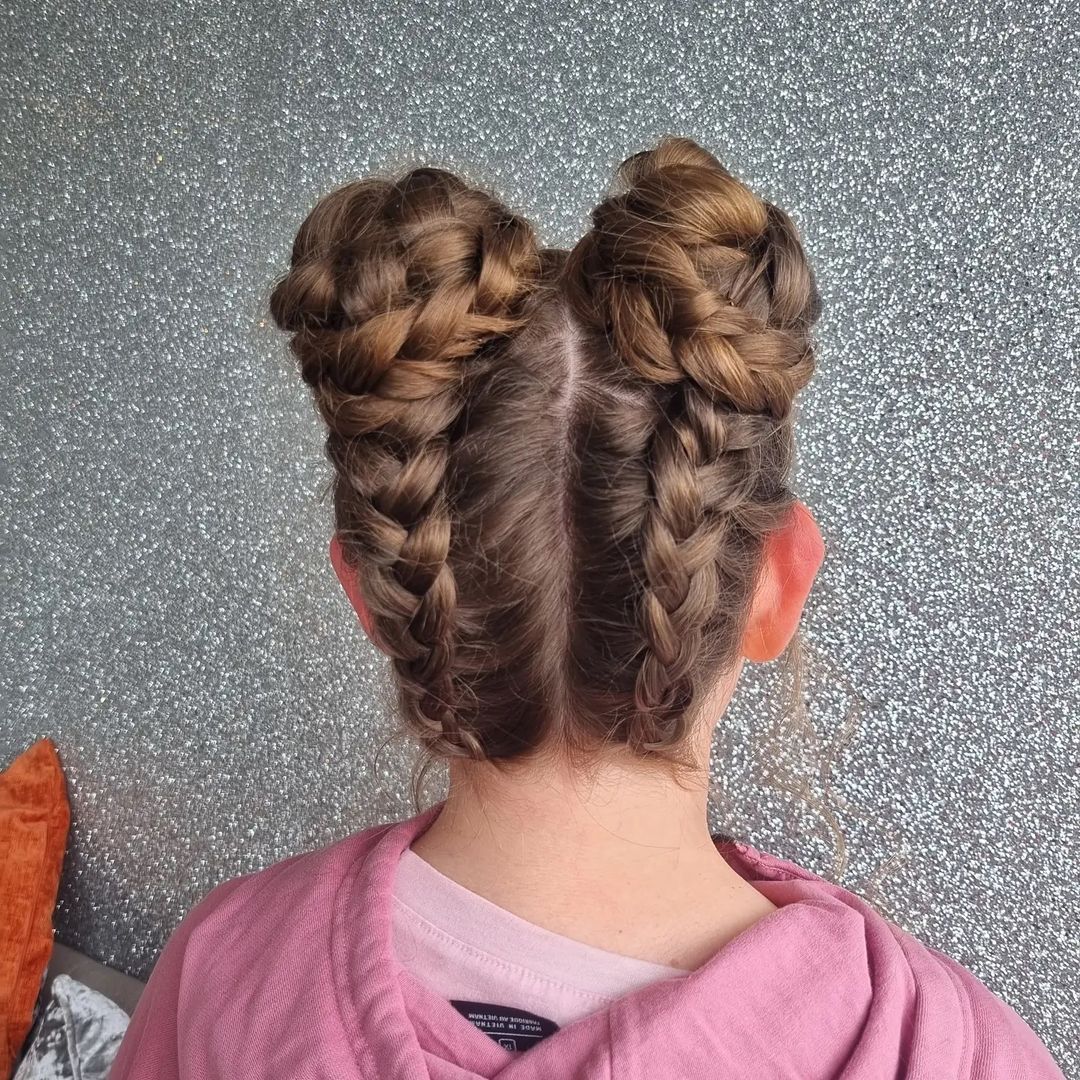 Last, but not least, try out these space buns & braids if you love traditional & easy to achieve looks!
Ready To Look Your Best?
If you're ready to experiment make sure that you pay your hairstylist a visit! Let us know which design was your favorite among these space buns, we can't wait to see you wear them!