Have you ever heard of a raccoon hairstyle? We're not talking about a full-body animal costume, we're talking about a raccoon haircut. You know how it is: you're sitting in your chair and the stylist asks if there's anything in particular you want done with your hair. And then you just stare at them blankly, because how are you supposed to even begin answering that question?
Well, now you don't have to worry about it anymore! Just tell them "raccoon" and let your hairdresser take care of the rest. We've compiled some of our favorite raccoon hairstyles below. You'll be able to find something for everyone on your list, whether they're looking for a new look or just a little extra something special for the holidays.
What Is Raccoon Hair?
If you have never heard of the raccoon hairstyle before it is because it was popular back in 2000. This was a popular hair color technique in the emo scene, which has slowly made its comeback nowadays. The technique involved horizontal, chunky highlights or lowlights designed to look similar to the pattern of a raccoon's tail, placed anywhere at the front or in the back of one's hair. It is described as a bold, unique, and interesting style to go for.
Before we go on, take a look at other hairstyle trends we covered on our website such as wolf cut and female mullet, as you might consider wearing those styles as well.
1. Raccoon Hair With Long Bangs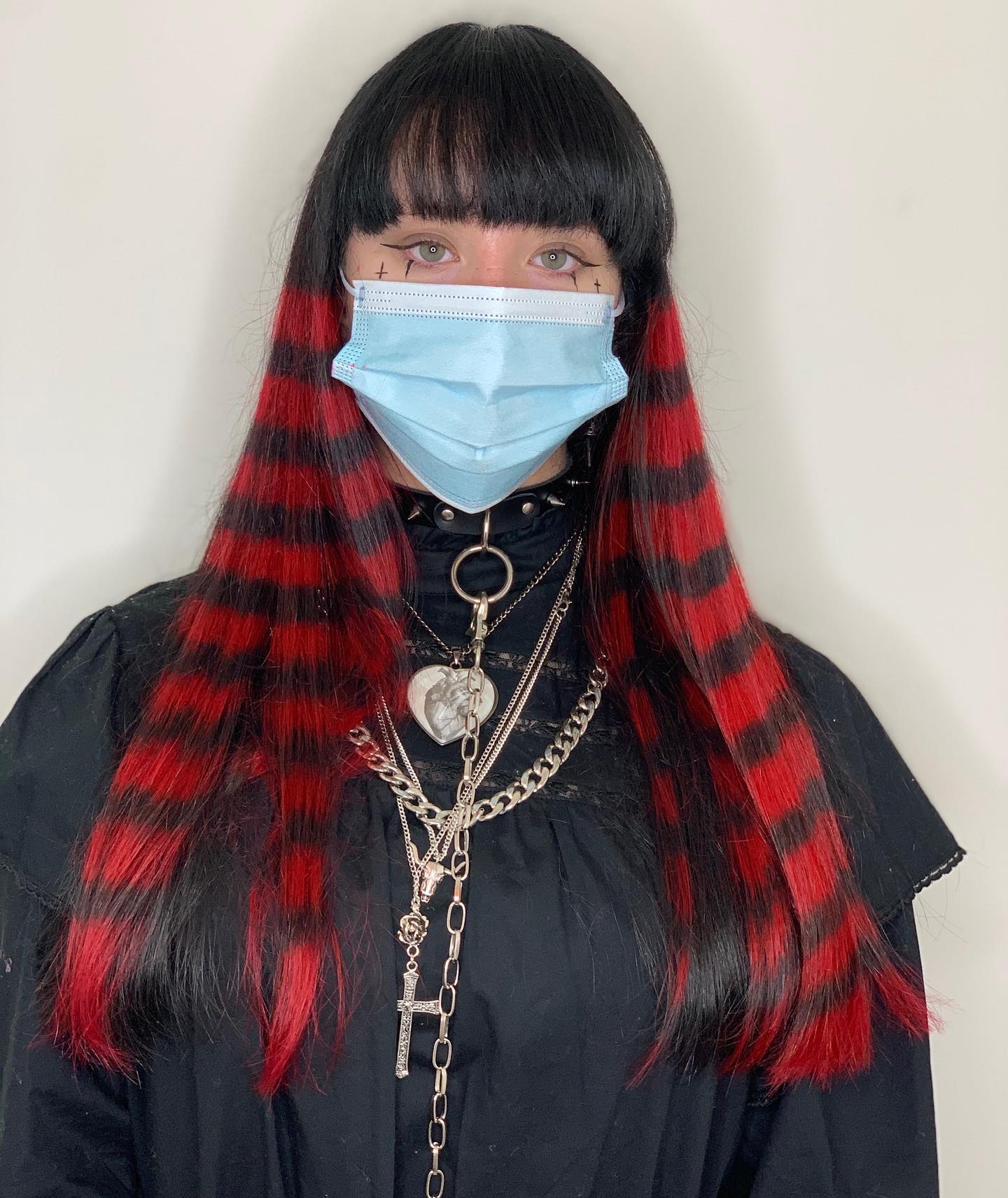 Thick, chunky and so symmetrical, these raccoon highlights and hairstyle is often worn by women who like to go bigger and bolder with their designs. Give it a go with a pop of red and these dramatic highlights if you're obsessed with party looks and bold ideas. Heads up since the color red is a high-maintenance color.
2. Blonde Raccoon Hairstyle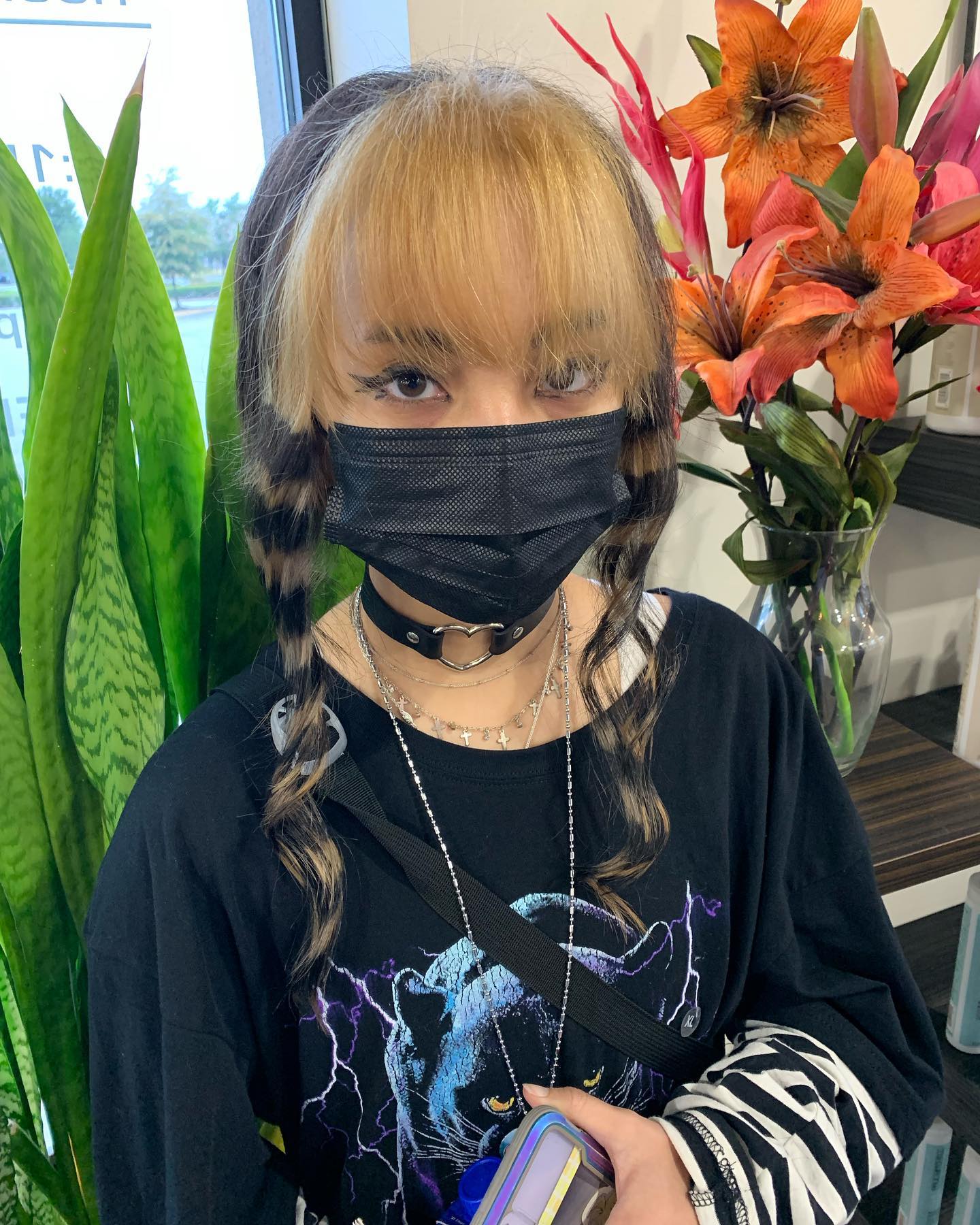 Women who like cool wispy bangs and those who prefer blonde moments will like this color. Go for some cool highlights but consider twisting your hair and defining your strands. If you prefer young and trendy teen hairdos this is for you to consider.
3. Defined Chic Bob Raccoon Look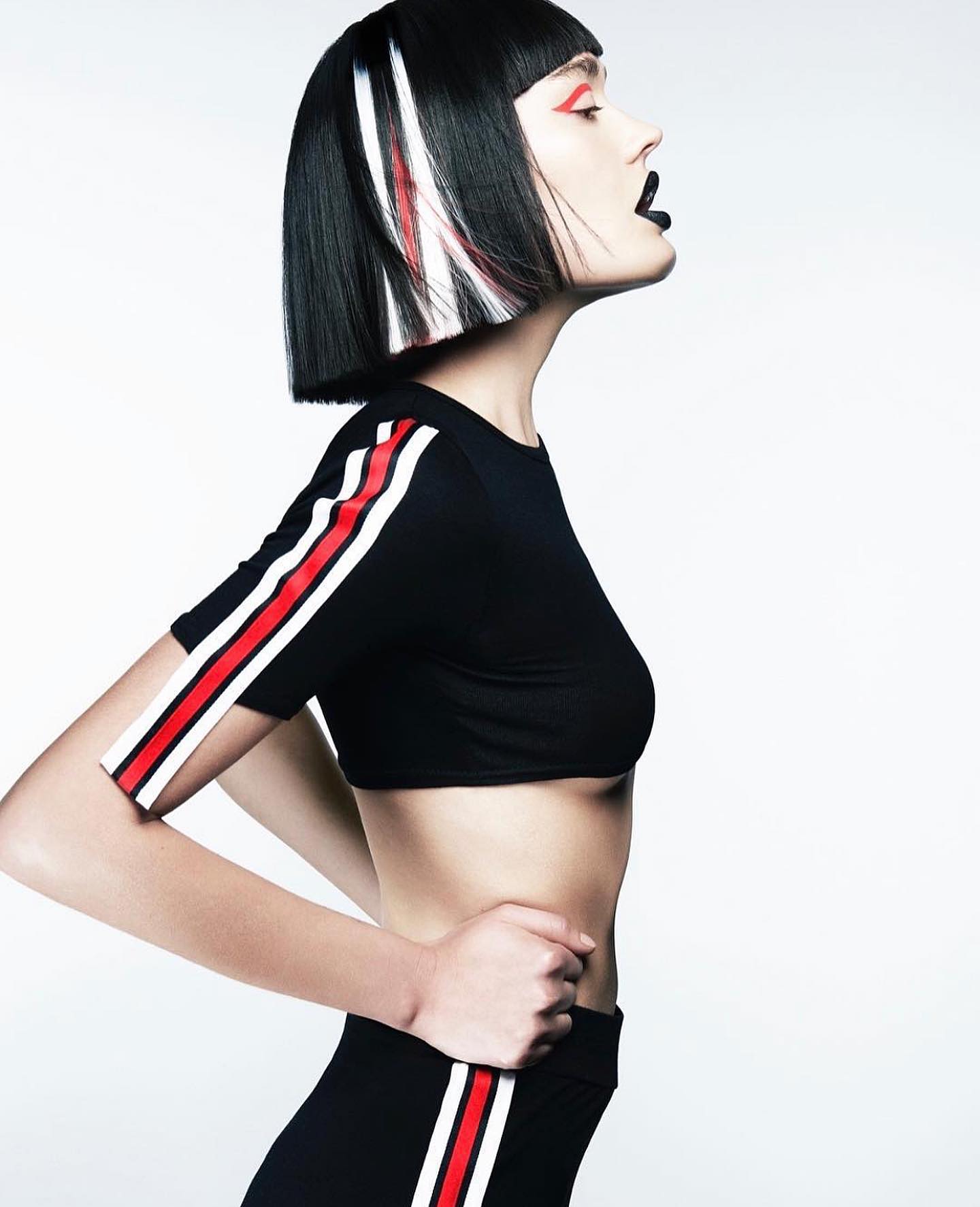 A defined bob and these thick hair strands will look amazing on most party women! Give it a go with this look if you're into bold and colorful statements. This black, red, blonde, and icy white moment is only for those who dare to look crazy and fashion-forward, but in their own way.
4. Bright Red Raccoon Hairstyle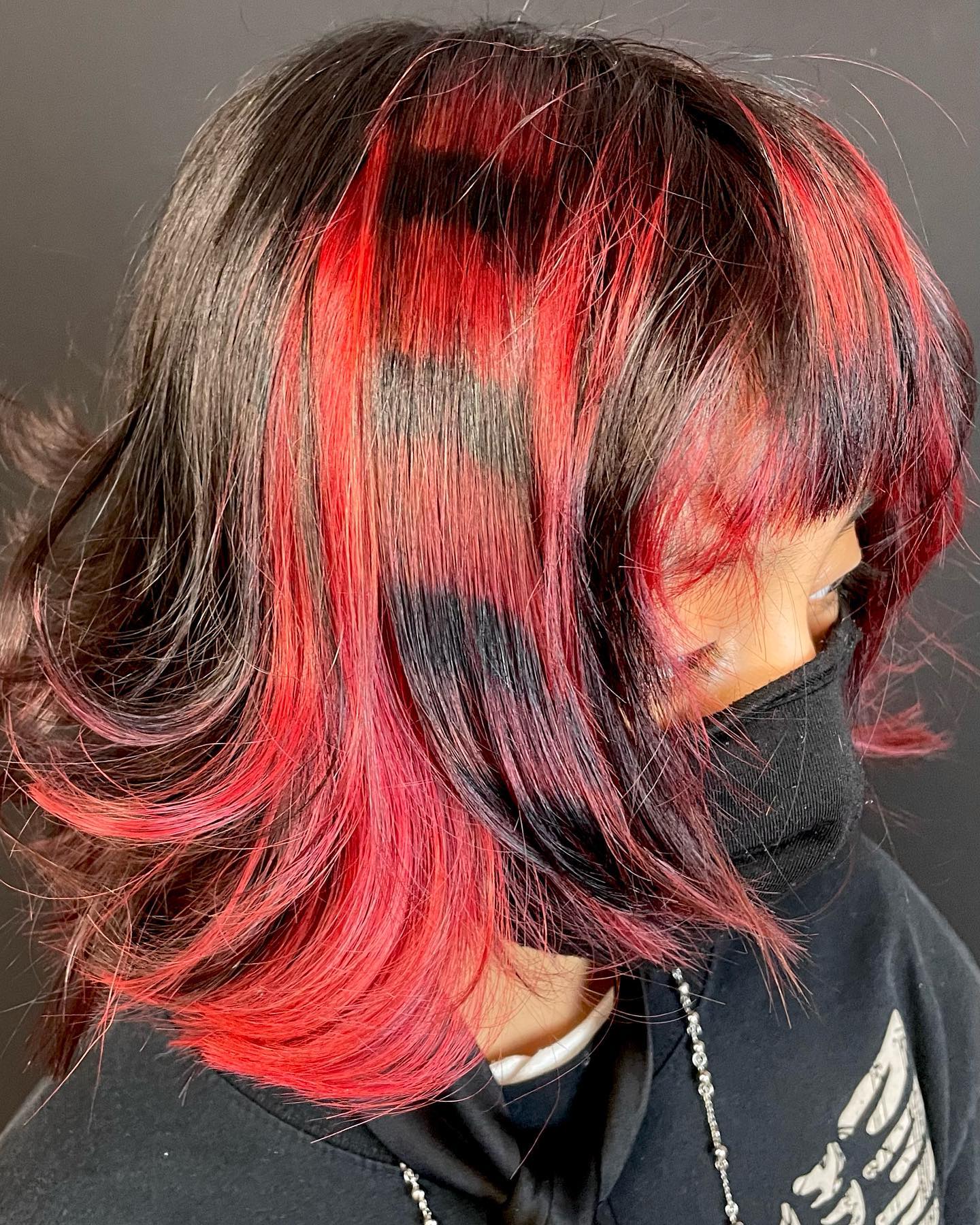 This bright and passionate red is a color that you're going to enjoy for the fall season. Red is always sexy and feisty, a color that you can wear when you wish to attract the looks and energetically style your hair! Women who can handle the coloring and those who have naturally dark hair (dark brown or black) will enjoy the smoothest results of them all!
5. Black & Grey Raccoon Hairstyle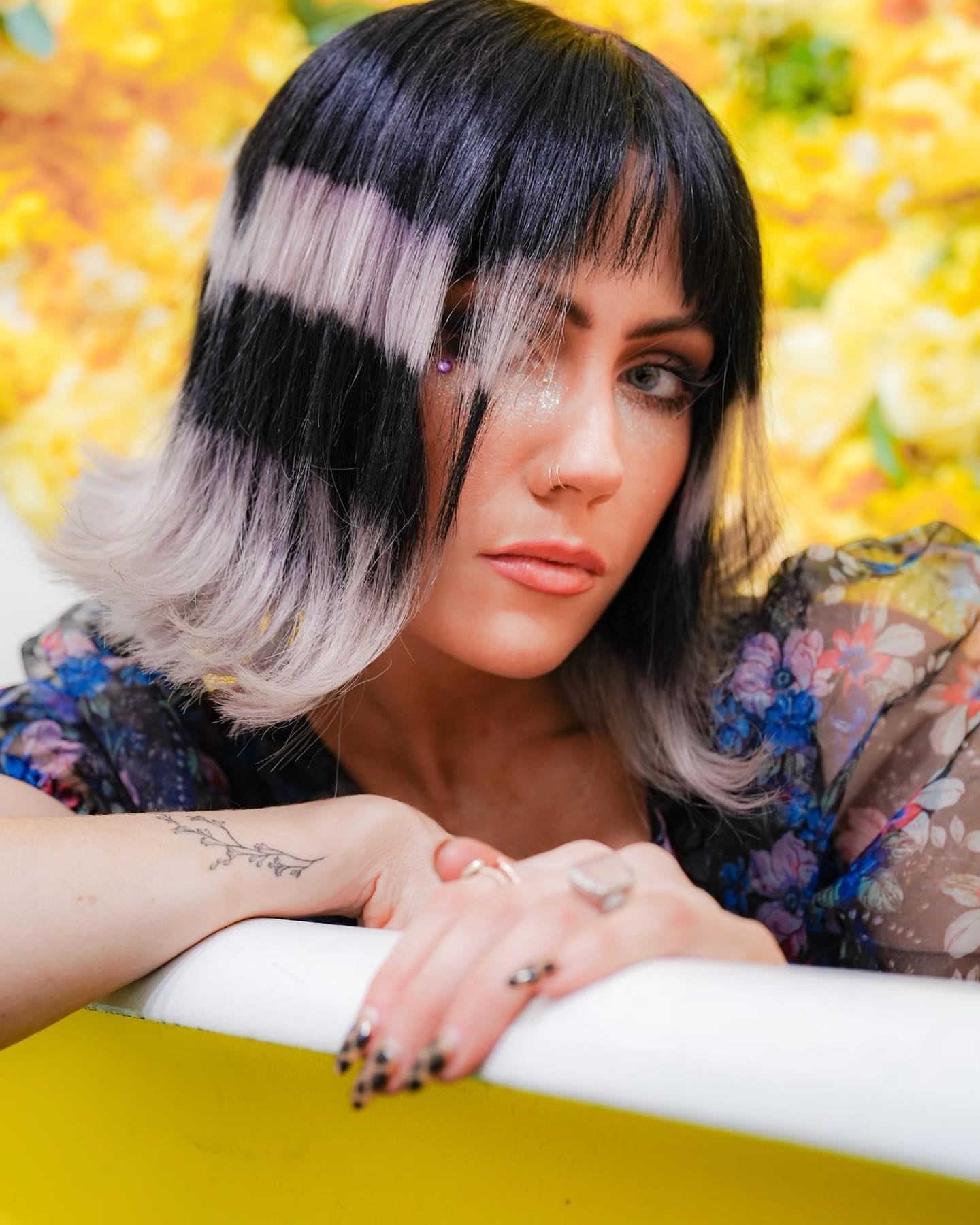 Cool short bob with wispy ends! This cool hairdo with blonde raccoon highlights will look amazing on most women. If you prefer shorter looks and you want something with a bit of color this will suit you. Make sure that you embrace and call for your crazy inner 90s moments! In the end, this look will suit most playful ladies.
6. Brown Bob With A Raccoon Highlight

One thick chunky highlight pair will look amazing on younger women. This hairstyle is for girls who enjoy loud looks and bright yellow colors. Make sure to get the right toner since this yellow blonde moment is not as easy to maintain. In the end, you'll enjoy it for sensual and attractive moments.
7. Light Orange Bob Raccoon Hair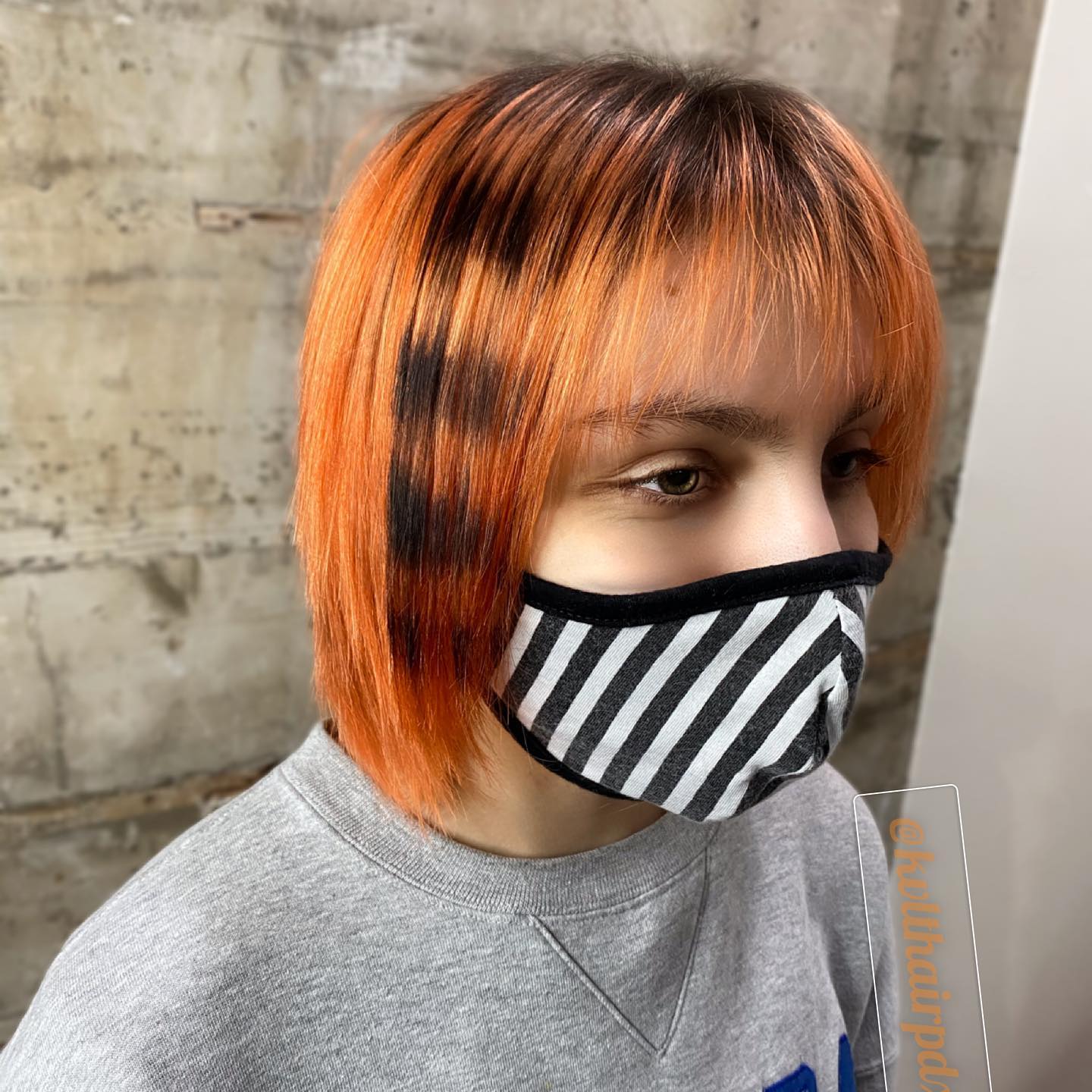 If orange is your color you should try out this raccoon hairstyle. Women who like brighter and fun summer looks will enjoy this cute look. Make sure that you stick to some dark brown color patterns and this hairdo will look gorgeous on you for any event. Also, go for thick and chunky raccoon strands of hair if you are an attention-seeker yourself.
8. Chunky Highlights Raccoon Hair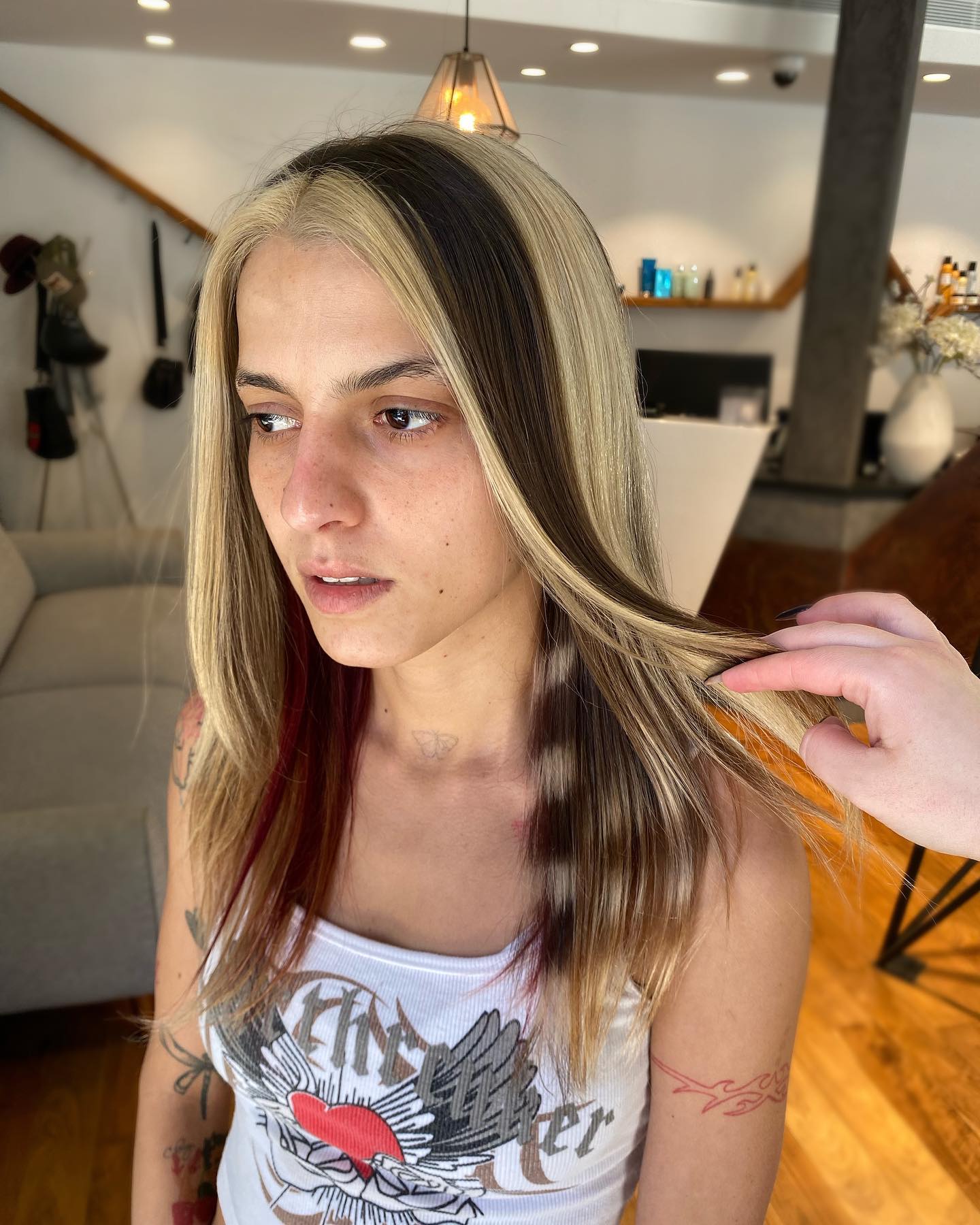 A blonde base and a couple of raccoon highlights will complement your hairstyle. Don't forget to book regular touch-ups. In the end, the perfect time period to aim for is every 2 months, especially if you're working with a bleached blonde dye. This look will suit any complexion and different age groups.
9. Blonde Raccoon Hair With Pastel Highlights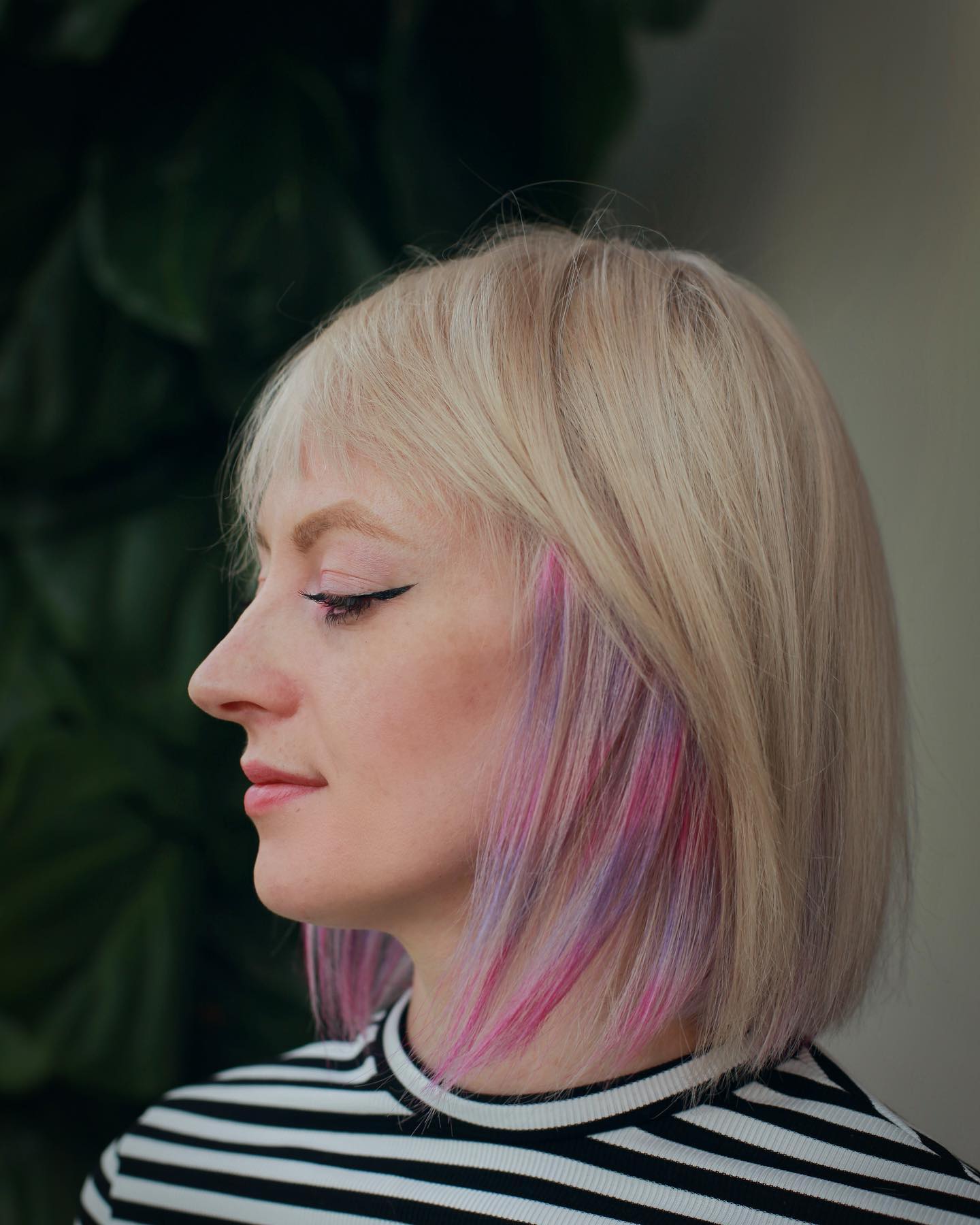 Dare to go pink? If you're a fan of colorful pastel looks this is for you. Girls who want to attract looks and women who enjoy bright party fierce looks will enjoy this bob. Make sure that you book a hairstylist for this design. Pink is a high-maintenance and tricky color to achieve, an ideal design for girls who like showy and techno-perfect looks!
10. Burgundy & Black Raccoon Hair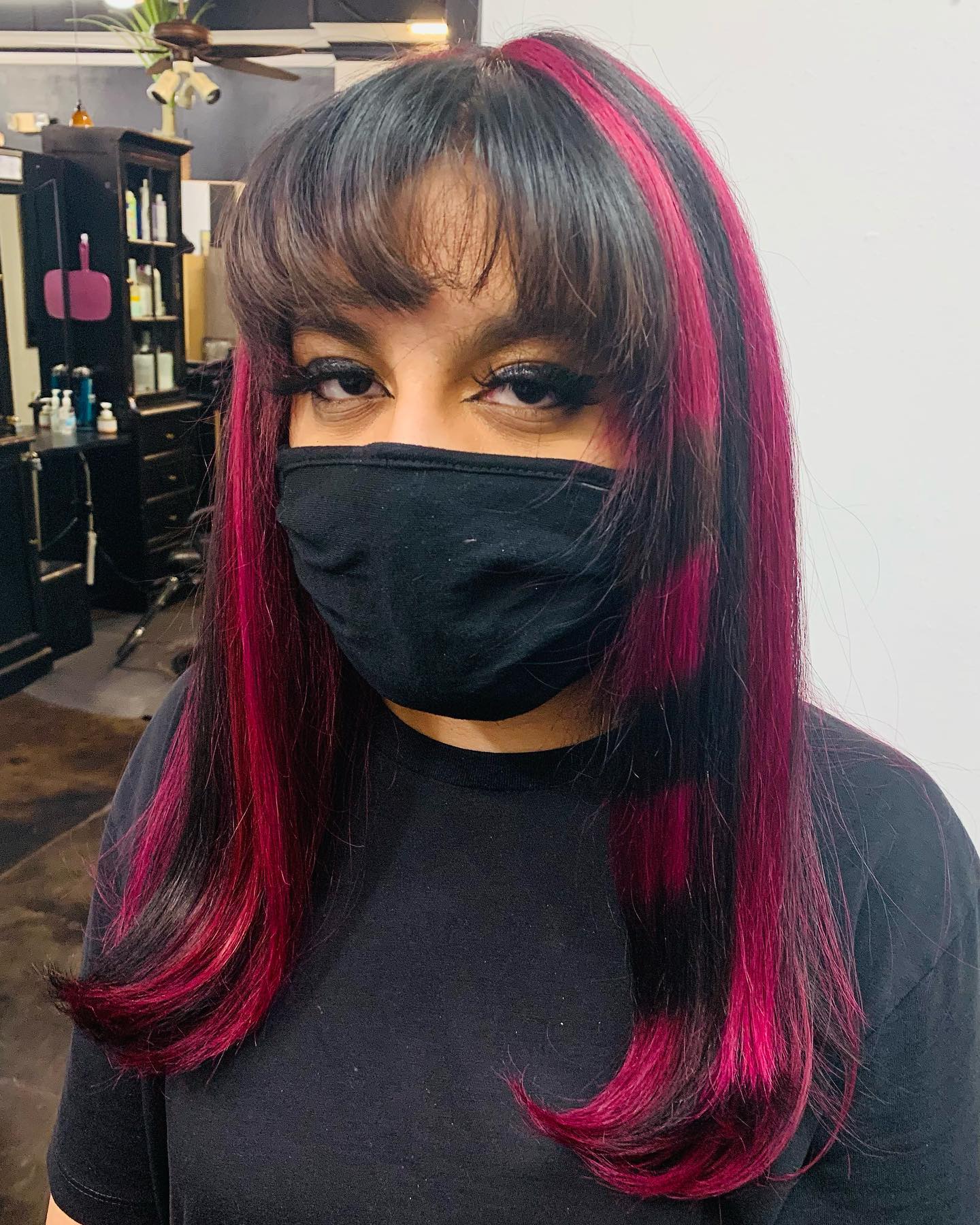 A dark brown natural base or a black base with chunky burgundy highlights will accentuate your undertones. In fact, burgundy often looks the best on pale yellow complexions. This type of raccoon hairstyle will look amazing for the fall season and on women who like darker mysterious looks. In the end, this hairdo and color combo is not too hard to maintain or achieve, so why not give it a go yourself?
11. Colorful Wild Raccoon Hairstyle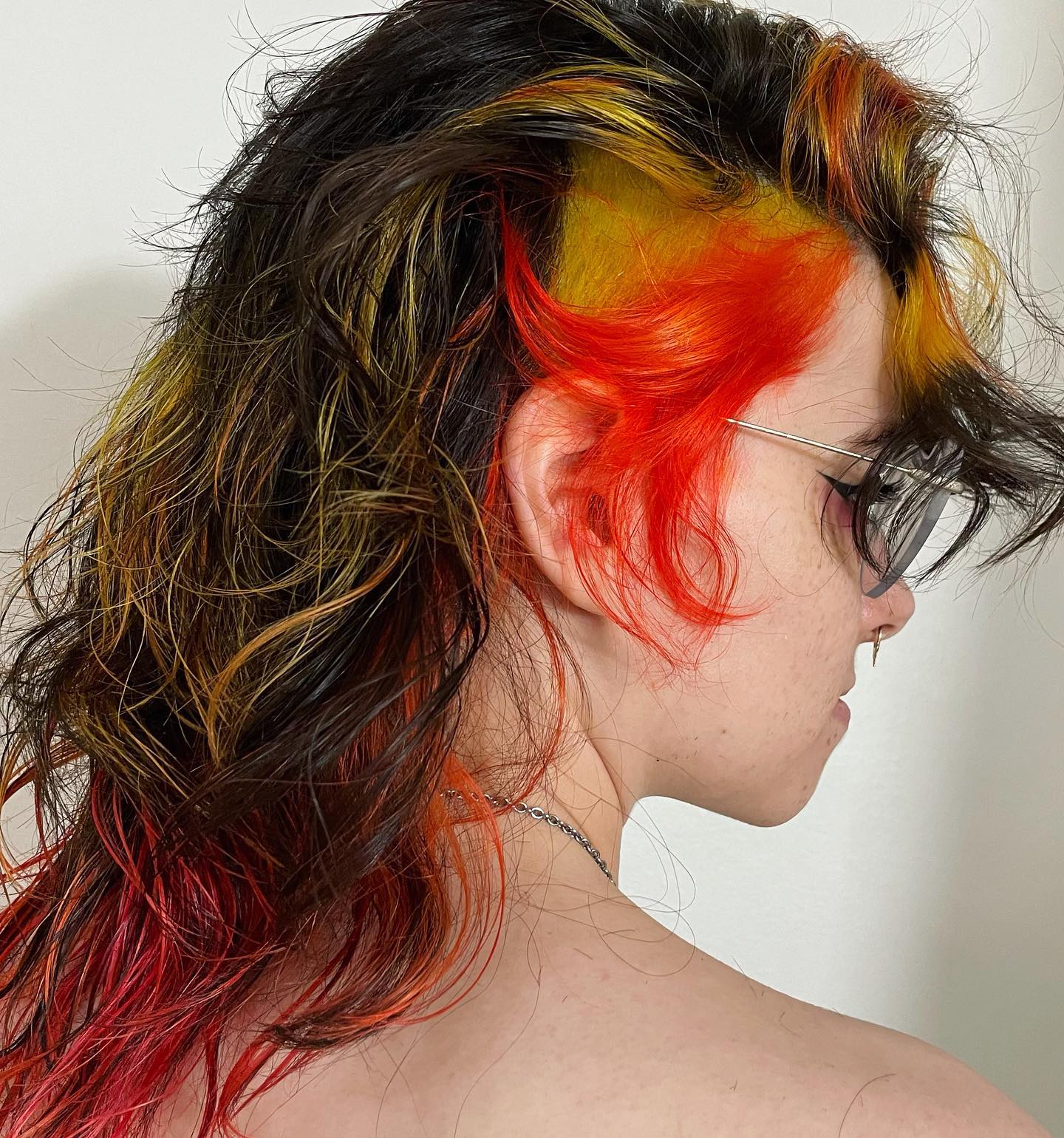 Pops of colors and these loud retro tones will suit a ton of different people. In fact, this raccoon hairstyle is a common go-to look by guys who enjoy retro and loud rocker looks. Make sure that you consider this colorful outcome only if you fully trust your hairstylist. Not all of them will know how to do this outcome. Go for a skilled colorist who knows how to make colors work and who is skilled enough when it comes to raccoon patterns.
12. Colorful Duo Raccoon Hairstyle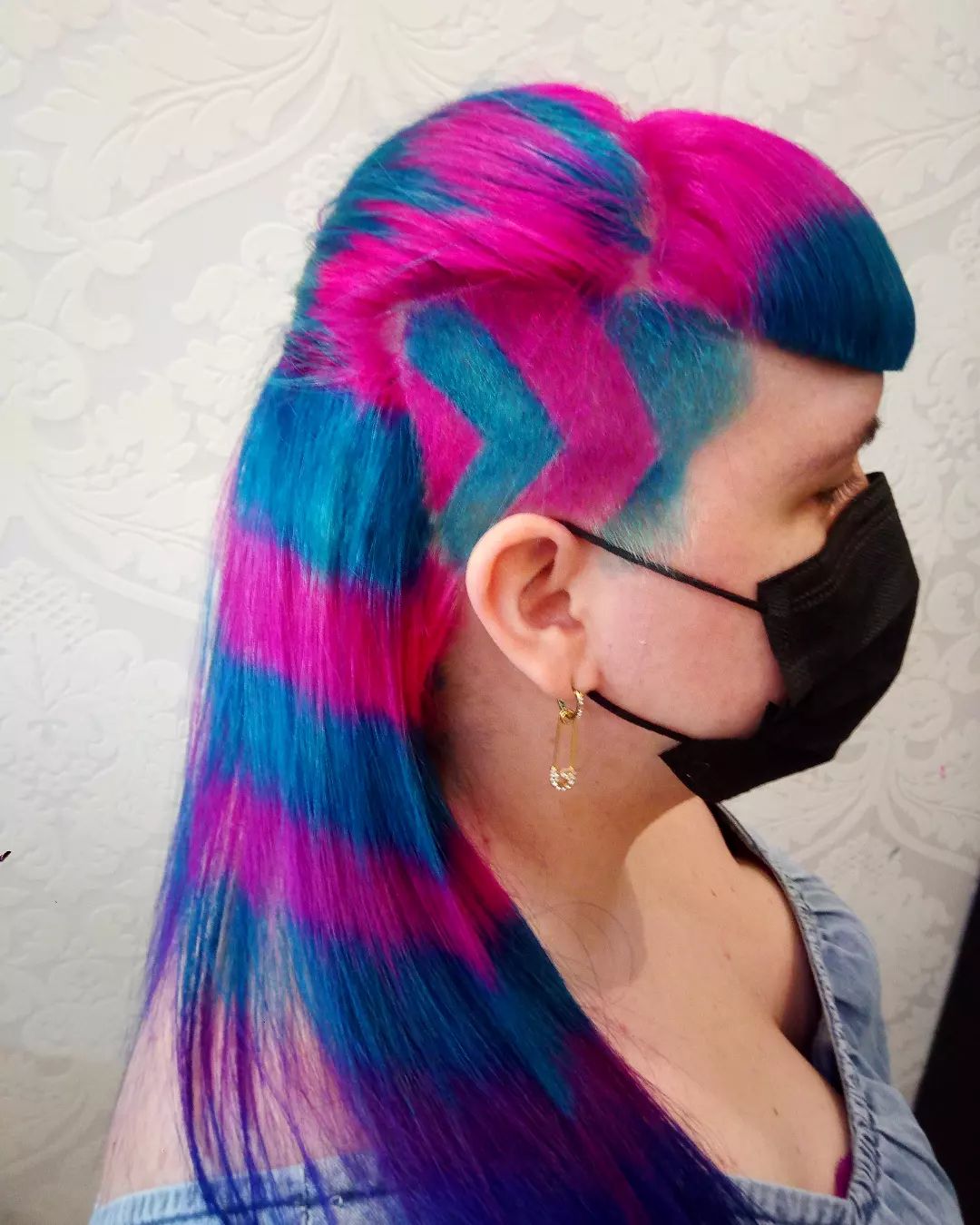 Bright pink and blue, who wouldn't love it? Bold, outgoing, and fun, this hairstyle is all about bold and extreme looks. Quite often, this hairdo is worn by women who are free-spirited, wild, and pretty open to experimenting with new looks. Heads up since these colors can easily wash out and become too light after a couple of washes.
13. Natural Brown Hair With Red Raccoon Highlights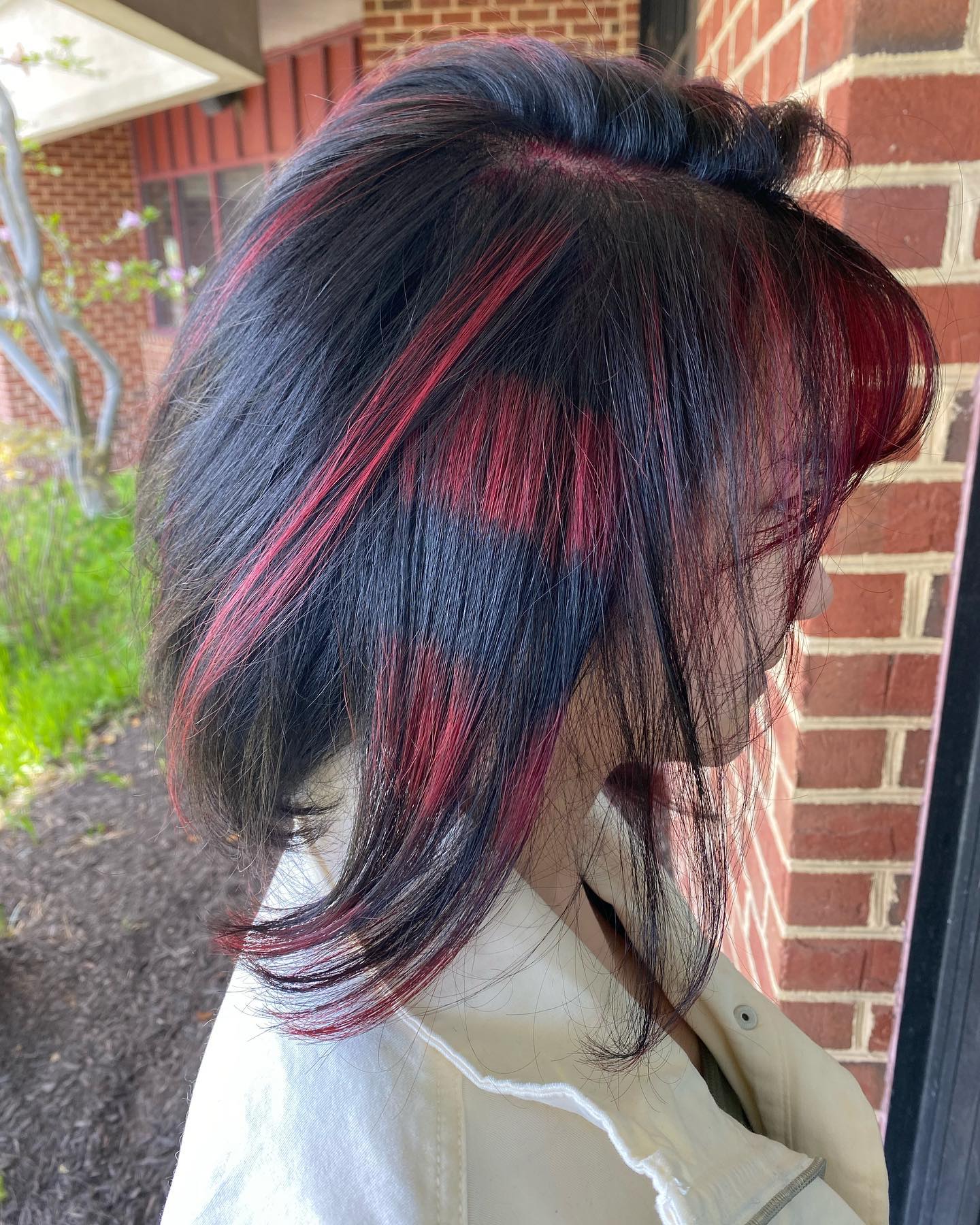 Dark brown or black hair base and this red color pop are for women who like subtle and seamless, easy transitions. Do you enjoy hairdos that are easy to wear and color? In fact, you might achieve this hairstyle easily and on your own. Have enough time and patience before you begin the coloring. You're going to enjoy its simple and effortless looks in the end.
14. Bob Blunt Cut With Raccoon Highlights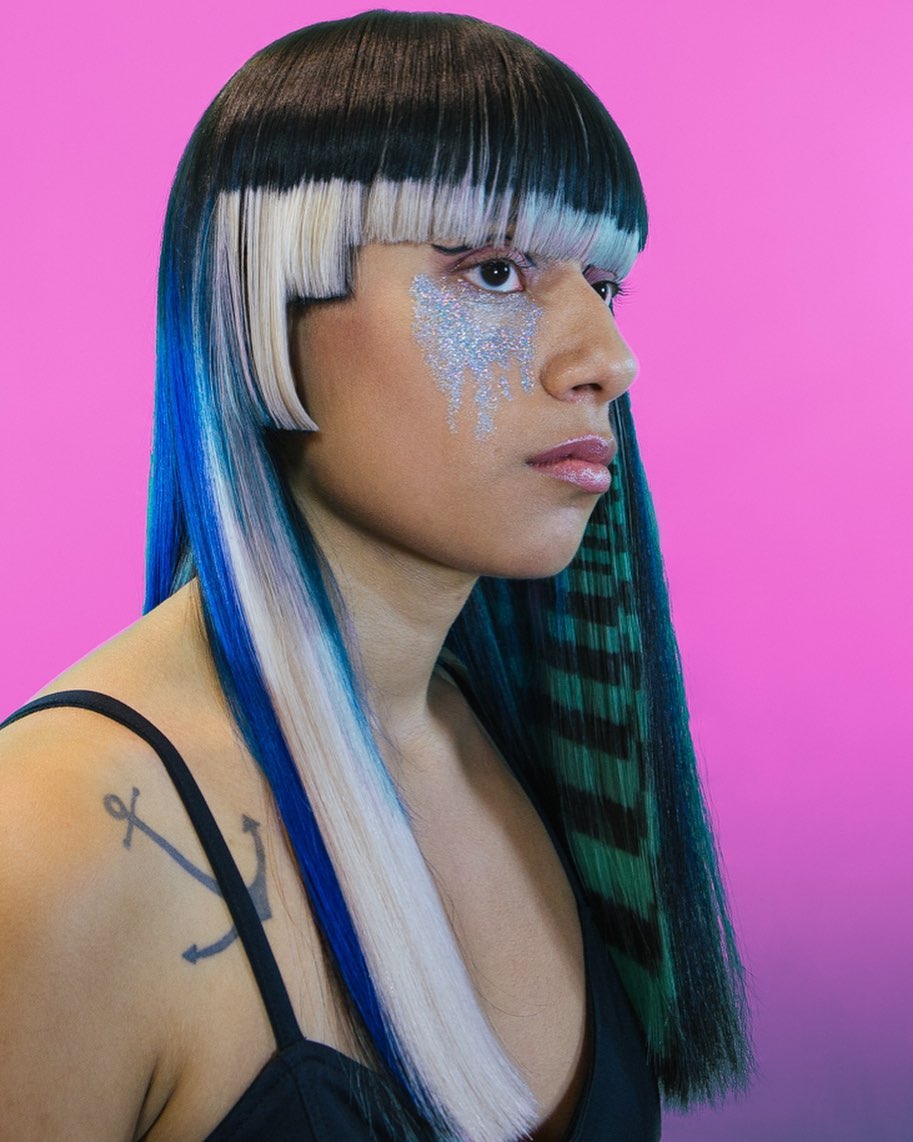 A cool moment with some fringe bangs, why not? This hairdo is bold and fun, often worn by women who enjoy sharp and edgy looks. If you're into sexy ideas and looks that are one of a kind, this will suit you. Show off your bold and party-inspired side with these colorful edgy bangs. The end result with a cool layering of these raccoon highlights will make you look like a crazy and wild party girl!
15. Grey & Black Raccoon Hairstyle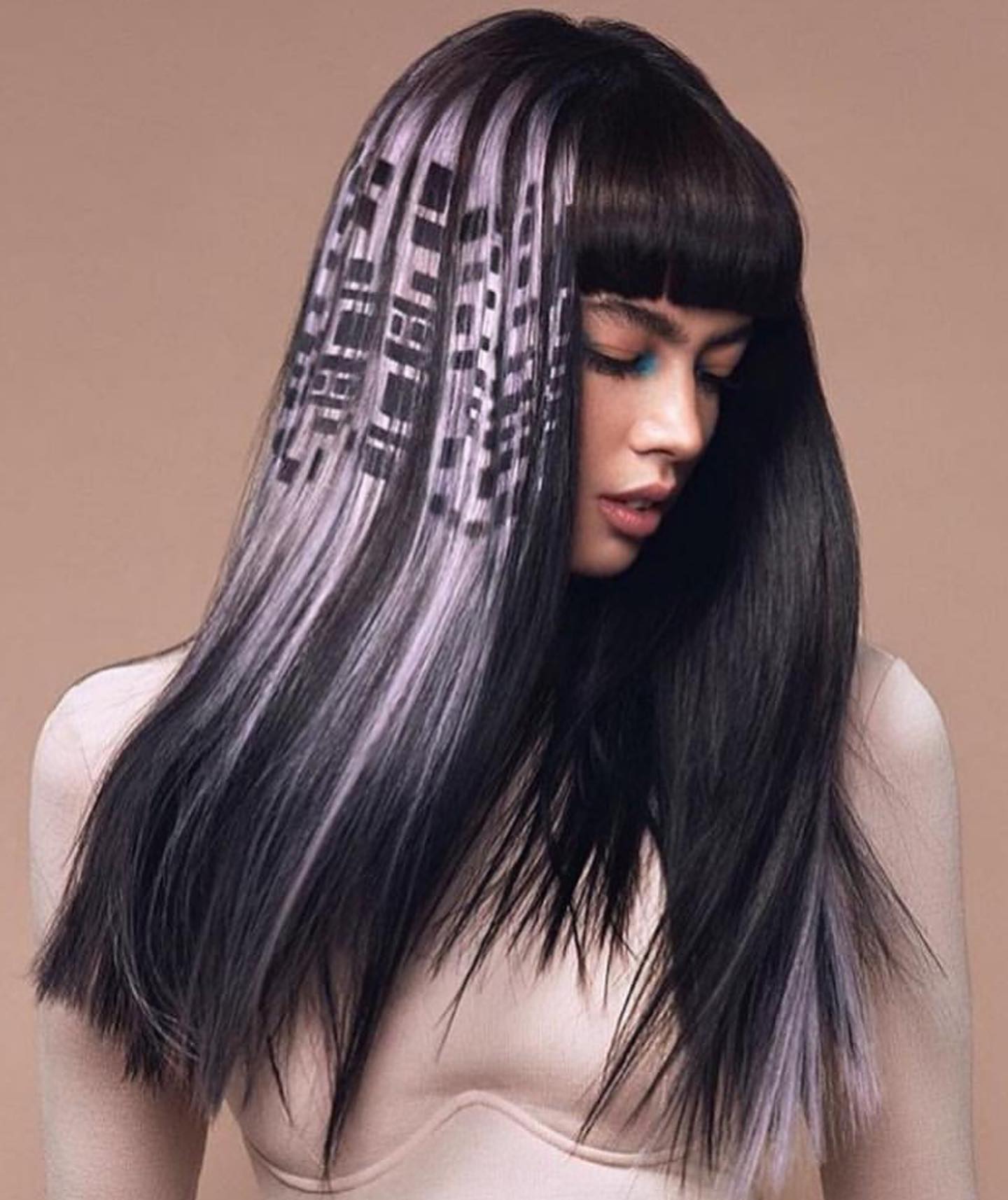 A black base and this elegant hairdo with some funky gray highlights will attract a ton of looks. Do you like to wear your hair layered and you're also a fan of neutrals? This hairstyle with some artwork will look amazing in the pictures! Book a hairstylist who knows how to do prints and wild ideas. Embrace your inner cheetah with these as its final results.
16. Purple Blunt Cut Raccoon Hair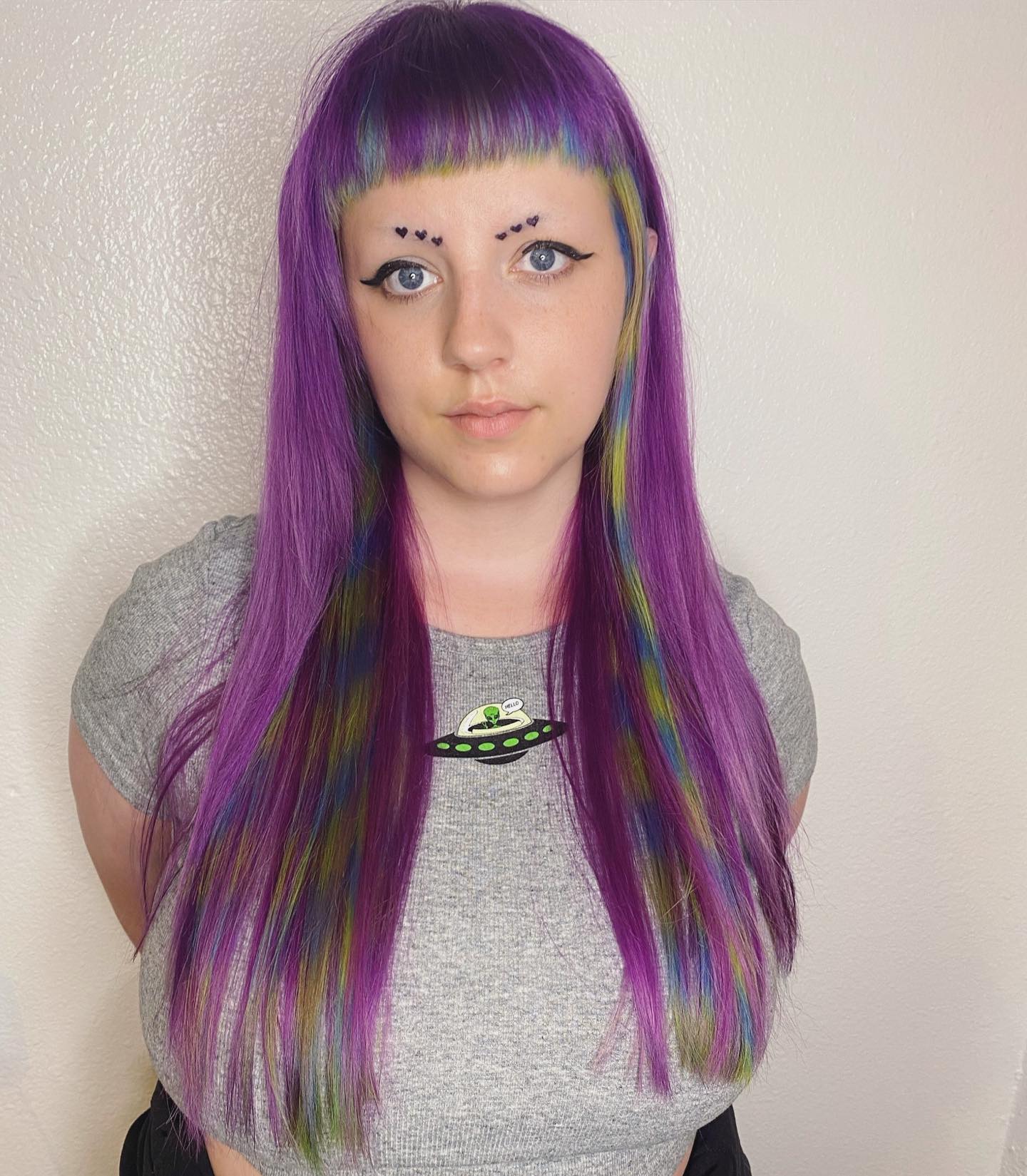 Purple is a wild color. Do you like bright looks? Combine light purple and lime green to stand out! If you're a fan of retro fringe bangs and colorful ideas this is for you. Make sure that you emphasize your inner wild personality and let the world see how bold and brave you are. Heads up since these highlights can be hard to go for.
17. Blonde Base With Red Raccoon Highlights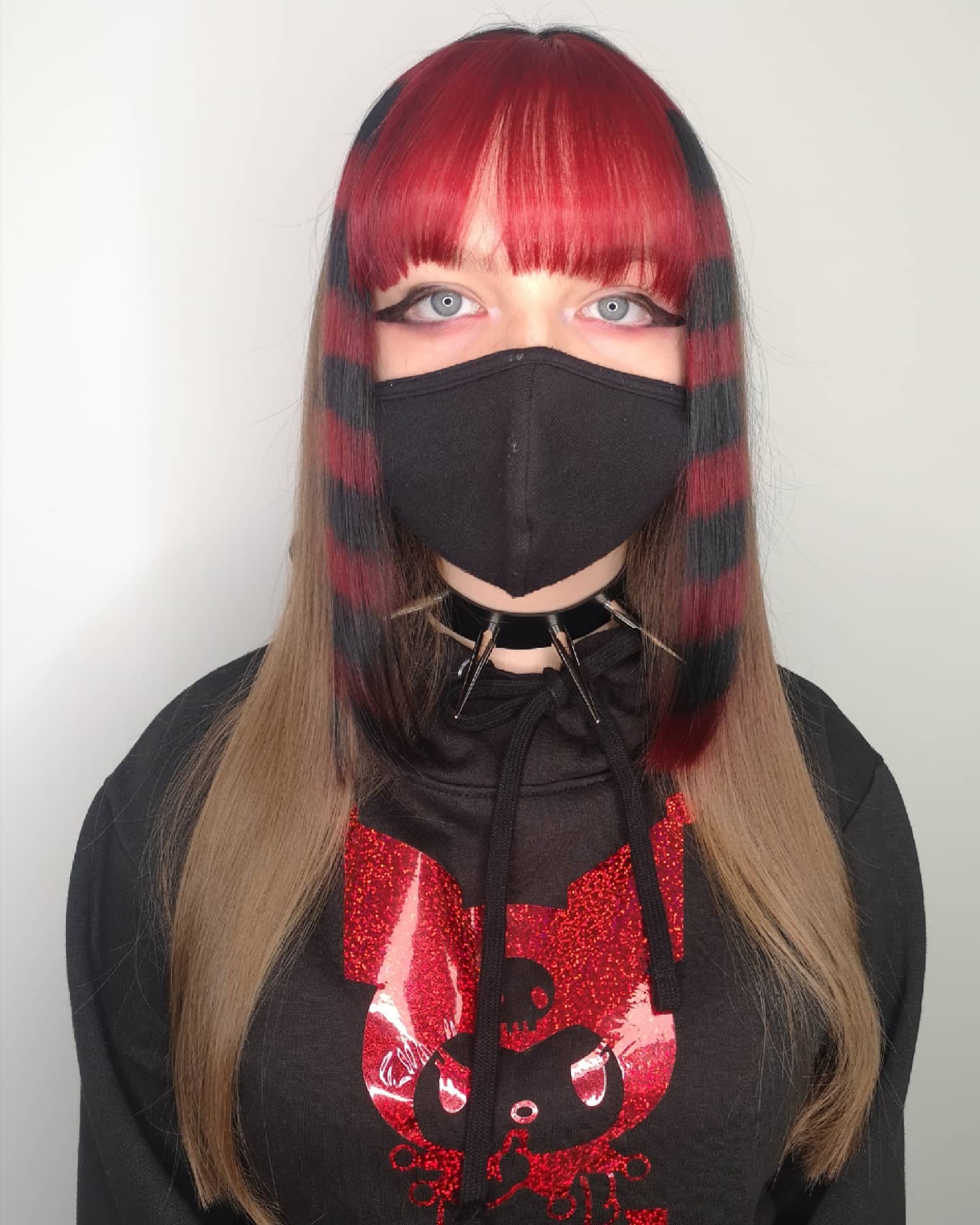 Light brown or dark blonde base with these dark red highlights will look flashy, but a bit emo as well. Does this sound like a look that you wish to go for? Add a pair of cool bangs and also consider adding your favorite red lipstick while you're at it. The end result is perfect for rebel teens.
18. Simple Brown Raccoon Hairstyle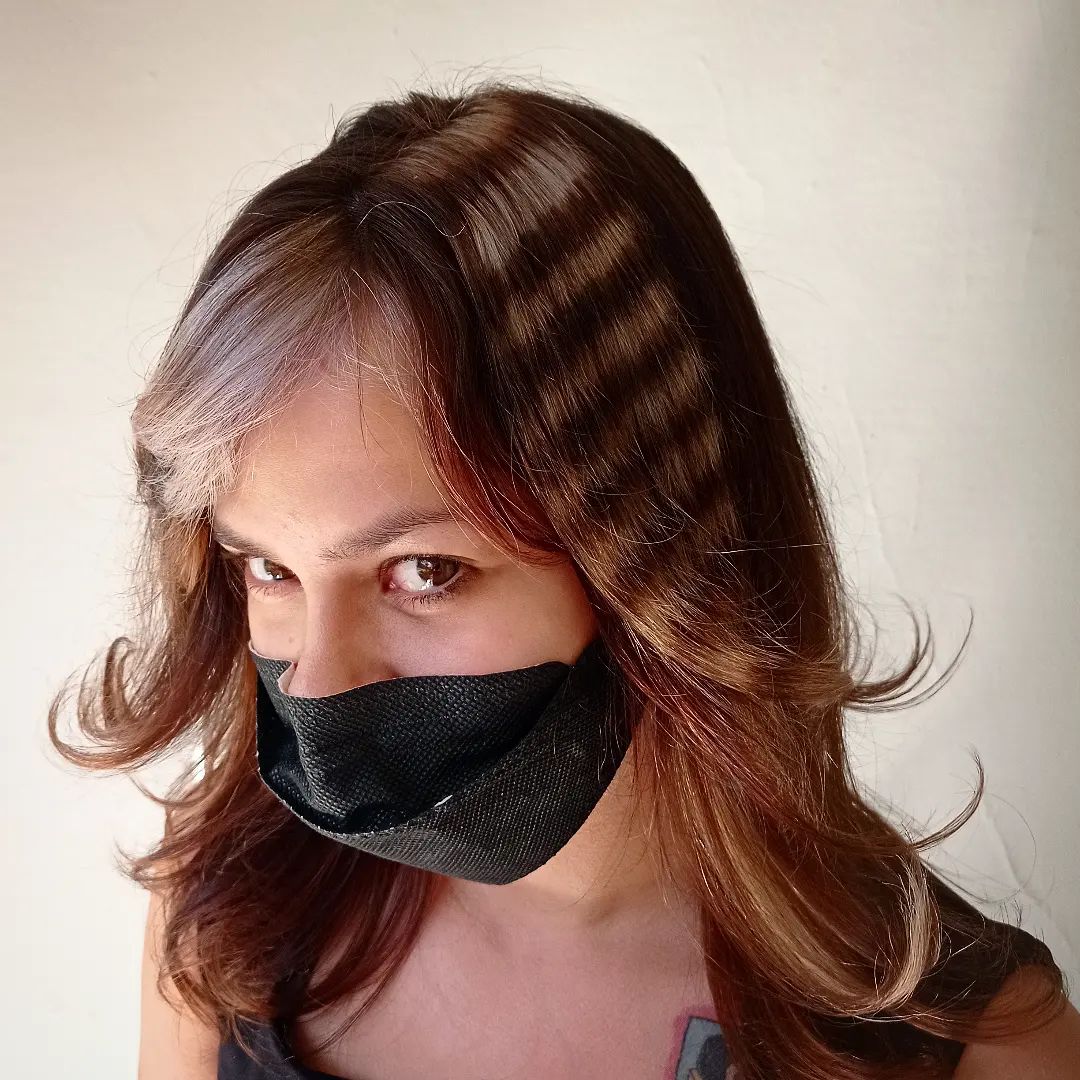 Make sure that you invest time and care into this hairstyle. Brown base and light blonde pops and streams of color will look lovely on women who want a subtle change, as well as those who don't want to do a lot. Show it off for any event since it is so low-key.
19. Messy Raccoon Hairdo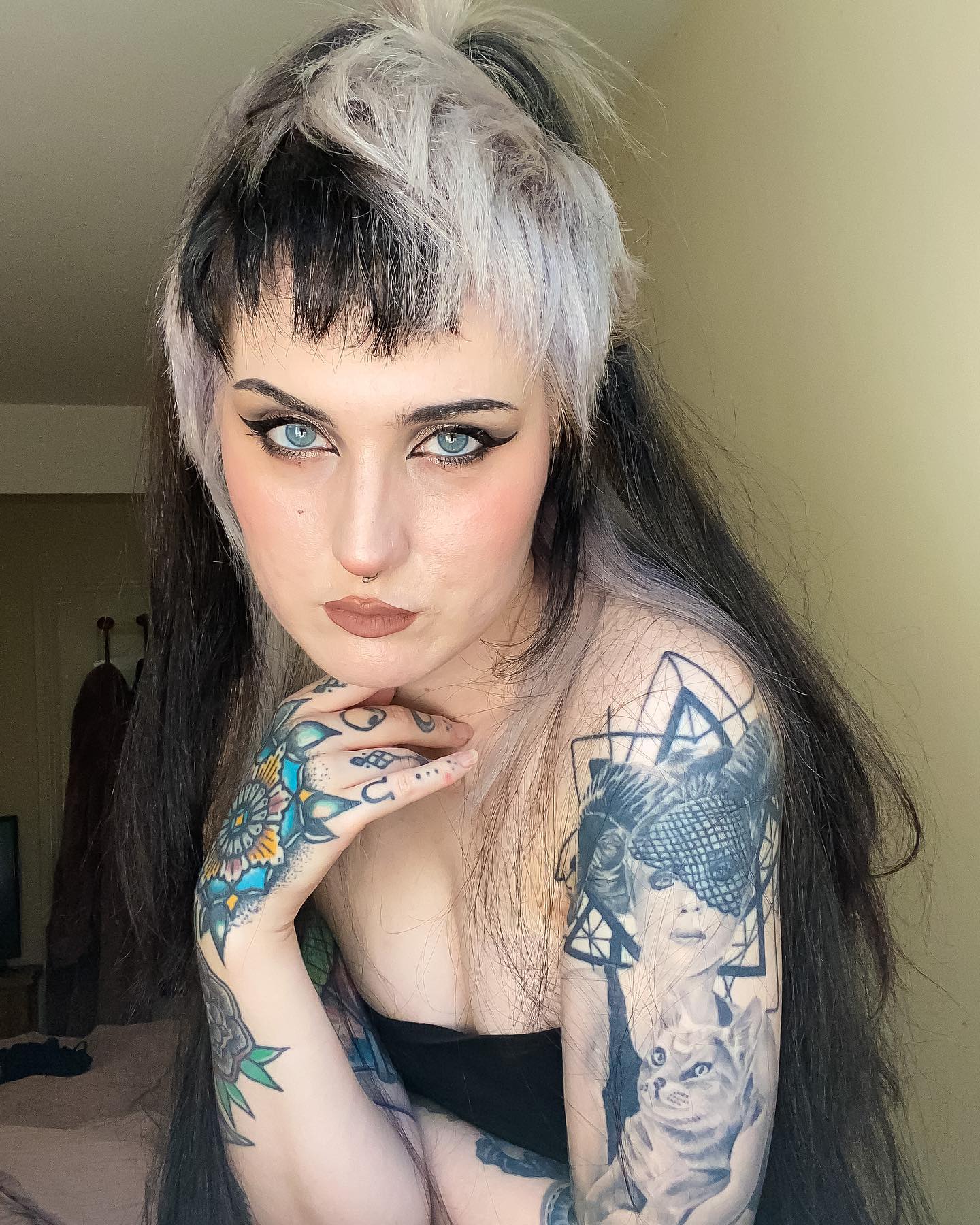 Show off your true raccoon persona and go with the flow when it comes to a quirky look. If you prefer lighter hairdos and stylish punk rock looks this is for you! It is somewhat emo, but it is not as hard to do or maintain as some other highlights on this list.
20. Rainbow Colored Raccoon Hair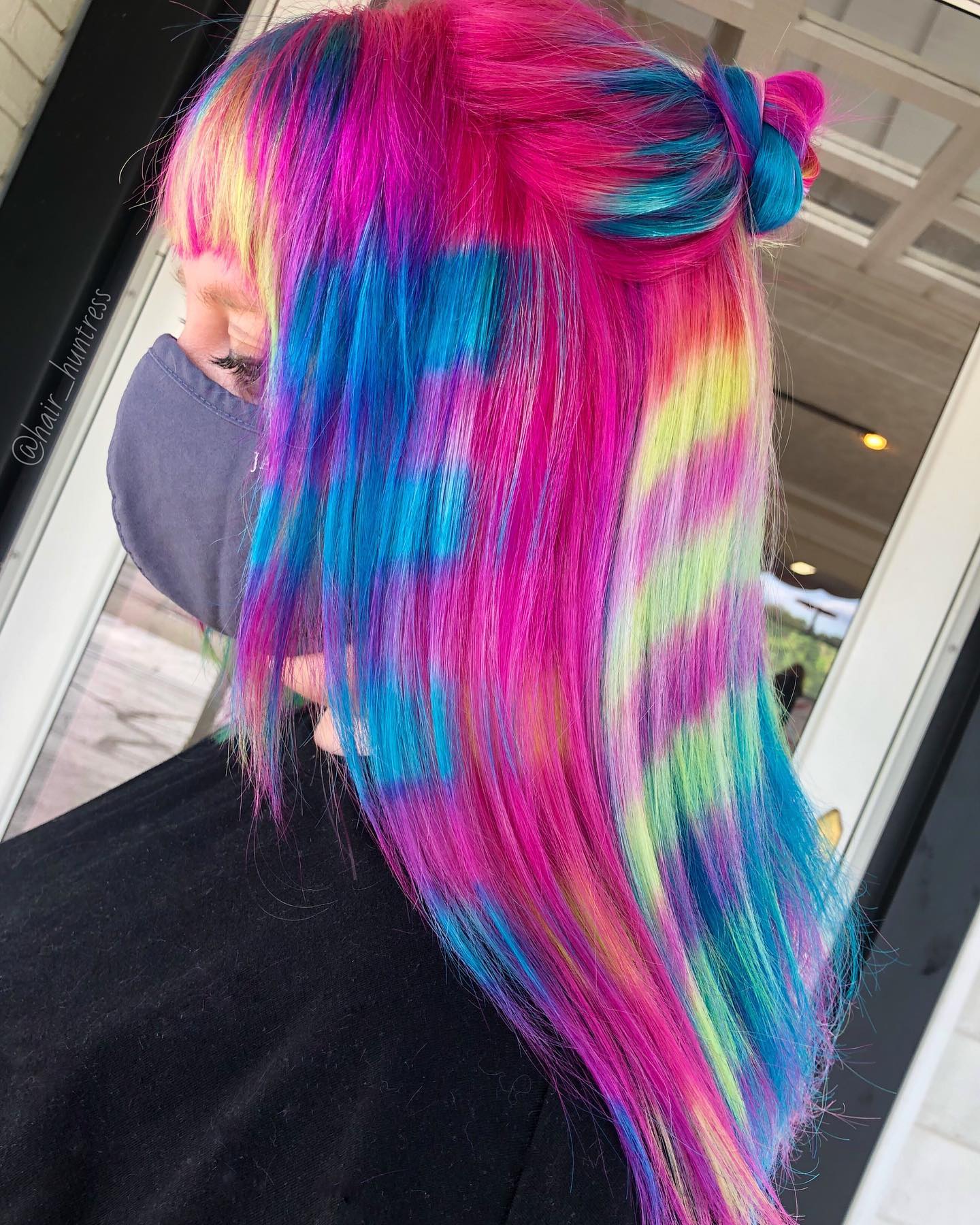 Rainbow colors will always look gorgeous. Women who are bright, optimistic, and always ready for a fun time will like this look. A rainbow shows your true retro personality, perfect for those who can't stick to just one color and wish to go all out when it comes to their hair dye.
21. Natural Brown With Simple Raccoon Highlights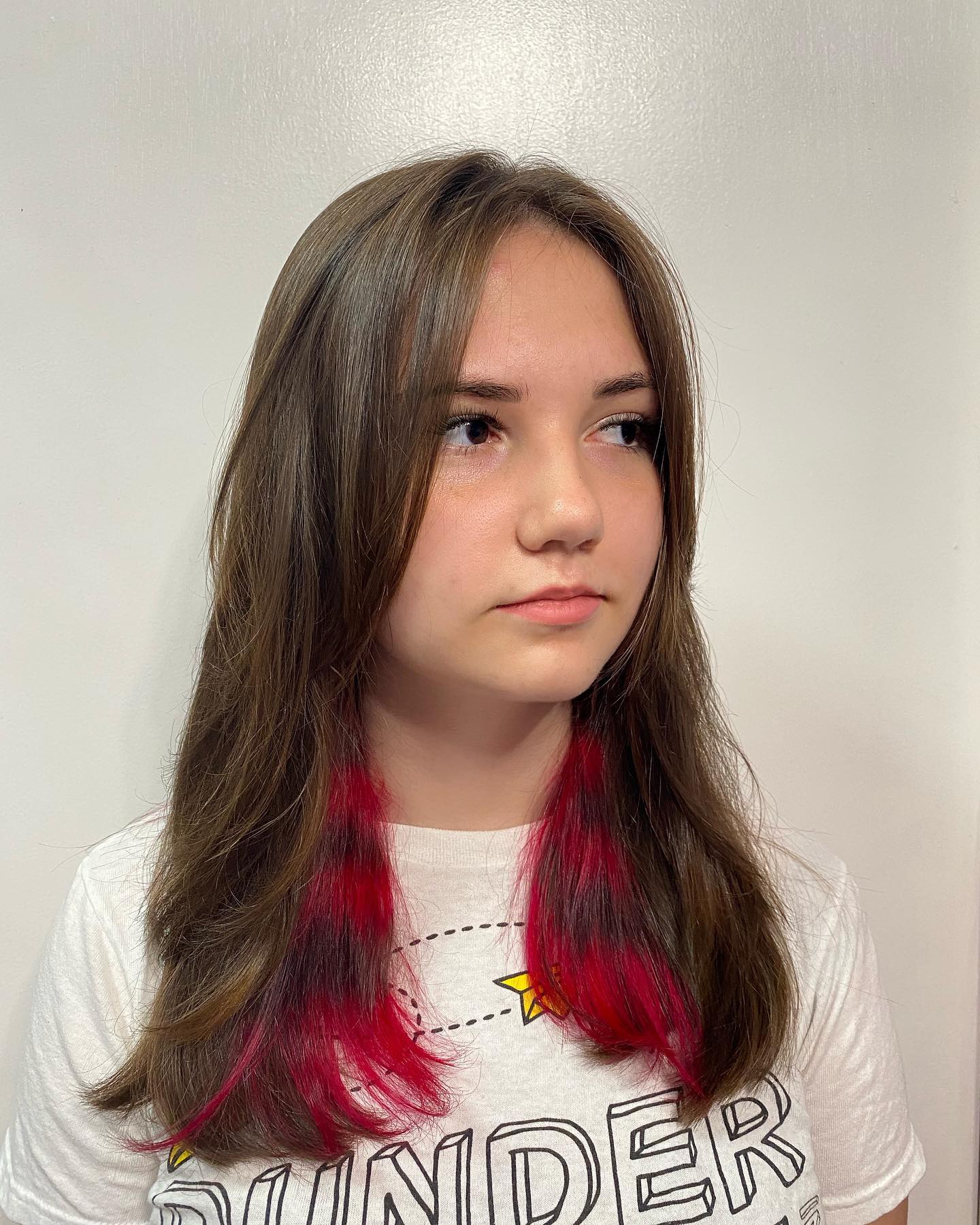 Lastly, this simple hairdo is the cutest of them all, often worn by women who like cool and cute looks that are easy to recreate. If you can't handle the coloring or frequent touch-ups this is for you since it is a low-maintenance beauty that you can go for.
Want These New Highlights?
If you're ready for your perfect pair and set of highlights make sure to let us know! All of these wild looks and colorful options will suit different ladies. Which one is your personal favorite and your ultimate top-pick?