Transitioning from your current hair color to gray hair can be a challenge, and not a lot of women are prepared for this type of change. The truth is that women struggle to accept grays a bit more than men, making their hair styling a lot tougher to do. Luckily for you, in this article, we're going to talk about different options that one can rock and consider, as well as list out a ton of fun new looks that will help you make this styling a lot more convenient. Keep on reading and find your perfect hair color and style option while learning how to transition in a proud and confident way!
What Are The Best Transitioning To Gray Hairstyle Options?
Transitioning hairdos and hairstyle options can vary and there is a lot of ideas that one should consider. Your favorite and ultimate look will vary based on your hair color, length, age group, and the style that it is in. The most common hairstyles worn by mature women are:
Thick and chunky highlights
Ombré highlights
Subtle waves
Anything that can complement your head shape and your hair type while covering up some of the grays will do the work!
How Pricey Is This Hairstyle?
Your transitioning hairstyle will vary in price based on the expertise level of your hairstylist. Not only that, but you will also pay a bit more for high-quality hair dye while you can save up money if you DIY the process. In most cases, this hair coloring technique and cutting will go for $50-$120 (based on the length and style of your natural hair).
1. Hair With Bangs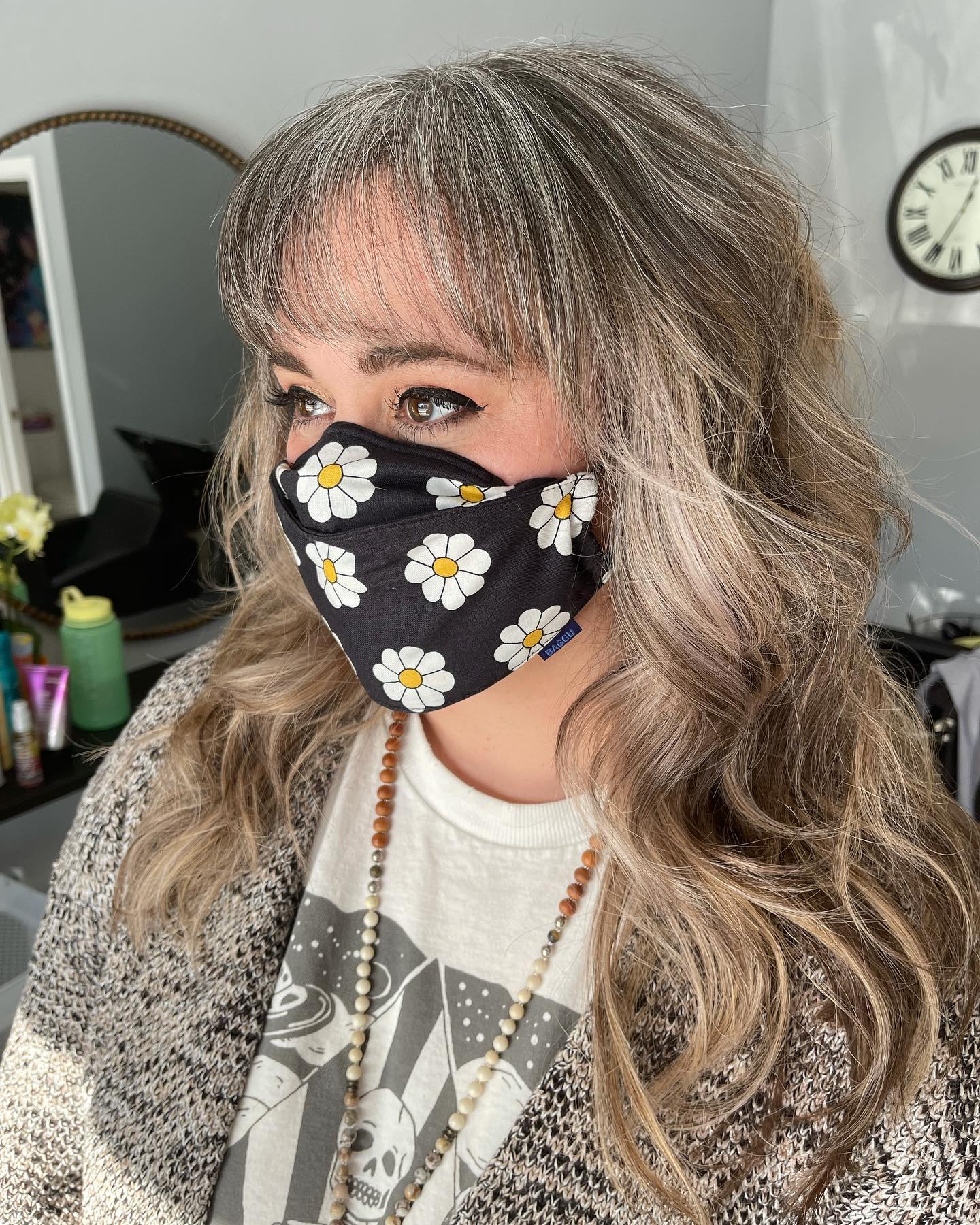 Awesome hair with bangs for women who want a bit of volume.
2. Chopped Bob Look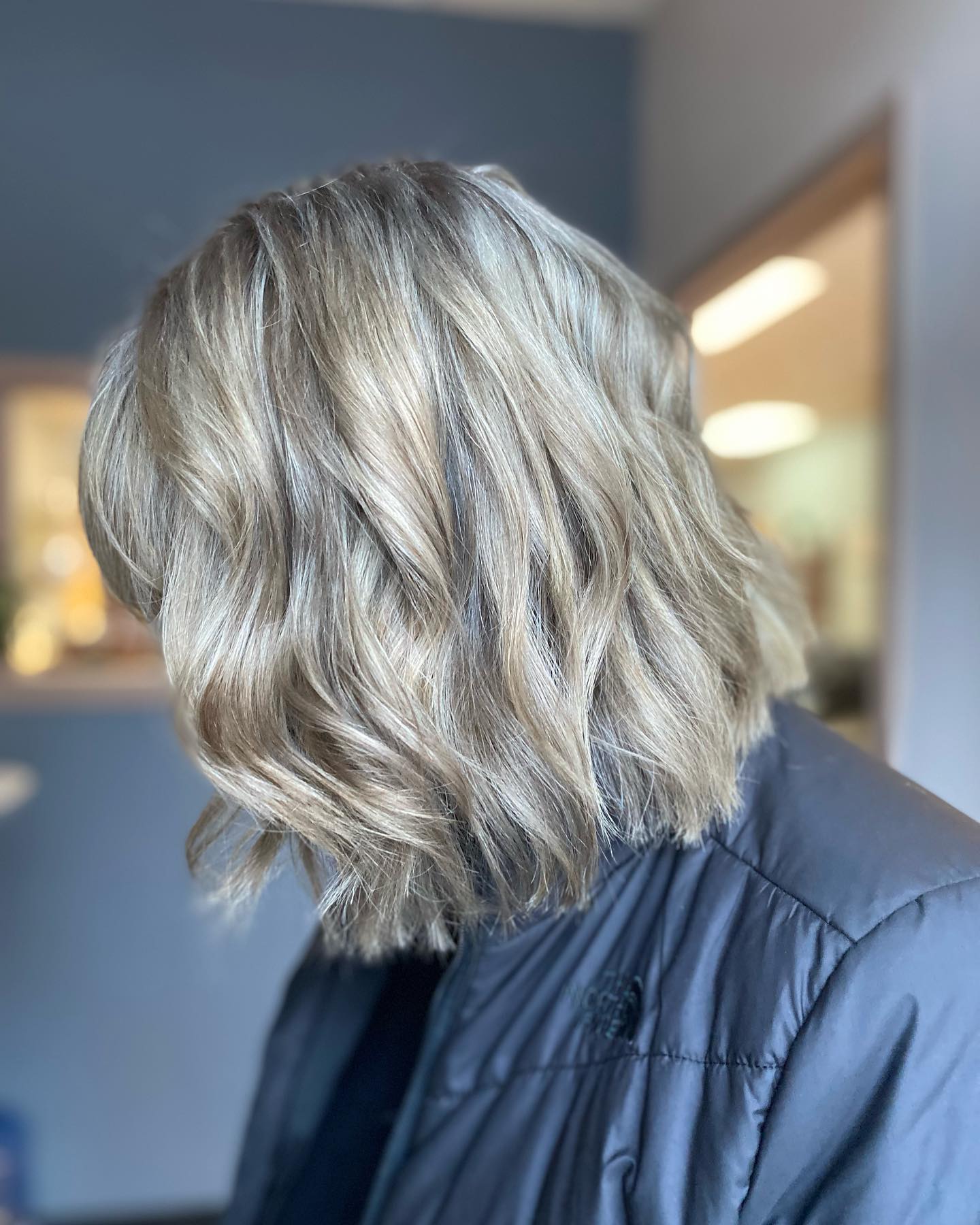 You will adore this look for formal wear and its quick and easy design.
3. Silver Hair With Highlights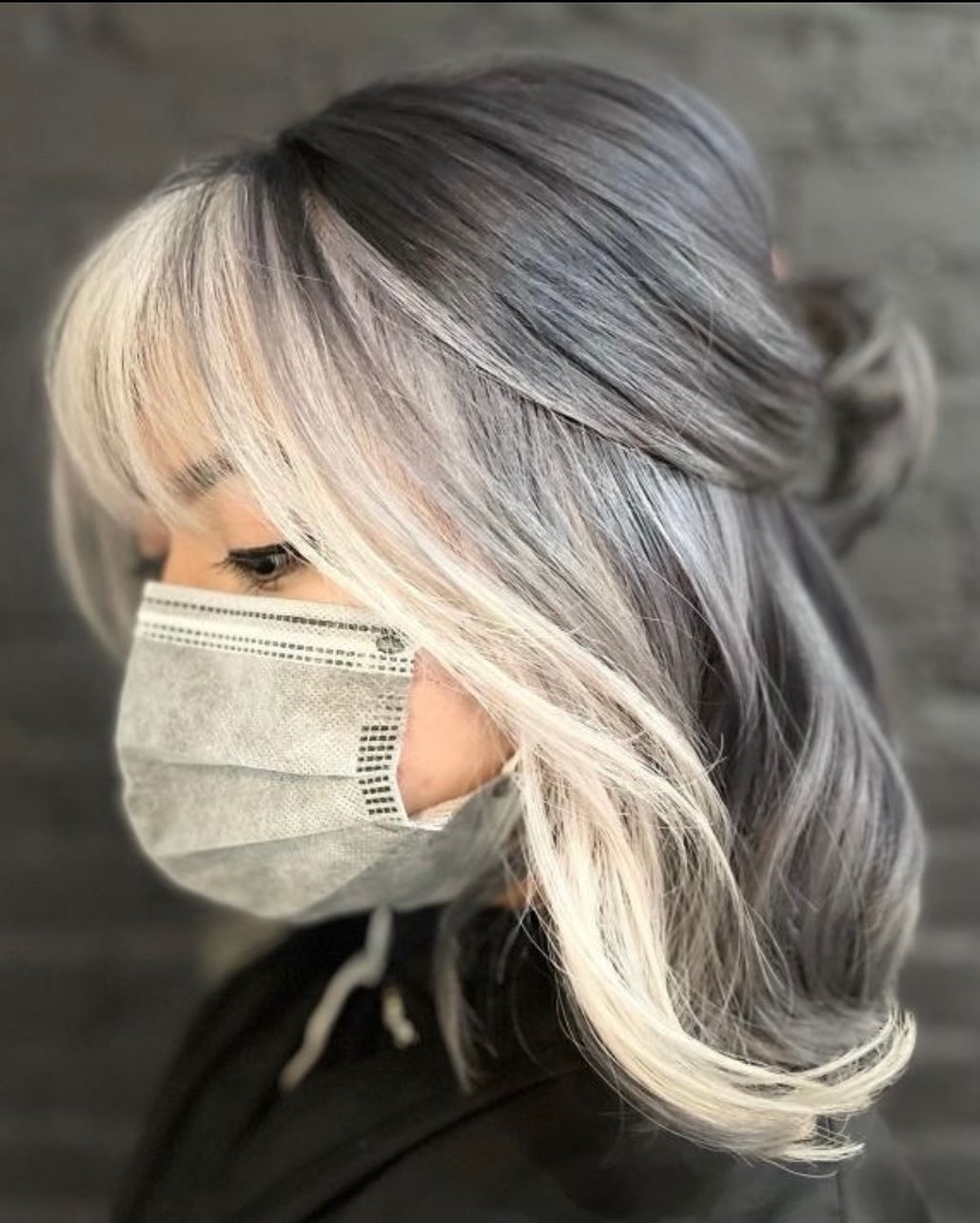 Go for some highlights to add texture to your outcome.
4. Gray Hair With Lowlights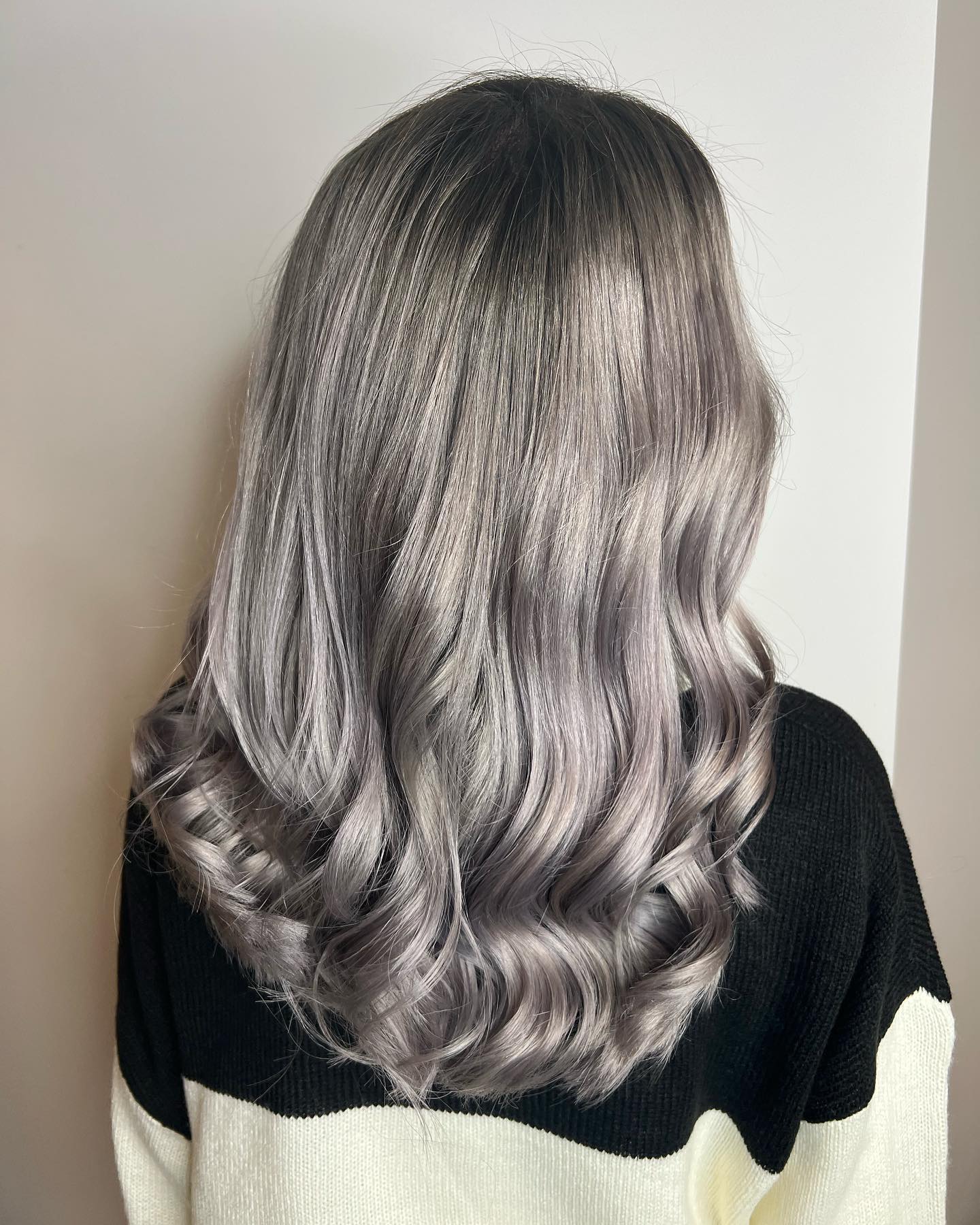 These silver highlights will easily hide your grays.
5. Gray Hair Chopped Pixie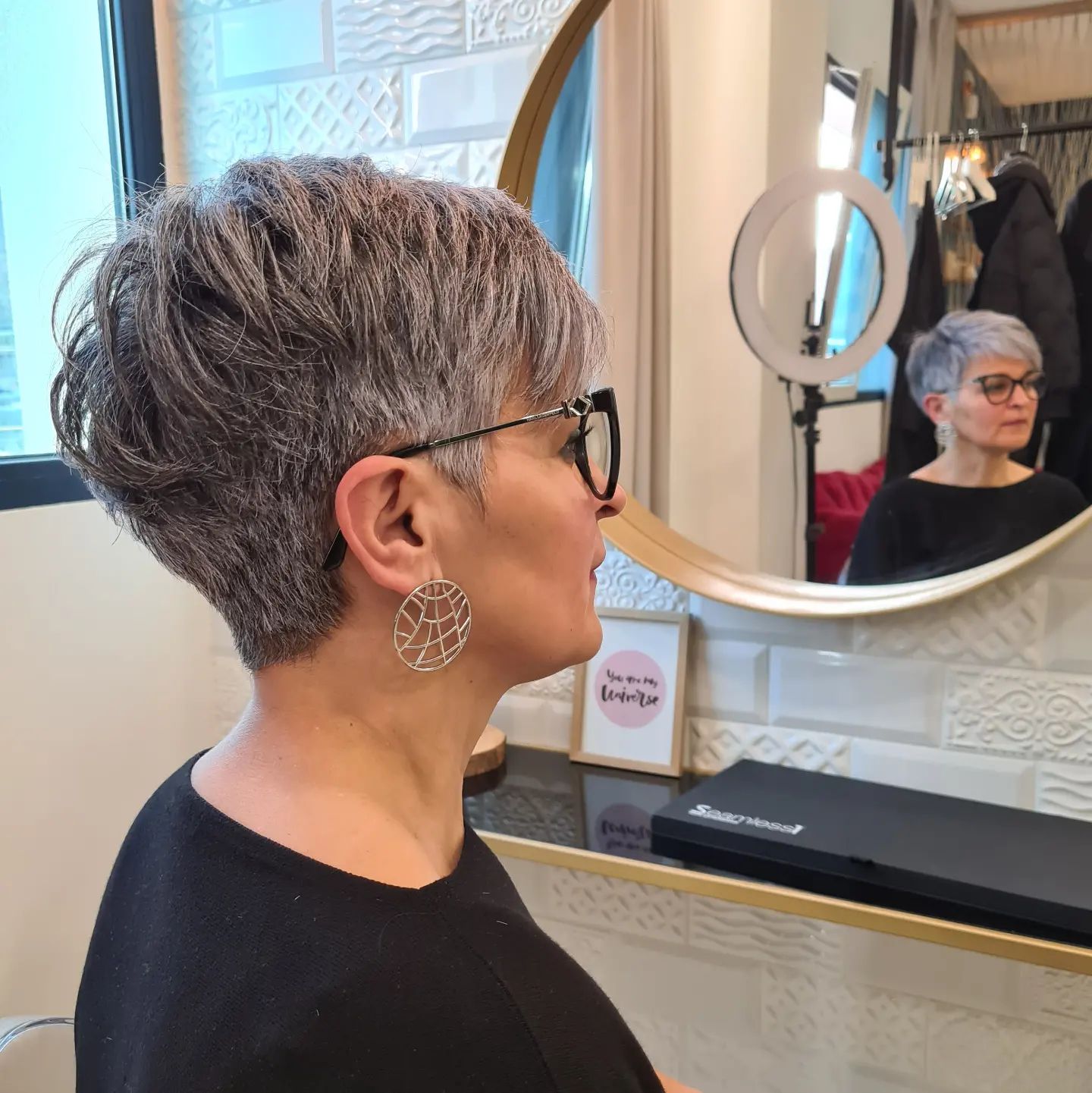 Pixie cuts are for women who prefer to hide their grays in a simpler and shorter way.
6. Hair With A Fade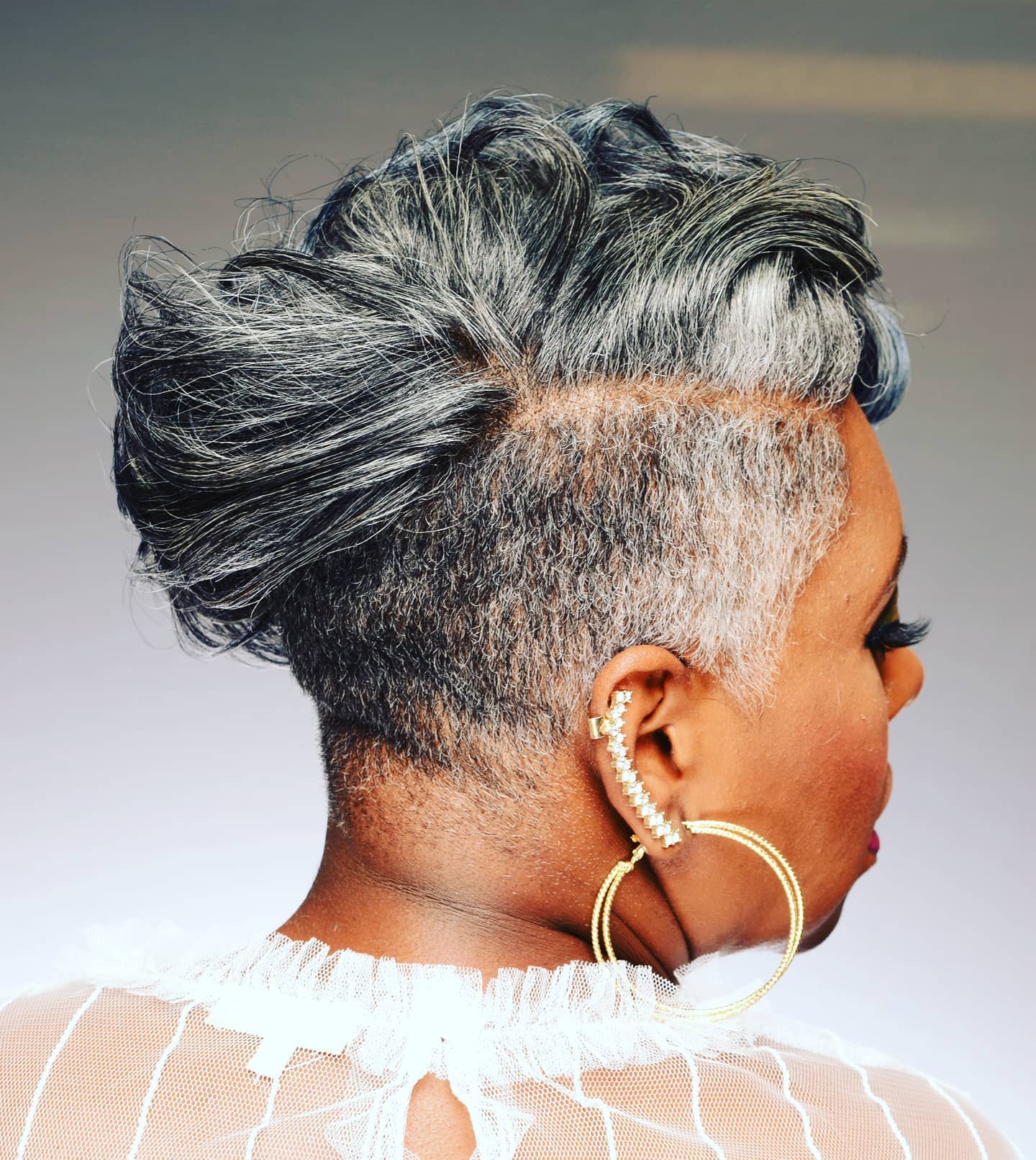 Go for a fade and let the world see your creative side with this unique approach.
7. Grey Bob Haircut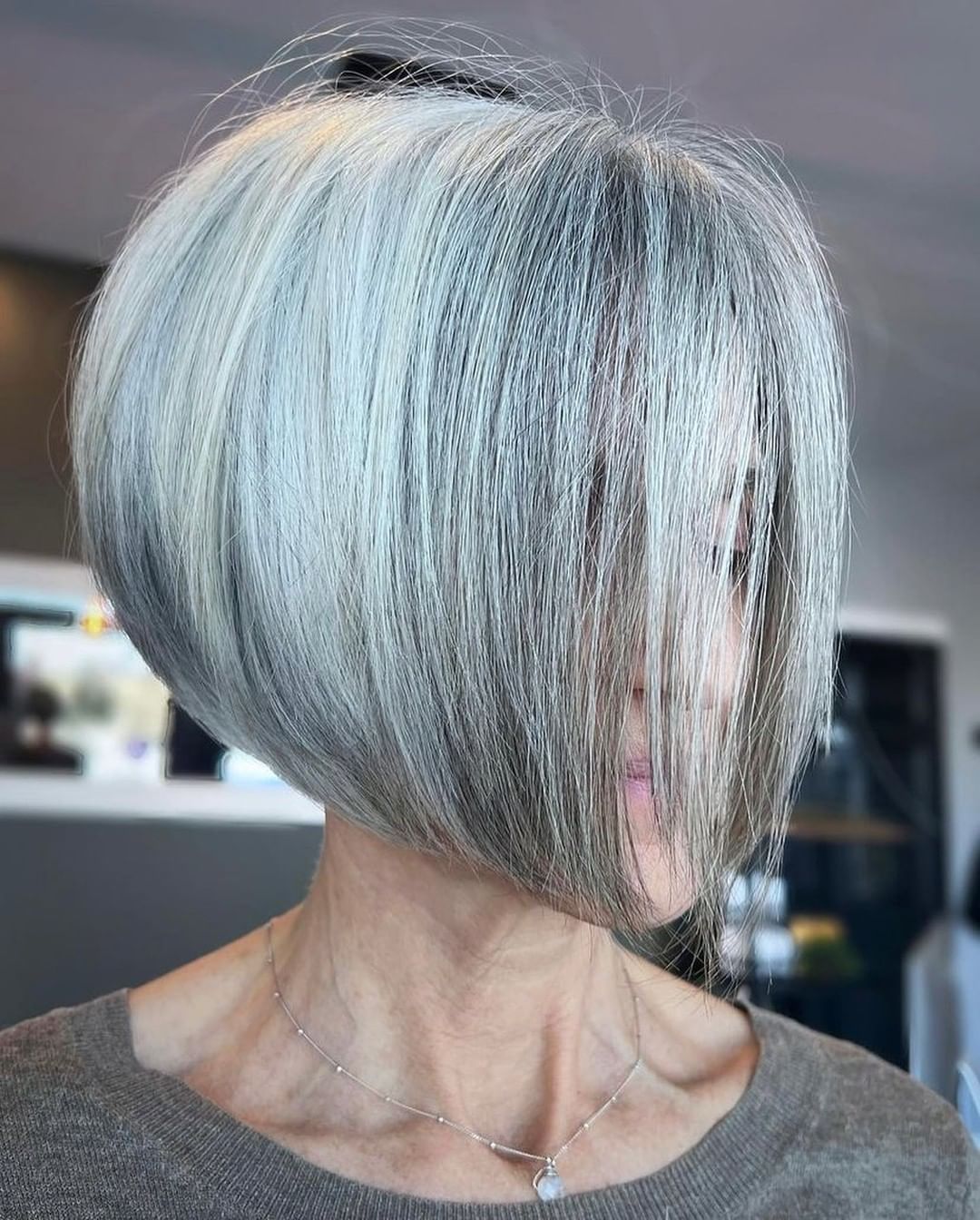 Bob hair is super low-maintenance and will take you minutes to style.
8. Side Swept Grey Hair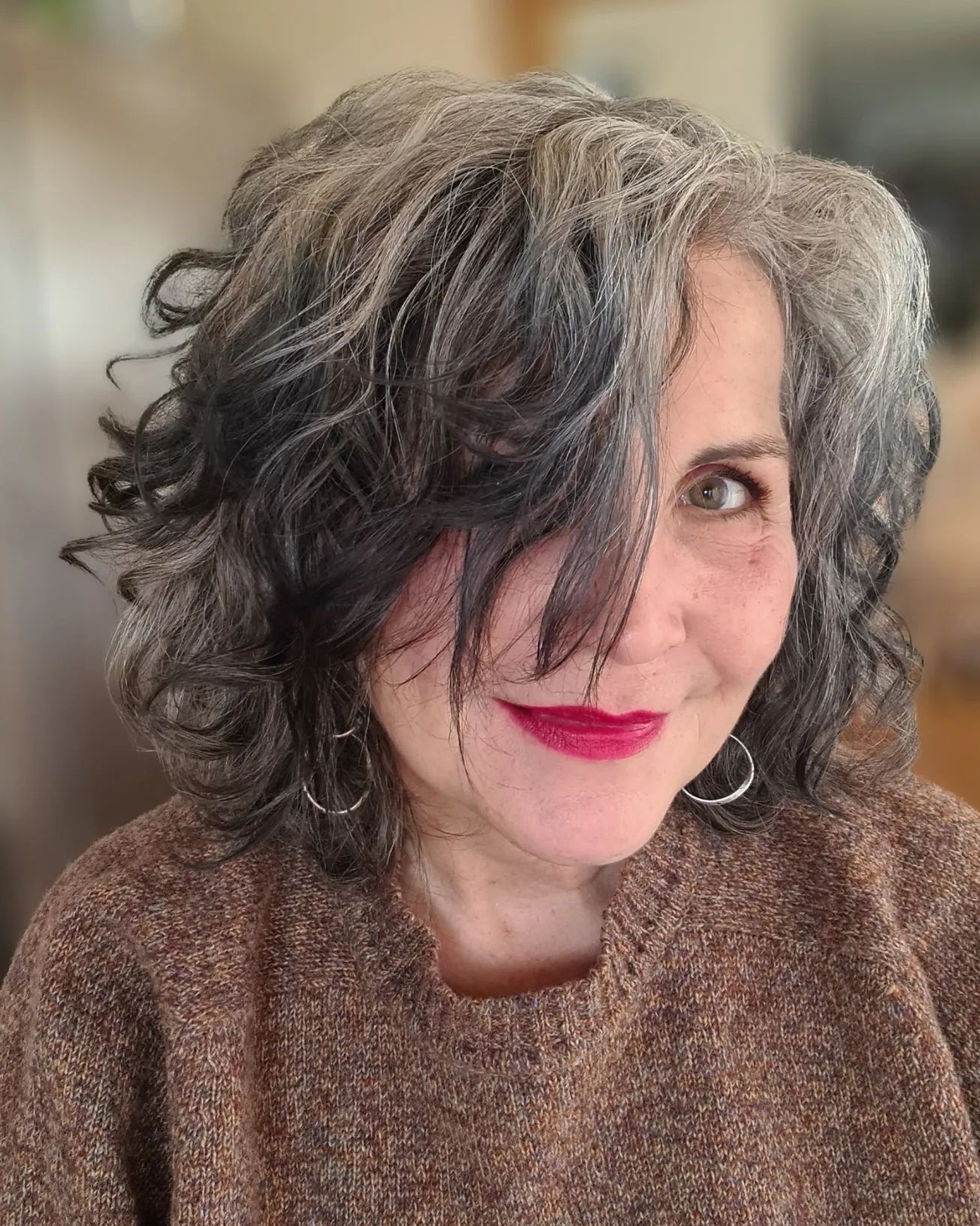 Hide your grays with this side-swept hairdo moment!
9. Long Hair With Grey Strands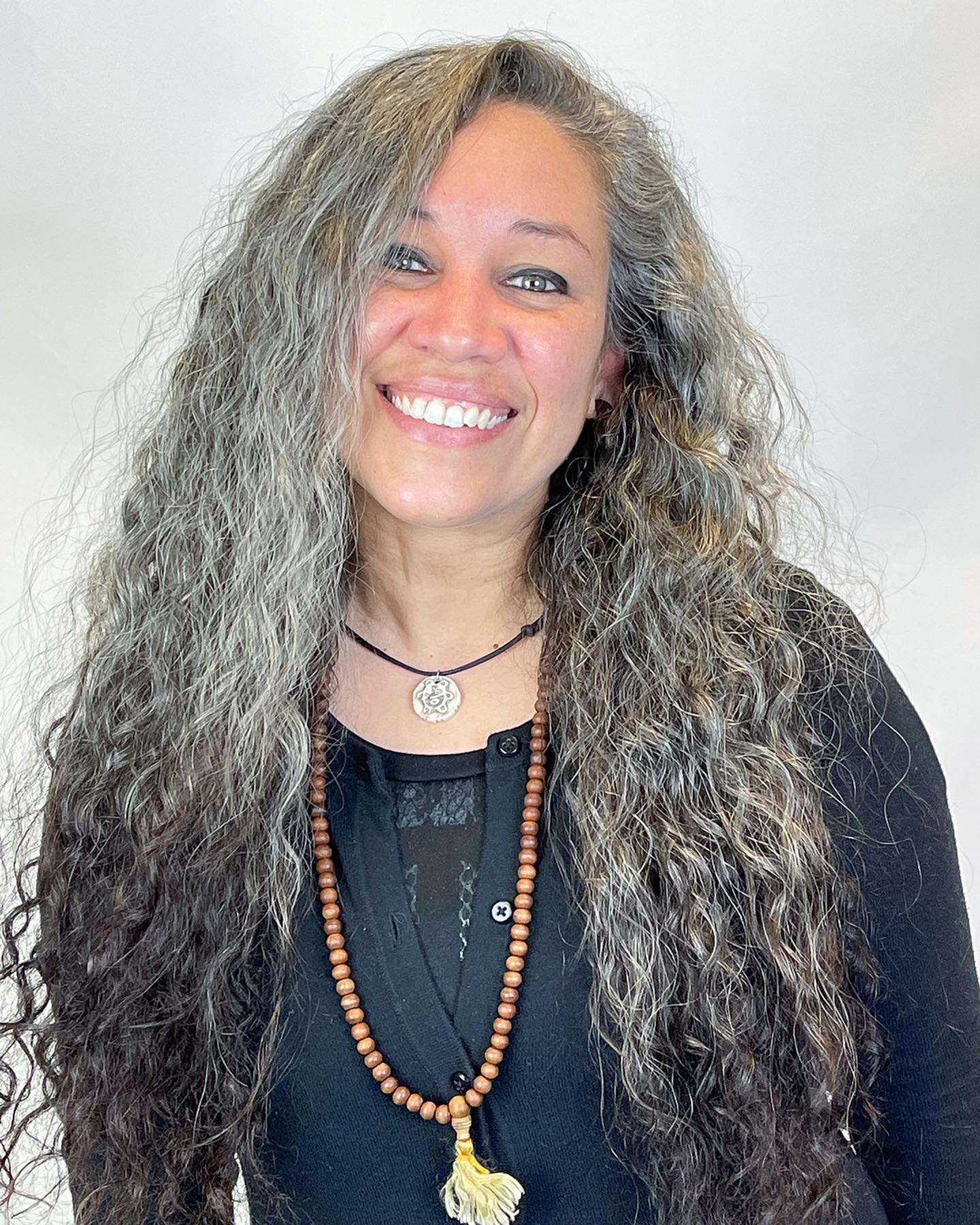 Longer hair is a bit more high-maintenance yet this look will look feminine in most women.
10. Simple Short Chopped Pixie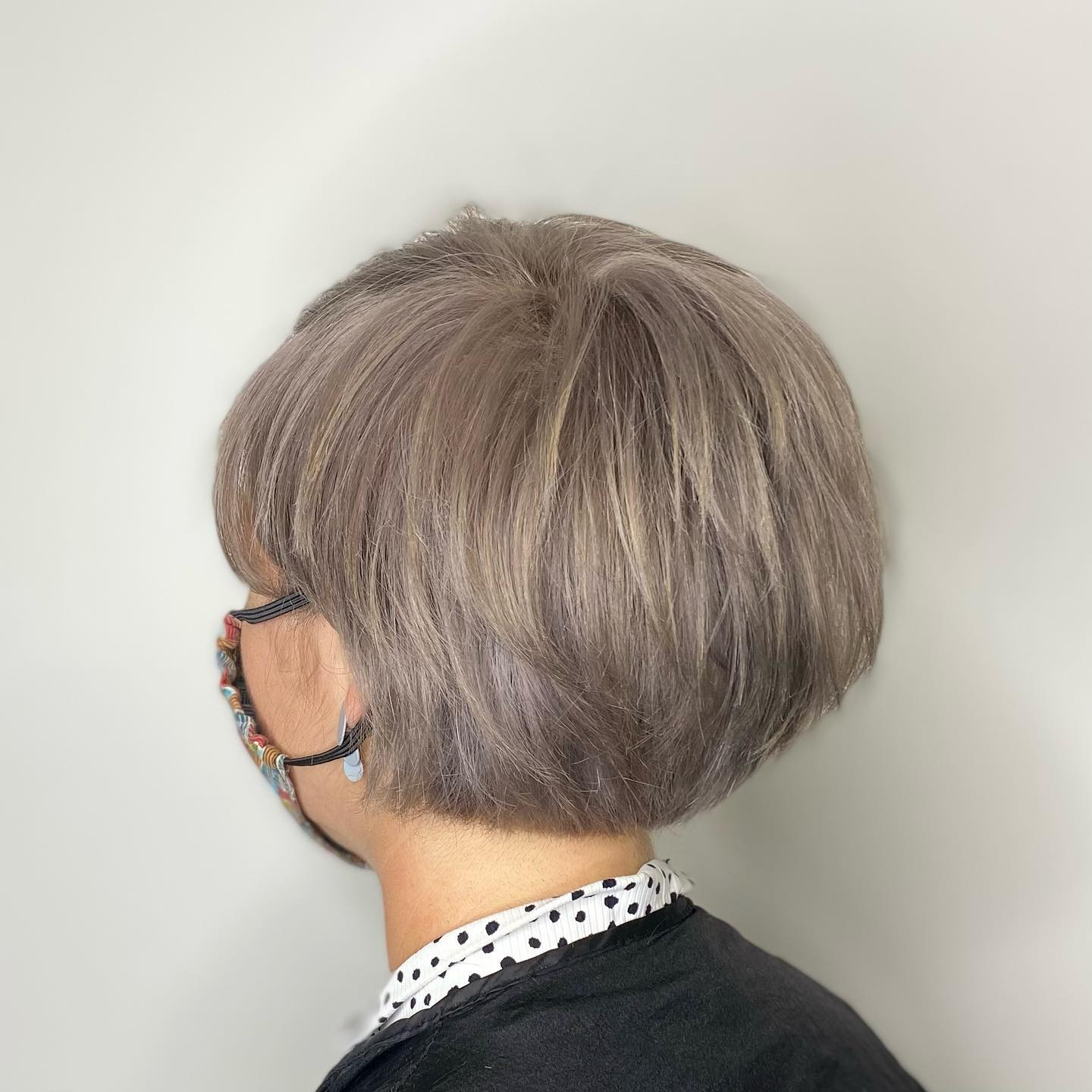 This chopped pixie is cute and will look cute on mature women with natural grays.
11. Gray Bun Updo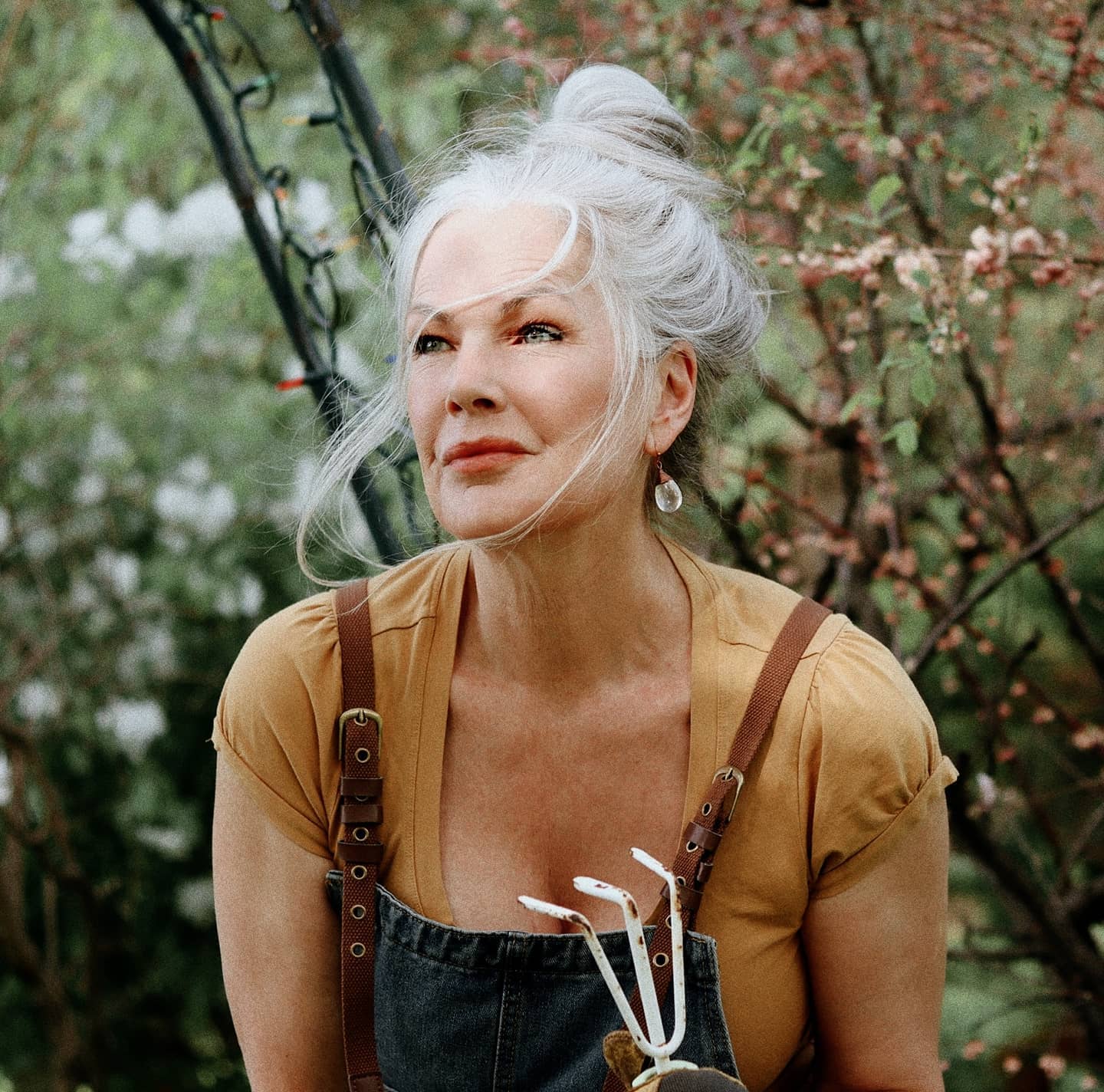 Tie your hair in a bun and hide your grays in this seamless way.
12. Hair With Highlights Gray Look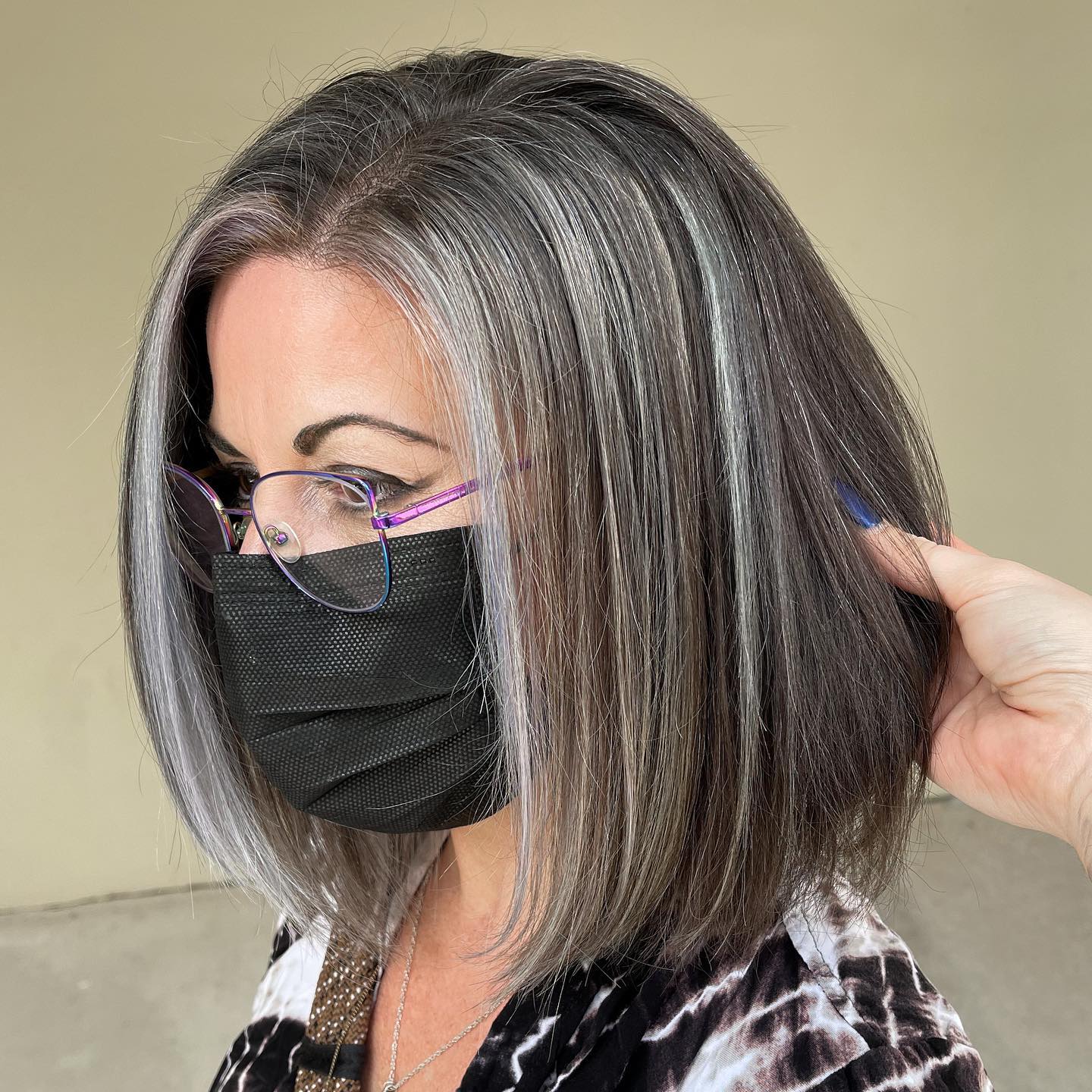 Get regular highlights to play along with your color and natural grays.
13. Wavy Transitioning Hair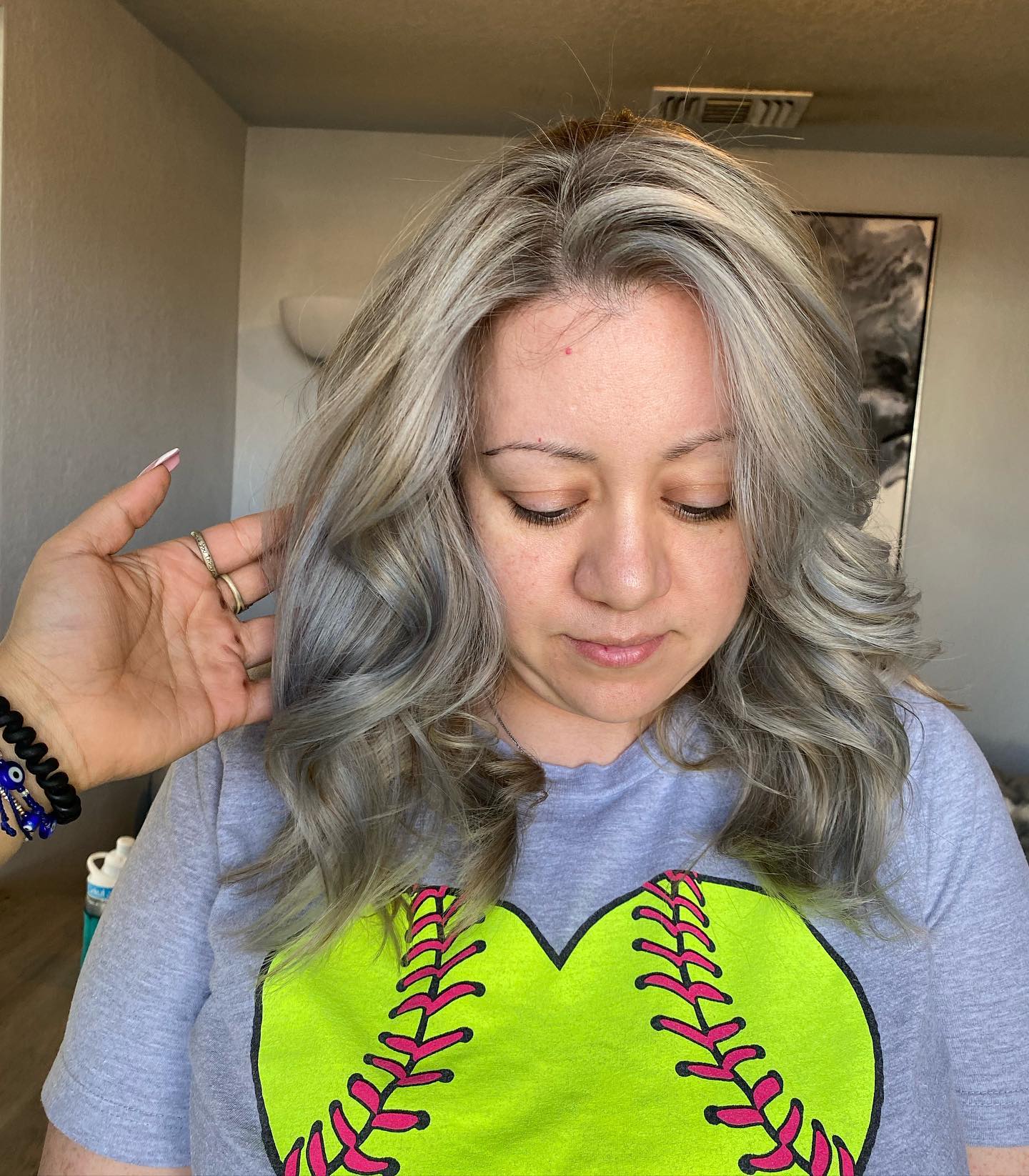 Smooth & wavy, perfect for everyday office wear!
14. Bob Cut Black & Silver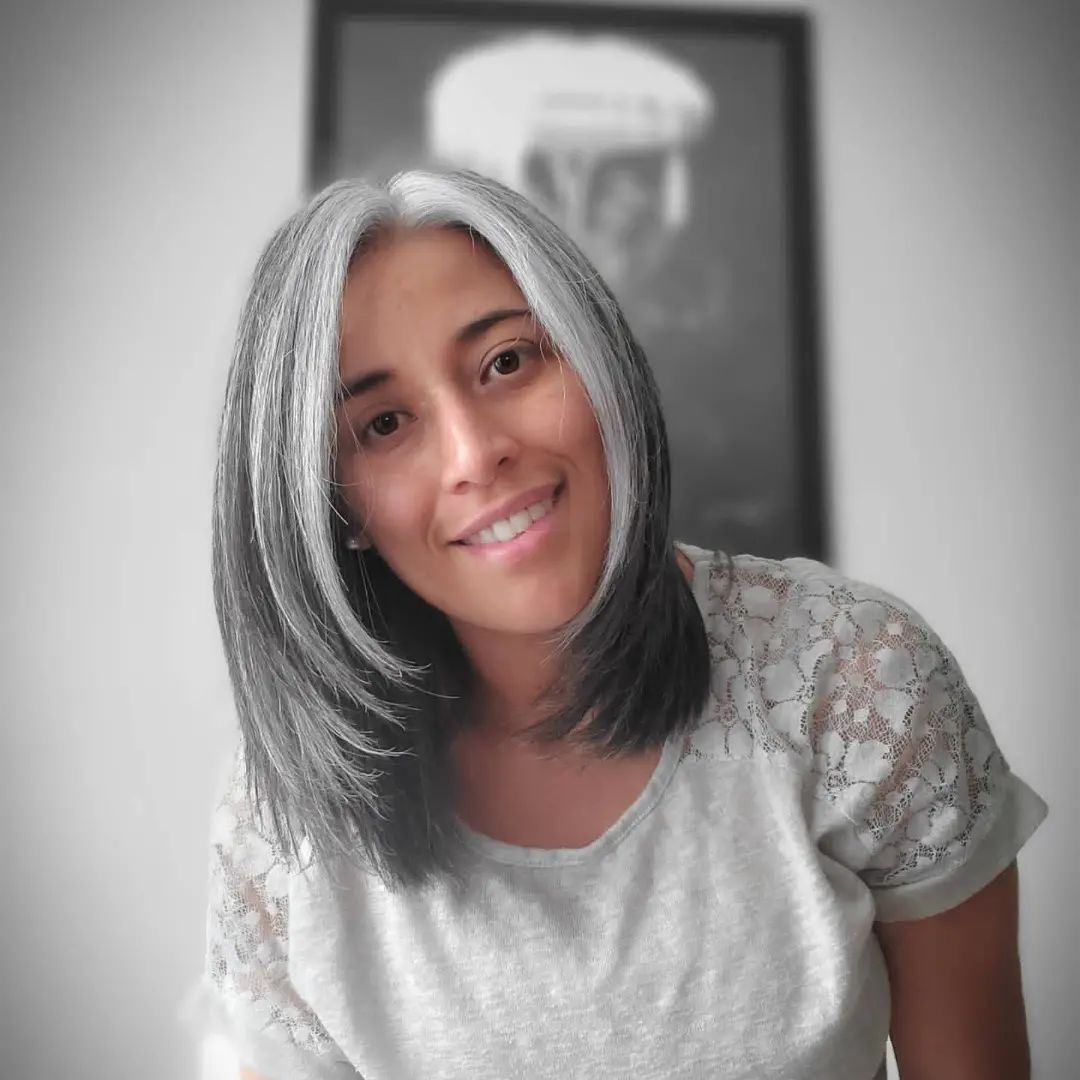 Combine black and silver pop of color for this beauty.
15. Blowout Hair With Highlights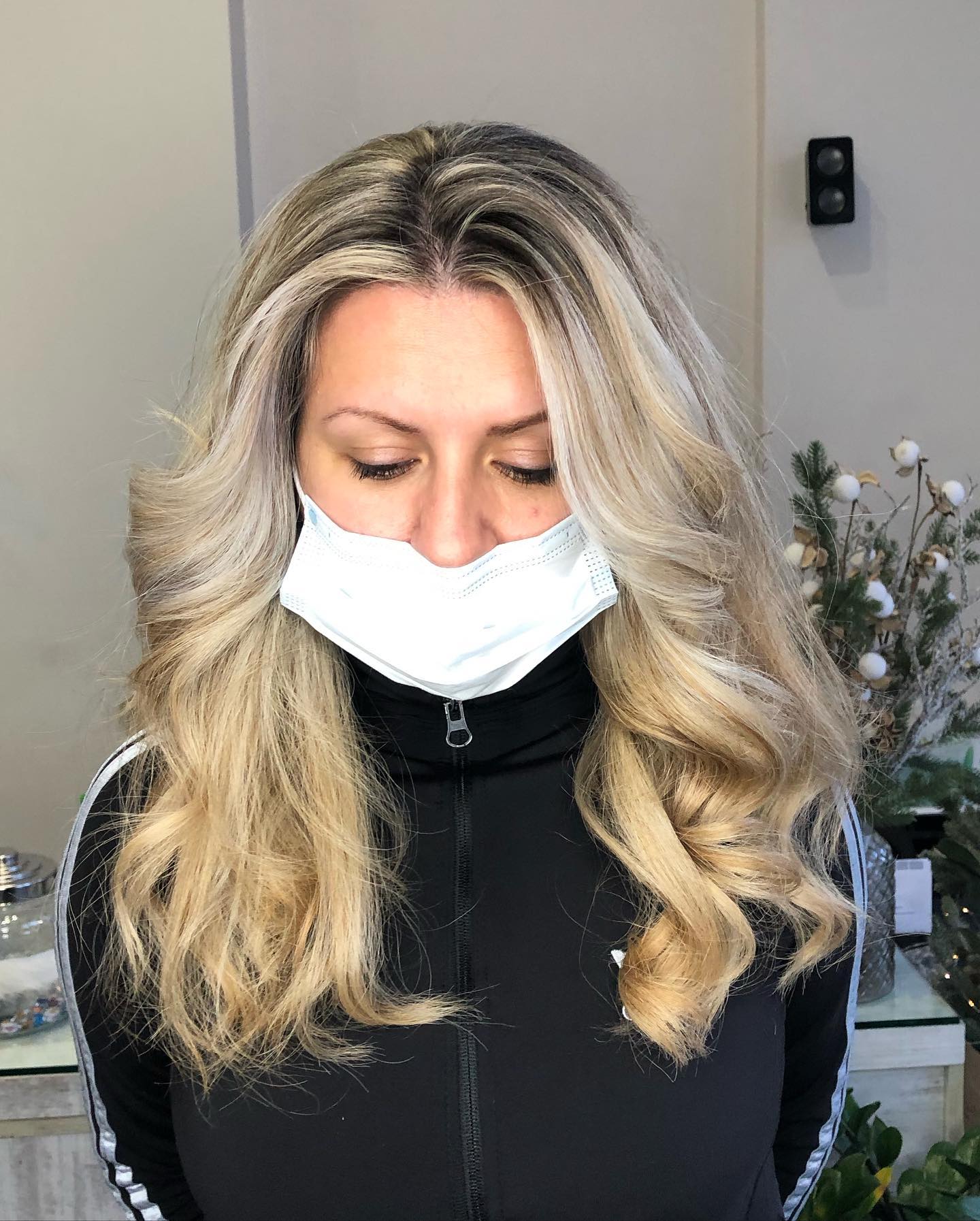 Brush your hair out to achieve volume and show off this elegant look even if you have gray hair.
16. Short Curly Grey Hair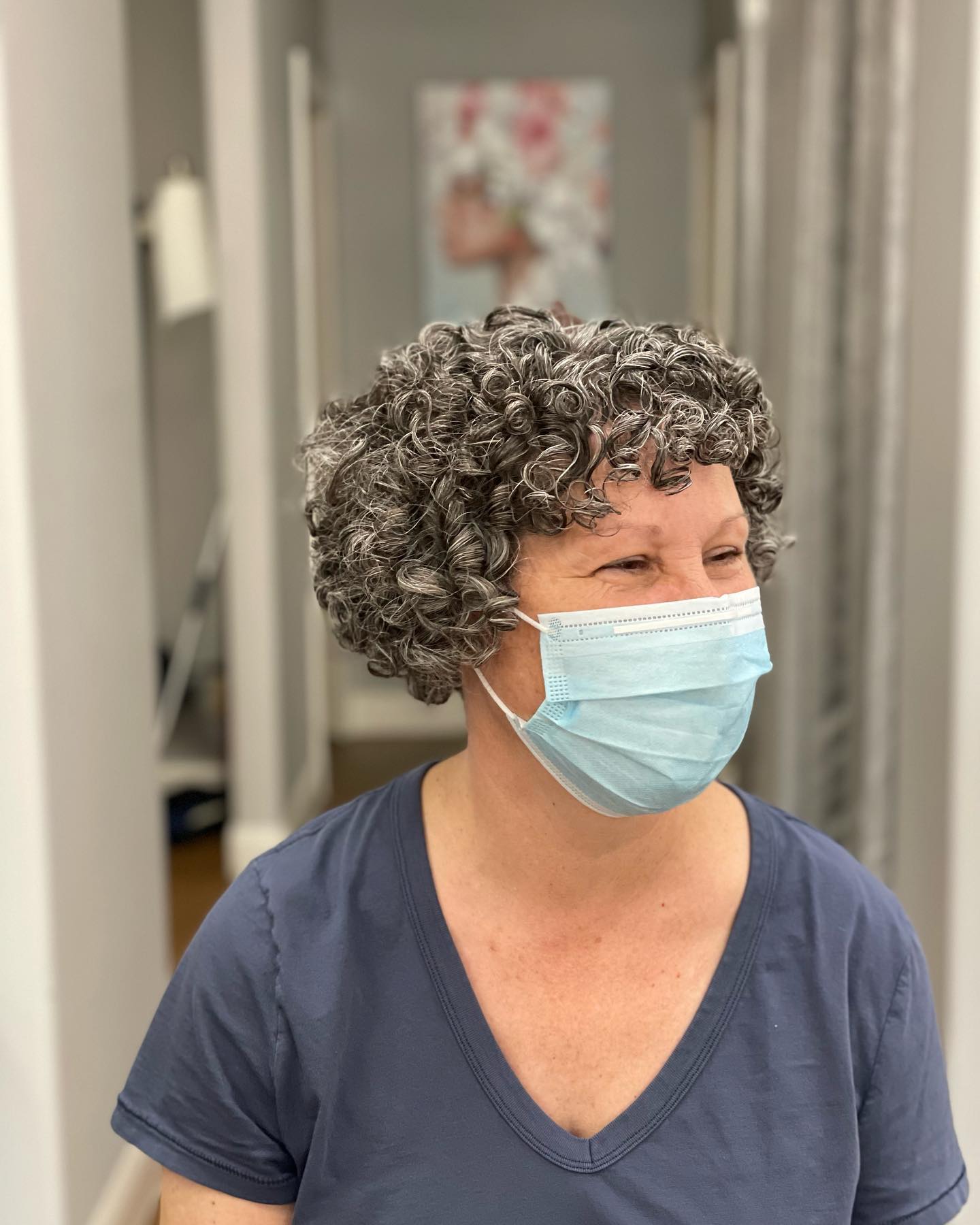 Short curly hair with curls will look playful and ideal for those who like their natural gray strands.
17. Silver Bob Cut Look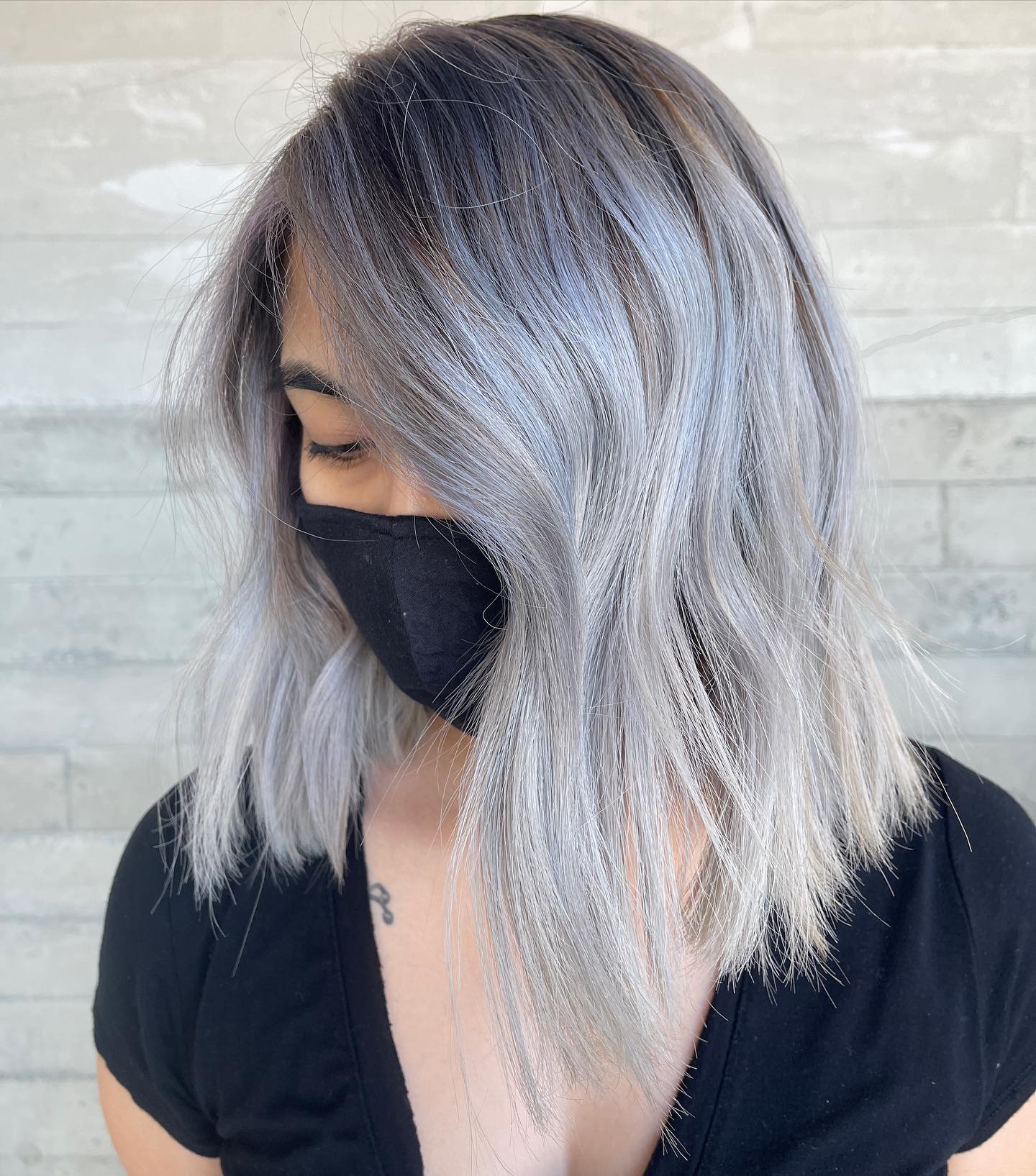 Women who want to try out something modern will enjoy this defined bob and silver color.
18. Straight Hair Grays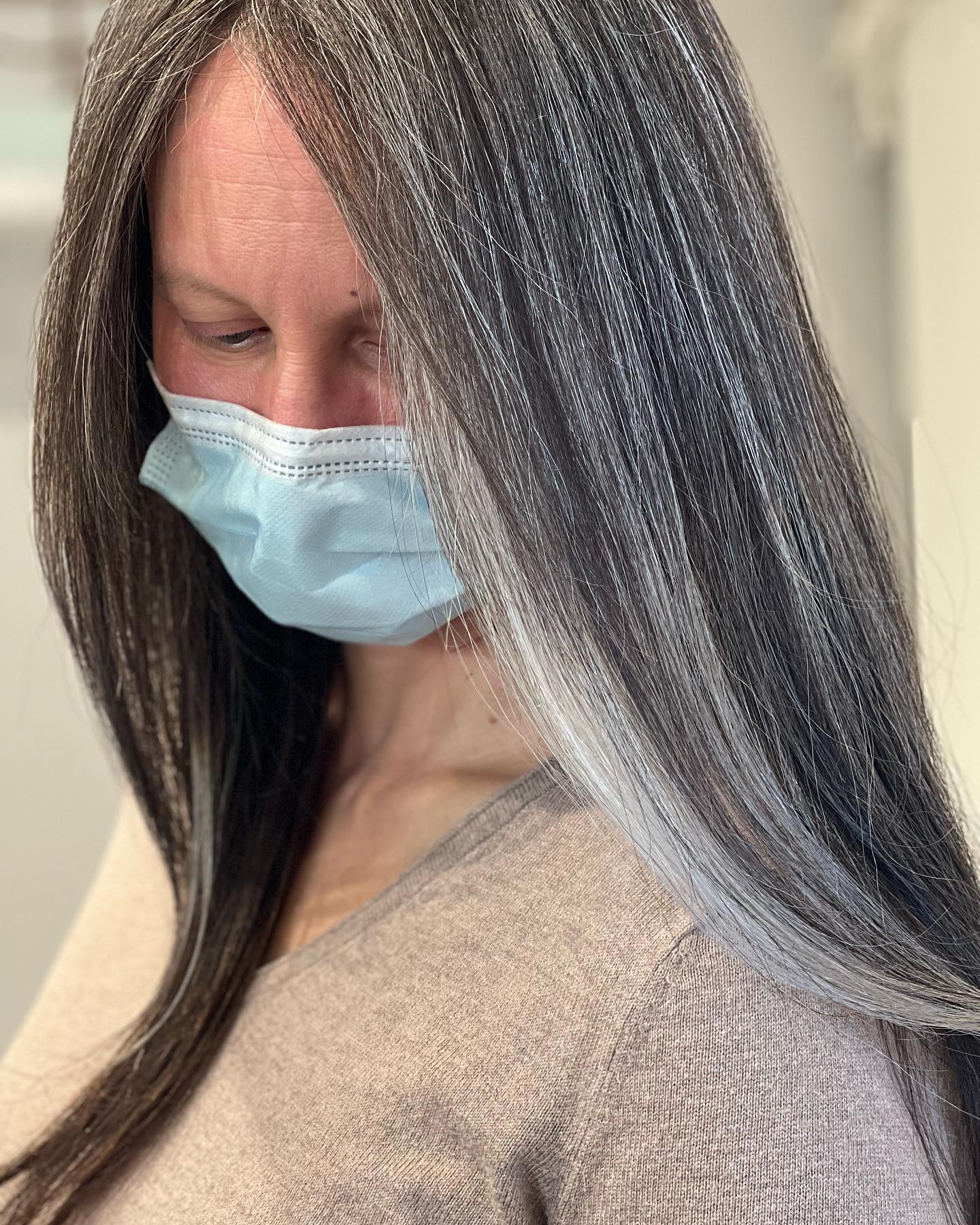 Straight hair and chunky highlights will look stylish on most women.
19. Black Base Gray Highlights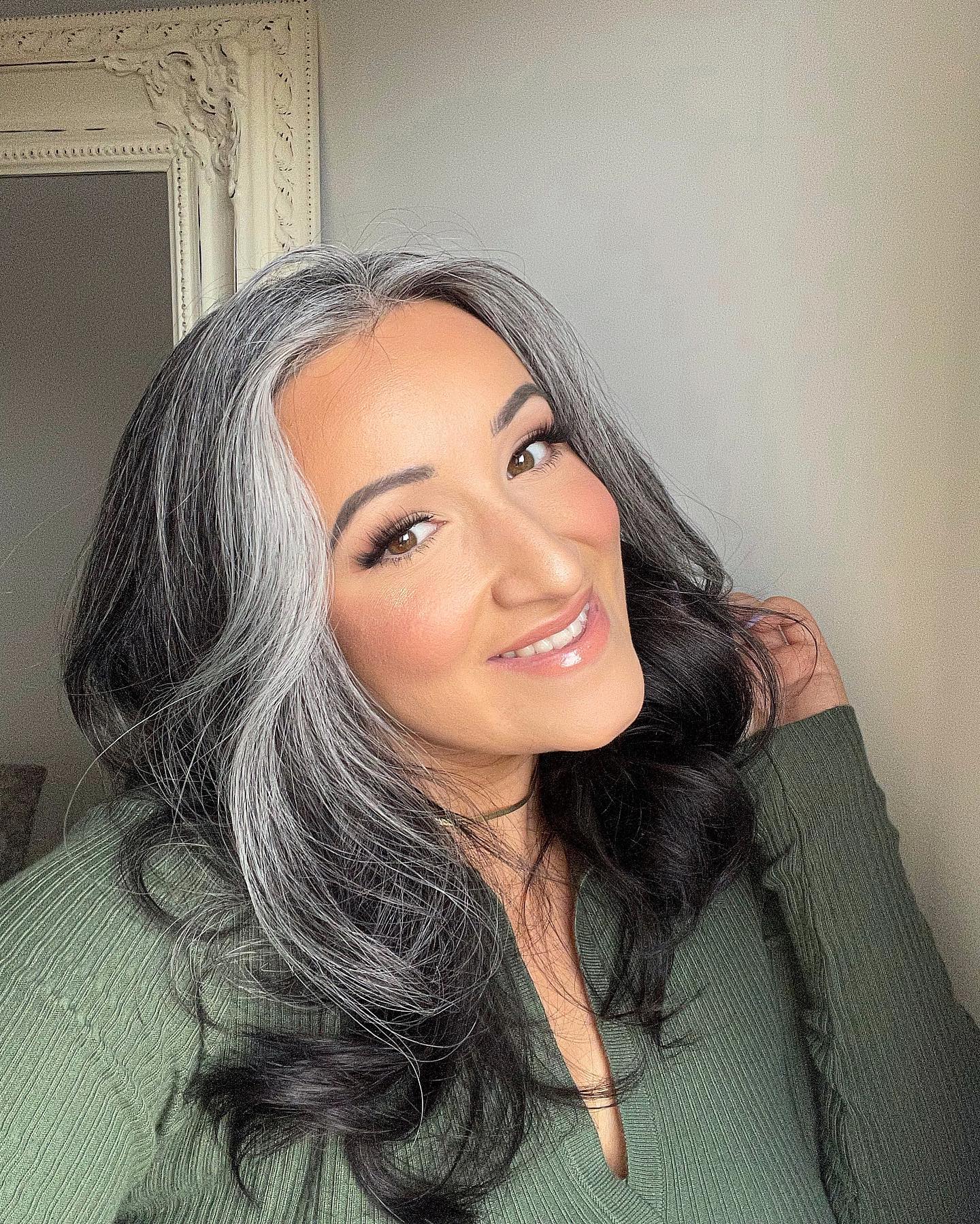 Let your natural hair color come through and add this subtle gray hue for the outcome.
20. Silver Messy Updo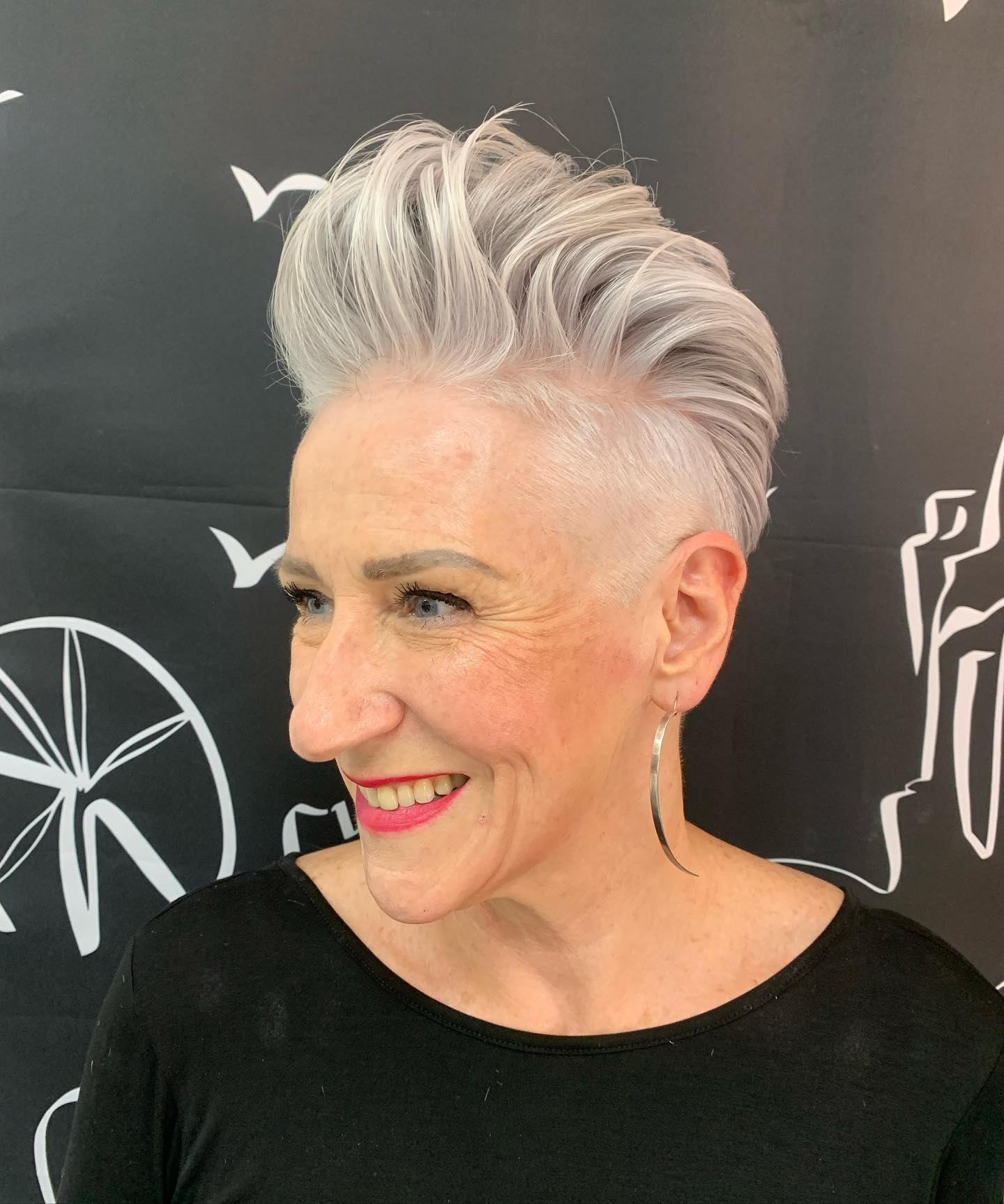 Show that age is just a number with this modern and sleek hairstyle that not a lot of people would dare to wear!
21. Long Grey Hair Natural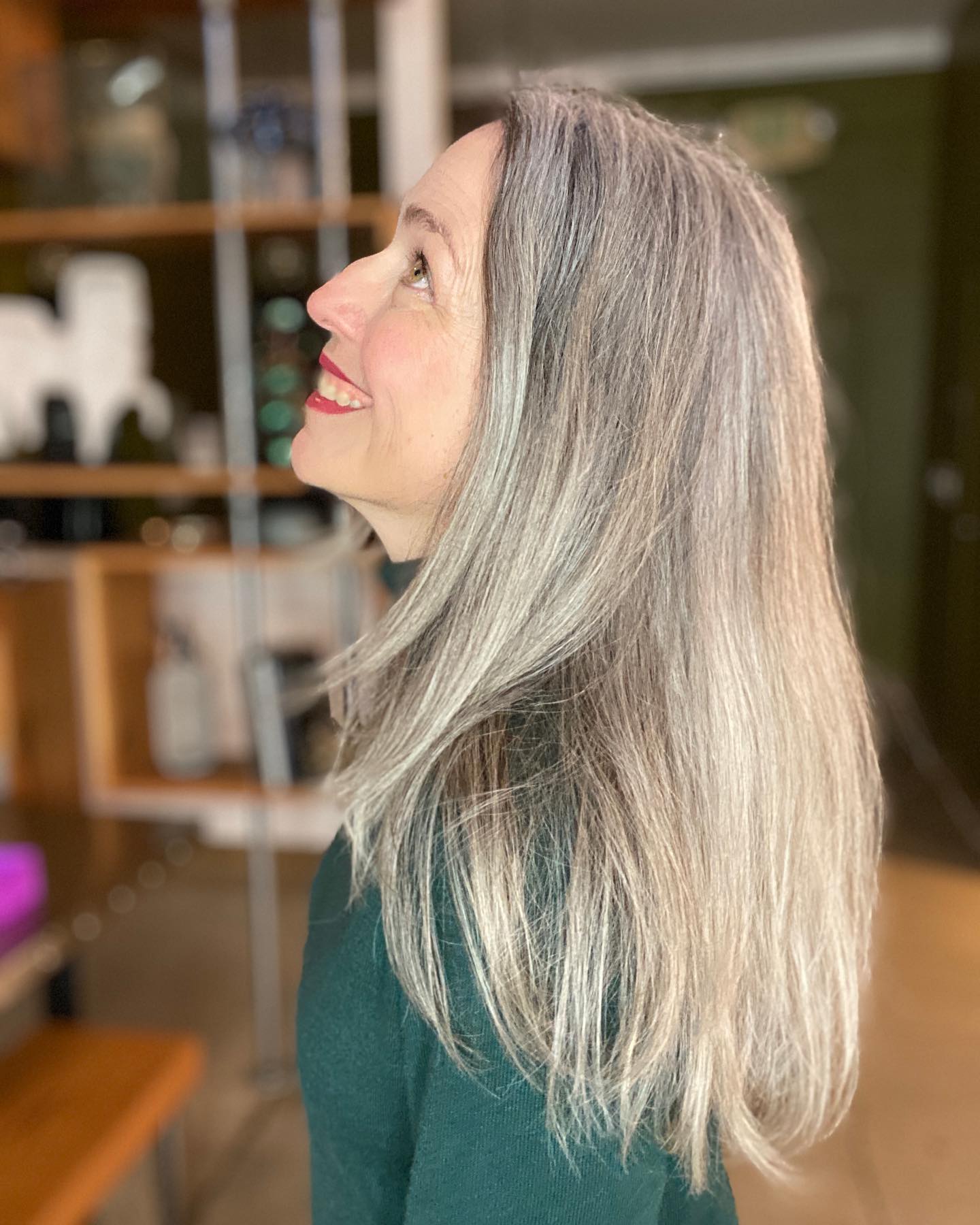 Embrace the full-gray hairdo look and radiant confidence with this long outcome.
22. Short Hair Side Swept Gray Look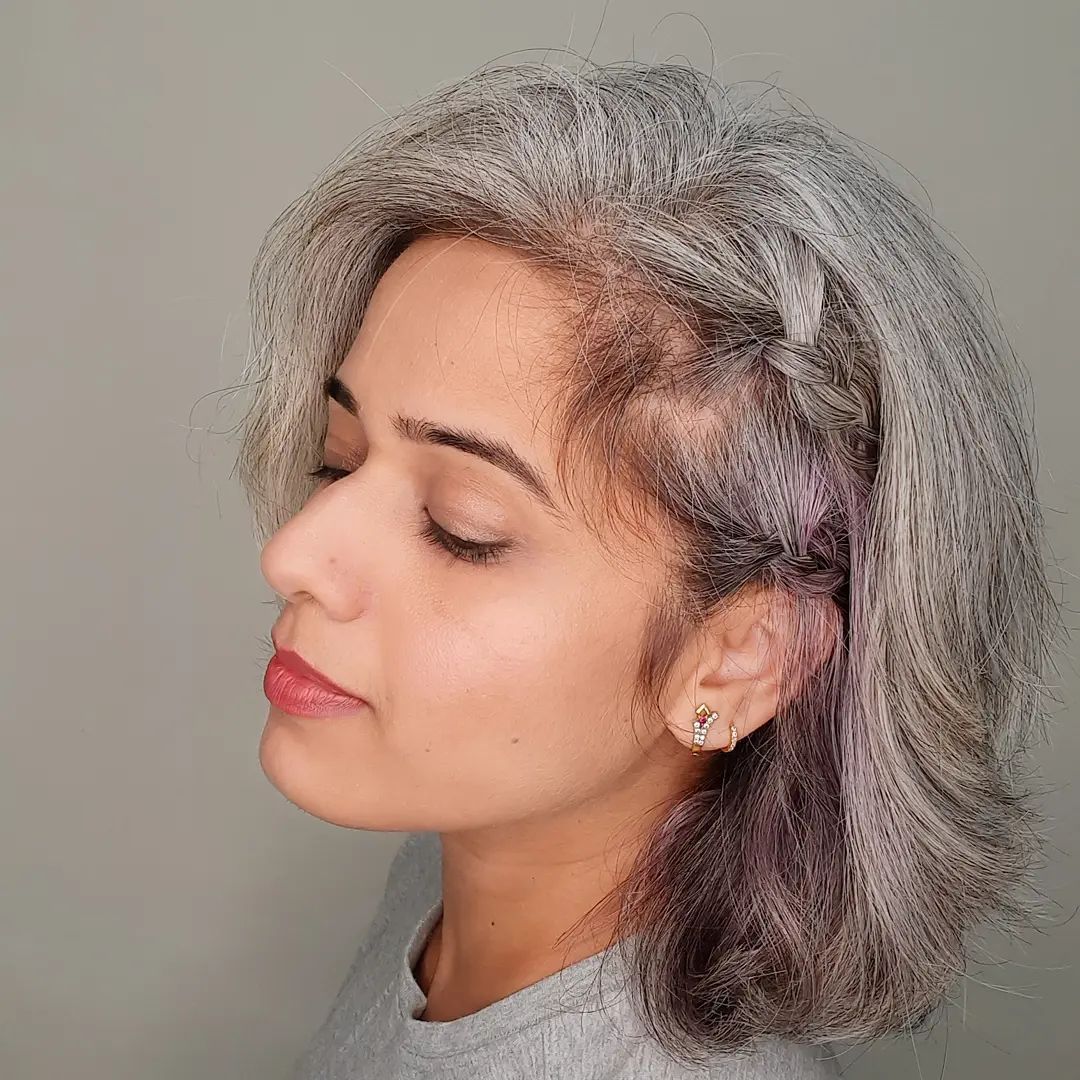 If your hair is naturally thin or straight this look will suit you.
23. Defined Pixie Hair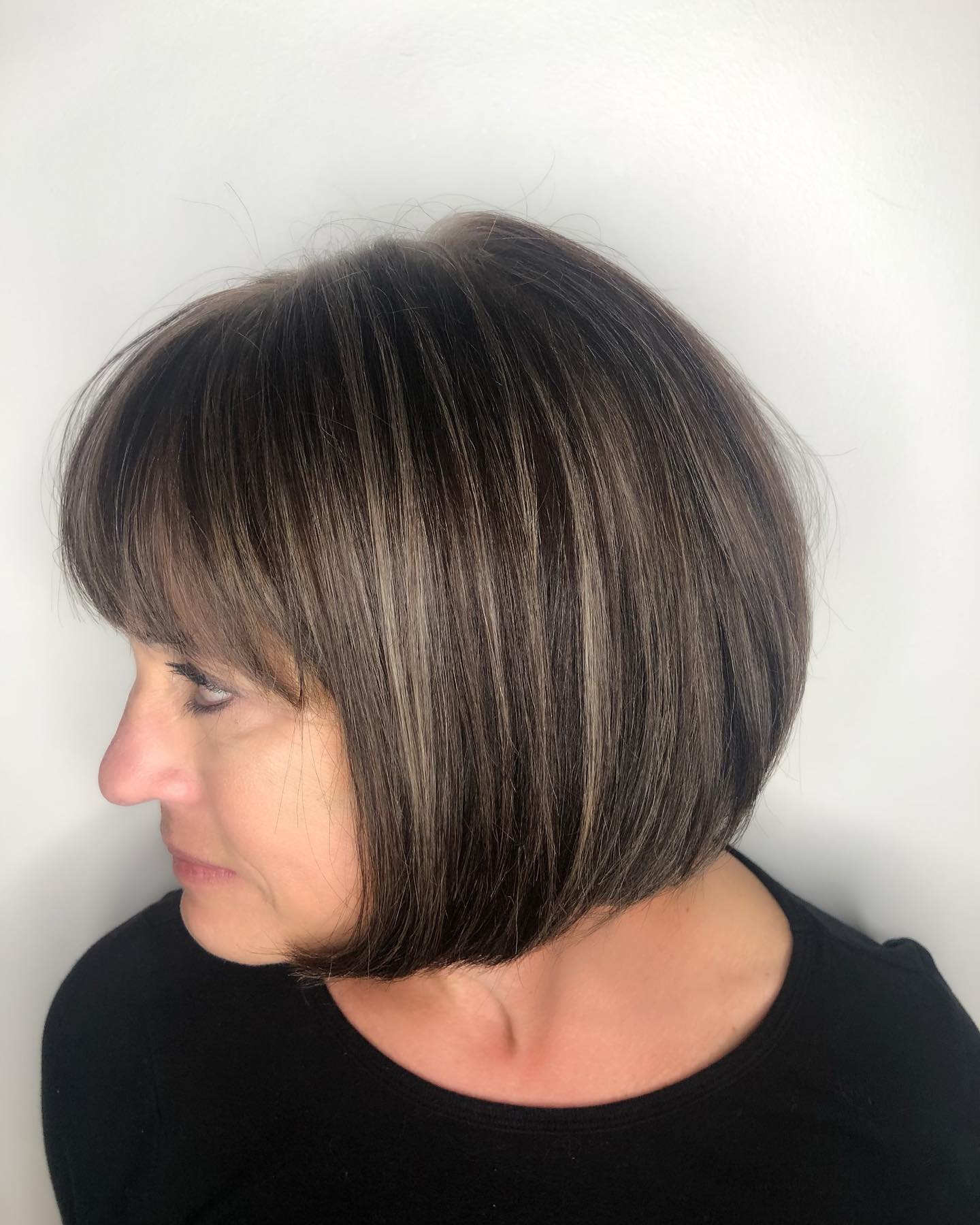 Go for a defined bob and add some simple highlights to even out the grays.
24. Curly Updo Gray Hair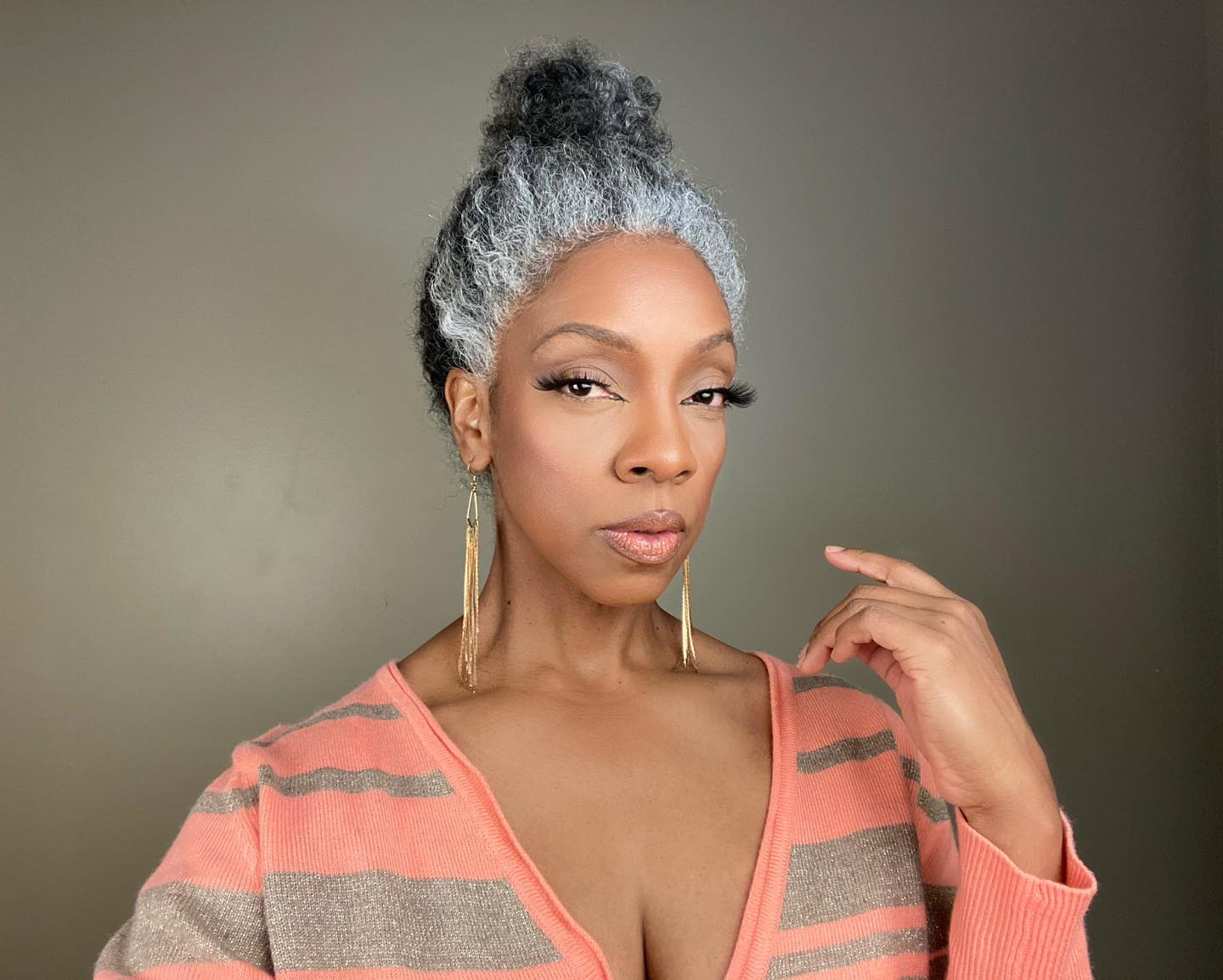 Grey hair tied in a bun will look perfect for casual wear.
25. Silver Grey Transitioning Look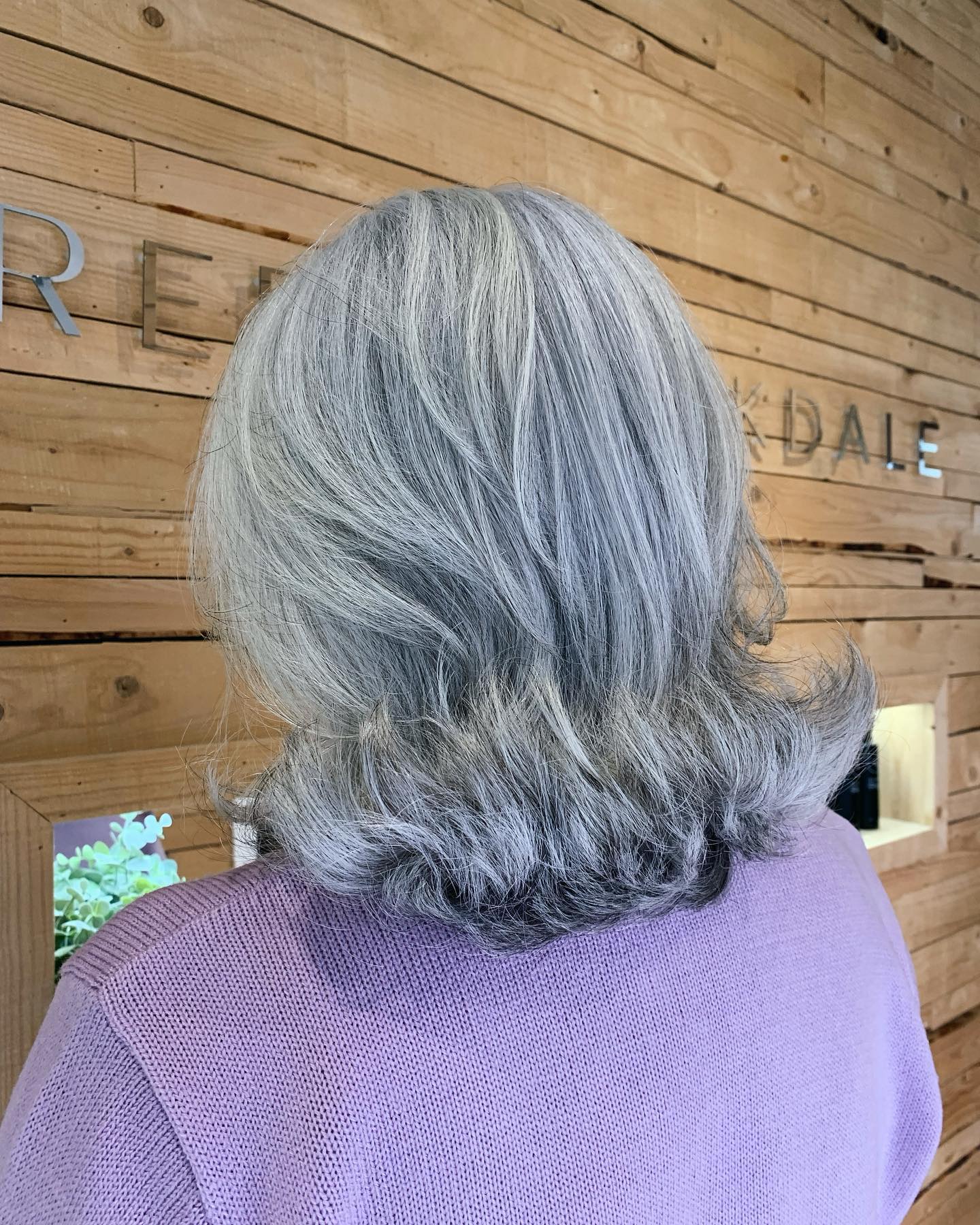 This color will demand hair coloring touch-ups frequently, so heads up.
26. Defined Hairdo Highlights Look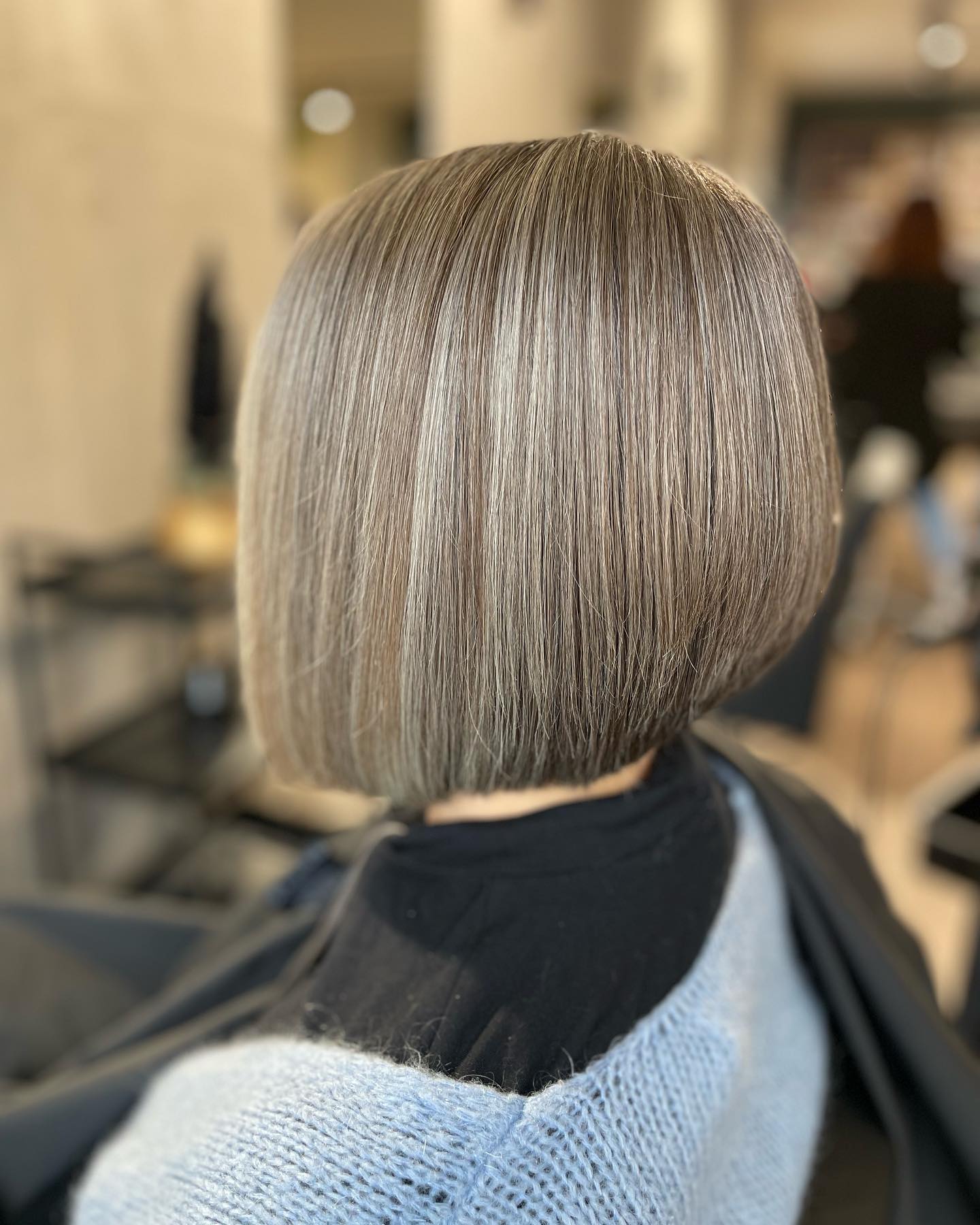 Mature women will enjoy this defined bob look.
27. Transitioning To Gray Hair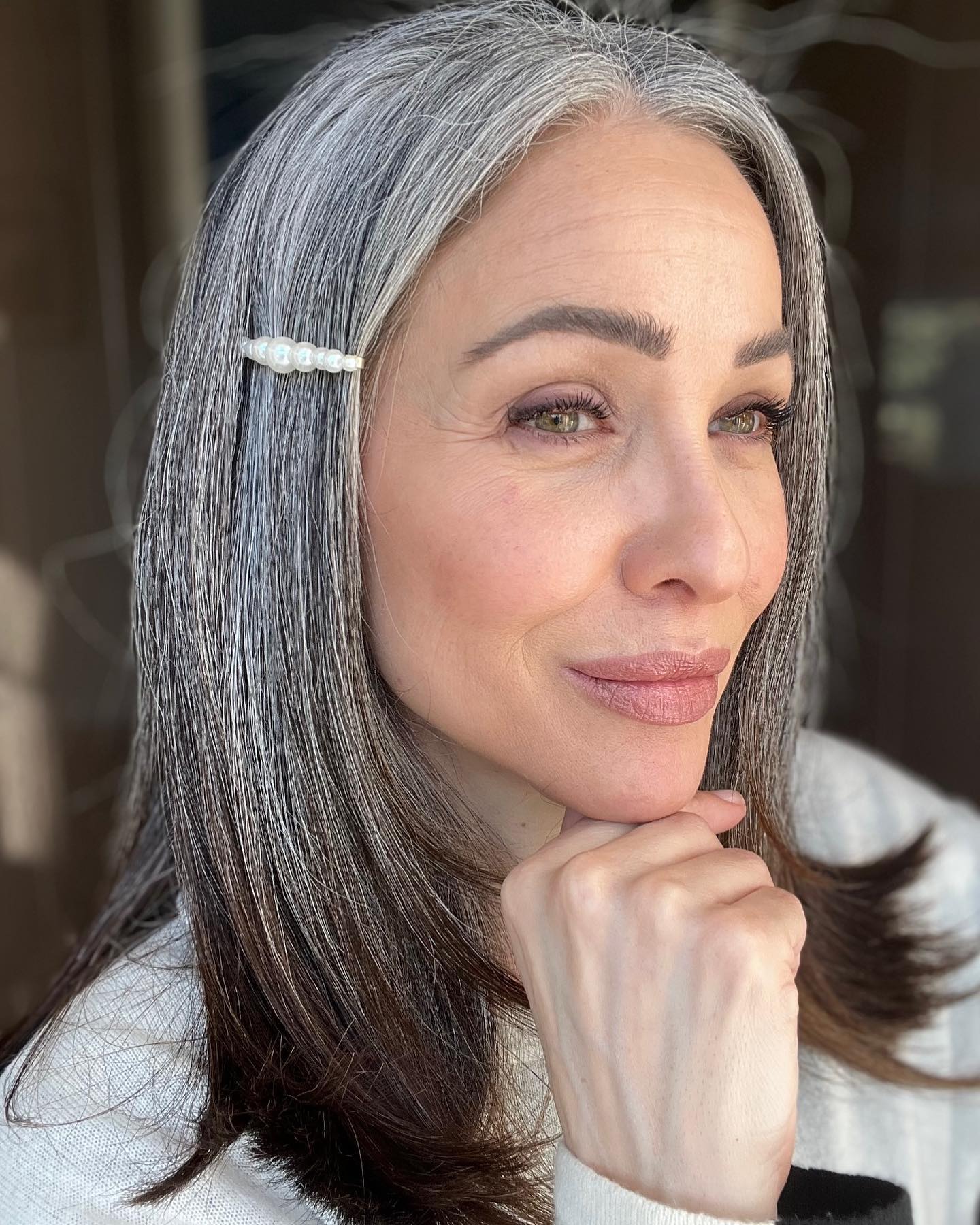 Combine your favorite shade of brown along with grey to achieve this outcome.
28. Updo Messy Gray Hairstyle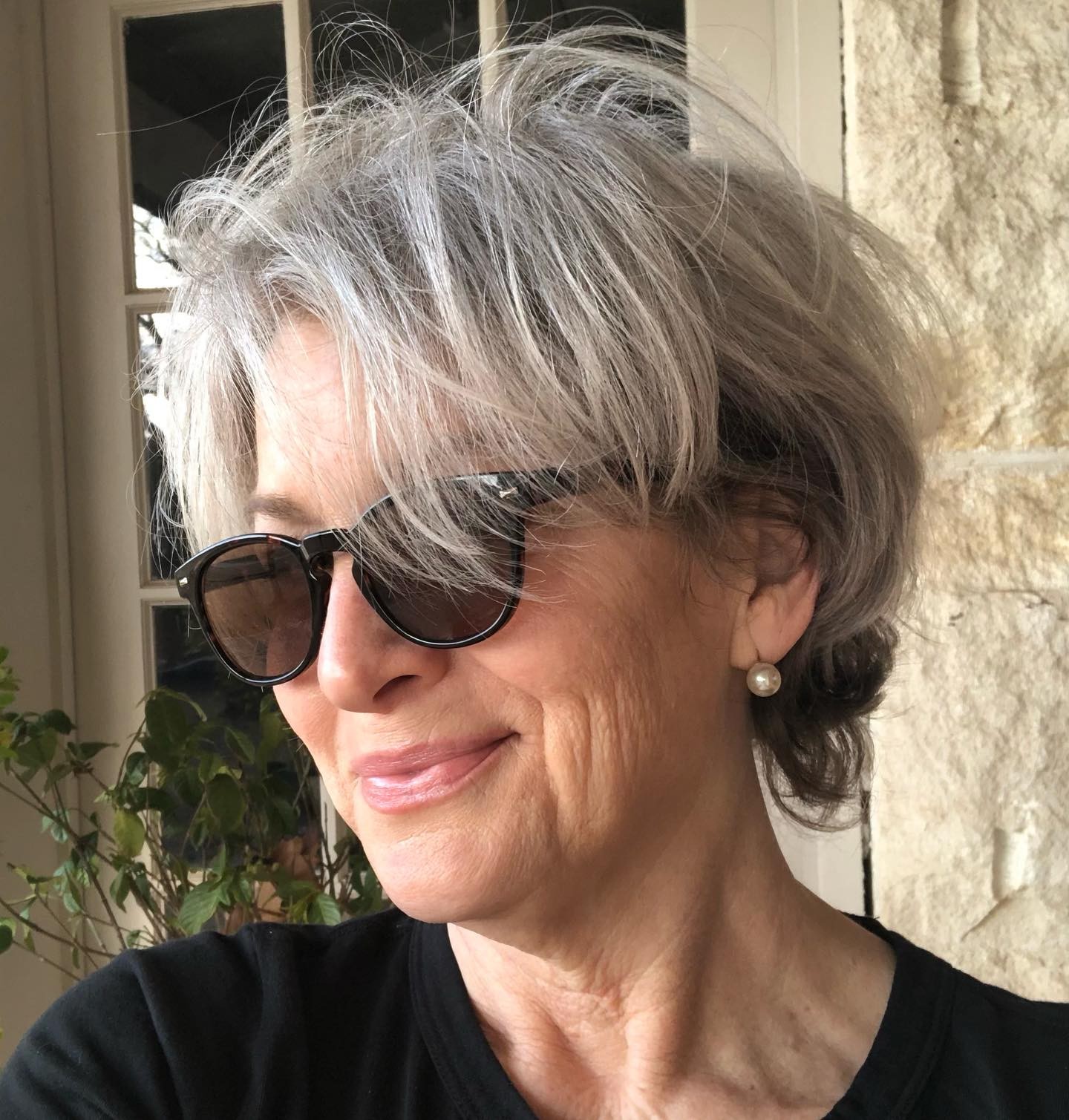 Elegant, mysterious, and feminine! This look just goes to show you that mature women can rock grays!
29. Side Swept Natural Grays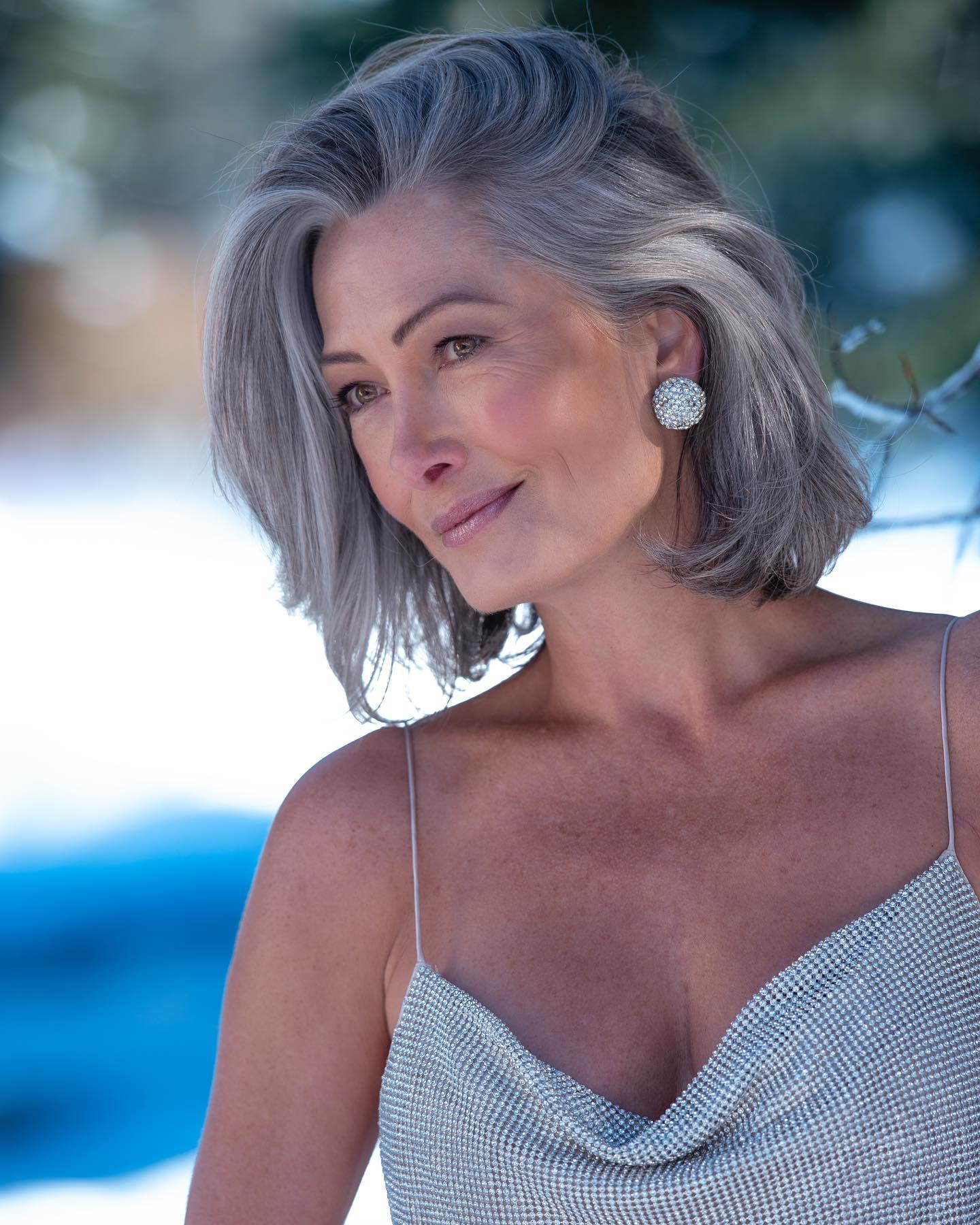 You will love your transitioning hairdo for formal events!
30. Hair With Highlights For Mature Women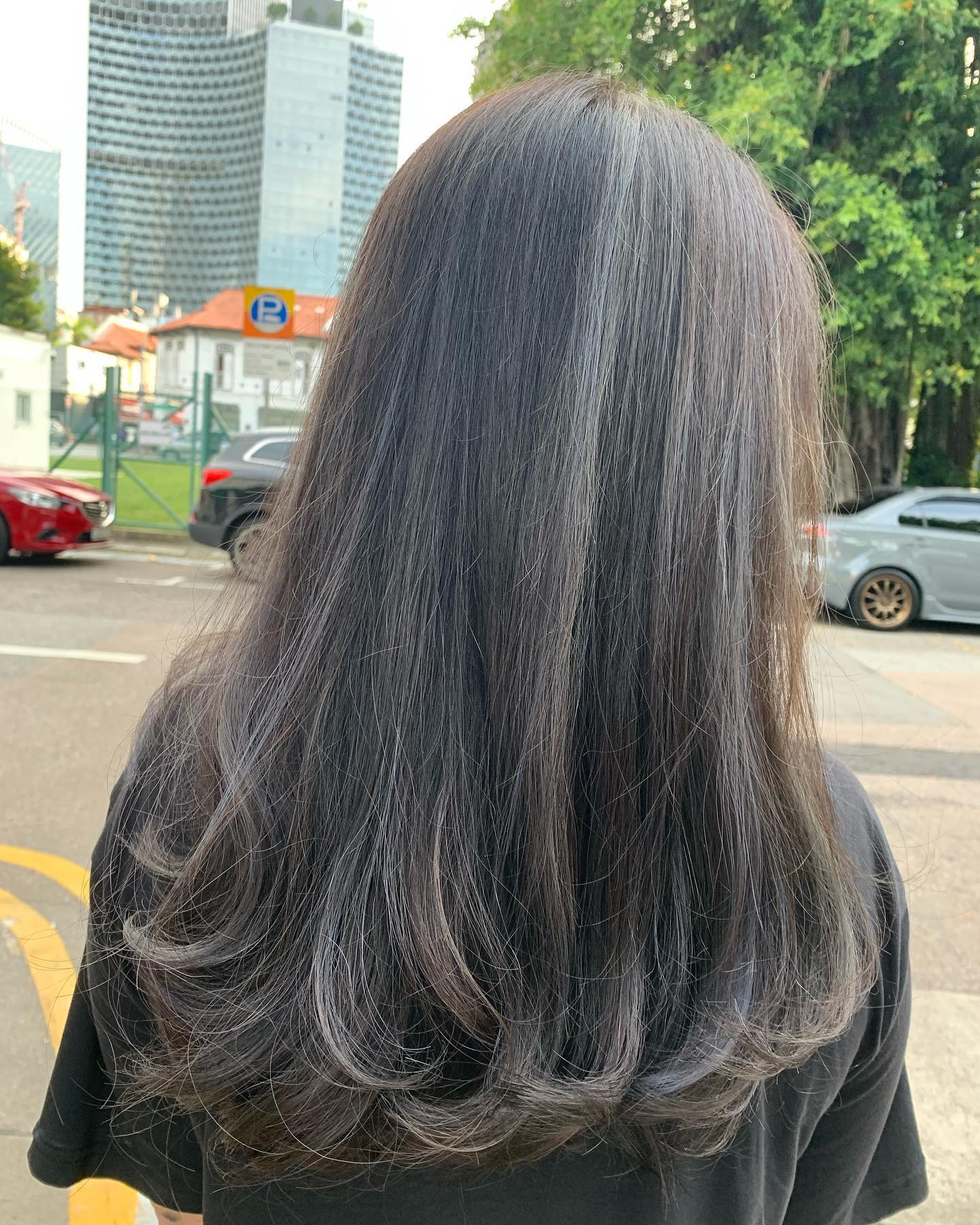 Make sure to get regular cuts to maintain a healthy gray hairdo.
Want To Transition To This Look?
Which one of these looks is your favorite? Are you ready to consider some of these hairdos? Let us know which one is your ultimate favorite and which one you can't wait to try out! We would love to see you in a fierce combination of grays, being rocked in your own unique way!