Angelina Jolie has been through it all, and she has also been in all of our favorite movies, wouldn't you agree? This bombshell beauty and phenomenal actress has also had a lot of beauty changes and touch-ups throughout the year. Finding it too hard to choose your favorite one and your next go-to style? We have some of these options listed and talked about in the article down below!
Angelina Jolie is an American actress, filmmaker, and humanitarian. She is a true diva that has been married to Brad Pitt, and they even made one hell of a movie in the past, Mr. and Ms. Smith. We have all seen it before, wouldn't you agree? Some other movies that she's been in are:
– Lara Croft
– Maleficent
– Gia
– Original Sin
– Salt
– The Tourist
– By the Sea (yet again with Brad Pitt)
– The Bone Collector
And plenty more! We have managed to mix and match some of her famous hairstyles throughout this article, and we will talk about some of your options down below.
1. Angelina Jolie Long & Healthy Sleek Hair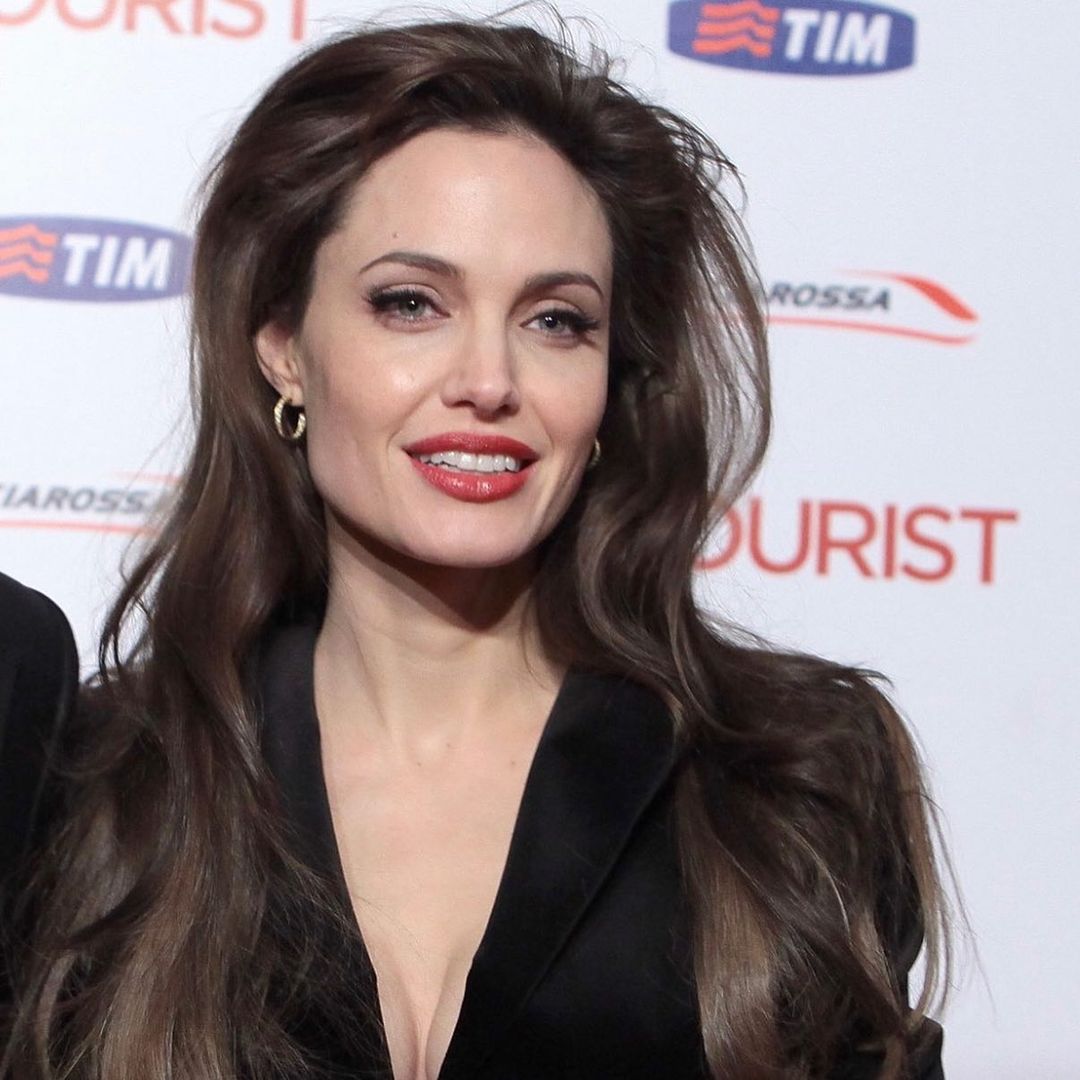 A puffy and voluminous top portion will leave every girl looking feminine. This hairdo has a lot of volume, and it is the perfect everyday hairstyle for women who have long and frizzy hair that needs a little bit of maintenance. Pair it with a loud lip and you're going to enjoy the outcome.
2. Voluminous Haircut Angelina Jolie

Shaggy bangs and shoulder-length is the perfect solution for everyday wear. This hairstyle can be sophisticated once worn the right way. If you enjoy volume and you're a fan of Angelina's natural hair you're going to like this as your recreation and homage to the actress.
3. Formal Bun Style Idea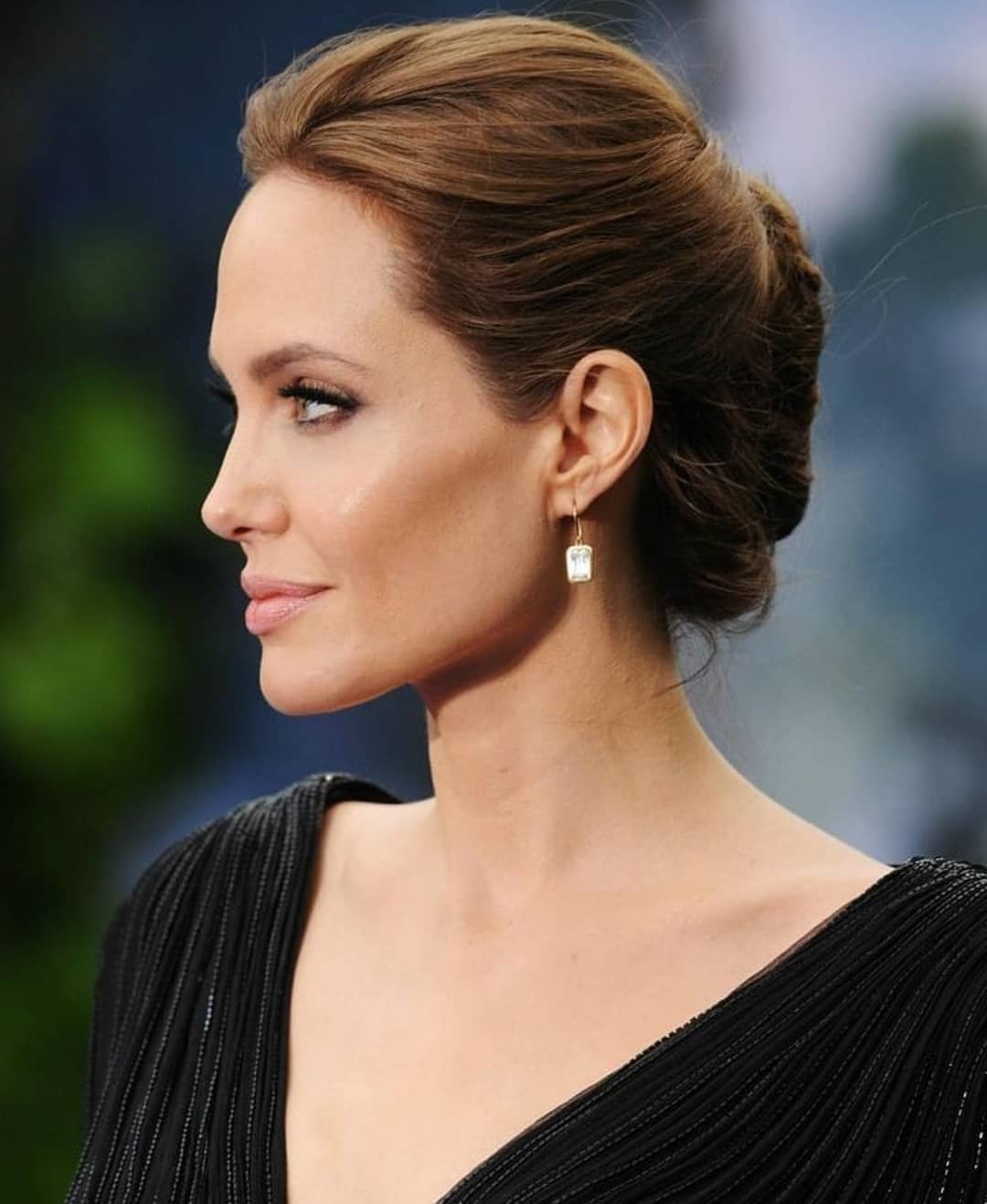 This classy and feminine bun is so cute and original. If you're looking for that perfect prom hairstyle, you might want to consider this one. Women who love classy looks and neat ideas are going to like this as their next go-to for anything important that they might have going on. Heads up since buns like these can't be achieved as easily or on your own.
4. Half Up Half Down Side Swept Hair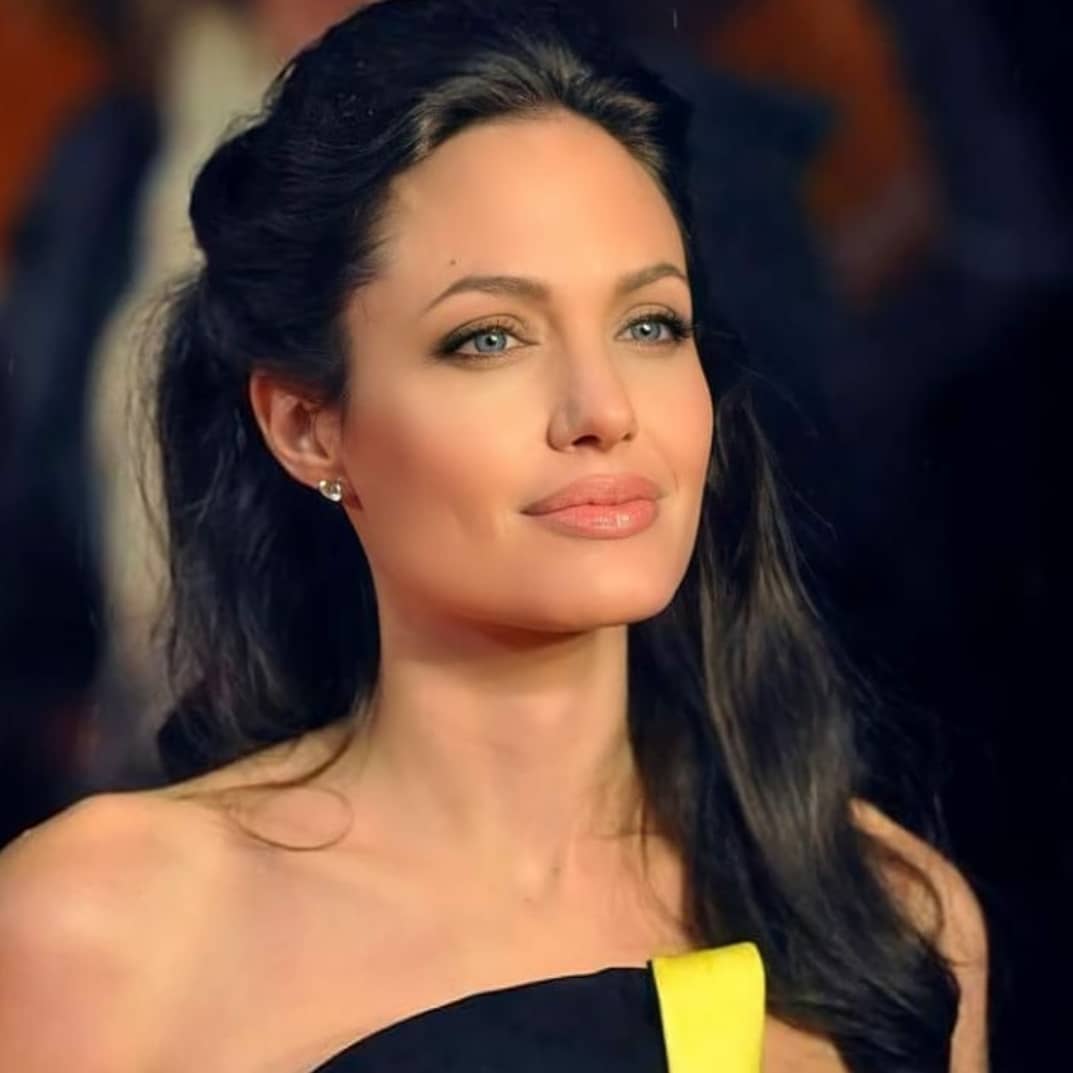 Long hair that is left half up half down can be worn to any event. If you're looking for something semi-formal and unique you're going to enjoy this design. It is mostly worn by women who have a party to attend to and they need to look feminine without being too overpowering.
5. Sleek Ponytail Angelina Jolie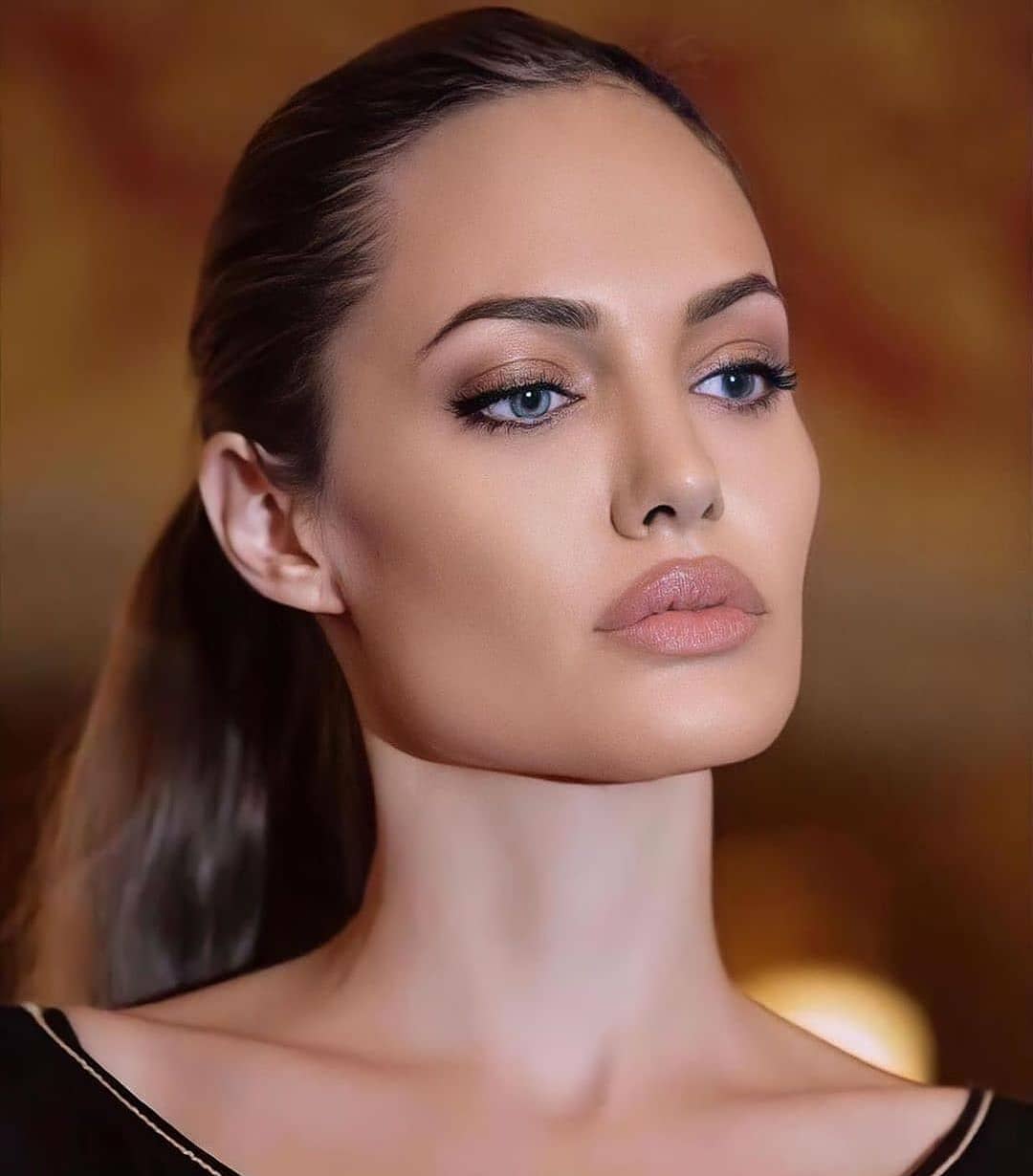 A long loose ponytail is a common solution and choice by women who enjoy everyday hairstyle ideas. If you want a ponytail that is easy to recreate, try going for this one that's been fully inspired by Angelina! The end result is ideal for your office wear or anyone who needs something low-maintenance for practical wear.
6. Feminine Blonde Angelina Jolie Cut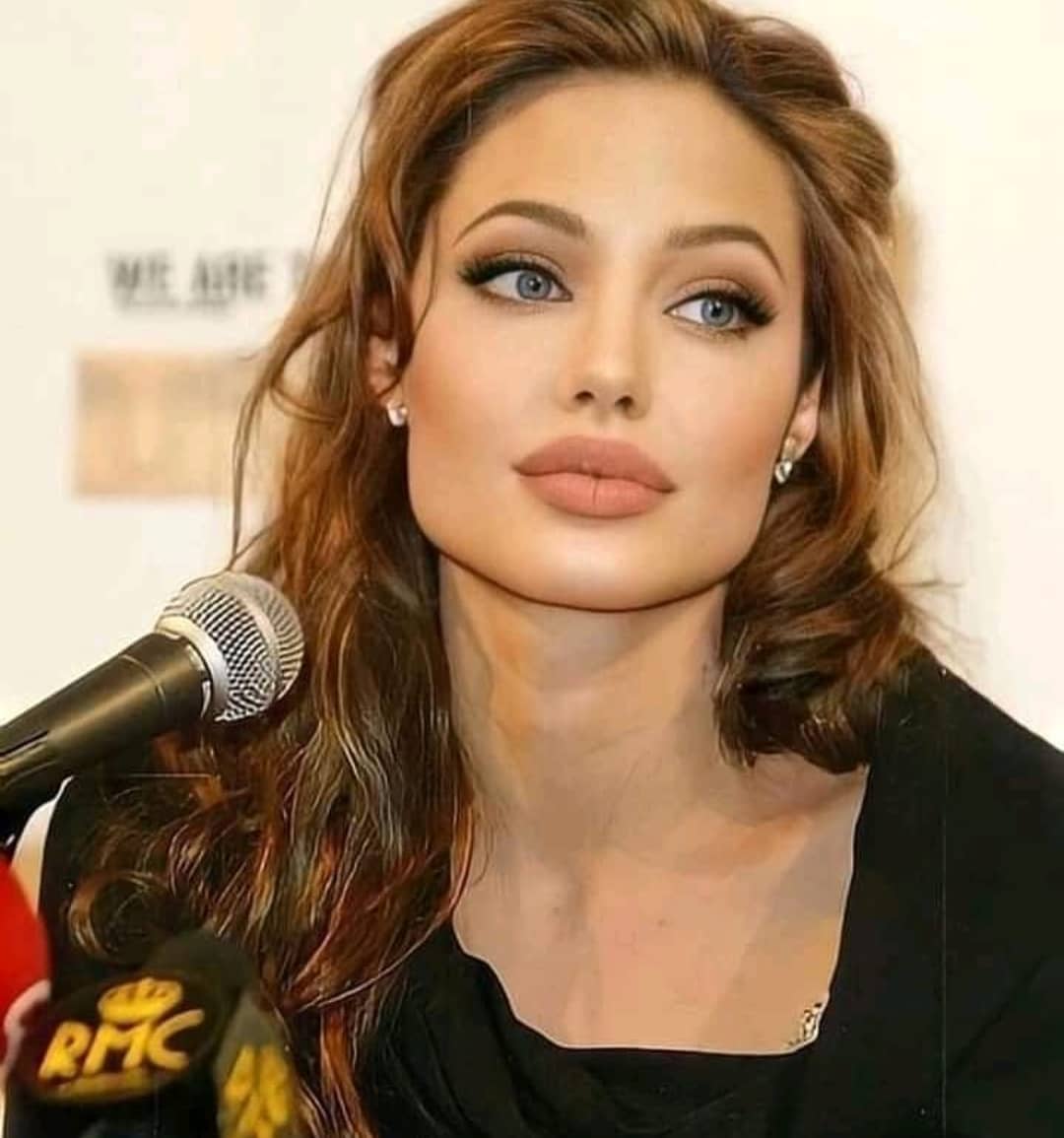 Do you prefer lighter hair colors on Angelina? Are you a fan of her classy looks and lighter blonde hair? This design is not for everyone, but it will truly suit girls or women who enjoy stylish ideas that are formal. The color itself is tricky to achieve, and it might look the best on those with a pale skin tone.
7. Braid Hairstyle Angelina Jolie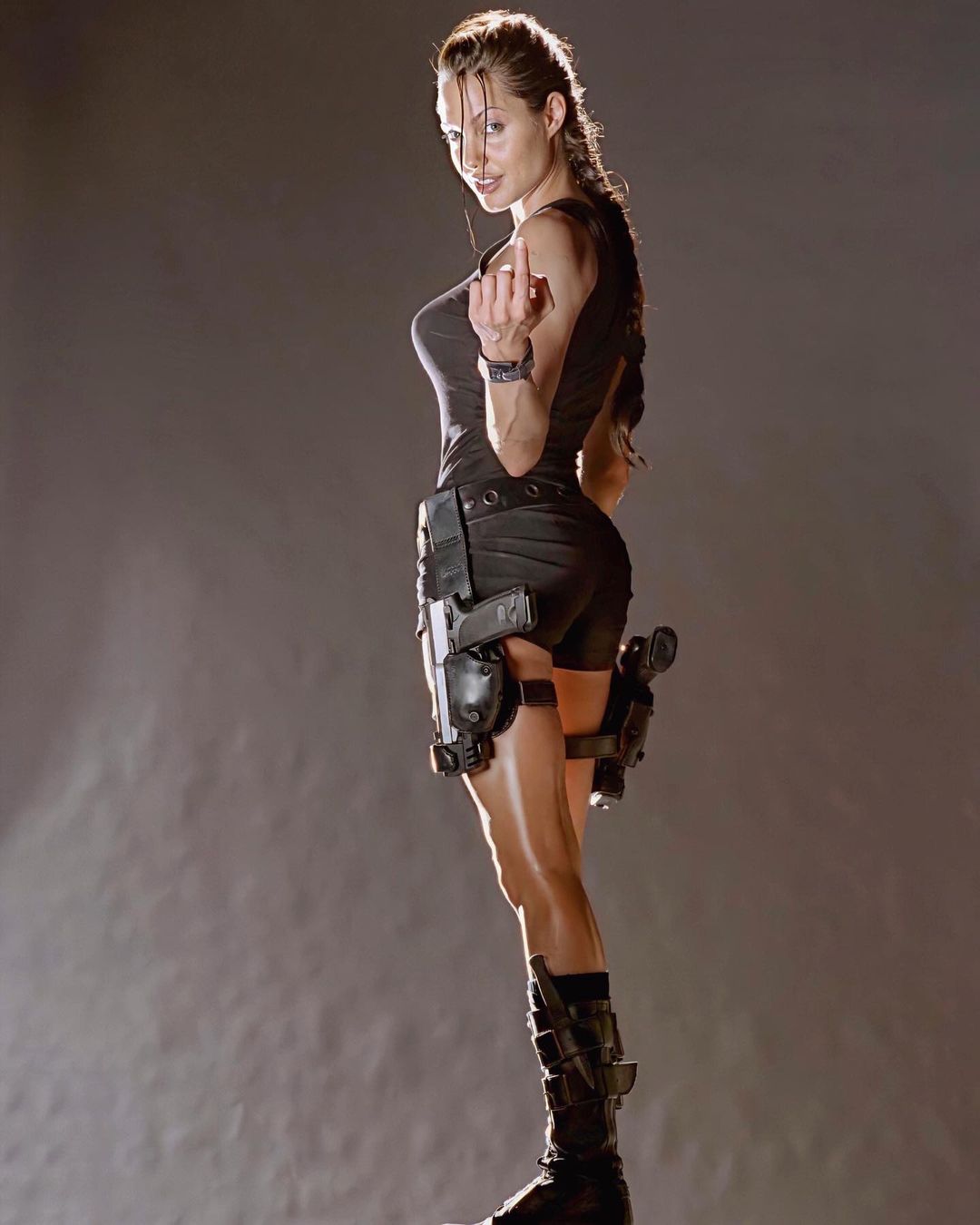 Here's a movie that a lot of us loved watching while growing up, wouldn't you agree? Lara Croft is a popular movie that we associate with Angelina Jolie. If you enjoyed her in it and you're a fan of this sleek hairdo, why not try out this long braid? The look itself is a common one for the Halloween season, where a lot of women love to recreate this gorgeous idea as their inner fierce bad chick.
8. Half Up Half Down Hairstyle With Bangs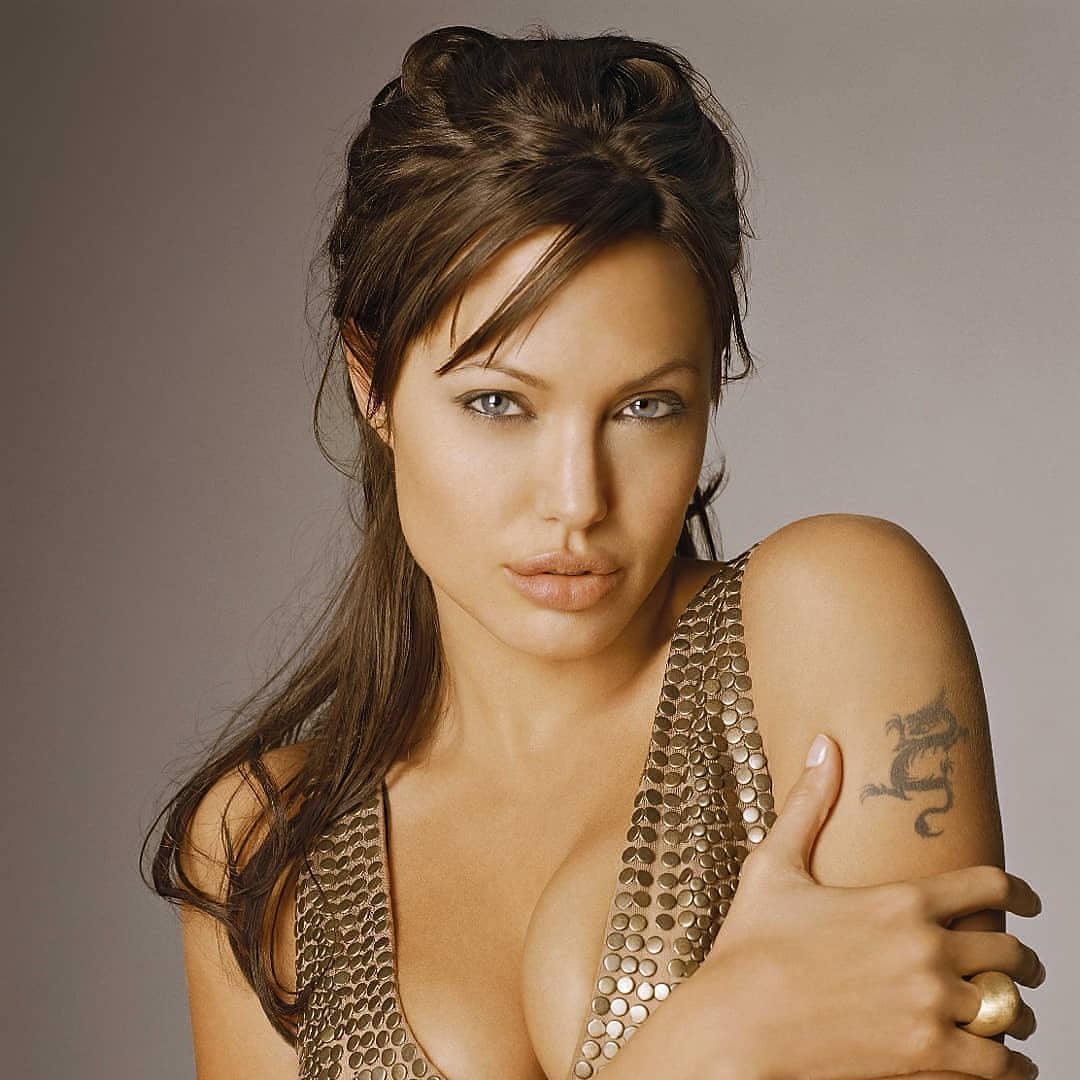 Long hair with a lot of volume at the front portion will suit anyone who has a lot of volume at the front section. This hairstyle can be tricky to wear during hot summer days, but aside from that period, it is a win-win at any given moment! Just make sure that you use a lot of hairspray to keep your strands up in place.
9. Straight Hair Angelina Jolie Look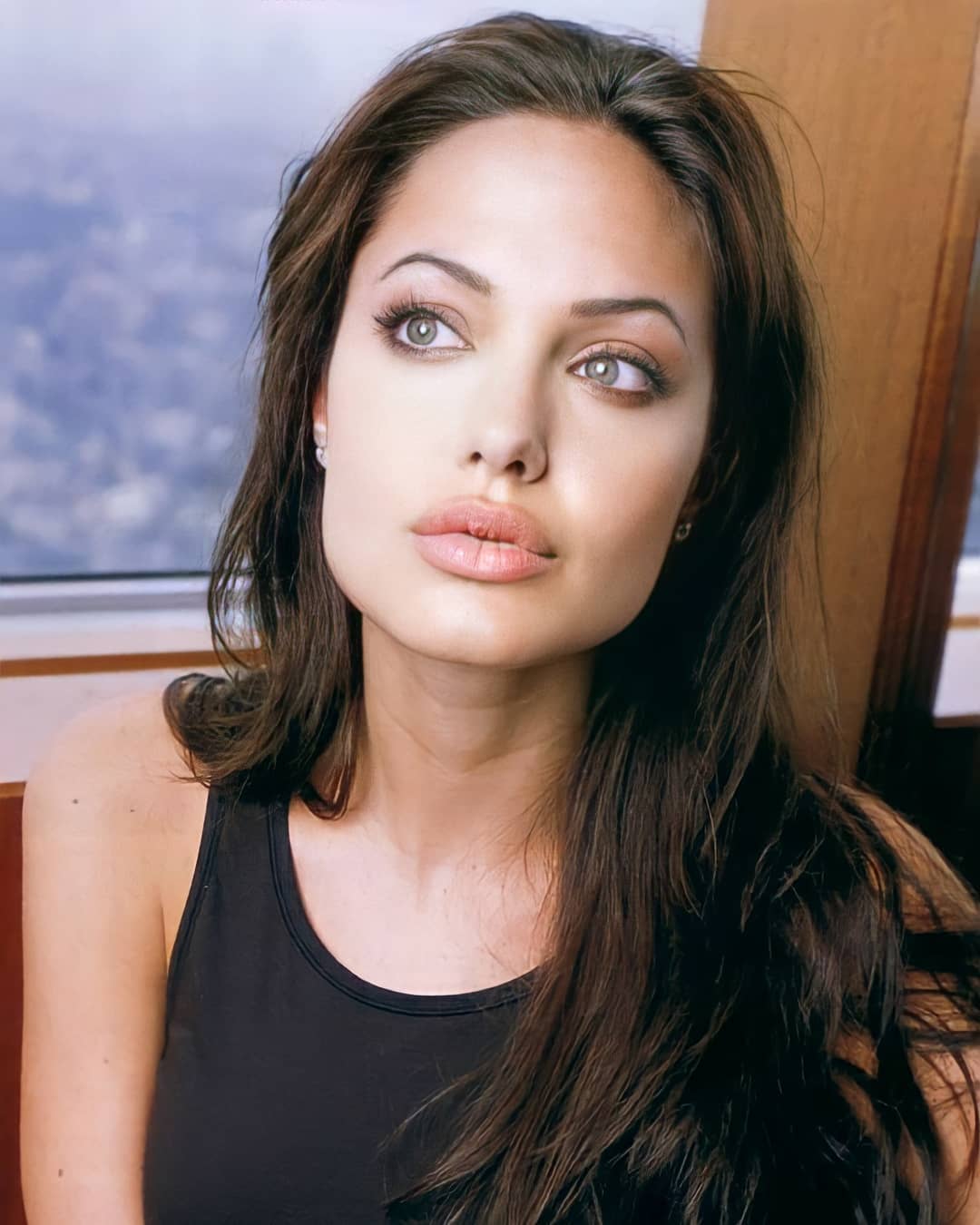 Her natural hair is so pretty and full, wouldn't you agree? If you like that natural volume and her brown hair color you're going to like this as your final result. Make sure that you wear and place the bangs on the side to achieve this gorgeous outcome at any given moment. This hairdo will suit both younger and mature women for everyday wear.
10. Light Brown Hair With Bangs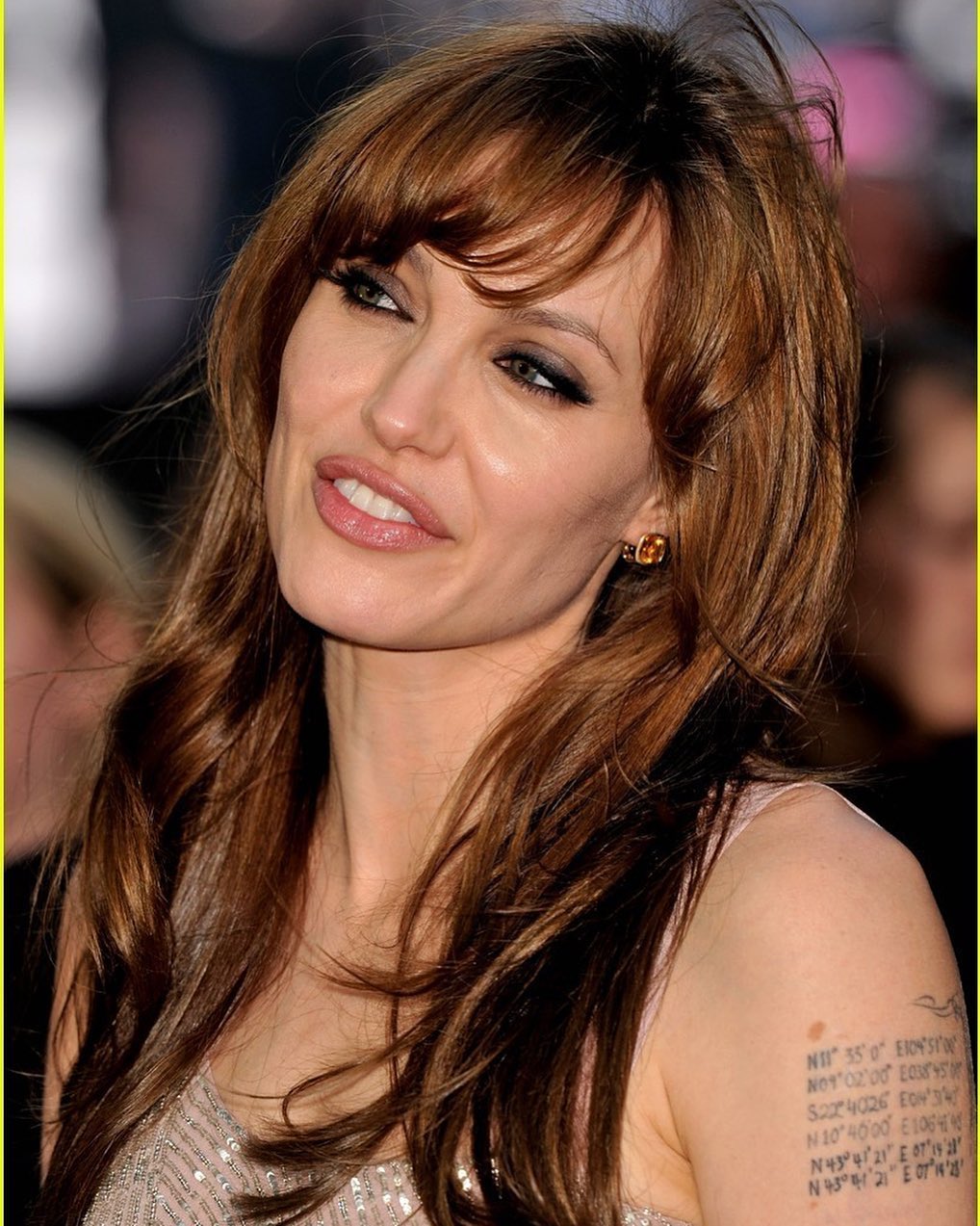 Angelina Jolie can truly pull off any color, wouldn't you agree? She looks like an actual diva with this brown color that has some hints of gold to it. If you enjoy a subtle change, and you want a hair color that is perfect for the summer season, give this one a go! Place the bangs at the top portion and enjoy this extreme volume when out and about, the guys will love it!
11. Formal Bun Look Angelina Jolie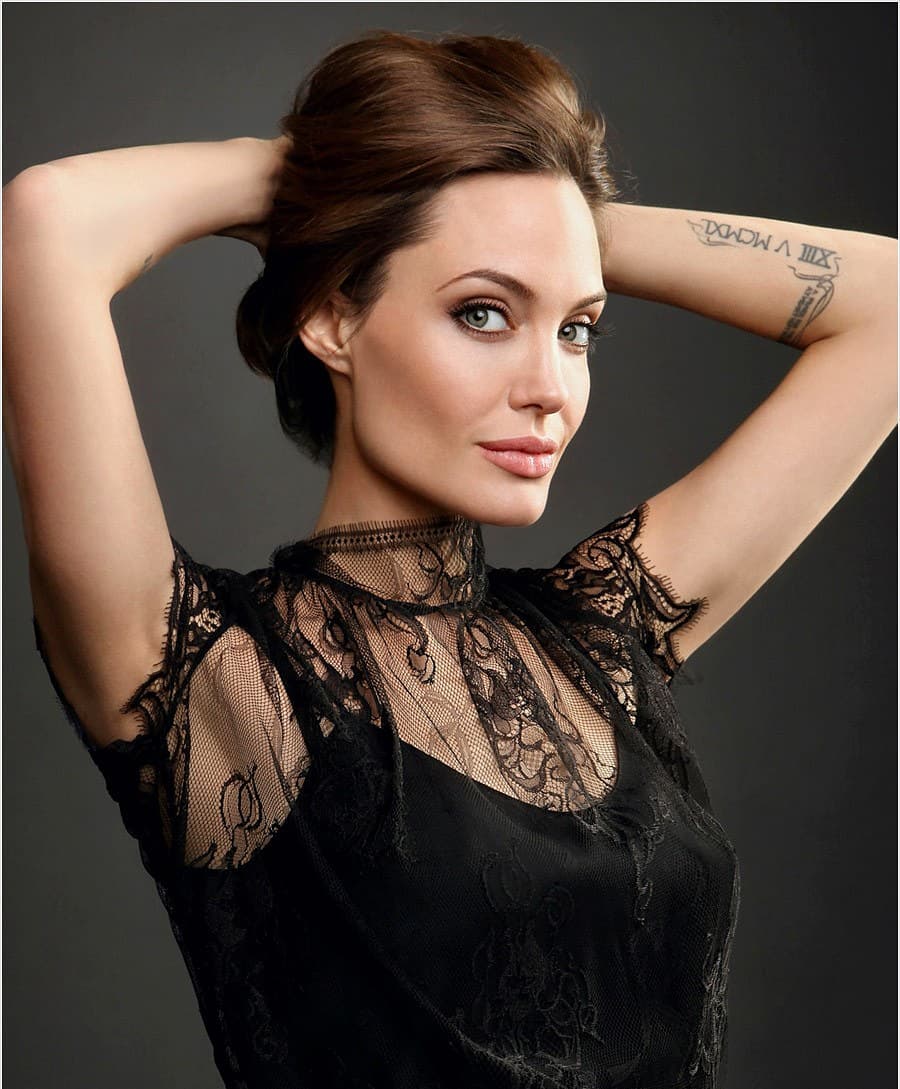 This formal bun looks so good on Angelina. Do you think that you can recreate it yourself? If not, make sure that you book an amazing hairstylist who knows how to give precise curls and a lot of volume at the front section. Once properly done this hairstyle can be worn to any huge formal gatherings. Show off your natural hair color and express your inner Angelina Jolie.
12. Bun Back Detail Angelina Jolie Style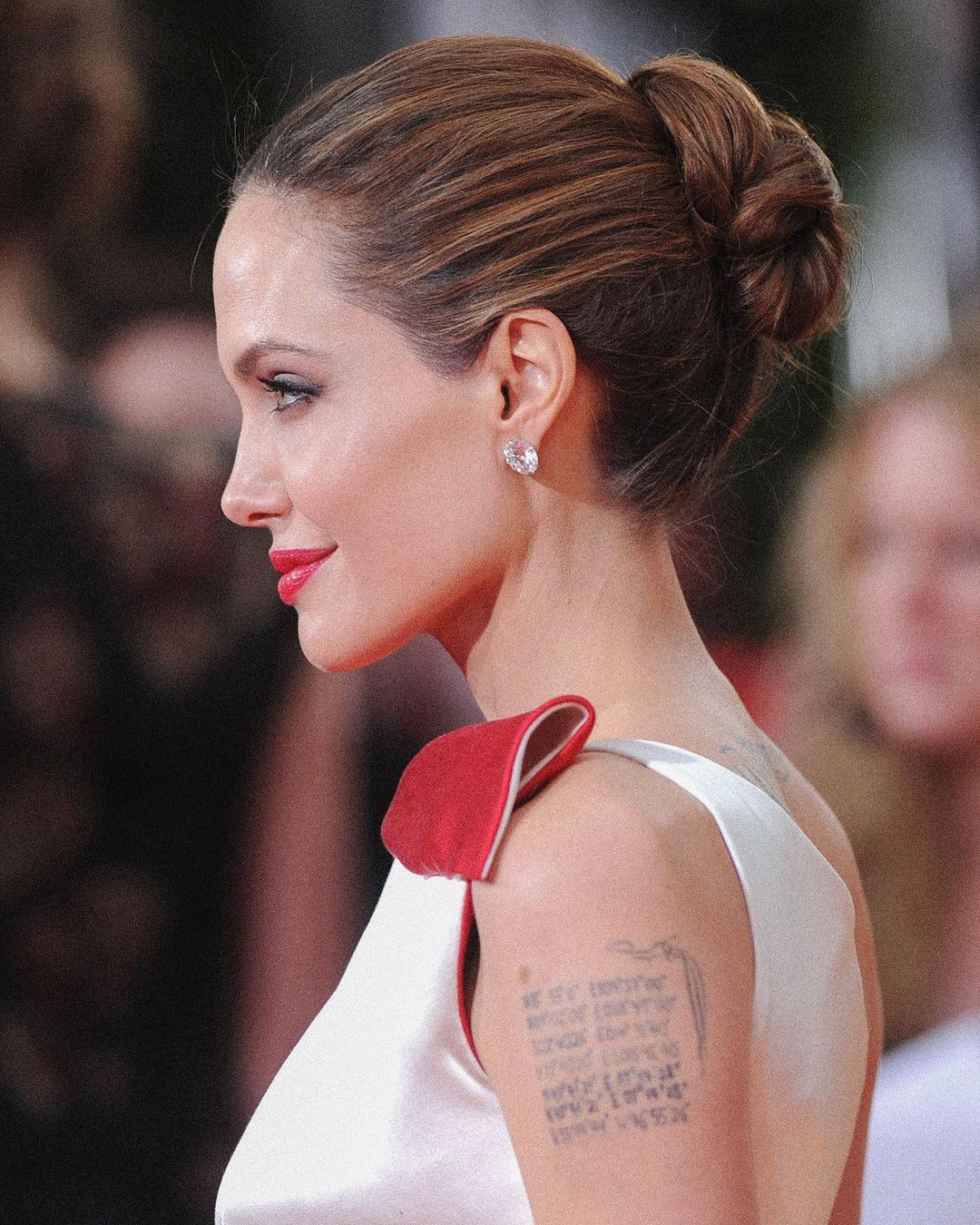 Last, but not least, how about this sleek formal bun that you can wear in the back portion of your head? You can also add a cute braid to round up the look. The end result is perfect for formal gatherings, and you'll enjoy it the most if you're a bride to be looking for your hair inspo with Angelina Jolie's inspired cuts.
Ready To Enjoy An Angelina Jolie Inspired Haircut?
Let us know which of these hairstyles is your personal favorite? A lot of women think of Angelina Jolie as their icon and role model. Are you one of those women as well? If so, try out some of these stylish haircuts and let us know which one was your favorite from the list.